Rehoboth gay-owned restaurant alleges police harassment
Venue cites recurring officer visits during drag brunches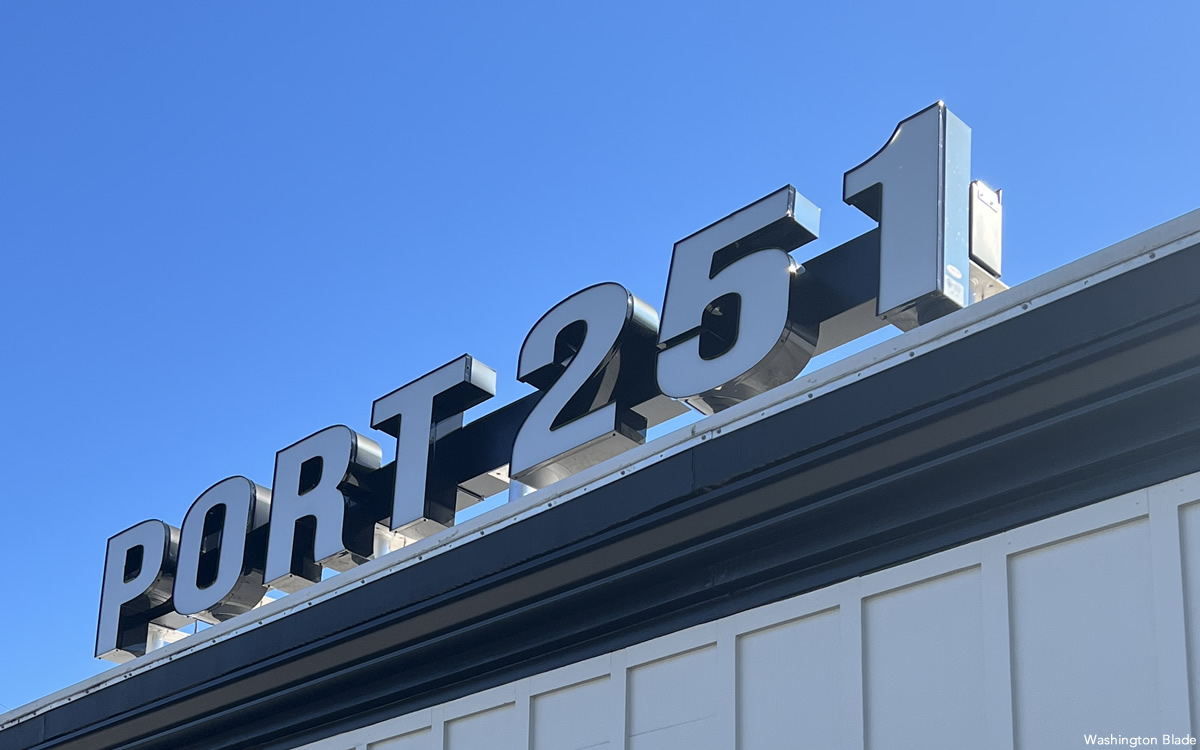 Owners of Port 251, a gay-owned bar and restaurant in Rehoboth Beach, Del., are accusing local police of discrimination and harassment, claiming on-duty officers regularly sit outside the venue for the duration of its popular drag brunches.
Tony Sacco, an owner of Port 251, said police began to routinely visit the venue during drag performances because of alleged noise complaints, at times measuring the volume of performances from outside and fining the restaurant for violating the city's noise ordinance.
Joe Maggio, co-owner, alleged that this response from city police began after the venue received noise complaints in 2020, and continued until the restaurant was no longer considered in violation months later. Maggio also alleged that in 2020 city officials criticized the police department's repeated stationing of officers outside the venue, yet, since the start of the summer, the venue has again been confronted with a police presence.
Sacco and Maggio emphasized that the restaurant has worked to comply with the city's noise ordinance, reducing the volume of its music and directly reaching out to the chief of police and city commissioner, but later received complaints from officers over patrons clapping too loudly and drag artists performing on the restaurant's patio.
"I'm not sure who it's bothering at 12 o'clock in the afternoon," Sacco said. "They weren't coming because of a call at that point." Sacco pointed to other local establishments having speakers or performances outside their venues, at times even extending onto the city's boardwalk, but not facing the same police response.
"The police officers are apologetic when they arrive," said Maggio, noting that, despite numerous conversations with clients and local community members, he has not heard of any ongoing noise complaints regarding the performances.
But Lt. Jamie Riddle, professional standards unit commander of the Rehoboth Police Department, said that officers are not placed outside of events "unless there is a public safety concern."
Riddle added that the agency has begun to meet with the restaurant's owners and "proactively investigate the noise associated with the Friday and Sunday performances" — not necessarily in immediate response to a public complaint.
Still, Riddle noted that the agency's response follows a string of noise complaints from the local community received by the city's dispatch center beginning June 19, as well as a formal complaint filed with the Office of the City Manager on July 21 — a record of complaints that Riddle claims other local businesses with drag performances have not generated.
According to Riddle, Port 251 is currently being investigated concerning its adherence to two city ordinances: the maximum noise levels ordinance — §189-4 — which limits how much sound an individual or business can emit beyond private property; and the use restrictions ordinance — §270-19 — which prevents live entertainment on dining patios. Maggio noted he believes that the venue is now in compliance with the maximum noise level ordinance.
Riddle added that, with the visible presence of officers during the Friday and Sunday performances, the dispatch office has received "no associated noise complaints" from the local community. However, according to Riddle, the first time officers were not present — last Friday — a noise complaint was received.
"Our objective is not enforcement, but rather compliance," Riddle said. "If our presence is the mechanism needed to achieve compliance then that is our obligation to the community."
Regardless, for Port 251 the ongoing presence of police officers "sitting outside for the entire show" during drag events has affected the experience of patrons and performers alike, Sacco added.
"Patrons feel uncomfortable, some get up and leave," he explained. "It's unfortunate because we're just trying to make a living. But, even more so, the drag queens are just trying to make a living and they're feeling targeted."
But Riddle maintained that the nature of the event is "irrelevant" to the agency's response.
"The members of our agency serve our residents, businesses, and visitors alike by responding to calls for service and through proactive police work," Riddle said. "When presented with a concern from a member of our community it is our obligation and duty to thoroughly investigate and assess the concern."
CAMP Rehoboth kicks off search for new executive director
Strategic planning process underway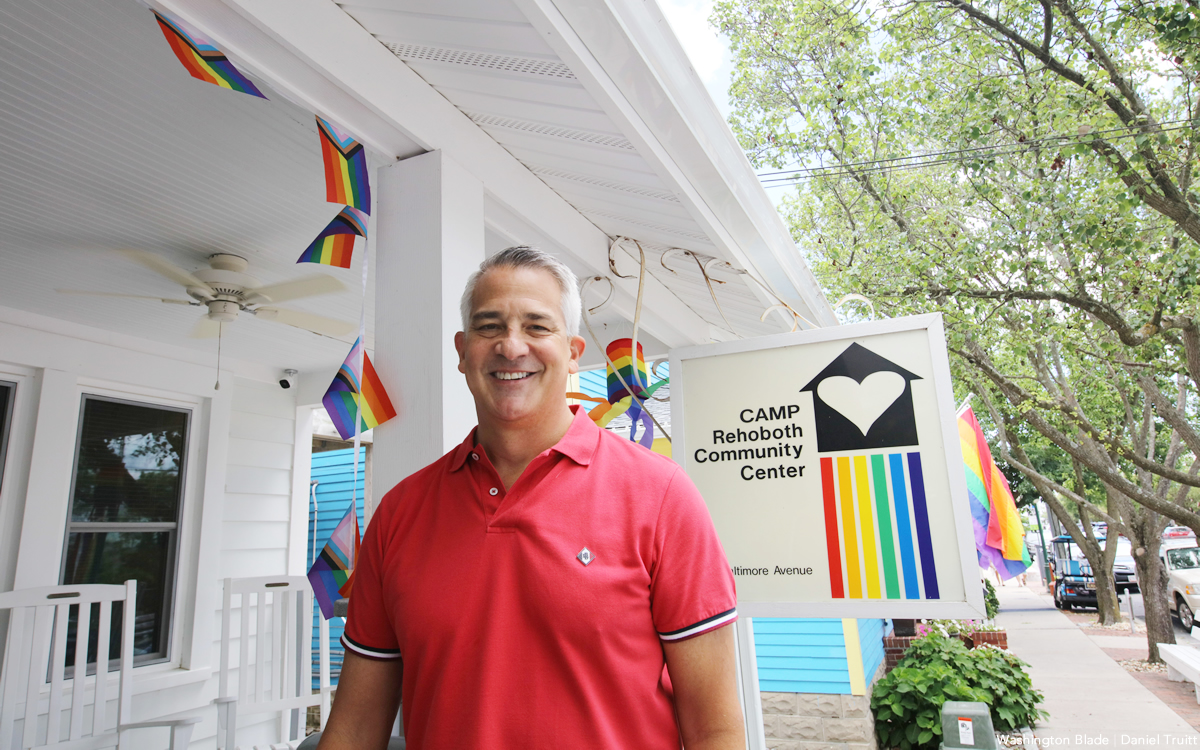 CAMP Rehoboth, the Rehoboth Beach LGBTQ community services center, was scheduled to officially announce on Monday, Oct. 17, that it is seeking bids from executive search firms to retain such a firm to help the group conduct a national search for a new executive director, according to Wesley Combs, president of the CAMP Rehoboth Board of Directors.
Combs told the Washington Blade the announcement seeking a search firm, known as an RFP or Request for Proposal to undertake the search process, comes about a month after CAMP Rehoboth retained nationally acclaimed strategic planning consultant Michela Perrone of Georgetown University to help the nonprofit group update its strategic plan for providing services and support for a diverse and growing LGBTQ community in Rehoboth and surrounding areas.
Perrone, a faculty member at Georgetown University's Center for Public and Nonprofit Leadership, has provided support for strategic planning and other services for many nonprofit organizations through her consulting firm MMP Associates, including for LGBTQ nonprofits.
The need for a new CAMP Rehoboth executive director surfaced this past May when then executive director David Mariner resigned to start a new Delaware LGBTQ advocacy group called Sussex Pride. The CAMP Rehoboth board a short time later named Lisa Evans, a longtime administrator at nonprofit organizations in Baltimore, as CAMP Rehoboth's interim executive director.
Combs has said Evans was appointed to serve as the group's acting manager in an "advisory role" as soon as the board learned of Mariner's plans to leave the organization. After conducting a search for an interim director, the board selected Evans from a group of four finalist candidates as the best fit for that role, Combs said.
Now, according to Combs, CAMP Rehoboth is beginning the process for the first phase of its strategic plan development and its search for a new executive director. He said after considerable deliberation, the board decided it would be important to retain a strategic planning expert and begin the first phase of the strategic planning process at this time.
He said the board was hopeful that a national search firm can be retained within the next 30 days and the nationwide search for a new executive director would begin at that time.
The first phase of the strategic plan development, which began at the time Perrone was retained last month, includes data collection and community engagement, including community surveys and focus groups, Combs said.
He said the strategic planning process will then be put on hold until the new executive director is hired and takes office for a short time to become acclimated with CAMP Rehoboth's operations. It is the board's belief that the new executive director should take part in the second phase of the development of the updated strategic plan, Combs said.
"We're not going to begin the work to determine what the priorities of CAMP will be until the new executive director has been hired," said Combs. "So, it's a two-phase strategy – start, gap, start," he said.
"Our hope is we will have identified a candidate by mid-January and that person can hopefully be on board by March 1, 2023," Combs said in referring to the hiring process for the new executive director. "That's our hope."
Combs noted that CAMP Rehoboth, which was co-founded in 1991 by LGBTQ rights advocates Steve Elkins and his then partner and subsequent husband Murray Archibald, has grown tremendously over the years and has developed and updated strategic plans during those years.
Elkins, a beloved figure in Rehoboth for many years, served as CAMP Rehoboth's executive director until he passed away in 2018.
Combs said plans began to update the strategic plan shortly after David Mariner began as executive director in 2019 and continued through early 2020. But with the onset of the COVID-19 pandemic and the sweeping restrictions it brought about for all public spaces later that year, CAMP Rehoboth under Mariner's leadership had to dramatically "pivot" to a virtual operation, Combs said. Nearly all its in-person operations and programs had to be suspended or switched to online operations.
All of that meant the strategic planning process had to be put on hold, Combs said. And while it resumed earlier this year, Mariner's decision to resign prompted the board to reassess how to move forward with the strategic planning process.
"The thought was, we have a lot of the work that was done," Combs said. "But it was four years ago, three years actually, when the outreach to the community was done," he said. "We had focus groups, we had surveys done. So, some of that information may still be relevant. But some of it obviously needs to be revisited because the demographics of Delaware and our community have changed in that three-year period."
Added Combs, "Plus, Rehoboth and the surrounding area has become a much bigger retirement community for a lot of LGBTQ people…We want to make sure we understand what the needs are of the various stakeholder groups that CAMP Rehoboth serves," he said. "And that also includes the increased visibility of transgender people in lower Delaware. And, the increased visibility of LGBTQ youth who are coming out," Combs told the Blade.
"So, the plan is designed to ensure that we understand who the demographics of this community are, what support they need, and what role will CAMP play in helping to address them," he said. "Every nonprofit does this every three to five years."
Below is a list of CAMP Rehoboth's numerous programs and activities that it has carried out in recent years, as shown on its website:
Rehoboth police investigating anti-Semitic flyers
300 residents received messages blaming Jews for 'COVID agenda'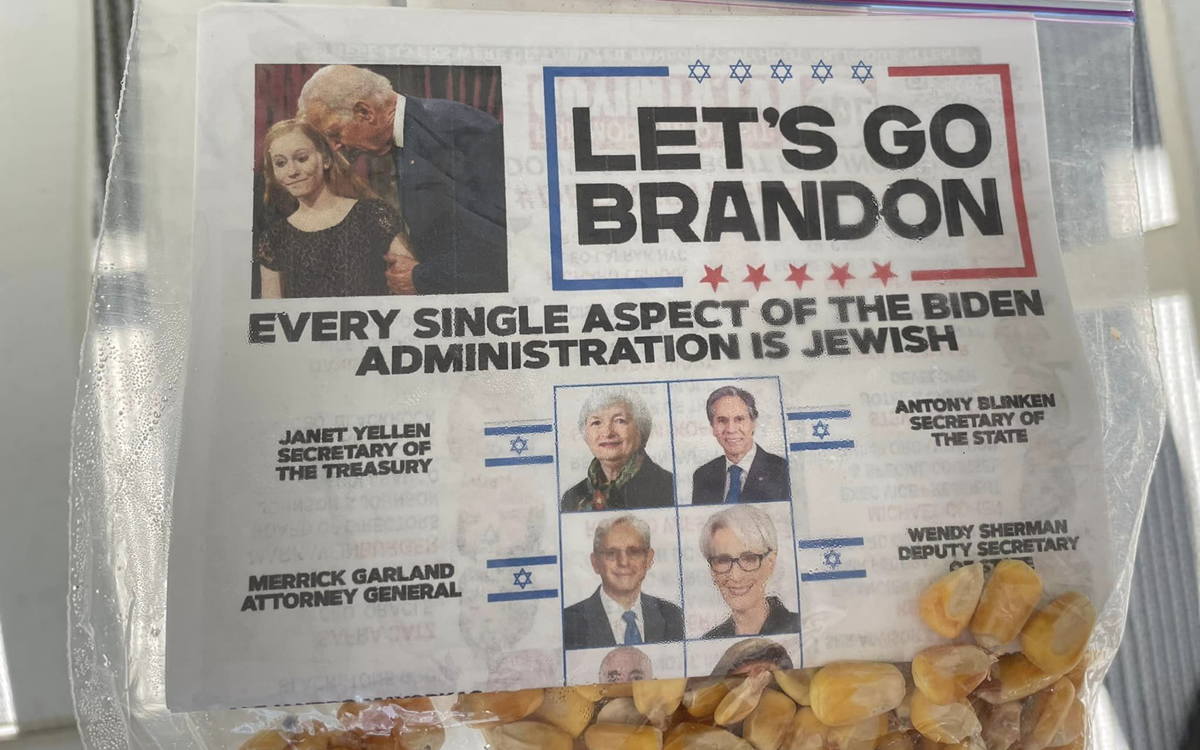 Wesley Combs, president of the board of directors of CAMP Rehoboth, the Rehoboth Beach LGBTQ community center, was among more than 300 homeowners and renters in Rehoboth Beach that had clear plastic bags stuffed with anti-Semitic flyers placed in the front yards of their home this past weekend, according to Combs and a statement from Rehoboth police.
Among the flyers distributed to the residents' front yards was one that listed the names of 23 U.S. government officials, private pharmaceutical company officials, and others that worked on addressing the COVID pandemic and who the flyer claims are Jewish or "shabbos goy," a term used, sometimes in a derogatory way, for a non-Jewish person who works for a Jewish company or family.
"EVERY SINGLE ASPECT OF THE COVID AGENDA IS JEWISH," the flyer declares in large letters above the list of the names.
"These acts of anti-Semitic hate are concerning especially in a community known for being a place of solace and an oasis for those who live in and visit Rehoboth Beach," Combs told the Washington Blade. "The timing also saddens me as a Jew because we are about to enter the holiest 10 days on the Jewish calendar – Rosh Hashanah and Yom Kippur," he said.
"Because these flyers appear to have been distributed randomly and not specifically targeting Jewish residents it might not qualify as a hate crime," said Combs, who noted that he called Rehoboth police to report receiving the flyers.
"Overnight Saturday [Sept. 17], flyers with anti-Semitic and political messaging were left in more than 300 yards in the greater Rehoboth Beach area," said Lynne Coan, a Rehoboth Beach city spokesperson. "Many residents have expressed dismay, disappointment, and concern about these flyers," Coan said in an email to the Blade.
"The apparent intent of the flyers is to spread the divisiveness, dehumanizing fear, and cultural mistrust that currently permeate our nation," she said. "This runs counter to the warm, accepting, and collaborative community that is Rehoboth Beach."
She added, "While the First Amendment protects freedom of speech, the Rehoboth Beach Police Department, along with other law enforcement agencies, is investigating distribution of these flyers and working with the state attorney general's office to determine if any crime has been committed."
Coan said Rehoboth police are asking residents with home video security devices to check if they have any video footage of someone delivering the flyers or of a suspicious vehicle late Saturday night or early Sunday morning on Sept. 17-18. She said anyone who may have security camera footage capturing someone delivering the flyers or other relevant information is asked to call Rehoboth police at 302-227-2577.
In a Facebook post in which he included photos of three of the flyers, Combs said he views the messages presented in the flyer as potential threats.
"As a Jewish Gay man, these threats against my safety, humanity and civil rights are a stunning reminder that remaining silent is not an option," Combs said in his Facebook post. "I have included pictures of some to give you an idea and cropped out the website printed at the bottom to avoid promoting these cowards," he stated in his post.
Another one of the flyers that Combs posted a photo of includes photos of six U.S. senators and two U.S. House members, including former Sen. Barbara Boxer (D-Calif.) and Sen. Chuck Schumer (D-N.Y.), who the flyer points out are strong supporters of federal gun control legislation and who are Jewish. Above the photos of the lawmakers and next to a photo of a handgun, the flyer states in large capital letters, "EVERY SINGLE ASPECT OF GUN CONTROL IS JEWISH."
A third flyer Combs posted a photo of includes photos of four high-level Biden administration officials — Treasury Secretary Janet Yellen, Attorney General Merrick Garland, Secretary of State Antony Blinken, and Deputy Secretary of State Wendy Sherman. In large letters above the photos the flyer declares, "EVERY SINGLE ASPECT OF THE BIDEN ADMINISTRATION IS JEWISH." And above that statement are the words, "Let's Go Brandon," which is used by far-right activists as a code for denouncing President Biden.
CAMP Rehoboth's SunFestival 'a huge success'
'Packed' dance floor for SunDance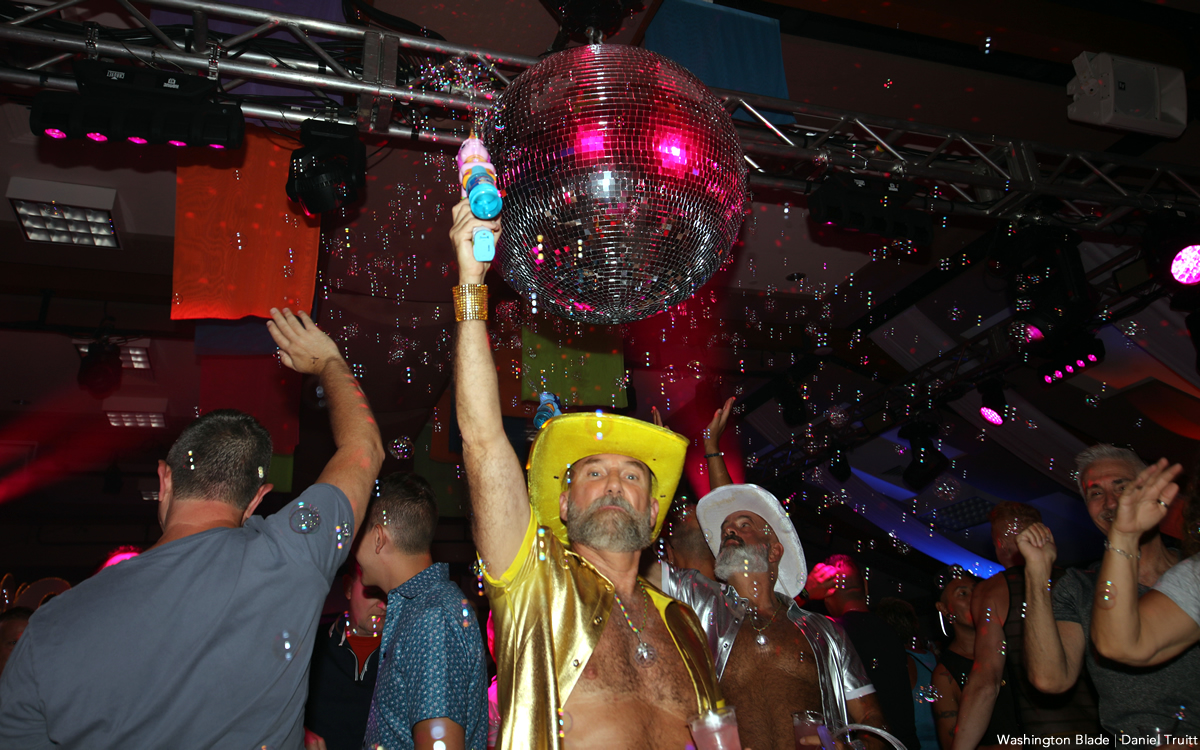 LGBTQ organizations in Rehoboth Beach, Del. celebrated the end of the season with an array of events and fundraisers. Notably, CAMP Rehoboth welcomed the long-awaited return of its annual SunDance as part of SunFestival on Sunday evening. 
This year's SunFestival was "a huge success," said Wesley Combs, CAMP Rehoboth board president. "It was a true community effort, which was so heartwarming to see as the new board president."
While official numbers from the weekend's fundraising have yet to be determined, Combs noted that both of the weekend's flagship events — SunDance, as well as a Saturday night performance by Emmy-winning comedian Judy Gold — were sold out, as were the sponsorships available for the event. The dance floor for SunDance, which had not been held since 2019 due to public health restrictions, "was packed from the minute the doors opened," he added.
"Everyone was coming back together and doing something that they love to do, which is dancing under the mirror ball, being together and celebrating a great organization," he said. "It's hard to do that when you can't see each other."
CAMP Rehoboth is looking to kick off its search for a new executive director and will soon begin to implement its strategic planning process. The funds raised during SunFestival will help support the organization during this period of transition, Combs noted.
In the meantime, "this is going to be a time where we're going to reflect," he added. "We're going to really assess, 'What are the needs of our community?' … and then understand what's the most important thing for CAMP Rehoboth to be doing in the next five years."
(Washington Blade photos by Daniel Truitt)