Baltimore arts preview: John Waters, Tina Turner, and more
Busy season in Charm City with 'Hamilton,' Randy Rainbow among standouts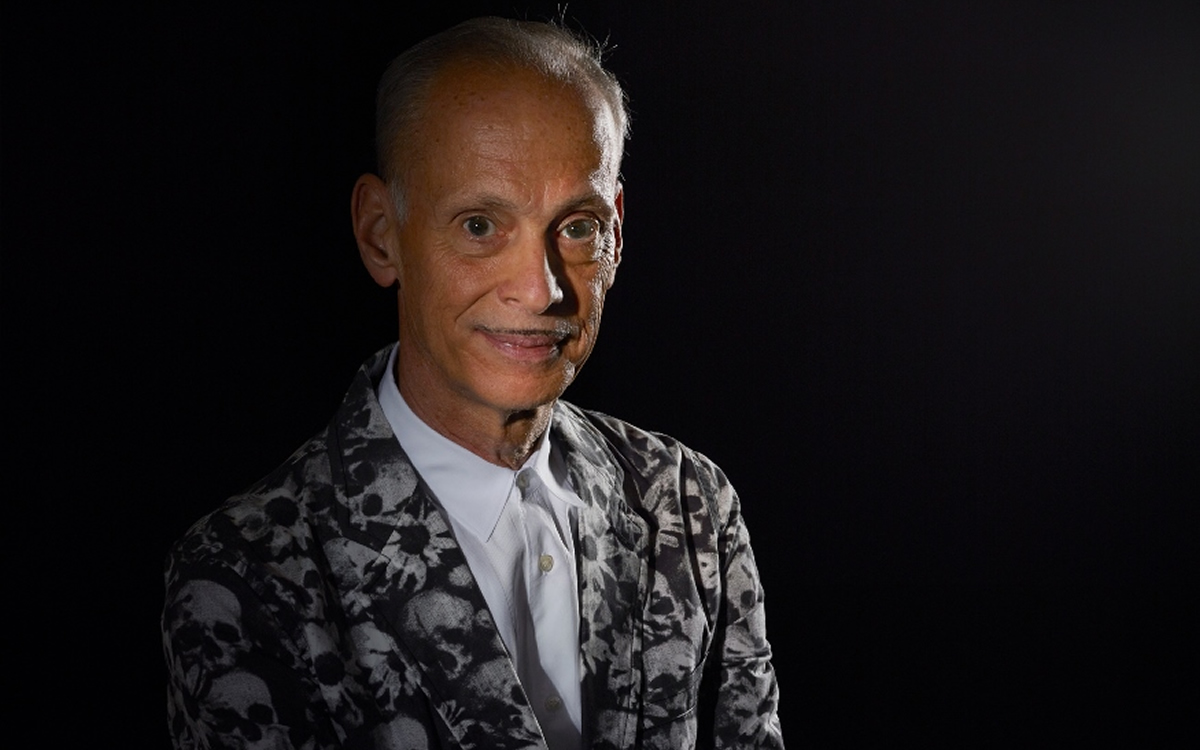 What sort of art does gay writer and filmmaker John Waters collect? Does it reflect his subversive sense of humor and empathy for outsiders? How did he get to be such a savvy art collector?
Fans will get some answers from "Coming Attractions: The John Waters Collection," an exhibit opening Nov. 20 at the Baltimore Museum of Art. It's one of many shows and exhibits coming to Baltimore this fall, including the national touring productions of "Hamilton," "Jagged Little Pill" and "Tina: The Tina Turner Musical," and appearances by Randy Rainbow, Trixie Mattel, Chelsea Handler and others.
"Coming Attractions" will feature about 90 works of art selected from 372 works that Waters, a BMA trustee, plans to leave to the museum upon his death. When his donation was announced in 2020, representatives promised the museum would have a preview of what's to come while Waters was still alive, and this show is it.
Although Waters's donation to the museum includes works by himself and others, "Coming Attractions" will focus on art he has collected and displayed at his homes in Baltimore, New York City, and San Francisco.
The guest curators are photographer Catherine Opie and artist Jack Pierson, both of whom have been friends with Waters for years and are represented in his collection. The exhibit is organized by Leila Grothe, the museum's Associate Curator of Contemporary Art.
Among the featured works are paintings, sculptures, photographs, and prints by Diane Arbus; Nan Goldin; Mike Kelley; Richard Prince; Cindy Sherman; Gary Simmons; Cy Twombly; Andy Warhol; Christopher Wool and others.
Part of the exhibit is a grouping of works that represent Waters's relationships with people in the art and film worlds, such as Brigid Berlin; Colin de Land; Cookie Mueller and Warhol. There's also the first work of art by a non-human that the BMA has ever agreed to display (or add to its collection) – a painting by Betsy the Chimpanzee, who lived and painted at the Maryland Zoo in Baltimore in the 1950s.
"We have both known John Waters for years as an auteur filmmaker, a writer, an artist, an art collector, and a friend. We are honored to have the opportunity to curate a presentation of his collection, which so richly reflects his personality and imagination," Opie and Pierson, who both identify as queer, said in a statement.
"Our hope is to share with audiences another aspect of John's creative vision by offering a glimpse into what he values: artists who are unafraid to take risks, who do not compromise, and who create their art on the margins."
Waters's last major show at the BMA was "John Waters: Indecent Exposure," a retrospective of his own work as a visual artist, which ran from Oct. 7, 2018 to Jan. 6, 2019. "Coming Attractions" will be on view until April 16, 2023.
Other major shows opening this fall at the Baltimore Museum of Art, 10 Art Museum Drive, include:
"Darrell Ellis: Regeneration," from Nov. 20, 2022 to April 23, 2023. This is the first comprehensive museum exhibition devoted to the work of a multi-faceted artist who died of AIDS-related causes in 1992 at the age of 33. The show is co-organized with The Bronx Museum of the Arts.
"A Movement in Every Direction: Legacies of the Great Migration," from Oct. 30, 2022 to Jan. 23, 2023. For this exhibition about Black Americans moving from the South to other parts of the United States starting around 1900 and continuing into the 1970s, the BMA and the Mississippi Museum of Art co-commissioned 12 artists to create works that examine the impact of the Great Migration on the social and cultural life in the United States. Participating artists include: Akea Brionne; Mark Bradford; Zoe Charlton; Larry W. Cook; Torkwase Dyson; Theaster Gates Jr.; Allison Janae Hamilton; Leslie Hewitt; Steffani Jemison; Robert Pruitt; James Richmond Edwards and Carrie Mae Weems.
"Baltimore, Addressed: Baker Artist Awards," from Nov. 13, 2022 to March 12, 2023. Five past winners of the coveted Baker Artist Award — Laura Amussen; David Page; Ernest Shaw; Susan Waters-Eller and Pamela Woolford — respond to "the past, present and imagined future of the city."
"Omar Ba: Political Animals," from Nov. 20, 2022 to April 2, 2023. This is the first U.S. museum exhibition of the work of painter Omar Ba, a leading contemporary African artist.
"Stanley Whitney: Dance with Me Henri," from Nov. 20, 2022 to April 23, 2023. Works on paper by a Philadelphia-born artist whose compositions and use of color and light have strong parallels to the work of Henri Matisse.
More visual arts events:
American Visionary Art Museum: The next "mega exhibit" at the American Visionary Art Museum, 800 Key Highway, is "ABUNDANCE: Too Much, Too Little, Just Right (Championing good, honest work from the hand and the heart)," from Oct. 8, 2022 to Sept. 2023. The curator is AVAM curatorial and development curator Gage Branda. It's the first major exhibit at AVAM under new director Jenenne Whitfield, who this month succeeded founding director Rebecca Alban Hoffberger, who retired in April.
Walters Art Museum, 600 North Charles St. After cancelling its fall gala last year, the Walters has scheduled its 2022 celebration and fundraiser, An Evening at the Walters, for Oct. 15 from 6 p.m. to midnight. More information about that event and others is on the museum's website, thewalters.org. Its current blockbuster, "Activating the Renaissance," opened in April and continues until February 26, 2023.
The Peale, 225 Holliday St. After a five-year, $5.5 million renovation, Baltimore's historic Peale Museum reopened in August as The Peale, Baltimore's Community Museum. Inaugural exhibits include "Spark: New Light," a collaboration between Towson University and the University of Maryland Baltimore County, featuring the work of more than 20 faculty members and MFA student artists celebrating the building's reopening with "illuminated and illuminating works of art, until Sept. 25, and Peale Faces, until Aug. 13, 2023, featuring artist and "participatory history specialist" Lauren Muney's hand-cut silhouette portraits of city residents. More information about Peale events is at ThePealeCenter.org.
Maryland Center for History and Culture: 610 Park Ave. On Nov. 5, the Mount Vernon history center will open "Claire/McCardell," a yearlong exhibit about Claire McCardell, an influential designer of women's clothing from the 1930s to the 1950s and beyond. More information about the history center and its collections is on its website, mdhistory.org.
Performing arts events:
Hippodrome Theatre, 12 S. Eutaw St.: Fall shows include Hamilton, October 11 to 30; State Ballet of Ukraine – Swan Lake, November 5; Randy Rainbow: The Pink Glasses Tour, November 11; Tina: The Tina Turner Musical, November 15 to 20; Nutcracker! Magic of Christmas Ballet, December 7 and 8; Paw Patrol Live! The Great Pirate Adventure, December 10 and 11; Little Jagged Pill, December 13 to 18.
Lyric Baltimore, 140 West Mount Royal Avenue: CoComelon Live!, September 16; Trixie and Katya Live, featuring drag stars Trixie Mattel and Katya Zamolodchikova, September 19; Michael Blackson and Jess Hilarious, September 24; The Price is Right Live, October 7; Baltimore Soul Jam; October 15; Disney Junior Live on Tour, October 21; and Whose Live Anyway?, featuring Ryan Stiles, Greg Proops, Jeff B. Davis and Joel Murray, October 29.
Also Joe Gatto Night of Comedy, November 4; Taylor Tomlinson, The Have It All Tour, November 5; New Jack City Live On Stage, November 6; Spy Ninjas Live, November 18; Alton Brown Live: Beyond the Eats – the Holiday Variant, November 19; Disney Princess Concert, November 25; Cameo Featuring the Rolex Band, November 26; Steve-O (from Jackass) The Bucket List Tour, November 30; Steven Crowder and Dave Landau's Rebel with a Cause Tour, December 3; Mannheim Steamroller Christmas by Chip Davis, December 4, Chelsea Handler, December 15; Eddie B. Teachers Only Comedy Tour, December 16.
Creative Alliance, 3134 Eastern Avenue: On October 6, drag performer Betty O'Hellno and friends will host two singalong presentations of a 1975 cult classic, The Rocky Horror Picture Show, at 7 p.m. and 10 p.m. Costumes are encouraged. The following two nights, October 7 and 8, Creative Alliance will present "Chocolate Covered Rocky Horror," a musical performance that promises to take the Rocky Horror experience to "a whole different dimension." A full calendar of events, including Sidewalk Serenades, Dr. Sketchy's classes in "life drawing with a twist," and the popular Art to Dine For series, is at creativealliance.org.
Baltimore Center Stage, 700 North Calvert Street: Our Town, September 15 to October 9; Kulu Mele African Dance and Drum Ensemble and the Osagyefo Dance Company, September 17; Baltimore Butterfly Sessions, September 19, November 7 and December 5; BCS Sound Check with Michelle J. Rodriquez in Concert, October 21; Ain't No Mo' (in association with Woolly Mammoth Theatre Company), October 27 to November 20; The Rocky Horror Picture Show, featuring EarlOrrin Productions' Chocolate Covered Rocky Horror, in partnership with Creative Alliance, October 28 and 29; and BCS Sound Check with Eze Jackson in Concert, November 18.
Everyman Theatre, 315 West Fayette Street: Dinner and Cake, September 6 to October 2; The Lion in Winter, October 18 to November 13; Ken Ludwig's Baskerville: A Sherlock Holmes Mystery, December 6 to January 1, 2023.
Doors Open Baltimore: A popular annual program that allows participants to tour places that aren't usually open to the public returns on October 1 and 2, with more than 40 sites open this year. Examples include the Arabber Preservation Society; the Bromo Seltzer Arts Tower; Chesapeake Shakespeare Theater; the H. L. Mencken House and Humanim at American Brewery. The complete list is at doorsopenbaltimore.org.
Baltimore Symphony Orchestra: One highlight of the BSO's fall series is a celebration of the 40th anniversary of the opening of the Joseph Meyerhoff Symphony Hall in Baltimore on September 16, 1982. To mark the occasion, the BSO has planned a 40th Anniversary Season Opening Celebration for September 17, with Jack Everly as conductor and Ledisi as vocalist. More information about the symphony's fall schedule is on its website at bsomusic.org.
Baltimore Soundstage, 124 Market Place: Madonna Gaga Britney Dance Party!, September 16; Shrek Rave, September 17; Old 97's with Vandoliers, September 18; Pusha T, September 20; Wednesday 13, Bag of Humans, Space Lumberjacks, September 22; Dead Like Disco with Brothers Clair, September 23; Maddie & Tae with Sacha and Abbey Cone, September 24; The Get Up Kids, September 27; Nine Inch Naans Tour with Bloodywood, A Killer's Confession and Iris Divine, September 29; and Japanese Breakfast, September 30.
Ladies Tea event to benefit SMYAL
Fall Edition held at Hank's Oyster Bar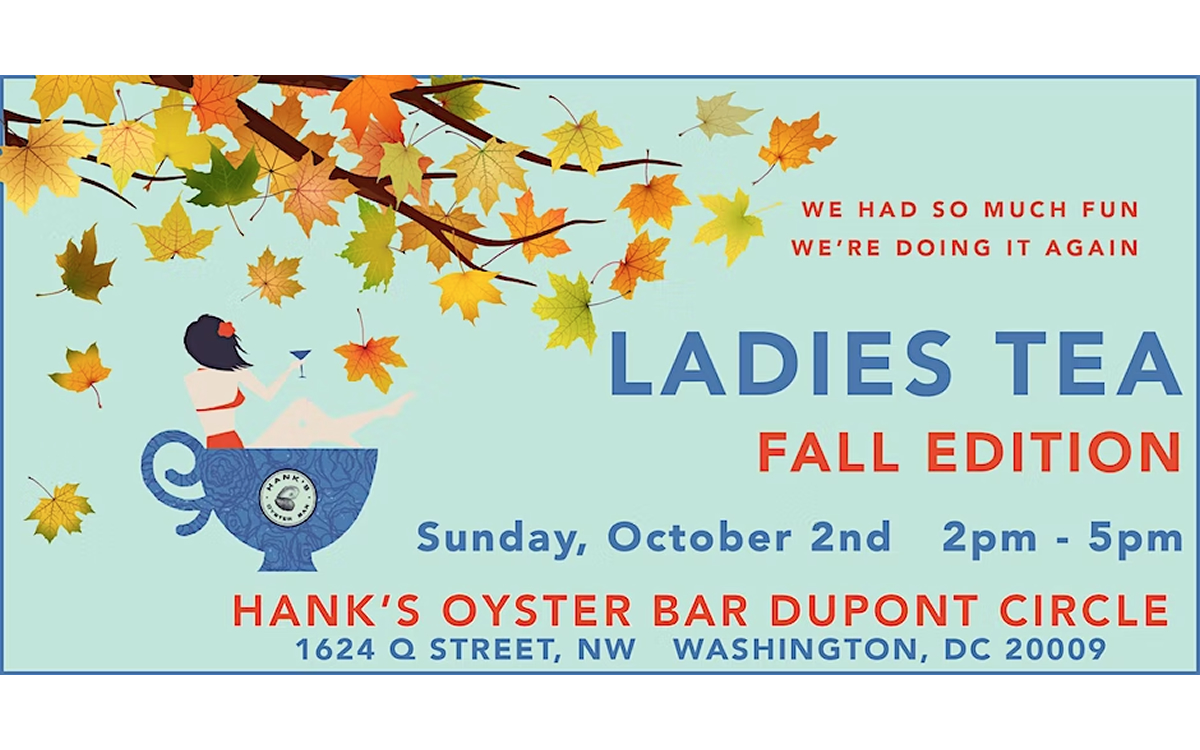 "Ladies Tea: Fall Edition," a fundraising event, will be hosted on Sunday, Oct. 2 at 2 p.m. at Hank's Oyster Bar Dupont Circle.
Ladies are encouraged to celebrate fall while mixing and mingling at the Up Bar and outdoor patio space of Hank's Oyster Bar.
Proceeds from the event will go to SMYAL DC, which supports and empowers LGBTQ youth in the D.C. region.
Tickets for the event cost $15 and can be purchased on Eventbrite. 
CBC to host Newark mayor for doc screening
'Why Is We Americans?' to be shown at Planet Word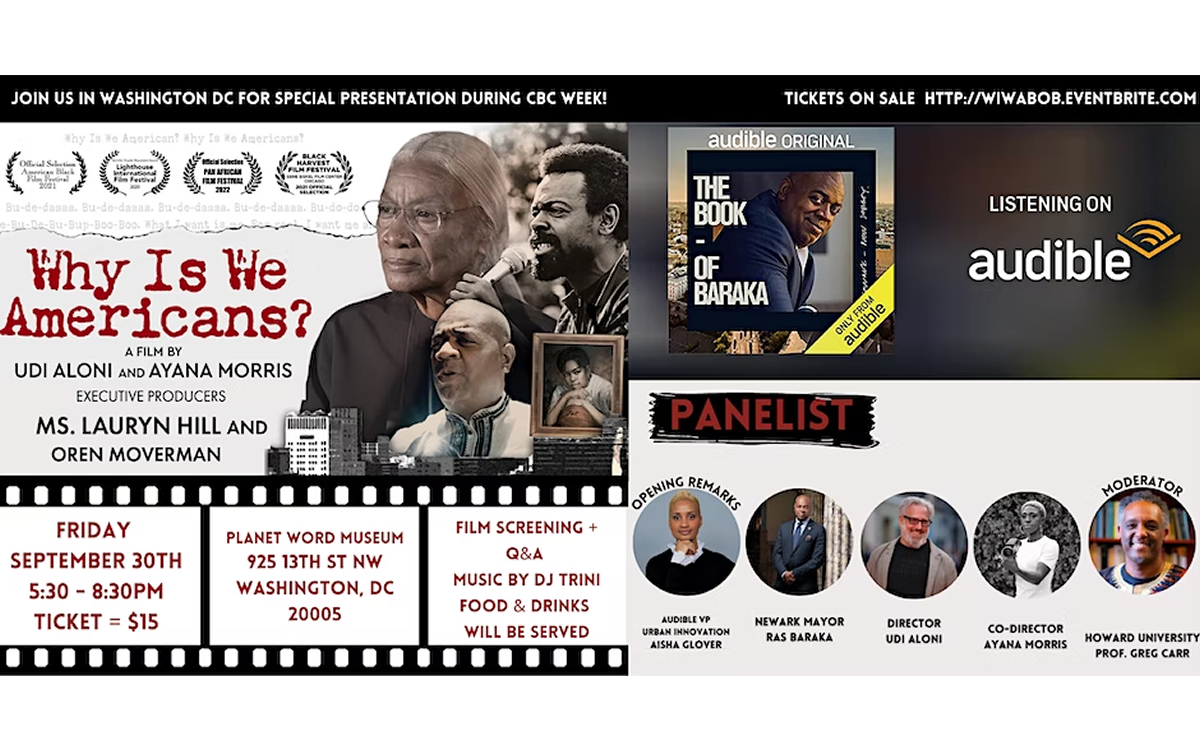 The Congressional Black Caucus will host a screening of "Why Is We Americans" on Friday, Sept. 30 at 5:30 p.m. at Planet Word.
The documentary is an intimate portrait of the family of Newark, N.J. Mayor Ras Baraka who merges art, culture, and politics in the fight for social justice.
There will also be a special presentation of "The Book of Baraka," his Audible Original audio book that recounts his journey from poet to principal to peacemaker, through his own powerful, inspiring words.
Tickets are $15 and can be purchased on Eventbrite.
Author Kenny Fries on being queer, disabled, and Jewish
How the three identities formed his rather irreverent take on life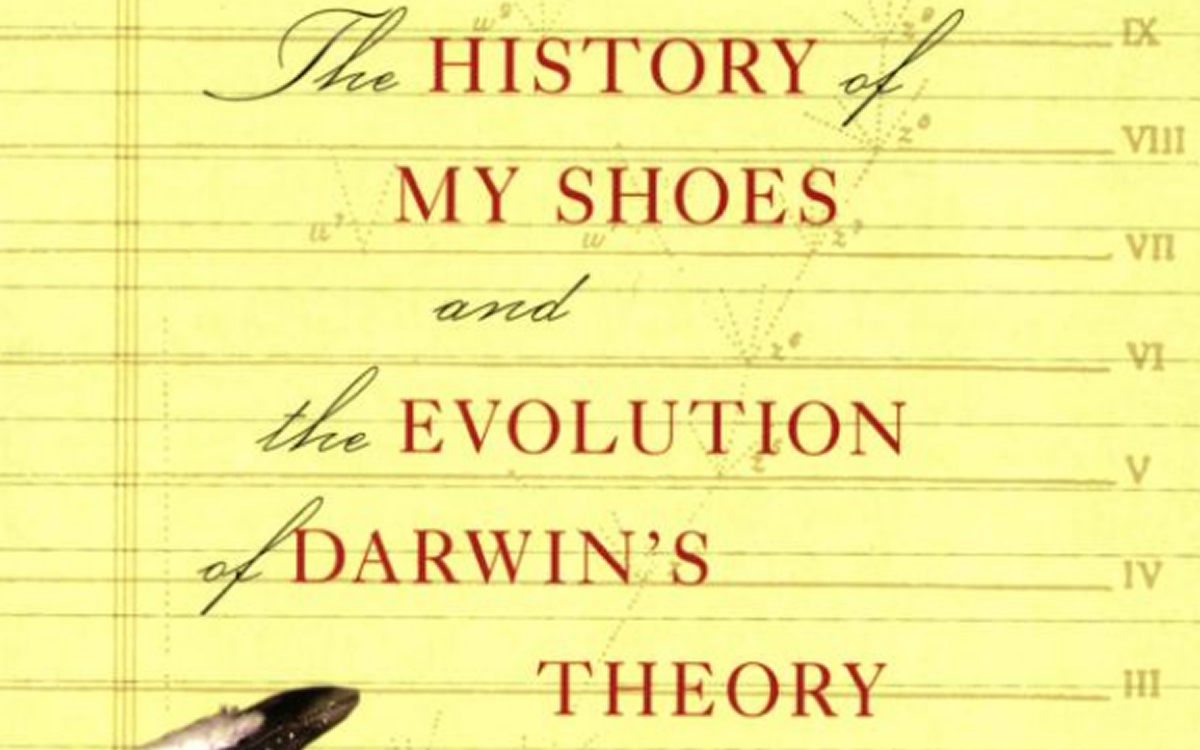 (Editor's Note: One in four people in America has a disability, according to the Center for Disease Control and Prevention. Queer and disabled people have long been a vital part of the LGBTQ community. Take two of the many queer history icons who were disabled: Michelangelo is believed to have been autistic. Marsha P. Johnson, who played a heroic role in the Stonewall Uprising, had physical and psychiatric disabilities. Today, Deaf/Blind fantasy writer Elsa Sjunneson, actor and bilateral amputee Eric Graise — Marvin in the "Queer as Folk" reboot — and Kathy Martinez, a blind, Latinx lesbian, who was Assistant Secretary of Labor for Disability Employment Policy for the Obama administration, are only a few of the numerous queer and disabled people in the LGBTQ community. Yet, the stories of this vital segment of the queer community have rarely been told. In its monthly, year-long series, "Queer, Crip and Here," the Blade will tell some of these long un-heard stories.)
In 1991, when he was living in Provincetown, he agreed to be a model for a guide to "gay sex," gay, disabled and Jewish author and poet Kenny Fries writes in his memoir "The History of My Shoes and the Evolution of Darwin's Theory."
Fries, 62, who's just been awarded a Disability Futures Fellowship by the Ford Foundation, has been disabled since birth.
His medical records say that he has "congenital deformities of the lower extremities," Fries said in an email interview with the Blade, "Basically, I was missing bones in my legs when born."
Sometime later, Fries learned that the medical term for his disability is "fibular hemimelia." "There is no known cause," he added, "and it is nothing a pregnant mother does or doesn't do that causes this."
Back in 1991 in Provincetown, the local artist who was working on the gay sex guide wanted to make sure that it would correctly portray a disabled man having sex.
Fries was pleased when the artist showed him the pictures he'd taken of him and his partner in the modeling session. "I recognize the images of myself in both the photos and the drawing as very beautiful," Fries writes.
But a week later, Fries's feelings of pride were dissed. The guide's art director didn't like how the drawing turned out, Fries recalled the artist telling him. "'He said that in the drawing the disability didn't read. He wants me to cut off one of your legs,'" Fries writes.
Coming out wasn't that difficult for Fries. Though, "I'm sure at times it felt difficult," he said. "I think it was the combination of being both gay and disabled that posed the most challenges."
If you're disabled, you're likely to run into ableism in the form of inaccessibility, pity, employment discrimination, discomfort, and fear. Perhaps, most hurtful, especially if you're queer and disabled, is what Fries calls the myth of "the ideal body." (This reporter is queer and disabled.)
Anyone with a body that is perceived as different is up against this myth, Fries said. "Everyone is affected by this myth, even straight white men. They just don't know it as much as we do."
Though he's been disabled since he was born in Brooklyn, N.Y., and his disability is quite noticeable, Fries didn't "come out" as disabled until he was in college.
Fries saw a psychologist after he began having panic attacks. "He did something not quite kosher," Fries said, "making a deal with me that he'd come see the musical I was directing if I went to talk with Irv Zola, a disabled professor who taught at Brandeis, where I was an undergraduate."
In those days, Zola was one of the very few disabled faculty at any college. "It was sheer luck that he was at mine," Fries said.
At Zola's suggestion, Fries got in touch with the Boston Self-Help Center, and, for a time, joined their peer support group. After grad school, Fries moved to San Francisco. There, he met Marilyn Golden, a disability rights movement leader. Meeting Golden, his first mentor, launched Fries's disability rights journey.
Another important step for Fries in his "coming out" as disabled was when he took part in the Contemporary Chautauqua on Performance and Disability that was organized by Vicki Lewis at the Mark Taper Forum in Los Angeles in 1994. There, Fries met creative nonfiction and fiction writer Anne Finger, playwright Susan R. Nussbaum and other disabled writers. These writers became his "comrades in arms," he said.
Golden and Nussbaum died earlier this year. It was "a great personal and community loss," Fries said.
The apartment building where he grew up was like a "vertical high rise shtetl," Fries said, when asked how being Jewish fit into his queer and disabled identity.
"An ex called me 'the Nazi Trifecta,'" Fries said, "as Jews, the disabled and queers were persecuted and killed during the Nazi regime."
Being queer, disabled, and Jewish – being triply "othered" has emphasized his "questioning," Fries said, "especially of societal structures and institutions."
Somehow, he believes, these three identities combined to form his rather irreverent take on things.
The writing bug bit Fries early on. "As a child, I was always thinking of plays," Fries said, "and wrote some silly ones."
Fries is one of our time's most distinguished and important queer and disabled writers. He is the author of "Province of the Gods," "The History of My Shoes and the Evolution of Darwin's Theory" and "Body, Remember: A Memoir." His books of poetry include "In the Gardens of Japan," "Desert Walking" and "Anesthesia."
If you're visibly disabled, you're stared at often by nondisabled people.
Fries has helped disabled people, queer and non-queer, to reclaim the stare. He edited the groundbreaking anthology "Staring Back: The Disability Experience from the Inside Out," in which writers, including queer icon Adrienne Rich, reflect on their lived experience of being disabled.
"I didn't realize Rich was disabled (she had rheumatoid arthritis) until I saw her using a cane at a reading in the Bay Area," Fries said.
Fries lives with his husband, who is Canadian, in Berlin. They met when Fries was in Japan in 2005 and married in 2007.
"Living in cultures other than my own, as well as travel, has always been a foundation of my work," Fries said.
Occasionally, Fries has encountered "direct" ableism in the queer community. Such as the time decades ago when he wasn't allowed into a gay bar in Florence, Italy. Or the "very rare" sexual rejection by a nondisabled person. "This harkens back to the ideal body myth," Fries said.
More insidious to Fries is the ableism of inaccessible queer spaces and events and the lack of inclusion of disabled people on queer-related panels at readings and events.
Then, there are the apps, Fries said. "How many disabled guys does one encounter on Grindr?" he said. "Even the profile questions asked show the default is not to think of physical difference."
Fries came to Berlin to do research for the book he's working on "Stumbling Over History: Disability and the Holocaust" and his video series "What Happened Here in the Summer of 1940?"
"The disabled were the first group to be mass murdered in gas chambers in Aktion T4, the Nazi program that killed 70,000 disabled persons," Fries said.
"After T4 officially ended, 230,000 more disabled people were killed by gas," Fries added, "as well as by other means, such as starvation, medication overdose and neglect."
This is still a relatively unknown history to most people, even in Germany, Fries said.
Fries's supply of energy is boundless. He has curated "Queering the Crip, Cripping the Queer," the first international exhibit on queer/disability history, activism, and culture. It opened at the Schwules Museum Berlin on Sept. 1 and runs through the end of January 2023.
The exhibit includes the work of more than 20 contemporary queer/disabled artists.
A major theme of the exhibit is "'the ideal body'," Fries said, "how this fantasy has pervaded both queer and disability history and lives, and how queer/disabled artists have counteracted this."
Many people know Audre Lorde as a queer, Black icon. But most don't think of her as having a disability. Yet, Lorde, who had cancer, was disabled. She is included in the exhibit.
"Lorde was a very important figure for the Afro-German women's movement," Fries said.
Lorde wrote about having cancer in "The Cancer Journals." She had an ahead-of-her- times view of disability, Fries said. "In an interview featured in the exhibit, she talks about a feminist book fair in London in 1984, which was held in an inaccessible space."
It is important for all of us that such events be made available to disabled women, Lorde said in the interview, "and we should make sure they are announced in black women's magazines."
Lorde understood intersectionality before it became popular, Fries said.
For more information go to: kennyfries.com