Hakeem Jeffries makes history with appointment to lead House Democrats
Democratic Rep. Hakeem Jeffries of New York, an LGBTQ ally, will become the first Black lawmaker of either party to serve in the top spot of either of the two chambers of Congress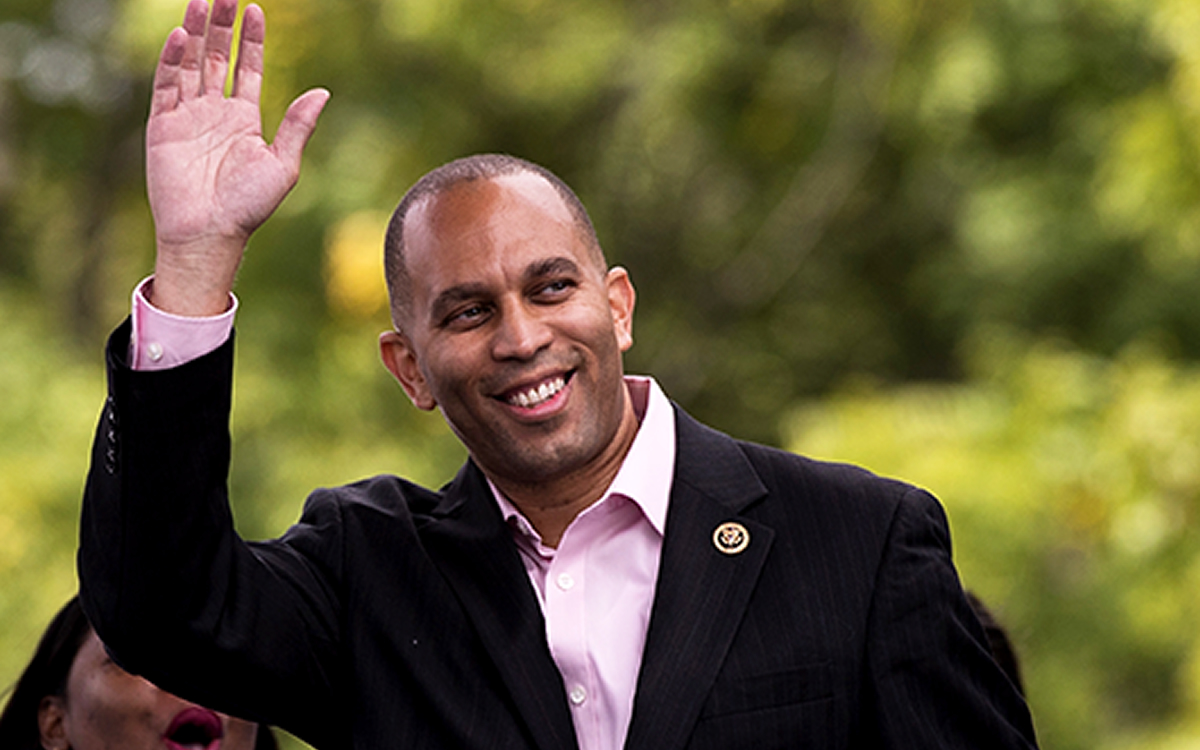 With his election on Wednesday to take over as House Democratic minority leader next year, Rep. Hakeem Jeffries (D-N.Y.) became the first-ever Black lawmaker from either party who will serve in that role in either of the two chambers of Congress.
House Democrats also chose, for the second and third-highest ranking positions, Reps. Katherine Clark (Mass.) and Pete Aguilar (Caif.). All ran unopposed and rather than by formal ballots were elected by voice vote for unanimous consent.
The moves signaled broad consensus among House Democrats in their decision to send the new slate of lawmakers, young and diverse with some progressive bona fides, to serve in the party's senior leadership positions.
The three lawmakers are all members of the Congressional LGBTQ+ Equality Caucus and longtime allies of the community. Jeffries, as chair of the House Democratic Caucus, introduced the Respect for Marriage Act in the House this summer.
The Caucus declined to comment on the House Democratic leadership elections.
When Aguilar succeeds Jeffries in that role next year, it will be the highest-ranking position in House leadership ever held by a Latino member. Clark, meanwhile, will become the second woman to serve as Democratic House Whip after Rep. Nancy Pelosi (D-Calif.), the current House Speaker.
Pelosi announced on Nov. 18 her plans to step down from House Democratic leadership after the next Congress is seated. She made history in 2001 as the first woman elected to the second highest-ranking position in the chamber, and then again in 2007 when she took the top slot, becoming the first woman Speaker of the House.
Following her announcement, Pelosi was celebrated for her many legislative accomplishments at the top of her party's caucus, where she served for two decades under four presidents. A Washington Post column called Pelosi the "best speaker in U.S. history."
Considering that Pelosi also presided over some of the biggest legislative milestones in the modern LGBTQ rights movement, such as the 2011 repeal of "Don't Ask, Don't Tell," Jeffries has a high bar to clear when he's handed the torch in January.
In addition to his leadership on the Respect for Marriage Act, Jeffries has been a major advocate in Congress for other pro-LGBTQ pieces of legislation like the Equality Act and, in 2014, the Hate Crime Reporting Act.
Jeffries has been a vocal champion of measures to make the U.S. Capitol more welcoming for transgender and gender nonconforming people – such as by calling for single-occupancy gender-neutral restrooms on the Hill and rules that would adopt gender-neutral language in the House.
He has also spoken out forcefully against anti-LGBTQ hate from some members of the House Republican caucus, such as the dangerous rhetoric from Rep. Marjorie Taylor Greene (Ga.), who has repeatedly tried to link queer people to child sexual abuse.
Justice Department eyes criminal probe of Santos' campaign finances
House Speaker Kevin McCarthy's (R-Calif.) office has not commented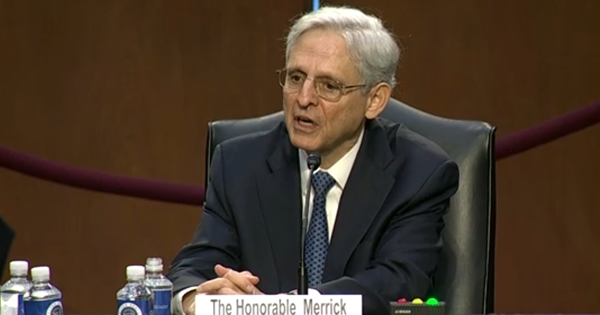 The Justice Department has asked the Federal Election Commission to hold off on law enforcement activity over Republican U.S. Rep. George Santos (N.Y.) as federal prosecutors conduct their own criminal probe into the congressman's campaign finances.
The news, first reported Friday by the Washington Post, was confirmed Saturday by the Washington Blade via a Justice Department source familiar with the matter who was not authorized to speak with the press.
The attorney who filed the FEC complaint against Santos previously told the Blade that the agency would yield to the Justice Department if prosecutors initiate a criminal probe — indicating that in Washington the matter would be overseen by the Department's Public Integrity Section. 
The Nassau County District Attorney's Office and the office of New York Attorney General Letitia James are also looking into Santos' financial conduct, while the congressman has simultaneously been enmeshed in controversies over his compulsive lying, having fabricated virtually every part of his life and identity.
As of this publication, House Speaker Kevin McCarthy's (R-Calif.) office has not responded to a request seeking comment. McCarthy, along with the rest of Republican leadership in the chamber, have addressed the controversies only minimally, telling reporters they have no plans to ask Santos to step down until or unless criminal proceedings against him are underway.
Santos voted for McCarthy's bid for speakership in each of the 15 ballots that were required to unite the House GOP conference behind him due to the objections of a couple dozen ultra-conservative members who were able to delay the vote and extract painful concessions because of the party's narrow control of the House majority.
Gallego announces run for Sinema's Senate seat
Sets up potential three-way race if incumbent seeks reelection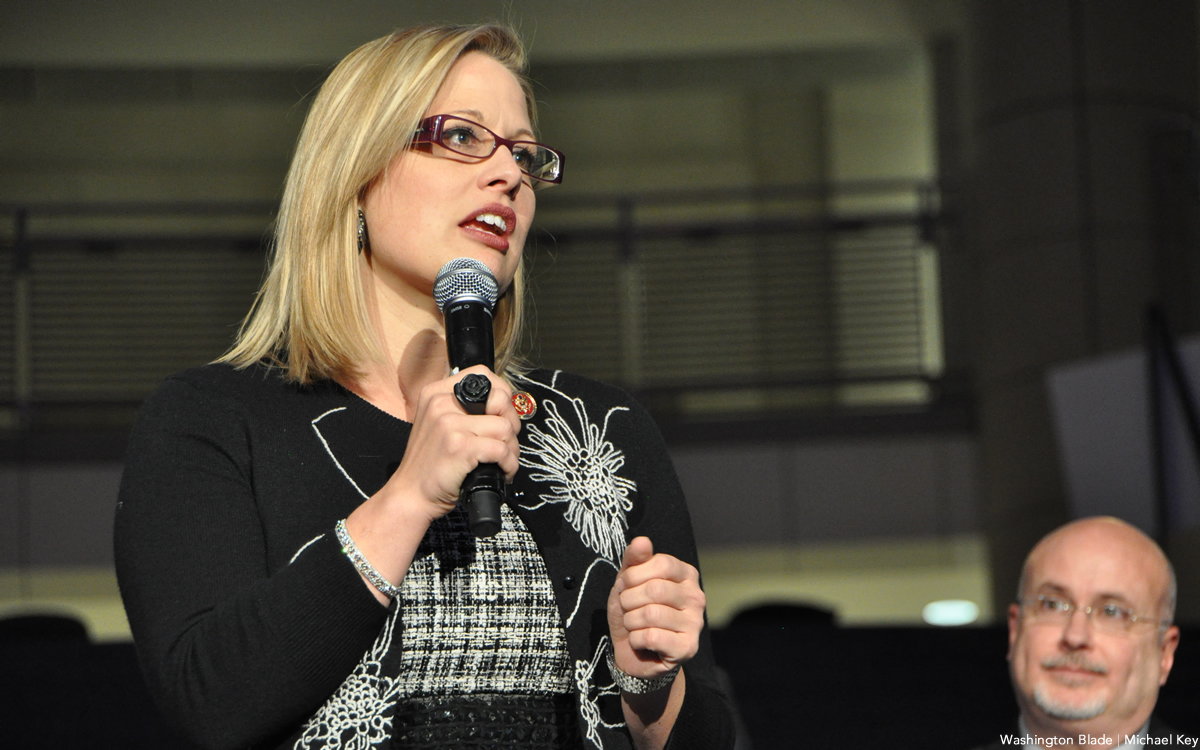 Democratic U.S. Rep. Ruben Gallego of Arizona announced plans to run for the Senate in 2024, setting up a possible three-way race if newly declared independent Sen. Kyrsten Sinema decides to seek reelection for her seat representing the Grand Canyon State next year.
Gallego disclosed his forthcoming senatorial bid on Monday, sharing a video on Twitter in which the congressman accused Sinema of breaking her promises to Arizonans in favor of advancing the interests of multinational pharmaceutical companies and financial institutions.
A spokesperson for Sinema's office declined to comment. On Friday, Sinema told Arizona Radio Station KTAR: "I'm not really thinking or talking about the election right now, although others are," adding, I'm staying focused on the work."
If elected, Gallego, whose announcement video was recorded in English and Spanish, would become Arizona's first Latino senator.
Sinema became the first bisexual member and, after Wisconsin Sen. Tammy Baldwin, the second LGBTQ woman elected to the U.S. House of Representatives and U.S. Senate in 2012 and 2018, respectively.
Last year, she was widely credited for her role in the Senate's passage of the Respect for Marriage Act, hailed as the most significant pro-LGBTQ legislative achievement since the 2010 repeal of "Don't Ask, Don't Tell."
However, since her election to the Senate, Sinema has often earned the ire of many of her Democratic colleagues for stymying progressive legislation by refusing to abandon the filibuster and tacking to the right on fiscal issues.
The Arizona Democratic Party executive board voted to censure Sinema last January for voting with Republicans to preserve the filibuster at the expense of a voting rights bill.
On Dec. 9, Sinema announced her decision to switch her party affiliation from Democrat to independent, pledging not to caucus with Republicans and promising that "Nothing will change about my values or my behavior."
Sinema has also come under fire during her tenure in the Senate for taking positions seen as favorable to the drug industry and Wall Street, seemingly in exchange for financial backing from those and other affiliated interests.
For instance, in 2021 The Guardian reported that "In the current Congress, Big Pharma appears to have zeroed in on Senator Kyrsten Sinema, Democrat from Arizona, as one of their lead obstructionists to help kill or gut the Democrats' drug pricing plan. In the 2020 election cycle, pharmaceutical political action committees suddenly funneled more money to her than they did the whole six years she served in the US House."
George Santos: Same-sex couples and parents undermine families
Santos's comments came during an interview in 2020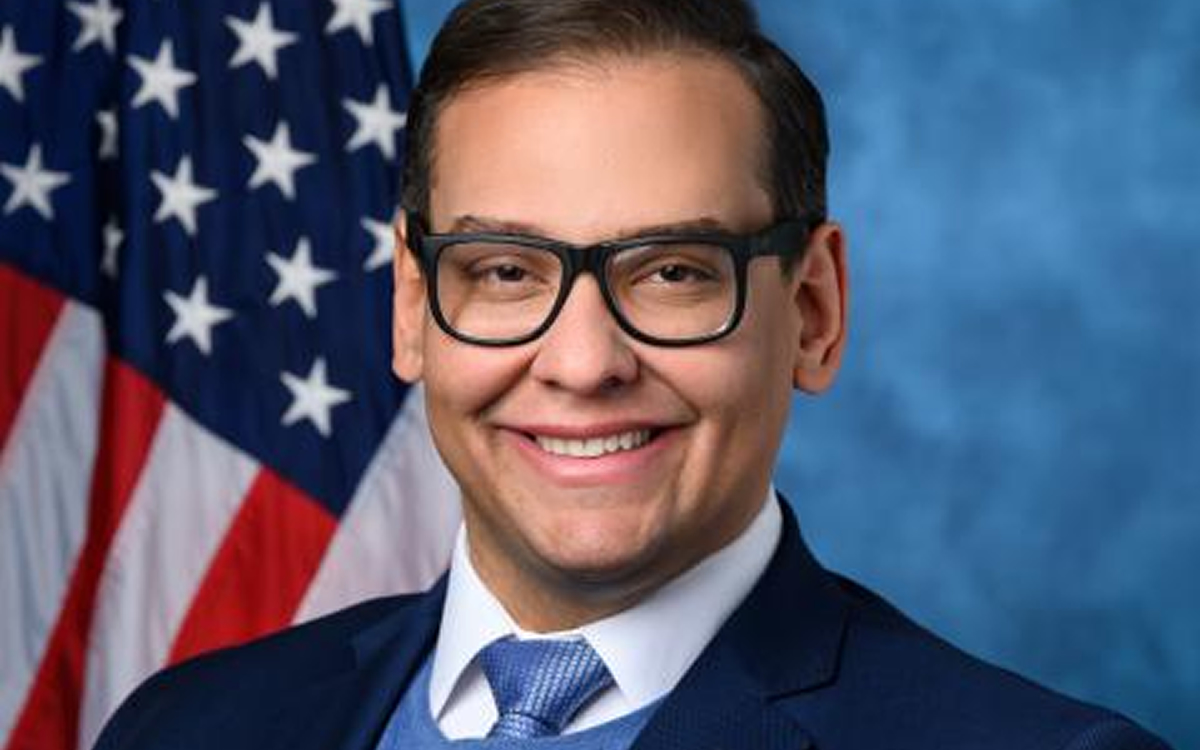 Two years ago, embattled gay Republican U.S. Rep. George Santos (N.Y.) told the host of a conservative YouTube show that same-sex couples and parents are harmful to children and undermine the family.
Children who are raised by single parents or gay and lesbian couples tend to grow up "troubled," Santos said during the hour-long interview on "Indivisible with John Stubbins." Clips from the conversation were excerpted and shared Thursday on Twitter by Patriot Takes.
"The family unit has been under attack for decades in different ways," Santos told Stubbins. "The flavor of the decade is same-sex couples. They're teaching in schools that kids don't need a mommy and a daddy, you can can have two mommies and two daddies. That's an attack on the family unit."
"I think that's a little much for kids," the congressman added.
According to the show's YouTube page, "Indivisible with John Stubbins" "endorses" My Pillow founder and far-right conspiracy theorist Mike Lindell and has a modest 3,690 subscribers. The video featuring Santos' interview earned six likes and no comments.
Also on Thursday, Reuters reported claims by former acquaintances that Santos was a drag performer in his native Brazil 15 years ago. Despite the online circulation of photos appearing to show the congressman dressed in drag, Santos tweeted that the reports were untrue.
The matter earned significant media attention given Santos' far-right positions on LGBTQ issues, consistent with comments from his interview on "Indivisible," as well as his allyship with the most extreme anti-LGBTQ members of the House Republican Caucus.
Conservative Republicans, including these lawmakers, have increasingly attacked drag events and performances, accusing hosts and participants of harming children or facilitating the sexual abuse or exploitation of minors.
Meanwhile, Santos has been buffeted by a host of other scandals, beginning with reporting last month that revealed he fabricated practically everything about his life and identity. Santos also faces investigations by multiple law enforcement agencies over allegations of financial malfeasance and violations of campaign finance laws.