Sharply divided 11th Circuit upholds Fla. school district bathroom policy
Judges in 7-4 decision upheld regulation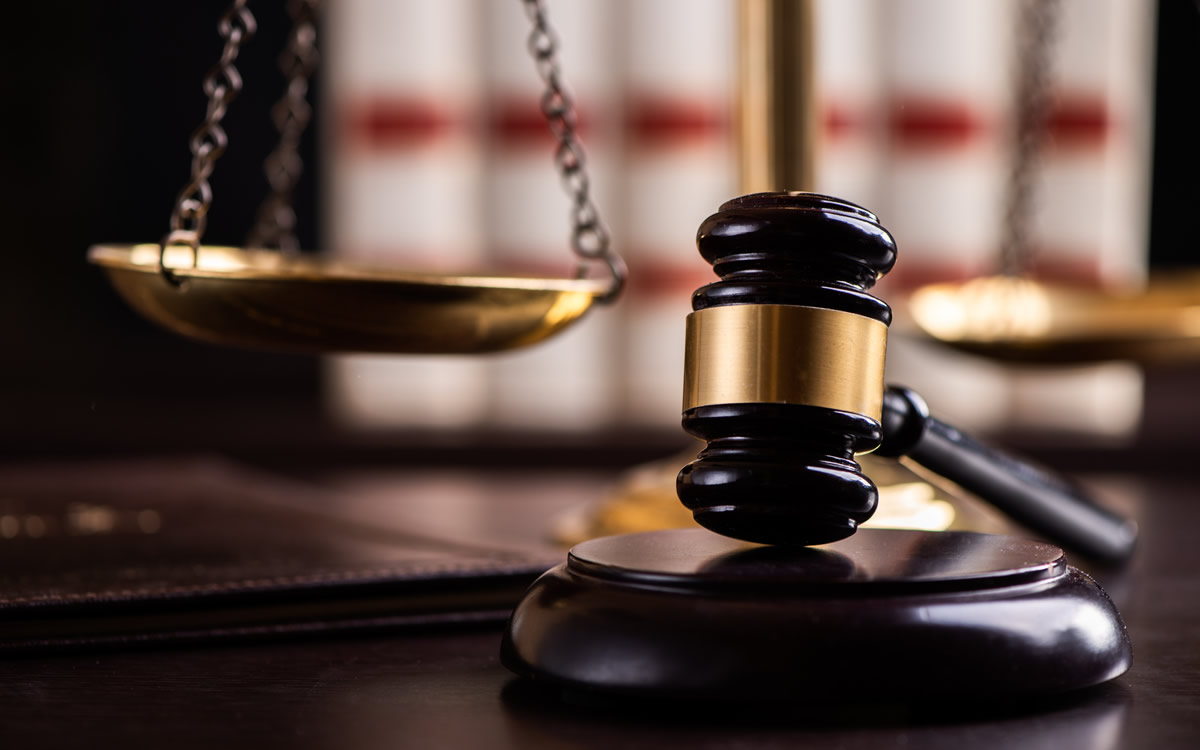 The 11th U.S. Circuit Court of Appeals last week ruled, in a 7-4 vote, that a Florida school district did not violate the U.S. Constitution nor federal civil rights laws by requiring students to use bathrooms corresponding to their biological sex as listed on their birth records.
All seven judges in the majority were appointed by Republican presidents, including six by former President Donald Trump, while the four dissenting judges were Democratic appointees.
Because other federal appellate courts have issued previous rulings allowing a student to chose to use bathrooms based on their gender identity, an appeal to the U.S. Supreme Court is likely.
In June 2021, the high court declined to hear arguments in the earlier appeals court ruling of a former high school student who challenged his Virginia school district's bathroom policy.
Gavin Grimm was a sophomore at Gloucester County High School when he filed a federal lawsuit against the Gloucester County School District's policy that prohibited students from using bathrooms and locker rooms that did not correspond with their "biological gender."
The 4th U.S. Circuit Court of Appeals in Richmond in 2016 ruled in Grimm's favor.
The Biden administration had urged the 11th Circuit to strike down the Florida school board's policy. The White House had no immediate comment in regard to Friday's ruling.
The suit was brought by Drew Adams, a transgender man who sued in 2017 after being barred from using the boys' bathroom when he attended the Allen D. Nease High School in Ponte Vedra Beach, Fla.
"This is an aberrant ruling that contradicts the rulings of every other circuit to consider the question across the country," Tara Borelli, a lawyer with Lambda Legal representing Adams, said in a statement. "We will be reviewing and evaluating this dangerous decision over the weekend."
In the suit Reuters reported that Adams contended that the high school's bathroom policy violated the Constitution's Equal Protection Clause and Title IX, which bars sex discrimination in education.
Writing for the majority, Circuit Judge Barbara Lagoa disagreed, saying the school board had an important interest in protecting students' privacy, and calling it "wrong" to suggest it relied on illegal stereotypes of transgender people.
The Trump appointee also said Title IX allows separate bathrooms based on biological sex, citing "the plain and ordinary meaning of 'sex' in 1972" when that law took effect.
She also warned that ruling for Adams could "transform schools' living facilities, locker rooms, showers, and sports teams into sex-neutral areas and activities. Whether Title IX should be amended to equate 'gender identity' and 'transgender status' with 'sex' should be left to Congress — not the courts."
Circuit Judge Jill Pryor, an appointee of Barack Obama, countered in dissent that by forcing Adams to use gender-neutral bathrooms, the St. Johns (County) School Board branded him with a "badge of inferiority" by deeming him "unfit" for equal protection.
"The Constitution and laws of the United States promise that no person will have to wear such a badge because of an immutable characteristic," Pryor wrote. "The majority opinion breaks that promise."
A legal analyst told the Washington Blade the 11th Circuit's ruling is a victory for anti-LGBTQ activists and so-called family focused conservatives who continue to push anti-LGBTQ and anti-trans legislation, including trans bathroom ban measures across the country.
Last May, Oklahoma Senate Bill 615 passed the Oklahoma legislature and was quickly signed into law by Republican Gov. Kevin Stitt. The law requires all pre-K through 12th grade public schools and public charter schools to restrict the use of multiple occupancy restrooms and other facilities at school based on the sex listed on an individual's original birth certificate.
Provisions in the language of the law requires schools to adopt disciplinary procedures to punish students who do not comply and allows parents and guardians to take legal action against any school that does not comply with the new law.
The American Civil Liberties Union, the ACLU of Oklahoma Foundation, Lambda Legal and pro-bono co-counsel Covington and Burling LLP filed a lawsuit this past September alleging that SB 615 violates the Equal Protection Clause of the 14th Amendment and Title IX of the Education Amendments of 1972, by discriminating on the basis of sex, gender identity, and trans status. 
Gay Days 2023 will go on despite DeSantis and anti-LGBTQ animus
Tens of thousands expected at Walt Disney World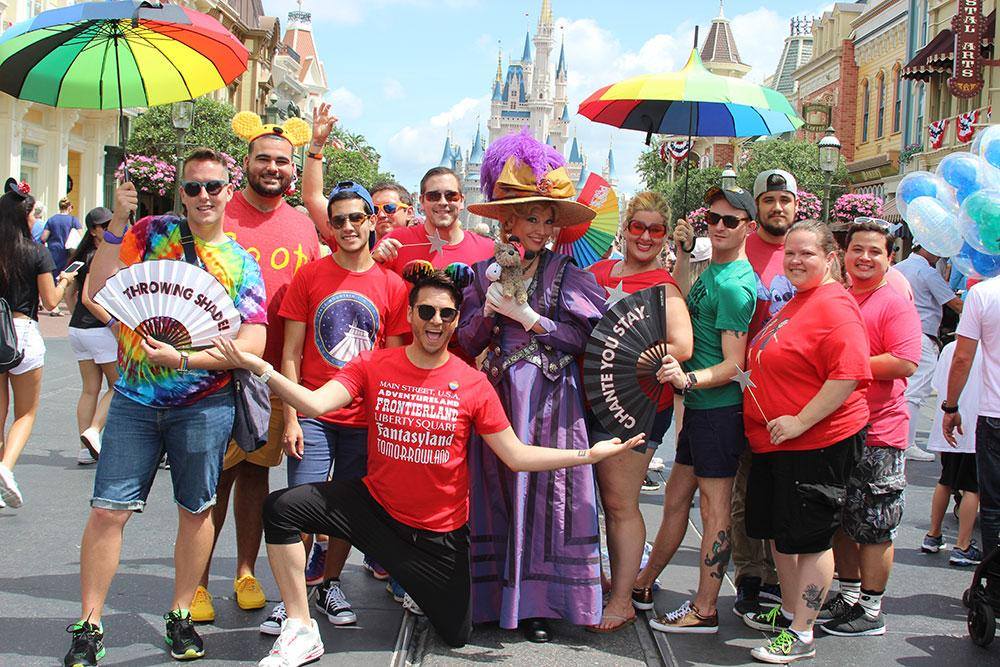 Equality Florida has issued a travel advisory to LGBTQ people that traveling to the state isn't safe given the plethora of anti-LGBTQ laws. On May 23, the Human Rights Campaign joined with Equality Florida urging LGBTQ people to avoid travel to Florida.
Citing six anti-LGBTQ bills passed and signed by Gov. Ron DeSantis, the two groups noted that while not a blanket recommendation against travel nor a call for boycott, the travel advisory outlines the devastating impacts of laws that are hostile to the LGBTQ community.
As Pride month gets underway Thursday, an annual event that is celebrating its 32nd anniversary this year and draws tens of thousands of LGBTQ people to Walt Disney World and the Disney resort areas near Orlando, is slated to commence over the next four day period.
Wearing red shirts to identify themselves, participants in the unofficial Disney Gay Days celebration gather for parties, meet-ups and enjoying a Disney holiday. In an interview with the Associated Press, Joseph Clark, CEO of Gay Days, Inc., said that he is hoping that this year can see upwards of 150,000 LGBTQ people descending on Central Florida to mark the start of Pride season.
In addition to Disney, the LGBTQ folks will also be visiting the neighboring amusement parks of Universal Studios and SeaWorld.
Pride celebrations this year in Florida have taken on a different tone, St. Cloud organizers of the 'PRIDE in St. Cloud' scheduled for June 10 cancelled the event joining a growing list of Pride events being cancelled as a "climate of fear" has overtaken the state in the wake of DeSantis' extreme new anti-LGBTQ laws.
The Pride Alliance of the Treasure Coast notified the greater Treasure Coast community that the Pride parade was cancelled and that Pridefest will only be accessible to residents 21-years-old or older.
The Wilton Manors City Commission as well as the city's mayor voted to amending the permit for Stonewall Pride, Inc., to force compliance of a new state law that expands the definition of "live adult entertainment" to include drag entertainment.
Brandon Wolf, the press secretary for the largest state-wide LGBTQ equality and human rights advocacy group Equality Florida, in a text with the Washington Blade noted: "These are the intended chilling effects of DeSantis' slate of hate legislation. Just as the Don't Say LGBTQ law didn't direct school districts to rip down rainbow stickers, this bill does not ban drag or pride. But it uses vague language and threats to induce self-censorship."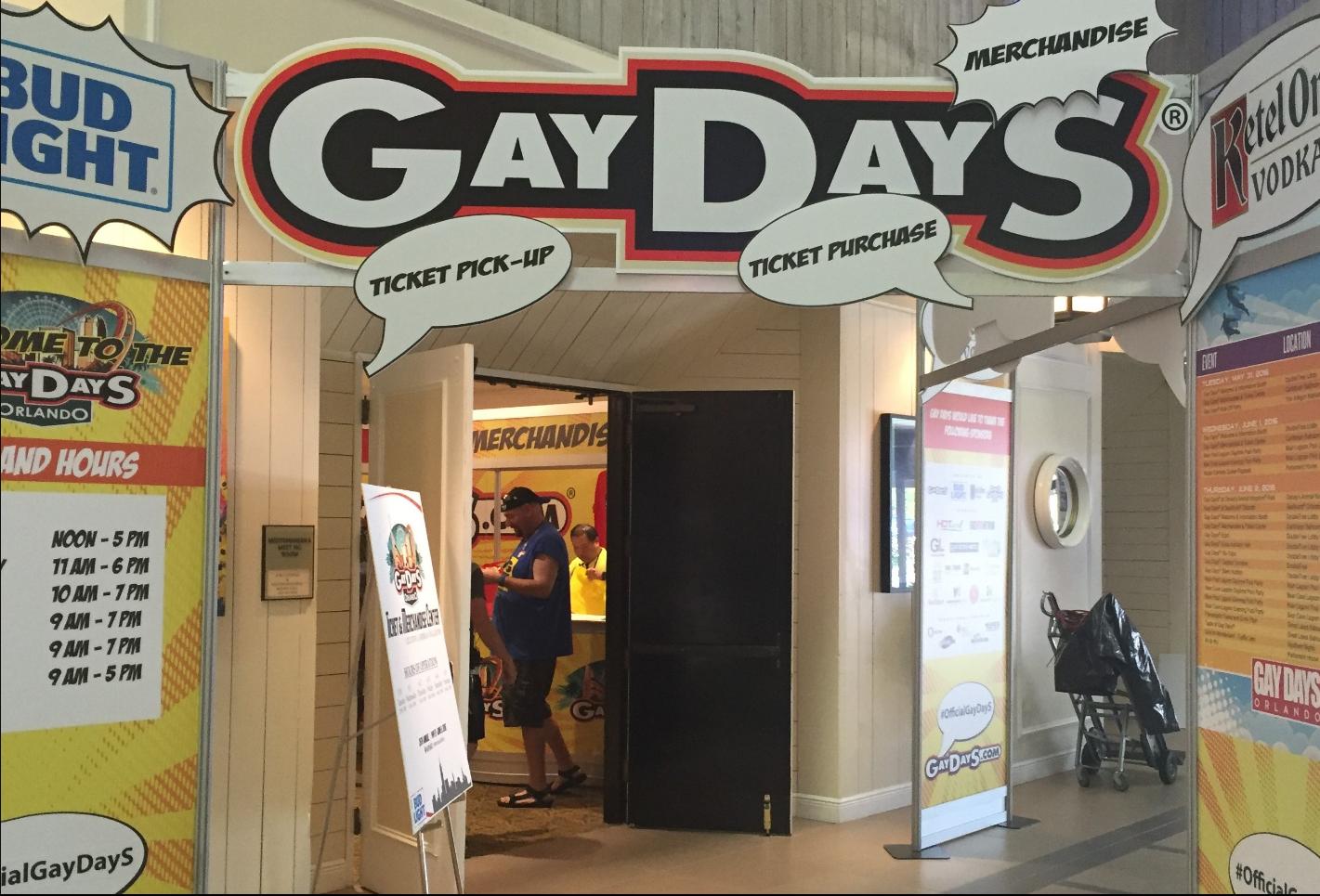 "We continue to be that blue speck in a sea of red, but ultimately laws are laws, and that is the interesting situation we are in," Clark told Deadline, adding that many folks have reached out to ask whether it's safe to visit Florida.
In a Facebook post earlier this week, GayDays® announced the cancellation and "reimagining" of Taste of GayDays® as "due to challenges caused by the current political climate in Florida which recently caused concerns for a large group of our restaurant partners."
"UPDATE: We're deeply sorry to announce the cancellation and 'reimagining' of Taste of GayDays® due to challenges caused by the current political climate in Florida which recently caused concerns for a large group of our restaurant partners. Because of these circumstances, and though we adamantly tried to recruit additional vendors, it became clear that we would be unable to provide the exceptional experience that our guests have come to expect at the Taste of GayDays® Event.
But FEAR NOT! We've planned something special for you all. Join us for the FREE GayDays Orlando 2023 'Taste of GayDays® Entertainment Preview Show' at 6 p.m. on Thursday, June 1! This new event aims to give a preview of several other special events during GayDays® Orlando including performances by some of our Miss GayDays® Pageant competitors, introductions and meet and greets with Mr. GayDays® Leather Competitors and more. Please know — we are committed to delivering extraordinary experiences at GayDays® Orlando.
As we are days away from the start of GayDays Orlando 2023 this was not an announcement we had expected to have to make. We will not let this deter us! We are determined to work towards changing the mindset of people and ensure that future events uphold the high standards that are synonymous with GayDays®. It is because of you, that together, we'll make a difference," the group wrote.
GayDays® at Area Theme Parks | #RedShirtDays schedule linked here: (Link)
Fla. 'Don't Say Gay' ban now applies to K-12 public schools
Rule takes effect in 34 days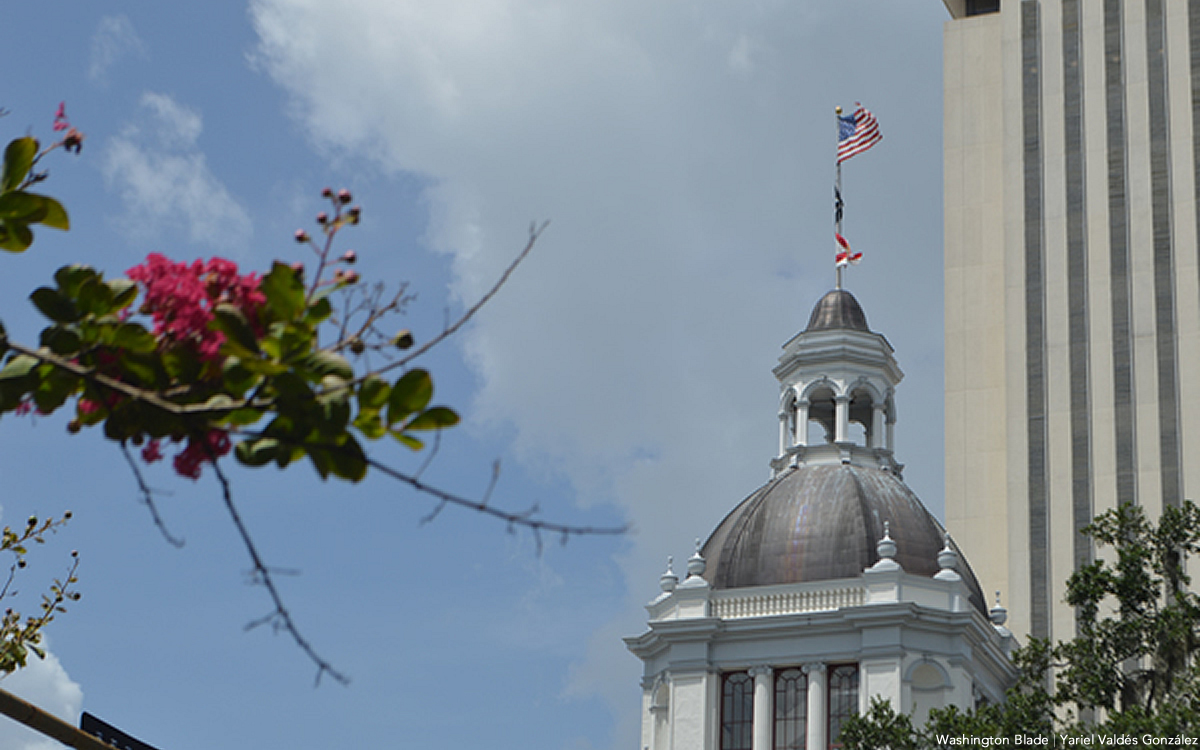 Florida's Board of Education voted Wednesday to implement a rule that expands the state's "Don't Say Gay" law to now prohibit instruction on sexual orientation and gender identity through 12th grade in the state's public schools.
The rule change, which does not require legislative approval, will ban lessons on sexual orientation and gender identity from fourth to 12th grade unless required by state standards or as part of a reproductive health course that parents can opt students out of.
Today's vote was put forth by the Florida Department of Education, both of which are controlled by appointees of Republican Gov. Ron DeSantis, who has publicly stated his opposition to LGBTQ equality and civil rights. The rule goes into effect in 34 days, according to the Florida Department of Education.
LGBTQ advocacy groups and student activist leaders across the state spoke out, including Jack Petocz, a senior at Flagler-Palm Coast High School who had organized and led the statewide protests last spring in opposition to the "Don't Say Gay" bill.
Petocz tweeted defiantly: "This was NEVER about protecting your children. It's all an elaborate plan to ERASE people like me from existence. You won't fucking win."
BREAKING: the Florida Board of Education has just voted to EXPAND Don't Say Gay's restrictions to 12th grade.

This was NEVER about protecting your children. It's all an elaborate plan to ERASE people like me from existence.

You won't fucking win.

— Jack Petocz (@Jack_Petocz) April 19, 2023
Petocz then noted:
As legislators try to erase queer people from public schools, a REMINDER that youth will never comply. We will never accept a world that deems bigotry the status quo and censors our classmates.

They are fucking around, and they're gonna find out one day soon. pic.twitter.com/OTJ8HHwMmw

— Jack Petocz (@Jack_Petocz) April 19, 2023
Petocz was also trolled on his Twitter account by a far-right participant of the Jan. 6, 2021, U.S. Capitol insurrection who homophobically attacked him:
STOP 💀

The idiot who stole Nancy Pelosi's lectern on January 6th just quote tweeted me with such homophobic BS.

Trumpies never fail to surprise me 🤷‍♀️ pic.twitter.com/EugtNWLl4X

— Jack Petocz (@Jack_Petocz) April 19, 2023
Joe Saunders, senior political director for the state's largest LGBTQ advocacy group, Equality Florida, released the following statement:
"Let's put it plainly: this is part of the governor's assault on freedom. Free states do not ban books. Free states do not censor entire communities out of the classroom. Free states do not wage war on LGBTQ+ people to score cheap political points for a man desperate to be president. This policy will escalate the government censorship that is sweeping our state, exacerbate our educator exodus, drive hardworking families from Florida, and further stigmatize and isolate a population of young people who need our support now more than ever. Shame on the DeSantis administration for putting a target on the backs of LGBTQ+ Floridians."
Trial begins for National Black Justice Coalition CEO on conspiracy, fraud charges
Sharon Lettman-Hicks calls allegations 'baseless,' politically motivated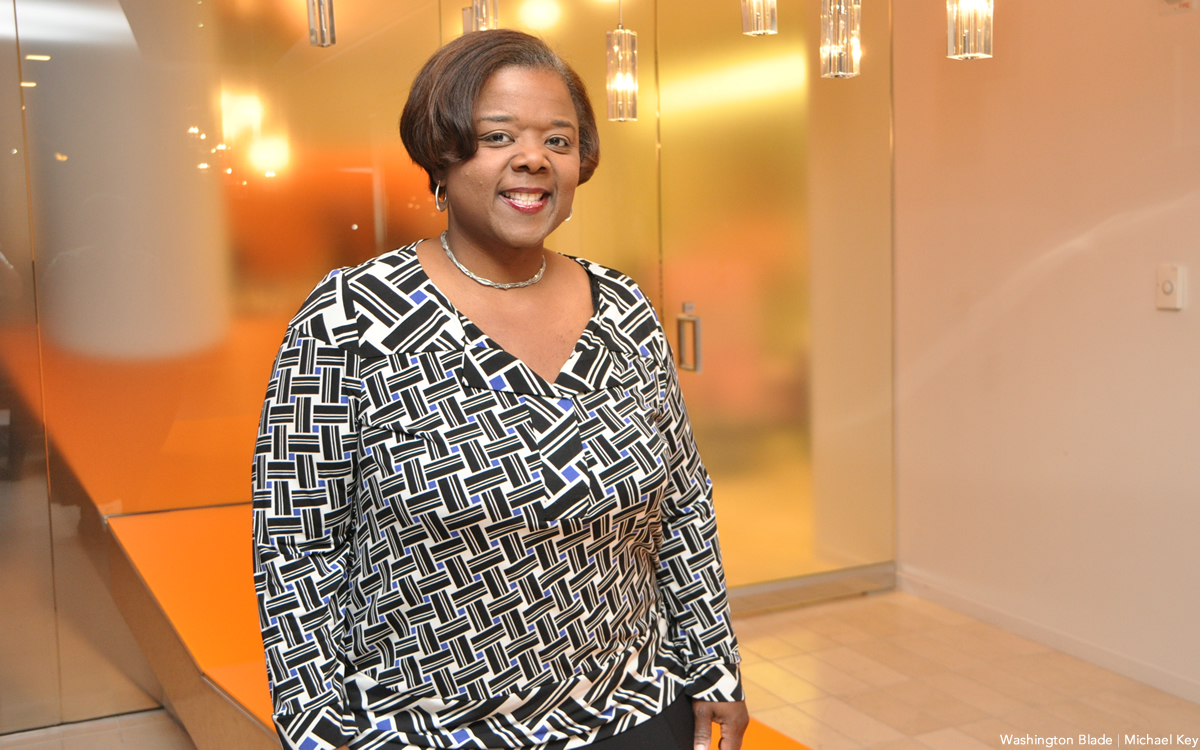 A trial in federal court in Tallahassee, Fla., began on Monday, April 17, for Sharon Lettman-Hicks, the CEO and board chair of the D.C.-based LGBTQ group National Black Justice Coalition, and former Tallahassee mayor and unsuccessful Florida gubernatorial candidate Andrew Gillum.
The trial began about 10 months after a federal grand jury in the Northern District of Florida on June 7, 2022, handed down an indictment charging both Gillum and Lettman-Hicks, who served as a campaign adviser to Gillum, with conspiracy and multiple counts of fraud.
The indictment alleged that Lettman-Hicks and Gillum engaged in an illegal political corruption scheme that began in 2015. It says Lettman-Hicks allegedly helped Gillum improperly funnel money solicited from FBI agents posing as real estate developers with a promise of providing something "very significant in return" for Gillum's support for the developers in his role at the time as mayor of Tallahassee.
The indictment said much of the money Gillum received from the FBI sting operation went for his personal use through a company Lettman-Hicks operated called P&P communications. It charges both Gillum and Lettman-Hicks with 19 counts of wire fraud and one count of attempt and conspiracy to commit mail fraud.
The Tallahassee-based TV news station WCTV reports that last week, on April 11, prosecutors announced they had obtained a new superseding indictment against Lettman-Hicks and Gillum that includes two fewer charges of wire fraud against the two than the previous indictment. WCTV reports the charges that were dropped both involved wire transfers of $66,250 from "Organization E" to Lettman-Hicks' company P&P Communications.
Lettman-Hicks and Gillum, who identifies as bisexual, have strongly denied the allegations against them, calling them politically motivated by Republican politicians who dominate the political landscape in Northern Florida.
At the time the first indictment was handed down, Lettman-Hicks, who is based in Tallahassee, had qualified as a Democratic candidate running for a seat in the Florida State House. She immediately withdrew her candidacy after the indictment was issued.
"I am devastated by these baseless charges, and I have made the painful decision to suspend my campaign," she said in a press release reported by the Tallahassee Democrat newspaper. "I must now focus on fighting for my continued freedom," she said in the release.
Legal observers have pointed out that the FBI's political corruption investigation that led to Lettman-Hicks and Gillum's indictment began in 2015 during the Obama administration, which was in charge of appointing the federal prosecutors involved in the case. Some observers note that Florida state prosecutors associated with the GOP-controlled state government do not appear to have been involved in the case.
Lettman-Hicks was listed this week on the National Black Justice Coalition website as the organization's CEO and board chair. The website says she served as the group's CEO and executive director from 2009 to 2017, when she stepped down as executive director. It says she has been based in Tallahassee during her tenure with the NBJC.
David Johns, the current NBJC executive director, is based in the organization's headquarters in D.C.
A spokesperson for the NBJC did not respond to a request on Monday for comment on Lettman-Hicks' trial that began on Monday.
On its website, NBJC says it has served since its founding in 2003 as "America's leading national civil rights organization dedicated to the empowerment of Black, lesbian, gay, bisexual, transgender, queer+, and same-gender loving (LGBTQ+/SGL) people, including people living with HIV/AIDS through coalition building, federal policy change, research, and education."