Namibian Supreme Court hears three LGBTQ rights cases
Consensual same-sex sexual relations remain criminalized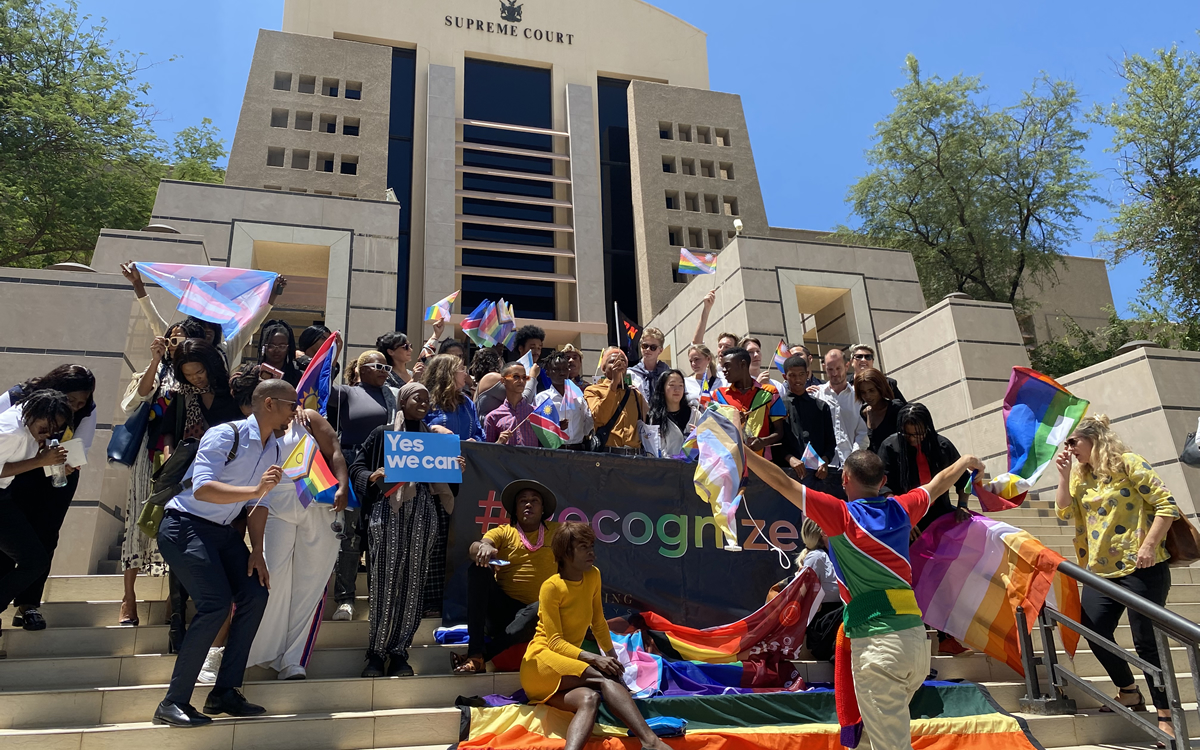 The Supreme Court of Namibia will soon issue rulings in three pivotal cases involving LGBTQ and intersex people that will set a precedent for the recognition of same-sex marriages and spousal immigration rights for non-Namibian partners.
Furthermore, a case is soon to be heard in the country's high court that will challenge the southern African nation's antiquated sodomy law.
These cases have incited public debate around LGBTQ and intersex rights in a country where homosexuality is a controversial and polarizing subject.
This is the first time since 2001 that Namibia's highest court will hear cases regarding same-sex relationships. It is also the first time the high court will hear arguments regarding the sodomy law.
The first hearing, which took place on March 3, was the joint cases of Digashu and Seiler-Lilles versus the government.
The applicants — both foreign nationals married to Namibian citizens — in both cases are seeking recognition of their marriages concluded outside Namibia in order to access spousal immigration rights such as permanent residence and employment authorization.
The second hearing, which took place on March 6, was in the case of a Namibian man married to a Mexican man seeking citizenship by descent for their children born via surrogate. The government has demanded DNA testing to prove that the Namibian national is the biological father to the children.
In the last case, a gay Namibian man is not only challenging the constitutionality of the country's sodomy law but also the prohibition of "unnatural sexual offenses."
While the cases represent a crucial moment for the country's LGBTQ and intersex community and their rights, individual people and families fighting a fight bigger than they had foreseen are at the center of these cases.
Marriage, immigration and the law
South African citizen Daniel Digashu married Namibian national Johann Potgieter in South Africa in 2015. The couple and their son moved to Namibia in 2017.
While the move was favorable for the family, the law around same-sex marriage was not.
Digashu's first encounter with the Home Affairs and Immigration Ministry was not to have them officially recognize his marriage. He was applying for a permit allowing him to work in the country in the company that he jointly started with his husband.
"We've always had a dream to live on a farm and run this tourism company. We registered the company first, about six months before we officially moved," Digashu said.
He said the ministry advised him against applying for permanent residency because the country does not recognize his marriage. Officials instead told him to seek a work permit.
Despite assurances from the ministry's personnel, the application was denied. Digashu filed an appeal, and that was denied too.
From this moment to today, Digashu has lived a life in limbo.
Due to the ongoing court cases, he is able to renew his visitor's visa every few months. This, he said, comes with exhausting administrative costs that legal fees exacerbate.
Digashu said the process has put psychological, emotional and financial strain on his family.
"Prior to finding funding it had been quite difficult financially. It is not something that a lot of people would afford. I don't think we even could afford it. That's why we sought out and looked for funding and luckily we found that," he said.
As they await the judgment of their hearing, everything remains the same for Digashu and his family: His husband remains the sole breadwinner as Digashu himself still cannot work.
Namibian citizen Anette Seiler and her German wife Anita Seiler-Lilles face the same dilemma.
Neither expected to become cornerstones of the advocacy around marriage equality and LGBTQ and intersex rights in Namibia.
"We didn't plan to come to Namibia in the early 2000s," said Seiler. "We thought we might want to come back when Anita didn't have to work anymore, and that would be many years later. So, we didn't think so much in terms of gay rights in Namibia at that time."
"It was a very personal thing for us to get married. We were not active in Namibia or Germany in the gay community," she added.
Both couples have received copious amounts of support from the local LGBTQ and intersex community and civil society as they fight to be afforded the same spousal rights that would be granted to opposite-sex couples.
Citizenship by descent and the right to family
As Namibia grapples with the recognition of same-sex marriages, the right to family and protections of them is another matter that has come under scrutiny.
Namibian citizen Phillip Lühl and his husband, Mexican national Guillermo Delgado, are fighting for their children born via surrogacy to be granted Namibian citizenship by descent.
Delgado and Lühl say they are fighting for their children's birthright.
While both fathers are listed on the children's South African birth certificates, the Namibian government has demanded DNA proof that Lühl is the biological parent of the children.
"The fact is that any other South African birth certificate is accepted but in our case it's not because we're of the same sex. In the case of a heterosexual couple, nobody will ever ask for any proof or dispute the validity of the document, but in our case it is," Lühl said.
The children have been granted Mexican citizenship by descent after a rigorous process that ended with the country's Foreign Affairs Ministry granting it.
"They initially were not favorable but concluded that Mexico would recognize a process that was duly and procedurally done in a constituency that they recognize, namely South Africa," Delgado explained.
The family nevertheless plans to stay in Namibia and continue to fight the government for their children's birthright and the recognition of their family.
Their case scrutinizes the ambit of the Namibian Constitution, which affords all its citizens protection against discrimination and the right to family.
'Apartheid-era' sodomy law
In the final case, Namibian gay activist Friedel Dausab has filed a constitutional challenge against the common law crime of sodomy and the prohibition of "unnatural" sexual acts.
Dausab brought a case against the government in June 2020 stating that the law promotes stigma and exclusion, and instigates the criminalization of consensual same-sex sexual acts between men.
Dausab argues that the offenses under the law are incompatible with the constitutional rights to equality, dignity, privacy, freedom of association and freedom of expression. He also argues that the crime of "unnatural sexual offenses" is too vague to be compatible with the constitution.
"I am challenging these laws as a lifelong and dedicated activist because I am acutely aware that criminalization is a clear obstacle to living a full, open, honest and healthy life," he said.
Namibian Attorney General Festus Mbandeka in a recent affidavit he submitted to the high court said same-sex sexual conduct is immoral and unacceptable to many Namibians. Mbandeka further denied the existence of the sodomy law stigmatizes gay men.
"If these men suffer any stigma it is in consequence of their choice to engage in sexual conduct considered to be morally taboo in our society," Mbandeka said.
While it is reported that 64 sodomy-related arrests were made between 2003-2019, the offenses are rarely enforced. The country's Criminal Procedure Act 51 of 1977 nevertheless lists "sodomy" as a Schedule 1 offense.
The U.K.-based organization Human Dignity Trust says this listing means that either a police officer or an ordinary citizen can arrest anyone who is reasonably suspected of having committed the offense without needing a warrant. It is legal to use lethal force to kill them if the suspect attempts to evade arrest.
Namibia remains one of the few countries in southern Africa that is yet to abolish its sodomy law. Angola, Botswana, Lesotho, Mozambique and South Africa have already done so.
Kenyan MPs approve resolution to ban public discussions of LGBTQ issues
Some lawmakers argue motion threatens freedom of expression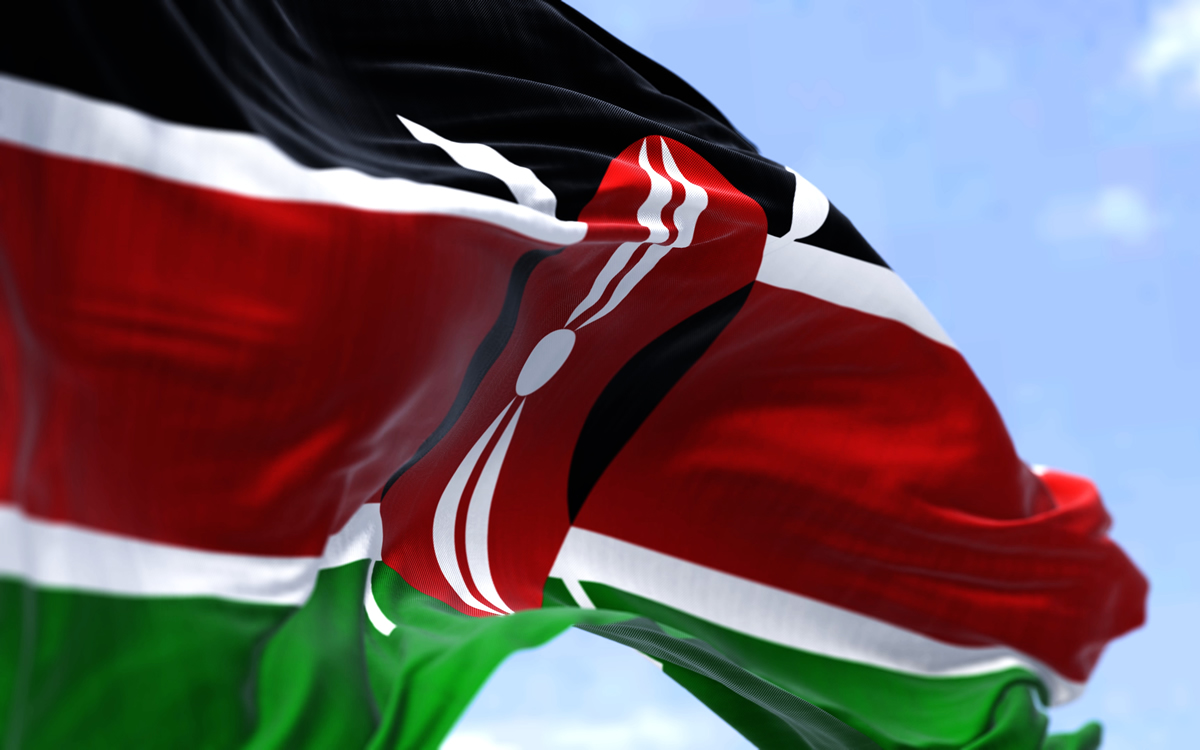 Kenya's parliament has overwhelmingly passed a motion for the government to enforce an immediate ban on "public discussion, reporting and distribution" of LGBTQ content in the country. 
It passed on Wednesday, despite some legislators raising concerns that it is a threat to the freedom of expression, information and the media protected under the Kenyan Constitution.
Owen Baya, an MP from the ruling United Democratic Alliance party who also serves as National Assembly's deputy majority leader, termed the motion "controversial" and questioned why it was allowed for debate in the House, even though it violates the law.  
"The republic of Kenya is governed by the Constitution. How can we prohibit freedom of speech? Freedom of speech, reporting and distribution of information are constitutional rights even if same-sex relations are illegal in Kenya," Baya said. 
The Article 33 of the Constitution under the freedom of expression requires every person to respect the rights and reputation of others.
Section 2 of the same Article 33, however, curtails freedom of speech when it amounts to war propaganda, incitement to violence, hate speech and advocacy to hatred such as ethnic incitement, vilification of others or incitement to cause harm.  
Article 32, which Baya also cited, provides the right to freedom of conscience, religion, thought, belief and opinion in addition to Article 34 which guarantees the freedom and independence of electronic, print, and all other types of media. 
The sponsor of the anti-gay motion, Mohamed Ali, an MP from the ruling party and a celebrated investigative journalist, in response argued that publicizing homosexuality, which is outlawed in the country, violates the constitution that only recognizes marriage between a man and a woman.
"The constitution gives us the freedom of expression, but not about gay and lesbianism which are unlawful practices in Kenya," Ali said.
The legislator stated that his motion banning LGBTQ publicity is motivated by an increase in homosexuality in the country because of LGBTQ-specific content in books and in print and broadcast media.
The government is already cracking down on foreign teenage books with LGBTQ content.
The Education Ministry and the church have also formed a Chaplains Committee chaired by Kenya's Anglican Bishop Jackson Ole Sapit to counter what he describes as the infiltration of homosexuality in schools. The committee's mandate include counseling students who identify as LGBTQ. 
"We recognize that publishing and distributing homosexual content through the press has serious consequences to the family values and opposite-sex relations that should be protected since the increase in same-sex relations threatens the extinction of human beings in the country," the motion reads.
The move to curtail homosexuality is also in response to last month's Supreme Court ruling that granted the LGBTQ community the right to register as non-governmental organization.
The judges' decision sparked anger and criticism from religious leaders and politicians, including President William Ruto, who has instructed the attorney general to have it overturned through an appeal.  
The motion that lawmakers approved on Wednesday calls for the police and judiciary to enforce it through the Section 162 of the Penal Code that criminalizes consensual same-sex relations with a 14-year jail term and sets the pace for the introduction of an anticipated anti-homosexuality bill that is being drafted.
Opposition MP Peter Kaluma, who sponsored the bill that seeks to further criminalize and punish homosexuality and the promotion of LGBTQ activities in Kenya, last month notified the National Assembly Speaker about its introduction in the House.
U.S. Ambassador to Kenya Meg Whitman came under fire during the debate on the motion because of her recent remarks in defense of the LGBTQ and intersex community that she made after she met with a group of activists.
"She should respect our religious beliefs, African and Kenyan culture, and our constitution the way we respect the U.S. Constitution. We won't allow the American culture of gay and lesbianism to rule in Kenya and I ask Whitman to practice the American in the U.S. and the Kenyan culture be left to Kenyans," Ali said. 
The lawmakers also criticized the West, particularly the U.S., for championing LGBTQ and intersex rights in what they termed as engaging in serious reengineering of the world order to destroy other people's cultures and humanity. 
The parliament's move to curtail consensual same-sex rights in Kenya comes at a time when Uganda's President Yoweri Museveni is being pressured by the U.N., the U.S. and other Western nations not to sign into law a bill that bans people from identifying as LGBTQ or intersex. Kenyan lawmakers have applauded their Ugandan counterparts for passing the measure, while urging Museveni to assent to it without bowing to any pressure from the Western nations since his firm opposition to homosexuality has made him East Africa's role model.
Ugandan lawmakers approve new anti-homosexuality bill
Measure would 'criminalize' LGBTQ, intersex people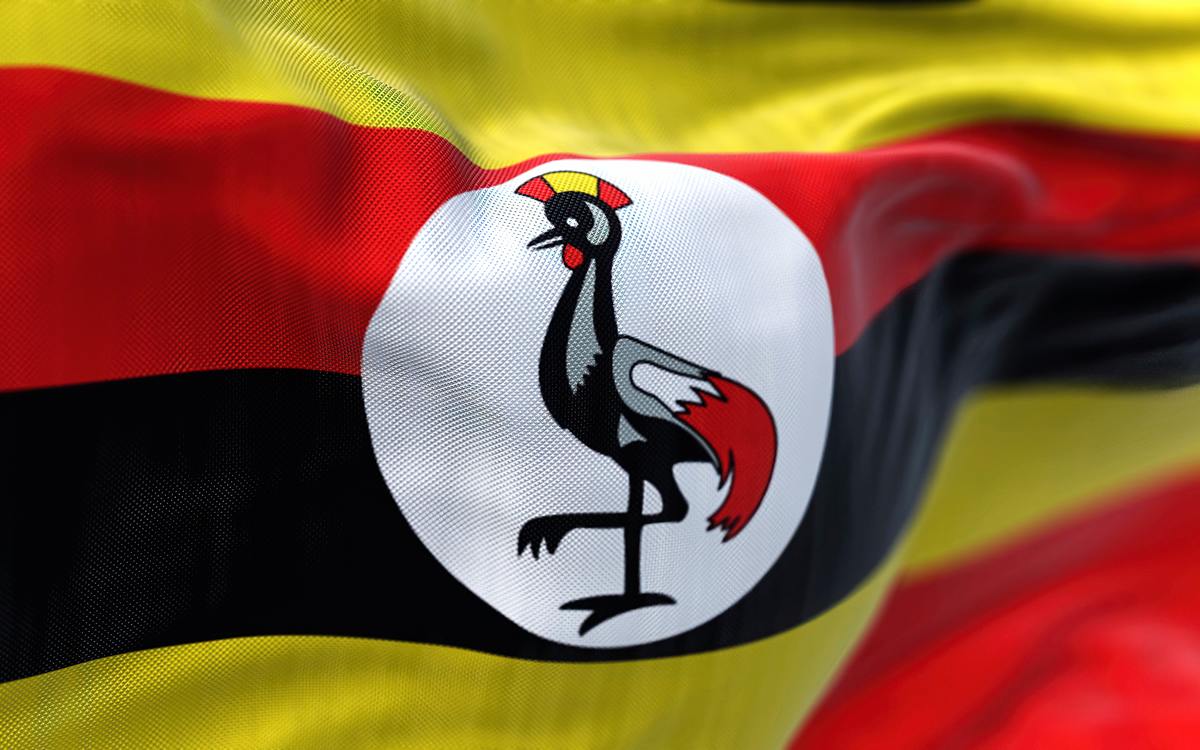 Ugandan lawmakers on Tuesday approved a bill that would further criminalize consensual same-sex sexual relations and LGBTQ and intersex people in the country.
The Associated Press reported nearly all Ugandan MPs voted for the 2023 Anti-Homosexuality Bill, which would punish the "promotion, recruitment and funding" of LGBTQ-specific activities in the country with up to 10 years in prison.
Human Rights Watch notes "any person who 'holds out as a lesbian, gay, transgender, a queer, or any other sexual or gender identity that is contrary to the binary categories of male and female'" would face up to 10 years in prison.
President Yoweri Museveni has said he supports the bill.
"We shall continue to fight this injustice," tweeted Jacqueline Kasha Nabagesara, a Ugandan LGBTQ and intersex activist, after the bill's passage. "This lesbian woman is Ugandan, even (though) this piece of paper will stop me from enjoying my country. (The) struggle (has) just begun."
Anti homosexuality bill passed by @Parliament_Ug of Uganda. Organized crime in e house of our country is very unfortunate. We shall continue to fight this injustice. This lesbian woman is Ugandan even this piece of paper will stop me from enjoying my country. Struggle just begun pic.twitter.com/v3Pf0p9FPX

— Bombastic Kasha (@KashaJacqueline) March 21, 2023
Uganda is among the dozens of countries in which consensual same-sex sexual relations remain criminalized.
Museveni in 2014 signed the Anti-Homosexuality Act, which imposed a life sentence upon anyone found guilty of repeated same-sex sexual acts. The law was known as the "Kill the Gays" bill because it previously contained a death penalty provision.
The U.S. subsequently cut aid to Uganda and imposed a travel ban against officials who carried out human rights abuses. Uganda's Constitutional Court later struck down the 2014 Anti-Homosexuality Act on a technicality.
"One of the most extreme features of this new bill is that it criminalizes people simply for being who they are as well as further infringing on the rights to privacy, and freedoms of expression and association that are already compromised in Uganda," said Oryem Nyeko of Human Rights Watch in a press release that condemned the 2023 Anti-Homosexuality Act. "Ugandan politicians should focus on passing laws that protect vulnerable minorities and affirm fundamental rights and stop targeting LGBT people for political capital."
Secretary of State Antony Blinken and State Department spokesperson Vedant Patel on Wednesday both criticized the bill.
"The Anti-Homosexuality Act passed by the Ugandan Parliament yesterday would undermine fundamental human rights of all Ugandans and could reverse gains in the fight against HIV/AIDS," tweeted Blinken. "We urge the Ugandan government to strongly reconsider the implementation of this legislation."
"We note with deep concern the Anti-Homosexuality Act passed by the Ugandan Parliament," echoed Patel. "This bill could reverse gains in the fight against HIV/AIDS, discourage foreign investment, threaten tourism, and decrease visits of technical experts helping to advance Ugandan prosperity."
We note with deep concern the Anti-Homosexuality Act passed by the Ugandan Parliament. This bill could reverse gains in the fight against HIV/AIDS, discourage foreign investment, threaten tourism, and decrease visits of technical experts helping to advance Ugandan prosperity. https://t.co/ASLHpqrcSF

— Vedant Patel (@StateDeputySpox) March 22, 2023
U.N. High Commissioner for Human Rights Volker Türk in a statement described the bill's passage as "devastating and deeply disturbing."
"The passing of this discriminatory bill — probably among the worst of its kind in the world — is a deeply troubling development," said Türk. "If signed into law by the president, it will render lesbian, gay and bisexual people in Uganda criminals simply for existing, for being who they are. It could provide carte blanche for the systematic violation of nearly all of their human rights and serve to incite people against each other."
LGBTQ, intersex Ghanaians in limbo as lawmakers consider harsh 'family values' bill
Soldiers earlier this month raided gay party in Accra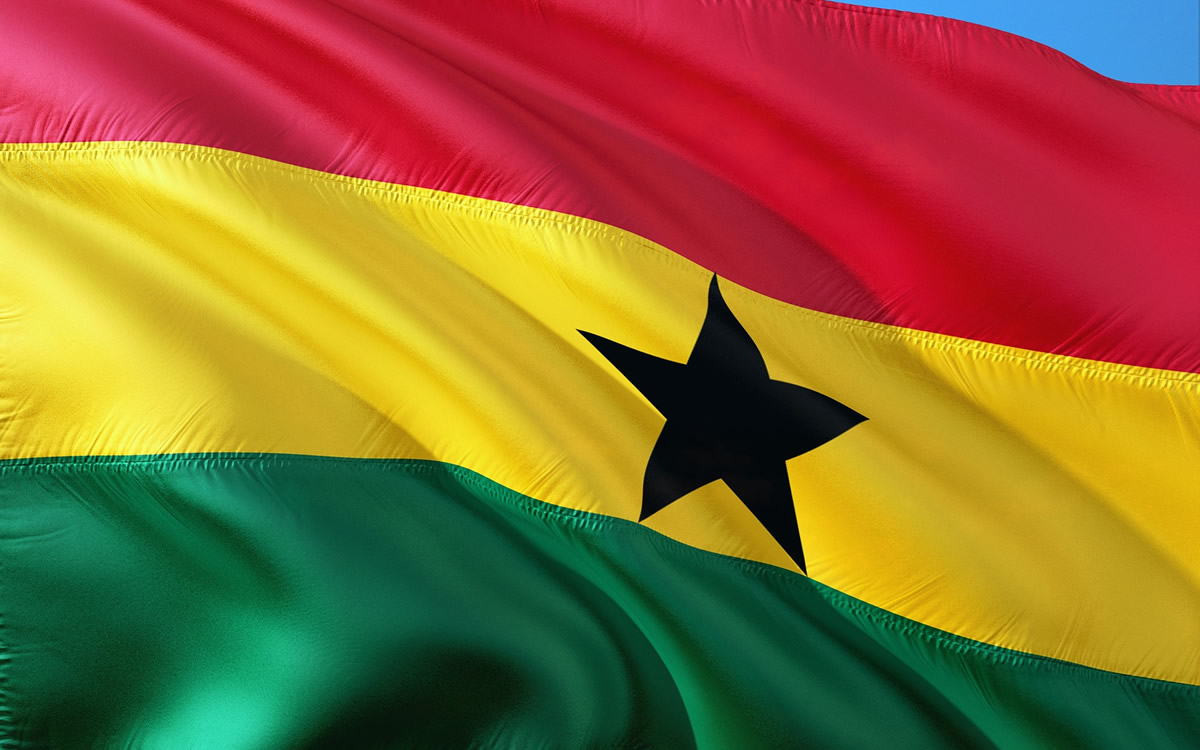 Ghana's LGBTQ and intersex community is currently in limbo over whether the government will impose more harsh penalties upon those who identify as LGBTQ or intersex.
Parliamentarians in 2021 introduced the Promotion of Proper Human Sexual Rights and Ghanaian Family Values Bill that would fully criminalize LGBTQ and intersex people, along with advocacy groups and anyone who comes out in support of them.
The measure would criminalize cross-dressing, public affection between two people of the same sex, marriage among same-sex couples or the intent to marry someone who is the same sex. The bill would also prohibit corrective therapy or surgery for intersex people.
Any person or group seen as promoting identities or prohibited acts in the bill or campaigning in support of LGBTQ and intersex people would face up to 10 years in prison. Any person who does not report consensual same-sex sexual acts could also face charges.
A parliamentary committee is currently reviewing the measure, but LGBTQ and intersex Ghanaians continue to be victimized and assaulted under existing law that criminalizes consensual same-sex sexual relations.
Ghanaian soldiers earlier this month stormed a gay party in Accra, the Ghanaian capital, and assaulted two people who were attending it.
"Military men stormed and disrupted a birthday party of alleged gay men in James Town, Accra. According to reports, some of the partygoers were injured and bled, following the military attack on the alleged LGBTQ+ persons at the party," said Rightify Ghana, an LGBTQ and intersex rights group, in a statement. "We urge the authorities to investigate these incidents and hold those responsible accountable for their actions. The use of excessive force against civilians is never justifiable and only serves to create further division and mistrust.
"We stand in solidarity with the victims of these attacks and call on all Ghanaians to come together in support of peace and tolerance," added Rightify Ghana. "Discrimination and violence have no place in our society, and we must all work together to create a safe and inclusive environment for all."
Kwame Afrifa, CEO of Reflex Ghana, another LGBTQ and intersex rights group, said the Accra raid was not the first time such an event has happened. Afrifa said making the country's armed forces more sensitive to LGBTQ and intersex rights would help curtal such incidents.
"There have been a few cases I have heard of this year and in previous years such as the closing of the LGBT+ Rights Ghana safe space, the destroying of billboards belonging to LGBT+ Rights Ghana, the arrest of human rights activists which also happened somewhere last year amongst others I haven't come across," said Afrifa. "Nevertheless, sensitizing LGBT+ issues would help in abating the victimization as most people are ignorant of the laws of the land and try to abuse the rights of queer persons."
Rightify Ghana said categorizing the existence of LGBTQ and intersex people and labeling consensual intimacy between people of the same sex as deviant is a legacy of colonialism.
"The Promotion of Proper Human Sexual Rights and Ghanaian Family Values Bill, 2021 will continue to be a pattern of dehumanizing and silencing LGBTQ+ people, isolating them from support networks. It will also minimize, and even cover up, human rights violations," said Rightify Ghana. "We therefore, recommend that the Committee on Constitutional, Legal and Parliamentary Affairs recommend that the Parliament of Ghana reject the Promotion of Proper Human Sexual Rights and Ghanaian Family Values Bill in its entirety."
Ghana is among the dozens of countries in which consensual same-sex sexual relations remain criminalized.
The country is one of the 10 non-permanent U.N. Security Council members. A representative from Ghana on Monday during a meeting that U.S. Ambassador to the U.N. Linda Thomas-Greenfield hosted said the Security Council is not an appropriate venue to discuss LGBTQ and intersex rights.
Daniel Itai is the Washington Blade's Africa Correspondent.