Washington National Opera honors Katherine Goforth
Award recognizes an artist who identifies as transgender or non-binary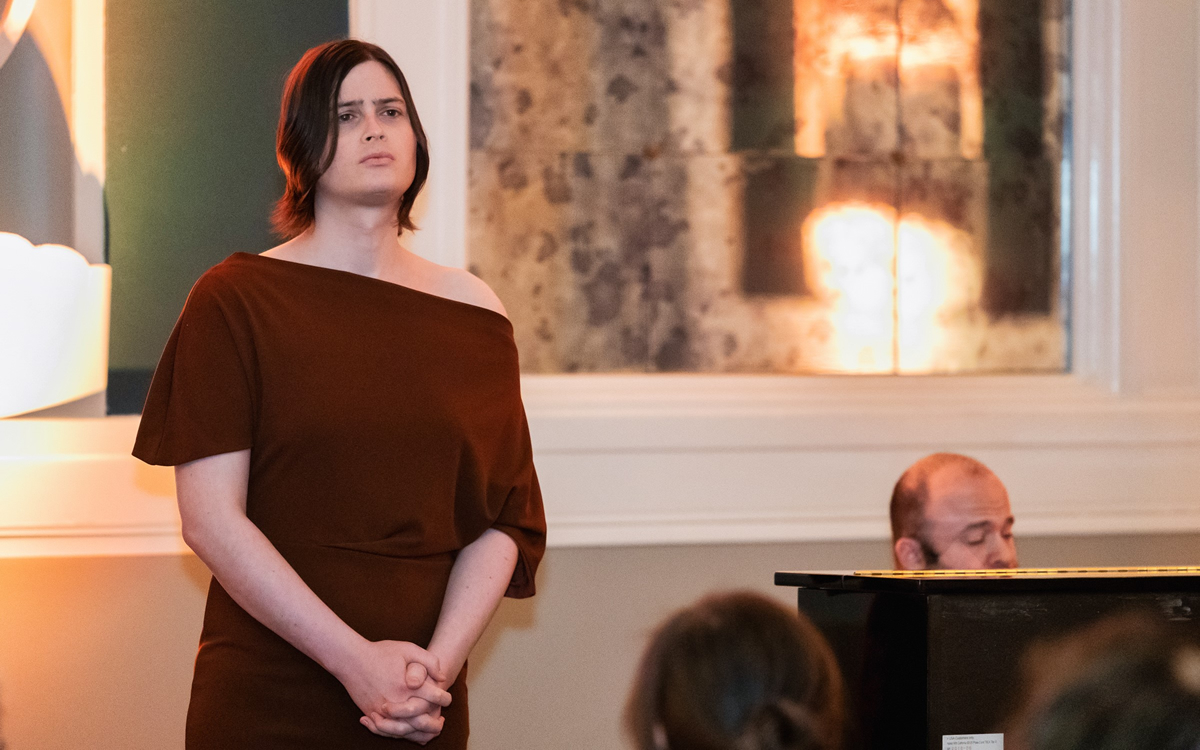 Katherine Goforth was recently announced as the inaugural recipient of Washington National Opera's True Voice Award. This award was created to provide training and increase the visibility of opera singers who self-identify as transgender and non-binary. Each recipient will receive a financial award and the chance to participate in career training, artistic coaching, and a performance with the Cafritz Young Artists. Recipients will also be presented by the Kennedy Center in a recital at the Millennium Stage. Goforth's recital will take place in May 2024.
The Washington Blade chatted with this talented singer about her artistic journey, experience as a trans opera singer, her future plans for her own career, and how she hopes to shape the field of opera.
Washington Blade: Can you share about your journey as an artist? How did you begin this journey and eventually pursue opera?
Katherine Goforth: I had an interest in music and singing for my entire life, but I looked at it as more of a hobby until my high school choir teacher required me to take voice lessons. After a few months of lessons, I started winning prizes and getting special attention for my singing, which meant a lot to me at the time because I was struggling a lot socially and at home. It was easy to dedicate myself to singing after that and hard to imagine pursuing another career.
Talking about art is a lot broader than talking about music for me. As a teenager, I attended Vancouver School of Arts and Academics, a public arts magnet middle and high school, and we had arts education integrated into most of our subjects. Some of my most memorable projects were a mural painted on school windows I co-designed and co-created, a mockumentary film about the meaning of art, and the semi-opera I composed as my senior year capstone project.
Since I was a kid, I felt like I had something to prove and have always tried to do more than what others thought possible in my performing and creative work. It has only been since I transitioned that I really started to feel like I was enough. The part of me that wanted to prove myself could calm down and I learned that it is enough for me when I stand in my own values and desires.
Blade: What has been your experience as a trans person in the field of opera?
Goforth: As a young person coming into a sense of trans and gender non-conforming identity, opera was a damaging space to be part of. At the time, I believed there was no way to actualize my gender identity and continue working. Sure, there were queer people in opera, but almost all of them were straight-presenting men—and those who weren't, didn't seem to get the same opportunities. I have a strong memory of seeing the news about the premiere of As One [a chamber opera with a sole transgender protagonist]in 2014. It was the first time I had heard anyone mention trans people in an opera space. I don't know how much this has changed for students, but I do think that fewer people are postponing their transitions for the sake of working in this industry, which is good.
I haven't worked in opera very much since I came out and it will be interesting to see how that develops over the next few years. I've heard a lot of people say that major opera companies aren't ready for trans singers yet, but I hope they're wrong. My struggle is that I feel much happier playing female characters, but I'm not capable of singing soprano-alto roles on stage right now. That's something I hope will change in the future, but I think it's important for me to accept my voice and try to find affirming projects to work on with the voice that I have.
I'm going to Europe this summer to sing in the premieres of Philip Venables and Ted Huffman's The Faggots and Their Friends Between Revolutions, which is an adaptation of a novel by Larry Mitchell. My sense is that, although I love singing standard rep, the work that will feel best to me as a human being is contemporary opera. There are new works coming out all the time where a character's vocal range isn't restricted by their gender, or where parts are written to be affirming to trans singers. It's an amazing experience to work on roles like that, like the non-binary protagonist in Drew Swatosh and Brian Dang's If Only I Could Give You The Sun, a role I premiered.
For me, the bottom line is that even in a perfectly affirming opera space, there's a lot for me to navigate. We haven't even gotten into the contrast between the project of self-actualization that, for me, defines transition and the way control is exercised over singers in the operatic space. It is hard to spend your whole life working on being your authentic self only to then step into an industry where self-identity is encouraged only if you have the right identity. I'm not going back into any closet.
Blade: Congratulations on being the inaugural True Voice Award recipient. How do you hope to use this award as a platform to further your career, and more broadly, shape the field of opera?
Goforth: I'd like to thank Washington National Opera, Kimberly Reed, Laura Kaminsky, Mark Campbell, and the rest of the selection committee for choosing me for this award. When I decided to come out, I wasn't sure if I was going to be able to work in this industry again. It seems to me that trans people have never had this level of institutional support in our industry. I'm honored to receive it, but I'm also aware of all the other people who competed for this award and ways that my selection leaves them out.
For me, I think my next step is getting out of a young artist box, getting management, and moving into a career where I'm making a living wage from singing without any second or side jobs, singing lead roles instead of supporting roles, and taking the creative work that I develop to the next level. 
"I hope that this award doesn't only change things for me. Institutional support can mean, 'here's one more type of person we can fit into our system' without changing the system in fundamental ways. Instead, I hope we will build a field that doesn't require types of people, a field that supports each person in fully becoming who they are, where we don't have to oppress others to realize our artistic visions—whether that oppression is from transphobia or something else. If our artistic visions necessitate oppression, I hope that we have the strength to imagine new ways of doing things and rethink the ways that we define artistic excellence. And I hope that these changes will not take lifetimes to achieve."
TikTok celebrates Pride with honoree list, online and in-person events
Inaugural LGBTQ Visionary Voices list recognizes creators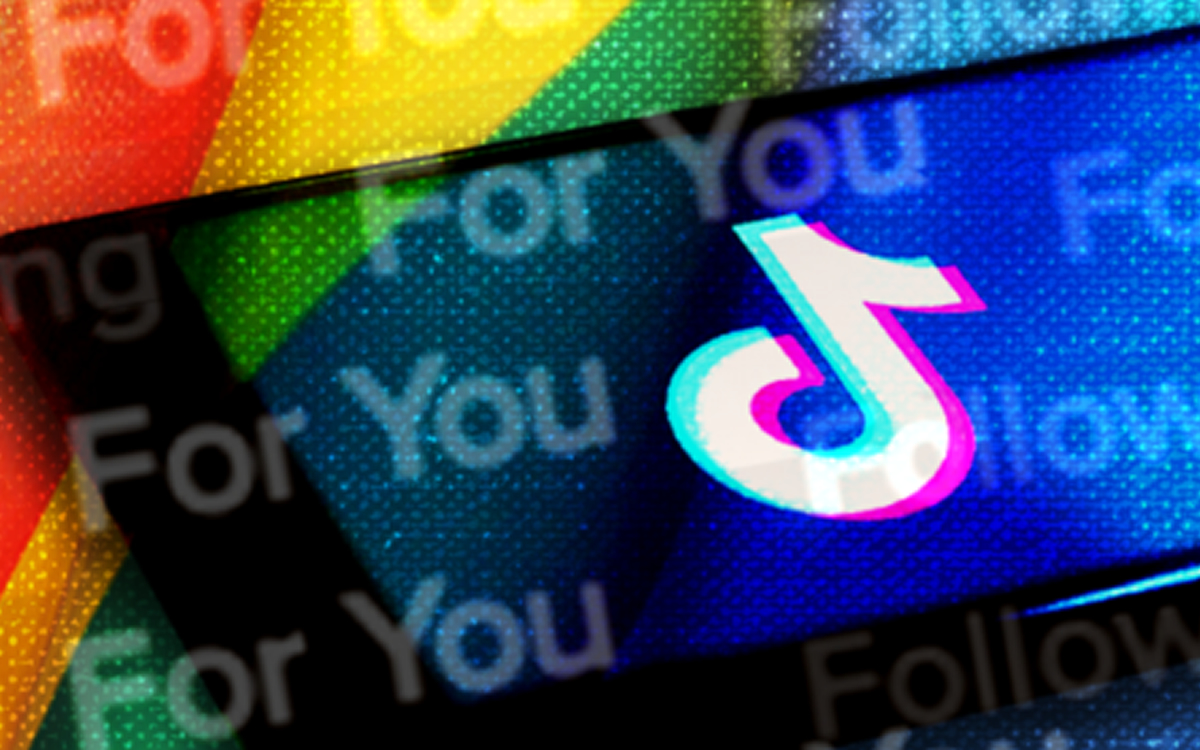 Social media giant TikTok will spotlight LGBTQ content creators and small business owners with an inaugural list of honorees to celebrate Pride month, according to a press release on the company's website. In addition, the company will embark on a campaign that includes webinars, community events and a ball in Los Angeles.
"We're thrilled to celebrate Pride month by honoring the history-making impact of our diverse queer community with this year's LGBTQ+ TikTok Visionary Voices List," said Shavone Charles, TikTok's head of diversity and inclusion communications.
The 2023 LGBTQ+ Visionary Voices list recognizes 15 queer TikTok creators who use the platform to "educate, entertain and advocate for the LGBTQ+ community," according to the release. Honorees on the list span three categories — creators, small-owned businesses and industry disruptors — and feature popular hitmakers Saucy Santana and Baby Tate and social media sensation The Old Gays.
Jae Gurley, another of the honorees, plans to use this recognition as an opportunity to promote lucid education about Pride and cultivate a deeper understanding behind it. Gurley is well-known for using performance and storytelling to create lifestyle content that highlights their journey to self-discovery as a Black femme nonbinary person and encourages users to live their "most confident Bougie B life."
"I feel like a lot of the time online, Pride is portrayed as this big gay party and it is, but it's also a protest and I want my community to understand why we still have to fight," they said "Why we need to continue to take up space, and not be satisfied with where we are, cause it can be taken away in a second."
TikTok's Pride month campaign, titled "You Belong Here," will celebrate the LGBTQ community through a series of in-app initiatives, LIVE events and special programming themed around hashtags including: #ForYourPride, #PrideAnthems and #LGBTQBusiness, according to the company's release.
One of the events, "TikTok Takeoff: Queer Inclusivity in Marketing Webinar," will be hosted on June 13. The online event will platform the stories of LGBTQ+ small and medium-sized businesses at a roundtable discussion. Business owners will discuss their journey taking off on TikTok and strategies they use on the application to engage with new diverse audiences and drive real-world success for their brands.
On the company-facing end, employees will get to participate in programming organized by its employee resource group including LGBTQ film screenings and Pride marches.
"You Belong Here is more than a campaign — it's our commitment to the LGBTQIA+ community on TikTok," read the company's release. "We believe that people should be able to connect with one another, express themselves authentically, and thrive on the platform. And we know that fostering an inclusive space requires prioritizing the needs of our community."
10 LGBTQ events today
Lady Camden performs at Pitchers tonight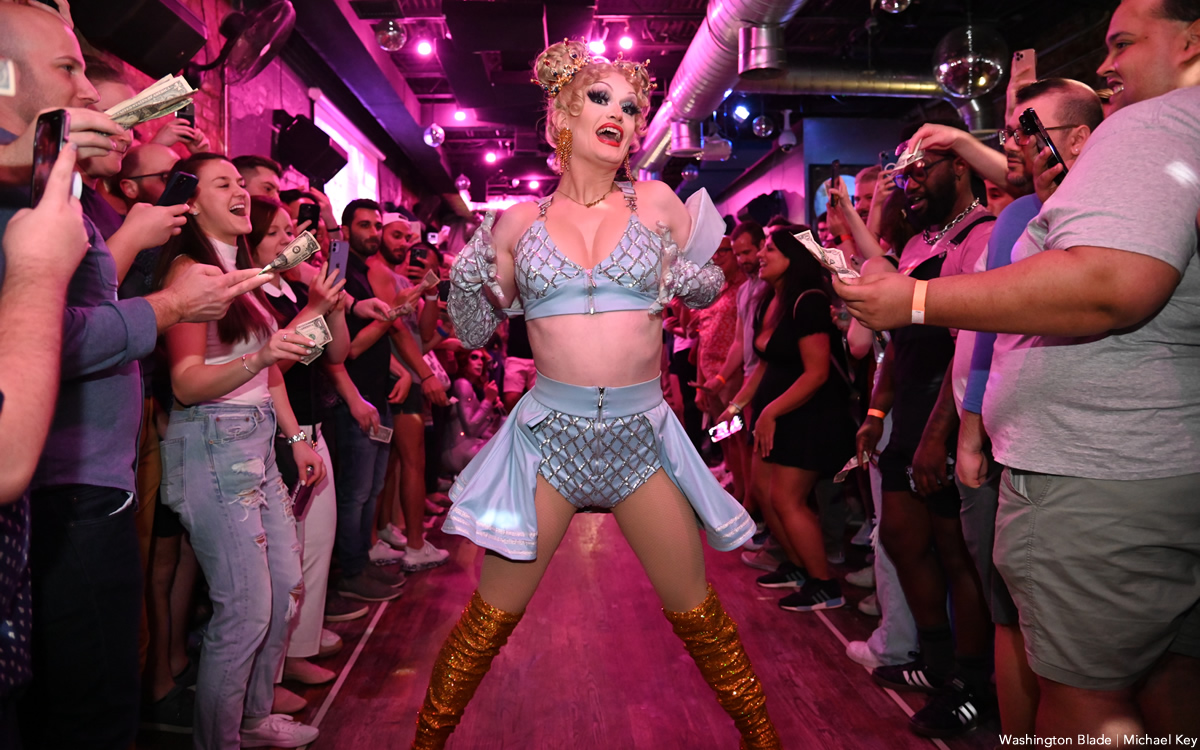 Below are our picks for some of the most fun and creative things to do today in the DMV that are of special interest to the LGBTQ community.
---
Love Out Loud: Tie-Dye Party for Pride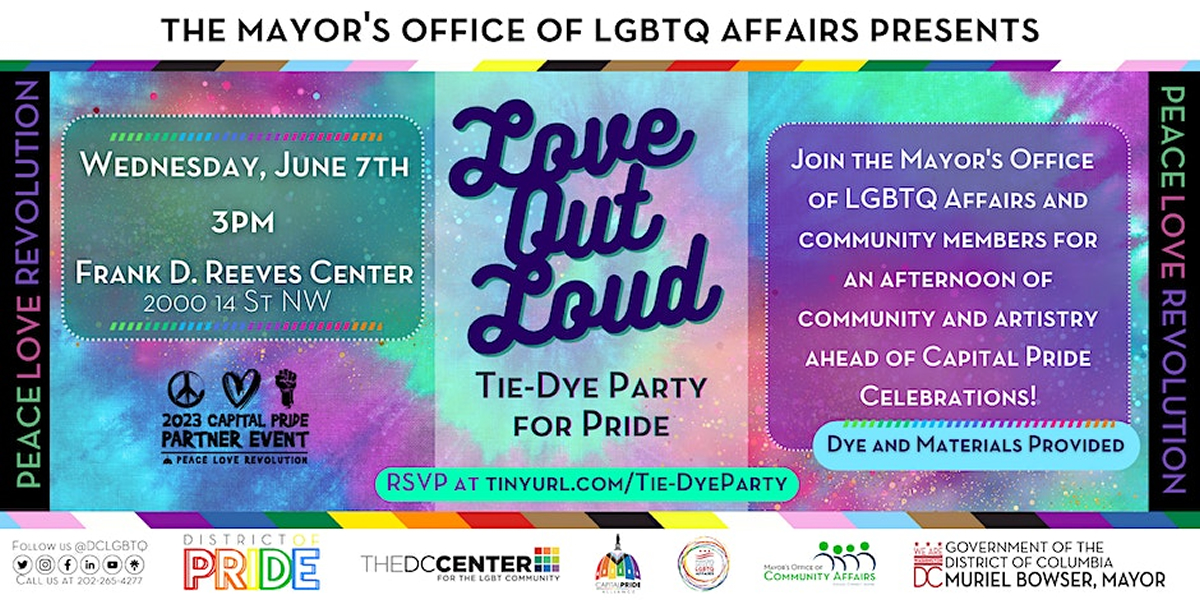 Wednesday, June 7
3 p.m.
Reeves Center for Municipal Affairs
2000 14th Street, N.W.
Eventbrite
The Mayor's Office of LGBTQ Affairs is hosting a tie-dye party for Pride at the Reeves Center at 3 p.m. Dye and materials are provided. RSVP at tinyurl.com/Tie-DyeParty.
---
Beer Club with DC Brau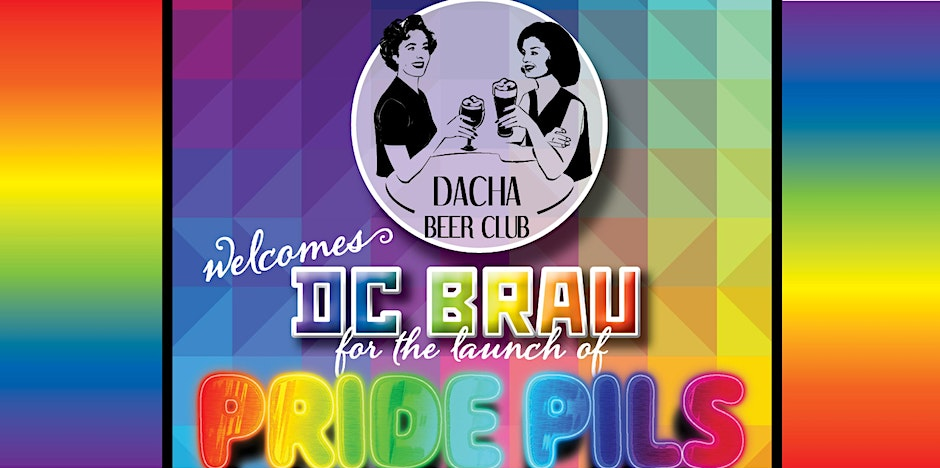 Wednesday, June 7
5-9 p.m.
Dacha Beer Garden (Navy Yard)
79 Potomac Avenue, S.E.
Free
Eventbrite
DC Brau is holding a launch party for Pride Pils at Dacha Beer Garden today at 5. Pick up your Pride-themed cans and hang out with the folks at DC Brau.
---
Rainbow History Project Logan Circle Panel Discussion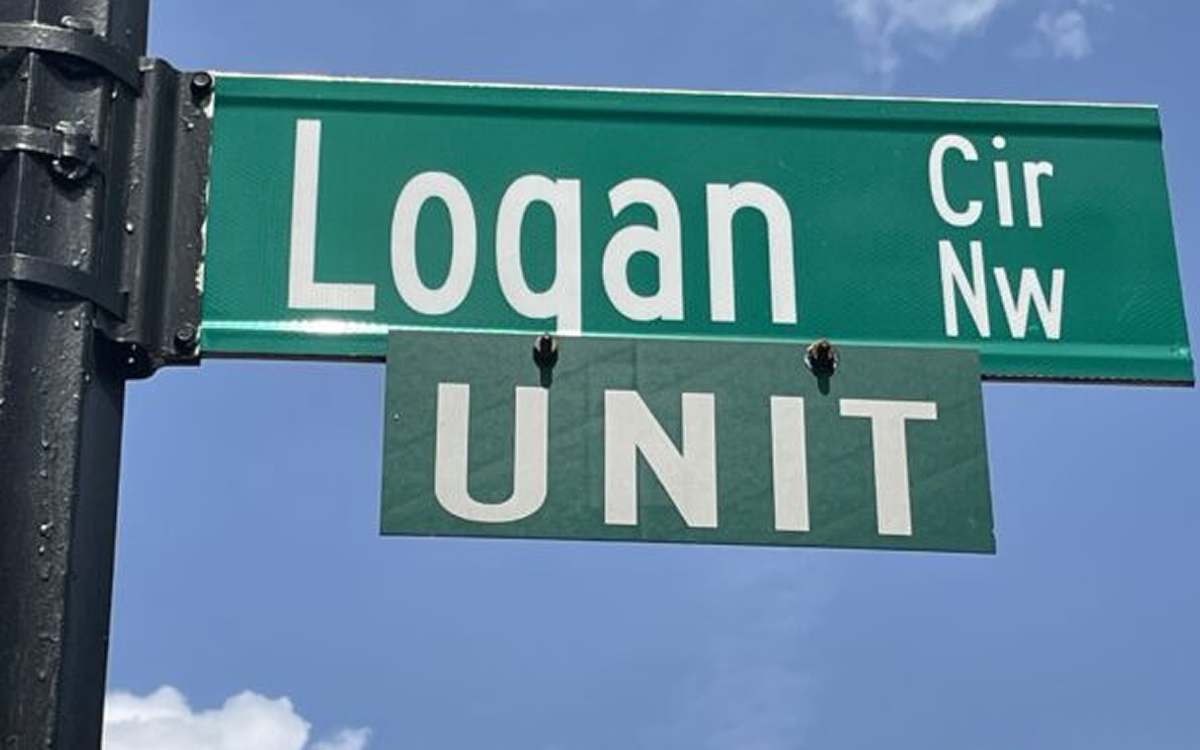 Wednesday, June 7
6 p.m.
The Corner
1701 14th Street, N.W.
Free
Website | Eventbrite
The Rainbow History Project is hosting a panel discussion at 6 at The Corner to discuss the history of the LGBTQ "gayborhood" of Logan Circle.
---
Revolution! The Work of Pride: A Discussion on Drag, Queer Culture, + Labor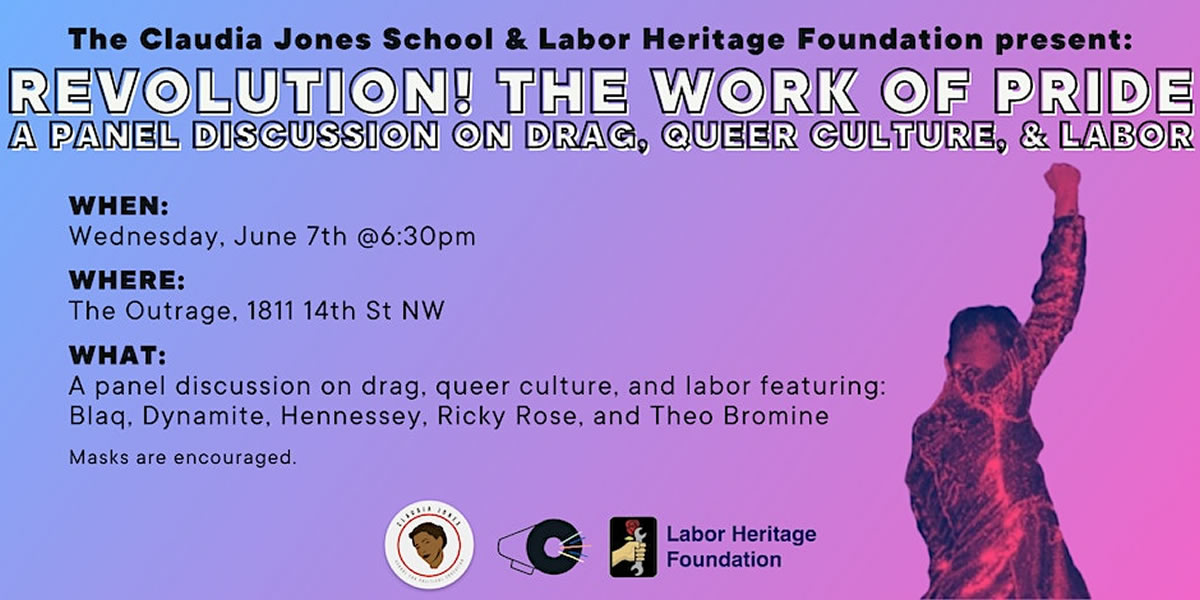 Wednesday, June 7
6:30 p.m.
The Outrage
1811 14th Street, N.W.
Free
Eventbrite
The Claudia Jones School and the Labor Heritage Foundation present, "Revolution! The Work of Pride" at 6:30 tonight at The Corner. Catch this panel discussion on drag, queer culture and labor featuring Blaq Dynamite, Hennessy, Ricky Rosé and Theo Bromine.
---
Miss-en-Place Pride Dinner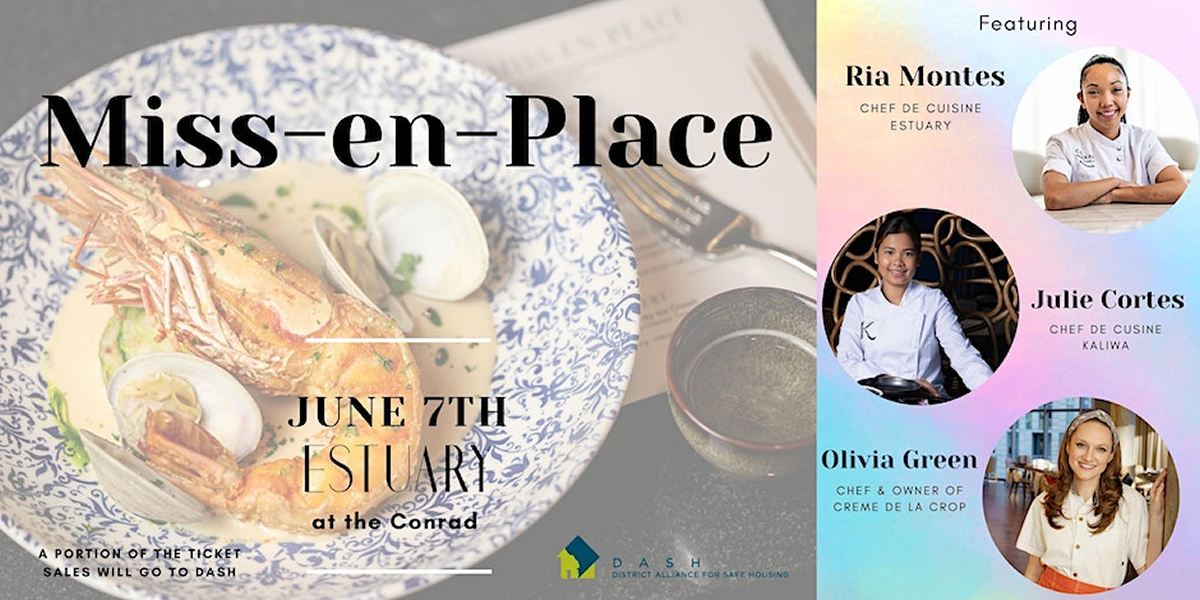 Wednesday, June 7
7-9 p.m.
Conrad Washington, D.C.
950 New York Avenue, N.W.
$85-$125
Eventbrite
Join Ria Montes, chef de cuisine at Estuary; Julie Cortes, chef de cuisine at Kaliwa; and Olivia Green, chef and owner of Creme de la Crop for "Miss-en-Place," a four-course dinner with curated beverage pairing at Estuary at the Conrad at 7 p.m. tonight. A portion of the proceeds are slated to go to DASH, a welcoming space for LGBTQ+ survivors of domestic and sexual violence.
---
Drag Trivia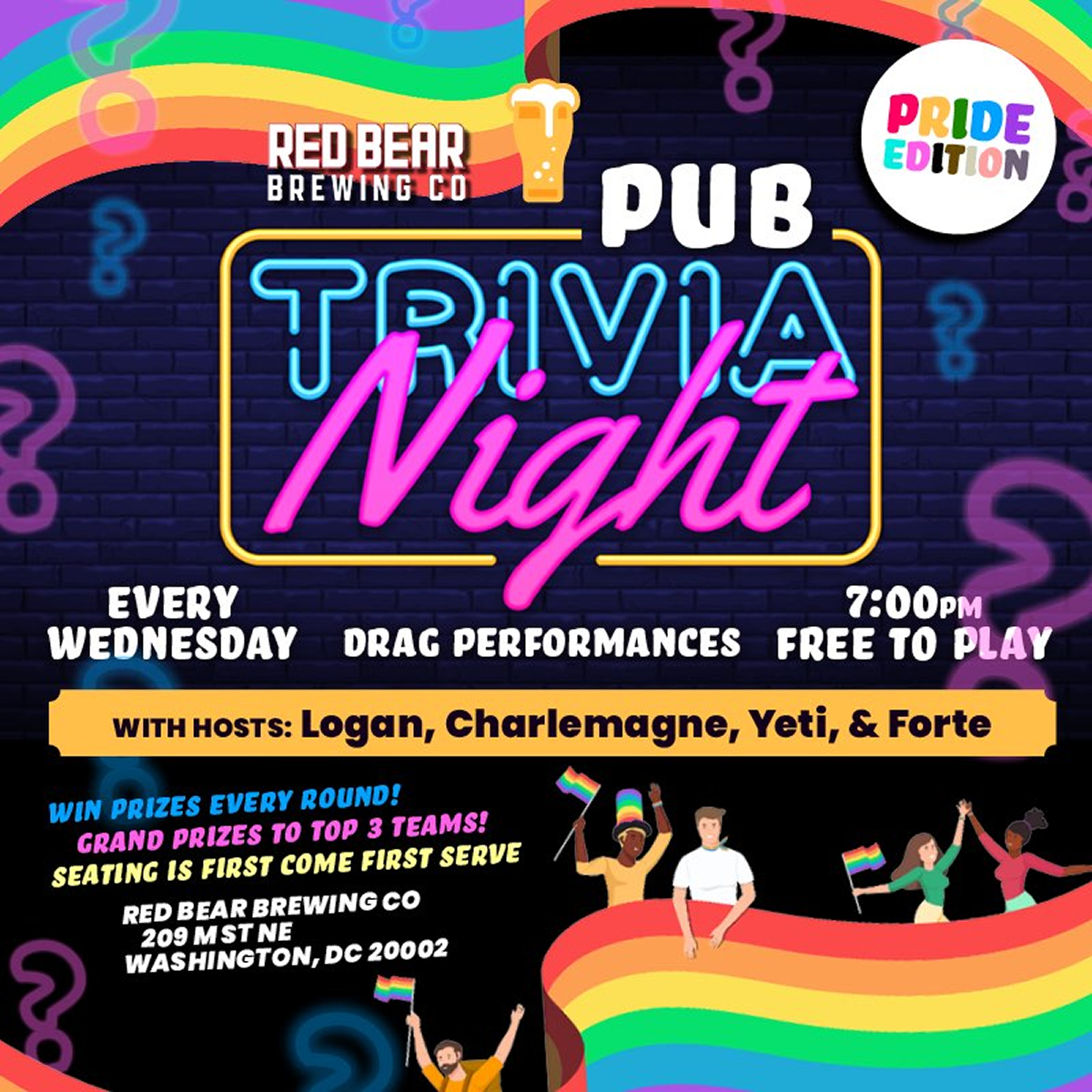 Wednesday, June 7
7 p.m.
Red Bear Brewing Company
209 M Street, N.E.
Free
Win prizes and hang out with friends at a Pride Edition game of pub trivia. Logan, Charlemagne, Yeti and Forte host.
---
Pride Kickoff Drag Show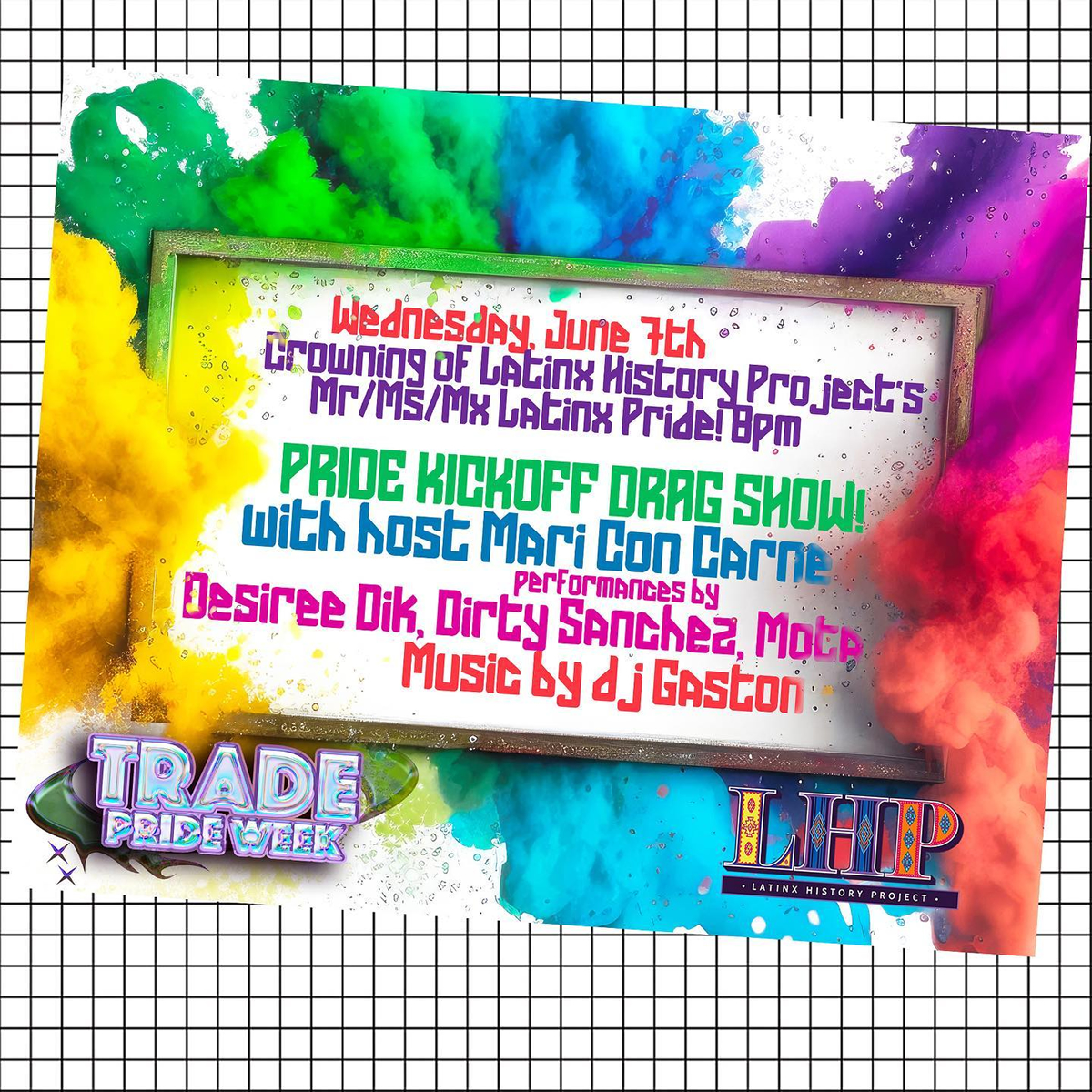 Wednesday, June 7
8 p.m.
Trade
1410 14th Street, N.W.
Instagram
Trade hosts a Pride Kickoff Drag Show with the Latinx History Project at 8 p.m. today. Don't miss the crowning of the Latinx Pride Court with host Mari con Carne and performances by Desiree Dik, Dirty Sanchez and Mota.
---
Beach Blanket Bingo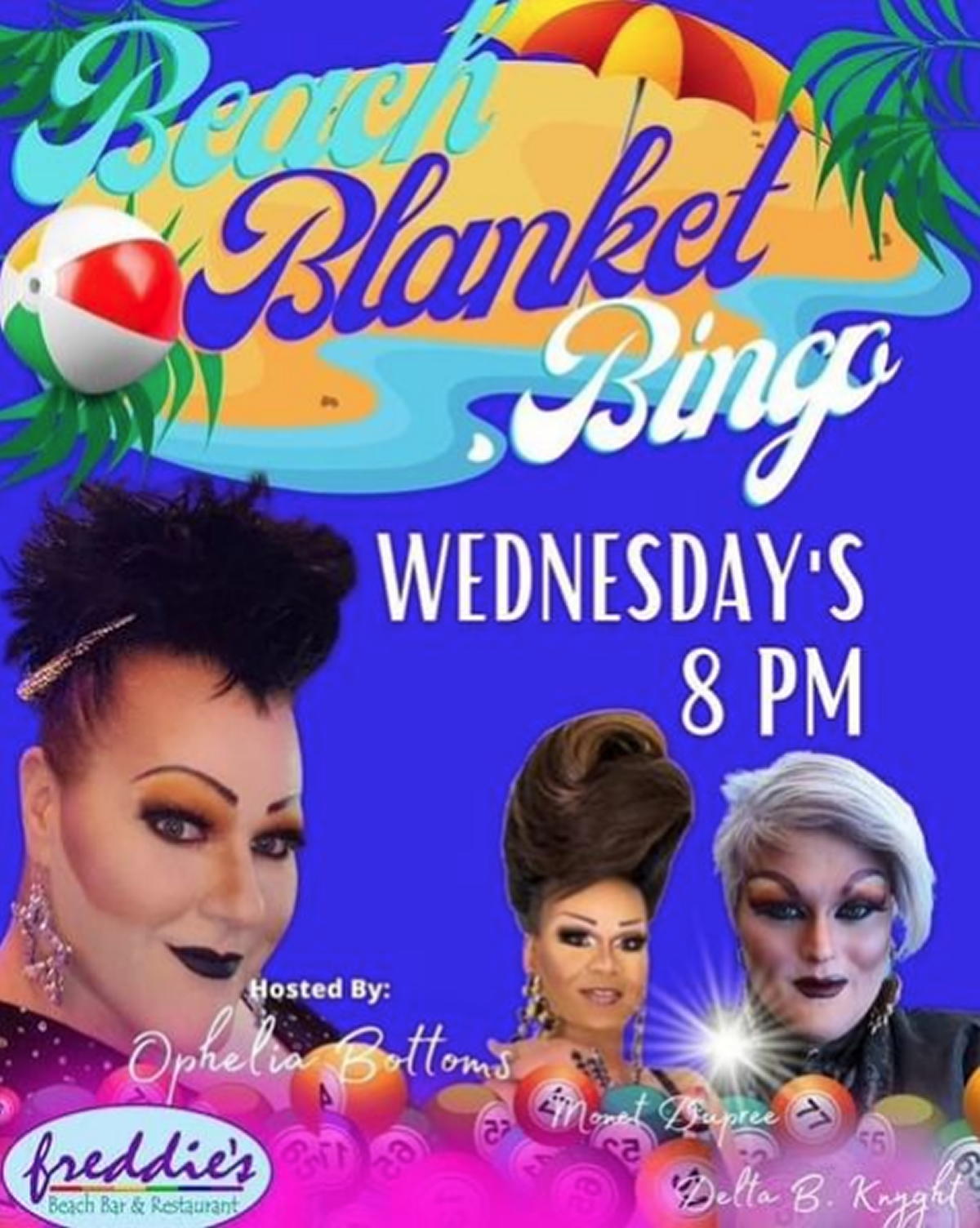 Wednesday, June 7
8 p.m.
Freddie's Beach Bar
555 23rd Street South
Arlington, Va.
Instagram | Reservations
Ophelia Bottoms hosts Beach Blanket Bingo with Monet Dupree and Delta B. Knyght at Freddie's Beach Bar in Arlington, Va. tonight at 8.
---
Daddy Issues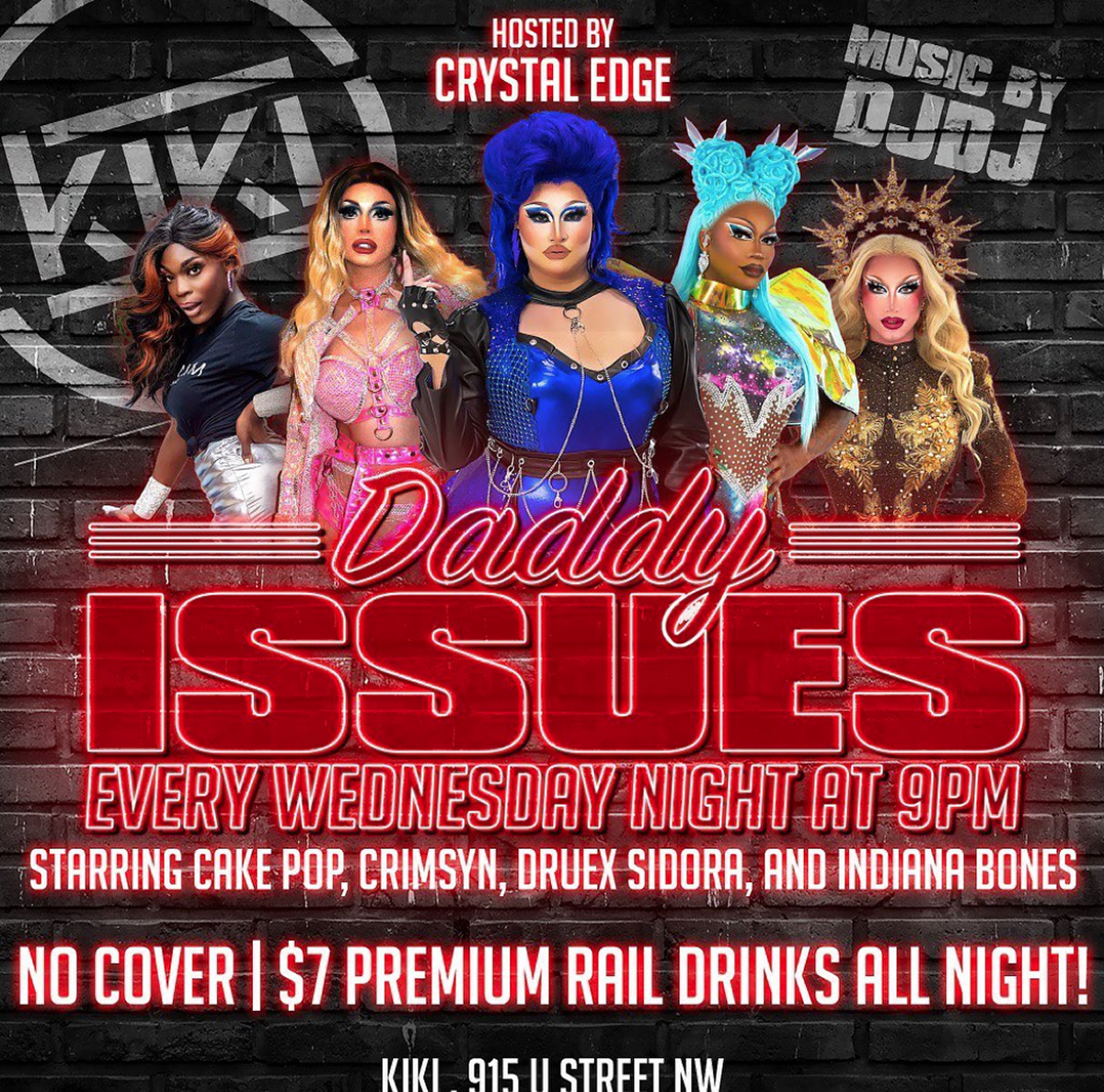 Wednesday, June 7
9 p.m.
Kiki
915 U Street, N.W.
Instagram
Crystal Edge leads this weekly drag show at Kiki tonight at 9.
---
Lady Camden at Pitchers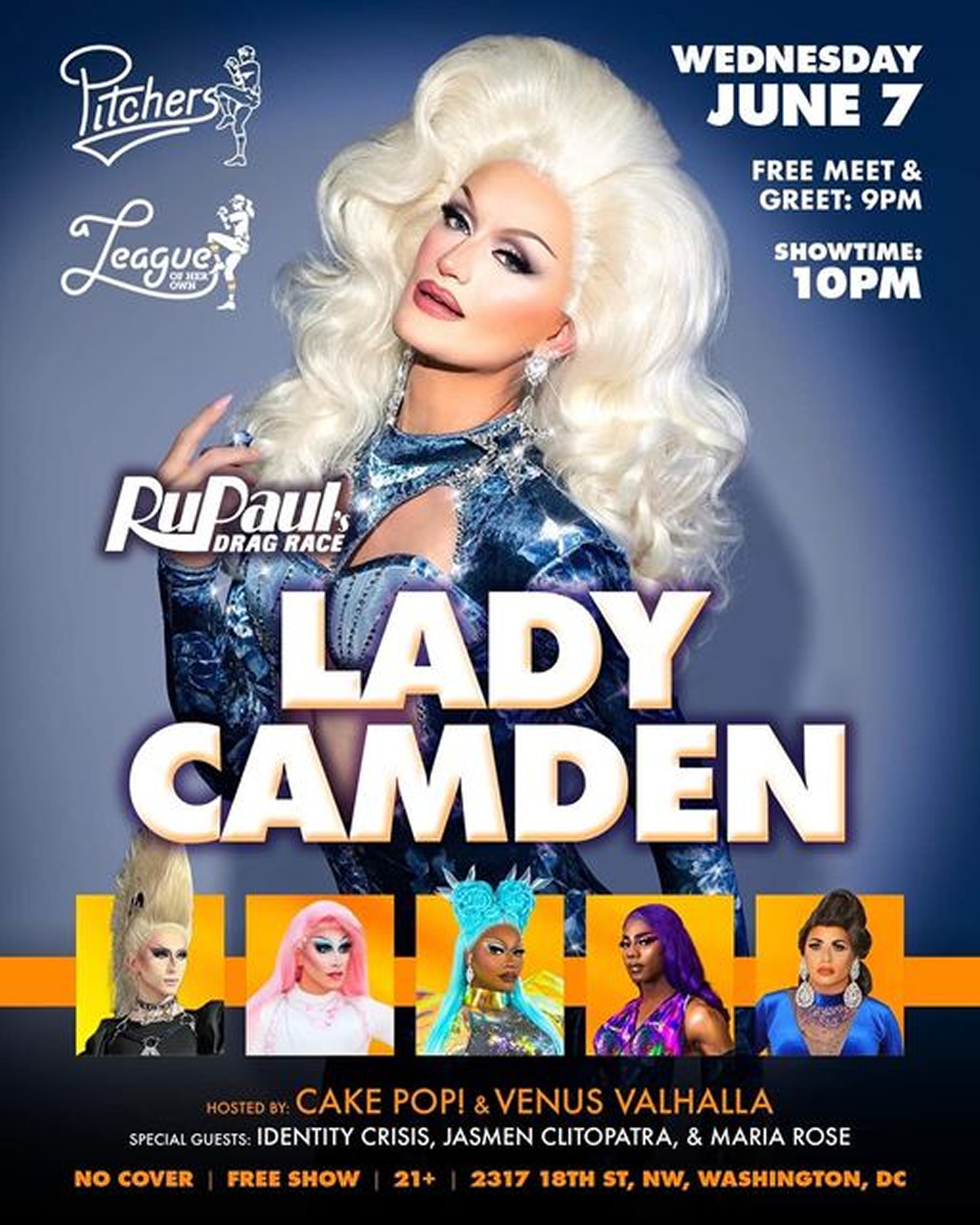 Wednesday, June 7
Meet & Greet at 9 p.m. / Showtime at 10 p.m.
Pitchers DC
2317 18th Street, N.W.
Free
Instagram
If you are a "RuPaul's Drag Race" fan, you have very little excuse not to go see a free drag show with Lady Camden at Pitchers tonight. The RuPaul's alum is joined by Cake Pop!, Venus Valhalla, Identity Crisis, Jasmen Clitopatra and Maria Rose in this evening's production.
---
PHOTOS: Night OUT at the Nationals
Pelosi throws first pitch at Nats game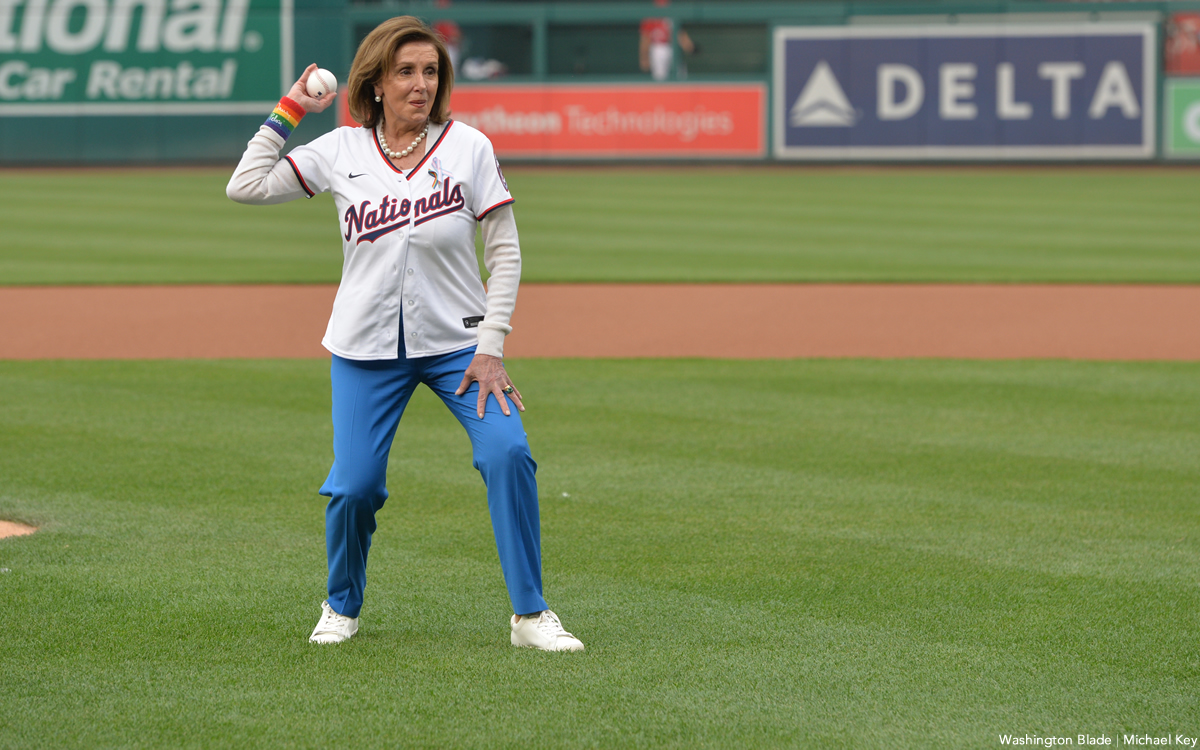 Former Speaker of the United States House of Representatives Nancy Pelosi (D-Calif.) threw out the first pitch at Nationals Stadium on Tuesday, June 6 for the Night OUT at the Nationals game. Team DC, the local LGBTQ umbrella sports organization, organized the LGBTQ night and sold 7,000 tickets. The Arizona Diamondbacks defeated the Washington Nationals 10-5.
(Washington Blade photos by Michael Key)