June 3, 2011 at 10:15 am EDT | by Valerie Blake
An opportunity revisited: seller-assisted financing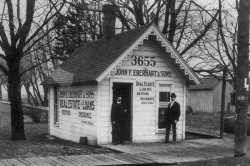 I bought my first house in 1977. The polite among you will giggle, roll your eyes and exclaim, "But you must have been just a baby!" The rest of you? Well, I know what you're thinking.
In truth, I was young, recently divorced, svelte and sassy (still sassy). My annual salary was $8,925. Gasoline cost 65 cents a gallon. Gerald Ford was nearing the end of his term as President and Elvis was dead (or at least missing). Former Iowa Congressman Fred Grandy had just debuted as Gopher on "The Love Boat" and a fun Saturday night out involved heading over to Margaritaville to drink a Sloe Gin Fizz and dance The Hustle in platform heels.
The interest rate on my first mortgage loan was just under 9 percent. When I purchased my next house two years later, my rate had increased to 11.75 percent. By 1981, the average interest rate for a 30-year fixed term mortgage loan had risen to an all-time high of 16.63 percent. For some consumers, the rates were as high as 22 percent.
So did the housing market collapse? Did people stop buying homes? Did sellers just throw up their hands in despair? To be sure, some did, but the rest of us put on our collective thinking caps and got creative!
So let's do it again, folks. I'm not talking about no money down, negative amortization, pay what you can, or just don't pay if it's inconvenient. I'm talking about seller financing and other creative avenues to ensure that qualified buyers can still get into homes they love.
Granted, some of us still owe more on our mortgages than our homes are worth, but that won't last forever given the recent rate of appreciation in our area of 6 percent per annum. And believe it or not, there are people out there who did not max out their equity, or who bought homes 30 years ago or more and have already burned their paid mortgages while dancing around the fire with glee.
There are risks involved to be sure and you will want to consult your attorney, your tax advisor and your financial planner before proceeding, but consider the possible advantages before shunning the idea completely.
 The interest you can get on a mortgage note will be well above that which you can get on a Certificate of Deposit or a savings account.
 An installment sale (selling over time) may have tax advantages if you anticipate capital gains.
 You can time a balloon payment of the remaining balance with retirement, college expenses for children or other long-term financial goals.
 It opens your home to a plethora of self-employed buyers who are otherwise well qualified but whose income is difficult to quantify from year to year.
 If your buyer defaults, you can foreclose on the loan, get the home back and resell it (even at a higher price if the market continues to improve).
 Your equity can help a small-scale developer renovate homes for first-time or low-income buyers and you will be paid back quickly after the property is renovated and re-sold.
 If you end up needing your cash sooner than your note specifies, you can sell the loan to another investor or on the secondary loan market.
 You don't have to make a loan for the entire purchase. Remember the 80-10-10 loan where the buyer contributed a 10 percent downpayment and a bank or mortgage company funded 80 percent? You can offer to finance only the remaining 10 percent or some other portion of the total sales price based on your comfort level with the buyer's credit and payment history.
 You may quickly dispose of an otherwise "unsellable" property that does not qualify for traditional financing in line with Fannie Mae/Freddie Mac or private mortgage insurance underwriting guidelines.
 A buyer may offer a higher price for your home just for the privilege of obtaining private financing.
Even if you find that the risks of seller financing outweigh the advantages, check your loan documents to see if your loan is assumable. Mine is. This is also common for many FHA mortgages and allows a buyer to take advantage of a streamlined process to ante up the difference between the sales price and your current loan balance and take over your remaining payments, potentially saving hundreds or even thousands of dollars in closing costs and interest.
As credit restrictions grow in the wake of short sales and foreclosures across the country, well-qualified home buyers continue to need more options. Consider being the banker — that blue, pin-striped suit might look good on you.
Valerie M. Blake can be reached at 202-246-8602 or at Valerie@DCHomeQuest.com. Prudential Carruthers REALTORS® is an independently owned and operated member of Prudential Real Estate Affiliates, Inc., a Prudential Financial company. Equal Housing Opportunity.