Award-winning play is a tour de force
"I Am My Own Wife" is a play about transvestism and the lead character is indeed a notable real-life German eccentric, born biologically male and named Lothar Berfelde who in early adolescence began dressing as a female and adopted the name Charlotte von Mahlsdorf.
That he did so openly under the viselike grip of homophobic Nazi rule and the later German Communist regime is utterly mysterious and yet how he did it is a layered tale of ambiguity and ambivalence.
Tenacious in his gender switch until his death in 2002 at age 74, Charlotte presents herself as a heroine in this play, which won the Tony Awards for best play and actor and Pulitzer Prize for best drama. The playwright Doug Wright (who is also a character on stage) nevertheless casts a darker shadow across her role playing.
Charlotte is finally what Winston Churchill once famously called the nation of Russia — "a riddle wrapped in a mystery inside an enigma."
"But perhaps there is a key," Churchill also added. And the key to Charlotte is her need to survive with her identity intact. For the sake of survival, all is permitted. For the sake of survival, people may lie to themselves, about themselves and also to others. This same psychic tactic is sometimes a ruse meant to effect self-cure, through the freer expression of those drives that would otherwise fester in repression and neurosis — or worse.
And lies can be as important as the truth, a point of view explored at length by the distinguished ethicist Sissela Bok in her books "Lying and Secrets: On the Ethics of Concealment and Revelation."
We live our lives, this play declares, as the creator of narratives. We tell "stories" about ourselves. Our reliability as narrators is always contingent, a fact that troubled Wright greatly as he constructed this play from a series of interviews he initially carried out with Charlotte, during which encounters he fell in some senses in love with her distinctive persona. Thus, when her credibility came into question — indeed, when it began to appear that all along she had perhaps been collaborating successively with the Nazis and then the East German secret police (the notorious Stasi) — Wright was heart-broken and slammed head first into a giant writer's block that stalled the work of turning the interviews into the play.
As for Charlotte herself, we are led to believe that she had convinced herself at least that what she claimed to be true was true. But for Wright, it took the director Moises Kaufman, who also brought the murder of Matthew Shepard to the stage in "The Laramie Project," to work with Wright in three weeks of workshops at the Sundance Theatre Lab in 2000 to help the playwright find his way through to putting all the questions about Charlotte onto the stage inhabited by a total of 35 characters.
At the Signature Theatre, the actor Andrew Long turned to 25-year-old director Alan Paul to helm the production in which Long plays all 35 roles, from Charlotte herself to her brutal and abusive Nazi father to the playwright Doug Wright and myriad other characters in her life.
Signature's artistic director Eric Schaeffer has said that doing "I Am My Own Wife" is for an actor a little like climbing Mount Everest, so he allowed Long to select his own director as a guide on this perilous ascent. And Paul in turn threw out all stage directions and approached the play, which opened on Broadway in 2003 with Kaufman directing and was also performed in D.C. in 2005, as a clean slate.
The result is a darker take on the play. No one should see this play expecting to see something kinky and slinky in sequins and boas or that Long will play Charlotte as a finger-popping RuPaul. Instead, Long plays Charlotte almost nun-like as a conventional Berlin hausfrau, wearing a simple black dress and a string of pearls with sensible shoes, not high heels.
She is an elegantly mannered throwback, a relic of the past in every sense, someone whose home in Berlin became her private museum housing Kaiser Wilhelm II-era antiques, objets d'art, and especially gramophones and clocks. But she not only collected objects, she drew people to her and she even quietly opened her doors to prostitutes and others of the demi-monde seeking a trysting place.
Who could have guessed that so off-center a concept for a play would attract a mainstream audience? But it has! In a one-man play, Long is a tour de force, gliding from role to role, from accent to accent, changing expressions and postures, gradations and colorations, in a stunning portrayal of all the many characters in Charlotte's life.
It is an extraordinary work and deserves a large audience. Her life was real. Her story is an indomitable riddle. And attention must be paid.
Meet the husbands and creative partners behind 'Christmas Angel'
A funny, redemptive world premiere with a diverse cast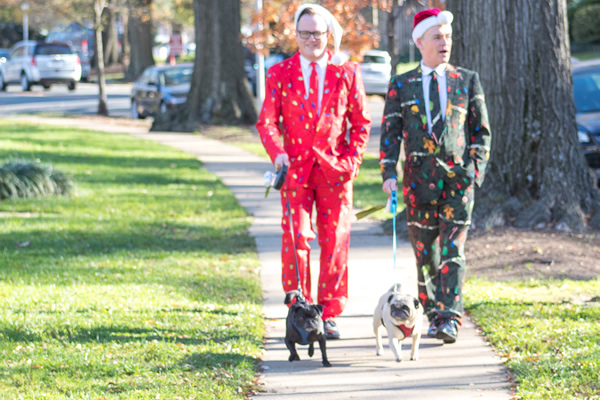 'The Christmas Angel'
Dec. 9-19
Creative Cauldron
410 South Maple Avenue
Falls Church, VA 22046
Tickets:  $35. Students $20.
Masks and proof of vaccination are required
creativecauldron.org
"Ours is like a lava lamp," says composer Matt Conner describing the collaborative creative process he shares with musical writing partner and husband Stephen Gregory Smith. "We move together in motion in a continual ebb and flow."
A couple for 23 years, married for eight, and making musicals together for 11, the talented pair's current offering is "The Christmas Angel," opening on Dec. 9 at Creative Cauldron in Fairfax.
A musical adaptation of the same-named 1910 novel by Abbie Farwell Brown, it's the story of Angelina Terry (Kanysha Williams), a wealthy embittered recluse who learns the lessons of Christmas from a box of old toys that she casts into the street. Also featured in the hour-long one-act are Ryan Sellers as Horton, Angelina's butler, and Carl Williams who plays her brother. The angel and toys are brought to life by an ensemble of a dozen teens plucked from the company's musical theater training program.
Via phone from their home in Arlington, Smith and Conner shared thoughts on their new show and working style. In attendance are pug dogs Edgar Allan Pug and Lord Byron, whom they call Eddie and Byron in public – otherwise "it's just too much," says Conner whose ultimate fantasy involves living on a pug farm where he'd write music and present the occasional show.
Rather than finish each other's sentences, the duo (both Helen Hayes Award winners – Smith for acting and Conner for directing) expound on one another's thoughts.
While Conner composes the music, Smith writes the book and lyrics, and together they co-direct. "But there's no end and beginning where my job ends and his begins," says Smith. "What we do complements each other's work."
Still, there are differences. Smith's approach is focused. He writes pages at night and edits in the morning. Conner's method is more relaxed, preferring to sit at the keyboard and talk rather than writing things down. But throughout the creative process, there's never a moment when the project isn't on their mind. They can be watching TV or buying milk when an exciting idea pops up, says Conner.
A clever nod to Dickens, the novel is more than just a female "Christmas Carol," says Smith. And in some spots, he's beefed up the 55-page book, fleshing out both storyline and characters including the toys whose shabby appearance belies a youthful confidence.
He adds, "Every holiday season you go to the attic and pull down the box, or boxes in my case, of holiday decorations and it's all old but it's new. That's the nostalgic feeling of toys from the attic that we're trying to find through the show."
The music is a combination of traditional carols performed by a hand bell chorus, and original Christmas songs that intentionally sound very familiar. The score includes songs "Don't Hide Your Light," "The Sweetest Gift," and "Yestermore" – the moment when the past, present, and future come together.
Also, there's Angelina's Bah! Humbug! number "Fiddlesticks," her great renunciation of the holidays. She believes the world a disappointing place to be, and the sooner realized the better.
Conner and Smith aren't new to Creative Cauldron. Through the company's Bold New Works project, the team was commissioned to write five world premiere musicals in just five years. The result was "The Turn of the Screw," "Monsters of the Villa Diodati," "Kaleidoscope," "Witch" and "On Air."
Judging from some of the titles and their slightly macabre content, it seems the duo was better poised to write for Halloween than Christmas, but nonetheless, they were commissioned. Creative Cauldron's producing director Laura Connors Hull brought them the obscure yet charming book that surprisingly had never before been reworked for stage or celluloid, and the pair got to work last spring.
Conner and Smith agree, "The show is a lot of things rolled up into one."
Not only is it a funny, redemptive world premiere with a diverse cast, but it's also a story largely unknown to today's audiences. Additionally, the show boasts intergenerational appeal while holding messages about Christmas, family, and finding light when you're in a darker place.
More information about Conner and Smith, including links to their music and popular podcast "The Conner & Smith Show," can be found on their terrific website at connersmithmusicals.com.
Forget streaming, the holiday classics return to area stages
Bring your proof of vaccination and check out a local production this season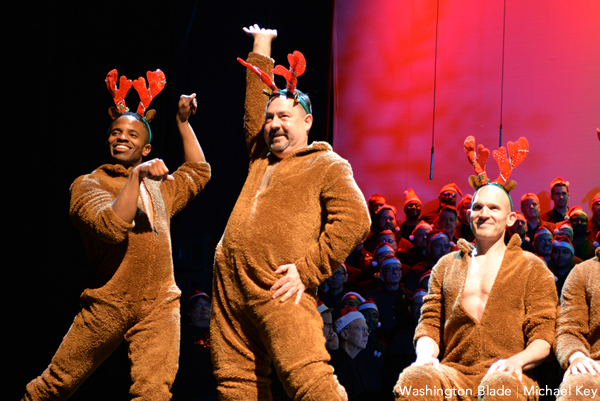 A year ago, the holiday season was streamed. But now, thanks to various protocols including masks and proof of vaccination, DMV theatergoers can come together and experience – live and in-person — both beloved classics and some promising new works. Here's a smattering of what's out there.
At Olney Theatre, Paul Morello is thrilled to bring back "A Christmas Carol 2021" (through Dec. 26), his solo adaptation of Dickens' ghost story. Concerning returning to a live audience, Morello says, "While this is technically a one-person show, it's really about the connection and collaboration with an audience, being in the same room, breathing in unison. I can't do this without an audience and for a story that thrives on redemption, mortality, isolation, the need for community and connection, and the things that matter most, the timing couldn't be better."
Olney also presents "Disney's Beauty and the Beast" through Jan. 2. This musical "tale as old as time" stars out actor Jade Jones as Belle and Evan Ruggiero plays the Beast. olneytheatre.org
For the holidays, Synetic Theater at Crystal City is reworking "Cinderella" (Nov. 27-Dec. 26). Led by an all-female team of creators, this festive take on the classic fairytale is inspired by Afro-Latino music and dance. Directed and adapted by Maria Simpkins who also plays the title role. synetictheater.org
Last year, because of COVID-19, Ford's Theatre presented "A Christmas Carol" as a radio broadcast, but now the fully produced play returns to the venue's historic stage through Dec. 27. A popular Washington tradition for more than 30 years, the thoroughly enjoyable and topnotch take on the Dickens' classic features Craig Wallace reprising the part of Scrooge, the miser who after a night of ghostly visits, rediscovers Christmas joy. fords.org
Another D.C. tradition guaranteed to put audiences in a holiday mood is the Washington Ballet's "Nutcracker," playing at the Warner Theatre through Dec. 26. Set to Tchaikovsky's enchanted score, this charming and superbly executed offering takes place in Georgetown circa 1882 and features a retinue of historic figures along with children, rats, fairies and a mysterious godfather. Choreography is by Septime Webre. washingtonballet.org
The Folger Consort, the superb early music ensemble in residence at the Folger, will be performing seven concerts of "A Medieval Christmas" (Dec. 10-18) at St. Mark's Church on Capitol Hill. A streaming version of the concert will also be available to view on-demand. folger.edu
At Lincoln Theatre, the Gay Men's Chorus of Washington, D.C. presents "The Holiday Show" (Dec. 4, 11, and 12) replete with tap-dancing elves, a dancing Christmas tree, snow, and a lot more. The fun and festive program's song list includes "Let It Snow! Let It Snow! Let It Snow!", "The 12 Rockin' Days of Christmas," and "Boogie Woogie Frosty." Featured performances range from the full Chorus, soloists, all GMCW ensembles, and the GenOUT Youth Chorus. gmcw.org
Arena Stage is marking the season with August Wilson's "Seven Guitars" (through Dec. 26), a drama about a small group of friends who gather following the untimely death of their friend, a blues guitarist on the edge of stardom. Directed by Tazewell Thompson, the production features an exciting cast that includes local actors Dane Figueroa Edidi and Roz White. arenastage.org
Creative Cauldron is serving up some holiday magic with "The Christmas Angel" (Dec. 9-19). Based on a little-known 1910 novel by Abbey Farwell Brown, it's the story of a lonely and bitter spinster who returns to happiness through a box of old toys. The commissioned new holiday musical is a collaboration of longtime musical collaborators and married couple Matt Conner and Stephen Gregory Smith (lyrics and book). creativecauldron.org
In keeping with the Yuletide spirit, the National Theatre presents two feel-good national tour musicals. First, it's "How the Grinch Stole Christmas!" (through Dec. 5), a musical take on Dr. Seuss' classic holiday tale featuring the hit songs "You're A Mean One, Mr. Grinch" and "Welcome Christmas."
Next up is "Tootsie" (Dec. 7-12), the hit musical based on the 1982 gender-bending film starring Dustin Hoffman as an out-of-work actor who disguises himself as a woman to land a role on a popular soap opera. The show boasts a Tony-winning book by Robert Horn and a score by Tony winner David Yazbek (The Band's Visit). thenationaldc.com
Keegan Theatre presents its annual holiday offering, "An Irish Carol" (Dec. 10-31). Set in a modern Dublin pub, the funny yet poignant original work (a nod to Dickens) tracks the changes in the life of a rich but miserable publican over the course of one Christmas Eve. keegantheatre.org
At Theater J, it's the Kinsey Sicks' "Oy Vey in a Manger" (Dec. 17-25). Blending drag, four-part harmony, and political humor, the "dragapella beautyshop quartet" brings its own hilariously irreverent view on the holidays. theaterj.org
And through Jan. 2, Signature Theatre continues to brighten the season with its production of Jonathan Larson's "Rent" directed by the company's out artistic director Matthew Gardiner and featuring out actor David Merino as Angel, a preternaturally energetic drag queen and percussionist. sigtheare.org
The Music Center at Strathmore, also in Bethesda, is presenting a wide range of musical holiday offerings including "Manheim Steamroller Christmas" (Dec. 3 and 4), a multimedia holiday tradition; Sarah Brightman in "A Christmas Symphony" (Dec. 6 and 7); "A Celtic Christmas with Séan Heely Celtic Band" (Dec. 11); Washington Bach Consort's "Bach's Epic Christmas Oratorio" (Dec. 11); the beloved "The Washington Chorus: A Candlelight Christmas" (Dec. 16 and 17); and last but not least "The Hip Hop Nutcracker" (Dec. 20), Tchaikovsky's classic reimagined with MC Kurtis Blow ("White Lines"). strathmore.org
And finally, something strictly for the kids: Imagination Stage presents "Corduroy" (Dec. 11-Jan. 24). Based on the beloved children's books by Don Freeman, it's the heartwarming story of a girl and her perfectly imperfect Teddy Bear. Best for ages 3-9. imaginationstage.org
'The Great Leap' explores change in 1989 China
'As an Asian American, you rarely play the lead in a play'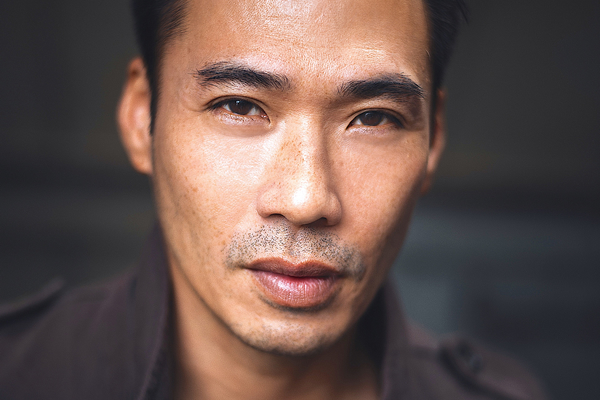 'The Great Leap'
Through Dec. 5
In-person with Streaming on demand beginning Nov. 26
Round House Theatre
4545 East-West Highway
Bethesda, Md., 20814
$34-$71
roundhousetheatre.org
Sometimes, working on a single play can change an actor's feelings about his craft and career. For Grant Chang, it was Lauren Yee's "The Great Leap," an international sports story set in 1989 at the time of the Tiananmen Square uprising.
Chang, who is gay, garnered terrific reviews for playing Wen Chang, a reserved Beijing university basketball coach of the 1970s and '80s, in the Los Angeles production of Yee's comic drama, and is now reprising the role in an original production at Round House Theatre.
He says, "As an Asian American, you rarely play the lead in a play, so having that opportunity and to be in something good and meaningful is so rewarding. It makes you work harder to be the best you can be on stage."
Like the actor's parents, his character Wen Chang grew up in China and lived through the Cultural Revolution. "In order to survive, he has to essentially take orders from the government, no questions," explains Chang. "That's where we meet him when the play begins. In the second act, 18 years have passed and he has experienced a transformation. Without spoiling things, let's just say as heartbreaking as the change is, it's also inspiring."
Chang's casting story is cute. While playing Whiterose's handsome assistant on television's "Mr. Robot," he became close friends with castmate B.D. Wong, who first shot to fame playing the title role in David Henry Hwang's "M. Butterfly." When Wong was tapped to direct the East West Players and Pasadena Playhouse co-production of Yee's play in 2019, he asked Chang to audition for Wen Chang, a part Wong had previously played in New York.
"B.D. thought I'd be right for the role, but I wasn't so sure. To step into his shoes was really a lot," says Chang, 42. "They were looking for local L.A. hires, and I'm a New York- based actor. He asked if they couldn't find someone would I send in a self-tape. I hesitantly agreed."
"That same night B.D. texted me and said 'put yourself on tape by tomorrow.' I thought dammit, I have to do this, so I did," he recalls.
After viewing Chang's audition tape, the production team made a unanimous decision to cast him: "B.D. believed in me more than I believed in myself. It's changed my way of acting, and I'm still very grateful for that."
And that was the beginning of "a great and beautiful journey" that continued at Round House under the sensitive direction of Jennifer Chang who was open to letting the actors explore, he says.
Chang adds, "I'm Chinese American, my parents are from China, and I majored in East Asian Studies. There's something instilled in me that I bring to this character. I humanize him in many ways that others might not and I think the audience picks up on that."
Despite an abundance of basketball focused marketing, the play is less about the sport and more about the game of life, says Chang. Incidentally, as a kid in New York City, he struggled with learning to dribble and even longer with how to dribble and run. But he wasn't unfamiliar with the rules and jargon. His dad and brothers watched a lot of basketball, and periodically he'd join them.
In addition to acting, Chang teaches dance and also directs. For his short film, "Finding You" (2015), he was awarded Best Actor and Best Director at the 38th Annual Asian American International Film Festival and the 11th Annual 72 Hour Shootout 2015, presented by the Asian American Film Lab.
He intends to do more directing when he can: "I have the patience to bring out things in other actors and inspire them to do really good work. Not everyone can do that."
Following his stint at Round House, besides teaching dance, there's nothing on the horizon, says Chang: "I'm constantly auditioning. Like everybody, we're all trying to get back to some normalcy by working, but we're also trying to live day to day, be happy, and accept what life brings us."