Mayor Fenty deserves second term
Let's base decisions on results, not on personalities

As a longtime D.C. resident and founder of Lambda Rising Bookstore, I am writing to let the LGBT community know why I am supporting Adrian Fenty for mayor.
First and foremost, I always have great admiration for candidates who actually deliver on the promises they make during a campaign. Four years ago, Adrian Fenty promised us that he would improve the schools. One of his first actions as mayor was to bring Michelle Rhee on board to turn around what was, at the time, a failing education system. You may remember that there were schools in such disrepair that they could not open, schools without textbooks, schools in which it was simply too dangerous to learn. Today, our schools have undergone rehabilitation, they open on time, the students have textbooks, and safety has been improved dramatically. So have test scores, which are up 11 percent, the largest increase in the nation. And now, thanks to Fenty and Rhee, D.C. Public Schools have implemented a new health curriculum that educates students about gender identity and sexual orientation and developed resources for the schools that will help create safe spaces for LGBT youth.
Four years ago, Adrian Fenty promised improved policing and a corresponding decrease in crime, and he has delivered on both, with violent crime down 7.2 percent last year, far ahead of the national average. Only last year, he released the first bias-crime report in the District's history, which provides the most accurate count possible of hate crimes in our history.
Four years ago, Adrian Fenty promised improved city services at a time when citizens could barely get through to city agencies on the phone. Today, communication by phone and website is vastly improved; you can actually reach public servants and get answers to questions, and the city is making much better use of new technology.
And four years ago, Adrian Fenty was forthright in his promise of support for marriage equality, as he had been since 2000. He made good on that promise, too, when he signed into law the historic Religious Freedom and Marriage Equality Amendment Act legalizing same-sex marriage in D.C. and is vigorously defending this in court and on the Hill.
Of course, there is much left to be done, but in the four years of the Fenty administration, the improvements already made are significant, and many of them impact positively on the LGBT community directly:
• Under Fenty's administration, the Wanda Alston House was established, providing the first transitional housing program for LGBT youth and issuing updated guidelines for other housing providers offering safe space for LGBT youth.
• His administration released the first epidemiology report dealing specifically with the HIV/AIDS epidemic among men who have sex with men. He also released the most comprehensive reports on HIV/AIDS in the city. And under Fenty's watch, condom distribution has increased so that the city is now giving away 4.2 million condoms a year.
• The Fenty administration launched and funded an annual GLBT economic development summit that has connected business leaders to government resources and has increased the number of LGBT businesses that are eligible to be on the District government's supply chain from three to 15.
Citizens have talked for years about getting some of these items done. Mayor Fenty has made it happen. He's not been shy about making the tough decisions. I know some criticize him for being aloof, but I base my decision on results, not on personalities, and my decision this year is to support Adrian Fenty for mayor because I believe he has proven an ability to get the job done.
Deacon Maccubbin is founder of Lambda Rising Bookstore.
National Gay & Lesbian Chamber of Commerce Certifies Brown, Naff, Pitts Omnimedia, Inc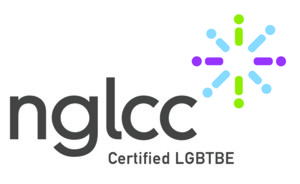 Washington, D.C. — Brown, Naff, Pitts Omnimedia, Inc, the parent company of the Washington Blade and Azer Creative, announced today it has been certified by the National Gay and Lesbian Chamber of Commerce (NGLCC) as an LGBT Business Enterprise. The NGLCC supports and advocates for diversity and inclusion for LGBT-owned businesses. With this certification the Blade's parent company joins more than 510 business and 134 corporate partners of the NGLCC.
Brown, Naff, Pitts Omnimedia, Inc. owns and operates the Washington Blade, the oldest and most acclaimed LGBT newspaper in the country. In 2012, the company launched Azer Creative, a full-service design firm. The company employs more than a dozen full-time LGBT staff.
"We are excited to become one of the 500 LGBT businesses across the country certified by NGLCC," said Lynne Brown, the Blade's publisher and a co-owner of the company. "The LGBT community has been part of our company from the beginning and we look forward to continue that for many years to come."
The Washington Blade was founded in 1969 and is known as the "newspaper of record" for the LGBT community both locally and nationally. Visit washingtonblade.com for more information. Azer Creative is a full-service graphic design firm based in Washington, D.C. Visit azercreative.com for more information. 
Vote now for the 2013 Best of Gay DC!
Choose in dozens of categories among hundreds of nominees, and make your voice heard!
Nominate the 'Best of Gay D.C.' now!
Dozens of categories cover all the best for LGBT Washington. Who deserves the prize this year?