Jackson petitions Supreme Court in D.C. marriage case
Local officials mum on filing opposition brief

Attorneys for Bishop Harry Jackson, the minister who has led efforts to kill D.C.'s same-sex marriage law, filed a petition last week asking the U.S. Supreme to weigh in on whether the city should allow voters to decide whether to overturn the law.
In a filing known as a petition for a Writ of Certiorari, Jackson's attorneys asked the high court to allow Jackson and six others to appeal a decision earlier this year by the D.C. Court of Appeals rejecting their lawsuit seeking to force the city to hold a ballot measure on the marriage law.
D.C. Attorney General Peter Nickles, who has been praised for his strongly worded briefs defending the same-sex marriage law in court, has yet to say whether the city will file a brief opposing Jackson's Supreme Court petition.
City officials, including presumptive Mayor-elect Vincent Gray, have said they remain strongly supportive of the same-sex marriage law and would martial all the needed resources to defend it if the Supreme Court agrees to take Jackson's case.
Supreme Court rules say briefs opposing a Petition for a Writ of Certiorari are not mandatory. One gay rights attorney said opposing parties often don't file opposition briefs if they believe the high court is unlikely to approve a certiorari petition.
"I would think Peter Nickles might still write something," said gay rights attorney Mark Levine. "But he may choose not to."
Spokespersons for Nickles and the mayor's office did immediately respond to calls asking if the city plans to file an opposition brief on the case.
The city has 30 days to file an opposing brief.
Four of the nine Supreme Court justices are needed to approve a petition for certiorari, which allows a case to come before the court for consideration on its merits. The court turns down the overwhelming majority of cases that come before it through petitions of certiorari, according to information posted on the court's website.
Should the court agree to take the case, five of the nine justices are needed to issue a ruling in Jackson's favor by overturning the appeals court decision.
Levine said it's unlikely that the Supreme Court would agree to take the case, although he said its past rulings on some controversial cases have surprised legal observers.
The D.C. Court of Appeals ruled earlier this year that the city's Board of Elections and Ethics was correct in disqualifying Jackson's proposed ballot measure seeking to overturn the same-sex marriage law. The election board cited a city law governing voter initiatives and referenda that it said prohibits the city from holding such a ballot measure because, if approved, it would violate the D.C. Human Rights Act's ban on discrimination based on sexual orientation.
Jackson and his attorneys argue that the law restricting ballot measures that go against provisions in the D.C. Human Rights Act is invalid because it violates the city's Home Rule Charter, which Congress passed in the early 1970s.
The election board and a D.C. Superior Court judge rejected that claim as did the Court of Appeals. Each said the ballot measure restriction doesn't violate the Home Rule Charter.
In March, before the appeals court issued its decision on the case, Jackson's lawyers filed an emergency motion asking the Supreme Court to issue a stay preventing the same-sex marriage law from taking effect until the appeals court ruled on the matter.
Chief Justice John Roberts denied the request for a stay, saying Jackson and others opposed to the marriage law could not show that they could win the case on its merits, or that allowing the law to take effect would cause them irreparable harm at that time.
However, Roberts said in his three-page ruling that Jackson's argument that the city acted improperly by denying a request for a ballot measure on grounds that it would violate the Human Rights Act "has some force."
That comment by Roberts has led to speculation by legal experts that the Chief Justice might give at least some consideration to supporting a petition that the Supreme Court take the case, even though the court has a longstanding history of deferring to lower courts on matters that don't relate to the U.S. constitution or to federal law.
In a comment that same-sex marriage supporters viewed as a hopeful sign, Roberts also stated in his ruling in March that Congress had full authority to prevent the city from adopting its law prohibiting ballot measures that violate the Human Rights Act, but Congress chose not to do so.
Nickles, who wrote the city's briefs defending the same-sex marriage law against Jackson's lawsuit, has argued that the law barring ballot measure that violate the Human Rights Act was adopted in full compliance with the Home Rule Charter. He noted that Congress's decision not to overturn either the ballot measure law or the same-sex marriage law shows there is no federal or constitutional interest in either law and Jackson has no grounds for asking the courts to overturn it.
The Supreme Court is not expected to announce its decision on whether or not to take Jackson's case until sometime next year.
In addition to Jackson, the individuals that signed on to the petition seeking Supreme Court intervention in the case include Ward 5 ANC Commissioner Robert King, local minister Anthony Evans, former D.C. congressional delegate Walter Fauntroy, Dale Wafer, Melvin Dupree, and Howard Butler.
The group is being represented by attorneys with the Alliance Defense Fund, a conservative religious-oriented litigation group that has challenged same-sex marriages laws in other states.
"Today's petition by Bishop Jackson to the U.S. Supreme Court is nothing more than a last-ditch attempt by outside interests to try to eliminate marriage equality in the District," said Joe Solmonese, president of the Human Rights Campaign, in a statement last week. "Every court that has reviewed this case, including two D.C. Superior Court judges and the full Court of Appeals, has found Jackson's arguments to be without merit," he said. "The Council and mayor, representing District residents, overwhelmingly approved legislation providing for marriage equality. And we will remain vigilant against any efforts to take it away."
(Jackson photo is a Blade file photo by Michael Key)
Comings & Goings
Jarvis lands lead consultant role at Meridian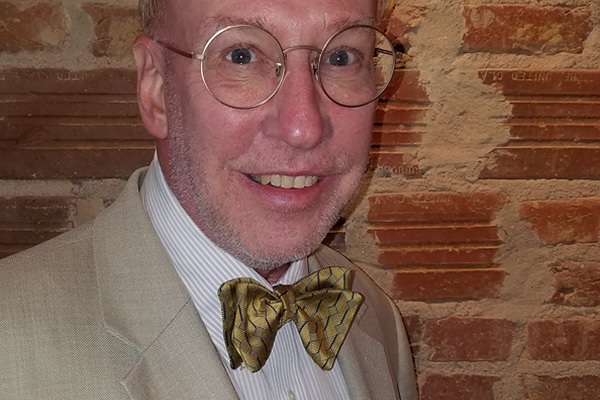 The Comings & Goings column is about sharing the professional successes of our community. We want to recognize those landing new jobs, new clients for their business, joining boards of organizations and other achievements. Please share your successes with us at: [email protected].
The Comings & Goings column also invites LGBTQ+ college students to share their successes with us. If you have been elected to a student government position, gotten an exciting internship, or are graduating and beginning your career with a great job, let us know so we can share your success.
Congratulations to Ted Jarvis on his new position as Lead Consultant with Meridian Compensation Partners, in D.C. He will work on executive compensation, governance research and development. When asked for a response to news of his new role, Jarvis told this story: "I was on the prowl for a new job, I contacted the CEO of Meridian, who worked closely with me during our years at Towers Perrin. After half an hour on the phone, he asked: 'Send me a list of things you really like to do.' I followed up with a list of activities that continually engage my interest. Within a few days he mailed me a job description that reiterated my list almost word-for-word. I feel truly blessed to have a job so aligned with what I enjoy doing. This is going to be great."
Prior to working for Meridian, Jarvis worked as Managing Director with Main Data Group in D.C. and Wilton Manors, Fla. He has also worked as Global Director of Executive Compensation Data, Research & Publications, Mercer, in D.C.; principal with Willis Towers Watson; and as a research consultant with McKinsey & Company. Jarvis is a member of the Lotos Club (New York); a benefactor at Drew University (Morristown, N.J.). He funded two undergraduate prizes (Wettstein Drama Prize; Norton Wettstein and Jane Brown Memorial Prize for Outstanding Academic Achievement); a benefactor, Woodmere Art Museum (Philadelphia): funded William Joseph Coverley-Smith Prize, awarded annually at the Juried Art Competition; and a benefactor, St. Thomas's Episcopal Church (Rochester, N.Y.).
Jarvis earned his MBA from The University of Chicago, Booth School of Business; his bachelor's (cum laude); his Ph.D. (ABD) major in music history, literature and theory from NYU. He earned a Fulbright Scholarship to the University of Vienna.
Nellie's fires security firm after woman dragged down stairs
Pride weekend incident triggers protests, investigation by liquor agency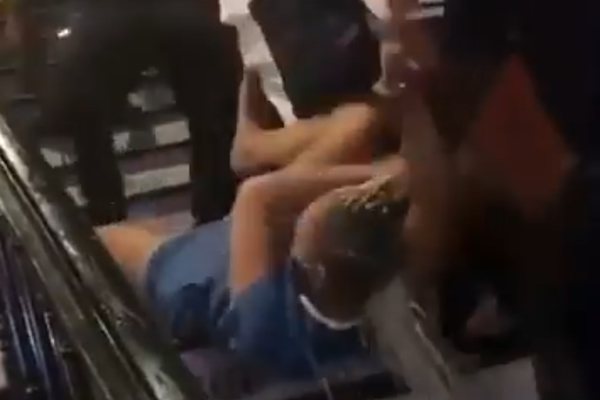 Nellie's Sports Bar, a gay bar in the city's U Street commercial district, announced on Monday that it has dismissed a security company whose employee was captured on video dragging a Black woman down a flight of stairs inside the bar during the city's Capital Pride celebration last Saturday.
The video of the male security employee dragging Nellie's customer Keisha Young down the staircase and the brawl that erupted when other customers intervened has triggered expressions of concern by city officials and LGBTQ activists, including the local Black Lives Matter group that organized a protest outside Nellie's on Sunday.
Young, who said she was injured during the incident, has said the security staffer mistakenly thought she was part of a group of customers who brought into the bar their own alcoholic beverages, which Nellie's does not allow.
"Nellie's Sports Bar has terminated, with immediate effect, the independent security vendor hired to protect our guests during Pride Week," Nellie's said in a statement released to the media.
"Our investigation into the matter is ongoing, and we will cooperate with any law enforcement investigation, however we do not need to wait for the investigation's conclusion before we take decisive action," the statement says. "We offer a heartfelt apology to all who witnessed the horrific events of this past weekend," it says. "No matter what behavior occurred prior, nothing warrants mistreating and disrespecting one of our guests."
The statement adds that Nellie's will be closed this week "as we evaluate this regrettable situation." It says all non-security staff will continue to be paid their regular wages during the temporary shutdown.
"In the interim, we will use this time to listen and understand what more we can do to create the safe and friendly atmosphere our guests have come to expect from Nellie's Sports Bar over the past 14 years," the statement says.
Brandon Burrell, an attorney representing Young, told D.C.'s Fox 5 News that Nellie's had yet to offer an apology directly to Young. Fox 5 News reported on Monday that Young was considering filing a police report over the incident and a possible lawsuit against Nellie's depending on how Nellie's responds to Young's concerns.
A D.C. police spokesperson told the Washington Blade that Young had not contacted police to file a report about the incident as of early Monday.
The D.C. Alcoholic Beverage Regulation Administration, which issues liquor licenses to bars and restaurants, has opened an investigation into the Nellie's incident, the agency confirmed to Fox 5 News.
The Capital Pride Alliance, the local group that organizes D.C.'s LGBTQ Pride events, including Saturday's Pride Walk and Pridemobile Parade, issued a statement on Monday expressing concern over the Nellie's incident.
"The Capital Pride Alliance condemns the reprehensible actions taken by Nellie's staff over the weekend," the statement says. "The incident resulted in Keisha Young being dragged by the hair down the stairs, which was a violent response to the trivial action of allegedly bringing into the bar a bottle of liquor," the statement says.
"Capital Pride Alliance is committed to creating safe spaces for all," says the statement. "We expect Nellie's to take immediate, remedial action in response to this incident. Their response will impact the future of CPA's relationship with Nellie's."
Nellie's owner Doug Schantz couldn't immediately be reached for comment.
D.C. Mayor Muriel Bowser also expressed concern about the Nellie's incident when asked about it by reporters at an event on Monday.
"Obviously, entrepreneurs enforce rules in their restaurants, but they're not allowed to assault anybody," the mayor said. "If that's a matter for the Metropolitan Police Department, we'll take it up."
New gay bar 'Central' to open in Baltimore this summer
Just a few blocks from where Grand Central closed last year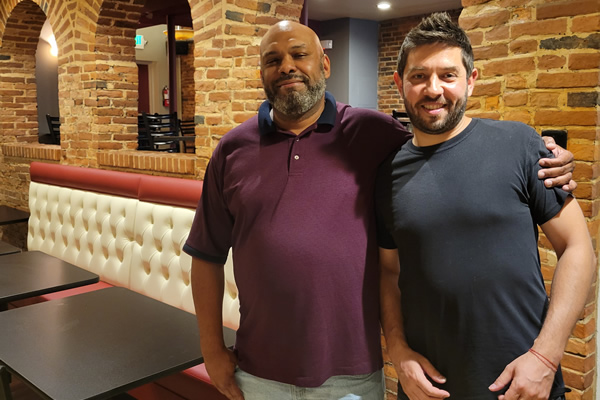 Fans of the old Grand Central club in Baltimore will get a new place to patronize this summer, and it has a familiar name and operator.
Central is the name of a gay bar and restaurant that's expected to open in August, just a few blocks from where Grand Central closed last September. One of its owners is the former general manager of Grand Central, Marc Hayes.
Baltimore's liquor board last week approved a request to transfer an existing Beer, Wine and Liquor license to Hayes, from Baltimore, and business partner Ivan Yordanov, from Alexandria, Va.
The location is a three-building complex at 885-889 N. Howard Street, part of a block called Antique Row on the western edge of Mount Vernon, the city's traditional "gayborhood." Over the years, the Howard Street buildings have housed a series of clubs and lounges, most recently Bentley's jazz club.
Grand Central closed after original owner Don Davis sold the property at 1001-1003 N. Charles Street to a developer, Landmark Partners, that's now constructing an eight-story office building in its place. Its last day was Sept. 3.
Started in 1991 as Central Station at 1001 N. Charles St. and renamed when Davis bought the old Stagecoach Bar at 1003 N. Charles St., Grand Central was one of Baltimore's largest gay-friendly clubs and remained busy on weekends even after Landmark acquired the property. Patrons called it 'Central' for short. It was required to close temporarily during the first months of the COVID-19 pandemic but did offer outdoor and carryout service when permitted.
Hayes, the last general manager of Grand Central for both Davis and Landmark, had indicated before it closed that he wanted to find another place for patrons to go once construction of the office building began.
He said the Howard Street business is not a relocation of Grand Central because Landmark isn't involved and Landmark owns the rights to the name and other intellectual property associated with Grand Central.
"We're not Grand Central," he said. "This is going to be Central. This is going to be an LGBTQIA-friendly place, but not using the Grand Central intellectual property."
Hayes said he and Yordanov chose the name Central because the Howard Street buildings are centrally located between Leon's and The Drinkery, two other gay bars in Mount Vernon.
"We are central," he said. "We're in a triangle."
Even if it doesn't have a legal connection with Grand Central, Hayes said, he will welcome its former patrons, as well as people who have never been to Grand Central. And while he's billing it as a gay bar, he said, "I don't see gender or race in anybody." He describes himself as gender fluid and Yordanov as an ally of the gay community.
The three buildings date from around 1900 and are connected internally. Together, they contain more than 6,200 square feet of space on two levels – large but less than half the 15,000 square feet of space inside the two buildings that made up Grand Central.
Hayes and Yordanov are leasing the property and received a letter of support for the liquor license transfer from the Mount Vernon Belvedere Association. They still need to pass inspections required by the liquor board and intend to hire a staff of about 20. They plan to have a dance floor and DJs, Sunday brunch, drag shows and other live entertainment as well as a full-service kitchen.
The interior has a long wooden bar that's reminiscent of Grand Central's, a series of lounges and dining areas, and some exposed-brick walls with arches that impart an air of history and allow views from one area to another. The main dance floor will be on the second floor, including one space where the walls are covered with mirrors.
Hayes said the building doesn't need much in the way of renovations and since it's actually three addresses, there's already a separate entrance for carryout orders. He said he considered other locations but liked the ambiance, layout and location of this property. "I've always liked this building," he said. "Grand stairwell. Wrought iron…It's gorgeous. Look at the arches."
The bar will be open from 4 p.m. to 1:45 a.m. Monday through Saturday and from 10 a.m. to 1:45 p.m. on Sundays, when Central will serve brunch. The carryout will open daily starting at 11 a.m. Central will have a cover charge when there are shows.
While many gay bars have closed around the country during the pandemic, Hayes said he believes there's a market for a new one in Baltimore. He notes that Central will be different from the Baltimore Eagle, which caters to the leather community; the tavern-style bars without live entertainment, and The Manor, an "ultralounge" in a meticulously restored townhouse on Charles Street.
"We're not The Manor, obviously. They've got a fantastic chef and fantastic food and we're going to be doing bar food" with a relaxed atmosphere and DJs. But Central will offer more in the way of food service and entertainment than the tavern-style bars around the city.
That's another reason the name they chose makes sense. Given the other options in town, Hayes said, "We're kind of right in the middle."