Election night coverage & races to watch

UPDATE: O'Malley re-elected in Maryland; Barney Frank wins; GOP takes U.S. House
There are many races to watch for LGBT voters tonight and the Blade is working to keep you informed.
Locally, the mayor's race isn't much of a race, but veteran reporter Lou Chibbaro Jr. will be at the Diner with David Catania reporting on the developments in D.C. races. Vince Gray is heavily favored to become the next mayor; gay Council members Catania and Jim Graham should win easily.
In Maryland, the governor's race is Martin O'Malley's to lose. Don't look for any GOP upsets in blue Maryland tonight though. Douglas Gansler is running unopposed in the attorney general's race, which is a good thing as he supports full marriage equality. The real news out of Maryland is that the state legislature could see an increase from four openly gay elected officials to seven, as the incumbents and three new challengers are running in strong Democratic districts and expected to win. They include Mary Washington, who is poised to become only the second out black lesbian state elected official.
In the U.S. House, all 435 seats are up tonight and Republicans need just 39 pick-ups to take control; they could end up with many more than they need. Some prognosticators suggest the GOP could pick up 60-70 seats tonight, vaulting Rep. John Boehner into the speaker's chair. Boehner earned a zero in the Human Rights Campaign's recent LGBT congressional scorecard.
Openly gay and lesbian House members are favored to retain their seats, including Rep. Barney Frank (D-Mass.), who will be losing his powerful committee chair post at Financial Services.
As far as openly gay challengers for the House, the best shot at a gay addition comes from Rhode Island, where Providence Mayor David Cicilline has run a strong, well-funded campaign. Steve Pougnet has staged a serious challenge to incumbent GOP Rep. Mary Bono-Mack in Palm Springs, but she's still favored to retain her seat.
But the race to watch for LGBT rights supporters comes in Pennsylvania, where Rep. Patrick Murphy is fighting to retain his seat. Murphy, a straight Iraq war veteran, spearheaded efforts to repeal "Don't Ask, Don't Tell" in the House and later appeared on the cover of the Advocate for his unwavering support of gay rights. Groups of supporters from D.C. have been traveling to Murphy's district to help. He's been a true ally and the movement would suffer a stinging defeat if Murphy goes down tonight.
The Senate is where things get interesting. The GOP needs 10 seats to take control, which looks unlikely. But several LGBT allies are facing tough fights tonight, most notably majority leader Harry Reid (D-Nev.), who is trailing in the polls to Tea Party candidate Sharron Angle. Angle has said "Don't Ask, Don't Tell" shouldn't be repealed until the Pentagon has a chance to finish its review of the policy. Angle also once said that she'd refuse campaign contributions from businesses that have pro-gay employment policies.
In Wisconsin, the LGBT movement is likely to lose a key ally in Sen. Russ Feingold, who was among just 14 senators that voted against the Defense of Marriage Act in 1996. He trails Republican challenger Ron Johnson in polls, who is open to repealing the military's gay ban.
In Colorado, the race between incumbent Democrat Michael Bennet and Tea Party challenger Ken Buck is ugly and among the closest in the country. Buck's anti-gay views have drawn national media attention; he even compared homosexuality to alcoholism in a recent interview.
Another dead heat race is playing out in Pennsylvania between Rep. Joe Sestak (D) and Pat Toomey (R). Toomey has supported bans on same-sex marriage and adoption by gay couples. Sestak backs repeal of "Don't Ask" and supports ENDA.
Blade political reporter Chris Johnson is monitoring the races with LGBT interest and will be posting updates here throughout the night.
National Gay & Lesbian Chamber of Commerce Certifies Brown, Naff, Pitts Omnimedia, Inc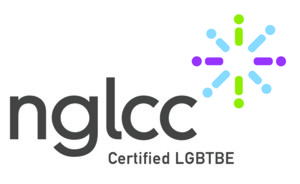 Washington, D.C. — Brown, Naff, Pitts Omnimedia, Inc, the parent company of the Washington Blade and Azer Creative, announced today it has been certified by the National Gay and Lesbian Chamber of Commerce (NGLCC) as an LGBT Business Enterprise. The NGLCC supports and advocates for diversity and inclusion for LGBT-owned businesses. With this certification the Blade's parent company joins more than 510 business and 134 corporate partners of the NGLCC.
Brown, Naff, Pitts Omnimedia, Inc. owns and operates the Washington Blade, the oldest and most acclaimed LGBT newspaper in the country. In 2012, the company launched Azer Creative, a full-service design firm. The company employs more than a dozen full-time LGBT staff.
"We are excited to become one of the 500 LGBT businesses across the country certified by NGLCC," said Lynne Brown, the Blade's publisher and a co-owner of the company. "The LGBT community has been part of our company from the beginning and we look forward to continue that for many years to come."
The Washington Blade was founded in 1969 and is known as the "newspaper of record" for the LGBT community both locally and nationally. Visit washingtonblade.com for more information. Azer Creative is a full-service graphic design firm based in Washington, D.C. Visit azercreative.com for more information. 
Vote now for the 2013 Best of Gay DC!
Choose in dozens of categories among hundreds of nominees, and make your voice heard!
Nominate the 'Best of Gay D.C.' now!
Dozens of categories cover all the best for LGBT Washington. Who deserves the prize this year?