A welcome change in tone from the Vatican
Pope opens dialogue on HIV, gays in Catholic Church

Dignity/Washington, like many other LGBT groups, hands out condoms during the annual Gay Pride parade here in Washington.
We attach a card to each condom that lets the person who receives it know that it is from Dignity/Washington, a community of LGBT Catholics, our families and friends. We know first-hand how important it is for a man to assume responsibility for being safe during sex because we, like all LGBT groups who have been around for the last 30-plus years, have lost members to AIDS. The use of condoms to prevent the spread of HIV/AIDS is not an abstract moral issue for us.
As a gay man, I know from my own personal experience that the decision about whether or not to use a condom during sex can be discussed in advance, or it can be made in the heat of the moment. In either instance a good or bad decision can be made. I have had a couple of friends who recently have quoted statistics to me to explain that being unsafe during sex is a reasonable and rational decision. Obviously, there is a moral dimension to this decision when there is a possibility that a deadly, or manageable but incurable, disease may be transmitted.
We are glad that the Pope agrees with the position that we have been espousing for the last 25 or 30 years. The Pope now says that the use of condoms by an individual during sex is an assumption of personal responsibility that can reduce the risk of infection from HIV. While this may sound like common sense to most of us, it is a shift in position for the Vatican. As recently as last year, while on a trip to Africa, the Pope denied that condoms could be useful in preventing the spread of HIV/AIDS.
In his statement, which was made during a recent interview, the Pope uses the example of a male hustler and points out that for this man to use a condom during sex is an assumption of responsibility on his part to help prevent the spread of HIV/AIDS. While other examples might have demonstrated a more generous spirit to the gay community and to those, gay or straight, who have an HIV-positive partner, the boorishness of the example does not diminish the significance of the stated principle.
What the Pope seems to be saying is that by being aware of the health and safety of yourself and of another person during sex, you are being a force for good in the world. The Pope, of course, couldn't quite bring himself to say that the use of a condom is moral, but even the director of UNAIDS sees the Pope's statement as a positive step taken by the Vatican regarding AIDS prevention. Will some gay men decide to use a condom because the Pope believes that using a condom during sex is preferable to not using a condom to help prevent the spread of HIV/AIDS? I don't know, but at least it is one less dissenting voice on the subject.
The Vatican denies that this is a change in Catholic belief. However, this is the first time that the Vatican has acknowledged that there is any moral ambiguity to gay sex, that is, that some gay sex acts are more ethical than others. In the example used by the Pope, two men having sex with a condom is considered more ethical than two men having sex without a condom. The Pope has managed to make the statement regarding condoms and HIV/AIDS prevention while claiming that this statement has not changed any underlying Catholic belief.
Normally, the official Catholic line is that gay sex and LGBT relationships are immoral because the sex and relationships involve intrinsically disordered behavior that violates natural law. The intellectual tension created between the Pope's statement regarding condoms and the underlying Catholic belief regarding Gay sex and relationships may give Catholic theologians the opportunity to explore gay issues and Catholic teaching from a more open minded and honest perspective. It will be a long journey to convince the leadership of the church that lesbian and gay relationships should be affirmed the same way that straight relationships and families are affirmed, but it is a journey that is well worth the effort.
It would be helpful if the leadership of the Catholic Church would listen to those who profess and practice the Catholic faith. Recent polling indicates that 57 percent of Latino Catholics and 51 percent of American Catholics overall support same-sex marriage. Also, a majority of Catholics believe that parents of gay and lesbian children are better sources of information about homosexuality than clergy.
A majority of American Catholics also believe that since gay men and lesbians are, like all human beings, created in the likeness and image of God, that homosexuality is not a moral issue to be judged in a negative way. We strongly urge the Vatican and the American bishops to be open to the variety of opinion being expressed by practicing Catholics with regard to LGBT issues.
We at Dignity/Washington will continue to serve the spiritual and religious needs of LGBT Catholics in a manner that affirms God's love for LGBT people, by providing a variety of activities, including a gay-affirming Catholic Mass every Sunday. We remain committed to the belief that it is possible to be LGBT and to be a person of faith. Of equal or greater significance, we continue to show the greater Catholic Church and society that we believe that it is important to be a part of a community of faith where we all have the opportunity to be open about being LGBT. As we say in one of the hymns that we regularly sing during Mass, "All are welcome."
It is our hope that the discussion that will take place as a result of the Pope's statement regarding the use of condoms to prevent the spread of HIV/AIDS will not only assist in that effort, but will also act as a springboard for further thought and discussion among Catholics regarding the proper view of LGBT people in the church and in the world. We look forward continuing to give voice to the fact that LGBT people are a natural part of God's plan for humanity.
National Gay & Lesbian Chamber of Commerce Certifies Brown, Naff, Pitts Omnimedia, Inc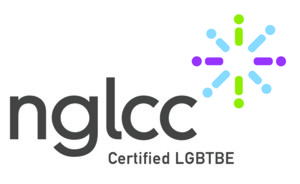 Washington, D.C. — Brown, Naff, Pitts Omnimedia, Inc, the parent company of the Washington Blade and Azer Creative, announced today it has been certified by the National Gay and Lesbian Chamber of Commerce (NGLCC) as an LGBT Business Enterprise. The NGLCC supports and advocates for diversity and inclusion for LGBT-owned businesses. With this certification the Blade's parent company joins more than 510 business and 134 corporate partners of the NGLCC.
Brown, Naff, Pitts Omnimedia, Inc. owns and operates the Washington Blade, the oldest and most acclaimed LGBT newspaper in the country. In 2012, the company launched Azer Creative, a full-service design firm. The company employs more than a dozen full-time LGBT staff.
"We are excited to become one of the 500 LGBT businesses across the country certified by NGLCC," said Lynne Brown, the Blade's publisher and a co-owner of the company. "The LGBT community has been part of our company from the beginning and we look forward to continue that for many years to come."
The Washington Blade was founded in 1969 and is known as the "newspaper of record" for the LGBT community both locally and nationally. Visit washingtonblade.com for more information. Azer Creative is a full-service graphic design firm based in Washington, D.C. Visit azercreative.com for more information. 
Vote now for the 2013 Best of Gay DC!
Choose in dozens of categories among hundreds of nominees, and make your voice heard!
Nominate the 'Best of Gay D.C.' now!
Dozens of categories cover all the best for LGBT Washington. Who deserves the prize this year?