Obituary: Thom Gibb, 60
Former Red Cross employee was active in Gay Men's Chorus of Washington
Thom Gibb, a former member of the Gay Men's Chorus of Washington, died of AIDS-related illnesses Feb. 2 at his home in Columbia Heights. He was 60.
He died at home in his sleep, according to his friend and housemate of almost 30 years, Larry Rosen, who said Gibb was in relatively good health until his last month and "was still making jokes and laughing."
Gibb spent his entire career with the American Red Cross as did his parents. He began as a volunteer in his native Pittsburgh. He earned his bachelor's degree from Westminster College in Pennsylvania and went on to serve the Red Cross in several eastern states and Germany before transferring to the DC area in the late 1970s. He retired in 2008 and immediately became a volunteer again.
Gibb was a lifelong music lover, especially of opera and musical theater. He was an ardent devotee of Maria Callas, Stephen Sondheim and drag shows, and often bragged about having seen Katharine Hepburn in "Coco." He joined the Gay Men's Chorus in 1990 where he sang baritone. He was on the Chorus board and served one year as vice chairman. He was a member of the Circle of Excellence (1999) and a recipient of the "You Are the Light" Crystal Award. His last concert with the Chorus was in June 2005.
Rosen called Gibb a "kind, generous and caring man." He was an early volunteer with Whitman-Walker's AIDS services group and managed other volunteer caseworkers. He enjoyed food, cooking and dinner parties.
"He was best known for his ready sense of humor and distinctive laugh," Gibb said. "He was always easy to find in a crowd just by listening for the sound of his laughter."
Gibb is survived by David Buntin, Marc Fallow and Larry Rosen of Washington and J.R. Yeager of Oakland, Calif.  He was cremated. A memorial service is scheduled for  April 23  at 11:30 a.m., in the Hall of Service at the headquarters of the American Red Cross, 1730 E Street, N.W. Donations in memory of Gibb may be made to the Gay Men's Chorus of Washington, 2000 P Street, NW, Suite 730, Washington, DC  20036, or to the charity of your choice.
DC Front Runners Pride 5K to take place as scheduled
Air quality improved overnight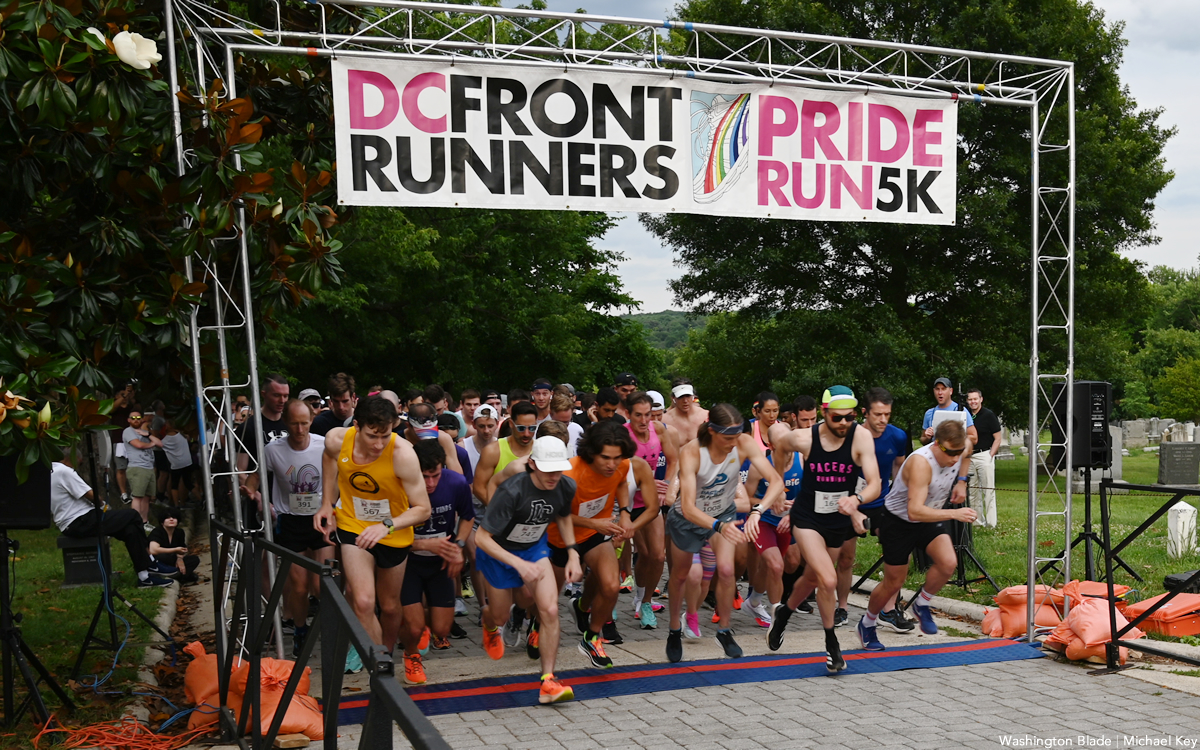 The D.C. Front Runners' annual Pride Run 5K will take place as scheduled at Congressional Cemetery on Friday.
The Blade Foundation, SMYAL, the Wanda Alston Foundation, Team DC, Teens Run DC, Pride 365 and Ainsley's Angels of America are among the race's beneficiaries. Wegmans, Shake Shack, Knead Hospitality and Design, Choice Hotels and Capital One Café are among the sponsors.
Rooftop Pool Party postponed
Capital Pride Alliance moves official event to June 22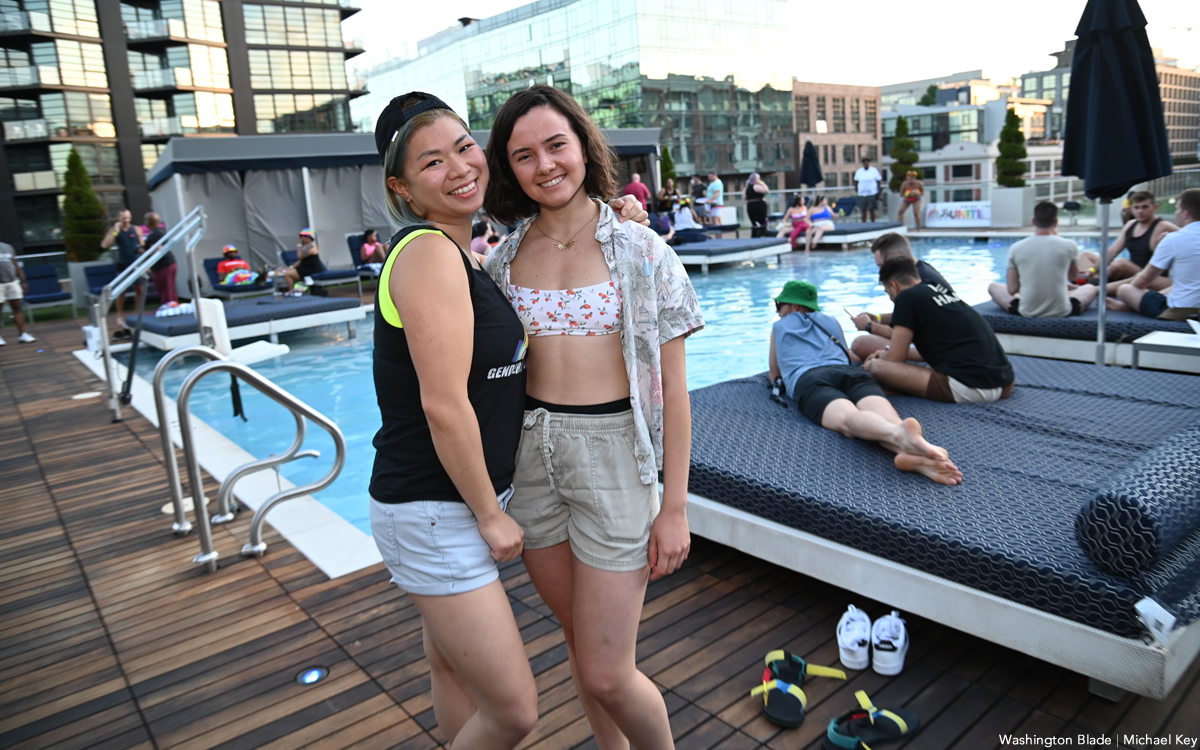 The Capital Pride Rooftop Pool Party, originally scheduled to begin at 8 p.m. tonight, has been postponed until Thursday, June 22, according to a statement released by the Capital Pride Alliance on Instagram. This action comes amid an international climate event created by the Canadian wildfire that has resulted locally in poor air quality and a haze around the region.
The Capital Pride Alliance Instagram account posted, "As with all concerns regarding health and safety issues, the Capital Pride Alliance will closely monitor the air quality situation resulting from Canadian wildfire smoke and take necessary precautions in consultation with our partners in the DC government."
"What does this mean for the pool party?" a question one private Instagram account user posed in the comment section.
"Important Update:" A representative of the Capital Pride Alliance responded through the group's official Instagram account. "Tonight's Capital Pride RoofTop Pool Party at VIDA The Yards is being postponed until Thursday, June 22 at 8:00 pm, due to the current air-quality situation resulting from the Canadian wildfires smoke. Please note that this postponement only applies to today's event."
The Capital Pride Alliance has yet to cancel or postpone any further events.
The White House earlier today rescheduled a large outdoor Pride reception planned for this evening to Saturday.
White House postpones Pride event due to wildfire smoke
Thousands expected for celebration bumped to Saturday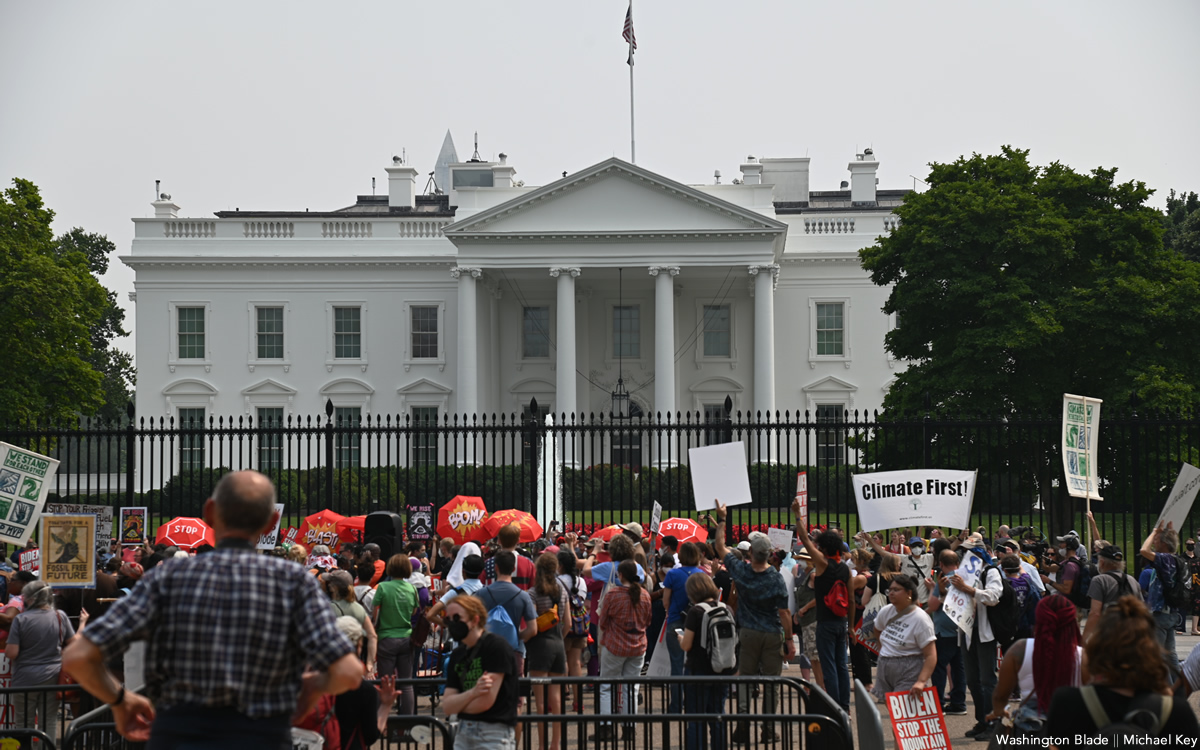 The White House announced Thursday that a Pride event scheduled for this evening has been postponed to Saturday due to the lingering Canadian wildfire smoke.
The smoke has enveloped D.C. in a dangerous haze that triggered a "purple alert" on Thursday, considered worse than a "red alert."
The event, expected to draw thousands of invited LGBTQ advocates and supporters to D.C., has been rescheduled for 1 p.m. on Saturday on the South Lawn of the White House, the same day as D.C.'s Capital Pride Parade, which kicks off at 3 p.m., and Pride on the Pier celebration, which starts at 2 p.m.