April 28, 2011 at 4:56 pm EDT | by David Bediz
Real estate in the 21st century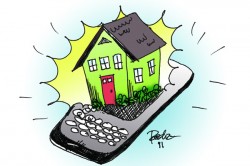 The real estate industry has changed by leaps and bounds in the past two decades. Since the advent of the internet, the proliferation of smart mobile devices and the presence of at least one computer in most everyone's home, access to information has never been easier.
This obviously means a buyer can purchase with more data at his or her disposal, and hopefully make a wiser purchase. Sellers, too, can benefit from access to this information by getting tips on how to present their home on the market more effectively, not only in terms of price, but also by getting smart tips as to how to improve the home's appearance for a sale.
There is almost no downside to this improvement in technology; buyers can go to virtual open houses in their underwear, sellers can present their home to many more people than they could otherwise, and agents have the opportunity to reach and connect to clients, both buyers and sellers, who may be tens of thousands of miles away, instantaneously. There are only a few caveats to using these new tools.
Firstly, buyers should get acquainted with the pros and cons of all the tools out there. For example, there are some websites that purport to be all-in-one sources of information across the country for available and sold home data. In most cases, these multi-jurisdiction searches are lacking in current information due to the complexities of establishing real-time connections to the thousands of MLS (Multiple Listing Service) providers that exist across the country. In addition, some areas, like New York City, don't have an MLS that is used by all brokerages for all properties, so it becomes necessary to actually search on individual broker websites for current information.
Trulia, Zillow and the now unsupported Google real estate maps websites all try (or tried) to stay on top of current data and have succeeded only to a certain extent. There are listings on Trulia that show as "active" that were sold long ago, and sometimes two or more listings with different prices for the same property will exist on Zillow. These websites do their best to stay on top of new and under-contract listings but because they do not have real-time feeds to MLS providers, they can only be so accurate. HomesDatabase.com is the public side of MRIS, which is the region's main MLS provider.
It's not incredibly easy to use but does have the most accurate, up-to-date information on properties listed through MRIS. Other websites like CBMove.com, the local Coldwell Banker site, and many other local brokerage sites, pay to access MRIS information hourly and redisplay those listings, so they are almost always up-to-date as well. Some of these websites also have a function to allow buyers to set up automatic searches that alert them when new properties within their search parameters hit the market.
Secondly, it's important to remember that access to information can be daunting. There is so much information out there that many buyers will be overwhelmed, especially towards the beginning of their search. Real estate vocabulary, lending options, neighborhood information — it's all a little confusing when you are first starting out. Some brokerages base their services on a "self-service" approach whereby buyers use the internet to compile properties they're interested in, then attend open houses and only engage the broker when they are ready to put in an offer.
This approach may work for some, but many buyers find that they have no up-front help understanding the process, and then they end up doing more work, seeing fewer properties and seeing properties only on someone else's schedule — all to pay the same price as a buyer utilizing the services of a full-service buyer's broker (who, by the way, is paid by the seller). The brokerages who offer this self-serve approach usually incentivize the use of their services by offering a rebate, which in many cases is less than the savings a buyer may realize by having more in-person market experience based on seeing more properties, and using a buyer's agent from the beginning who can help strategize the most cost-effective offer for the property they ultimately are interested in.
Finally, buyers should be careful of the agent they choose, whether buying or selling. The world is a different place now, and if an agent is still doing business the way they did it in the '80s, they should not be trusted to help buyers and sellers navigate the nuances of this digital age. Sellers should review the virtual tours of any prospective agents' past listings and ensure the photography is professional, appealing and plentiful. Tours should help sell the home and the neighborhood with community information and supplemental documents, newspaper articles and other facts that help make the area as attractive as possible.
Too often we see beautiful homes listed with only one photograph, or even listings with multiple photographs that were all done with point-and-shoot cameras. If an agent won't spend the money to take good photos and disseminate them as far and wide as possible, your home can't possible compete with others online.
Buyers, too, should ensure their agents are well-versed in all the new tools available to them. Agents should not only suggest new properties to buyers that they find themselves, but, more importantly, they should set up automatic searches for their buyers so both the agent and client are aware of new properties the moment they hit the market. It's too easy and too useful for an agent not to do so, but unfortunately many agents either don't know how to do it or don't take the time to.
Whether buying or selling, you should embrace this new internet age and make sure you are taking advantage of it. And to make sure you buy or sell your home with the most bang for your buck, make sure your agent is taking advantage of it too.