Tight Senate race for gay Virginia candidate
Del. Ebbin second in fundraising in expensive campaign

Virginia's only openly gay delegate is fighting hard to become Virginia's first openly gay state senator, in what's shaping up to be a very expensive primary race among three Northern Virginia politicos in the 30th District.
Del. Adam Ebbin has represented the 49th District in the Virginia House of Delegates since 2004, and has been a progressive voice in state politics during his time in office. He's looking to turn his eight-year record into a primary win this Aug. 23.
"I'm the only Democratic candidate with the record of standing up to Attorney General Ken Cuccinelli and his dangerous plans," Ebbin said. "He's advocated discrimination against gays, denied climate change [science], and has other radical ideas. I've written legislation to prevent him from continuing his civil actions without approval of the General Assembly or the governor."
In June, when the Federal Reserve Bank in Richmond flew the rainbow flag for LGBT Pride month, Ebbin went head-to-head in the media with Republican Del. Bob Marshall, who took to the press denouncing the move, and wrote an open letter to the bank's president calling the move "inappropriate."
Ebbin was vocal in his response to Marshall, telling the New York Times, that life was improving for LGBT people in Virginia in spite of people like Marshall, who was sponsor of the bill to ban marriage equality in the Commonwealth, and last year made the claim that ending "Don't Ask, Don't Tell," would lead to the spread of "venereal diseases" in the armed forces.
"[Adam Ebbin] persuaded two governors to issue executive orders protecting LGBT Virginians from discrimination in state employment," a campaign release reads. "He led the effort to expand life insurance benefits to domestic partners."
Ebbin's modest campaign headquarters on Powhatan Street in North Old Town Alexandria has drawn, what Ebbin called, a "multitude of volunteers."
"We have a number of students and a number of interns, a good number of democratic activists, seniors, democratic committee members, and GLBT people," he said.
Ebbin's supporters will be gathering on Monday night at Freddy's Beach Bar in Arlington to raise money, show their support and raise awareness of the campaign to make Ebbin Virginia's first openly gay state senator. Several sponsorship levels are available through the campaign, and tickets to attend the event are $50 in advance.
Ebbin has also received numerous endorsements recently including from Equality Virginia, Virginia Partisans Gay and Lesbian Democratic Club, the Gay and Lesbian Victory Fund and the Professional Firefighters and Paramedics Associations. The three candidates in the race have raised more than $500,000 in donations collectively, according to Mary Ann Barton, writing for Patch.com.
Ebbin, Libby Garvey and Rob Krupicka are vying for the seat being vacated by 16-year incumbent Patsy Ticer.
"It's an open seat, because of her retirement," Ebbin said. "It's a very Democratic seat, strongly Democratic. The winner of the primary is expected to be the next senator"
Despite the stiff competition, Ebbin believes his organization is strong and will prevail.
"We're getting a great reaction door-to-door," Ebbin said. "We're happy to be receiving more endorsements."
Ebbin is pulling strong fundraising numbers as well. While Krupicka, an Alexandria City Council member, is in front, having raised more than $201,000, Ebbin's campaign is close behind with more than $186,000.
The other candidate is Libby Garvey, a member of the Arlington School Board. Although trailing in third place in fundraising, Garvey received an important leg-up in the form of $20,000 in donations from Ticer.
Ebbin said he can be more effective in the Senate than in the lower chamber.
"I think that I can do a great job, and be even more effective," he explained about making the jump to the Senate. "There's an opportunity to be in an even smaller body — hopefully in the majority — and I think I'll get more legislation passed, more done."
Ebbin's top legislative priorities in the Senate will make his progressive constituents very happy, saying, "renewable energy, transit, and non-discrimination in state hiring would be among the first."
For information about the Ebbin for Virginia event at Freddy's, contact [email protected].
Bomb threat shuts down Takoma Park holiday drag show
MotorKat evacuated when Tara Hoot was performing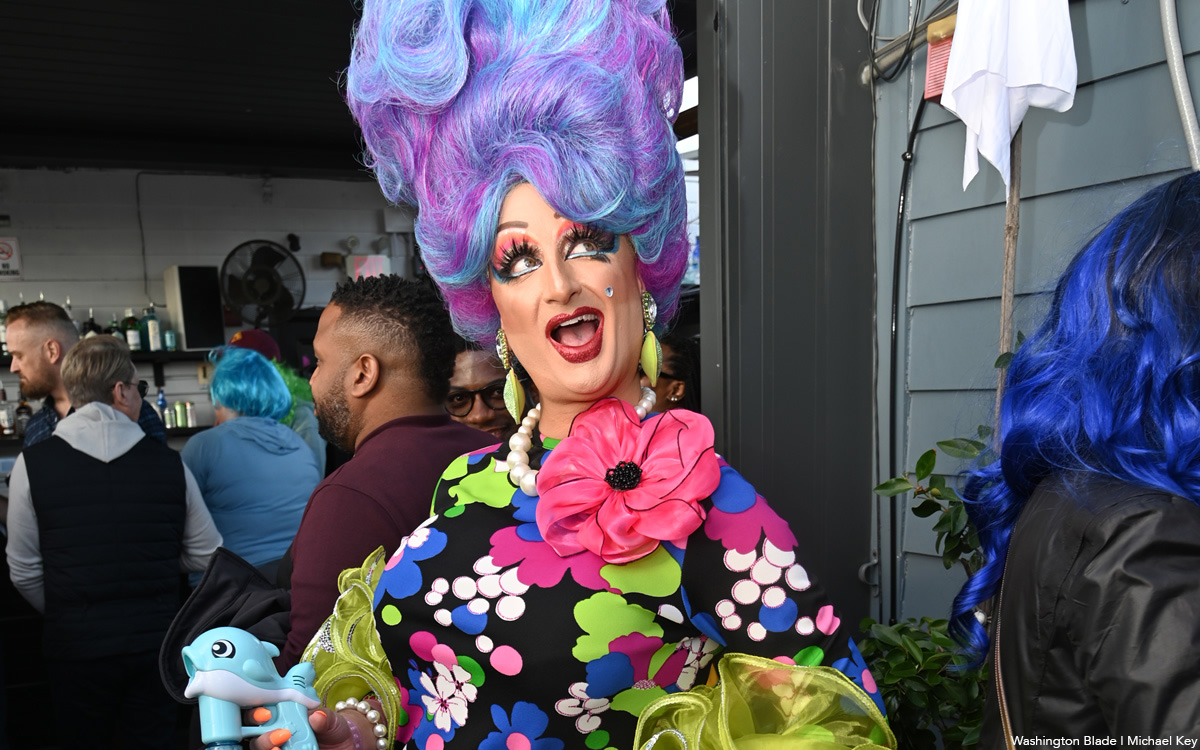 Police cordoned off a popular strip in Takoma Park on Saturday after a bomb threat shut down businesses, including a holiday performance by drag artist Tara Hoot.
MotorKat General Manager Mike Rothman told the Washington Blade that Takoma Park police notified them of a bomb threat to their business around noon.
Tara Hoot was delivering a holiday brunch performance at the MotorKat when the evacuation order came in.
Rothman said they were notified "five minutes into her final performance." Tara Hoot herself told the audience to leave for their safety.
Police proceeded to tape off the area and evacuated all businesses between Eastern and South Carroll Avenues, including TakomaBevCo, which is co-owned by MotorKat Wine Director Seth Cook.
Cook told the Blade that police brought in "bomb-sniffing dogs" to clear the area before allowing businesses to reopen around 2 p.m.
"The timing is unfortunate as this is one of the busiest weekends before the holidays," Cook said.
Rothman was also disappointed by the lost revenue due to what ultimately was a false threat, but he was firm that the Takoma Park LGBTQ community is resilient and would continue to thrive despite this setback.
"Takoma Park is a pretty proud and resilient community," he said. "I don't expect people to lay down and be scared by this."
MotorKat and TakomaBevCo reopened for business around 3 p.m.
Comings & Goings
Jimmy Alexander joins WTOP News as a feature reporter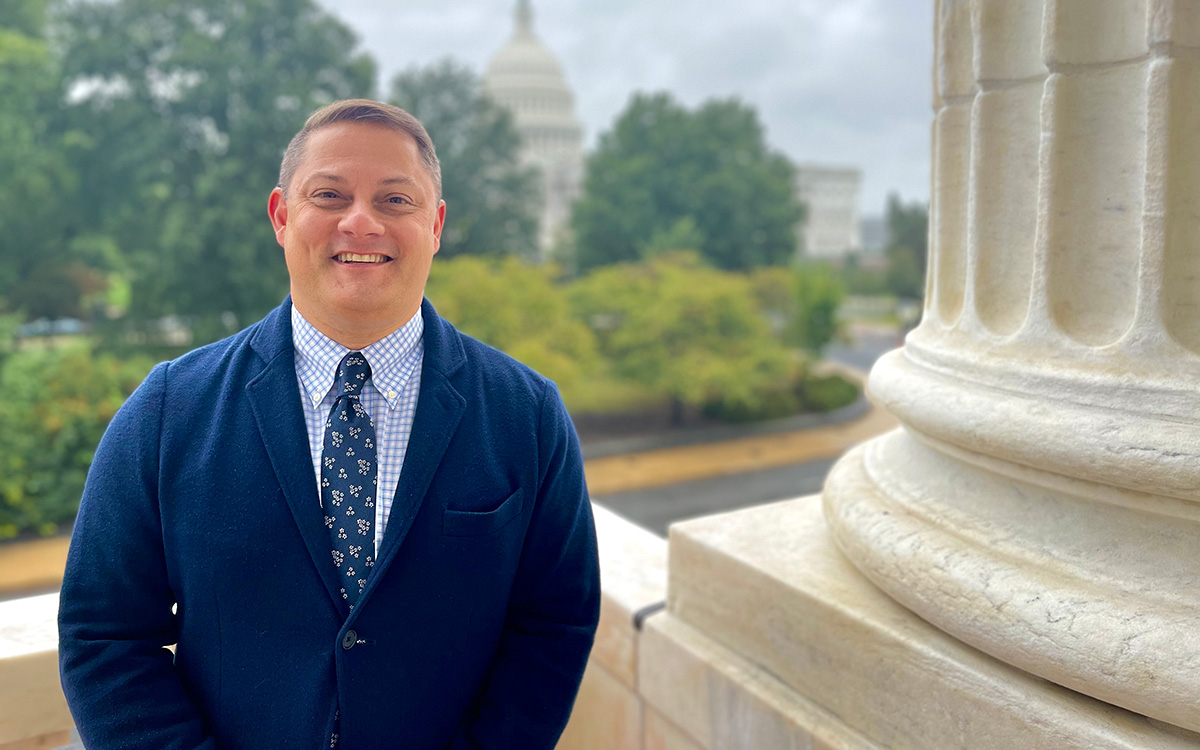 The Comings & Goings column is about sharing the professional successes of our community. We want to recognize those landing new jobs, new clients for their business, joining boards of organizations, and other achievements. Please share your successes with us at: [email protected]. 
Congratulations to Jimmy Alexander who has been hired at WTOP News as a feature reporter. Over the last four years Alexander has been covering stories as varied as the Jan. 6 insurrection to the 17th Street High Heel Race. He has been working as a co-host on the Jack Diamond Morning show on Cumulus Media, Manning Media. On his acceptance of the new position Alexander said, "I'm thrilled that at WTOP News, I will be able to focus on events and people that bring hope to your heart and a smile to your face."
Alexander is a versatile multimedia broadcaster with more than two decades of experience covering both major news events in Washington D.C., and important human-interest stories outside the Beltway. He is an engaging interviewer with a track record of having compelling conversations with the biggest names in government and show business, from presidents to Paul McCartney. Prior to this he worked as a freelance feature reporter with WDCW50-DC News Now. He is also with Writer-20, Twenty Country Countdown, United Stations Radio Networks. There he developed a concept for a countdown show featuring country music's weekly top songs on-air and online and prepared weekly scripts for a three-hour show.
Alexander conducted the only Jan. 6, 2021 interview with "The QAnon Shaman" Jacob Chansley. Since 2016, he has served by request of the D.C. mayor as official host of the 17th Street High Heel Race, the city's second largest LGBTQ event of the year. He is featured in the documentary "Joan Rivers: A Piece of Work," and is a frequent guest on CNN's Morning Show "New Day." He covered White House visits by Queen Elizabeth, the Pope, and the yearly Easter Egg Roll. He also won $10,000 on the game show "Pyramid."
LGBTQ University of Maryland students prepare to celebrate Hanukkah
Eight-day festival to begin Thursday night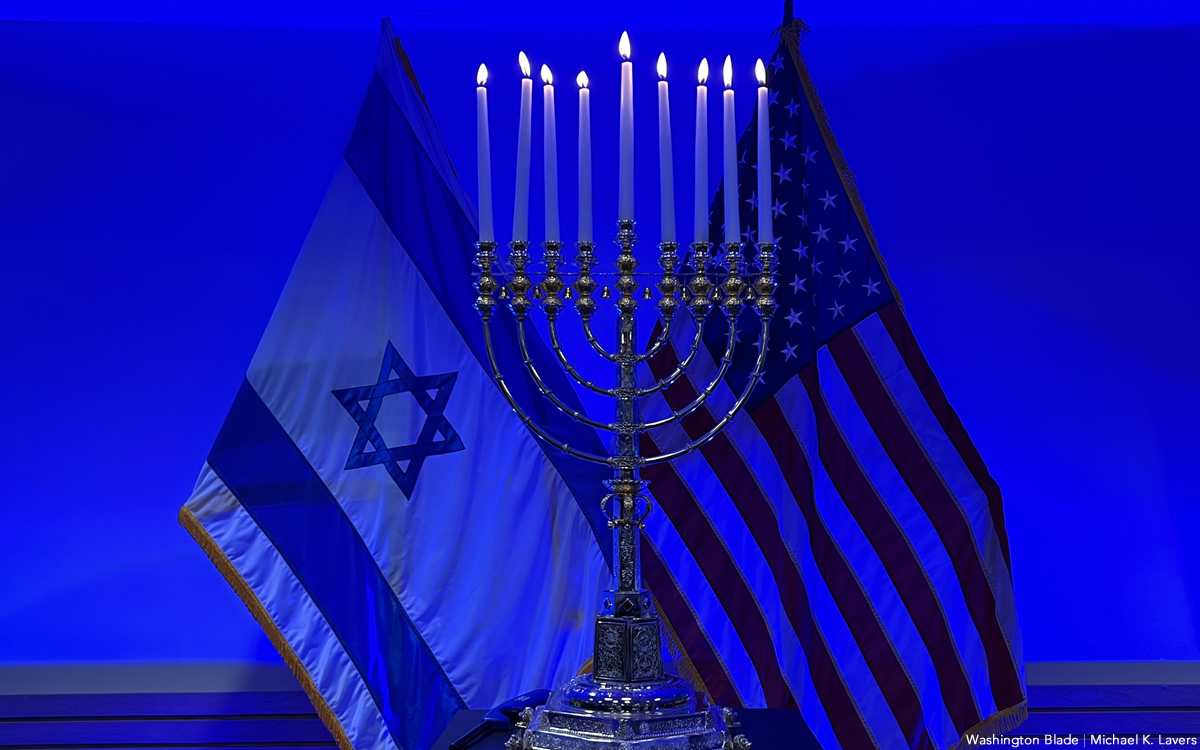 A number of Hanukkah events for LGBTQ students will take place at the University of Maryland this week.
Queer Jewish students and allies are welcome to attend Crazy Cozy Chill Chanukah Celebration on Sunday at the University of Maryland Hillel. Hamsa, home to queer Jewish life on campus, hosted a study break with hot drinks, snacks and games and a chance to welcome Hanukkah early. 
The first night of Hanukkah is Thursday.
Chabad UMD is hosting a menorah lighting on Thursday in front of McKeldin Library and plans to mention the war between Israel and Hamas, according to Rabbi Eli Backman of Chabad UMD. The event is going to be a focus on the positivity and the message of the Hanukkah story.  
"We've been around for thousands of years and all those who've tried to make sure that we didn't live to see the next generation (is) no longer here," Backman said. "That message will really resonate at home for the holiday."
The story of the Maccabees is one of the few stories where Jewish people fought, Backman said. In Jewish history, people don't see a military response in many of the other holiday moments.
"It should give us a boost of energy," Backman said. "A boost of strength (and) a boost of hope."
Part of the Hanukkah story's message is that Jewish people were in a position that they needed to form a military to secure their borders, Backman said. And they succeeded. 
For some, celebrating Hanukkah depends on the people they're around, Florence Miller, a sophomore English and Women, Gender and Sexuality Studies who is Hamsa's president, said.
Miller is agnostic and does not find themself to be a religious person, but the thing that has kept their Jewish faith is the people about whom they care are Jewish and the sense of community that comes from being Jewish.
"I just wanted to do a Hanukkah event," Miller said. "It's been a good refresher with how the semester has been."
Miller last year attended a Hanukkah party and played a game of dreidel, a spinning top with four sides marked with a Hebrew letter. The people who were in attendance wanted to bet something, but the only thing they could find were pinto beans.
"When I took them out of my pocket one got stuck in there," Miller said. "I still have that bean."
For some Jewish students it's important to go to Hanukkah events like Hamsa's celebration to be around like-minded Jewish people, Yarden Shestopal, a sophomore American Studies major, said.
"Which is why I like Hamsa," Shestopal said. "Since we're all queer people or allies we kind of share that mentality of acceptance."
Being part of the Jewish community at the University of Maryland has opened Shestopal up to how diverse the LGBTQ and Jewish communities are. Shestopal this year, however, debated whether or not to put his menorah up on the windowsill of his apartment because of the rise in anti-Semitism due to the war in Israel.  
"I'm pretty sure I am going to put the menorah in my window," Shestopal said. "The only way to combat anti-Semitism is to stay visible." 
Several University of Maryland students lived in Israel before or during their time at the university.
Elisheva Greene, a junior animal science major, went to seminary, a school for women to learn about Torah, during the pandemic. Greene said celebrating Hanukkah while a war is happening is going to be a similar feeling. 
"I'm able to do what I can from over here by supporting my family and friends," Greene said. "The biggest thing I can be doing is living my life as a Jewish person and showing that I express my Judaism and I'm not afraid."
Greene recalled they could not go more than 1,000 feet from home for two months and Hanukkah took place during that time. While it was difficult, Greene said people still put their menorahs on their windowsill.
"Knowing the resilience the Israelis have and the fact people like to show their Jewishness (is not) gonna stop me," Greene said. "Like there's a war going on but you're gonna be a Jew and you're gonna flaunt that."