Police, military officials lead Kameny farewell
Mayor, Council members join friends, activists in memorial ceremony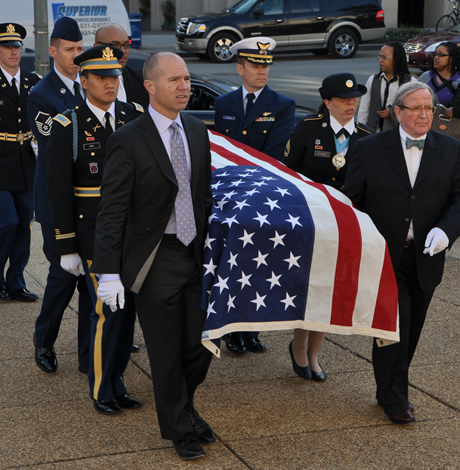 A gay Air Force sergeant and four gay military veterans in full dress uniform joined gay D.C. Council members David Catania and Jim Graham as pallbearers at a memorial viewing on Thursday honoring the late gay rights pioneer Frank Kameny.
The contingent of pall-bearers, including gay former Army Lt. Dan Choi, carried an American flag draped coffin bearing Kameny's remains into the main hall of the historic Carnegie Library in downtown Washington, where the viewing was held.
Friends and activists who knew Kameny during his 50 year tenure as one of the nation's and D.C.'s leading LGBT rights advocates said the ceremony and memorial viewing of his closed coffin was a befitting sendoff for a man they said improved the lives of millions of LGBT Americans.
Members of the Gay Men's Chorus of Washington opened the ceremony by singing the National Anthem as D.C. Mayor Vincent Gray, D.C. Congressional Delegate Eleanor Holmes Norton, four D.C. Council members and a contingent of friends and activists stood near the coffin.
Hundreds of activists, community allies, public officials, and D.C. residents who knew Kameny or knew of his work filed past the coffin between 3 p.m. and the start of the ceremony at 6:60 p.m. Among them was John Berry, director of the U.S. Office of Personnel Management, the highest ranking openly gay appointee in the Obama administration.
The Rev. Elder Troy Perry, founder of the Universal Fellowship of Metropolitan Community Churches, which caters to mostly LGBT congregations throughout the country, traveled from his home base in Los Angeles to attend the event. Perry, an outspoken advocate for LGBT rights for more than 30, worked with Kameny on national LGBT related projects in the 1970s and 1980s.
Mayor Gray said Kameny's civil rights work led to a "massive, positive change" in the way LGBT people live their lives both in D.C. and across the nation.
"Frank Kameny is one of the most significant figures in the history of the American gay rights movement," Gray told the gathering. "It was a poignant coincident that Dr. Kameny passed away on National Coming Out Day because he came out as a proud gay man in an era in which there were virtually no social and legal supports for sexual minorities who chose to live their lives openly in this country."
Organizers of the ceremony, led by local activists and Kameny friends Charles Francis and Bob Witeck, placed at one end of the coffin a picket sign that Kameny made for a 1962 gay rights protest he organized outside the White House. The sign, still attached to its original wood stick handle, states, "Homosexuals Ask for the Right to the Pursuit of Happiness."
At the other end of coffin stood a portrait of Kameny painted by local gay artist Don Patron.
Norton, a leader of the black civil rights movement, said Kameny's acts of "defiance" and "raw, pure undiluted courage" during the decades he fought oppression against LGBT people put him in a place similar to that of black civil rights legend Rosa Parks.
Norton noted that Kameny began his fight for equality and justice for LGBT people shortly after he was fired for being gay from his job as an astronomer with the U.S. government in the late 1950s.
"Frank Kameny no more set out to sacrifice his livelihood when he refused to deny his sexual orientation to federal authorities than Rosa Parks intended to give up her work as a seamstress when she refused to move to the back of the bus," Norton said. "Rosa Parks got tired of suppressing her full identity and her full dignity. So did Frank Kameny," said Norton, adding, "There is a special place in our country for people like Frank Kameny. The phrase he coined, 'Gay is Good,' is every bit as significant as Black is Beautiful."
Kameny died in his home Oct. 11 at the age of 86. Organizers of his memorial said a larger community memorial celebration of his life will take place Nov. 15 at a location to be announced.
"He was a great man who made it possible for me to be who I am," said Rick Wood, a D.C. gay activist who said Kameny helped him organize the city's first gay youth group 25 years ago.
"When I heard of Frank's passing I was heartbroken but also grateful for the fearless and brave life that he led," said Catania. "We're all better off for having had Frank walk this earth. He changed minds and opened hearts to acceptance and tolerance in Washington and all over the world."
Graham, who said he got to know Kameny during Graham's tenure as director of the Whitman-Walker Clinic, called Kameny an "extraordinary" figure on the Washington scene for half a century.
"It is not possible to overstate the contribution that has been made by Frank Kameny for human rights, for gay and lesbian people and for everybody because, in point of fact, he was concerned about everybody," Graham said.
Rick Rosendall, vice president of the Gay and Lesbian Activists Alliance and a friend and colleague of Kameny's for more than 20 years, read from a chapter Kameny wrote for a book about the early "homophile movement" that was published during Kameny's early years of activism. Kameny's message in the book chapter was intended for a gay audience.
"It's time to open the closet door and let in the fresh air and the sunshine," Rosendall quoted Kameny as saying. "It is time to doff and discard the secrecy, the disguise and the camouflage. It is time to hold up your heads and to look the world squarely in the eye as the homosexuals that you are, confident of your equality, confident in the knowledge that as objects of prejudice and victims of discrimination, you are right and they are wrong, and confident of the rightness of what you are and the goodness of what you do. It is time to live your homosexuality fully, joyously, openly and proudly, assured that morally, socially, physically, psychologically, emotionally, and in every other way – gay is good."
Joining the contingent of gay military pallbearers were four members of the D.C. Police Department's Gay and Lesbian Liaison Unit, who served as pallbearers at the conclusion of the ceremony. With participants and well wishers lining the steps and plaza outside the Carnegie Library, the GLLU members and two of the gay military veterans carried Kameny's coffin to a hearse on the street
Kameny's friends and activist colleagues said they arranged for Kameny's body to be cremated, based on Kameny's expressed wishes, shortly after his death on Oct. 11. An urn bearing his ashes had been placed in the coffin for the ceremony.
Witeck said he and others close to Kameny had yet to decide on a burial site or other resting place for the Kameny's ashes. One place under consideration, Witeck said, is D.C.'s Congressional Cemetery.
Comings & Goings
Cummings joins White House Office of National Cyber Director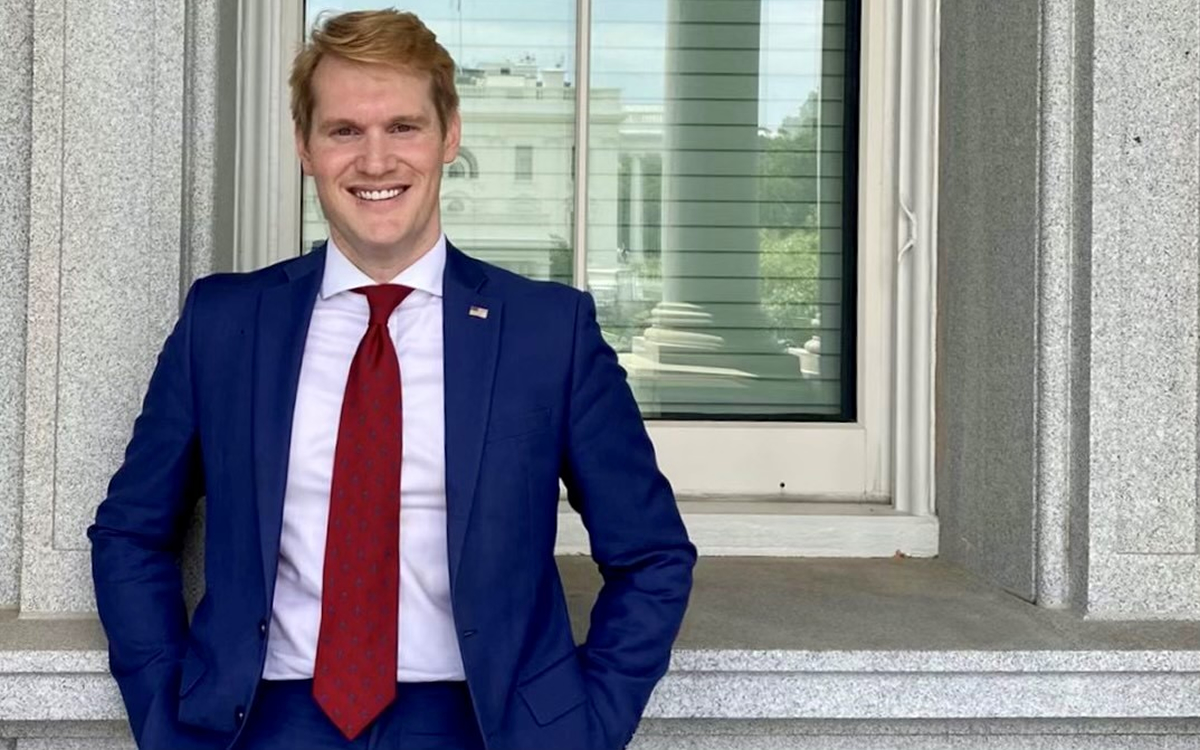 The Comings & Goings column is about sharing the professional successes of our community. We want to recognize those landing new jobs, new clients for their business, joining boards of organizations and other achievements. Please share your successes with us at: [email protected]. 
Congratulations to John Cummings on joining the Office of the National Cyber Director at the White House as Director of Supply Chain and Technology Security. Upon getting the position, he said, "I am beyond thrilled to join the growing team at the National Cyber Director's Office and bring my experience to our mission of mitigating the cyber threats facing our nation and ensuring every American can enjoy the full benefits of the digital ecosystem. It is truly a privilege to work with this incredibly brilliant and collegial group of cyber experts." 
Prior to joining the White House, Cummings served as Associate General Counsel at the Office of the Director of National Intelligence (ODNI). Before that role, he served as interim Chief Counsel for ODNI's National Counterintelligence and Security Center and as Associate General Counsel for the Office of the Inspector General of the Intelligence Community.
He has provided legal advice and counsel on matters of government-wide and interagency policy and national security in the areas of executive authority, cyber, constitutional law, civil rights and civil liberties, legislative affairs, and international cooperation. He has worked on recruiting LGBTQ, women, and minority applicants for government roles in national security and is experienced in public relations, stakeholder relationships, and international partnerships.
Cummings began his career clerking for the Honorable Ivan L.R. Lemelle, U.S. District Court for the Eastern District of Louisiana, and also clerked for the House Committee on Homeland Security and the American Bar Association's Standing Committee on Law and National Security.
He attended Villanova University where he received a bachelor's degree in English. He earned his J.D. from Loyola Law, New Orleans, and his LL.M. in National Security Law from Georgetown Law.
Abortion rights in post-Roe Maryland, Delaware
Practice generally legal, with some restrictions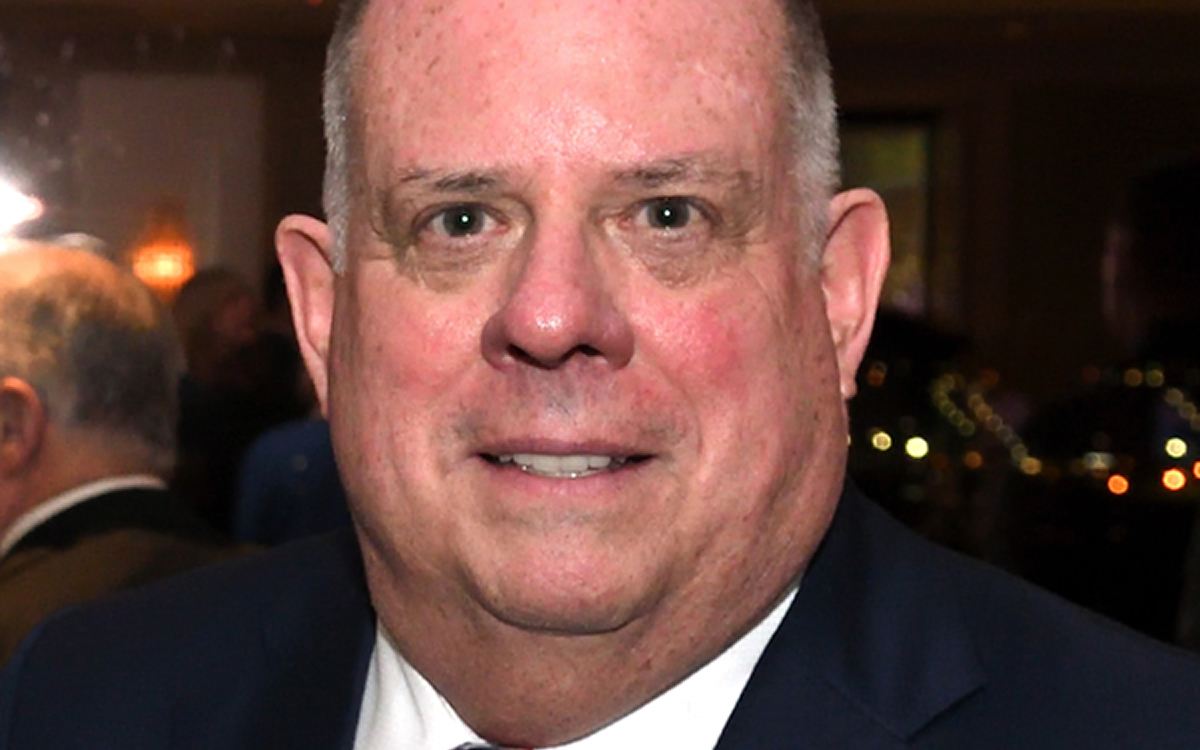 The U.S. Supreme Court on Friday overturned Roe v. Wade, which in 1973 found that the decision to receive an abortion was generally protected by the Constitution of the United States. With the broadest federal protection of abortion access now rescinded, the legality of abortion will by and large be determined on the state level.
In Delaware, abortion is legal through the Medical Practice Act — but with some restrictions.
After fetal viability, or the point where a fetus can survive outside the uterus, abortion in the First State becomes illegal unless necessary for the patient's "life or health," or if the fetus has a condition "for which there is not a reasonable likelihood" that it will survive outside the uterus, according to Subchapter IX of the act.
Additionally, under the state's Parental Notice of Abortion Act, physicians cannot perform a surgical abortion on minors under the age of 16 unless the patient's parent or guardian has received at least 24 hours notice from a medical professional. Notice is not required for nonsurgical abortions.
On the federal level, the funding of abortion is illegal through the 1977 Hyde Amendement "except in cases of life endangerment, rape or incest," according to the Guttmacher Institute, a sexual and reproductive rights advocacy organization. States are only federally required to fund abortions that meet these conditions through federal-state Medicaid programs.
While some states also fund abortions deemed medically necessary regardless of whether they endanger a patient's life, Delaware state law does not extend beyond federal guidelines: The state only funds abortions in cases of life endangerment, rape or incest.
Abortion legislation in Delaware mirrors neighboring Maryland, whose laws include similar restrictions on abortion after fetal viability and abortion for minors under the age of 16. But abortion laws in these states are generally more restrictive than other mid-Atlantic counterparts, such as New Jersey and New York.
Maryland Gov. Larry Hogan (R) weighed in on the state's abortion law on Friday.
"In 1992, Maryland voters approved a constitutional referendum legalizing and protecting access to abortion as a matter of state law – that measure remains in effect today following the Supreme Court decision in Dobbs v. Jackson. I swore an oath to uphold the Constitution and the laws of Maryland, and that is what I have always done and will continue to do as governor."
The impact of Roe v. Wade's fall in Delaware remains uncertain. While the abortion rate in Delaware steadily declined between 2014 and 2017, recent findings show that instances of abortion are increasing once again in the state, reflecting a rise on the national level.
Youngkin backs abortion ban after 15 weeks of pregnancy
Republican governor supports exceptions for incest, rape and protecting mother's life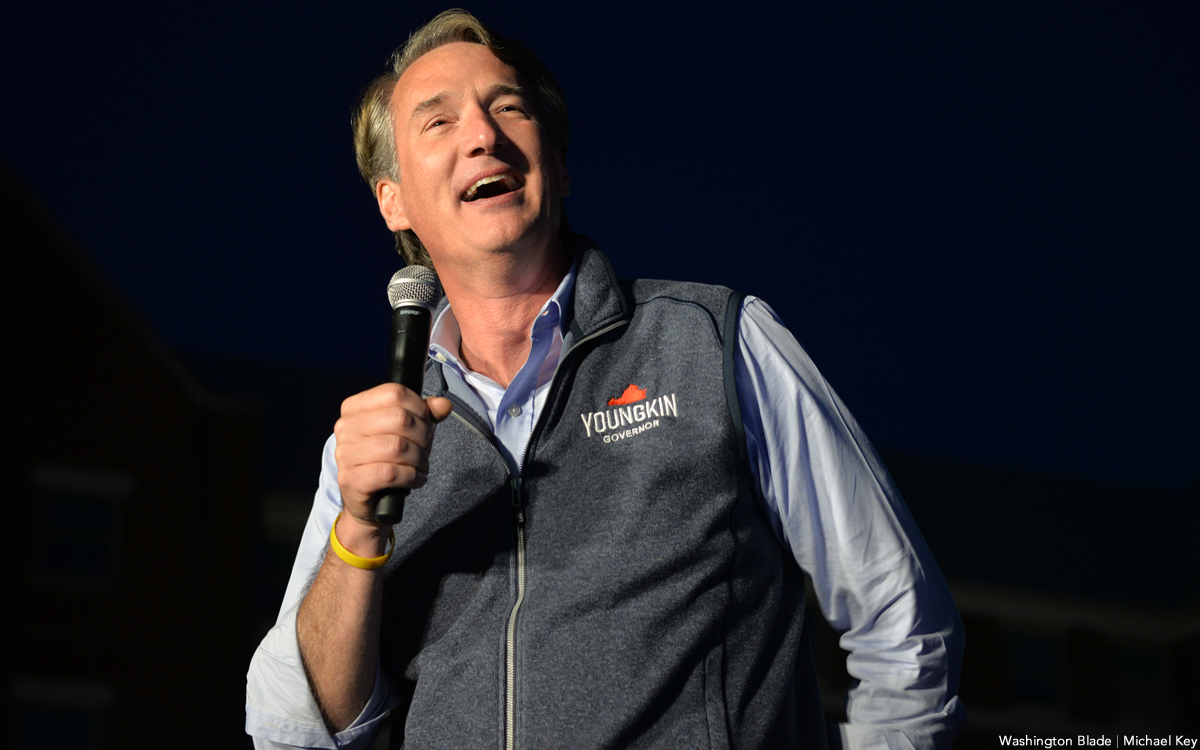 Virginia Gov. Glenn Youngkin in response to the U.S. Supreme Court ruling that overturned Roe v. Wade said he will seek to ban abortions in his state after 15 weeks of pregnancy.
"Virginians do want fewer abortions as opposed to more abortions," Youngkin told the Washington Post. "I am not someone who is going to jump in and try to push us apart … There is a place we can come together."
Youngkin, a Republican, took office in January.
His party controls the Virginia House of Delegates, but Democrats maintain a 21-19 majority in the state Senate.
"Today, the Supreme Court ruled in favor of Dobbs, giving power back to the states to make decisions on abortion," said Lt. Gov. Winsome Earle-Sears in a statement. "The court has recognized that the 1973 decision was an example of judicial and federal overreach. The important question of abortion has now been returned to statehouses across the country, in order for them to make their own policy decisions, which is exactly what the founding fathers envision when they wrote the 10th amendment to the Constitution."
"I applaud the court for recognizing this wrong and having the courage to correct it. I look forward to working with the governor and the General Assembly in the next legislative session on legislation that respects life," she added.
Abortion is currently legal in Virginia during the first and second trimesters.
Youngkin on Friday said he supports abortion exemptions in cases of rape, incest or if the mother's life is at risk.