December 15, 2011 at 4:25 pm EST | by Terri Schlichenmeyer
A royal treat
'William & Kate: The Love Story' by Robert Jobson
Read by Paul English
Bolinda Audio/Brilliance Audio
$29.99
Nine CDs; 10 hours, 31 mins.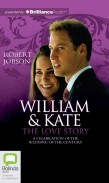 Sometimes, you feel as if you were born to do what you do.
As does William Wales but — according to journalist Robert Jobson — Prince William doesn't yet want the job that awaits him. In the recent audiobook "William & Kate: The Love Story" (read by Paul English), you'll learn why and more.
It sounded like a romance straight from a cheap paperback: boy meets girl, boy loses girl, boy gains wife. But in the path toward marriage, Prince William and Kate Middleton took a few side-roads.
They met at school. Jobson says the Prince was inundated with dates: girls who wanted to be seen with the handsome second-in-line to the throne. Beautiful Kate caught the Prince's eye, too, but they were friends first, then roommates sharing a flat with a few others.
During that time, William's "greatest hope" was to be left alone by the press, and he was, to a point. But when it became obvious that he and Kate were an item, the paparazzi practically drooled.
Was press stress the reason William and Kate kept breaking up? Jobson reports several messy break-up-make-ups but says Kate Middleton did everything right. She didn't push her prince or give him an ultimatum. Instead, she gave him lots of room and freedom to decide that she was the one he ultimately wanted as his queen.
So what does the future hold for the monarchy?
The Queen, says Jobson, appears to be quite close to William and she seems to be passing more duties forward to him and to Charles. Charles, Jobson says, knows fully well that he is less popular than William. And a good number of British citizens believe that the monarchy should be disbanded.
Can't get enough of the Royals? Then grab a cuppa and curl up because "William & Kate: The Love Story" in audio holds more than 10 hours of romance, gossip and elegance.
With an edge that only someone allowed in the inner circle could have, author Robert Jobson tells not just how the "Wedding of the Century" came about, but also why it's significant. Jobson includes a few lessons in history and some interesting asides, as well as several wonderfully snarky comments and a few bombs of which Royal watchers might not know.
And, of course, half the appeal of an audiobook is its narrator. With perfect verbal aristocracy, Paul English is exactly the right reader to bring this romance to life.
If you climbed out of bed in the wee hours of the morning last April to watch a wedding, just think of this audiobook as a belated wedding favor. For you, "William & Kate: The Love Story" is a treat fit for royalty.