Third activist released from Kameny lawsuit
Attorneys for estate say picket signs, other property still missing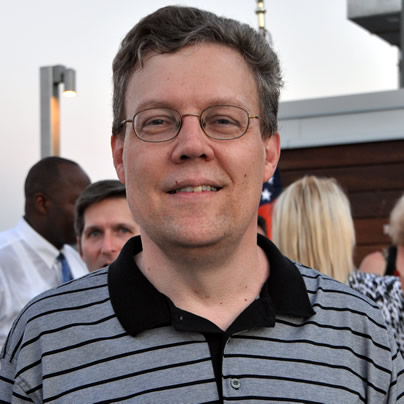 Gay activist Richard Rosendall, a longtime friend of the late gay rights leader Frank Kameny, testified in court on May 11 that he has returned several items he "borrowed" from Kameny's house shortly after Kameny died last October.
Rosendall appeared in a courtroom at the D.C. Superior Court's Probate Division in response to a show cause order obtained by attorneys representing Timothy Clark, the personal representative and main heir of Kameny's estate.
Through his attorneys, Clark has charged in a lawsuit that Rosendall and three other Kameny friends and associates removed without permission documents and other property belonging to the Kameny estate from Kameny's house in Northwest Washington shortly after Kameny died last Oct. 11.
"After the death of Franklin Edward Kameny, I borrowed, and held in my possession and control, certain personal properly lawfully belonging to the Estate of Franklin Edward Kameny," Rosendall stated in a sworn affidavit submitted to the court two days prior to the hearing.
He identified in the affidavit and on the witness stand the items borrowed as "a copy of Dr. Kameny's 1961 brief for the Supreme Court of the United States; a letter to or from [U.S. Supreme Court] Justice [Lewis] Powell; several letters between Dr. Kameny and an Army official concerning [the Gay and Lesbian Activists Alliance's] wreath-laying ceremonies at Arlington Cemetery; a box of business cards; and three or four books."
Two of the other three named in the lawsuit, Charles Francis and Bob Witeck, have returned items they acknowledged belonging to the estate. Rosendall testified at the May 11 hearing that he helped Francis carry 17 boxes filled with papers and other items from Kameny's house, which he said Francis placed in a storage facility for safekeeping. Rosendall has said Clark, who lived in the house with Kameny for 19 years, gave them permission to enter the house.
Upon their return of the property last month, attorneys for the estate dismissed Francis and Witeck from the lawsuit.
Similar to Rosendall, Francis and Witeck have said they took possession of the items to ensure they remain safe and properly preserved during a period of confusion following Kameny's death. Each has said they planned all along to return the items to the estate. Witeck has said the only items he took were several photographs.
Rosendall testified that he returned the items he borrowed to Francis, who returned them to the Kameny estate last month.
"The Estate of Dr. Franklin E. Kameny is satisfied that Richard J. Rosendall has returned the items that Mr. Rosendall removed from Dr. Kameny's home shortly after Dr. Kameny's death," said Glen Ackerman, one of the attorneys representing Clark and the Kameny estate, in a statement to the Blade on Monday.
"However, there are still a number of important historical items still missing from the Estate, including Dr. Kameny's collection of buttons, handmade picket signs and posters," Ackerman said in the statement. "The Estate is attempting to recover these missing historically significant assets as a part of the probate process and to make certain that Dr. Kameny's wishes as recorded in his Last Will and Testament are carried out fully."
In his will, Kameny bequeathed his papers to the Library of Congress while leaving all other possessions, including his house and car, to Clark.
In response to questions at the May 11 court hearing by Kameny estate attorney J. Max Barger, Rosendall disputed claims by the estate that Clark believes as many as 100 picket signs were taken from the house after Kameny's death. Rosendall told Barger he doubted that many picket signs had been in the house.
Kameny and his fellow gay activists used the picket signs in their historic gay rights demonstrations outside the White House and other government buildings in the early 1960s, the first such demonstrations ever held.
Barger and Ackerman told Judge John Campbell, who presided over the hearing, that the picket signs and buttons, which are inscribed with gay rights messages, have an important historic value and must be accounted for during the probate process for the estate.
Rosendall testified that he has possession of one of the picket signs, which he said Kameny gave permission for him to take several years prior to his death. He said Kameny also gave him a signed copy of The Homosexual Citizen, a publication of the Mattachine Society of Washington, which Kameny co-founded in 1961.
Mindy Daniels, Rosendall's attorney, expressed concern during the hearing that the estate was confusing items that Kameny gave to Rosendall and others with items belonging to the estate. She noted items given away by someone prior to their death are not part of their estate after the person dies.
Ackerman told Campbell that Francis, Witeck, Rosendall and Marvin Carter, another Kameny friend, had not responded to earlier efforts by the estate to obtain from them an inventory of the items they allegedly took from Kameny's house following Kameny's death.
Daniels said the estate never contacted Rosendall about these items until it filed suit against him in March. Ackerman said the estate did make attempts to reach Rosendall and the other three men.
The estate named Carter as a defendant in one of the lawsuits seeking the return of items taken from Kameny's house and petitioned the court to order him to appear at the May 11 show cause hearing, but Carter did not show up for the hearing. Barger told the court the estate wasn't able to locate him to serve him a summons to appear at the hearing.
Carter hasn't returned calls from the Blade seeking comment on the case. As head of the local LGBT charitable group Helping Our Brothers and Sisters (HOBS), Carter arranged for the group to provide financial assistance and support for Kameny in the last years of his life.
"I don't know where we are going with this," the judge told the attorneys at the hearing. "You can say to these folks give the items back," Campbell said to Ackerman and Barger. "They can say we did. You can say they didn't…But we're not sitting in a criminal court. I can't convict someone of theft."
Campbell called on all parties in the case to cooperate and do their best to come up with an inventory of all property that belongs to the state.
He ruled that Rosendall fulfilled the requirements of the show cause order and ordered that he be released from the order. He denied a request from Ackerman and Barger that he issue a "non-disparagement" order prohibiting Rosendall from saying disparaging things about Clark or the Kameny estate. Ackerman told Campbell that an attorney representing Francis made derogatory remarks and false accusations against Clark earlier this year.
Campbell said that as a probate judge he did not have authority to issue such an order.
"I always hope that people will be civil," he said.
The judge said he could not issue a ruling for Carter because the attorneys for the estate had not been able to serve him with a summons calling on him to appear in court.
Ackerman said the estate would file a motion to dismiss its lawsuit against Rosendall, leaving Carter as the only one of the four with the lawsuit still pending against him. The lawsuit calls on the court to require that Carter disclose what, if any, items he may have that belong to the estate and that he return any such items. Carter has yet to file a response to the lawsuit.
In his affidavit filed with the court, Rosendall, vice president for political affairs of the Gay and Lesbian Activists Alliance, made these additional assertions:
"I hereby affirm that I have destroyed or returned any and all copied, digitized, or otherwise electronically or physically duplicated property belonging to the Estate, including but not limited to: personal papers, photographs, documents, memorabilia and other miscellaneous items of tangible personal property. I further affirm that I have not caused the duplication and/or digitization, whether electronic or physical, of said property of the Estate to third parties."
Flight attendants union endorses Sarah McBride
Del. lawmaker would be first transgender member of Congress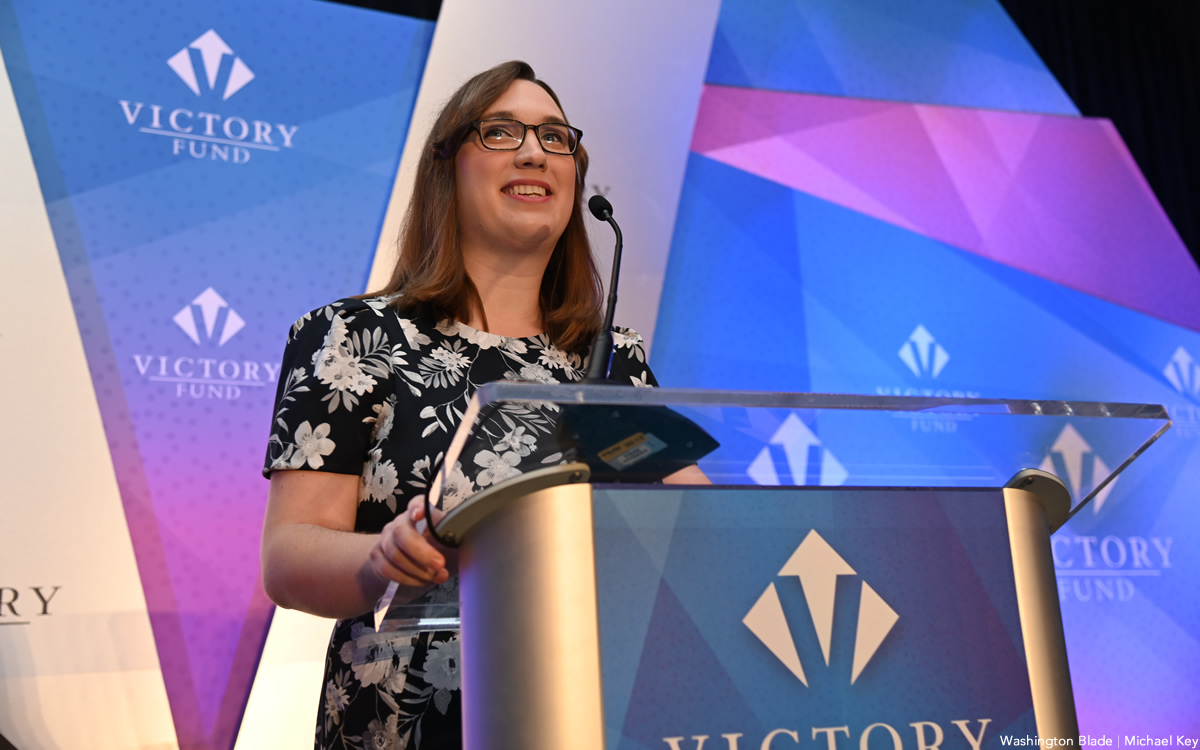 Delaware congressional candidate Sarah McBride has earned the support of the Association of Flight Attendants, the nation's most prominent flight attendant union.
It's the second big labor endorsement for McBride after the United Food and Commercial Workers Local 27's endorsement. The Association of Flight Attendants praised her for spearheading efforts to bring paid family and medical leave to Delaware, which will take effect in 2026.
"Sarah's record in the Delaware Senate shows that she understands how to work collaboratively, build power and make big things happen," the union's president, Sara Nelson, wrote in a press release shared exclusively with the Washington Blade. "That's the kind of leader we need in Congress, and we're proud to endorse her candidacy."
McBride also announced her support for creating a list of abusive passengers and banning them from flying. Each airline has a list of passengers banned from flying, but airlines don't share the lists with each other, though Delta Air Lines has asked them, because of "legal and operational challenges," as a representative for the airline industry trade group Airlines of America told a House committee in September 2021.
"Right now, someone can be violent towards a flight attendant or another passenger and walk directly off of that flight and onto one with a different airline to endanger more people," an Association of Flight Attendants spokesperson wrote in a statement.
The Protection from Abusive Passengers Act would put the Transportation Security Administration in charge of building the database of passengers fined or convicted of abuse and has bipartisan support but has sat idly in committee since March. It failed to pass last year, and civil rights groups including the American Civil Liberties Union have charged that the list would disproportionately target people of color and strip and a better step to reducing hostility would be making flights more comfortable. Reports of defiant and unruly passengers have more than doubled between 2019, before the COVID-19 pandemic, and 2022.
"I thank the Association of Flight Attendants for endorsing our campaign," McBride wrote in the press release. "It's important that we recognize and celebrate the symbiotic relationship between strong, unionized workforces and the continued growth of employers here in our state."
The union representing 50,000 flight attendants across 19 airlines is putting pressure on airlines to grant union demands in contract negotiations. At American Airlines, unionized flight attendants voted to authorize a strike — putting pressure on the airline to accede to its demands. Flight attendants at Alaska Airlines say they are ready to strike but have not voted to authorize one yet. United Airlines flight attendants picketed at 19 airports around the country in August, ratcheting up the pressure.
The union's endorsement adds to a growing list of McBride endorsements, including 21 Delaware legislators, the United Food and Commercial Workers, the Human Rights Campaign, EMILY's List, and Delaware Stonewall PAC. McBride, who would be the first openly transgender politician in Congress, has powerful connections in Washington — including with the White House — and is favored to win Delaware's lone House seat.
A poll commissioned by HRC shows her leading the pack of three candidates vying for the seat — 44 percent of "likely Democratic voters" told pollster company Change Research, which works with liberal organizations. The poll of 531 likely Delaware Democratic primary voters, though, was conducted only online — meaning those with less familiarity or access to the internet may not have been counted — and Change Research's methodology for screening likely voters is unclear. The company also did not provide a breakdown of respondents by age, gender, and race, but says it uses an algorithm to make the results representative.
Nelson said McBride's time in Delaware's state Senate shows her prowess in building power and working collaboratively.
"That's the kind of leader we need in Congress, and we're proud to endorse her candidacy," she wrote.
Lawsuit seeks to force Virginia Beach schools to implement state guidelines for trans, nonbinary students
Va. Department of Education released new regulations in July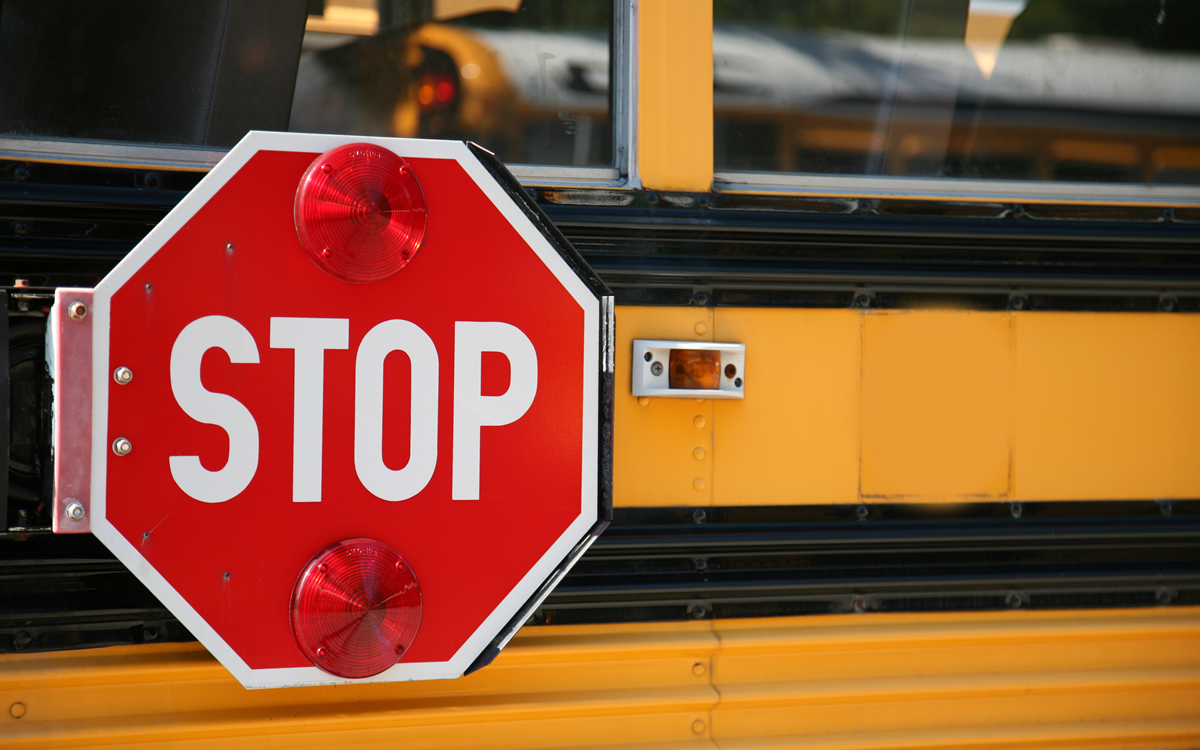 Two parents in Virginia Beach have filed a lawsuit that seeks to force the city's school district to implement the state's new guidelines for transgender and nonbinary students.
NBC Washington on Friday reported Cooper and Kirk, a D.C.-based law firm, filed the lawsuit in Virginia Beach Circuit Court.
The Virginia Department of Education in July announced the new guidelines for which Republican Gov. Glenn Youngkin asked. Arlington County Public Schools, Fairfax County Public Schools and Prince William County Schools are among the school districts that have refused to implement them.
HME Consulting and Advocacy stands on frontline of LGBTQ policy
Heidi Ellis is a consultant who doesn't take clients 'not aligned with my mission'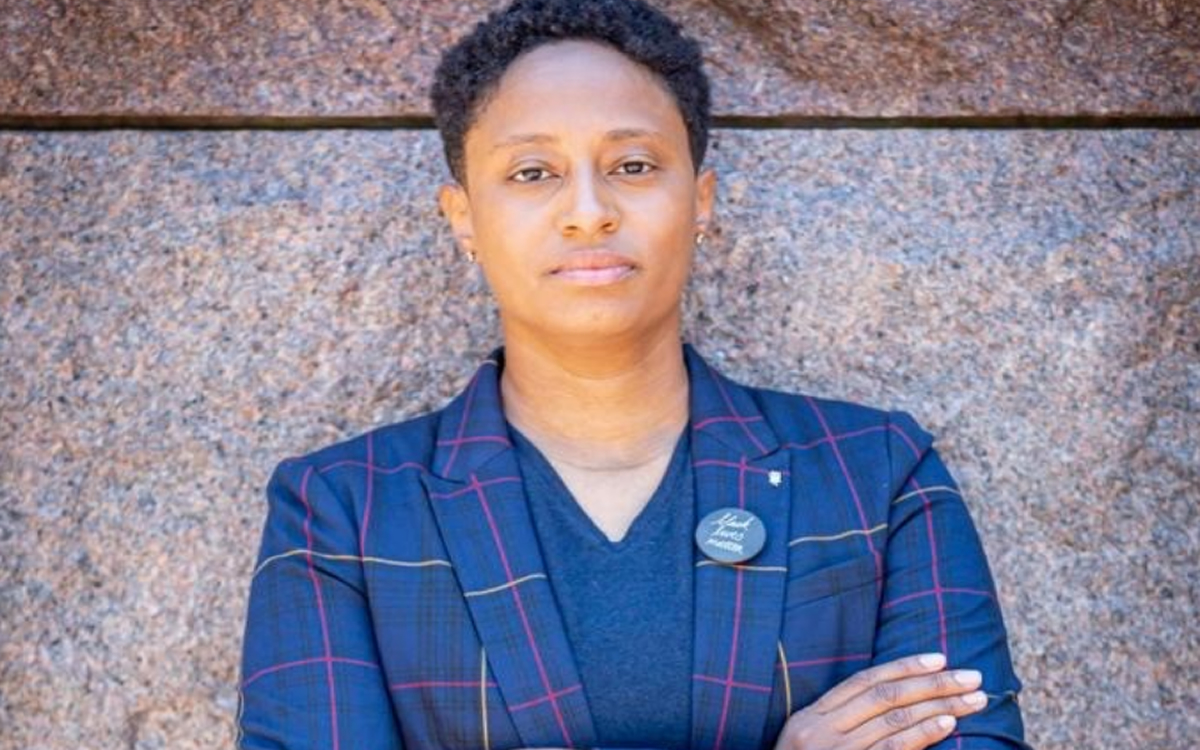 September is here, which means Congress and the D.C. Council return from their August recess and life for consultant Heidi Ellis quickly gets busy.
Her days are filled with negotiating with Council members, phone calls with clients, and policy planning for advocacy groups. The organizations she represents are looking to her to help them push policy and she hopes to guide them to victory.
Ellis's company, HME Consulting and Advocacy, came after years of working in the public and private sectors as a consultant. In 2019, Ellis decided to shift her focus to work that stood at the center of the intersections in which she lives. She sought to figure out how she could better serve her community as a Black queer Latino woman. Ellis recognized that there was a niche for mission-driven consulting in the District.
"I was sought out and recruited by a lot of organizations that wanted me and I took a beat, because I was like 'Do I want to go back into a machine where even if I do effect change, I have to answer to someone?'"she said, in reference to consulting agencies that were in pursuit of her talent. Ultimately, she decided against continuing her work under another company. "By doing what I do, I have much more flexibility for one to say 'Yes' but also to say 'No'."
Although Ellis has considered going back to working in the corporate space, she still loves the flexibility of being able to be nimble as a private consultant.
Although Ellis doesn't work entirely in the advocacy space, her consulting clients still align with her personal values. She joked that she differs strongly from the stereotypical money-driven D.C. consultant who sports Brooks Brothers suits on K Street.
"Even though I am a private consultant … my work is very much mission driven," she said. "I don't take any clients that are not aligned with my mission."
Her mission is simple, Ellis is "committed to elevating issues that sit at the nexus of education, mental health, LGBTQ+ individuals, and people of color."
"The more marginalized you are, the more you suffer from the failures of policy and the gaps of service," she said.
As a consultant in the advocacy space, Ellis does the behind-the-scenes work for organizations to help correct these policy failures and close the gaps. Whether she is facilitating training for companies to better understand how to serve their LGBTQ communities, or she is on the frontline of education policy changes –– Ellis aims to only do work that she is passionate about.
She said that the balance of her combined passion and level-headedness help her to build trusting relationships with her clients and in the end, "Get stuff done."
Since starting her organization, some of her proudest work has been done with the DC LGBTQ+ Budget Coalition. The coalition is made up of more than 30 organizations that aim to advocate for investments and policy changes that affect LGBTQ lives. As a leader of this coalition, her services include policy support, facilitation, training, initiative development and organizational redesign. Since she began leading the coalition, they have raised more than $5 million of investments in LGBTQ programs.
Later this fall, she will work with the DC LGBTQ+ Budget Coalition along with the ANC Rainbow Caucus to convene the first LGBTQ+ Housing Summit from Nov. 29-30.
"The one thing we all recognize is that housing is the common denominator of every other social affliction facing LGBTQ communities," she said.
At the summit they will focus on the barriers within the current housing system and explore revitalized approaches to dealing with the current housing market. To pre-register for the event, visit the LGBTQ+ Housing Summit website.