10 pharmacies named to new AIDS network
Officials say no disruption in prescriptions expected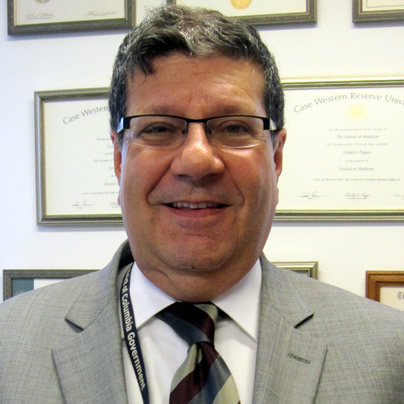 The D.C. Department of Health on Monday released the names of the first 10 pharmacies to join a new city-run network of pharmacies certified to dispense prescriptions for patients enrolled in the city's AIDS Drug Assistance Program or ADAP.
Dr. Gregory Pappas, director of the department's HIV/AIDS, Hepatitis, Sexually Transmitted Disease, and Tuberculosis Administration (HAHSTA), said a DOH overhaul of the pharmacy network would require some patients to switch pharmacies to refill their prescriptions over the next month or two.
But he said the changes being put in place would provide an "enhanced quality of services" to patients while saving money for the city.
"During the transition period — from July 1, 2012 through August 31, 2012 — all eligible and enrolled clients will continue to have access to life-saving medications," a statement released on Monday by DOH says.
"The transition aims to enhance and expand the services currently provided by initiating a new network of selected pharmacy providers throughout the District," the statement says.
The DOH announcement came at a time when some AIDS activists and an official with Care Pharmacies, a local private pharmacy network that has operated the city's ADAP prescription program for more than a decade, predicted that too few pharmacies would join the new network in time to refill prescriptions for patients in the month of July.
DOH announced earlier this year that it decided not to renew Care Pharmacies' contract to administer the ADAP pharmacy network, saying it would be more efficient and cost effective for the DOH to run its own pharmacy network.
DOH officials initially said they would release the names of the pharmacies participating in the new city-run network on June 15. But the DOH did not meet that deadline, raising concern among some that the new system would not be ready in time for patients to renew their prescriptions beginning July 1, when the Care Pharmacies contract ended.
"The salient factor for patients – and this is very, very important – is no one is going to be denied anti-retroviral [AIDS drugs]," Pappas told the Blade in an interview Monday. "No one's ADAP status is going to change. No one's medication status is going to change," he said.
The new 10-member pharmacy network replaces a Care Pharmacies network that was said to have had at least 24 participating pharmacies. Pappas said the DOH expects the new network to expand over the next month or two.
A DOH spokesperson said eight of the ten pharmacies that joined the new network were among the 24 pharmacies participating in the Care Pharmacies network.
"Every pharmacy in good standing in the District of Columbia that's got a license, that's up on their taxes and has a Medicaid certification, can participate," he said. "This is a very open, equitable system."
"The DOH procurement team is in the process of inviting all registered pharmacies in the District of Columbia to participate in the new network," the DOH statement released on Monday says. "The new DOH pharmacy network will be fully operational by Sept. 1, 2012."
Pappas said that over the past year the city has transferred as many as 1,000 ADAP patients into the city's Medicaid program under the Affordable Care Act, the new health insurance reform law initiated by the Obama administration and upheld last week by the Supreme Court. He said the transfers left about 800 D.C. HIV/AIDS clients remaining in the ADAP program.
One pharmacy missing from the list of participating ADAP pharmacies released this week by the DOH is the one operated by Whitman-Walker Health, a development that surprised AIDS activists.
Last month, Whitman-Walker executive director Don Blanchon told the Blade that Whitman-Walker was serving as many as 400 ADAP patients in its pharmacy under the existing network. He said Whitman-Walker planned to join the new city-run network.
DOH spokesperson Najma Roberts said on Tuesday that as of June Whitman-Walker had actually been serving "about 200 ADAP beneficiaries each month."
Pappas told the Blade he hoped Whitman-Walker would become part of the network soon during the DOH's next enrollment period. He declined to comment on why Whitman-Walker wasn't admitted in the first round.
Whitman-Walker spokesperson Chip Lewis said Whitman-Walker expects to apply for admission to the network in the next round of enrollments, which he expected to take place in the next few days.
"We're going to apply for that and we fully expect to be added to the list of pharmacies," he said.
Asked why Whitman-Walker didn't enroll in the first group of 10 pharmacies, he said, "I think it's just been the challenges of the transition process."
Lewis said that during the short period in which Whitman-Walker is not a member of the new pharmacy network it will likely have to refer its current ADAP pharmacy patients to one or more of the other pharmacies in the network.
Lewis said Whitman-Walker ordered extra drug supplies in anticipation of "issues" that might surface in the transition period but said he wasn't sure if the clinic's pharmacy could use those drugs to fill prescriptions if the pharmacy wasn't yet admitted to the new network.
Asked if the new network could accommodate as many as 200 patients from Whitman-Walker along with patients from other pharmacies that chose not to join the new network, DOH's Roberts said, "The existing network of 10 pharmacies has the capacity to serve clients during the months of July and August."
Pappas and Gunther Freehill, a DOH official involved in the ADAP program, each said they expect a smooth transition for patients who learn this month that their current pharmacy will no longer fill their ADAP prescription.
"There is a central database repository that has ADAP eligibility information on it and it tells each pharmacy who is eligible for each program," Freehill told the Blade. "If the client has a current prescription and/or a pill bottle that has refills left on it they can simply go to one of those [pharmacies on the list] and get the bottle filled."
Added Pappas: "They should take their pill bottle to one of the pharmacies on the list and they will be able to get their medication without delay."
Following is the list of pharmacies released on Monday by DOH where ADAP patients can go to obtain or refill their prescriptions:
AIDS Healthcare Foundation
Blair Underwood Healthcare Center
2141 K St., N.W., Suite 606
202-293-8695
Apex Care Pharmacy
3839 Minnesota Ave., N.E.
202-388-1900
H Street Care Pharmacy & Wellness Center
812 H St., N.E.
202-621-9667
Morgan Pharmacy
3001 P St., N.W.
202-337-4100
Pharmacare @ DC
651 Florida Ave., N.W.
202-387-1600
Seat Pleasant Pharmacy
350 Eastern Ave., N.E.
202-396-3400
Sterling Care Pharmacy
1647 Benning Rd., N.E., Suite 101
202-399-7876
Super Pharmacy and Medical Equipment
1019 H St., N.E.
202-388-0050
Community, a Walgreen's Pharmacy
1325 14th St., N.W.
202-332-8811
Walgreen's Pharmacy
1217 22nd St., N.W.
202-776-9084
Office of National AIDS Policy Director Phillips: Congress must increase funding
'Without congressional funding we can't get there'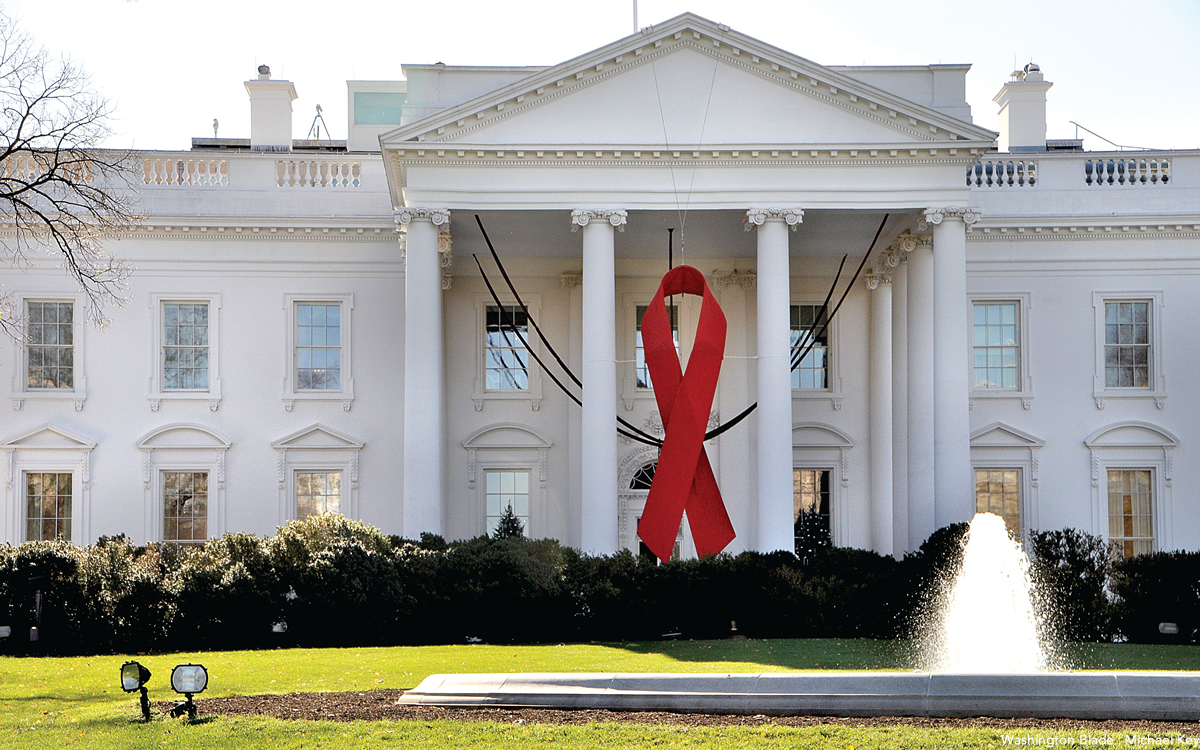 Harold Phillips, director of the White House Office of National AIDS Policy (ONAP), said Monday that Congress must increase funding to end the HIV/AIDS epidemic, including for programs designed around the lives and needs of Americans who are living with the disease.
"We have the support of the Biden-Harris administration, and we have the support at HHS, but without congressional funding we can't get there," said Phillips, who delivered his remarks during the AIDS United annual AIDSWatch conference in Washington, D.C.
Phillips echoed remarks by other speakers in calling for Congress to increase appropriations funding for the U.S. Department of Health and Human Services (HHS) Ryan White HIV/AIDS Program, but he also emphasized the importance of "making space for people living with HIV in other aspects of the budget."
Consistent with the Biden-Harris administration's focus on employing a whole-of-government approach, Phillips said stakeholders must understand that while "HIV is, yes, a public health threat," the disease is also "the result of systemic and structural racism," an intersectional problem requiring more than narrowly focused biomedical or public health responses.
Therefore, he said, these conversations about matters like HIV's impact on Black lives, or considerations for aging folks who are living with the disease, must be held at places like the White House Gender Policy Council, the National Economic Council, and the U.S. Department of Labor.
"When we talk about ending HIV as a public health threat," Phillips said, "we also want to end HIV such that it's not the defining characteristic for people living with HIV and that they can have access to housing, access to employment, good mental health and substance abuse treatment."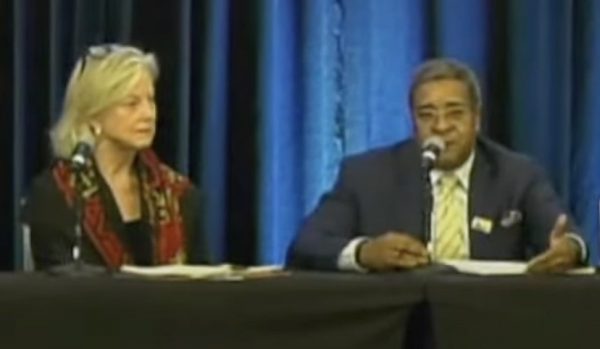 Under Phillips's leadership, data on these considerations for those living with HIV/AIDS will be measured for the first time with ONAP's rollout of new quality of life indicators in the National HIV/AIDS Strategy Federal Implementation Plan.
"There's an indicator in there that's self-reported quality of life," Phillips said, which asks respondents to consider, "how do I feel?" This is important, he added, because people living with HIV may have positive lab results but still feel poorly.
Phillips advised those AIDSWatch participants who are slated to meet with members of Congress and their staffs after hosting a rally on the grounds of the U.S. Capitol Tuesday morning to "build a common bond" with lawmakers by emphasizing the human impact of the appropriations funding for which they are advocating.
An AIDS United spokesperson told the Washington Blade by email Monday that 187 congressional meetings have been scheduled for Tuesday.
Phillips also noted that while "conversations need to happen in Washington, there's also conversations that need to happen on the state and local level," where "we're finding a level of hate and stigma and discrimination that's on course to try to either stop our progress or take us backwards."
Speaking before Phillips, Equality Federation Public Health Policy Strategist Mike Webb stressed the importance of policies under consideration by state and local lawmakers. "Our access to PrEP shouldn't be based on a patchwork of laws by the states," they said, and HIV-related legislative proposals in many cases would "add criminalizing aspects."
Laws already on the books that "criminalize the transmission of, or perceived exposure to, HIV and other infectious diseases," the Movement Advancement Project writes, "create a strong disincentive for being tested for HIV, and result in adverse public health outcomes."
Phillips and the Biden administration have made modernizing or repealing those laws a top priority.
Biden budget earmarks funds for HIV along with new programs for PrEP, hepatitis C
Budget seen as preview of Biden's reelection campaign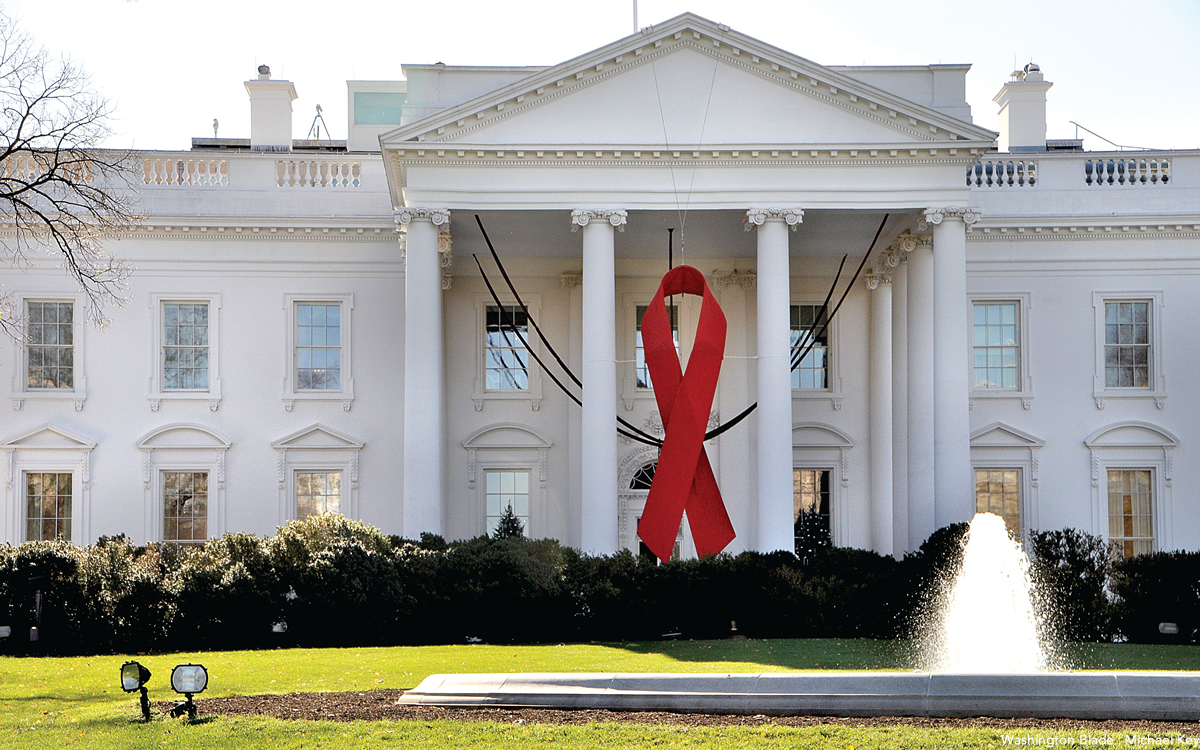 The $6.8 trillion budget unveiled by President Joe Biden on Thursday includes increased investment in existing programs to fight HIV/AIDS, along with new initiatives to expand access to HIV prevention medications and eliminate hepatitis C.
U.S. House Republicans are expected to kill the proposal, which is nevertheless seen as a possible blueprint for the major themes to come in Biden's expected reelection campaign.
Major focus areas of the plan include deficit reduction, increased taxes for the wealthy, and increased spending on the military and other endeavors to compete with China.
The HIV + Hepatitis Policy Institute praised the budget in a press release Thursday, writing that it will "significantly increase the federal resources necessary to end both HIV and hepatitis C."
The group's president, Carl Schmid, said Biden "recognizes the historic role the federal government must play, and the investments needed to end infectious diseases."
First, the plan would bolster funding for the Trump-era Ending the HIV Epidemic in the United States initiative by $313 million, bringing the total to $850 million. Second, it would debut a "ten-year $9.7 billion nationwide PrEP delivery program" and a "historic initiative to eliminate hepatitis C."
PrEP, or preexposure prophylaxis, is a medication regimen that reduces the risk of contracting HIV. According to the HIV + Hepatitis Policy Institute, only 30 percent of patients who could benefit from the drug are taking it.
The new hepatitis C program "seeks to provide outreach, testing, and curative medications to the estimated 2.4 million people living with hepatitis C, many of whom are unaware of their infection."
Gov. Newsom: Calif. will not do business with Walgreens after decision to not distribute abortion pill
20 Republican state attorneys general threatened to sue Walgreens for offering mifepristone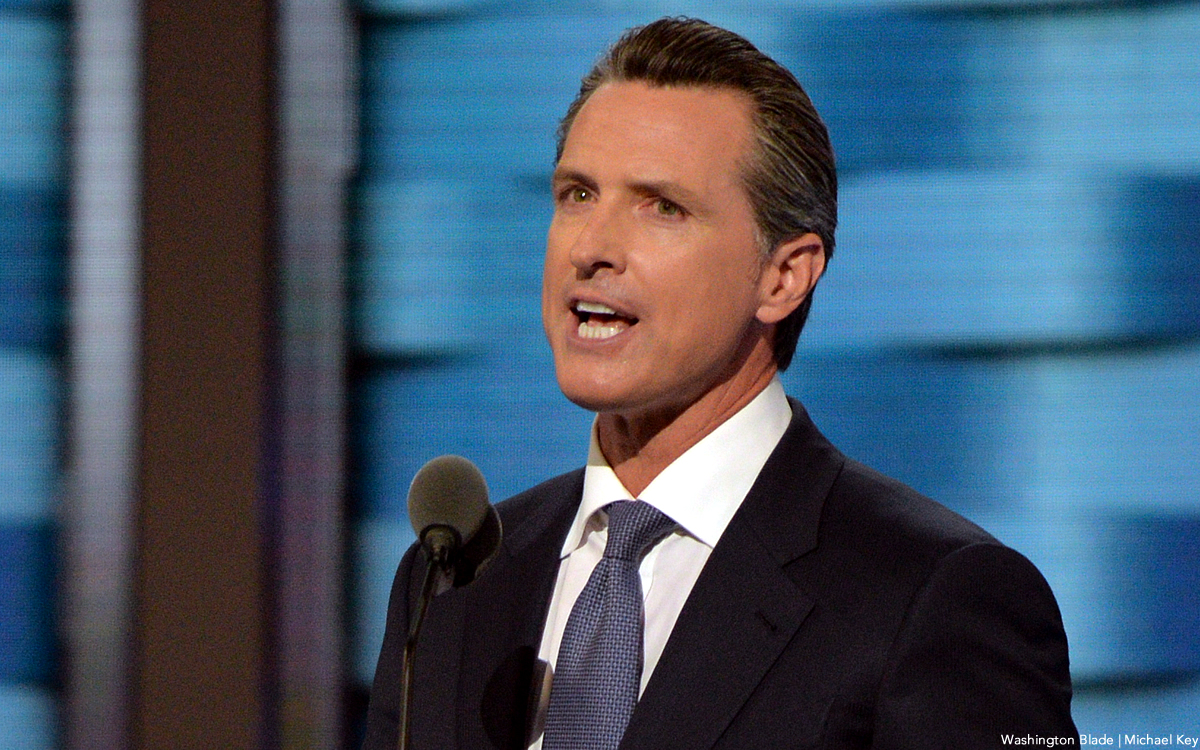 Gov. Gavin Newsom (D-Calif.) announced on Monday that California will not do business with Walgreens following the company's announcement of its decision on Friday to not distribute the abortion pill mifepristone in 20 states.
The move comes amid pressure from conservative lawmakers and threats of legal action against Walgreens and CVS from 20 Republican state attorneys general, who claimed in a Feb. 1 press release that selling mifepristone is "unsafe and illegal."
Mifepristone is still legal in several of the states where Walgreens has decided to stop providing it in response to the specter of lawsuits from state attorneys general: Alaska, Iowa, Kansas and Montana.
Newsom's office told NPR that California will review "all relationships between Walgreens and the state," but declined to provide more specifics.
"California won't be doing business with @walgreens – or any company that cowers to the extremists and puts women's lives at risk," Newsom wrote in the tweet. "We're done."
California won't be doing business with @walgreens — or any company that cowers to the extremists and puts women's lives at risk.

We're done.https://t.co/OB10cYfm8H

— Gavin Newsom (@GavinNewsom) March 6, 2023
"Elected officials targeting pharmacies and their ability to provide women with access to safe, effective, and FDA-approved medication is dangerous and just unacceptable," White House Press Secretary Karine Jean-Pierre said during a briefing on March 3.
"The administration will continue to stand by the FDA's expert judgment in approving and regulating medications. And in the face of barriers to access and concerns about safety of patients, healthcare providers, and pharmacists, we will continue to support access to this critical medication within the limits of the law," Jean-Pierre said.
Meanwhile, Judge Matthew Kacsmaryk of the U.S. District Court for the Northern District of Texas is expected to soon rule on a case challenging the safety of mifepristone that advocates for reproductive justice fear could lead to a nationwide injunction prohibiting the sale and distribution of the abortion drug.
Medical experts have slammed the Texas plaintiffs' lawsuit, arguing that mifepristone's safety and efficacy have been well demonstrated for years. Kacsmaryk, who was appointed by former President Donald Trump, is nevertheless expected to rule in their favor.
"The plaintiffs who have no legitimate standing have hand-picked him to hear this case that has no merit because they know what they're getting with Judge Kacsmaryk," Sen. Ron Wyden (D-Ore.) said last month.
Jean-Pierre addressed the case during a press briefing on March 1: "The decision would be unprecedented, as you know, and devastating to women's health. And we may find ourselves in uncharted territory," she said.
"And so, we're closely — closely working with the Justice Department and DHS — HHS on this, on how to be prepared for any range of outcome or potential outcomes," Jean-Pierre added.