July 5, 2012 at 10:44 pm EDT | by David Bediz
July's forecast: hot, hot, hot!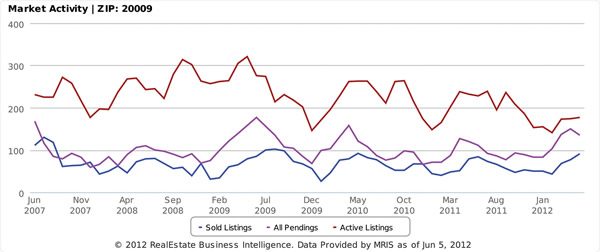 Whether it's the heat index or the housing market, the numbers don't lie: this July has been one of the hottest on record and it doesn't appear to be cooling down anytime soon.
Most people think the summer means tank tops, flip-flops and the summer doldrums in real estate. In fact, Dwight and I have had some of our busiest weeks ever in the height of summer. Last July we had an amazing nine ratified contracts in just seven days between the two of us. This summer may be just as active, and the numbers are there to prove it.
The included graph of the 20009 ZIP code shows that sales are near their four-year highs, while the inventory of active listings is at a five-year low. Pending sales are up sharply over this time last year, as well. The District and the region show similar numbers. It's simple supply and demand economics that indicates that low supply and steady demand will result in higher prices and quicker sales. And speaking of quicker sales, Washington now sees its average Days on Market at 48—by far the lowest in five years.
With that in mind, there is no surprise that we have received multiple offers on almost all our recent listings, and that our buyers are having to once again negotiate with pre-inspections, escalation clauses and shorter contingency periods.
If you are currently in the market, do not wander in casually and expect to buy a well-priced, attractive home without a fight; instead, prepare for battle with an agent who is armed with knowledge and experience to help you emerge victorious. Find a lender who can fully approve you prior to making an offer, and use one that is known to be reliable locally. Better yet, use a lender that can close quickly by using local, in-house underwriters and a vetted bank of appraisers on call (national banks and online lenders may just use any appraiser who is licensed in the area, even if they have never been in your neighborhood). Finally, if you plan to purchase with an FHA loan (which may eliminate you from a competitive situation), at least use a lender who can perform the FHA evaluation in-house, which reduces the approval time from about two months to about two weeks.
If these concerns sound like a foreign language, it makes it all the more incumbent upon you to work with a professional who can walk you through the process patiently, yet confidently.
Stay cool this summer, enjoy some time off—and don't miss out on that dream house by letting the heat slow you down. Happy hunting!
David Bediz is a top-producing agent at Coldwell Banker, a founder of the Dwight & David Group, LLC, and a current director of the board of GCAAR. Reach him at 202-352-8456 or dwightanddavid.com.