Whatever happened to Baby June?
American Century production wreaks Havoc with '30s craze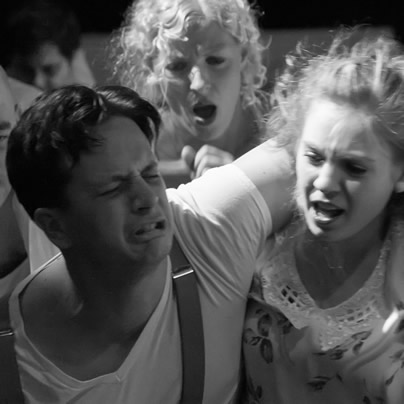 'Marathon '33'
Through Aug. 25
The American Century Theater
Gunston Arts Center
2700 South Lang Street, Arlington
$17-$35
703-998-4555
If you think the dance marathon craze made popular during the Great Depression was no different than other harmless passing fads like drive-ins, toga parties and pet rocks, think again.
As described in June Havoc's "Marathon '33" (now playing at Arlington's American Century Theater), the dance-'til-you-drop contests were a pretty brutal pastime. In truth, they were torturous tests of endurance that kept hard-up participants sleepless on their feet for weeks, sometimes months, desperately hanging on for the guaranteed free meals and a shot at the prize money promised to the last couple left standing.
Havoc, the younger sister of legendary stripper Gypsy Rose Lee, was an actual veteran of the marathon circuit. She spent her childhood performing as vaudeville headliner "Baby June" (immortalized in the Broadway musical "Gypsy") and later achieved Broadway and Hollywood success as an adult. But for three very lean years in between when the adolescent June eked out a living in marathons as a participant and featured entertainer (some marathoners sang, danced and did comic bits for extra tips). All in all, it was rough going, particularly for a girl who'd fallen so far.
"Marathon '33" carefully illustrates the horrors of the endless event — unbending rules, dirty tricks, mandatory sprints to weed out weaker participants — and while these specifics are fascinating, the play's thin plotline is not: down-and-out former child star makes it through bad times and comes out even stronger and somehow ennobled. And though the first act unfolds engagingly, the screechy second act is a letdown.
Staged by Jack Marshall, American Century Theater's production best succeeds in recreating the marathon experience and transporting the audience back to 1933 (one of the worst years of the Depression). It looks and feels like the real thing. Throughout much of the two-and- a-half hour show there's a live band playing and the marathon is always in progress. Two roustabouts are constantly mopping floors and moving chairs and tables. Seated as spectators, the audience gets a sense of the event with all its erratic energy and insanity. It seems Marshall has been faithful to the late playwright's intentions (Havoc died at 97 in 2010).
Set designer Michael deBlois has transformed the big black box Gunston Theatre II into a period dance hall. The dance floor's rail is ringed with café tables for two. The walls are papered with ads from local sponsors. There's a cute concession stand and cot-filled rest area for contestants off to the side. Rip Claassen's costumes add an appropriately tatty touch.
Of course, the autobiographical play's central character is June Havoc renamed Jean Reed for the marathon. It's hard to root for her. As played by Jennifer Richter, she scowls and sobs her way through the contest including her specialty act. You'd think a trouper like Baby June might exhibit a little star quality to make a buck. Not here.
Standouts in the large cast include Craig Miller as the marathon's shady operator, and Bill Karukas as its smooth-talking emcee Ruddy Blaine. Daniel Corey is terrific as a '30s-style funnyman; Anne De Michele makes a great low rent Harlow wannabe and Deborah Rinn Critzer is a hoot as a well-off ringside spectator who takes maniacal delight in the more sadistic aspects of the entertainment.
Intermittently, musical director and pianist Tom Fuller leads the peppy six-person band in setting the mood with songs from the era sung by actors all in excellent voice.
Because Havoc's 1963 work calls for about 30 actors and a band, it's rarely produced, so kudos to American Century Theater for fulfilling its mission to promote 20th century theater by bringing Havoc's firsthand account of this freaky slice of Americana to life.
10 LGBTQ events this week
A Gaga afterparty and a cardboard boat regatta among attractions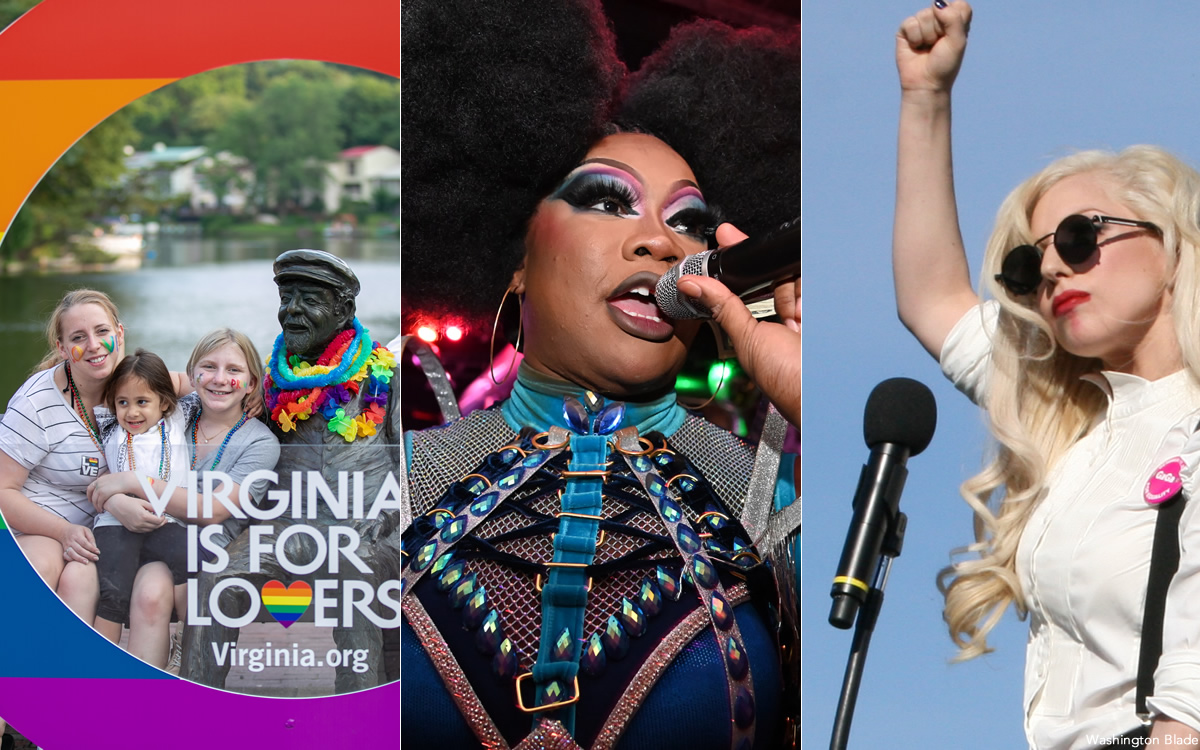 Below are our picks for some of the most fun and creative things to do this week in the DMV that are of special interest to the LGBTQ community.
---
Reign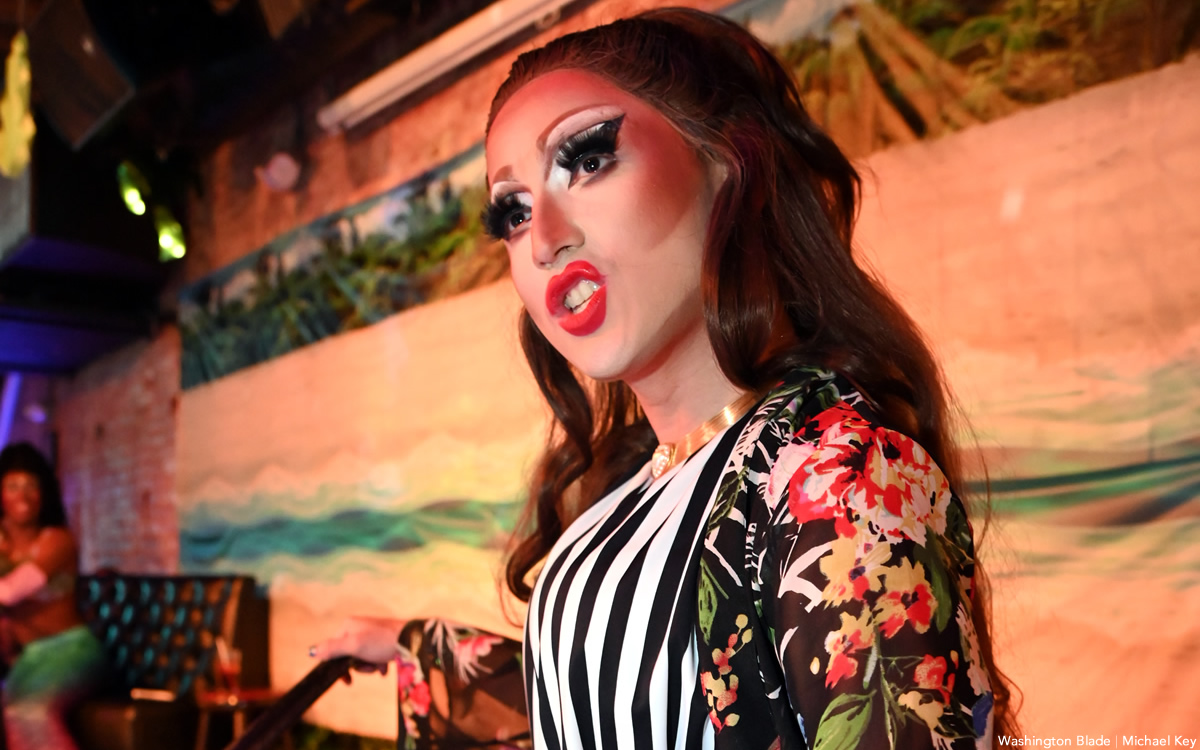 Monday, August 8
8-11 p.m.
DIK Bar
1637 17th Street, N.W. (second floor)
Facebook
Join Logan Stone, Dabatha Christie and Hennessey for a fun-filled drag show at Dupont Italian Kitchen Bar tonight at 8.
---
OMGaga Afterparty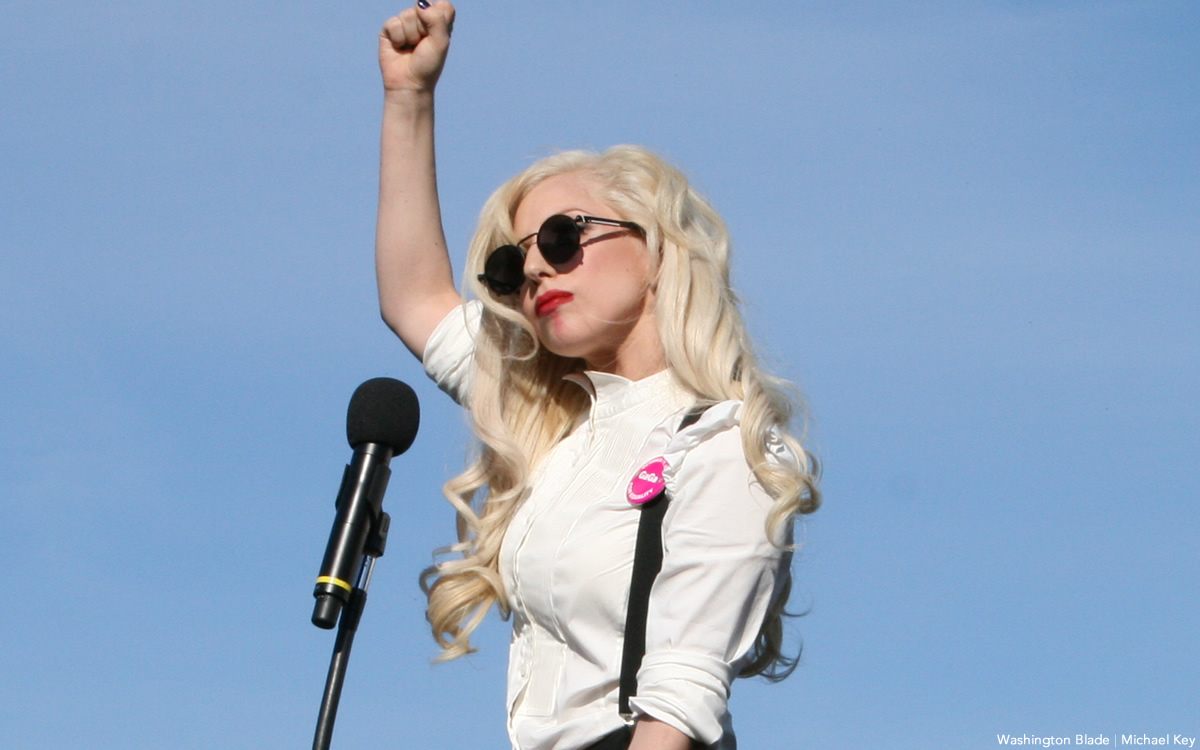 Monday, August 8
10 p.m.
Green Lantern
1335 Green Court, N.W.
Facebook
Did you catch the Gaga concert tonight? Whether you did or not, join the afterparty at Green Lantern. Show your ticket stub from the concert for a free drink on the dance floor.
---
Drag Bingo with Desiree Dik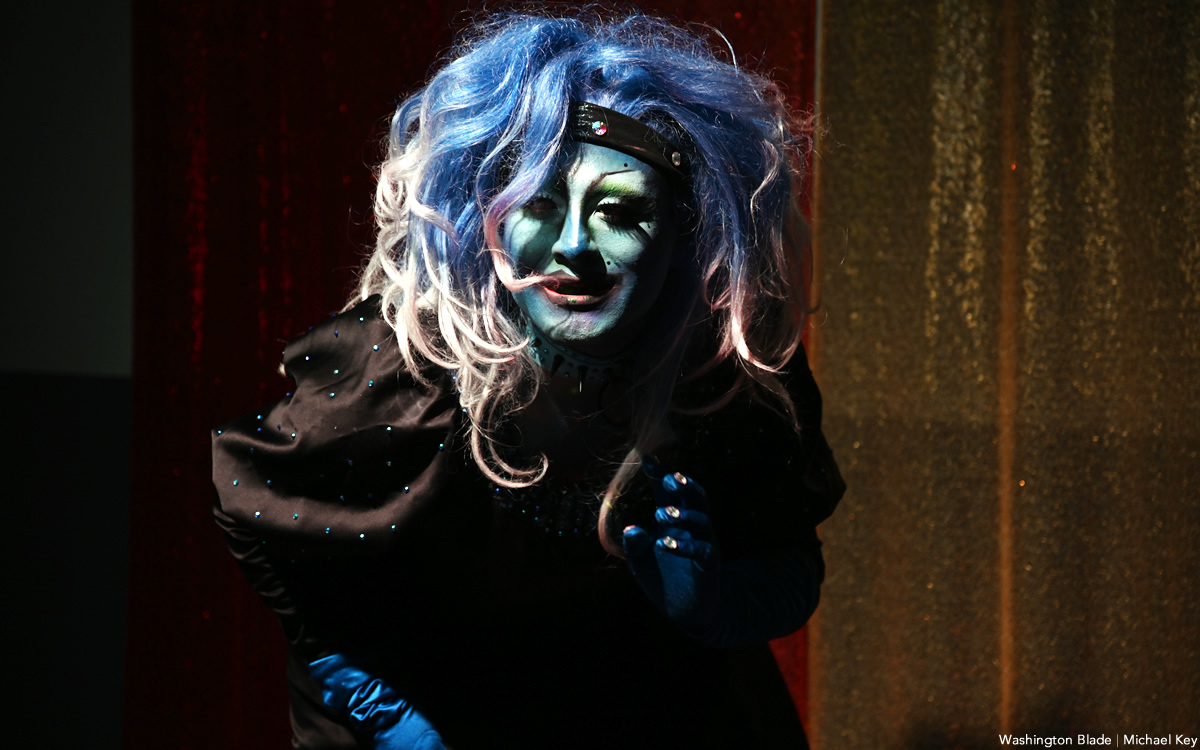 Tuesday, August 9
7-9 p.m.
Red Bear Brewing Co.
209 M Street, N.E.
Facebook
Join Desiree Dik for a game of bingo at Red Bear Brewing Co. on Tuesday. Free to play.
---
Queer Trivia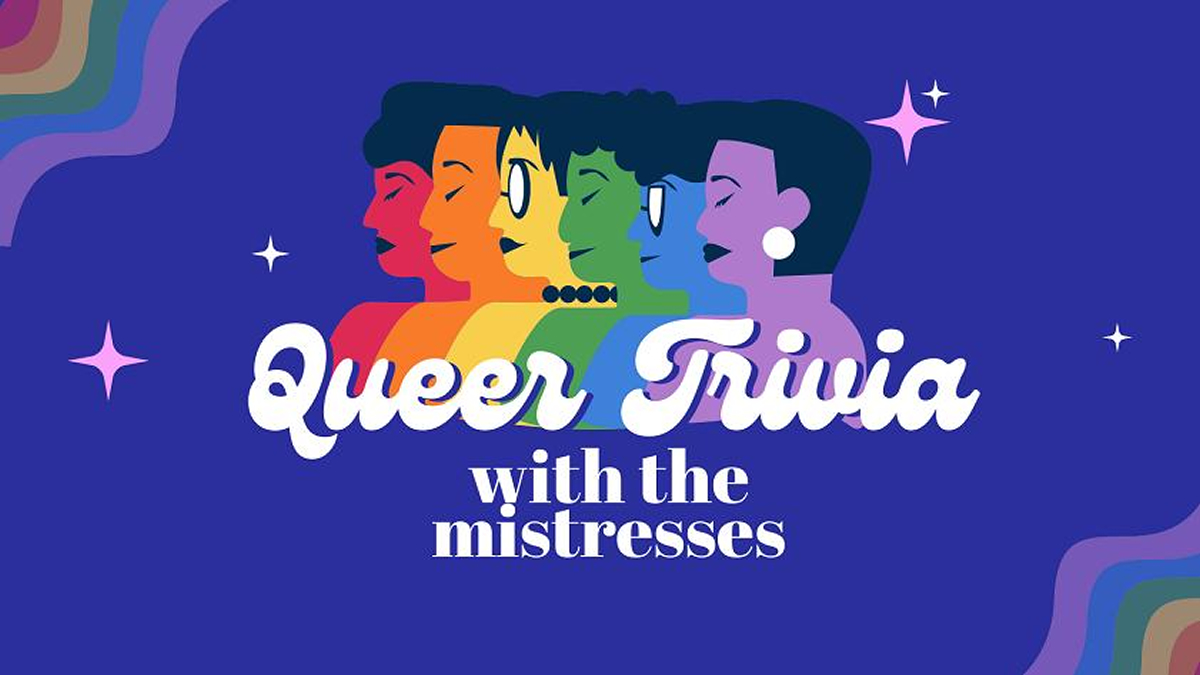 Wednesday, August 10
7-9 p.m.
Dew Drop Inn
2801 8th Street, N.E.
Facebook
The Mistresses lead a night of Queer Trivia on all things gay at the Dew Drop Inn on Wednesday.
---
Thirst Trap Thursdays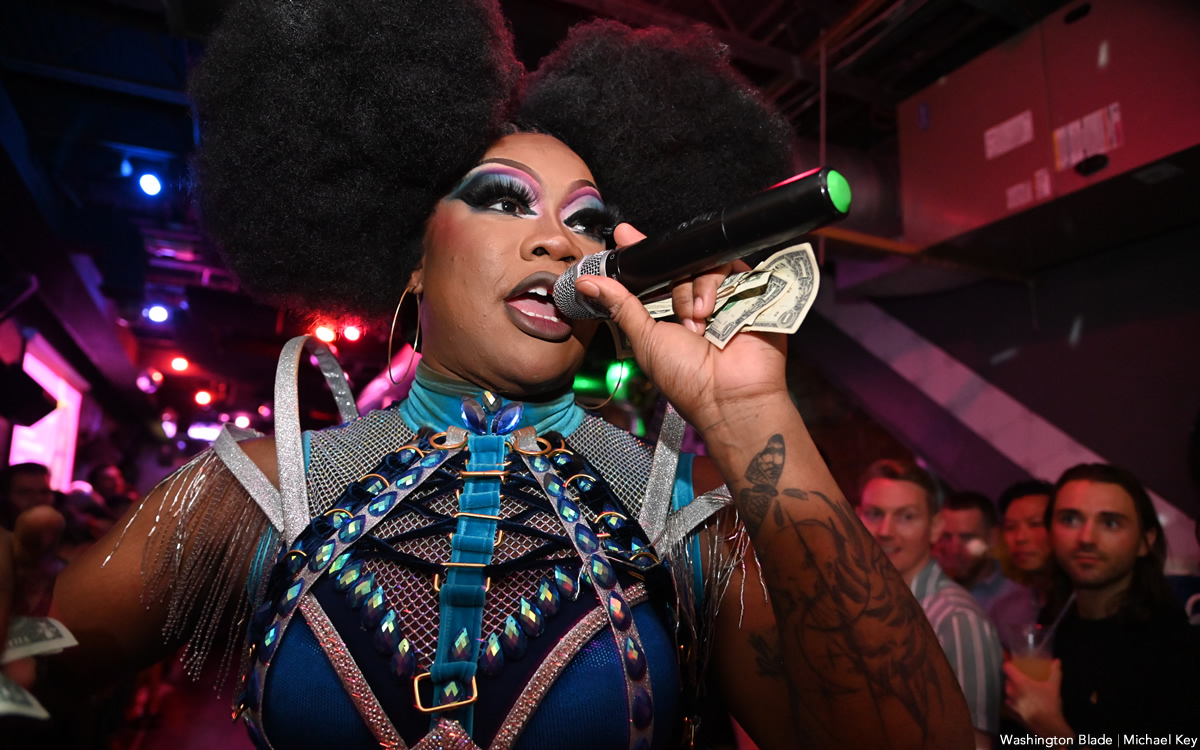 Thursday, August 11
10 p.m.
Pitchers DC/A League of Her Own
2317 18th Street, N.W.
Facebook
Venus Valhalla and Cake host the Thirsty Thursdays drag show at Pitchers/ALOHO on Aug. 11.
---
LGBTQ Social at Wild Days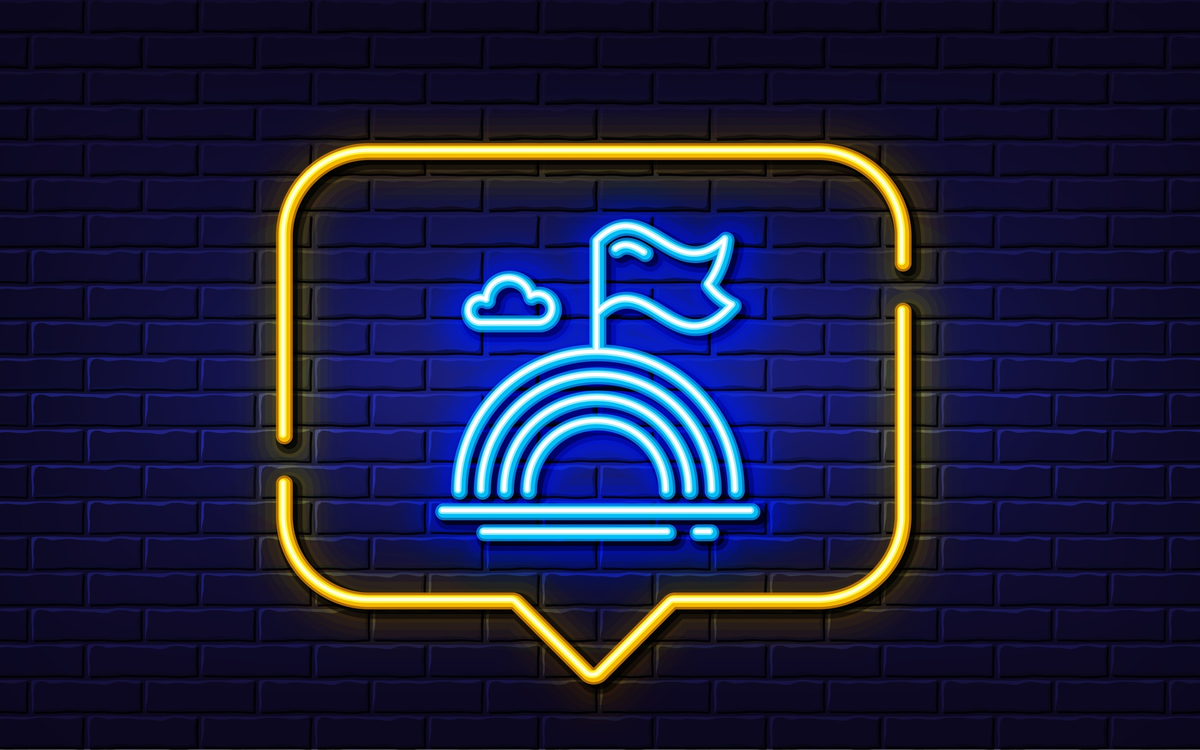 Friday, August 12
7-9 p.m.
Wild Days Rooftop Bar at the Eaton Hotel
1201 K Street, N.W.
21+
Eventbrite
Have some casual conversations with new friends in the LGBTQ community over drinks in a relaxed atmosphere. Hosted by Go Gay DC.
---
A Love Letter to RENT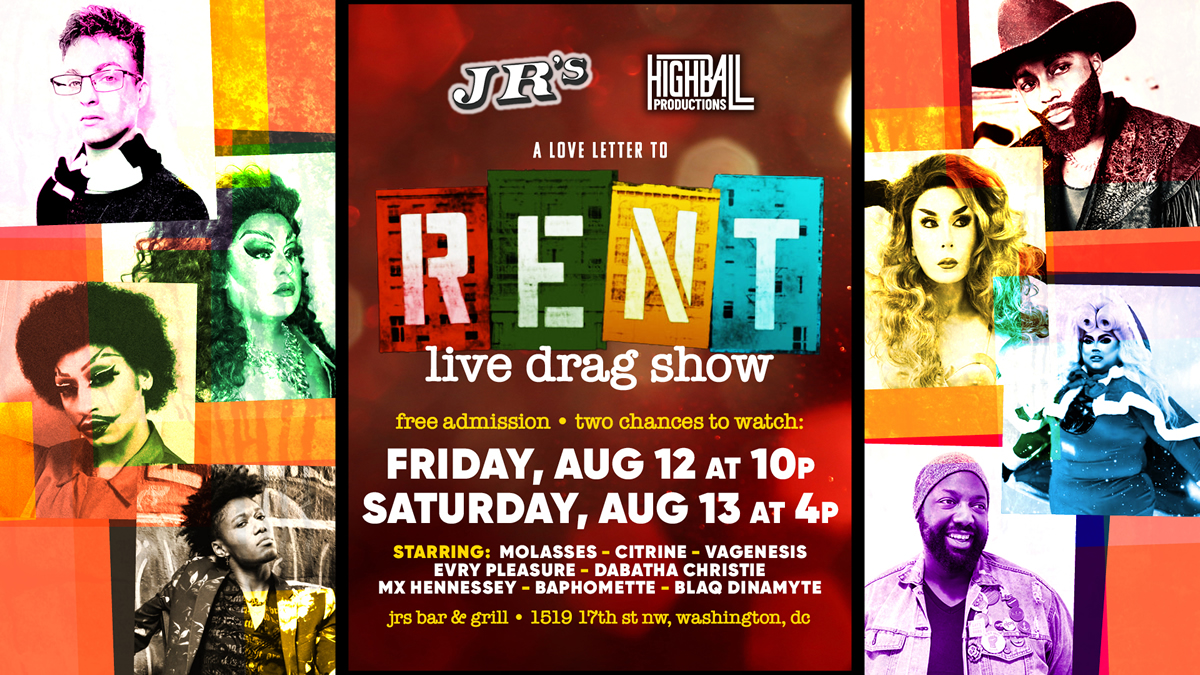 Friday, August 12
10 p.m.
JR.'s Bar
1519 17th Street, N.W.
Free admission
Facebook
Watch a drag show dedicated to the hit musical RENT. If you miss the first show on Friday, come by on Saturday at 4 p.m. for an encore performance.
---
Lights On, Barks Out! Disco Heat Drag Brunch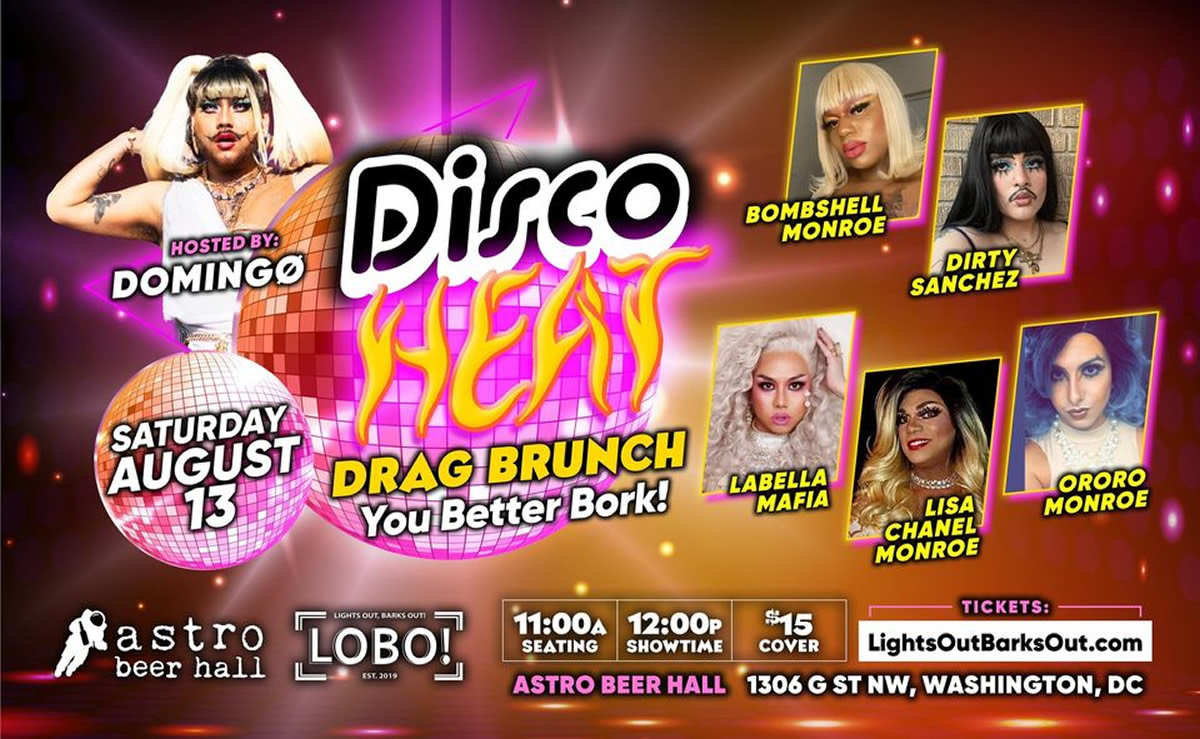 Saturday, August 13
Seating 11 a.m./show 12 p.m.
Astro Beer Hall
1306 G Street, N.W.
$15 cover
Facebook
Join host Doming0 for the Disco Heat Drag Brunch on Saturday at Astro Beer Hall.
---
Lake Anne Cardboard Boat Regatta
Saturday, August 13
2 p.m.
Lake Anne Plaza
1609 Washington Plaza
Reston, Va.
Facebook | Website
Watch a cardboard regatta race along Lake Anne in Reston, Va. Or, you could even participate (rules here)!
---
Mister & Miss AGLA Scholarship Fundraiser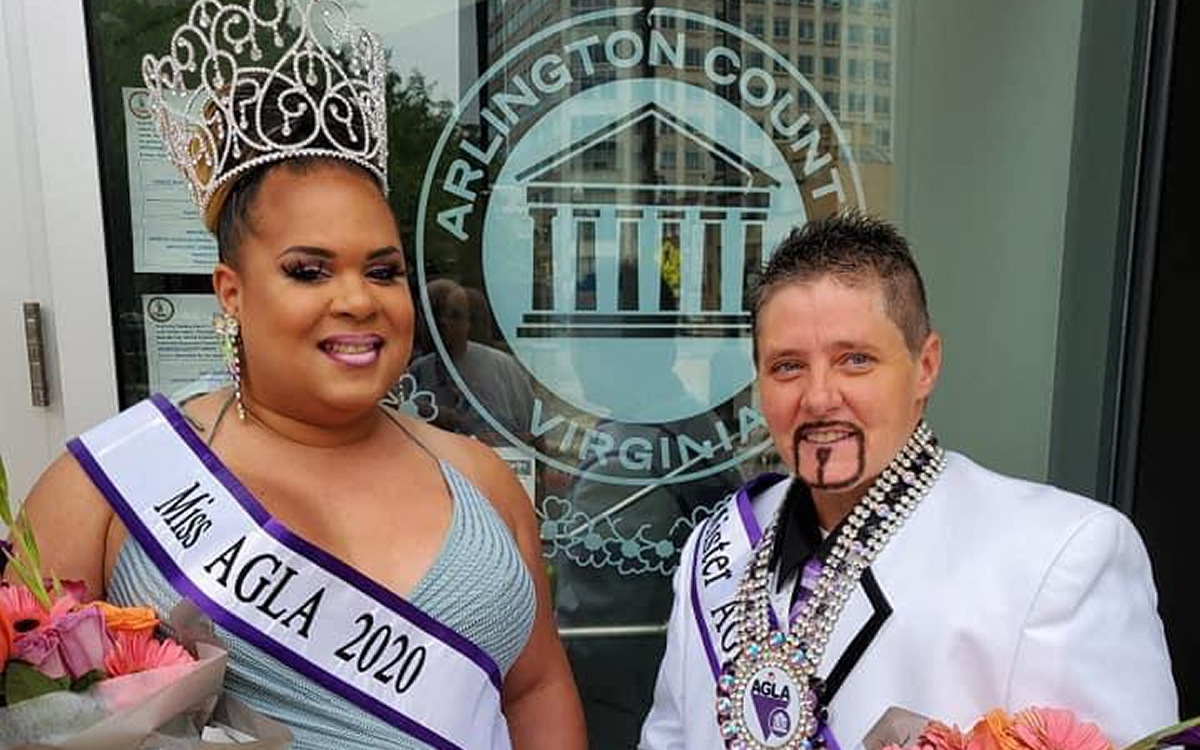 Sunday, August 14
7-9 p.m.
Freddie's Beach Bar & Grill
555 23rd Street S
Arlington, Va.
$10 donation requested
Facebook
Join a fundraiser for a good cause: a college scholarship for an outstanding Arlington County Public High School senior. Also, the 2022 Mr. and Miss AGLA will be crowned.
---
PHOTOS: United Night OUT
Team DC and Federal Triangles honored at halftime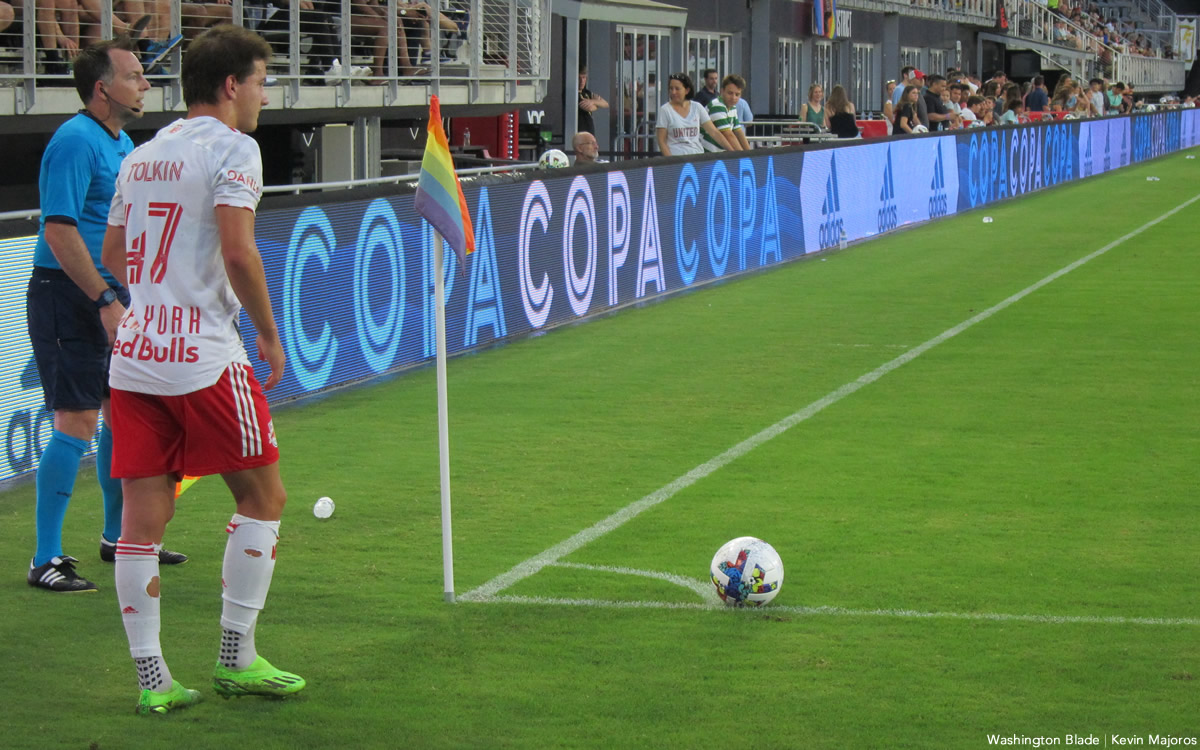 United Night OUT 2022 was held on August 6 at Audi Field with DC United taking on their Atlantic Cup rivals, the New York Red Bulls. The two teams battled to a 0-0 scoreless draw in their 99th meeting. The LGBTQ community event was co-hosted by Team DC and the Federal Triangles Soccer club who were both honored at halftime.
(Washington Blade photos by Kevin Majoros)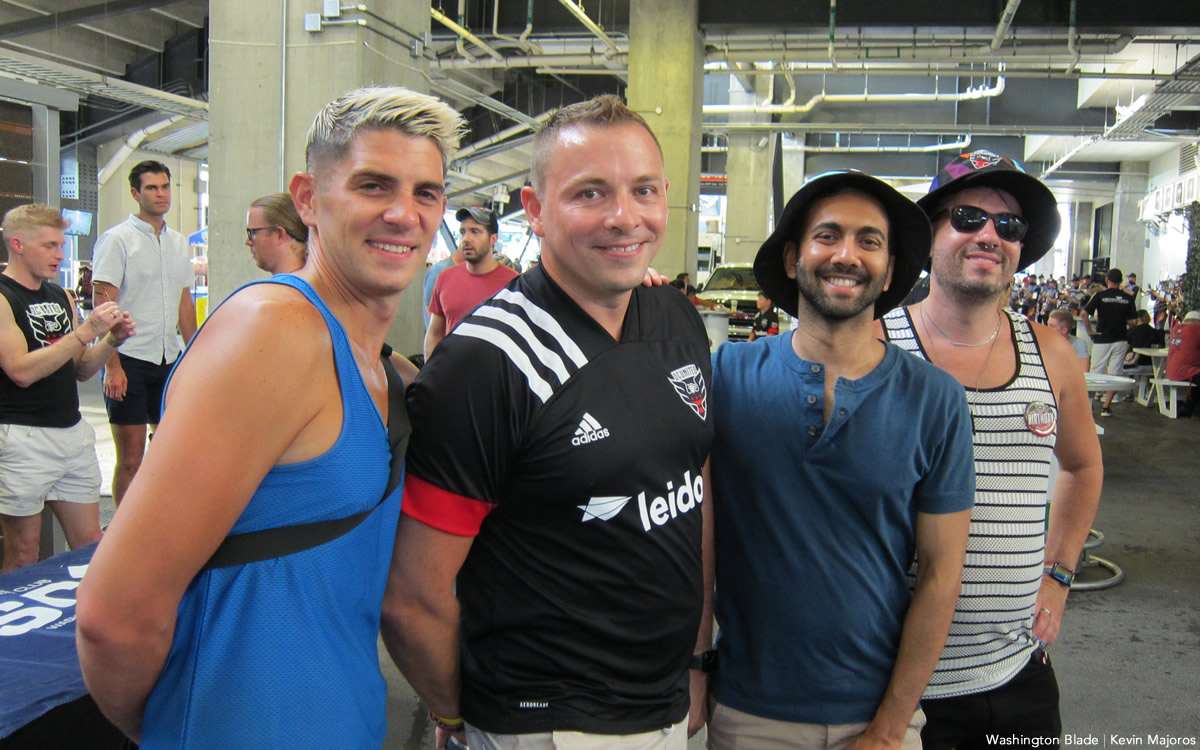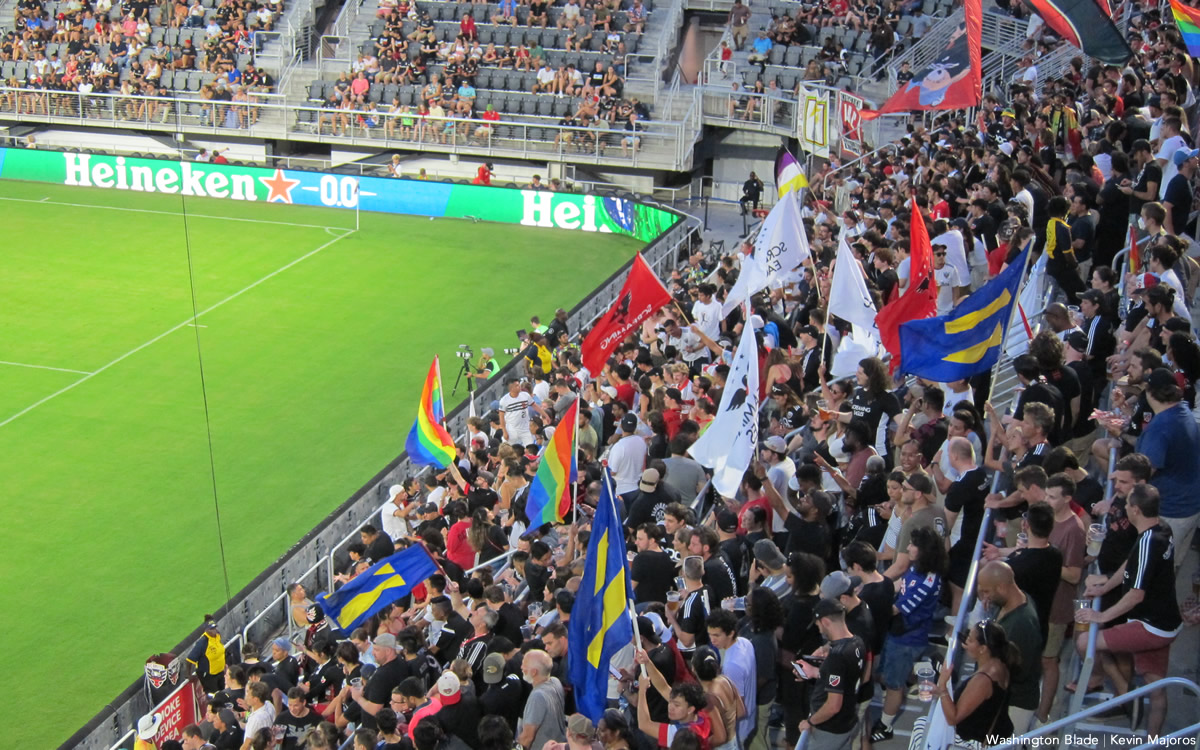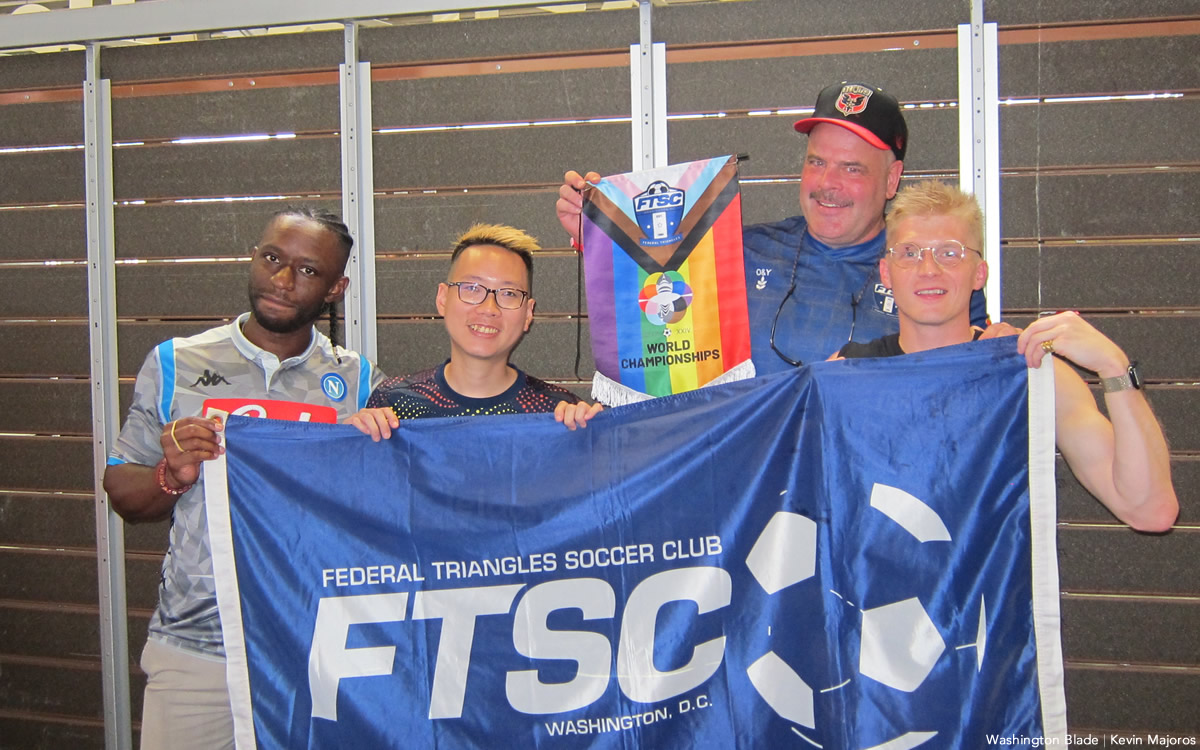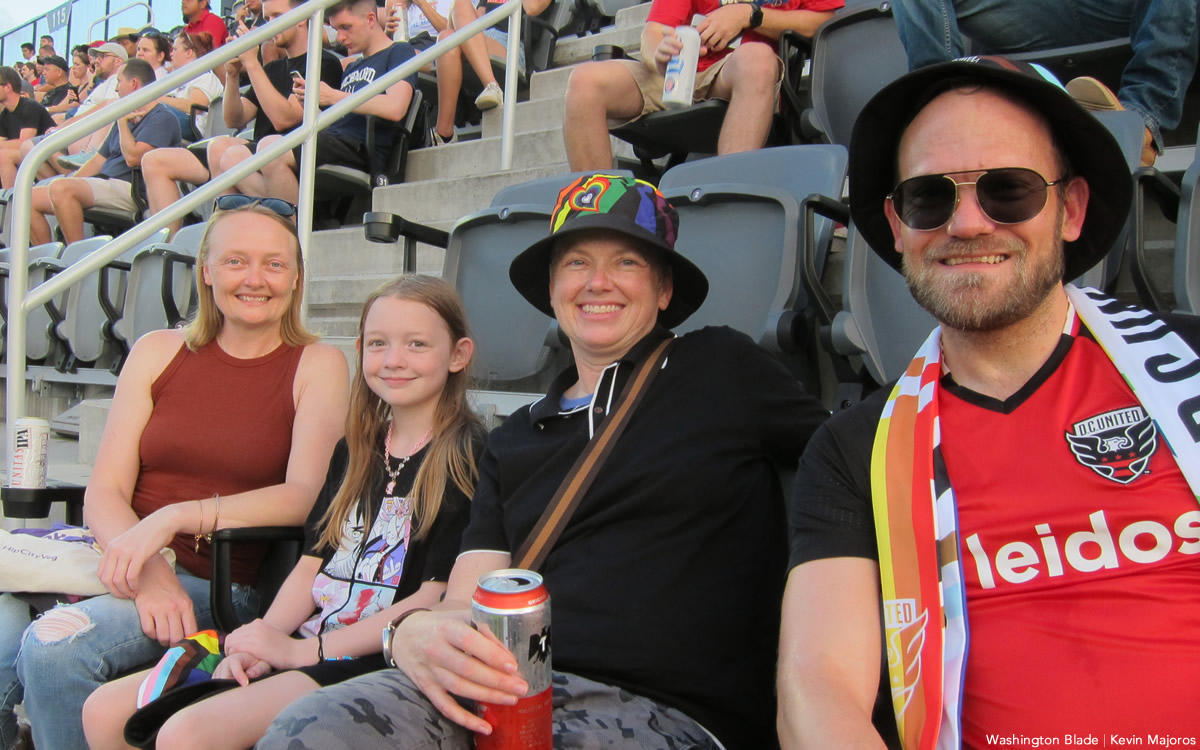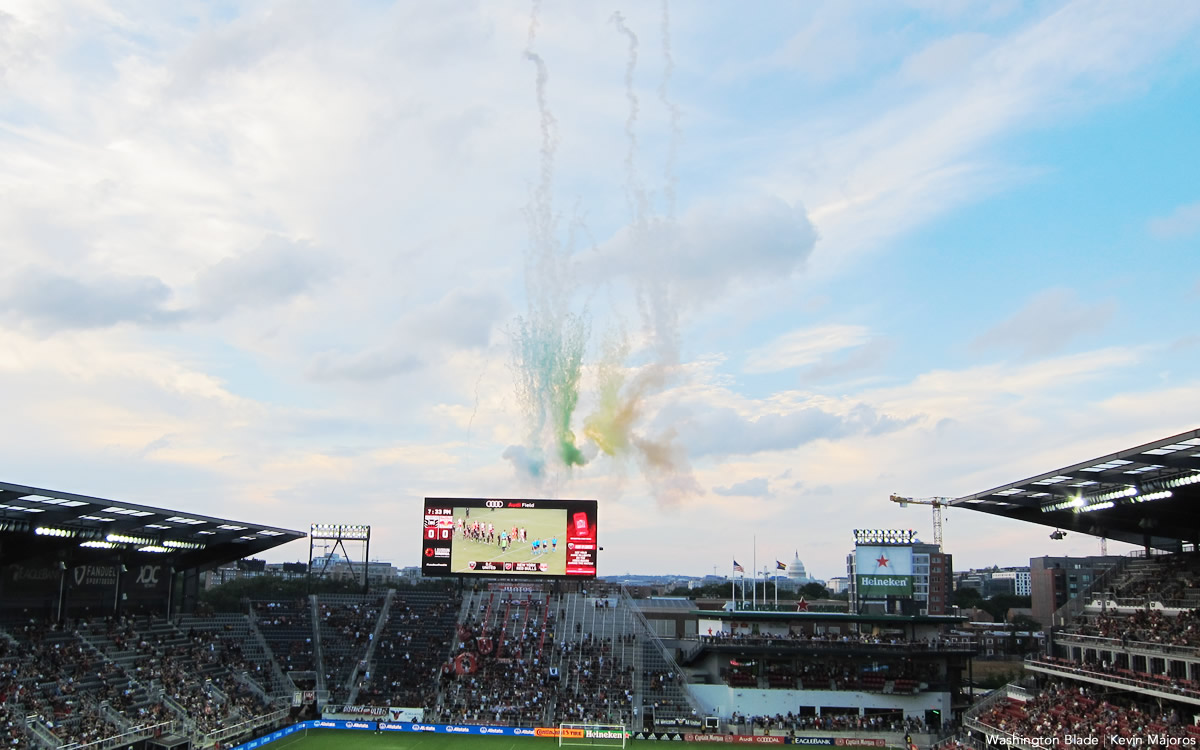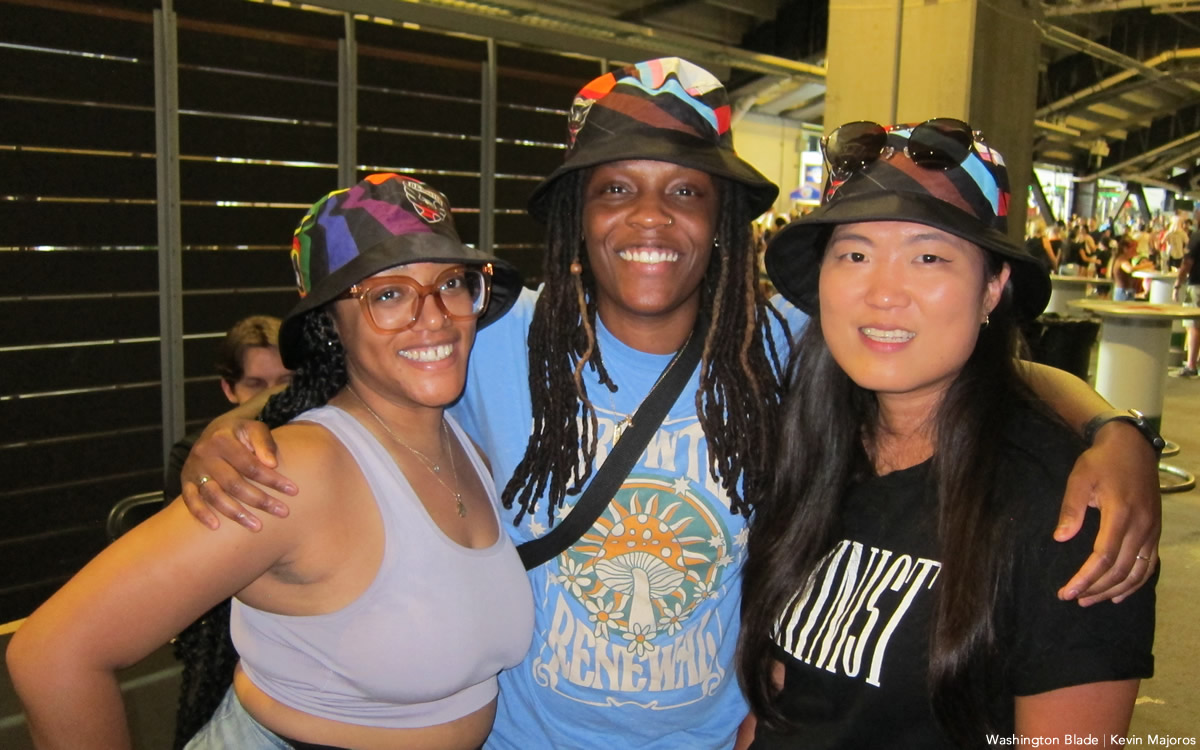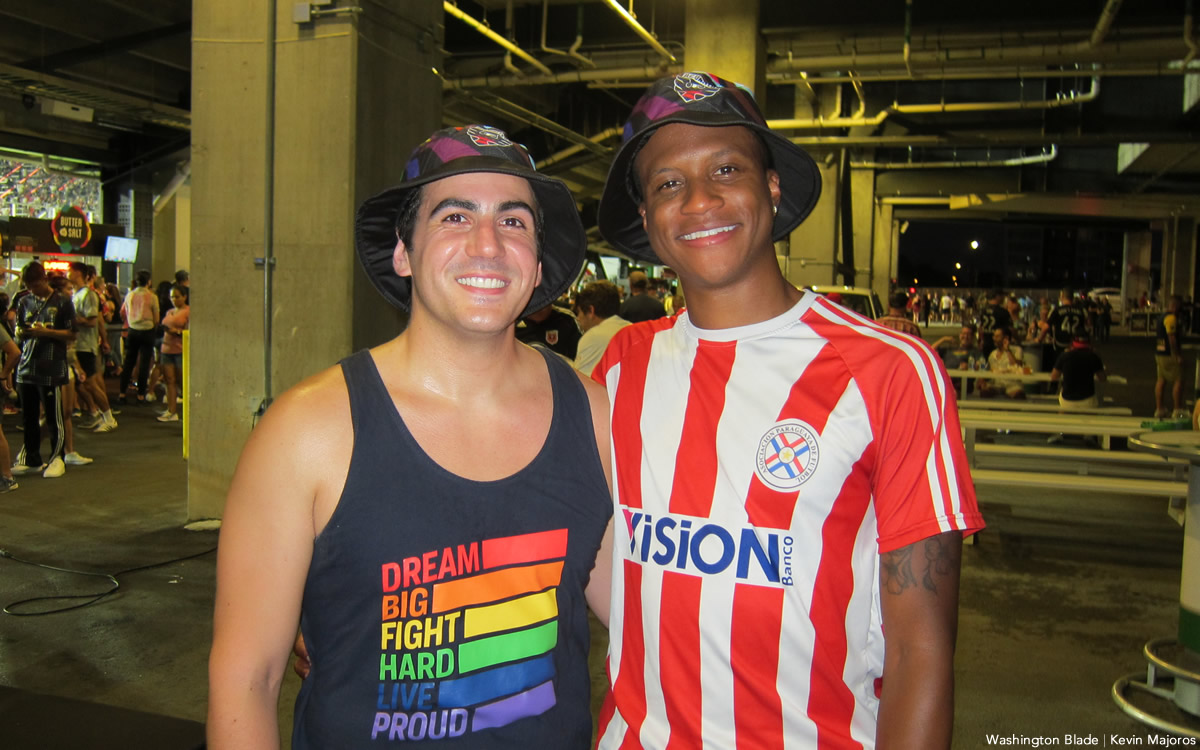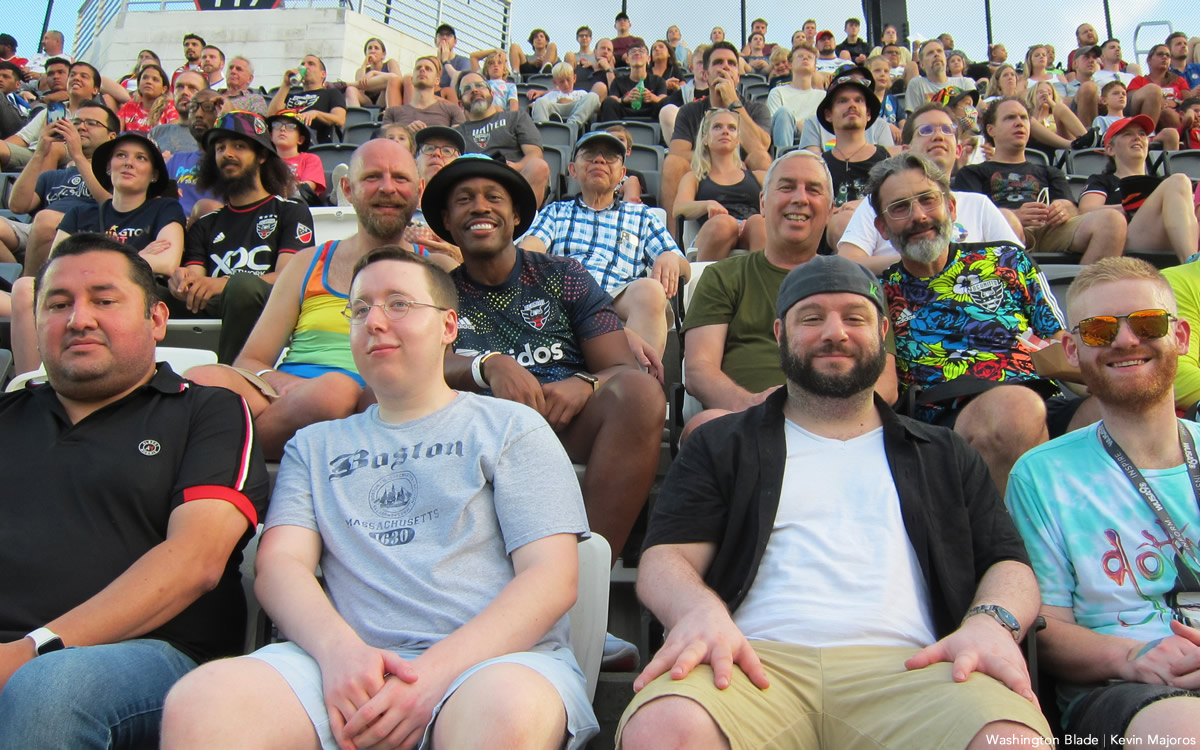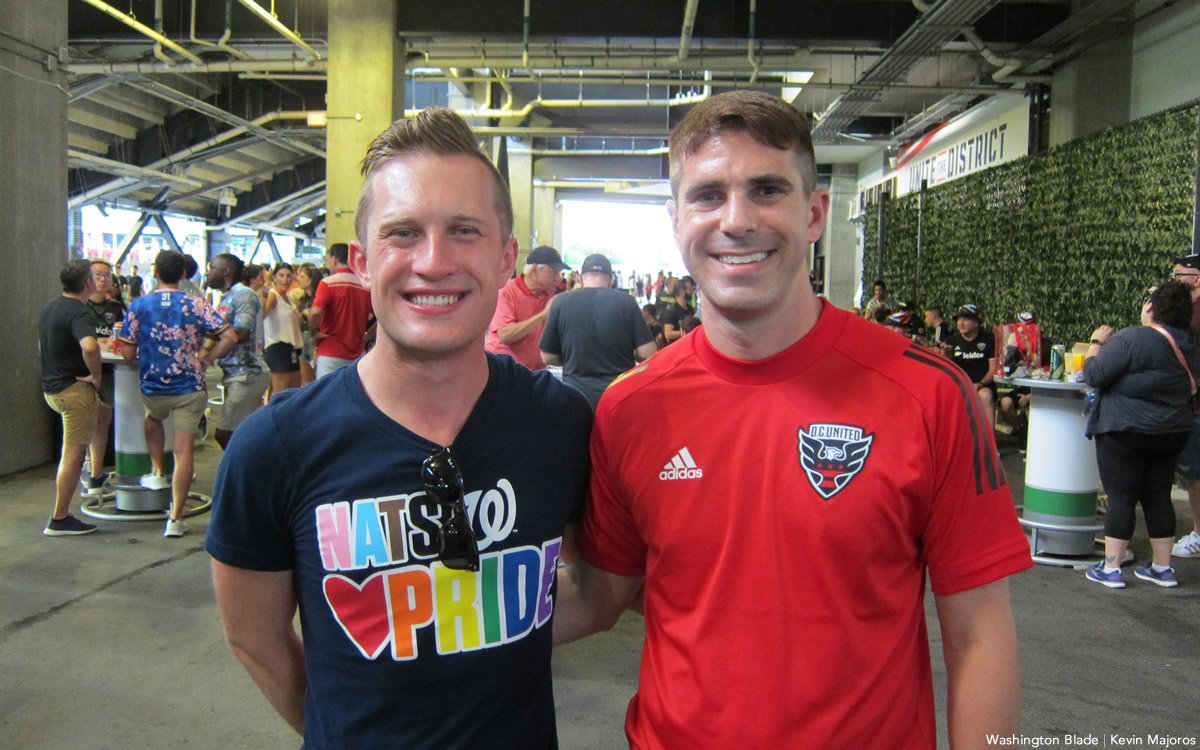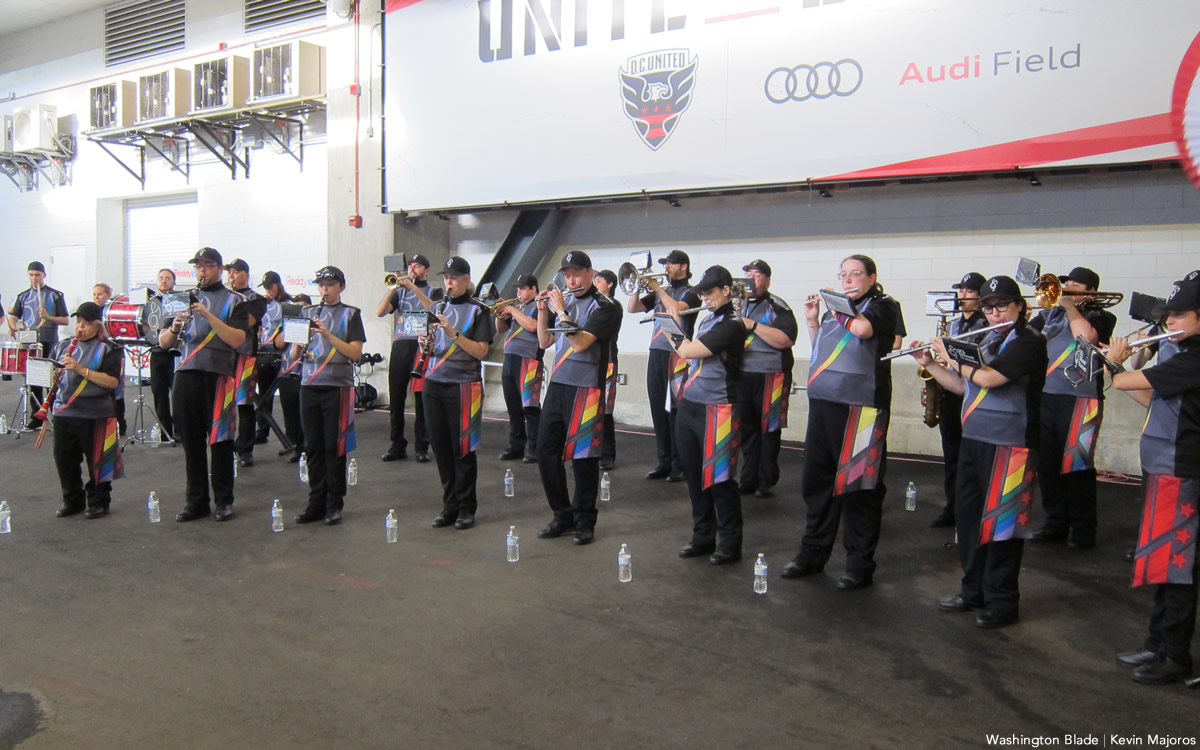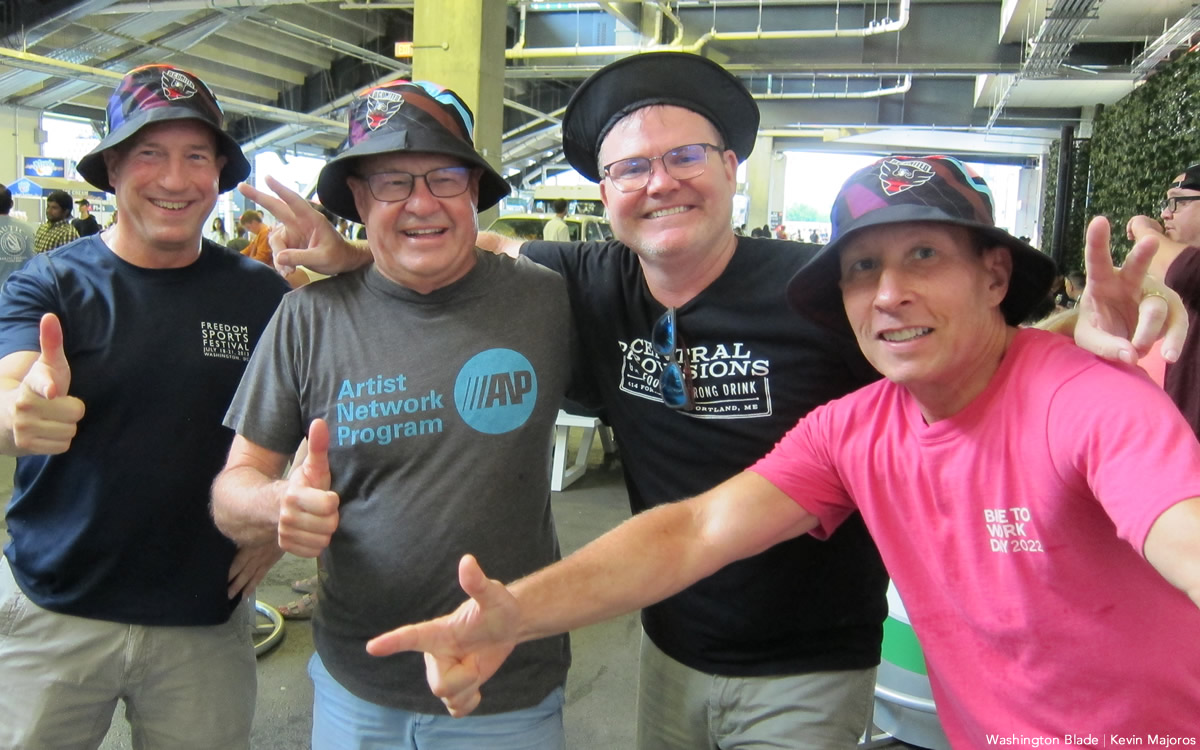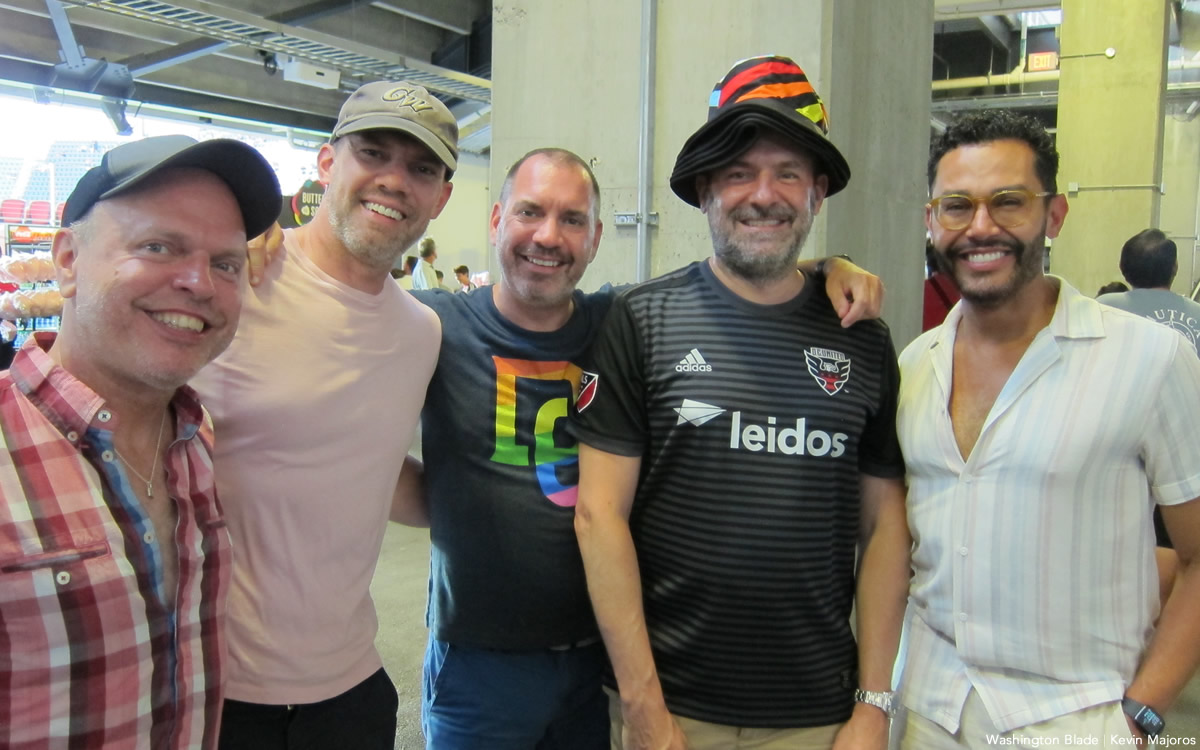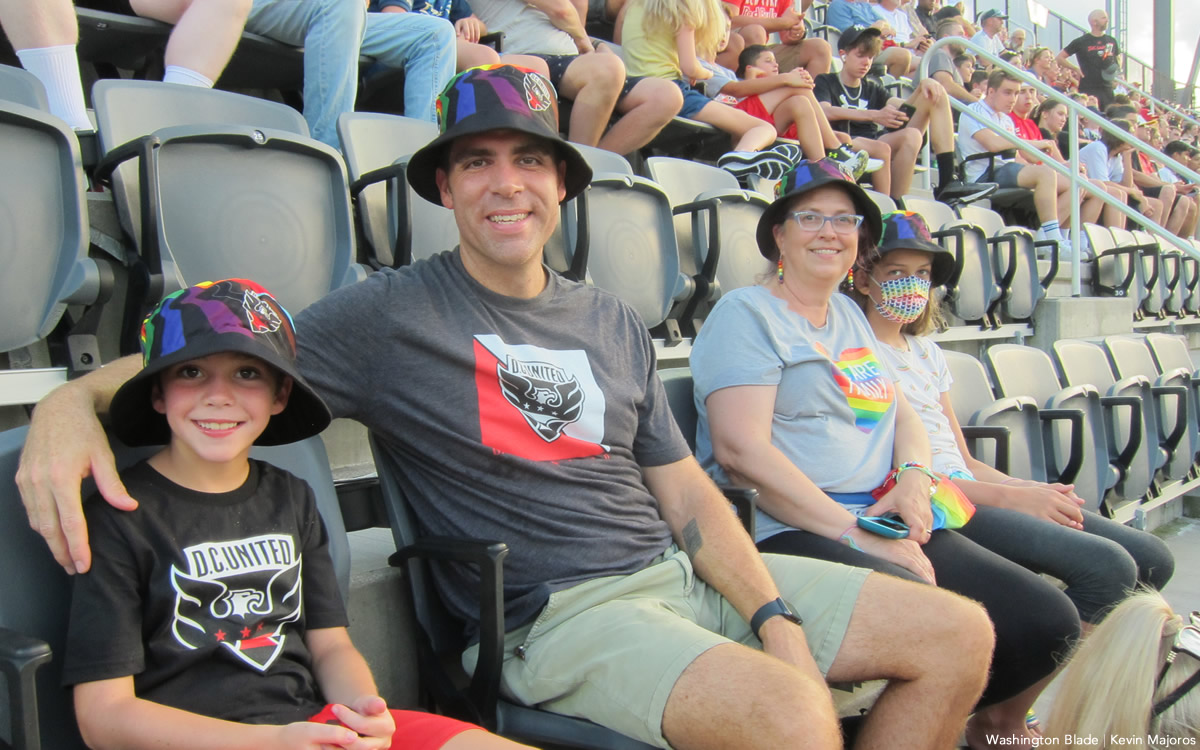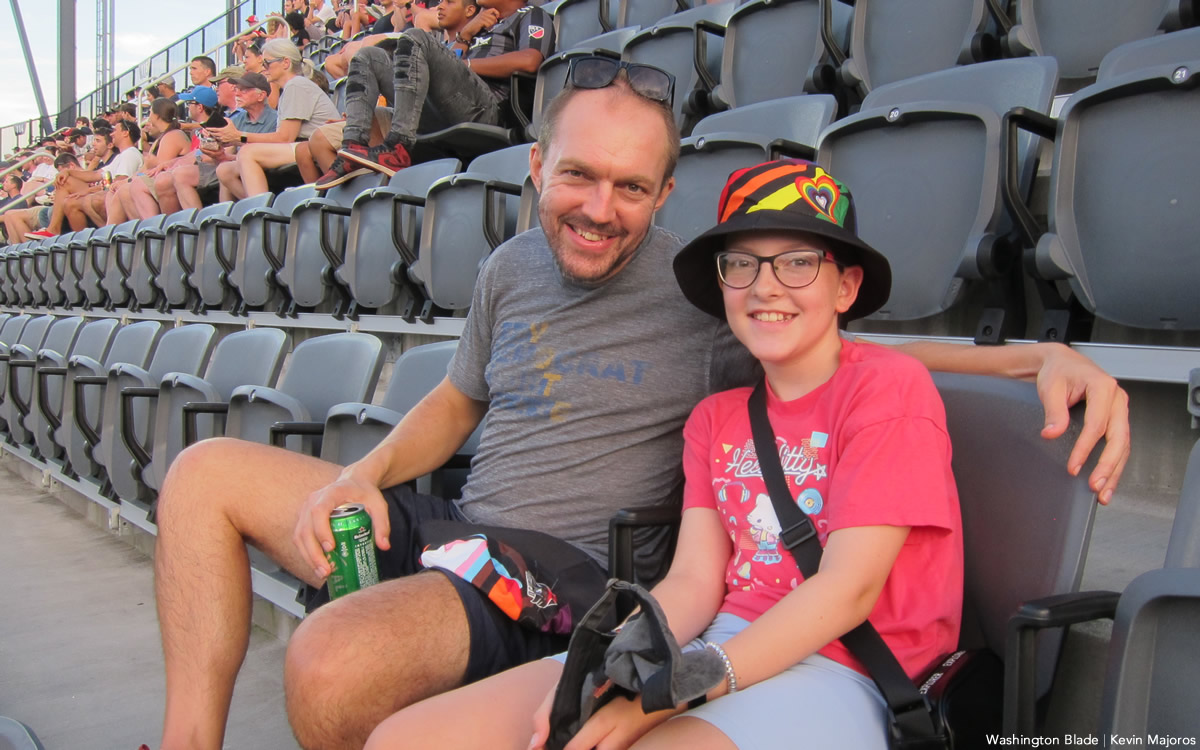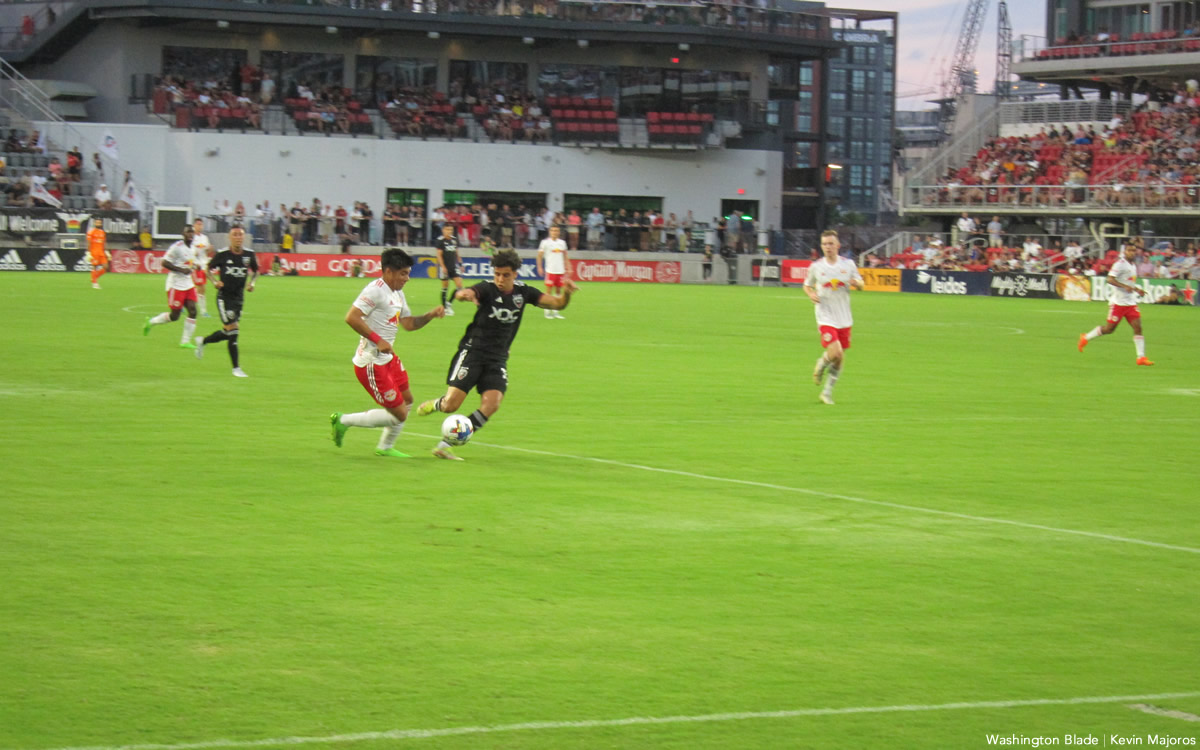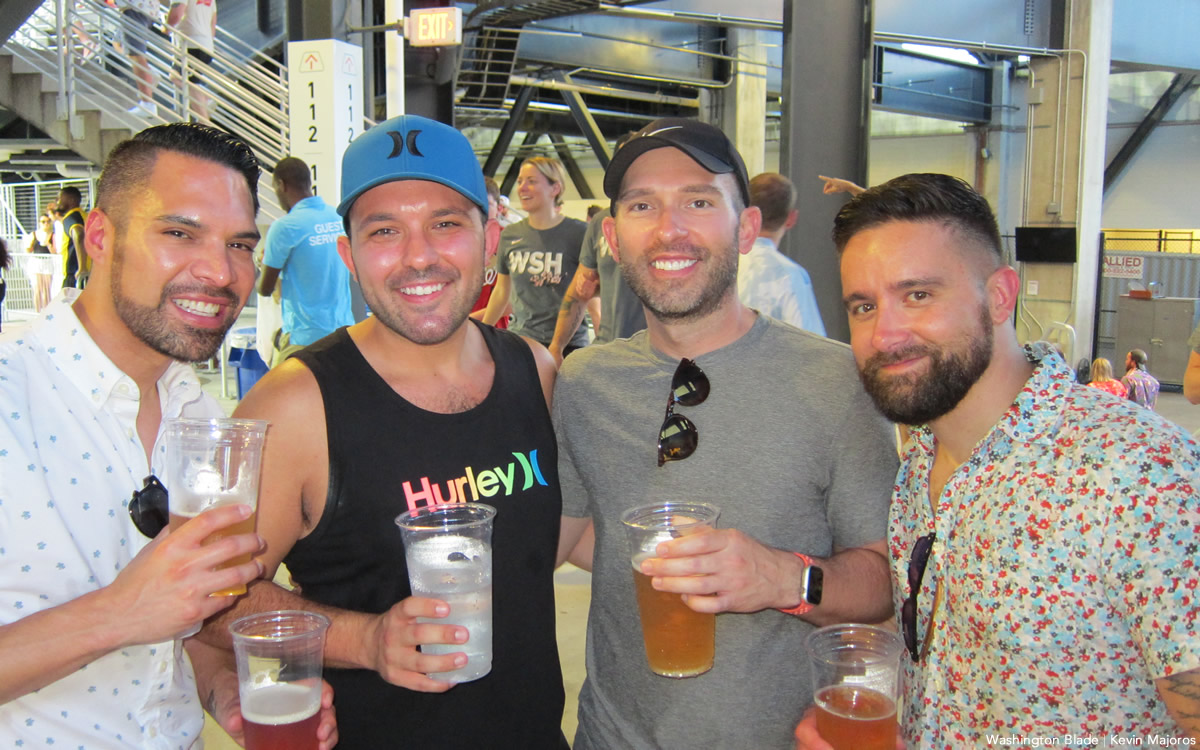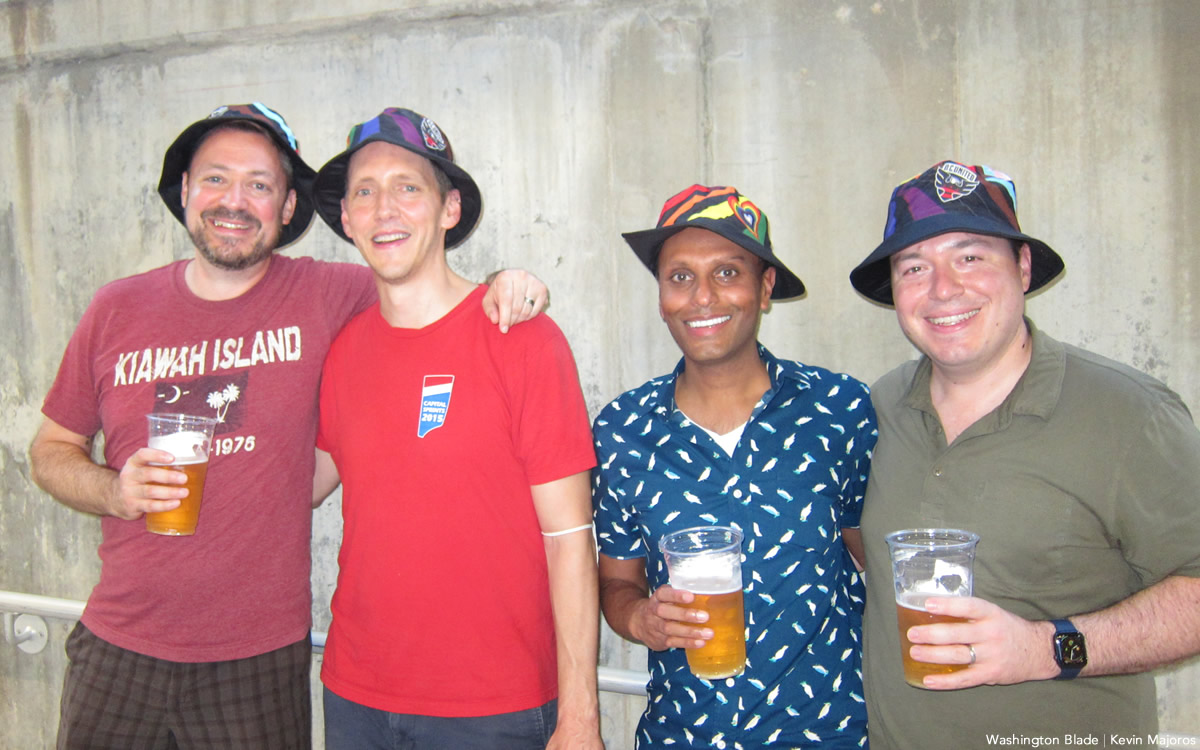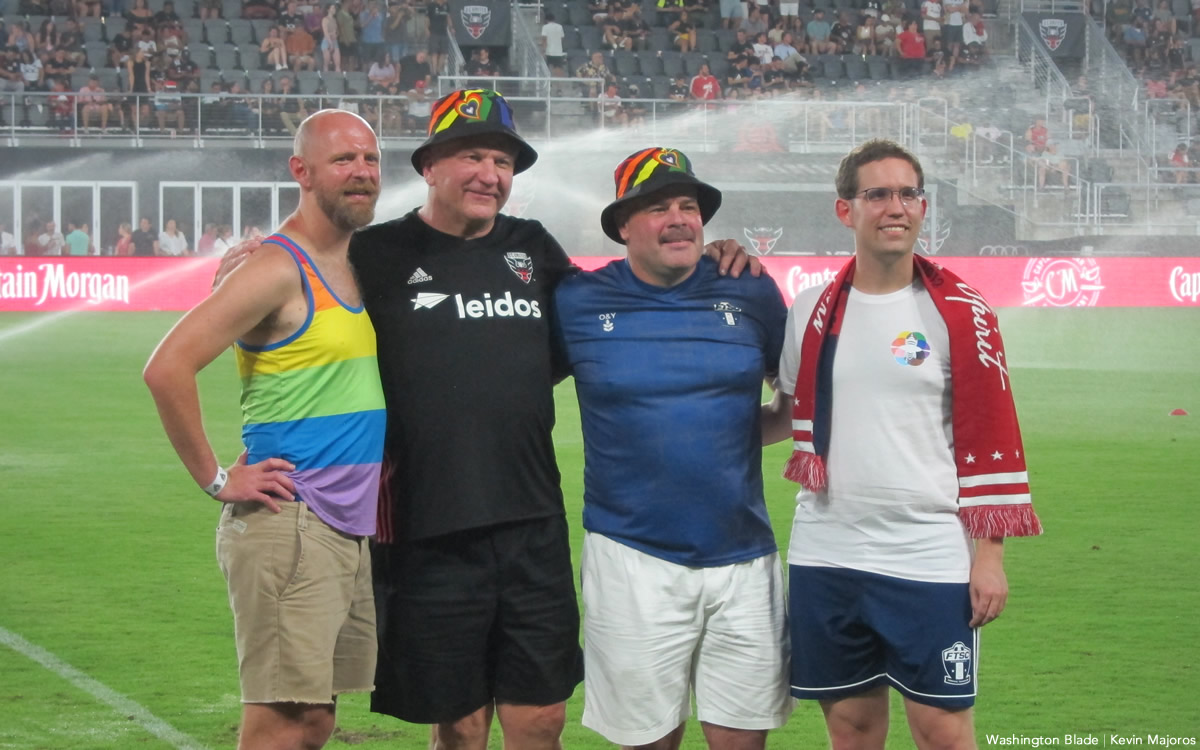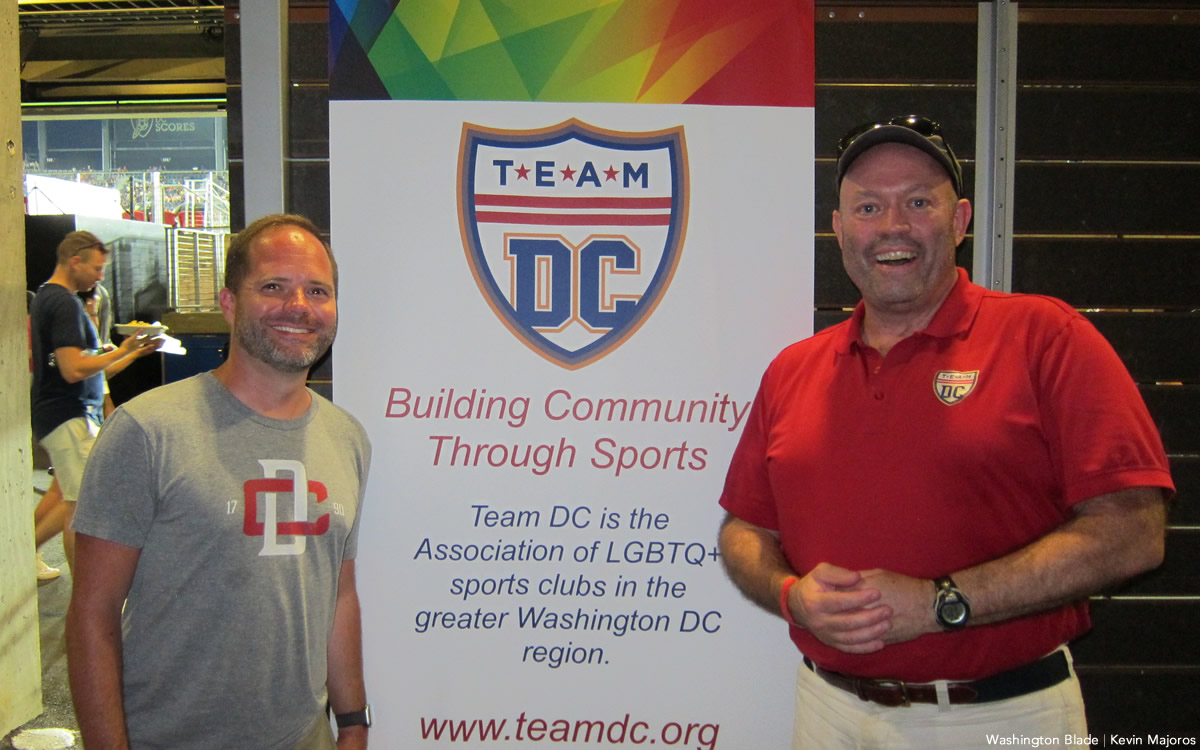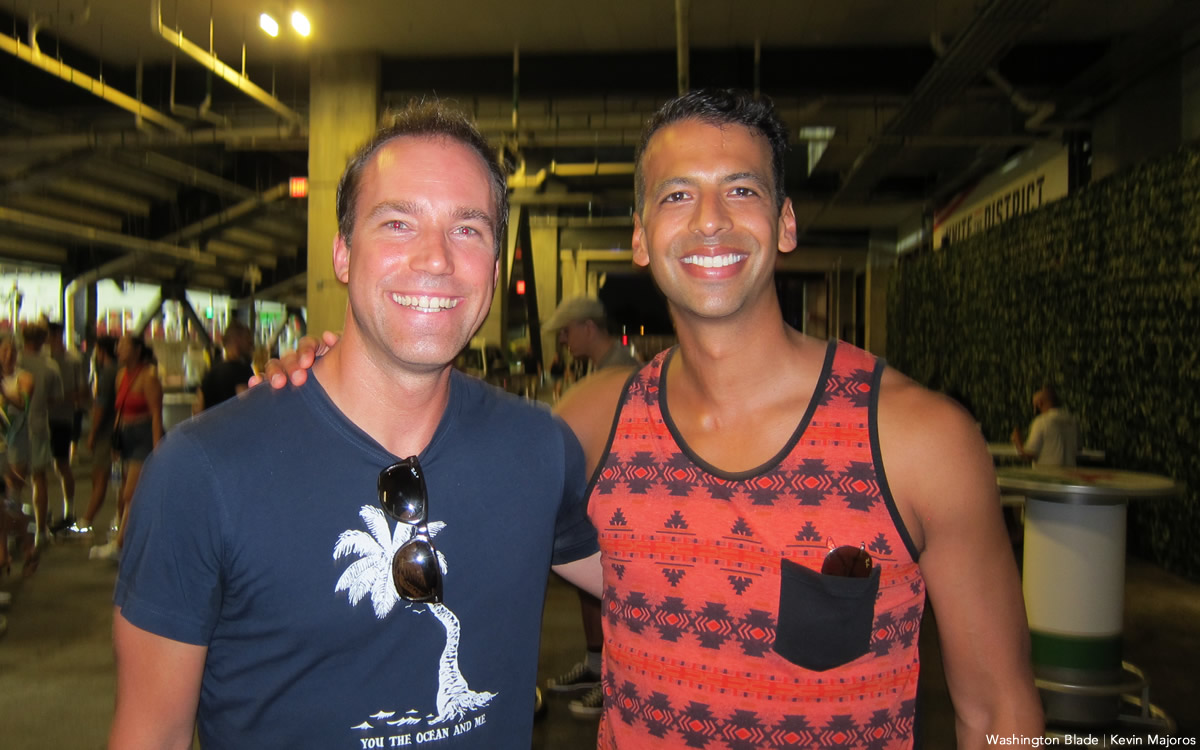 Abbi Jacobson engaged to her girlfriend Jodi Balfour
Last week, Jacobson and Balfour made their first red carpet debut at the Los Angeles premiere of A League of Their Own.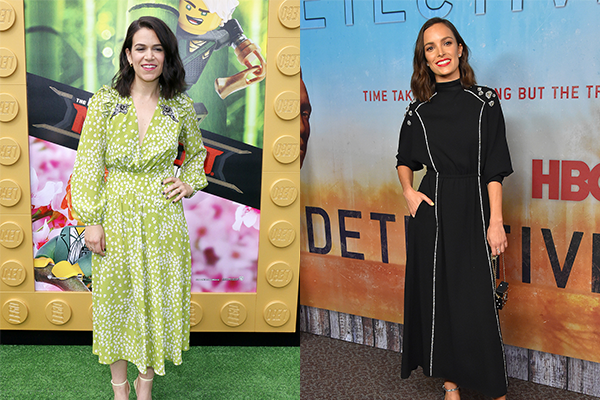 Abbi Jacobson, the Emmy Award nominee, is engaged to her girlfriend Jodi Balfour. She confirmed the news to People as she celebrated with her costars in the upcoming Amazon Video series A League of Their Own.
D'Arcy Carden, the costar and Jacobson's friend of 15 years, said, "It's out. It's great. We're so happy. We love [Jodi]."
"Abbi's engaged! Abbi's engaged! Abbi's engaged!" Chanté Adams, also a costar in the upcoming series, followed, "We've had to hide it for … No, I'm kidding."
"No, you have not. You have not had to hide it." Jacobson responded, blushing, "That was not a thing. It was not a secret."
Last week, Jacobson and Balfour made their first red carpet debut at the Los Angeles premiere of A League of Their Own.
The couple started dating in 2020 and celebrated their first anniversary last October. Jacobson shared some selfies of them on instagram: "One year with this incredible human. Don't know how I got so lucky ❤️."
Likewise, Balfour wrote in the caption: "365 days of the best surprise of my life 💚."
Jacobson officially came out as a bisexual in the interview with Vanity Fair. "I date men and women," she said, adding as long as the person is "funny" and is "doing something they love."
Balfour, a South African actress, is known for her performances on For All Mankind, Supernatural, The Crown and True Detective.
Jacobson is both cast and co-creator of A League of Their Own, in which she would tell the stories of these LGBTQ women in the 1940s. She also talked about Maybelle Blair, a consultant of the show as well as a former All-American Girls Professional Baseball League player who came out at 95.
"But Maybelle's point of view, specifically on the All-American Girls Professional Baseball League experience, what that was like to play baseball at the time, what it was like to be a queer woman in the league, was pretty important for some of the stories we were telling. But at Tribeca, she had not come out publicly and that was so incredible. And don't you feel like it's like, '95!' I'm like, 'This show needs to come out.' She came out because we made this show."
The first episode of A League of Their Own will be released on August 12.