EXCLUSIVE: Mizeur eyeing run for Md. governor
Lesbian lawmaker says she would make 'a good chief executive'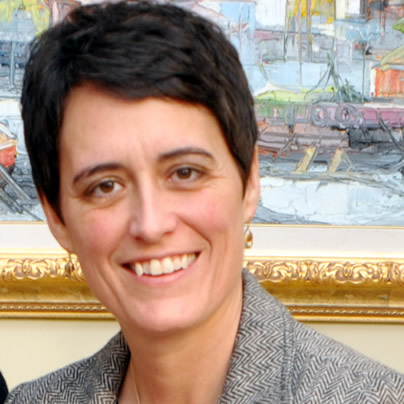 Heather Mizeur, a lesbian member of the Maryland House of Delegates, said she's seriously considering a run for governor in an exclusive interview with the Washington Blade this week.
"I'm taking a very serious look at it," Mizeur said. "I can't say for sure what 2014 is going to bring but … I know that I would make a good chief executive. I have good ideas for keeping Maryland moving forward."
A run by Mizeur would mark another key milestone in the LGBT rights movement. If successful, she would be the first to win election as an openly gay candidate for governor in the country. Former New Jersey Gov. Jim McGreevey announced he is gay and then promptly resigned from office in 2004 after disclosing he'd had an extramarital affair with a male adviser.
Mizeur said she only recently began thinking of running and was inspired by the results of last week's elections.
"Right now we're taking stock of what happened in the last election," she said. "It was incredible to see a big win with Tammy Baldwin being elected the first openly gay senator and Kyrsten Sinema making history in Congress. It really has inspired us to keep pushing forward. So, yes, I'm seriously considering running for governor because we need more diverse voices at that level of government."
Mizeur, who turns 40 in December, is a Democrat who represents the 20th District, which includes Silver Spring, Takoma Park, White Oak and other areas in progressive Montgomery County. She was first elected to the legislature in 2006.
Marylanders will elect their next governor in November 2014. Democratic Gov. Martin O'Malley is serving his second and final term. Several high-profile figures are expected to run for the office, including Lt. Gov. Anthony Brown, Attorney General Douglas Gansler, Comptroller Peter Franchot and Howard County Executive Ken Ulman.
Mizeur's potential competitors have a significant advantage when it comes to cash on hand. Gansler has more than $4 million in cash on hand as of an April report; Ulman had $1.3 million as of June; and Brown had $810,841 according to a January report. Records show Mizeur had about $216,000 in cash on hand, according to a January report.
"That's one of the biggest things I'm weighing in deciding to get in the race," she said regarding fundraising. "I only started thinking about this race recently and the other candidates planning to run have been planning to do this for a really long time so they have a head start in the money chase. I also spent 2012 raising money and working on winning Question 6, rather than raising money for myself."
She added that she won't get in the race unless she can be competitive financially. Mizeur would certainly tap a national network of donors from her seven years as a Democratic National Committee member and experience working on the Hill and on political campaigns. She worked for former presidential candidate Sen. John Kerry's campaign and famously endorsed Barack Obama for president in 2008 after attracting national attention over whether she'd back him or rival Hillary Rodham Clinton. Additionally, a Mizeur candidacy would likely attract support from the Gay & Lesbian Victory Fund given the opportunity for a barrier-breaking race and from EMILY's List considering there is only one Democratic female governor currently in office in the country. The Victory Fund endorsed her in 2006 and 2010 but said it is premature to discuss another endorsement at this time.
"At this point, our work to grow the number of out elected officials in America involves a lot of firsts, a lot of milestones," said Victory Fund President and CEO Chuck Wolfe, when asked about a potential Mizeur run for governor. "One of those would obviously be helping to elect an out candidate as a governor, which has never happened. With more than 100 openly LGBT state legislators now in office, and the most-ever out members of Congress preparing to be sworn in, that day may come sooner than many imagine."
When asked whether he had any thoughts about Mizeur's potential gubernatorial campaign, O'Malley told the Blade on Tuesday, "Not really, I'm supporting Lt. Gov. Anthony Brown wholeheartedly for governor of Maryland."
Mizeur declined to say when she expects to make a final decision on the race, noting that right now she's dedicated to preparing for the upcoming legislative session in Annapolis. But to be competitive, she would likely need to make a final decision by early spring, just after the session ends.
"We have a robust slate of issues to address next year, including fracking, paid sick days for employees and job creation efforts," she said.
Given the expected competition from a sitting lieutenant governor backed by the popular O'Malley — not to mention Gansler, who has long been vocal about his support for marriage equality — what makes Mizeur think she can compete?
"I'm out giving speeches and working with people across the state and they're encouraging me to get in this race," she said. "They're telling me we need your passion and message — I'm not the candidate that's just next in line or seeking a professional promotion; I'm out there expressing what I believe and trying to rally communities around those ideas and common purpose. And that's where this came from — from the ground up."
Some have speculated that Mizeur is positioning herself for lieutenant governor, a rumor that she dismissed with a curt, "I'm usually not a plan B person."
Mizeur said Maryland's next governor must focus on jobs and the economy. In a high-profile split with O'Malley earlier this year, she came out against ballot Question 7, which ultimately passed and allows for an additional casino to be built and for table games at existing casinos in the state.
"I spent a lot of time speaking against gaming as a failed form of economic development for the state and instead talked about a range of ideas for job creation — rebuilding schools, transportation is at a crisis point in the state … workforce development." She said that construction of the Purple Line in the D.C. suburbs would create 27,000 jobs while Baltimore's proposed Red Line would create another 15,000. She also noted that the state's health care needs should bring another 120,000 related jobs over 10 years to the state. She has long worked on health-related issues and looks forward to playing a role in implementing the federal health care reform law.
Mizeur married her spouse, Deborah Mizeur, in 2005 at a ceremony along the Chesapeake Bay.
"We married in front of family and friends and God; we just didn't get any rights associated with it," she said. "Seven years later, here we are."
The couple traveled to California and were married just before voters there enacted Proposition 8 in 2008, which ended same-sex marriage, though couples already wed remained legally married. She said they won't have another ceremony now that Maryland has approved marriage equality, because their California marriage is now fully recognized here. The two live in Takoma Park with a dog, Chester, and two cats and own a consulting business, the Mizeur Group, which does federal policy analysis work. They also own an organic herb farm in Chestertown, Md.
She and Deborah spent election night at a Baltimore celebration along with O'Malley and Baltimore Mayor Stephanie Rawlings-Blake.
"Deb and I were all smiles — we hugged and embraced and said this is what a happy legally married couple looks like," she said, upon hearing that Question 6 passed. "It's still hard to put into words. You never want to have your civil rights put to a majority vote but it was incredibly fulfilling knowing that Marylanders across the state … stood up to do the right thing."
The battle over Question 6 was a contentious one with a diverse coalition of in-state and out-of-state groups claiming a piece of the credit for its passage, sometimes leading to heated accusations. One advocate, who spoke on condition of anonymity, accused Freedom to Marry's Evan Wolfson of telling a "big fat lie" when touting his organization's contributions to the fight. Josh Levin, campaign manager of Marylanders for Marriage Equality, said that although Mizeur was helpful, she could have done more.
"Del. Mizeur helped raise some money for the campaign, but wasn't closely involved," Levin said. "She helped with a few events, but others did far more and her attention was clearly more focused on other priorities, including a potential statewide run."
Mizeur disputes that characterization, noting her participation in fundraising events, testifying on behalf of the bill and delivering an emotional floor speech prior to the vote. Mizeur said she and the other seven openly gay and lesbian members of the state legislature devoted much of 2012 to the marriage cause.
"Each of us was working hard in our own way," she said. "My entire public schedule was Question 6-related for months."
With that fight over, she said the next job for the state's LGBT advocates is to push for non-discrimination protections based on gender identity and to work on causes important to those who joined the coalition for marriage equality.
"It's important for our community to be seen as coming together to work on issues that are outside LGBT priorities," she said. "We only won Question 6 because we had an amazing coalition that crossed party lines, age, race. We can't just be seen as fighting for this form of equality and turning a blind eye to other causes." She cited hunger, school achievement gaps, living wage and reforming the criminal justice system as priorities.
Mizeur talks openly about her Catholic faith but said she did not encounter any anti-gay sermons over the marriage issue this year because she goes to parishes run by Jesuits who are more progressive. Despite the Catholic Church's prominent role in funding anti-gay causes around the country, Mizeur contends it's important not to abandon the church.
"We have to fight for change from within," she said. "If all progressive Catholics left, there'd be no reason to live up to the church's potential."
Mizeur was raised in a tiny farming community in rural Illinois called Blue Mound, population 1,100. She's from a fifth generation farming family, but her father was a factory worker and UAW member his entire career. She spent time with him on picket lines, which helped inspire her pursuit of public service.
The experience of walking picket lines "taught me the value of sacrifice and hard work and standing up for the courage of your convictions," she said. "Catholic teachings on social justice also inspired me."
Michael K. Lavers contributed to this report.
Us Helping Us reaches settlement in $3.8 million lawsuit
Construction firm accused LGBTQ group of breach of contract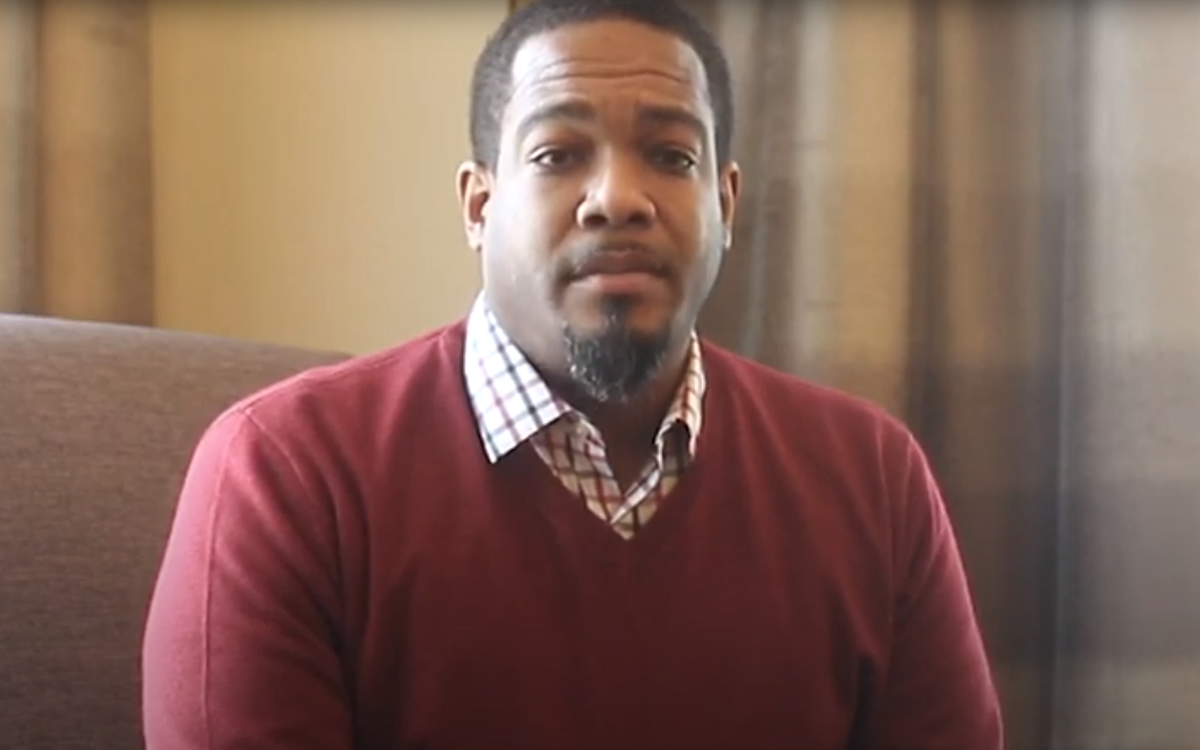 The D.C.-based LGBTQ health and HIV services organization Us Helping Us, People Into Living and The Kier Company, which filed a $3.8 million lawsuit against Us Helping Us in November 2020 alleging a breach of contract for its renovation of the group's headquarters building, have reached an out-of-court settlement in the case, according to court records.
Us Helping Us Executive Director DeMarc Hickson, who this week informed the Washington Blade about the settlement, said the two parties have decided to keep the terms of the settlement confidential.
Documents filed by the two parties in D.C. Superior Court over the past two years show that settlement discussions began in early 2021 as part of a mandatory mediation under court rules for all lawsuits. But the records show that an agreement between the two parties to settle the case did not take place until April of this year.
The Kier Company, which provides interior design and general contracting services for residential and commercial buildings, charged in its lawsuit that Us Helping Us violated the terms of its contract for the renovation of its D.C. headquarters building at 3636 Georgia Ave., N.W. The company claimed Us Helping Us failed to pay the remaining balance of $101,002 out of a total cost for the renovation project of $320,234.
The lawsuit accused Us Helping Us of multiple violations of various provisions in the contract it signed with the company, including a failure to remove office furniture from the building during the construction work and the presence of Us Helping Us employees in the construction areas. All of this, the company charged, resulted in "overtime" and "weekend" fees totaling $3,366,000 over and above the original stated cost of the entire project.
Us Helping Us stated in its response to the lawsuit that it withheld the final payment because The Kier Company failed to complete the renovation work specified in the original contract and subsequent change orders calling for additional work. Us Helping Us also claimed that some of the work performed by the company was of poor quality, requiring Us Helping Us to arrange for "remedial construction" services from another company.
It disputed the company's claim for overtime and weekend charges, saying the company had agreed to perform its construction work while Us Helping Us employees worked in areas of the building when and where renovation work was not taking place.
Court records show that Us Helping Us filed a counterclaim accompanying its response to the lawsuit demanding that the Kier Company pay $37,400 in compensatory and actual damages for the costs Us Helping Us incurred to hire another contractor to complete the work it said the Kier Company did not complete.
The court records also show that Superior Court Judge Fern Flanagan Saddler, who presided over the case at that time, denied motions by both sides calling for him to end the case by ruling in their favor. He issued his denial of both motions in a joint ruling handed down on Dec. 28, 2021.
In an April 22, 2022, motion filed by attorneys for The Kier Company, the company informed the judge that the two parties, following mediation, agreed in principle to settle the lawsuit.
"Counsel for the parties are currently in the process of preparing and finalizing the terms of the settlement," the motion states.
The court docket shows that Judge Maurice A. Ross dismissed the lawsuit in a ruling handed down on July 22, 2022, that said the dismissal would officially take place 14 days later on Aug. 12.
"The parties previously filed a notice of settlement," the court docket states.
"For over 30 years, Us Helping Us has been providing innovative care and services to improve the health and well-being of Black, gay men," the nonprofit group says in a statement on its website. "We work every day to reduce the impact of HIV/AIDS in the entire Black community by providing care to anyone who walks through our door," the statement says.
Hicks, the Us Helping Us executive director, told the Blade this week that the group is currently providing monkeypox related support services for people it provides other services for.
Man accused of assaulting lesbian activist surrenders to D.C. police
Aiyi'nah Ford attacked at Congress Heights bar earlier this month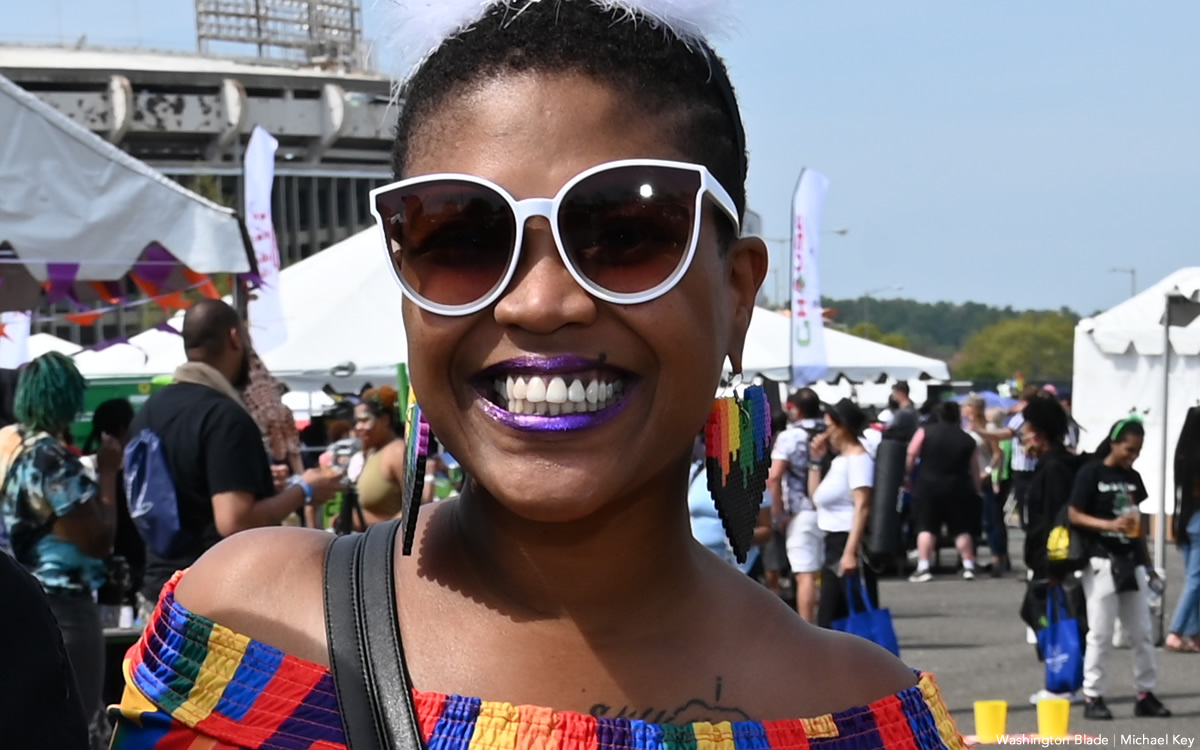 D.C. police on Aug. 11 charged a 46-year-old D.C. man with assault with a dangerous weapon in connection with an incident earlier this month in which lesbian activist Aiyi'nah Ford said she was hit in the head three times with the metal legs of a barstool wielded by a man yelling anti-gay names at her.
A police report says the incident took place at the Player's Lounge, a restaurant and bar at 2737 Martin Luther King Jr. Ave., S.E., in the city's Congress Heights neighborhood shortly before and after midnight on Aug. 3 and Aug. 4.
Police identified the man charged in the case as Donnell Anthony Peterson, who police say is a resident of 1200 block of Southern Avenue in Southeast D.C.
Ford told the Washington Blade that Peterson, who is a regular customer at Player's Lounge as is she, assaulted her after the two got into a verbal argument over, among other things, the city's violence interruption program. Ford said she told Peterson and others who were having a discussion that she considered the program to be ineffective and a "joke."
It was around that time, Ford said, that Peterson began repeatedly calling her a "dyke bitch" and threatened to shoot her.
The arrest affidavit says witnesses reported seeing Ford covered in blood from a serious head injury before an ambulance arrived on the scene and took her to George Washington University Hospital, where she was treated for a head and scalp wound that required multiple stitches.
The affidavit, which was filed in D.C. Superior Court, says Peterson on Aug. 11 "turned himself into the Seventh District Police Station," saying he did so after someone told him police issued a Twitter posting announcing he was wanted on an assault allegation.
Court records show that at the time of his arrest, D.C. police also charged Peterson with Possession with Intent to Distribute a Controlled Substance (Cocaine) based on an unrelated Aug. 26, 2021, outstanding warrant for his arrest on the drug charge obtained by U.S. Park Police.
The affidavit for his arrest on the assault charge says police learned about the outstanding U.S. Park Police arrest warrant when they conducted a criminal record background check after learning through a tip that Peterson was the person who allegedly assaulted Ford at Player's Lounge.
Court records also show that Peterson appeared before Superior Court Judge Renee Raymond on Aug. 12, one day after his arrest, for a presentment hearing in which Raymond ordered him held in the D.C. Jail until a scheduled preliminary hearing on Monday.
At the Monday hearing, through his attorney, Peterson waived his right to a full preliminary hearing and agreed that Judge Neal E. Kravitz, who presided over the hearing, would rule that prosecutors with the U.S. Attorney's office established probable cause that Peterson committed the assault. The probable cause finding means that the case can proceed to a trial.
While ruling in favor of probable cause, Kravitz denied a request by Assistant U.S. Attorney Alec Levy that Peterson continue to be held in jail pending trial. Levy argued that Peterson "viciously" hit Ford over the head with a barstool at least two times as shown on a video recording of the incident obtained from a camera from Player's Lounge video security system.
Levy also said that at the time Peterson assaulted Ford he used "derogatory" language referring to her sexual orientation.
But court records show that as of the time of the Monday hearing, the U.S. Attorney's office did not list the assault against Ford as a bias related crime.
In response to an inquiry by the Blade, a spokesperson for the U.S. Attorney's office said he would look into whether prosecutors were considering adding a bias or hate related enhancement to the assault charge.
As part of his argument for Peterson to be held while awaiting trial, Levy requested and received permission from the judge to show a segment of the video on a large projection screen in the courtroom. Peterson, who is seen in the video wearing a red shirt, is shown knocking Ford to the floor, and picking up a bar stool and twice hitting her in the head with the metal legs of the stool.
Levy concluded his argument by noting that Peterson has three prior convictions on drug related charges. The prosecutor said Peterson fled the scene when he was stopped in his car by U.S. Park Police who found cocaine in the vehicle in August 2021, which resulted in the warrant for his arrest being issued and which Levy called a fourth prior criminal offense.
Combined with the Assault with a Dangerous Weapon charge, Levy argued that Peterson should be held pending trial on grounds that he is a danger to the community.
Brandon Burrell, Peterson's court appointed attorney, argued that the current assault case was the only case in which Peterson is accused of a crime of violence. Burrell said that Peterson has never failed to appear at a court hearing in any of his prior arrest cases and is gainfully employed at a facility providing services to senior citizens in Ward 8.
Burrell also said he plans to point to evidence shown in the video of the assault at Player's Lounge that Ford acted in an aggressive and hostile way toward Peterson and that Peterson has grounds for making a case of self-defense. Levy disputed Burrell's claim that there may be grounds for self-defense. Levy said that, among other things, the video footage shows Peterson acting as the aggressor by violently wielding a bar stool as a weapon.
After listening to the arguments by the defense and prosecutor and after reading the arrest affidavit, which describes in detail the segments of the video that were not shown in the courtroom, Kravitz ruled that Peterson was eligible to be released into the court's high intensity supervision program. Kravitz ordered Peterson into "home confinement" at his residence in Southeast D.C. except for the time during the week when he goes to work at his job. The judge also ordered that Peterson must wear a GPS device that keeps track of his whereabouts.
Kravitz scheduled a felony status conference for which Peterson must return to court on Sept. 16.
The four-page arrest affidavit prepared by a D.C. police detective describes in detail the video obtained from the security camera at Player's Lounge that captured the incident as it occurred and in which Peterson is seen striking Ford in the head at least two times with what it describes as a chair.
"The suspect grabs one of the chairs that's at the bar (red with black frame) at 23: 11:06," the affidavit says. "The suspect then slams the chair into the complainant's head," it says.
"The suspect then pushes the complainant into the bar at 23:11:09. The suspect pulls a chair from underneath the complainant and slams it into the complainant's upper body again at 23:11:15," the affidavit states.
According to the affidavit, "The suspect attempts to grab a chair for the third time, but patrons are able to separate the suspect and push him into another room."
Wanda Alston Foundation chosen as Casa Ruby receiver
Judge approves move at recommendation of D.C. Attorney General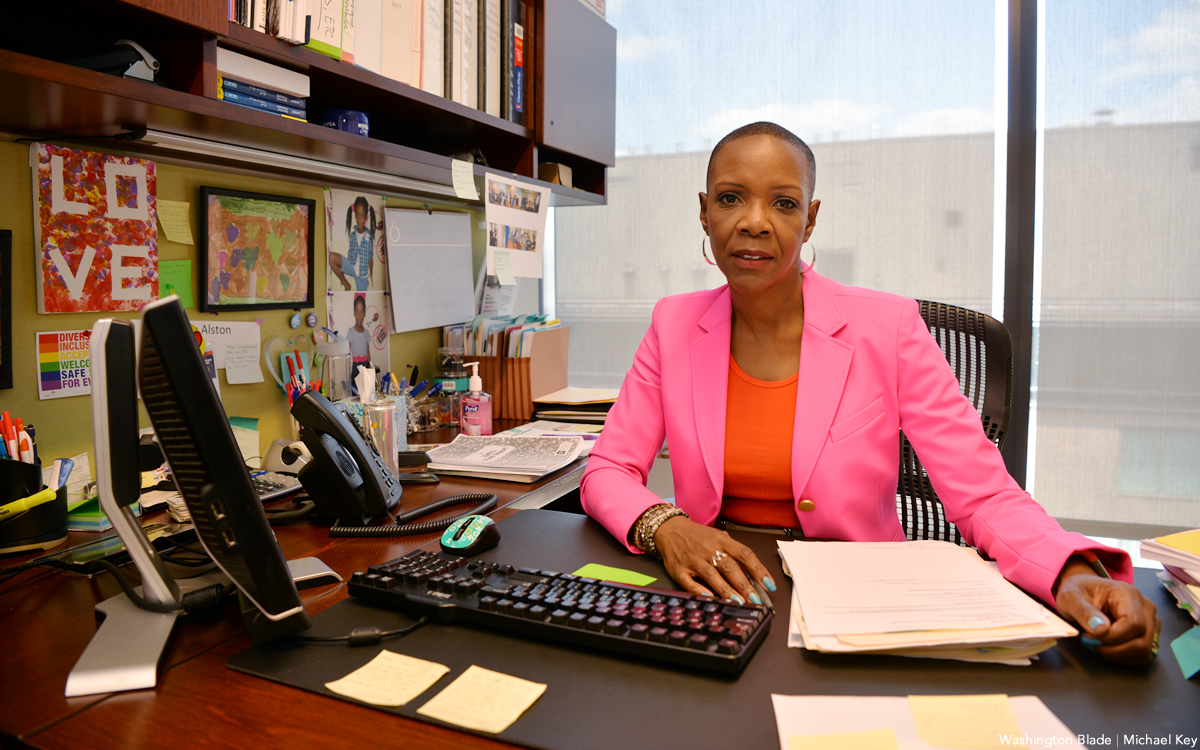 A D.C. Superior Court judge on Friday, Aug. 12, appointed the Wanda Alston Foundation as the city's receiver for the LGBTQ community services center Casa Ruby in a role in which the Alston Foundation will assume full control over Casa Ruby's operations and finances.
Judge Danya A. Dayson stated in an order she issued at 2:27 p.m. on Friday that she appointed the Alston Foundation for the receivership role at the recommendation of the Office of the D.C. Attorney General, which asked the judge to place Casa Ruby in receivership in a court motion filed on Aug. 3.
Founded in 2008, the Wanda Alston Foundation provides housing and support services for D.C. homeless and at-risk LGBTQ youth ages 18 to 24 and advocates for expanded city services for LGBTQ youth, according to a statement on its website.
During a virtual court hearing on Thursday, Aug. 11, Dayson approved the AG office's request to place Casa Ruby under receivership. During the hearing, Adam Gitlin, chief of the AG office's Public Integrity Section, announced that the AG office had two organizations under consideration for the Casa Ruby receiver – the Alston Foundation of D.C. and the Baltimore-based LGBTQ services organization Safe Haven, which has announced it planned to open a facility in D.C.
Gitlin asked the judge if the AG's office could have one more day to make a final decision on which of the two groups should be named as the Casa Ruby receiver, and Dayson granted his request.
Among those who spoke at the Aug. 11 hearing was June Crenshaw, the Wanda Alston Foundation's executive director. Crenshaw told the judge her organization has long supported the mission of Casa Ruby and it was prepared to do all it could to continue that mission in its role as receiver.
In a seven-page order issued on Aug. 12 approving the AG's recommendation that the Alston Foundation be appointed as receiver, Dayson restated her earlier findings that the AG's office provided sufficient evidence that a receivership was needed. Among other things, she pointed to the AG office's allegations that Casa Ruby and its founder and former executive director Ruby Corado violated the District's Nonprofit Corporations Act.
"The District alleges in its petition that Defendant violated the Act by failing to maintain a lawfully constituted Board of Directors, failing to maintain control and oversight of the Corporation; permitting Ruby Corado, the executive director, to have exclusive access to bank and PayPal accounts held in the name of, or created to benefit, Casa Ruby; and permitting Corado to expend hundreds of thousands of dollars of nonprofit funds without Board oversight and for unknown reason," Dayson stated in her order.
"Accordingly, it is on this 12th day of August 2022 hereby ORDERED that the District's motion for appointment of a receiver is GRANTED, and it is FURTHER ORDERED that until further order of this court, the Wanda Alston Foundation, Inc., 1701 Rhode Island Avenue, N.W., 2nd Floor, Washington, D.C. 20036 (the "Receiver"), is hereby appointed as Receiver," Dayson declared.
Dayson stated in her Aug. 12 order that she has "hereby lifted" her Aug. 3 order granting the AG office's request that Casa Ruby's bank accounts and all financial assets be frozen. The Aug. 12 order states that the receiver will now have full control over the bank accounts and Casa Ruby assets.
But the judge adds in her latest order, "Notwithstanding the lifting of the August 3, 2022, freezing Order, Ruby Corado shall not regain access to the affected accounts."
In addition, Dayson "further" states in her Aug. 12 order that Casa Ruby's "trustees, directors, officers, managers, or other agents are hereby suspended and the power of any directors or managers are hereby suspended. Such persons and entities shall have no authority with respect to Casa Ruby's operations or assets, except to the extent as may hereafter be granted by the Receiver."
The order concludes by directing the receiver to prepare a written report to the court by Sept. 13, 2022, on these issues:
• Assessment of the state of Casa Ruby's assets and liabilities
• Identification of potential D.C. grant funds that could still be accessed if Casa Ruby met the grant requirements and how Casa Ruby could meet those requirements
• Determine whether Casa Ruby can pay outstanding financial obligations, including but not limited to employees, landlords, and vendors
• A recommendation regarding whether Casa Ruby's Board should be reconstituted, and it should resume providing services, or instead whether Casa Ruby should be dissolved in an orderly manner pursuant to D.C. Code.
Corado also spoke at the Aug. 11 virtual hearing through a telephone hookup. Among other things, she said she does not oppose the appointment of a receiver.
But Corado disputed the AG office's allegations against her and Casa Ruby, claiming the group's financial problems that resulted in its shutdown of most Casa Ruby programs were caused by the D.C. government's decision to discontinue many but not all city grants providing funding for Casa Ruby.
In its court filings, the AG's office has disputed Corado's claims, saying the city grant funds for many of Casa Ruby's programs were suspended or discontinued because Casa Ruby failed to comply with the grant requirements that all city grantees are obligated to comply with.
"The mission of the Wanda Alston Foundation is to eradicate homelessness and poverty for LGBTQ youth between ages 18 and 24, the group states on its website. The statement adds that the Alston Foundation seeks to accomplish that mission by advocating for LGBTQ youth by "providing programs including housing, life skills training, case management services, linkages to medical care and mental health care and other support services, support in staying and returning to school, and employment support."