Robert E. Barker dies at 69
Former deputy assistant director of OMB
Robert E. Barker, a retired deputy assistant director of the U.S. Office of Management and Budget (OMB) and longtime volunteer for the Washington Home and Community Hospices, the Cathedral of St. Matthew the Apostle, and the Whitman-Walker Clinic, died Sept. 9 in the Intensive Care Unit of the George Washington University Hospital. He died of an infection that occurred following August surgery. He was 69.
Barker was born to Samuel and Margaret Barker on Sept. 24, 1945 in Pittsburgh. He graduated from Peters Township High School in 1963 and from Wheeling Jesuit University in 1967. In his senior year at Wheeling Jesuit, Barker was elected to Alpha Sigma Nu, the national Jesuit honor society, for his excellence in academics, leadership and commitment to the values represented by the Jesuit tradition. After a time as a seminarian at the Novitiate of St. Isaac Jogues in Wernersville, Pa., Barker joined the U.S. Army and after his tour was over in 1970, he moved to Washington where he worked as a civil servant for the U.S. Navy Department.
Barker worked for OMB from 1973 until his retirement in 2000. In his last two years at OMB, he was deputy assistant director for budget review and concepts, responsible for the preparation of the president's budget and for tracking the president's budget proposals through the congressional budget process. Earlier, he served as a staff member, then deputy, and then chief of the Budget Preparation Branch. In 1998, he received the prestigious Meritorious Presidential Rank Award.
Barker was a committed volunteer who provided care and support for terminally ill patients and their families. He began his volunteer work with Whitman-Walker in 1984, during the height of the AIDS crisis, serving as a case manager, team leader, and ultimately, a member of the board of directors. Since 1997, he had been a volunteer at the Washington Home and Community Hospices on Upton Street where, by the end of 2014, he had amassed a total of 3,635 volunteer hours. He received an award for excellence from the Community Hospices in 2003.
Barker was also a volunteer assistant to the music ministry at the Cathedral of St. Matthew the Apostle on Rhode Island Avenue, organizing a variety of concerts and helping raise funds for completion of the church organ. He also served for several years as a board member of the Webster House Condominium on P Street N.W., where he lived.
Barker frequented 17th Street, N.W. and was a regular patron of Trio Restaurant. He cared for Marjorie C. "Margo" MacGregor, a former Trio manager, until her 2007 death.
Survivors include his brother, William Barker of Pittsburgh; and friends in Washington and elsewhere. Two of his closest friends of more than 25 years, Mary Wheeler and Robert ("Dr. Bob") Williams, both of Washington, were frequent companions.
A funeral Mass will he held on Monday, Oct. 19 at 10 a.m. at St. Matthew the Apostle (1725 Rhode Island Ave., N.W.). In lieu of flowers, memorial donations in Barker's name may be made to the Lambda Legal Defense Fund, Washington Home and Community Hospices or to St. Matthew for the completion of its organ.
DC Front Runners Pride 5K to take place as scheduled
Air quality improved overnight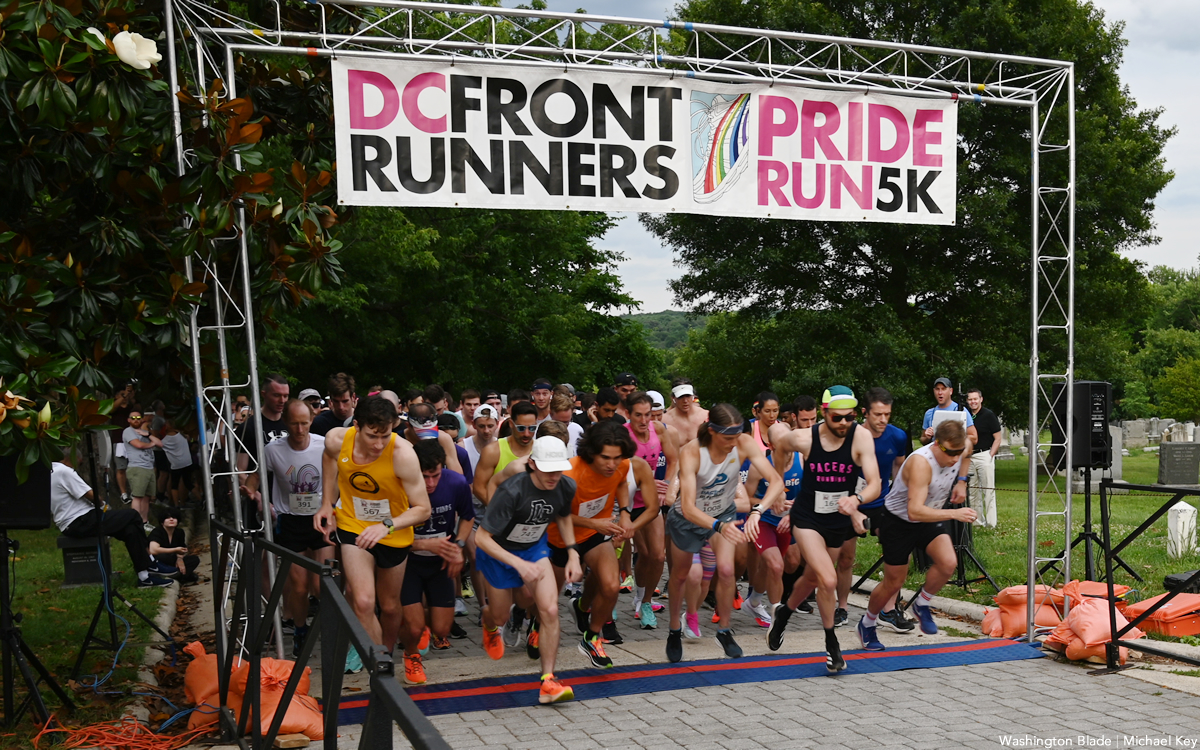 The D.C. Front Runners' annual Pride Run 5K will take place as scheduled at Congressional Cemetery on Friday.
The Blade Foundation, SMYAL, the Wanda Alston Foundation, Team DC, Teens Run DC, Pride 365 and Ainsley's Angels of America are among the race's beneficiaries. Wegmans, Shake Shack, Knead Hospitality and Design, Choice Hotels and Capital One Café are among the sponsors.
Rooftop Pool Party postponed
Capital Pride Alliance moves official event to June 22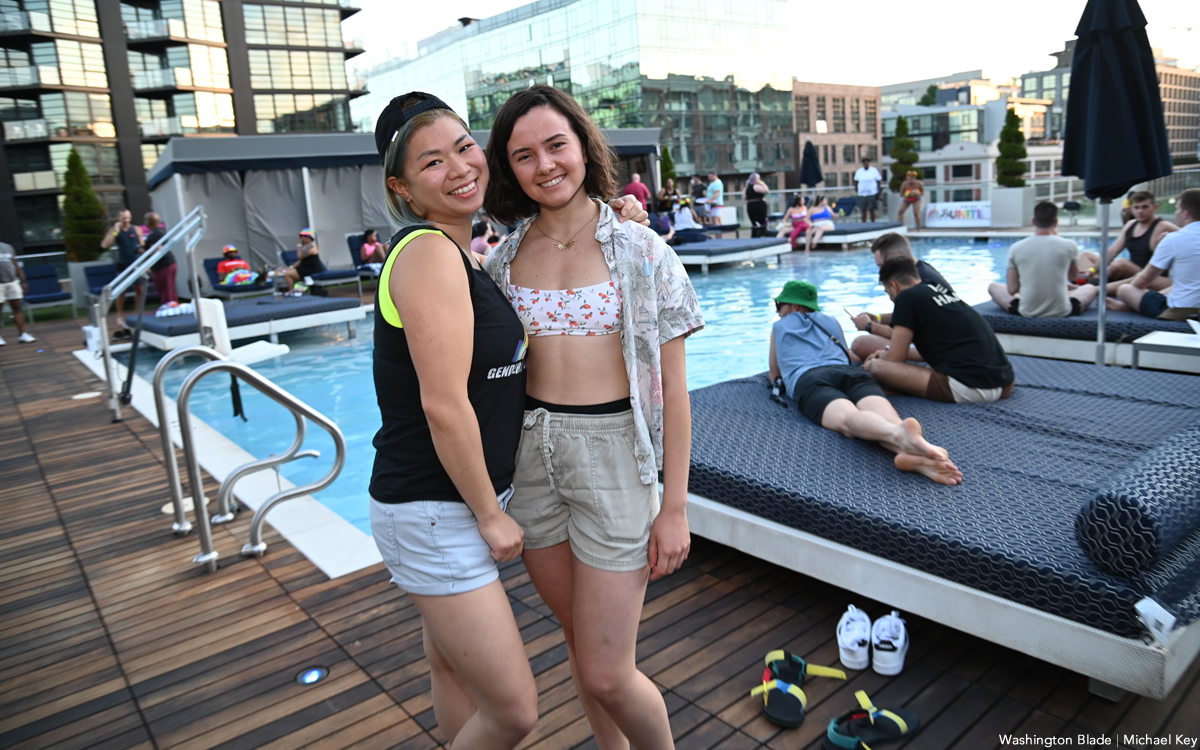 The Capital Pride Rooftop Pool Party, originally scheduled to begin at 8 p.m. tonight, has been postponed until Thursday, June 22, according to a statement released by the Capital Pride Alliance on Instagram. This action comes amid an international climate event created by the Canadian wildfire that has resulted locally in poor air quality and a haze around the region.
The Capital Pride Alliance Instagram account posted, "As with all concerns regarding health and safety issues, the Capital Pride Alliance will closely monitor the air quality situation resulting from Canadian wildfire smoke and take necessary precautions in consultation with our partners in the DC government."
"What does this mean for the pool party?" a question one private Instagram account user posed in the comment section.
"Important Update:" A representative of the Capital Pride Alliance responded through the group's official Instagram account. "Tonight's Capital Pride RoofTop Pool Party at VIDA The Yards is being postponed until Thursday, June 22 at 8:00 pm, due to the current air-quality situation resulting from the Canadian wildfires smoke. Please note that this postponement only applies to today's event."
The Capital Pride Alliance has yet to cancel or postpone any further events.
The White House earlier today rescheduled a large outdoor Pride reception planned for this evening to Saturday.
White House postpones Pride event due to wildfire smoke
Thousands expected for celebration bumped to Saturday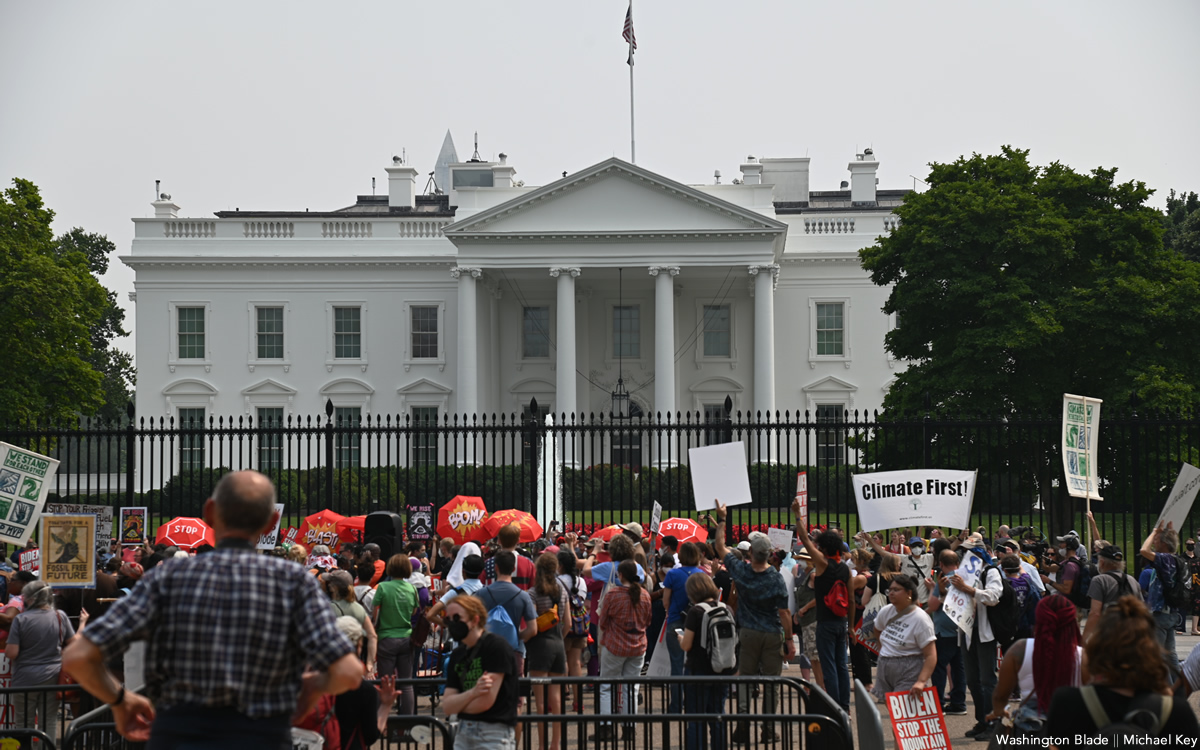 The White House announced Thursday that a Pride event scheduled for this evening has been postponed to Saturday due to the lingering Canadian wildfire smoke.
The smoke has enveloped D.C. in a dangerous haze that triggered a "purple alert" on Thursday, considered worse than a "red alert."
The event, expected to draw thousands of invited LGBTQ advocates and supporters to D.C., has been rescheduled for 1 p.m. on Saturday on the South Lawn of the White House, the same day as D.C.'s Capital Pride Parade, which kicks off at 3 p.m., and Pride on the Pier celebration, which starts at 2 p.m.