November 7, 2016 at 9:05 am EST | by L'lerrét Jazelle Ailith
Voter ID laws rendering Black, queer youth invisible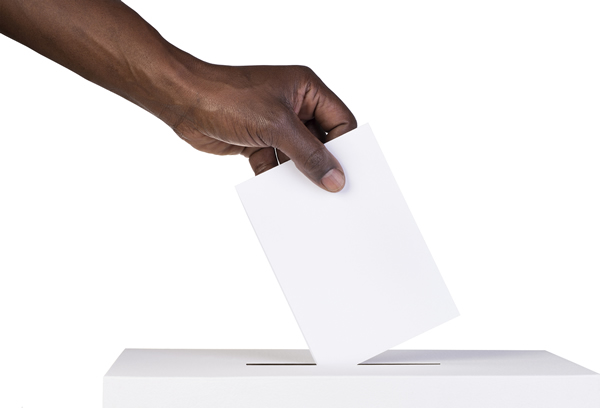 What do you do if you are consistently rendered invisible by the state? How can you exercise your right to vote when your very existence is deemed illegitimate by the system? This is the conundrum so many Black queer, trans, and gender non-conforming (GNC) folks face each and every time they attempt to participate in electoral politics.
Voting laws are directly created and influenced by state and local governments. In particular, 33 states in America require various forms of voter ID. In 10 of these states—Georgia, Indiana, Alabama, Kansas, Mississippi, North Dakota, Tennessee, Texas, Virginia, and Wisconsin—voters are required to have a government-issued ID to "prove" their identity to a polling official.
This idea that we must prove our worth, value, and validity to the state is not new. America has a long legacy of denying Black people our ability to live freely and authentically — beginning with the Middle Passage. White imperialists deemed Black communities abnormal and inappropriate. The ways we navigated spaces, loved one another, and existed so comfortably in our bodies were unusual to our oppressors and were therefore deemed unfit. In an effort to instill "order and control," white imperialists forced us to assimilate to their societal standards. Even our names were whitewashed in order to strip us of our cultural uniqueness.
There is great power and prestige in Black people claiming and owning our names. For queer and trans Black folk to reclaim our bodies and practice authenticity, regardless of societal norms — to choose a name that embodies our full identities and with which we feel comfortable — is revolutionary. To be denied this is violence. This is why roadblocks and red tape such as high-cost court proceedings, the public humiliation of misgendering, and protracted waiting periods are absurd. Why must we suffer to be ourselves? Do you know how traumatic it is to be forced to seek validation from a state apparatus that prefers you dead?
IDs can serve as scarlet letters for many of us because they evoke the disharmony between who we are and what the government will legally recognize. As long as the state refuses to recognize us, we will walk around with identification that outs us and serves as a constant reminder of this violence. So while we wish to travel the country or go clubbing or exercise our right to vote, IDs can be barriers. Voter ID laws blatantly delegitimize our self-determination and states instituting them create toxic anti-trans/anti-GNC environments, inviting blatant discrimination and humiliation by infringing upon our constitutional rights.
State violence threatens the survival of Black people and operates via systems and institutions with which we interact on a daily basis. It is deeply rooted in a cocktail of white supremacy and capitalism – the perverse ideological bedrock of the United States – and never dissipates. Rather, it is revitalized as society develops. Today, Black queer, trans, and GNC bodies continue to be legally disenfranchised as a result of malicious voter ID laws. We are being targeted and silenced, and it is our duty to resist this violence.
These laws are created with the pure intent to keep Blackness at bay — queer, trans, GNC, undocumented, formerly incarcerated and poor folks can be refused access to voting simply because we make white people uncomfortable. Yet, all is not lost — we can do something about this. Legislation created on the local and state levels has direct implications for the ways we are allowed to live our daily lives. Protocols that can be instituted to protect our people and ensure accessibility are birthed on the state and local levels. Those Blue Lives Matter bills, HB2 and other bathroom bills, these voter ID laws: all a result of state and local legislative processes. Not only does legislation directly affect us—the amount of money allocated to specific systems, initiatives, and institutions that operate as marginalizing forces do as well.
Time and time again, we've witnessed the corrupt practices of government institutions (read: criminal "justice" system) and their efforts to target, police, and harass our community. In this national election moment, folks are urging us to go out and vote because it is our "duty" to "be the change we wish to see." I reject this rhetoric because I recognize how intrinsically corrupt America's political systems and institutions are. But I also believe in Black folks' voting power, particularly at the state and local level, as one of the weapons in our arsenal to move this country toward Black liberation.
When we think about our movement's call to divest from policing and invest into Black communities as a means to restore and revive our people, we must realize that this work begins on the state and local level. The leaders who we elect to run our communities have access to and can decide how to spend thousands of dollars siphoned from our salaries every year. Money is invested into our schools, infrastructure, prison system, police salaries, and more. We have an opportunity to control where and how that money is used — starting with whom we choose to make these final decisions.
If you're enfranchised, get out and vote. Restore the voting power of the disenfranchised.
(This is part of an op-ed series curated by #WeBuiltThis in which Black millennial contributors explore the sordid relationship between state violence and elected politicians. For more information, text OPED to 228466.)
L'lerrét Jazelle Ailith graduated from Xavier University with a bachelor's in chemistry. She serves as communications manager for BYP100, a Black youth activist organization dedicated to direct action organizing and leadership development of 18-35 year olds. As a Black trans women, she is devoted to contributing to trauma healing initiatives, improving public health, developing/fostering community social awareness and critical analysis, and utilizing multiple media platforms as vehicles for community mobilization and restorative justice.