LGBT march on Washington planned for D.C. Pride weekend
Organizers collaborating with Capital Pride officials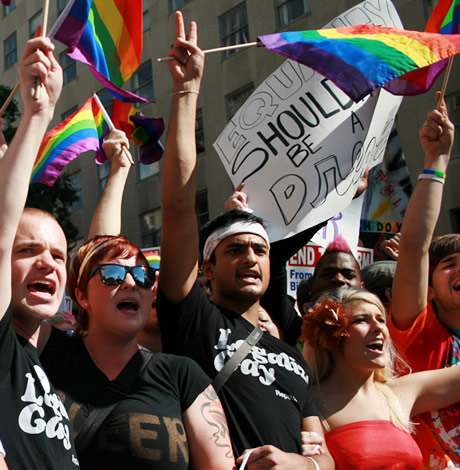 A gay activist in New York City has set in motion plans for a "mass" LGBT march on Washington on June 11, which he hopes will be similar to last week's Women's March on Washington that drew hundreds of thousands of people.
David Bruinooge, 42, a Brooklyn, N.Y., resident who has friends and relatives in the D.C. area, said he was inspired to create a Facebook page announcing the march on Jan. 21 while he was watching the Women's March on Washington at home on television.
"I was watching the events unfold on TV and I was very proud and inspired by all the women, the strong women in our country who were kind of taking this to the street and getting their voices heard," he told the Washington Blade. "And in the back of my mind as an openly gay man I thought the gay community should be doing something like this to follow up on the momentum," he said.
He said he intentionally chose June 11 for the march because it's the same day that D.C.'s Capital Pride Festival is scheduled to be held on Pennsylvania Avenue, N.W. near the U.S. Capitol. Bruinooge said his thought was the march would start in the morning and end at the site of the Pride festival.
Ryan Bos, executive director of the Capital Pride Alliance, which organizes the D.C. Pride events, including the Pride Parade set to take place on June 10, said he has spoken with Bruinooge and expects that Capital Pride officials will collaborate with the march organizers so the march and the D.C. Pride events will complement each other.
Bruinooge said that at Bos's suggestion, he has changed the name of the march from Gays on the Mall, which he initially announced on Facebook, to the National Pride March.
He acknowledges he and others working on the march will have a significant amount of work to do logistically, including obtaining permits for street closings. He said he's hopeful that Capital Pride officials will provide support and consider the march to be a joint Capital Pride project.
"My intention was never to undermine what was going on with D.C. Pride," Bruinooge said. "They obviously have the infrastructure and the mass support to help this become a reality."
More information on the proposed march can be obtained here.
LULAC Lambda announces 2021 scholarship awards
Castro, Javier Rodriguez win $1,000 honors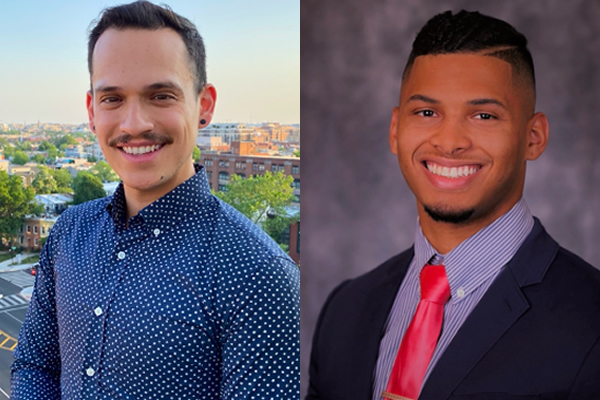 The D.C.-based LGBTQ Latinx organization LULAC Lambda has announced it has selected two D.C. residents bound for graduate studies in foreign affairs and higher education to receive its 2021 annual scholarship award.
"For a fourth year in a row, LULAC Lambda will provide scholarships to outstanding scholars who come from our LGBTQ+ Latinx community," said Erik Rodriquez, the LULAC Lambda president, in a statement released by the group. "Our scholarship program will help these scholars achieve their academic goals and reduce their student debt," Rodriquez said.
The statement says one of the two scholarship awards, for $1,000, will go to Brian Castro, who will begin studies for a master's degree in the fall of 2021 at Georgetown University's Walsh School of Foreign Service.
"The generous scholarship provided by LULAC Lambda will complement my studies by going directly into my tuition costs," Castro said in the statement. "Though I have been a resident of Washington, D.C., working full-time at a leading public health consulting firm, I am grateful to have received the support from an organization that is also committed to social justice," he said.
The other scholarship, for $1,300, will go to Victor Javier Rodriguez for his doctoral work in education at Florida State University. The LULAC Lambda statement says Javier Rodriquez's academic interest lies in "exploring the relationship between school communities and districts' implementation of anti-racist practice and student success."
In his own words, Javier Rodriquez said, "A long-term career goal of mine is to affect change at the federal level through the United States Department of Education, in which I would work to address our nation's education crisis by advocating for equitable policies and practices that improve the outcome for all our students, especially those who are most vulnerable."
LULAC Lambda says it was founded in October 2014 "to mobilize and strengthen the LGBTQ+ and Latinx communities of Washington, D.C. through community and civic engagement." It is one of 1,000 chapters across the country affiliated with the League of United Latin American Citizens (LULAC), the nation's largest and oldest Latinx volunteer-based civil rights organization, the group's statement says.
Missing gay man found 'alive and well'
Police say Richard 'Rick' Woods found in good health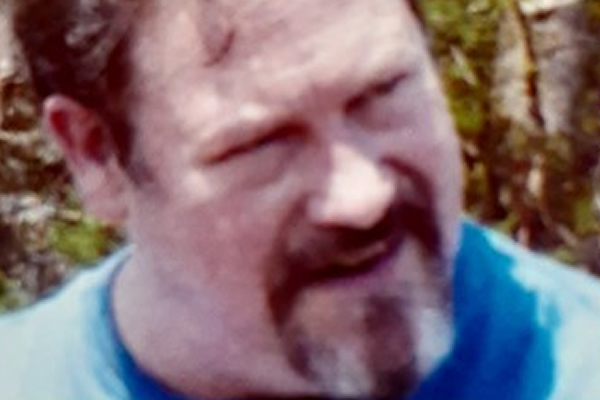 D.C. police announced on Friday that Richard G. 'Rick' Woods, a 65-year-old gay man who police said was reported missing and last seen on July 14, has been located. But the announcement doesn't provide information on where he was found or why he went missing.
Friends who know Woods say he operated for many years an antique wood furniture restoration business in various locations in D.C. The most recent location of his business, friends said, was in Georgetown a short distance from where police said he was last seen on the 1600 block of Wisconsin Avenue, N.W.
"MPD does not publicly disclose the circumstances surrounding a missing person and how they are found, however we do release their flyer as well as a notification when they are located," said D.C. police spokesperson Brianna Burch. "Mr. Woods was found in good health," Burch told the Blade.
Police sought help from the public in their initial announcement that Woods was missing. The announcement said he was reported missing to police on Friday, July 23.
Logan Circle Advisory Neighborhood Commissioner and LGBTQ rights advocate John Fanning, who said he has been friends with Woods for many years, said he was delighted to hear Woods was found in good condition.
"Rick is known by many in our community," Fanning told the Blade at the time Woods was reported missing. Fanning said he and others who know Woods stand ready to provide support for him should he be in need of such support.
The Blade couldn't immediately reach Woods for comment.
Some D.C. gay bars to require proof of COVID vaccination
Action prompted by mayor's order reinstating masks indoors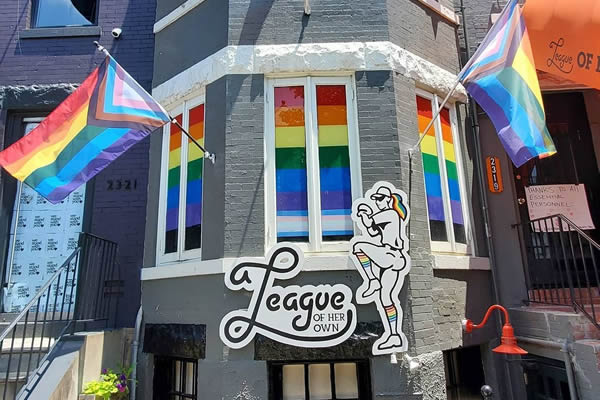 At least six D.C. gay bars announced last week on social media that they will require patrons to show proof that they have been vaccinated for COVID-19 as a condition for being admitted to the bars.
They include the Logan Circle area gay bars Number Nine and Trade, which are operated by the same co-owners; the Adams Morgan gay sports bars Pitchers and A League of Her Own, which are also operated by the same owner and share the same building; the 17th Street, N.W. gay bar JR.'s; and the U Street, N.W. gay bar The Dirty Goose.
The six bars, which also offer dining service, announced their proof of vaccination requirement shortly after D.C. Mayor Muriel Bowser on Thursday, July 29, issued a new order reinstating the city's requirement that facial masks be worn inside all businesses and other public establishments.
The mayor's order applies to all vaccinated and unvaccinated people over the age of two. It took effect at 5 a.m. Saturday, July 31.
At a July 29 news conference, Bowser pointed to a new U.S. Centers for Disease Control and Prevention guidance issued two days earlier recommending that fully vaccinated people resume wearing masks indoors in places where transmission of the coronavirus is considered "substantial" or "high."
The mayor said that, at the advice of her public health experts, she decided to issue the new order to help curtail the rising number of COVID cases in D.C. over the past month or more due to the rapid spread of the virus's Delta variant, which is surging throughout the nation. Like other parts of the country, Bowser and D.C. Department of Health Director Dr. LaQuandra Nesbit said people who are unvaccinated in D.C. make up nearly all of the newly infected cases.
"I know D.C. residents have been very closely following the public health guidelines, and they will embrace this," Bowser said in referring to the new mask requirement.
The four-page order released by the mayor's office, similar to the city's earlier mask requirements, allows indoor patrons of restaurants and bars to remove their masks while "actively" eating or drinking.
But some representatives of restaurants and bars have pointed out that other jurisdictions, including Maryland and Virginia, have followed the CDC's initial policy of making mask wearing a recommendation rather than a requirement.
"Mayor Bowser's announcement that nightlife hospitality patrons must wear a mask indoors when not 'actively eating or drinking' renders the reinstated mandate essentially unenforceable and results in the rule being reduced to a largely theatrical requirement," said Mark Lee, director of the D.C. Nightlife Council, a local trade association representing bars, restaurants, nightclubs, and other nightlife related businesses.
"The greatest disappointment for many venue operators and staff, however, is that the mayor's decision does not allow an option for establishments to admit only fully vaccinated patrons and be exempt from the mandate, as a number of other jurisdictions across the country have done," Lee said.
John Guggenmos, co-owner of the bars Trade and Number Nine, told the Washington Blade he and his co-owners adopted the proof of vaccination policy as an added means of protecting the safety of both patrons and employees of the two bars.
"We're hopeful that this will be in effect for just a few weeks or a month or two," Guggenmos said. "Our patrons have always been very supportive," he said in referring to the city's public health directives last year and early this year in which masks were required up until May of this year.
Guggenmos said Trade and Number Nine would allow an alternative to the vaccination requirement if patrons provide proof of a negative COVID-19 test conducted within the previous three days of their admission to the bars.
In its social media postings, Pitchers and A League of Her Own said their proof of vaccination requirement was based on the concern for the health of their patrons and staff.
"We will require proof of a COVID vaccination until further notice at Pitchers/ALOHO and masks per the mayor," a Facebook posting says. "We take guidelines and the health of our patrons and staff very seriously. We will accept a picture or hard copy of your COVID vaccination card," it says. "No exceptions, no arguing, no talking to the manager."
Tammy Truong, owner of the gay bar Uproar Lounge at 639 Florida Ave., N.W., told the Blade the bar has no immediate plans to require proof of vaccination as a requirement for admission, but Uproar will fully comply with the mayor's order requiring indoor masks.
Justin Parker, co-owner of the nearby gay bar The Dirty Goose at 913 U St., N.W., told the Blade he and his staff decided on July 30 to also put in place a requirement that patrons show either proof of vaccination or proof of a negative COVID-19 test within the past five days. He said a five-day window for the COVID test, which the CDC allows in some cases, was chosen rather than a three-day requirement to accommodate people who may not be able to get tested during weekends.
Owners of other D.C. queer bars couldn't immediately be reached. But the Blade could not find any announcements by the other bars as of Friday afternoon that they planned to put in place a proof of vaccination requirement.