April 28, 2017 at 4:51 pm EDT | by Mark Lee
Voters learn there's little to love about either party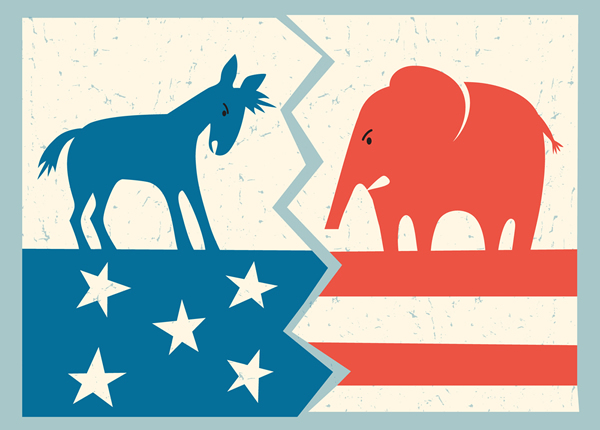 In the run-up to last year's election, public affinity for – and affiliation with – both political parties hit new lows.
With Democrats and Republicans now further narrowing their appeal to the extremist left and far right, respectively, moderate voters are increasingly estranged from both.
A strong plurality, approaching an outright majority, described themselves as independents during the campaign. Individual party loyalty languished at relative parity of less than one-third of voters for each. Fully half of those 35 years old and younger rejected both party labels.
Two national polls released in recent days underscore the general disapproval and growing disengagement with both the Republican and Democratic parties.
Public opinion of the two major political parties has worsened since the election, with majorities viewing each unfavorably by multiple measures.
The Pew Research Center reported two weeks ago that 51 percent of Americans have an unfavorable view of the Democratic Party, with only 45 percent favorable. Those numbers are exactly reverse of the results in January, as the party's popularity has since sunk.
Despite registering essentially equal levels of approval and disapproval in January, the Republican Party is now also underwater at 57 to 40 percent.
Worse for Democrats, however, is that party favorability among Democratic-leaning independents has sharply dropped since the first of the year. That three-month decline and falling support is an 18-point loss down to merely 55 percent, one of the lowest ratings the party has registered among Democratic-leaning voters in two decades. Republican support among GOP-leaning independents has also declined, by a lesser eight points down to 63 percent.
While more Americans view the Republican Party as "too extreme" on a range of issues, the number holding that view has actually dropped over the past year. Voters describing Democrats as "too extreme" has risen during the same period.
More startling were the results of a Washington Post/ABC News poll released last weekend.
On the question of "being in touch with the concerns of most people," Democrats were able to muster a paltry 28 percent among all Americans, with only a bare 52 percent majority of party-aligned supporters saying so. Fully 67 percent designate Democrats as out-of-touch, worse than the 62 percent who say the same of Republicans. President Trump is considered more connected to the concerns of the country than either party.
Troubling for Democrats is that while nearly no Trump voters would re-cast their ballot differently if given the chance, "buyer's remorse" is high among those who voted for Hillary Clinton. An overwhelming 96 percent of Trump voters continue to support their choice while only 85 percent of Clinton voters would back her now.
Among the 15 percent of Clinton voters who say they would dump her for an alternate, more than half would vote third-party with Libertarian Gary Johnson garnering a majority of them, two percent would switch to Trump, and the rest would stay home.
In an election "do-over," Trump beats Clinton 43-to-40, winning both the popular vote and Electoral College, despite his substantial 53-42 current job disapproval rating.
Notable is both that those who voted third-party have no regrets and a large number of Clinton voters would now switch to a third-party candidate.
Most surprising is that people of color, the bedrock of the Democratic base, are 10 points more likely than whites to change their Clinton vote – with one-third shifting to the Libertarian Party.
Combining those backing a party and independents "leaning" toward the party results in steadily plummeting support for both Republicans and Democrats to nearly identical degrees over the past 20 years. Democrats are now viewed favorably by only 70 percent of all party supporters and Republicans are viewed favorably by 74 percent of all party supporters – a drop in internal support of nearly 20 points for each.
If these trends continue, coupled with broadening disenchantment toward both major parties, no presidential candidate is likely to win a majority again anytime soon.
Mark Lee is a long-time entrepreneur and community business advocate. Follow on Twitter: @MarkLeeDC. Reach him at OurBusinessMatters@gmail.com.