Revisiting Freddie
Mercury bio is too long, meandering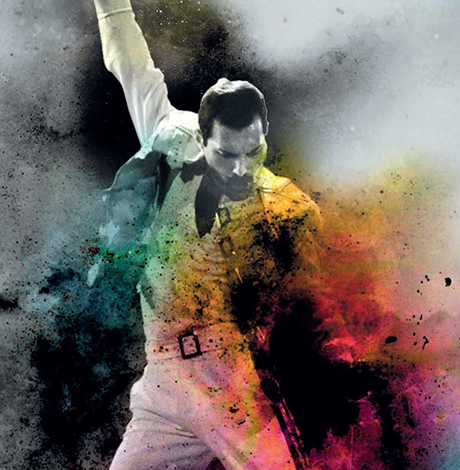 'Somebody to Love: The Life, Death and Legacy of Freddie Mercury'

By Matt Richards and Mark Langthorne

Weldon Owen

$24.95

440 pages
Last year was a particularly rough one.
Every time you open a newspaper or turned on the computer or TV, it seemed as though someone — a Hollywood actor, singer or stage performer you liked — had died. Even now, whether it was six months, a year or, as in "Somebody to Love" by Matt Richards and Mark Langthorne, more than a decade, you still miss him or her.
Farrokh Bulsara was born in India in the fall of 1946 to Parsee followers of the prophet Zoroaster, facts he tried to hide it as a young man. For reasons he didn't belabor, Bulsara claimed that he was "Persian" and seldom discussed his relatively privileged childhood. He even changed his name to Freddie.
Known as a shy boy and famously ashamed of his prominent front teeth, Freddie was nevertheless so in love with music that he helped form his first band in 1958, in part to "impress the girls." As soon as he was old enough, he moved to London, where he became a hanger-on for two popular local bands, one of which eventually hired him as a lead singer. Freddie, say the authors, loved to put on a show.
At around this time, he also fell deeply in love with a woman, though he "was struggling to come to terms with whether he was straight, gay or bisexual." Indeed, despite social mores and legalities of the time, he was also undoubtedly sleeping with men, but he "had no intention of coming out … even if in truth he had felt able to."
By mid-1970, Freddie changed his surname, while his latest band changed its name to Queen; both began attracting attention in the U.K. Meanwhile, Mercury fell in love with someone whom he considered his "common-law wife." She, too, seemed to have no idea that he slept with men, which might not have mattered much anyhow: Mercury had led a "hedonistic" life for years and that was just Freddie being Freddie.
But then, possibly some time in 1982, he was infected with the HIV virus.
At nearly 400 pages, sans notes, "Somebody to Love" is one of those books that might have been enhanced by being shortened by a third.
Authors Matt Richards and Mark Langthorne did an exhaustive job researching Mercury's life, but that's not all: this is also a surprising biography of the AIDS epidemic, beginning more than a century ago. That's often imagined, since exact circumstances are unknown but, while it makes for an fascinating tale, it stretches too slowly, gets too breathy and loses its punch. Even Mercury's career seemed a mess here; readers get names and dates in a bounce-around narrative.
There's merit in this book. Early sections on the beginning of AIDS and the beginning and end of Mercury's life are all stellar, but much of the middle part is pretty ho-hum. In the end, for fans, 'Somebody to Love" may still be worth a try. Others may find this book to be a rough one.
Drew Pisarra's 'dangerously funny and queerly inventive brain'
'You're Pretty Gay' shatters expectations and social mores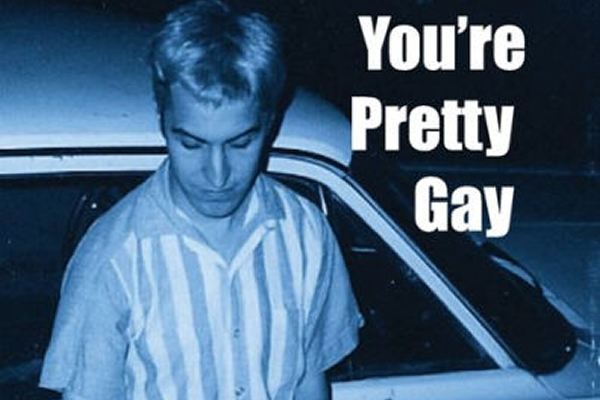 Is there anything more absurd than this, wondered gay poet and writer Drew Pisarra. Pisarra, then, was an assistant to a paralegal at a toothpaste company.
Fiercely protective of the pattern on its toothpaste, they wrote letters to rivals who, they felt, were infringing on their copyright.
Even when their competitors were in countries in the middle of a civil war, "They would write back, 'we can't respond now, we're in a war,'" Pisarra said.
But that didn't soften the heart of the toothpaste company. They'd insist that "this most important matter be dealt with as soon as the war ends," Pisarra said.
If you think that authors don't encounter the absurdity and grit of everyday life or that all writers do is drink coffee (or sip stronger libations) while looking at the sunset, you haven't met Pisarra.
Pisarra, 56, whose new short story collection "You're Pretty Gay" is just out from Chaffinch Press, has worked at everything from ventriloquism to domestic work.
The word "unique" is so hackneyed that it's a cliche to say it's a cliche. But there's no other way to describe "You're Pretty Gay."
This collection "is a prime example of Drew Pisarra's dangerously funny and queerly inventive brain," said Kevin Sampsell, author of "This Is Between Us." "Each story is its own performance, its own shattering of expectations and social mores."
Pisarra, who lives in Manhattan, gives readers a mosaic of wit, surrealism, sex, queerness, memory, mortality and self-discovery.
In "You're Pretty Gay," there are gay bars in New York and New Orleans.
You'll find everything from adolescent bullies fighting over a rare caterpillar to a character taking an AIDS test and, later, meeting up with Mrs. Claus.
"Mrs. Claus I didn't even know you were alive," says the narrator of "Arctic Chill." "I didn't even know you were real. I haven't received a gift from you or your husband in ten years."
Another of Pisarra's tales revolves around a trip to hell. "I love traveling," says the narrator of "The Hat from Hell, "I got this hat when I was in Hell back in 1992."
In "Granny," siblings gather after their mother's death. "All anyone could remember of her was that chair, how she sat in it for the last 40 years," Pisarra writes, "immobile as 'Jeopardy' and the 'Wheel of Fortune' glared at her night after night."
Pisarra's characters yearn to find love, sex, and who they really are.
"In my quest to bed mankind, I tended to avoid perfection's rejection," says the narrator of "Every Man for Myself."
Pisarra, whose first short story collection "Publick Spanking" was published in 1996, was born in Orange, N.J. When he was in the third grade, he moved to Maryland. There, except for living in Oxon Hill for a year, he grew up in Silver Spring.
When Pisarra was growing up, being gay wasn't even remotely on the horizon. "There was such denial in the culture then," Pisarra said.
From early on, he had feelings for men. "I had a crush on a boy in kindergarten," Pisarra said.
He consulted books and a priest, which wasn't helpful. They said he'd grow out of it.
"As a teenager, I recognized that I hadn't outgrown it," Pisarra said.
Pisarra was a college freshman when he came out. "I sobbed the night I came out," he said.
He was out in college, Pisarra said, "but I wasn't getting laid." That changed when he moved to New Orleans after college.
Pisarra graduated from Hofstra University in 1987 with a bachelor's degree in theater.
In college, a professor had the students sit in a circle. Then, the teacher told them how she thought they'd be cast.
"She told me, 'you're a grotesque,'"Pisarra said, "'You won't work until you're in your fifties. Because your face and body don't match.'"
Pisarra was relieved to hear this. His sense of relief was related to being a young gay man in the late 1980s.
"I wasn't interested in being closeted," Pisarra said, "I wrote. I wanted to perform. I wasn't interested in conforming."
Since then, Pisarra has been creating – performing and writing his own material. Some of the stories in "You're Pretty Gay" were originally created for the stage.
"I don't write that often," Pisarra said, "I started writing the stories in 'You're Pretty Gay' 20 years ago."
A prodigious reader, Pisarra has always "written to some degree," he said.
Pisarra got turned on to writing poetry when he went to a meeting of a gay and lesbian writers group.
"There were, like, 10 people in this apartment," Pisarra said, "there was a terrible woman sitting next to me."
He would have dropped out of the group, if he hadn't met writer Mare Davis, now his close friend.
"I said to her, 'I never want to see any of these people again except you,'" Pisarra said, "She inspired me to get into poetry."
Davis wrote the introduction to Pisarra's poetry collection "Infinity Standing Up" (Capturing Fire Press).
Released in 2019, the volume of sexy, playful sonnets received glowing reviews from the Washington Post, the Blade and other outlets.
"Devour me! Think me not some crazy nut!," Pisarra writes in one of his sonnets.
With lines like these, he gives Shakespeare a run for his money.
Pisarra has held a variety of jobs – many of which have involved the arts. He has helped homeless people with mental health issues to find housing.
"I ran a writers group for them," Pisarra said, "I encouraged a super-talented woman to send her work out."
The woman and Pisarra submitted their work to the same magazine. "Her work was accepted. Mine wasn't," he said, "I was thrilled!"
In an unusual career twist, Pisarra, who received a literary grant from the Café Royal Cultural Foundation, toured a ventriloquist act entitled "Singularly Grotesque." He created the act after the Portland Institute for Contemporary Art commissioned him to develop a new solo piece.
"I was wandering around the library aisles and I found two (self-help) pamphlets on talking with 'multiple' selves,'" Pisarra said, "and I thought this is ventriloquism in a nutshell."
Pisarra hadn't watched much TV. But that didn't keep him from interviewing with AMC to be its director of digital media.
"I thought why not," Pisarra said, "it would be a chance to see what else is out there in the world."
He worked on the websites for "Mad Men" and "Breaking Bad." "It was a pleasure to be part of the online team for these cultural phenomena!" Pisarra said.
With Molly Gross, Pisarra co-founded Saint Flashlight. In this project, he and Gross find inventive ways to get poetry into public spaces.
One of the project's most innovative efforts has been putting haiku on movie marquees. It's fun to see people, looking up, counting the syllables, Pisarra said. You sweat when you put the letters up on the marquee, he added.
"It's part of the fun! It makes you feel like you're making something matter," Pisarra said.
He doesn't want poetry to be confined to "The New Yorker." "It should push the envelope," Pisarra said, "It's not just for the upper crust."
'The Guncle' never wanted kids but now has two
Novel is as charming as they come with a surprise ending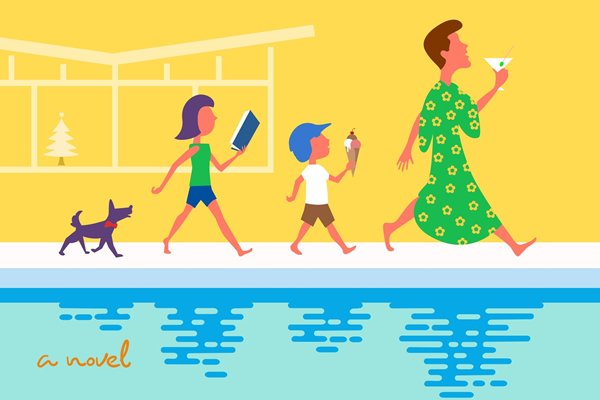 'The Guncle'
By Steven Rowley
c.2021, Putnam
$27/326 pages
The situation you're facing isn't one you wanted.
You had no wish for it; in fact, it's 100 percent the opposite. Not your circus, not your monkeys, as they say. So usually, you'd follow your instincts and run but this time, you surprise yourself by stepping up and taking ownership. Now it is your problem but, as in the new novel, "The Guncle" by Steven Rowley, that's more than OK.
Sara had been his friend first.
Patrick wasn't exactly happy when she married his brother, Greg, but she managed to make it work and he loved her for it. He loved her first, actually, and he never let her forget it.
But now she was gone and Greg had asked the impossible: would Patrick – gay man, former TV star, Palm Springs fixture, no-responsibilities Patrick – take Greg and Sara's kids, nine-year-old Maisie and six-year-old Grant, for the summer so Greg could go to rehab while grieving the death of his wife? Could the kids' GUP (Gay Uncle Patrick) step up?
No. There was no way that Patrick was taking temporary custody of two kids – but then his older sister, Clara, copped an attitude, rolled her eyes, and told him he was "off the hook."
PfftRight.
And so Greg headed to rehab after the funeral and the kids went home with Patrick to Palm Springs. It would be a long 90 days.
Grant was cute but full of questions; Patrick learned to make things up. Maisie was nobody's fool and Patrick learned to hide his passwords. He gave them "Guncle" Rules (gay + uncle = guncle), life lessons, and stories about their mother – but past that, what does a gay man who never wanted kids do when he suddenly has two of them?
He takes them to the museum way too often, that's what. He takes them to five-star restaurants and cringes when they order kid food. He lounges with them in the pool, gets them a dog, lets them put up a Christmas tree in July, hugs them, and throws a party.
And he loves them.
There are four words that best describe "The Guncle": A. Dor. A. Bull.
That's it. This novel is simply as charming as they come and don't be surprised if you can almost hear your favorite actors as any of the characters here. Don't be surprised, either, if you spend your vacation racing to reach the ending you think's coming and you're wrong.
Indeed, author Steven Rowley offers the perfect mix of snorts and sobs here, snarky fun one minute and pathos the next but neither emotion is belabored or forced. That gives readers room to enjoy the tale as it unfolds and grows like an inflating pool toy, and to watch the characters twisting wistfully in irresistible, concentric circles.
Your ticket's in your hand, your suitcase is packed, your destination is close, but you need a book to get you there. If you'd love to immerse yourself inside a sweet novel like "The Guncle," then step right up.
¡Hola Papi! works as memoir, advice column
Laughs and sighs abound in Brammer's new book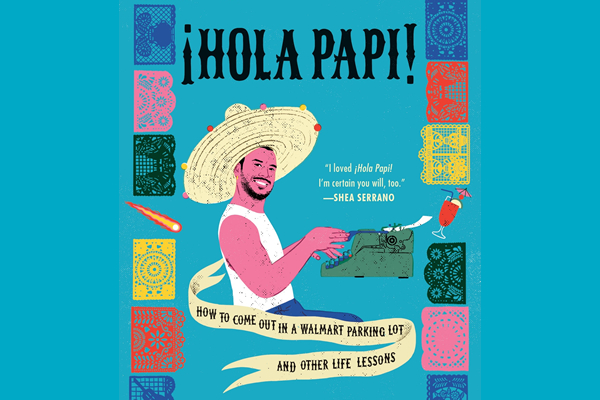 '¡Hola Papi! How to Come Out in a Walmart Parking Lot and Other Life Lessons'
By John Paul Brammer
c.2021, Simon & Schuster
$26.00/224 pages
Your best friend definitely has an opinion.
You need advice and she offers an answer, though it might not be the one you seek. You may get sound counsel but at the wrong time, with sentiments directly opposing what you were thinking. And yet, you have to be grateful. As in the new book "¡Hola Papi!" by John Paul Brammer, the words come from the heart.
Growing up in the small Oklahoma town of Cache, John Paul Brammer knew nothing about being gay. He had little relationship experience, in fact, and he didn't learn about hookup apps until he was a junior in college.
Once he found those apps, though, he was "instantly hooked."
Much to his amusement, "some white guy" said "Hola papi" in greeting on an app one day and Brammer, "a mixed-race Mexican American with noodle arms" never forgot it – because hey, wouldn't that be a great name for an advice column? He pitched it, landed a gig in conjunction with Grindr and it was a landslide hit with users, even though Brammer felt like an imposter sometimes. Was he really qualified to do this? He wondered, then he remembered what he'd want if he needed advice.
When asked what one can do to let go of past hurts, Brammer answers with a tale of his middle-school years, of bullying, inadequacies, and teen angst, and of coming out, growing up, and not letting someone be defined by the worst of the past.
He writes of puppy love with a girl when he was kinda sure he was attracted to boys, and how the experience wasn't a waste. He remembers co-workers at a nearby taco stand who taught him to speak Spanish, to belong, and that "Lo siento" isn't always necessary. He tells readers about releasing the love he thought was "the one"; about the oh-so-awkward night a childhood bully approached him on a dating app; and how to let go of a dream, and a nightmare situation.
You know this: Dear Emmy and Dear Posey can always be relied upon to present some poor schlub with drama worse than yours. You know they'll offer snappy, sometimes snarky, maybe dismissive advice – but that might not be as applicable as what's in "¡Hola Papi!".
Agony Aunties don't normally insert themselves into their answers quite like author John Paul Brammer does; nope, he makes his advice into a memoir that resonates. Each mini-chapter here begins with a question, followed by what feels like a personal answer written specifically to the forlorn rather than to the world — in a story, really, but one that's relatable. It's fun to read but, more importantly, it wraps advice-seekers (and not just the writer) in a comfortable tale that might make them laugh but definitely makes them feel they're not alone.
Another nice thing: this book is by a gay man, but the advice he offers is for anyone, of any age. If you can remember that there are some eyebrow-raisers snuggled amidst laughs and sighs, of "¡Hola Papi!", you'll have a high opinion.