August 24, 2017 at 2:51 pm EDT | by Chris Gerard
Kesha makes strident statement with new album 'Rainbow'
It's been a long road back for Kesha and it's easy to understand why she chose the symbolism of the "Rainbow" as the title for her first album in five years.
The California-based pop singer found fame with hit singles like "Right Round" (with Flo Rida), "Tik Tol," "Take it Off," "We R Who We R" and "Die Young." But messy dueling lawsuits between the singer and producer/svengali Dr. Luke sidelined her for what felt like an eternity in pop music.
Now 30, Kesha is liberated and her sound has evolved in maturity. She's the type of talent who, if allowed to bloom properly, could have a long and fruitful career. "Rainbow" is a wiser and more world-weary version of Kesha. Having gone through rehab and the the tortuous legal battle with Dr. Luka, she's seen more of the world than the wild-eyed provocateur of her earlier albums.
That isn't to say that "Rainbow" doesn't include some of the high-energy EDM-flavored pop that we've come to expect from Kesha (who plays the Fillmore Silver Spring on Friday, Oct. 6), but it's obviously an album meant as a personal statement of independence and a celebration of battling back from turmoil.
Opening track "Bastards" couldn't be a more potent introduction, as Kesha resolutely refuses to let others break her, delivering a passionate vocal on a track that's deeply personal.
First single "Praying" is an example of Kesha's emerging artistic maturity, as well as a powerful statement on the past several years of her life. "Praying" is a sparkling piano ballad that showcases Kesha's vocal talents and underscores the real emotion infused throughout the album. The track was produced by Ryan Lewis, best known for his collaborations with the rapper Macklemore, and one of several ace collaborators on the album.
The hyper "Let 'Em Talk About It," featuring Eagles of Death Metal, is another plea for self-assurance and confidence in the face of those who wound with words. Another standout is "Woman," a soulful confection featuring contributions from the uber-funky Dap Kings, best known for their work with the late R&B dynamo Sharon Jones.
"Learn to Let Go," one of the album's more commercial pop tracks, is about putting the past behind and moving forward — a recurring theme of the album. She wants listeners to find the same empowerment she found.
Another high point is the anthemic, gospel-tinged title song, a song that once again aims to inspire as well as entertain.
Dolly Parton appears on the duet waltz "Old Flames," an old-school tune that sounds more country than what passes for it today on country radio formats. (Ironically Parton released her own "Rainbow"-titled album 30 years ago; it bombed spectacularly.)
Another country-inspired tune, "Spaceship," closes the album with surreal beauty and genuine feeling.
Anyone who thought Kesha was a lightweight talent overly reliant on her producers will have a new vision of the singer after the largely self-penned "Rainbow."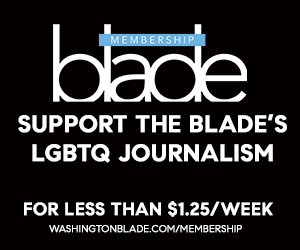 Sign Up for Blade eBlasts