February 12, 2019 at 7:12 pm EDT | by Peter Rosenstein
Democrats must step back from demanding the perfect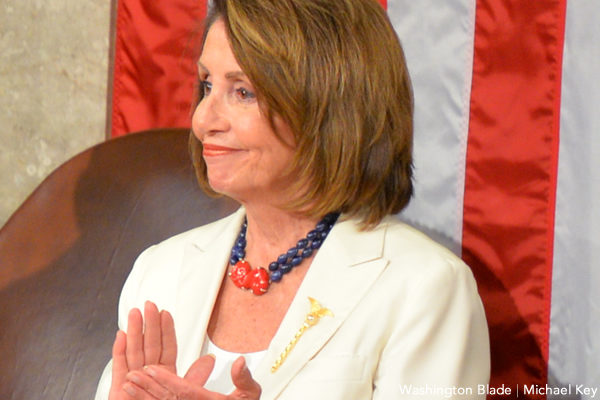 After Trump caved to the Democrats in Congress, Speaker Nancy Pelosi said, "Our diversity is our strength; our unity is our power." She couldn't be more right and it is my hope the various wings of the Democratic Party understand that.
Democrats will win in 2020 if we stick together in the next two years and don't become what humorist Will Rogers said about us, "I am not a member of any organized political party, I am a Democrat." We need to be organized and we need to pull together when it's important and there is nothing more important for the nation than for Democrats to keep the House and take back the Senate and the White House in 2020.
To do that we may all have to give a little and not give up the chance for progress while demanding the perfect. In all of history we have never seen the perfect, it is not attainable. There is no perfect candidate and clearly no perfect solution to a problem we all see differently. But for anyone who believes we must fight for both social and economic equality it has become increasingly obvious members of the Democratic Party will fight for them more enthusiastically and have a better chance of achieving any success than the current Republican Party. If we turn over the reins of government to Democrats there will be progress on attaining equal justice, civil rights, women's rights, LGBTQ+ rights, cleaning up our environment, and the rights of dreamers and other immigrants.
Over the next 18 months in the Democratic primary we will and should have a robust debate over how the party deals with each of these issues. Candidates will be fighting for the heart of the party. It will be a fight between the far-left, progressives, and the more moderate wing of the party. And appropriately it will be a generational fight between the old guard and the new and upcoming leaders. Let's hope Bernie Sanders does not repeat what he did in 2016 when he entered the Democratic primary, used Democratic voting lists, participated in the debates, then lost by four million votes, and blamed the Democratic National Committee for hurting his chances. 
To avoid even the perception of this, the DNC should continue to demand impartiality of its staff and implement what they voted for after 2016 and require any person who enters the Democratic primary to be registered as a Democrat, run as a Democrat and serve as a Democrat. More than that, they should require each candidate who qualifies for their primary to release 10 years of their tax returns and sign a pledge to support the winner of the primary as soon as one candidate has the required delegates to win the nomination.
In addition, because winning is so crucial in 2020, Democrats in Congress should not support primaries against their colleagues. While there are some Democrats threatening to do so we must work to help them understand 2020 is not the year to do that. It will only serve to pull the party further apart and help Republicans. Democrats must focus all their attention, time and money on primaries in Districts where a Democrat will be elected to run against an incumbent Republican.
We are living in dangerous times and it's crucial Democrats stand together in the upcoming elections. Trump and his sycophants in Congress are working to take our nation back to the dark ages. Democrats must unite and say no to racism, sexism, homophobia, transphobia and anti-Semitism. We must be united in saying no to scapegoating immigrants and the Muslim community for the ills in our country. While never giving up our principles we must be ready to take a step back from demanding the perfect if we are to move forward into 2021 with the hope of making real progress.
We must take to heart what Pelosi meant when she said: "Diversity is our strength and unity is our power," and heed her warning that if we are not united we lose the power to move our ideas and goals forward and we lose the chance to make things better. 
Peter Rosenstein is a longtime LGBT rights and Democratic Party activist. He writes regularly for the Blade.