April 9, 2019 at 1:07 pm EST | by Mariah Cooper
Dwyane Wade, Gabrielle Union support 11-year-old son at Miami Pride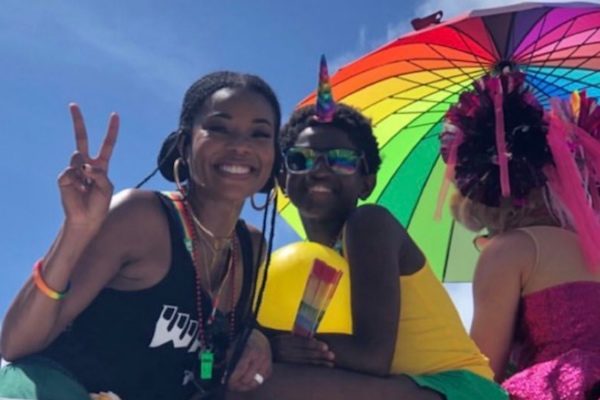 Miami Heat shooting guard Dwayne Wade and actress Gabrielle Union-Wade showed their support for their son Zion, 11, during Miami Beach's Pride Festival.
Zion, who is Wade's son from a previous relationship, was accompanied to Miami Pride by his stepmother. Zion's brother Zaire, 17, and his infant sister Kaavia, who is Wade and Union-Wade's first child, also attended.
Wade was unable to attend because Miami Heat had a game against Toronto but he made sure to show his support for Zion on Instagram.
He posted a photo of Zion and Union-Wade captioned "We support each other with Pride." In another photo Zion posed with his brother Zaire which Wade captioned "It's a family thing." Finally, Wade posted a shot of the whole family together writing "Zion had his own cheering section today. Wish I was there to see you smile kid."
Dwyane Wade's 11-year-old son Zion celebrates gay pride at the Miami Pride Parade. His brother Zaire Wade and stepmom Gabrielle Union-Wade were there to support him.

DWade was at a game in Toronto against the Raptors.https://t.co/VqtNSplTO8 pic.twitter.com/AquLISlqmx

— Tia A. Ewing (@TIA_EWING) April 8, 2019
Wade and Union-Wade's support for Zion was praised on social media.
Dwayne Wade and Gabby Union supporting young Zion at Miami Pride is so beautiful, I could cry. I can't imagine having had this type of support as a kid (or even young adult). Amazing example of living in and showing unconditional love 💕 pic.twitter.com/2cT8Ow6kik

— Câmi Thomas (@CamiCruzThomas) April 7, 2019
This just makes me so happy. Seeing Dwayne Wade embrace his son no matter who is, is what LGBTQ youth deserve! 🏳️‍🌈😭💙💚💛🧡❤️💜 pic.twitter.com/VWVB7xys9c

— JT 👨🏾‍💻 (@JTizzlle) April 7, 2019
Unbelievably heartwarming.
Every kid deserves to be accepted and supported and loved like this.

One of the many examples of Wade & Union being just plain good people. https://t.co/K7HzM3UqZL

— Sam White (@samwhiteout) April 8, 2019