May 28, 2019 at 9:00 am EDT | by WBadmin
3rd Annual DC Brau Pride Pils cans celebrate legacy of Marsha P. Johnson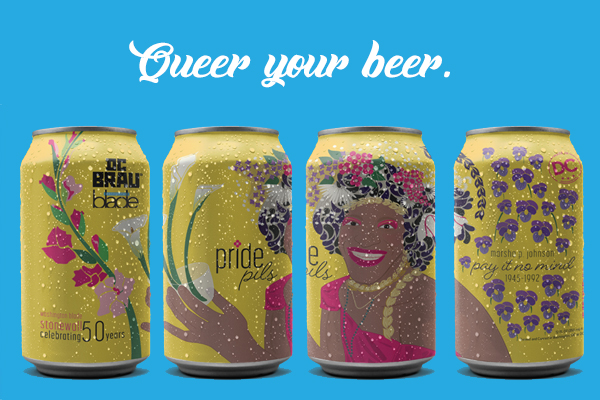 Starting next week, more than 28,000 cans of DC Brau's award-winning Brau Pils will hit the region's shelves in vibrant yellow cans prominently featuring the likeness of LGBTQ activist and Stonewall icon Marsha P. Johnson. More than 100 restaurants, bars and retailers will be selling the specially branded PRIDE PILS cans during DC's Capital Pride for a third year in a row with 100% of the proceeds going to benefit SMYAL (smyal.org) and The Blade Foundation (bladefoundation.org).
"This partnership with The Washington Blade continues to be one of our favorite projects each year, because it celebrates the joy and diversity of the LGBTQ community while making a lasting impact on organizations that are doing amazing work here at home and around the world," says Mari Rodela, DC Brau's Chief Community & Culture Officer. "Over the last two years, the Pride Pils project has raised more than $23,750 for SMYAL and The Blade Foundation."
The public will begin to see PRIDE PILS cans on shelves across the DMV starting May 31 at more than 100 restaurants, bars and retailers including grocery stores like Whole Foods, Safeway and Yes Organic Markets. A full list of outlets selling PRIDE PILS can be found online (http://dcbrau.com/where-to-find-pride-pils-2019/).
The beer will also be available at DC Brau's launch party with The Washington Blade at DACHA Beer Garden in Shaw (1600 7th Street NW) on Thursday, June 6th from 6pm to 10pm, as well as Pride on the Pier at The Wharf on Saturday, June 8th from 2pm to 9pm. VIP tickets for Pride on the Pier are available at www.prideonthepierdc.com/vip
BreakingT has created two T-shirts inspired by artist Maggie Dougherty's PRIDE PILS can design with a portion of the proceeds also benefiting The Blade Foundation. Both shirts are available for purchase online at www.BreakingT.com/Pride.
The Washington Blade was founded in 1969 and is known as the "newspaper of record" for the LGBT community both locally and nationally. For more information, visit washingtonblade.com and follow on Facebook (@WashingtonBlade) & Twitter (@WashBlade).
DC Brau has been producing award-winning craft beer at its brewery in Northeast DC since 2011. For more information, visit www.dcbrau.com, and follow on social media @dcbrau.
A full list of retailers selling #PridePils2019
1 West Dupont Wine & Liquor

AB Liquor

Ace Beverage

Airdale

All Purpose Pizzeria (Shaw & Waterfront)

Anchor at The Wharf

Annie's Paramount Steakhouse

Barrel House Liquors

Bassins MacArthur Beverages

The Big Board

Birch & Barley

The Blaguard

Blue 44

Boundary Stone

Busboys & Poets

Cairo Liquor Store

Calico

Calvert Woodley Liquors

Cantina Bambina

Chat's Liquors

Chevy Chase Wine & Spirit

Churchkey

City Tap House (Dupont & Chinatown)

Comet Pizza

Craft Beer Cellar

Dacha (Shaw & Navy Yard)

DC9

DC Reynolds

DC Vines

The Diner

District Liquors

District of Pi

Drafting Table

Duplex Diner

Embassy Row Hotel

Eye Street Cellars

Fireplace Restaurant

Whole Foods

Gallagher & Graham

Hank's on the Wharf

Hank's Oyster Bar (Q Street)

Harris Teeter (Kalorama location)

Harry's Reserve

Himitsu

Hop Cask & Barrel

Hotel Monaco

Hotel Palomar / Urbana

Irving Liquors

Ivy & Coney

Jack Rose Dining Saloon

James Hoban's

Jinya Ramen Bar (14th Street)

JRs Bar & Grill

Kingfisher

Larry's Lounge

LE Liquors

Lion's Fine Wines & Spirits

Little Miss Whiskey's Golden Dollar

Lucky Buns

Magruders of DC

Mess Hall

Metro Wine & Spirits

Michigan Liquors

Mom's Organic Market (Ivy City)

Morris Miller Liquors

Northwest Liquors

Number 9

Odd Provisions

Orchid

The Outrage

Paul's Wine & Liquor

Pearl Dive Oyster Palace

Pitchers

Pizzeria Paradiso

Prego Again

The Pub & the People

Public Tenley

Red Derby

Riggs Liquors

Right Proper Brew Pub

Rock & Roll Hotel

Rodman's Discount Drugs

Roofers Union

Safeway (Piney Branch & Georgia Ave)

Shaws Tavern

Sherry's Wine & Spirits

Tenley Mini Market

Trade

Tryst

Union Wine & Liquor

Wagshals

Wardman Wines

Watergate Vintners

Whole Foods (DC Locations)

World Wine & Spirits

Yes Organic Markets (DC Locations)

List of Retailers as of May 20, 2019