June 22, 2019 at 2:25 pm EDT | by Mark Lee
Will D.C. hear its coalmine canaries?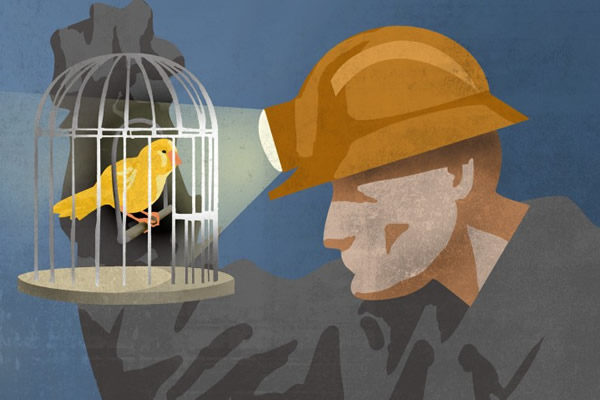 In recent days there have been widely reported dual chirpings of two separate coalmine canaries in D.C. The question is whether local elected officials will listen to these warnings or ignore both to the city's economic detriment.
The first finch's cautionary chirrup concerns the District government's irresponsibly profligate spending, now totaling more than $22,000 per year for each resident of every age. Worse, the never-ending appetite of city politicians for ever-more expenditures producing a whopping $15.5 billion annual budget has them scouring the couch cushions for loose change to feed their unsustainable spendthrift habits.
This greed-grab suddenly extends to dedicated tax revenues originally levied to finance the Washington Convention Center. Now that this bank balance has been discovered, it's being converted into a perpetual ATM for avaricious politicians who don't much seem to know the value of a dollar.
Rankling hospitality and nightlife entrepreneurs is having to endure watching a highly publicized D.C. Council fight with the CFO over absconding with the funds these businesses contribute in special tax levies. These costs are passed on to consumers in higher prices for every overnight stay, and every meal and drink enjoyed at local bars, restaurants, and nightclubs.
The second avian quarry quivers come via dispatches last week by Washingtonian food editor Jessica Sidman and Washington City Paper food editor Laura Hayes. Both reporters detailed worrisome local economic news of rapidly accelerating commercial lease rates and the inability of local small businesses to afford skyrocketing increases. Rising storefront rents affecting locally grown independent retailers, restaurateurs, and nightlife bar and entertainment venues threaten the District's nationwide distinction for its dominant hometown commerce.
Fully 96 percent of the hospitality marketplace is conducted by local establishments. These enterprises comprise the largest indigenous business sector, major local employer and leading tax provider, as well as contributing a government-estimated 20 percent or more of all economic activity in the District.
National franchise chains and corporate purveyors of food and drink have begun eyeing cracks in a nationally unique business environment. They can pay the eye-popping commercial leasing rates, gradually shoving out what constitutes the heart and soul of a city increasingly respected for its nighttime scene.
If Events DC, the entity holding unspent reserves, has been the recipient of funds in excess of need, why did these tens of millions of dollars primarily deriving from dedicated small business taxes suddenly become just another piggybank to crack open and pillage? Not a single D.C. Council member suggested these tax levies be lowered. Instead, the slobbering over a new bounty of bucks has been unsavory to witness.
The city's event and sporting facility and management bureau receives a dedicated one-percent portion of the city's restaurant and bar 10-percent sales tax and 4.5-percent portion of the 14.5-percent hotel tax, both at the tip-top of the very worst tax rates nationwide. The budget battle involved reallocating an only-partial fund surplus amount of $47 million, or nearly 12-percent of special tax collections.
The reflexive reaction by elected officials was not to lower these tax rates, but to plunder the funds to facilitate ever-higher levels of excessive splurging. Rather than search tenaciously for squandered expenditures due waste and misuse, or worthlessness and uselessness, their focus continues to be dollars expended and not results delivered.
Why not redirect these excess reserves as a reinvestment from where they came? Shouldn't the city shift its current tax abatement strategies from bigger businesses toward smaller enterprise? It's a startlingly simple solution that seems not to have occurred to anyone.
Let's use these monies to convey a modicum of tax relief directly appropriated to community businesses as a small offset against rising commercial rents when and where applicable. It would provide a real investment and produce tangible results for the local economy, job opportunity growth, and strengthen social and cultural amenities.
At least while the birds are still breathing.
Mark Lee is a long-time entrepreneur and community business advocate. Follow on Twitter: @MarkLeeDC. Reach him at OurBusinessMatters@gmail.com.