July 24, 2019 at 2:05 pm EDT | by Richard J. Rosendall
Panic early and avoid the rush!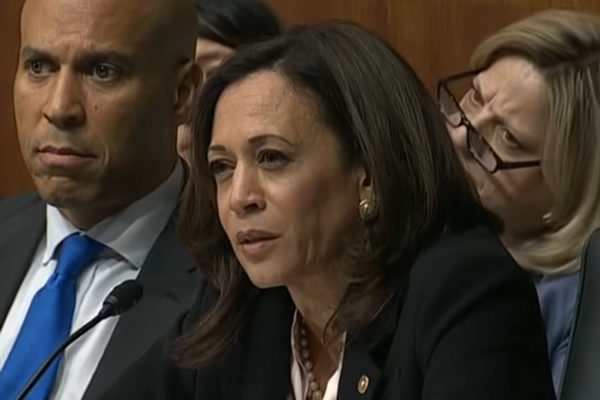 Pardon me, dear reader, but after thirty months of misrule by a cruel, reckless, morally treasonous sexual predator, I am sick of being told that it is Democrats who are extreme.
A colleague tells me that the top four democratic presidential candidates are a clown car, ignoring all the rest, despite the party conventions still being a year away. Excuse me, but I've been to the circus, and four people do not a clown car make. Four people are a carpool. Bad metaphors are devouring our brains. But I digress.
One alleged clown is Sen. Kamala Harris, whom I consider one of the most impressive people running—smart, tough, likable, quick on her feet—but she is dismissed as an unelectable extremist because my colleague says so, his preferences being father to his analysis. Who knows how Kamala will fare in the campaign? Plenty of smart people were wrong in 2016. A little intellectual humility, never abundant in political circles, can steer us around our blind spots.
What is the supposed extremism? Universal healthcare? Reproductive freedom? Compassion for migrant families who behave like many of our own ancestors? Trump treats four progressive congresswomen of color as if they were space aliens, like the moon rocks in Apollo 18 that turn out to be alive. I hate to mention it, but the moon rocks already run the government. What sense does it make to be so spooked by a few sketchy policy proposals that you're ready to run into the changing rooms at Bergdorf's with Donald Trump?
Unlike 1960, when Kennedy decried a fictional "missile gap" and Nixon waxed bellicose over obscure Chinese islands Quemoy and Matsu, Democrats in this election cycle are addressing real problems. No, I don't support taking away people's private health insurance. We're looking at the menu, not pushing candied cockroaches in your mouth.
Let's discuss extreme policies. Why should the working class subsidize tax cuts for plutocrats? Why should we privatize corporate profits while socializing losses? How can any conservative or patriot admire a leader who coddles murderous dictators? Why is a white domestic terrorist treated to Burger King by police while a black motorist with a broken taillight is killed? Is "Turn off the camera" our new national motto?
As D.L. Hughley says, "Your nostalgia is our nightmare." When we say, "America is better than this," we ignore our history.
The professed Christians backing Trump have exchanged the Gospel for a primitive tribalism. Core teachings of Christ like the parable of the good Samaritan and the call to welcome strangers are cast aside. Their God is an agent of revenge—or scapegoating.
"What you're seeing and what you're reading is not what's happening," 45 declares. He is not trying to persuade his critics or the press, but playing to supporters he successfully gaslighted. They are unlikely to be persuaded by anything Robert Mueller tells Congress.
When Trump describes immigrants as animals, he echoes Hutus demonizing Tutsis in the run-up to the Rwandan genocide in 1994. When he incites "Send her back!" chants, he promotes violence.
A local right-wing troll treats me like an imbecile online, then comes up and speaks pleasantly at a cafe. I consider this deranged, but also fascinating. Maybe I'll draft better insults for him, as upperclassmen used to do at the political union in college. Recently I saw Tucker Carlson referred to as a latter-day William F. Buckley. The writer was aware of the absurdity; alas, much of what calls itself the conservative movement nowadays is not.
In this environment, restoring reality to public discourse is an uphill battle. At least we can keep learning from people of different backgrounds and perspectives, and not surrender to the mob or to lectures from those who do not share our concerns and will suffer the fewest adverse consequences of our losing.
Brit Hume says Trump's "go back" comments "were nativist, xenophobic, counterfactual and politically stupid," but not racist. What a comforting assurance for a woman of color to receive from someone who is not so targeted.
Do not succumb to panic. Make a daily vow to keep it as real as you can. You will have less to regret afterward.
Richard J. Rosendall is a writer and activist. He can be reached at rrosendall@me.com.
Copyright © 2019 by Richard J. Rosendall. All rights reserved.