August 4, 2019 at 7:00 am EDT | by Patrick Folliard
Dancer/actor Joey Arrigo finds identity, self in new Cirque show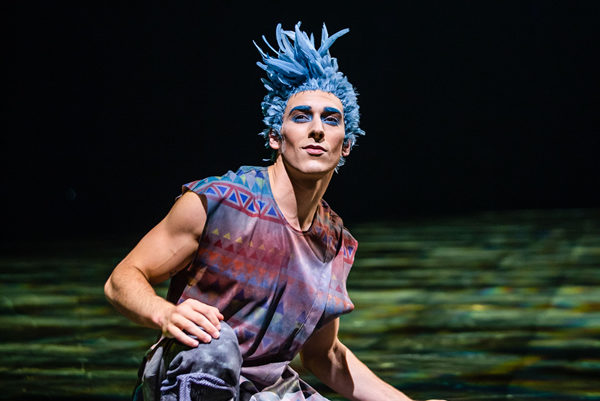 'Volta' by Cirque du Soleil

Through Sept. 29

Big Top at Tysons II

8025 Galleria Drive

Tysons, Va.

$49 and up 

877-924-7783 
Entering Cirque du Soleil's temporary campus in Tysons, Va., is like passing into another world. 
Surrounding the enormous striped white and grey Big Top performance space are a warren of dressing rooms and training areas, lounges and out buildings where an army of ridiculously fit performers along with crew, tech, physiotherapists, food service and security people work hard to present "Volta," an endearing story of transformation, inspired by the stunning skills and culture of street sports.
Among the busy crowd is "Volta's" lead, out dancer/aerialist/choreographer Joey Arrigo. He plays Waz, a young game show contestant in search of his authentic self. Recently, Arrigo took a break from the action to talk about his role.
"Waz is hiding who he really is. He's held back by his blue hair, a headful of blue feathers to be precise. It's difficult to fully embrace ourselves. We all have our metaphorical blue feathers," he says.
Offstage, what are Arrigo's blue feathers?
"Where do I begin? I have so many," says Arrigo, 27. "I was never like the other little boys. I didn't play their games. And when puberty hit that difference intensified. My Italian Catholic father was very anti-gay and my mother was uninformed. It wasn't easy."
But despite everything, he came out at just 14.
"How was I going to hide all this?," he says.
He makes a valid point. Smart, vivacious, entertainingly campy and handsome with a remarkably athletic dancer's body, Arrigo's not easily overlooked. But he's not on a star trip.
"It's not like Broadway. People aren't coming to see the lead. As the main character I tell the story and that's important, but is definitely a group with many artists including floor-based acrobats, aerial acrobats, a clown, comedic performers … and me."
Touring with "Volta" since its Montreal premiere in early 2017 (minus a six-month break), he performs eight-10 shows a week. It sounds a bit of a grind, but Arrigo insists otherwise.
"Seriously, 'Volta' is always changing. We're constantly polishing the production and striving to improve our storytelling. When the show opened in Montreal, my friends gave a perfunctory, 'really great,' but when they see it again, they're like, 'Whoa! You guys have really done your work.' That feels really good."
Still, the work is taxing. During his much-needed break, Arrigo lived with a handsome bartender he'd met on tour in Seattle.
"It was the closest I've come to settling down," he says. "I grew a beard because I could and happily wore my freedom on my face. He was a game changer."
In May, he rejoined "Volta" in Chicago, refreshed and reinvigorated.
Growing up in Canada's Greater Toronto Area, he virtually lived in the dance studio. It's where he excelled and where he was happy.
After high school, he bobbed around Toronto auditioning for a year. Work ensued. Among a zillion other jobs, Arrigo was one of Canada's top 20 dancers on CTV's "So You Think You Can Dance Canada" (and served as assistant choreographer on the show for several seasons). He also toured internationally with Rasta Thomas' company, Bad Boys of Dance.
But it wasn't until Cirque du Soleil, that he began to act as well as dance. Prior to "Volta," Arrigo went on European tour with Cirque's "Kooza" as "the trickster," the performance that inspired Cirque's artistic directors to tap him to play Waz.
"I came in as a charismatic theatrical dancer. But before Cirque du Soleil, I'd been dancing from the neck down. 'Kooza' taught me to have physical dialogue with other actors. I was able to grow skills as an actor and to make my emotions more genuine on stage and I brought that to my dancing."
Looking forward, Ariggo wants "Want to push my character skills to the next level.
"But foremost," he says, "I'll always be a dancer. Whether my body can do exactly what it does now or not, I want my dance to come from the right place, a place of love. When I'm 95 years old sitting in a wheelchair shimmying, I'm going to be one of the greatest dancers you've ever seen."