Holiday musical productions go virtual
Region's choruses, theaters preparing online celebrations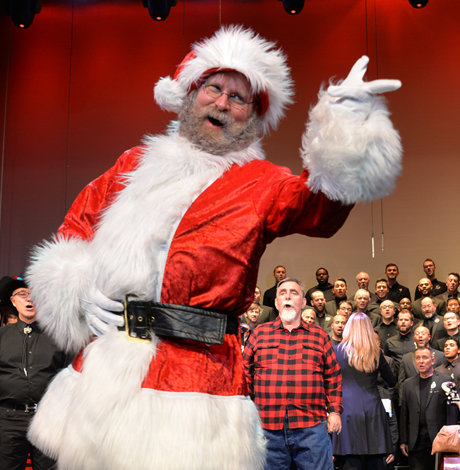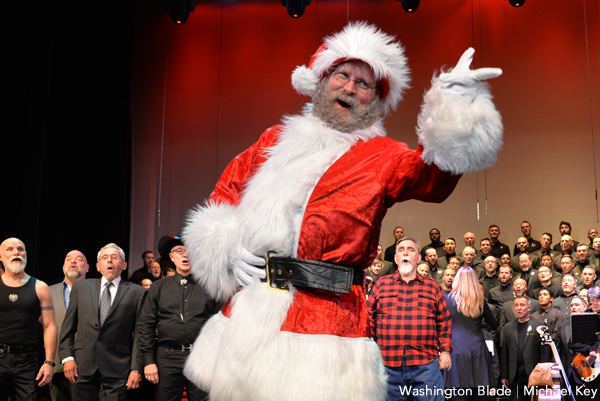 "Christmas is coming, the goose is getting fat…"
The holidays are upon us and while the parameters of how we mark the season may have changed, many of the melodic celebrations are still taking place – only differently. Here's a smattering of virtual offerings.
In honor of its 40th anniversary season, the Gay Men's Chorus of Washington, D.C., presents "The Holiday Show," streaming Dec. 5-20. The virtual event features some of the chorus' best tunes from holiday shows past, plus many never-before-seen virtual performances and a virtual holiday sing-a-long. Songs will include "Sleigh Ride," "The 12 Rockin' Days of Christmas," "Peace on Earth/Little Drummer Boy," "Jingle Bells," "Boogie Boogie Frosty," and "Silent Night."
For further details and ticket information go to gmcw.org.
The Israel Philharmonic Orchestra is hosting a Pre-Hanukkah Global Celebration Concert, a virtual concert, taking place on Dec. 6. This is a one-of-a-kind program featuring performances by Academy Award-winning film composer Hans Zimmer, Israel Philharmonic Music Director Lahav Shani, and musicians of the Israel Philharmonic Orchestra.
The program is free and accessible to all, streamed via YouTube on AFIPO's site, and on Facebook. RSVP at afipo.org.
In conjunction with George Mason University's College of Visual and Performing Arts, Step Afrika! presents "Step Afrika!'s Magical Musical Holiday Step Show," on Wednesday, Dec. 16. Spotlighting the African-American tradition of stepping, a percussive, highly energetic art form first developed through the song and dance rituals performed by African-American fraternities and sororities, the family fun show features characters from the Arctic Kingdom—Popper the Penguin along with polar bear twins, Pinky and Polo stepping in time for the holidays. This holiday event can be streamed free of charge at stepafrika.org.
For many Washington area theatergoers, the holidays aren't complete without a performance of Tchaikovsky's ballet "The Nutcracker." To help ensure that the tradition endures, The Washington Ballet is working on putting together a delightful virtual Nutcracker experience with behind-the-scenes content, interviews, special performances, and more.
For unfolding details go to washingtonballet.org.
Folger Consort's Christmas concert, another beloved D.C. tradition, will be available to stream on-demand from Dec. 11 through Jan. 5. As its centerpiece, the concert features Bach's cantata BWV140, Wachet auf (Sleepers Wake) along with other German holiday favorites paired with English and American Yuletide music from the early music tradition. The concert was filmed at St. Mark's on Capitol Hill. For tickets and further information go to folger.edu.
Maestro Luke Frazier and The American Pops Orchestra (APO) present "Ella Wishes You a Swinging Christmas with Vanessa Williams," premiering Tuesday, Dec. 15 on PBS, PBS.org and the PBS Video App. Filmed in front of a small, socially distanced live audience under strict COVID-19 mitigation procedures at the Meridian International Center in Washington, D.C., the concert reinterprets Ella Fitzgerald's classic 1960 holiday album comprised of American songs of the season like "Santa Claus Is Coming to Town," "Have Yourself a Merry Little Christmas," "The Christmas Song," "Sleigh Ride" and "Winter Wonderland." In addition to the fabulous Vanessa Williams, the cast of stellar vocalists includes Broadway's Dee Dee Bridgewater, Carmen Ruby Floyd, Morgan James, Norm Lewis, and local favorite Nova Y. Payton.
The Washington Chorus (TWC) is reimagining its annual "Candlelight Christmas: Live at the Music Center at Strathmore" (Dec. 18-20) in a beautifully produced show filmed live at the Music Center at Strathmore with socially distanced performances, guest soloists, and carol sing-alongs.
TWC's concert is one hour with no intermission and features members of The Washington Chorus with soloists, guest "Side by Side" high school chorus from Duke Ellington School of the Arts, bells, and more. For tickets go to thewashingtonchorus.org.
With their tour grounded due to the pandemic, The King's Singers Christmas Concert, an annual favorite for local fans, will stream live from the UK on Dec. 22 with a holiday selection of traditional carols and seasonal songs. kingssingers.com.
On Christmas Day at noon, the Washington National Cathedral presents its straightforwardly titled "Christmas Day Organ Recital." Cathedral organists Thomas Sheehan and George Fergus present a program of festive Christmas music on the Cathedral's Great Organ. The Cathedral suggests you "make a cup of cocoa, wear your holiday-appropriate ugly sweaters and socks and celebrate Christmas with them." Admission is free. For registration and further details go to cathedral.org.
The Irish Repertory Theatre's heartwarming musical "Meet Me in St. Louis" streams Dec. 11 through Jan. 2. This new digital production is an abridged version of the Broadway musical "Meet Me in St. Louis" (1989), based on the charming 1944 film of the same name starring a young Judy Garland. For further information and reservations go to irishrep.org.
On Dec. 29, Coyaba Dance Theater West African Dance Company presents "In Spirit of Kwanzaa," a high-energy virtual presentation based on the Seven Principles (Nguzo Saba) of Kwanzaa: Umoja, Kuchjichagulia, Ujima, Ujamaa, Nia, Kuumba, Imani. Kwanzaa is a late December African-American holiday in celebration of families, community economics, and faith. This free virtual event promises to lift your spirits and warm your hearts. For further information go to danceplace.org.
'Blindness' explores a terrifying new pandemic
Sidney Harman Hall production features immersive sound, light installation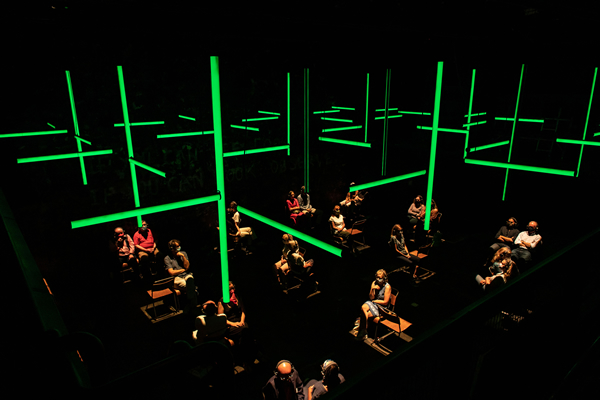 'Blindness'
Through June 13
Shakespeare Theatre Company
Sidney Harman Hall
610 F St., N.W.
$44-54
Shakespearetheatre.org
Masks and social distancing, yes, but I never expected a return to live theater to include a stage without actors and an audience seated onstage. But that's exactly how it went it down on a recent sunny Saturday morning in Washington.
We longed for something, and after a year of indisputably warranted darkness, the Shakespeare Theatre Company (STC) has obliged by reopening Sidney Harman Hall with Donmar Warehouse's terrifyingly enthralling production of "Blindness," an immersive sound and light installation anchored by Juliet Stevenson's astonishing recorded vocal performance heard — jarringly, soothingly, eerily — through binaural headphones.
Adapted by Simon Stephens from Nobel Prize winner José Saramago's same-titled dystopian novel, and staged by Walter Meierjohann ("The Curious Incident of the Dog in the Night-Time"), the London born, 75-minute tale begins with narrator Stevens matter-of-factly relaying the details surrounding the outbreak of a pandemic that causes blindness. What starts off as an alarming, isolated incident, rapidly devolves into something all-encompassing and petrifying.
Uncannily, Saramago's 1995 book, both looks back to plague stories and prophetically toward COVID-19.
In addition to narrator, Stevenson (an Olivier Award-winning stage actor also known for films like "Truly, Madly, Deeply") plays the wife of an ophthalmologist whose office is where patient zero spreads the disease to various other patients – a little cross-eyed boy, an alluring young woman hiding a case of conjunctivitis behind dark sunglasses, a thief, an older gent sporting an eye patch, and sundry others.
The doctor's wife, who is immune to the new sight-stealing disease, is doomed/blessed to become the lone eyewitness to violence, injustices, and death as the situation becomes progressively scary, primitive, and dangerous.
Rather than darkness, the afflicted are submerged into a world of milky whiteness. The pandemic – a new pathogen whose means of transmission is unknown – moves quickly throughout the city, then the nation, and beyond. Early in the outbreak, the health ministry is reluctant to get too involved, choosing instead to minimize the seriousness of what's happening. Sounds familiar, I know.
Like the story, Jessica Hung Han Yun's lighting design becomes increasingly menacing as things move along. Originally playfully colorful fluorescent tubes suspended high from the ceiling, they turn stark white and are lowered to audience members' line of sight. Then they are darkened altogether, interrupted by occasional bright colorless flashes.
Through headphones, the audience hears rain storms, harsh announcements, barricades being dragged, screams, sobs, footsteps, and gunshots. At times, Stevenson whispers in your ear. Once, I mechanically answered "Yes, I'm here."
Masked, seated often in total darkness, headphones, it's immersive, sometimes claustrophobically so. (If it becomes too much, there's a flash light attached to the leg of each metal chair. Turn it on and an usher will escort you off the stage.)
During the pandemic STC has developed health and safety measures that include masks, air filtration, social distancing, etc.
For "Blindness" only 40 patrons are allowed per viewing. No one is seated next to someone outside of their own party, and a limited number of single tickets are available for purchase by calling the box office. Headsets, seats, and flashlights are disinfected before every performance, and all bathrooms and lobby spaces will be cleaned prior to the next seating group enters the building.
Exiting the Harman, you might think how odd it is to have been on stage before the actors' union has allowed them to perform indoors before a live audience.
Outdoors, the warm wind feels invigorating against your face as you walk down the street. Still, the nearby upscale Mexican restaurant's windows remain boarded and the half dozen people around you are walking determinedly, all — except one — wearing a mask.
Theater that starts uncomfortable conversations
Theater Alliance director on 'City in Transition' — 4 plays about D.C.'s quadrants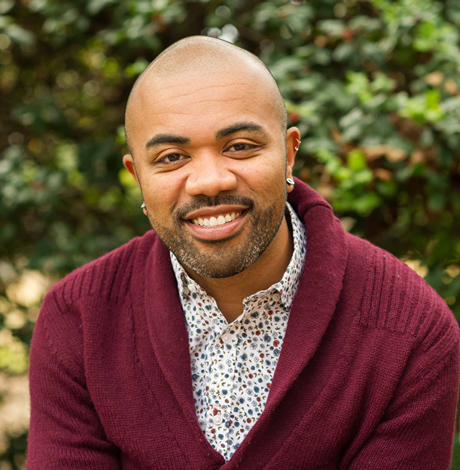 'City in Transition: The Quadrant Series'
Streaming from April 24-May 24
Theater Alliance
Recently, a Facebook post asked "Are there any activist theaters in D.C.?" A local actor quickly replied. "There's only one," she wrote. "It's Theater Alliance."
During a phone interview from his home in Anacostia last week, Theater Alliance's producing artistic director Raymond O. Caldwell, addressed the social media query: "We keep our heads down and do the work. Well before the pandemic, we were trying to have conversations about race in America. Then it seemed niche work. Now that work is in vogue. There might come a time when it's no longer stylish. But that's OK, we're ultimately doing it to transform people's lives and start conversations.
"Our plays won't change the world. Straight up. But we can start conversations that are uncomfortable and don't have easy answers. And by partnering our productions with various nonprofits, we're able to involve people in the movement whether it's on the front line or stuffing envelopes."
In residence at Anacostia Playhouse, Theater Alliance's mission is to illuminate the experiences, philosophies, and interests of D.C.'s diverse population. When Caldwell, who is gay, took helm of the company in January 2019, the organization was already steeped in diversity. He's worked to continue and expand on that, creating a cultural institution that's invited in the surrounding, mostly Black community.
The company kicked off its virtual season in December with eight pieces about protest centered around the demands of the Black Lives Matter movement. Having started off nationally, they're now moving locally with "City in Transition: The Quadrant Series," a 90-minute intersection of theater and film directed by Caldwell.
Part of the multi-Helen Hayes Award-winning company's Hothouse new play development series, "City in Transition" consists of four filmed plays about Washington's quadrants, SE, SW, NE, and NW written by local black playwrights Khadijah Z. Ali-Coleman, Avery Collins, Shalom Omo-Osagie, and Leslie Scott-Jones.
The not long pieces are set in the present, past, and future. Topics include Black nonprofits battling to get funding via a game show; the meeting of hip-hop artists and violence set against the gentrified waterfront; a wealthy Black family debating whether to transform its landmark Black property into a trendy lounge for whites; and a white census taker discussing the changing city and current protests with a Black Washington native.
"Almost 13 years ago, I came to D.C. to be in Chocolate City but to my surprise, it wasn't here," says Caldwell, 37.
"When I think about a city changing and moving through gentrification, what concerns me is the loss of history, the stories of the folks who once lived here disappear.
"And interestingly, as D.C. gentrifies, we start noticing an uptick of murals and Black aesthetic of the city. It allows liberal yuppies to feel they're in an urban environment but forgetting the rich history particularly for Black people in DC."
He initially came to Washington for a six-month fellowship but stayed on. After six years at
Arena Stage, desirous to work outside of a white space, he began teaching at Howard University.
At Howard, his work centered on the universality of storytelling. "I pitched what folks would consider white work like Lillian Hellman's provocatively lesbian-themed play, 'The Children's Hour.'"
"I'd ask my predominantly Black audience to imagine ourselves there as well, and they would.
The audience left thinking the play was written by a Black woman. It was additionally powerful because we in the Black community have trouble talking about homosexuality."
As gay, Black, and Asian, Caldwell sometimes refers to himself as third culture: "Being who I am allows more space for me to see biases. I go into work asking myself what are the opportunities for transformation within me and the ensemble of artists I'll be working with?"
Born in Germany to a German-Filipino mother and African-American father, he mostly grew up in Germany but spent summers with his father in the U.S. At 13, he went to live with his father.
"He thought I'd had enough of the European experience and wanted to teach me what it was to be a Black man in the world. And interestingly, that became the center of my activism."
Caldwell's American grandmother described him like this: "That boy can't help but livin'."
It's true, he keeps busy, says Caldwell. He doesn't turn down too many projects. "I'm honored to be creating art. There are so many ideas I want to push and propagate and now having a space and platform makes it especially hard to say no. It's a good place to be."
'Aunt Julia and the Scriptwriter' a raucous, transgressive romance
GALA Hispanic Theatre debuts second live performance since COVID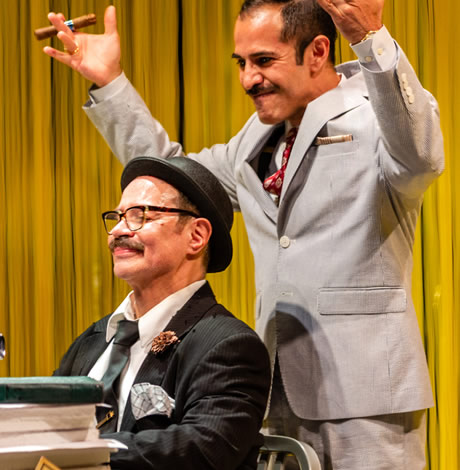 'Tía Julia y el escribidor' / 'Aunt Julia and the Scriptwriter'
In person April 22-May 9 ($45)
Online starting May 5 ($25)
GALA Hispanic Theatre
3333 14th St., NW
Galatheatre.org
When GALA Hispanic Theatre reopened its doors in the fall, the actors performed in a giant plexiglass box. And now, for the Columbia Heights company's second live performance production, what looks like "a giant sneeze guard" separates the action on stage from the audience.
Opening next week, Caridad Svich's eponymous adaptation of Nobel Prize-winning writer Mario Vargas Llosa's autobiographical coming-of-age novel "Tía Julia y el escribidor, or "Aunt Julia and the Scriptwriter," is a raucously funny, transgressive yet tender romance.
A fun workplace story set against the radio-novela focused world of 1950s Lima, it's the story of Mario, an aspiring young writer who embarks on an ardent affair with Julia, his alluring, older aunt by marriage.
The production's out director José Zayas knows the story well.
He first encountered this peek into Vargas Llosa's youth with "Tune in Tomorrow," an Americanized 1990 screen adaptation (relocated to New Orleans) starring Keanu Reeves and Barbara Hershey. Smitten with the film, Zayas promptly sought out the source material: "It's an especially autobiographical, genuine Latin American comedy. Truly a delightful work to encounter."
When tapped to direct something for Repertorio Español's 2015 season, Zayas requested that longtime collaborator Svich adapt "Tía Julia." Both she and the esteemed New York theater agreed.
"We're very simpatico," he says. Zayas and Svich are equally adroit in Spanish and English, and together they share a passion for classic Hollywood screwball comedies like "The Frontpage," "Twentieth Century," and "His Girl Friday," and their love for the genre is evident all over the play and production.
"It's an especially unique adaptation with different influences coming into play," says Zayas, a Harvard grad who was born in Puerto Rico, grew up in the U.S. Virgin Islands, and now lives in New York. "It's one of the interesting things that happens when you adapt in the United States and you're working in Spanish – the rhythms are different.
"And while there's nothing explicitly LGBTQ about the play, besides me and some of the cast," he adds, "it has a feel — the fascination with the comedies of the period — the strong women of the time like Rosalind Russell, the style, and form of it. It's all there, maybe coded, but there."
Already in rehearsal at GALA when COVID hit in March 2020, the presented in Spanish with English surtitles production was postponed until now. Resuming rehearsals after a long break means hearing the play in new voices, new ideas, new textures, and in some cases new cast members, says Zayas. Fortunately, out actor Carlos Castillo, a talented GALA vet, remains in the role of young Mario's mentor, the exceedingly eccentric scriptwriter Pedro Camacho.
Zayas adds, "Before the show was cast, I immediately saw Carlos as Pedro. He's biting into the part and loving it."
Zayas also staged GALA's reopening in October with "El Perro del Hortelano" ("The Dog in the Manger"), a classic Spanish comedy. Part of a pilot program, the show observed myriad safety protocols including masks, socially distanced seating, and a dramatically improved air filtration system. Zayas conferred with out set designer Clifton Chadick on a contained terrarium like set that addressed the concerns of COVID-19 while telling the story in a modern light.
For "Tía Julia," safety measures are again in place (though now there will be 50 rather than 25 seats available per performance in the 364-seat house). Moreover, Zayas and Chadick are reunited. "This time," Zayas says "there's a giant sneeze guard between the stage and the house. In the context of the play, it feels like the audience is in the radio studio watching through glass. It makes sense. I think we came up with a fun way of doing it. "
Much of Zayas' career has been making theater for Spanish speaking and Latinx audiences. "It's tricky. While you want to get as broad a base as possible, I find it edifying to have these conversations with Spanish speakers. But I like to invite others to join in too. See, it's a little complicated."
"But ultimately, theater is about experience and connection. Being an adventurous theatergoer is really exciting. It makes you a better listener and a better person – you become more empathetic, attuned to language, and different behaviors. And this is one more connection."