'The Lady and the Dale' explores transphobia in 1970s America
Docuseries opens window on uniquely American auto industry scandal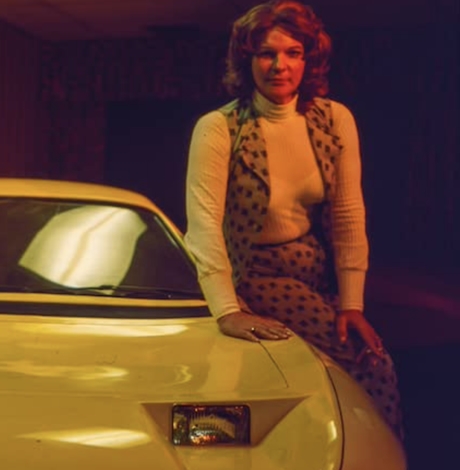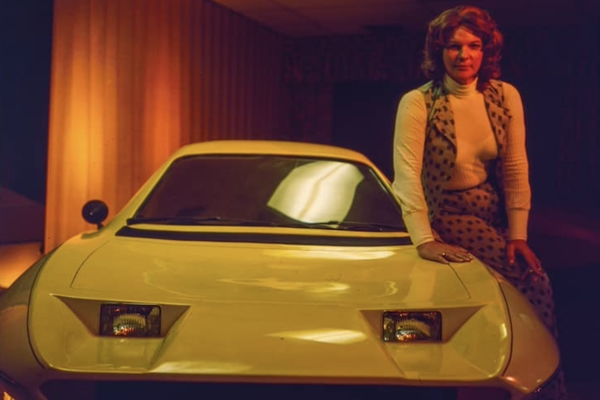 One of the advantages of living in a culture that obsessively records itself is that looking back on ourselves often delivers a healthy dose of 20/20 hindsight, not just on whatever piece of history we are trying to study but on all the things that have changed since it happened – and sometimes, on all the things that haven't.
Such an experience is provided by "The Lady and the Dale," HBO Max's Duplass Brothers-produced docuseries that opens a window on 1970s America by relating the details of an implausible but true automotive industry scandal that captured headlines before fading into obscure cultural memory. In the process, it turns a quirky true-life tale of corporate chicanery into an eye-opening examination of the way our beliefs about gender shape the public narrative. It also forces us to ponder questions about how much those beliefs have evolved – if, indeed, they have evolved at all – in the years since the story it tells took place.
Directed by Nick Cammilleri and Zackary Drucker, the four-episode chronicle spins the kind of yarn that might be considered too implausible to be believed if it hadn't happened in real life. It's more than revisiting a news story – it's the saga of one Elizabeth Carmichael, who splashed into fame at the height of the 1970s oil crisis with her introduction of a fuel-efficient, radically redesigned automobile called the Dale. Armed with a prototype and a knack for promotion, she gathered an impressive stable of designers and engineers and started her own company, the Twentieth Century Motor Car Corporation, and began touting her innovative, three-wheeled vehicle to an American public in the grip of an OPEC-driven fuel shortage that had driven gas prices to record highs.
Taking advance orders to fund production, the upstart entrepreneur soon fell under suspicion for her seemingly outrageous promises of 70-mile-per gallon fuel economy and a quick rollout; when technical setbacks cast even more doubt on her claims, increased scrutiny from media and law enforcement uncovered a hidden past of shady scams, audacious escapes, and concealed identity, culminating in the revelation that she was both a longtime fugitive from justice and a transgender woman. Choosing to defend herself in court against charges of fraud and business code violations, she found herself also waging an uphill battle with misogyny and transphobia, and she ultimately opted instead to pull a decade-and-a-half-long disappearing act before authorities were finally able to catch up with her.
Assembled in the slick, now-familiar "docu-tainment" style that has become the fashion with high-profile shows of its ilk, "The Lady and the Dale" takes a deceptively bemused tone from the start. Though considerable footage exists of Elizabeth Carmichael from her days in the spotlight, much of her life can be glimpsed only through a few family photos and home movies, and the show makes up for this dearth of material by mining those images to create clever, quirky animations illustrating her story. These visual aids might seem too light-hearted to accompany a tale of deception, greed, crime, and systemic bigotry, but as more is revealed about the complex and conflicted underlying morality of the story, their whimsy seems more like irony – the kind that might arise from living through decades of oppression from a society oblivious to its own role as oppressor.
That is, of course, precisely the viewpoint Cammilleri and Drucker want you to take. As they piece together the details of Carmichael's notorious misadventures – through interviews, news and courtroom footage, and commentary by experts adding a contemporary perspective – they slyly, almost subversively peel back the convoluted layers of circumstance to reveal the unmistakable face of transphobia cowering at the core of her story. Using the tall-tale appeal of their subject, they draw their audience into an "if I only knew then what I know now" retrospect on an era when most Americans saw no difference between a transgender woman and a drag queen. The archival news coverage they show us is rife with misgendering and dead-naming, interviews with authorities and journalists assert the presumed untrustworthiness of a "man posing as a woman," and the enthusiasm with which media and authorities cast Carmichael as a villain and raises a now-obvious red flag about the real reasons behind her merciless persecution. By the time the series reaches its halfway mark, it becomes clear that, while she may well have been culpable in the events that led to the charges against her, she was really being punished for the crime of being trans.
At the same time, the series provides an unexpectedly positive parallel real-life narrative, in which Carmichael managed to successfully transition while continuing in her role as head of a household, maintaining the love and support of a family who stayed with her even through years of living on the lam. Through interviews with children and other relatives, we learn about a warm and loving person who was fully accepted on her own terms by a wife and kids that stayed loyal despite an unstable and often dire lifestyle. Couple these with the descriptions coming from associates from the Dale days of a charismatic, dynamic leader who inspired their faith and commitment even as the project fell apart, and you have a very different person from the unscrupulous grifter in the portrait painted by the authorities, journalists, and other public voices who led the charge against her.
The reason behind this gap in perception between the people who knew Carmichael and those who knew only an image they themselves had helped to create seems obvious. It's why visibility is such an important facet in the fight for acceptance – the more we become aware that the people we demonize are people we actually know, the more our attitudes change and our empathy grows. But while this might seem like a no-brainer in 2021, it was not quite so clear in 1974. That it is so readily apparent now is testament to the power of hard work and activism.
Of course, not everyone in our society will be surprised by the revelations of hindsight bestowed by "The Lady in the Dale." For trans audiences, the ingrained transphobia it explores is an all-too-familiar part of everyday life, a point underscored in the series by the presence of several trans commentators, who provide a scholarly and informed cultural perspective throughout. And while the distance of time allows the luxury of acknowledging how far we've come, it's worth noting that at least one journalist interviewed for the film doubles down on the same transphobic bile he spewed forth when he covered the Carmichael case nearly five decades ago.
That's what makes "The Lady and the Dale" much more than just the latest must-watch distraction on streaming TV. It's also an essential piece of trans activism, wrapped in an entertaining package that is now being played on screens all across America for people who would likely have never clicked "play" on such a thing – and that's a con job that Elizabeth Carmichael herself would be proud of.
'Halston' promises sumptuous look at rise and fall of a fashion icon
Gay designer defined women's style for an era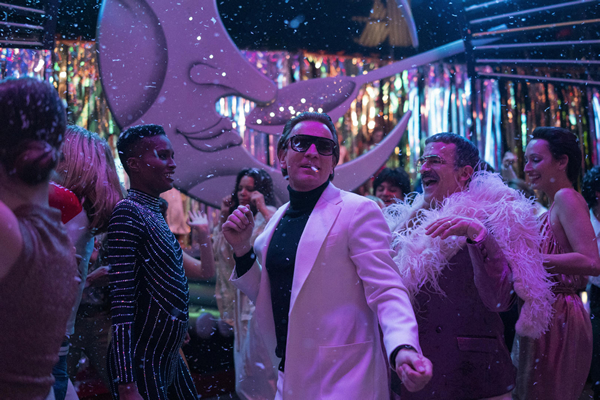 When we hear the name "Halston," our first thought is not likely to be of his status as an LGBTQ hero – except in the sense that he designed clothes for best friend Liza Minnelli.
Yet Roy Halston Frowick, who became the first "celebrity designer" in a career that defined women's fashion for an era and paved the way for the age of influencers by making his identity synonymous with his brand, can be clearly seen today as a queer pioneer. A gay midwestern boy whose grandmother gave him a love of sewing, he rose to fame after designing the famed pillbox hat worn by Jacqueline Kennedy at her husband's 1961 inauguration, and spent the next decade building a reputation fueled by the celebrity of a growing list of famous clients while honing a style that combined functionality, elegance and comfort in a way that seemed perfectly in tune with the rising women's liberation movement.
The empowering ease and "effortless" sex appeal of his designs came to epitomize '70s style, a signature feature of the Disco Era that has cast its not-so-subtle influence on every generation since, and the fashion house he started became legendary in an industry that was still tightly controlled (like every other industry) by straight men. It was an accomplishment that might have gone unheralded by most at the time, but which historical perspective reveals as a groundbreaking moment in the LGBTQ community's rise from the shadows.
Unfortunately, Halston's fall from glory – marked by his loss of control over the company he started, through a series of corporate acquisitions that might fairly be described as nefarious – and subsequent 1990 death from AIDS-associated Kaposi's sarcoma still largely overshadows his reputation (if not the fashions he created) in the popular imagination. But thanks to the arrival of the new Netflix limited series "Halston," which drops on May 14, that is about to change.
Created and directed by Emmy-winner Daniel Minahan, the five-episode biographical portrait stars Ewan McGregor as Halston, and follows the legendary designer as he leverages his single, invented name into a worldwide fashion empire synonymous with luxury, sex, status, and fame, literally defining the '70s and '80s era New York in which he lives, before a hostile take-over forces him to battle for control of his most precious asset – the name Halston itself. McGregor is joined by a cast that includes Bill Pullman (as Halston's business associate David Mahoney), Krysta Rodriguez (as Minnelli), Rebecca Dayan (as Elsa Peretti, another close Halston friend), Gian Franco Rodriguez (as Halston's sometime lover, Victor Hugo), David Pittu (as Halston illustrator and creative director Joe Eula), Rory Culkin (as Joel Schumacher), Kelly Bishop, Sullivan Jones, and Vera Farmiga – and as even a quick look at the publicity shots of each of them in full costume for their roles is enough to verify that the series has gone out of its way to meticulously recreate the look and feel of Halston's glamorous world.
The series found its way to the screen thanks to Minahan's interest in "Simply Halston," a bio penned by Vanity Fair writer Stephen Gaines. Working with producer Christine Vachon, he began work on adapting the book as a feature-length film, but the scope of the story made honing it into a two-hour-ish running time a daunting task, and the idea was shelved. The option on the book then passed through a series of other hands, but when the rights became available again, Vachon approached Minahan with the idea of revisiting the project as a mini-series, and, as Minagan says, "it just clicked." It wasn't long until Ryan Murphy reached out (through Alexis Martin Woodall, president of his production company) to express his interest, and things "started moving very quickly."
"Working with Ryan is a unique experience," says Minahan, who previously worked with the powerhouse producer on "The Assassination of Gianni Versace." "He draws the best out of people, and he demands excellence from everyone who works with him. He has an uncanny sense for story, and I've been fascinated for years by the tone he's able to strike in his work and the depth of emotion that he's able to express.
He also says Murphy had "a unique relationship" with the material that helped inform the end product. "[He] grew up in Indiana […] then he worked building an empire as a gay man in a corporate world as Halston did, so he was really generous with his experience. A lot of that made it into our scripts. We were very lucky to have him be involved."
As for McGregor, Minahan says that although he had considered a whole list of actors for the starring role, the "one and only meeting" he had was with the popular and prolific Scots actor. Though McGregor identifies as straight, he has long been an LGBTQ ally, with a history of sensitive and insightful performances in gay roles (most notably the fictionalized amalgam of Iggy Pop and Lou Reed he portrayed in Todd Haynes' glam-era fantasy, "Velvet Goldmine"), and according to Minahan, his work as Halston is nothing short of immersive.
"Watching Ewan transform into Halston was fascinating," he says. "When he arrived in New York, he asked for a room where he could work undisturbed with some props — True cigarettes, which are the same brand Halston smoked, cigarette holders, Flair pens like Halston used, scissors, fabric, a black turtleneck, a tape measure, and some yellow lined notepads." The actor also worked with costume designer Jeriana San Juan, acquiring a detailed familiarity with the technical minutiae involved with designing and assembling clothes – even going so far, according to San Juan, as studying her eye movements while she worked "so he could better track his eyeline when he's designing as Halston in the show."
Of course, it's one thing to capture the physical reality of a true-life character, and quite another to infuse that character with an inner life that honors their experience. From the fabulous ferocity he displays in the show's trailer, the versatile star of movies as wide-ranging as "Trainspotting," "Moulin Rouge," and the middle "Star Wars" trilogy looks to have delivered a career-topping performance – and if there's any doubt whether he can convey the authenticity required to illuminate the drive that took Halston to the pinnacle of the fashion world when it was still run by a conservative and closed-minded "boys' club," his delivery of the line, "I've been an outsider my entire life, till one day I just stopped giving a flying fuck," should put it to rest.
With what could become one of the season's most acclaimed performances at the center, and its sumptuous depiction of an iconic era through San Juan's costumes and the world-building of production designer Mark Ricker, "Halston" looks to be a benchmark for "prestige" TV in 2021.
In any case, thanks to the enduring fascination its subject and his legacy still hold for millions of fans and admirers, queer and straight alike, it's sure to be at the top of a lot of "must watch" lists when it debuts on May 14.
Final season of 'Pose' is must-see TV that matters
Groundbreaking FX drama has left its mark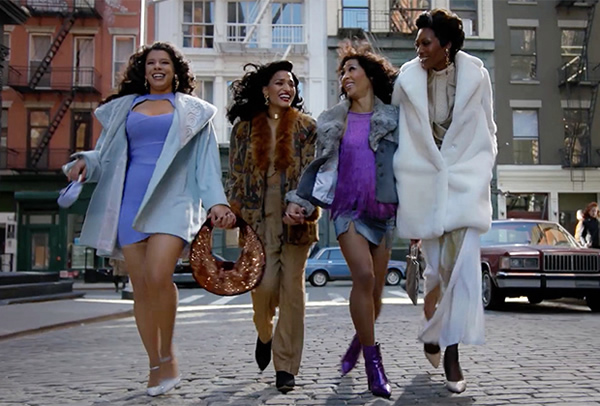 When the COVID pandemic hit in the early months of 2020, there were certainly more pressing and essential worries for us to grapple with than how it would impact the next season of a TV show. Yet it's a testament to the power of "Pose" that many among its legion of fans were at least as concerned about the show's disruption as they were about the possibility of running out of toilet paper.
The powerhouse FX drama — which spotlights the legends, icons and ferocious house mothers of New York's underground ball culture in the late 1980s — had already made history. Not only did it feature the largest cast of transgender actors in regular roles, it boasted the largest recurring cast of LGBTQ actors ever included in a scripted series. In its first two seasons, the show racked up accolades and honors (including a Primetime Emmy for Billy Porter as Outstanding Lead Actor in a Drama Series) while breaking new ground for the inclusion and representation of queer people — and especially transgender people of color — in television, both in front of the camera, and behind it. With the end of its second season in August 2019, fans were hungry for a third — but thanks to COVID, its future was suddenly in question.
So, when word came that the show's third season would have its debut on May 2, it was the best news since finding out the vaccines were finally going to start rolling out. But it was bittersweet: Along with confirmation of the series' imminent return came the sad revelation that the new season would also be the last. "Pose" would be coming to an end with a final, seven-episode arc.
As any viewer of show can attest, there were a lot of threads left hanging when last we saw its characters. That means there's a lot of ground to cover in these last chapters in order to give everyone — characters and audience alike — the closure they deserve.
The show's official synopsis goes like this: It's now 1994 and ballroom feels like a distant memory for Blanca, who struggles to balance being a mother with being a present partner to her new love, as well as her latest role as a nurse's aide. Meanwhile, as AIDS becomes the leading cause of death for Americans ages 25 to 44, Pray Tell contends with unexpected health burdens. Meanwhile, a vicious new upstart house is emerging in the ballroom world, and the members of the House of Evangelista are forced to contend their legacy.
Obviously, there are a lot of details left hidden in that broad overview, and fans are undoubtedly full of questions about what they can expect to see.
Fortunately, the bulk of the show's main cast convened on Zoom last week (along with show co-creator and Executive Producer Steven Canals and Executive Producer Janet Mock) for a press conference to discuss their "Pose" experience, and while they didn't exactly give away any spoilers, they definitely dropped some tantalizing hints about what's in store for audiences in the farewell season.
In truth, most of the discussion was dominated by reminiscences and expressions of mutual appreciation, sure signs that the feeling of family we see onscreen is something that has taken hold off screen, as well. But in between the affectionate banter, the cast and creatives addressed several questions that might be most on viewers' minds.
Perhaps the most pressing of these — why, after only three seasons, is the critic-and-audience-acclaimed show calling it quits? — was taken on by Canals, who explained:
"I always knew what the beginning and what the end of the narrative would be. And when Ryan Murphy and I first met in September of 2016, we felt really strongly that that particular narrative made sense. And so, while we certainly could have continued to create narrative around these characters and in this world, and we certainly had a conversation in the writers' room about it … I think we all agreed that it just made sense for us to 'land the plane,' if you will, comfortably — as opposed to continuing to give an audience story that just simply didn't have any real core intention or a real thrust towards specificity."
Also of interest was the obvious subject of how the parallels between the current pandemic and the AIDS crisis that looms over the show's narrative might be reflected in the new episodes. While he didn't hint at any direct connections in "Pose," Porter used the subject to underscore a theme that has always been one of the show's most important elements:
"I think the parallels are quite profound. I know that as a Black gay man who lived through the AIDS crisis, I have been dealing with a lot of PTSD during this COVID time. It's very reminiscent of what it was like then. The best news about that is that I survived. We got through it, and there is another side to it. We can get to the other side.
"I feel like that's what 'Pose' really accomplishes this season, reminding the public that it's when we come together and when we lead with love [that] we get to the other side."
Mock elaborated on the theme of resilience by discussing the importance of showing the strength of House mothers like Blanca and Electra (Dominique Jackson), who hold together — and lift up — their entire community:
"It's that matriarchal power and lineage that I think the ballroom is, and what trans women are to one another, that then feeds everyone else and enables them to shine and have all the things that they want in the world. For me, it is [about] that celebration […] of Black trans women — that they've created this space, that they brought everyone else in with them, and that, at the end of the day, they are often the ones most often forgotten.
"I think with this season, I want everyone across the industry, the audience, to realize that. I think it's essential, and it's important."
Mock also talked about the way "Pose" focuses on the small, day-to-day lives of its characters as much as it does the larger-than-life splendor of the ballroom culture in which they participate:
"We wanted to ensure that we show the everyday, mundane moments, as well as the great, grand celebrations. The ballroom is are presentation of what it means to congregate and share testimony and to love on each other, and our show is a celebration of the everyday intimacies. So, for us, while we were plotting these big, grand moments […] we wanted to bring in traditions — weddings, matrimony, all this stuff — that our characters get to engage in. We wanted to be a part of the tradition of that, and all the moments that a family shares together. We wanted to make sure that all of those things were celebrated in this."
When discussion turned to the unprecedented level of support and collaborative inclusion with which the show's queer cast were bestowed by Ryan Murphy and the rest of the creative staff — from the presence of trans women like Mock and Co-producer Our Lady J in the writers' room to the extensive reliance on the insights and talents of real-life members of the ballroom community — Jackson was quick to add that besides giving the show its ferocious authenticity, it gave her an increased recognition of her own worth:
"I will never, ever, ever walk into a space thinking that I need to impress them […] I will never walk into a space being fearful of my identity stopping me from anything. Because of this journey, when I walk into spaces now, my identity is not because I'm an abomination. My identity is a plus. My identity is my value. So, when I walk into spaces now,they need to impress me. You can be the biggest Hollywood director, producer, whatever, but you're not going to take my story or relay stories that are reflective of my life or my existence and make them into anything you want, because of 'Pose,' because of Ryan, because of Steven, because of Janet and Brad [co-creator/executive producer Falchuk), because of Our Lady J, because of my cast members.
"I will never walk into spaces or live a life or an existence thinking that I need to impress anyone."
Porter concurred, adding:
"There was never, ever a space in my brain to dream what'Pose' is, what Pray Tell is. I spent the first 25-plusyears of my career trying to fit into a masculinity construct that society placed on us so I could eat.'Pose,' and Pray Tell in particular, really taught me to dream the impossible […] the idea that the little, Black church sissy from Pittsburgh is now in a position of power in Hollywood in a way that never existed before. You can damn sure believe that I will be wielding that power and there will be a difference and a change in how things go from here on out."
If the cast members themselves have found themselves feeling more empowered thanks to "Pose," so too have the millions of LGBTQ people — and allies — who have tuned into it since its premiere in 2018. The show is one of those rare entries into the cultural lexicon that simply allows its queer and trans people to live authentic lives, giving long-withheld representation to countless viewers who were able to see themselves reflected back from the screen for perhaps the very first time. It's that powerful sense of validation provided by "Pose" that keeps it standing tall in an entertainment market now providing so much LGBTQ inclusion that it's becoming dangerously easy to take it for granted.
Whatever moments of heartbreak, joy, and celebration "Pose" brings us as it plays out its final act — and there are sure to be many — we can all be sure it will leave us with a message expressed through an oft-heard line of dialogue that Mock says she found herself writing "over and over again" during the series' run:
"You are everything, and you deserve everything this world has to offer." It's that nurturing sentiment the "Pose" has been instilling in us from the beginning, like a mother to us all.
And that's why so many of us can't wait until the first two episodes of its final season air at 10 p.m. (both Eastern and Pacific), Sunday, May 2, on FX.
Hemingway: Brilliant writer or avatar of toxic masculinity?
New documentary breaks through the 'Papa' mystique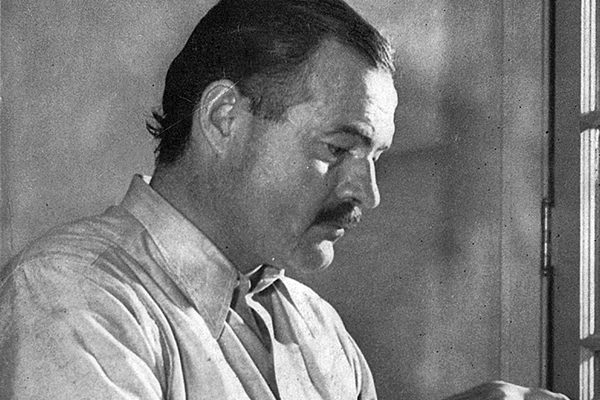 Ernest Hemingway's work is widely available in print, e-book and audio formats.
"I went to the garage and cried when your Mom died," my Dad told me a half century ago, "I didn't want anyone to see me crying."
"Men aren't supposed to cry," he added
"Why?" I asked.
"Read Hemingway," he said, " then you'll know why."
Decades later, we still avidly read Hemingway, who lived from 1899 to 1961.
We heatedly debate: Was Hemingway one of America's greatest writers (a 20th century Mark Twain or Walt Whitman)? Or an avatar of toxic masculinity?
Gertrude Stein taught him about writing. Yet, in his work, he made homophobic references to "fairies." He wrote with empathy of women dying in childbirth, while penning paragraph after paragraph about bullfights.
But, "Hemingway," a new three-part documentary by Ken Burns and Lynn Novick streaming on PBS, makes Hemingway, with all his contradictions, come alive. Actors from Jeff Daniels to Patricia Clarkson to Meryl Streep bring Hemingway, his parents and wives (he was married four times) to life.
"Hemingway" reveals that Hemingway, the ultimate man's man, was into androgyny – what we'd today call gender fluidity.
Hemingway's story is well known. Born in Oak Park, Ill., he was a reporter with the Kansas City Star, before he enlisted as an ambulance driver in World War I. During the War, Hemingway was wounded and fell in love with a nurse, who rejected him.
He and his first wife Hadley Richardson moved to Paris in the early 1920s. There, Hemingway worked for a while as a reporter, then quit to become a "starving" writer. His hunger pangs enhanced his writing. "Hunger is good discipline," he wrote in "A Moveable Feast," his memoir of his time in Paris in the 1920s.
Actually, Hemingway wasn't poor in Paris. Hadley had a trust fund. In Paris, Gertrude Stein and other writers mentored him. "The Sun Also Rises," his first novel, published in 1926 was a critical and commercial success.
After that, Hemingway lived in Key West, Fla., and Cuba; and was a war correspondent in the Spanish Civil War and World War II. He received the Nobel Prize in literature in 1954. Everyone from Marlene Dietrich to GIs in World War II called him "Papa."
At 61, he killed himself in Ketchum, Idaho, where he and his fourth wife Mary Welsh lived.
"Hemingway," breaks through the "Papa" mystique. Hemingway's father, suffering from depression, killed himself. (Hemingway would suffer from depression, traumatic brain injuries and alcoholism.) His mother Grace dressed Hemingway and his sister identically when they were young. She gave them toy rifles and dolls to play with.
Later, Hemingway and Welsh liked to switch roles in bed, says Mary V. Dearborn, author of a terrific bio of Hemingway.
Hemingway would be the girl and Welsh would be the boy. They cut their hair to the same length. "In a way, he wanted to be a woman in love with another woman," Dearborn says.
Not surprisingly for his time, Hemingway was enraged when his son Greg (who was trans and later known as Gloria) was arrested in 1951 for wearing women's clothing in a women's restroom. The two later reconciled.
The documentary helped me understand why I love some of Hemingway's work ("The Sun Also Rises," "A Farewell to Arms," "A Moveable Feast").
For despite his he-man image, Hemingway writes movingly of love and death. Through his deceptively simple, repetitive sentences, he makes you feel life as you read. Hot off the page.
What we remember most from his books isn't the wars or the bullfights. It's Catherine dying in child birth in "A Farewell to Arms."
It's the woman in the short story "Hills Like Elephants." Her boyfriend keeps trying to pressure her into having an abortion. "Please, please, please, please, please, please, please, would you just stop talking?" she says to him when he won't stop mansplaining.
It's David and Catherine, the couple in the posthumously published "The Garden of Eden," who, defying convention, switch gender and sexual roles.
Hemingway is a writer for our moment, when we're struggling with toxic masculinity and viewing gender in new ways. Check out "Hemingway," on PBS online. Better yet, read one of Hemingway's books.