For film fans, slim pickings for spring
Apartheid-era story 'Moffie' offers grim look at love and war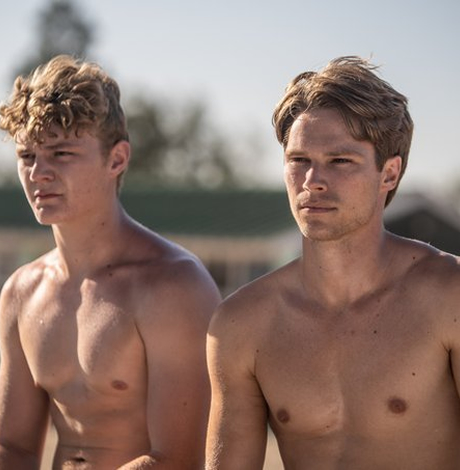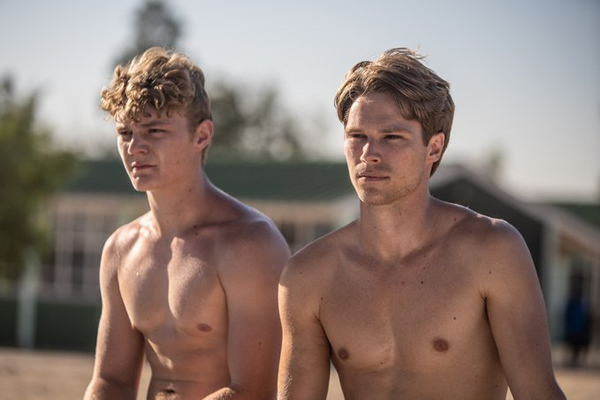 Spring is always a light season for movies. The big awards contenders from the previous year are still in the spotlight and the big blockbusters are being held back until summer, so it's a time when we tend to get the smaller, under-the-radar films that might otherwise get lost in the shadow of higher profile competitors. Even in the best of circumstances, it's typically a mixed bag.
In 2021, of course, things are even grimmer than usual. The easing of the pandemic is tantalizingly within sight, but not close enough to allow for widespread re-opening of movie theaters – and that means many of the films originally scheduled for release over the next few months have been pushed back, some indefinitely.
What that means for LGBTQ film fans is that while we can still look forward to seeing Marvel's first big screen gay superhero kiss in "Eternals," we'll just have to wait until the fall for it; but when it comes to movies like the screen adaptation of the British drag queen musical "Everybody's Talking About Jamie," there's no way of knowing when they might finally come our way.
The good news is that there are still some promising titles in the lineup over the next few months, as we hunker down on our couches for what should be the homestretch of our long sojourn through COVID.
Netflix, as always, has us covered in its films as well as its original series. Debuting March 12 is "Yes Day," an inclusive, good-for-all-ages comedy based on a beloved children's picture book from 2009. Expanding on a simple premise, the Justin Malen-penned screen adaptation centers on a family in which two strict parents (Jennifer Garner and Édgar Ramírez) agree to spend a whole day saying "yes" to everything their kids ask to do. Directed by Miguel Arteta ("Like a Boss"), it's a predictably madcap, free-wheeling romp that promises a lot of laughs and a healthy dose of heart, as well as the presence of out lesbian comedian Fortune Feimster in a featured role.
On what might be close to the opposite end of the spectrum is "Wojnarowicz: Fk You F*ggot Fker," a documentary from director Chris McKim and World of Wonder Productions. Described by the Hollywood Reporter as "a stirring requiem of rage and resistance," it's a portrait of David Wojnarowicz, the iconic New York artist, writer, photographer, and activist who turned his work into a weapon against an indifferent establishment during the AIDS epidemic of the 1980s before passing from the disease himself in 1992. Exploring his extensive body of work to illuminate the activism at its core, it also uses rediscovered voice recordings and personal recollections from friends like Fran Lebowitz, Gracie Mansion, and Peter Hujar to present an emotionally resonant look at a fiercely political and unapologetically queer artist. It's going into limited theatrical release March 19 followed by a VOD drop on Kino Now and home video.
Another documentary of interest is "Yes I Am – The Ric Weiland Story," which chronicles a queer pioneer and philanthropist who achieved wealth and influence working with Microsoft during its early success. Out and proud since the 70's, Weiland was a champion of gay rights who donated millions to the cause, making an impact that is still profound today; GLAAD has a yearly award named in his honor. "Finding Kim" director Aaron Bear's moving film portrait documents the hidden side of this queer hero, revealing a man whose struggles with self-doubt and depression compounded under the weight of the AIDS epidemic, and reminding us that "no matter how much success one finds, everybody needs help… geniuses included." Technically, this one isn't getting an official spring release, but it's screening as part of the AmDocs Festival, which is available to stream nationally March 26-April 4.
From the international front comes "Moffie," a South African war drama from filmmaker Oliver Hermanus, releasing in select theaters and on digital and VOD platforms April 9. Based on an acclaimed memoir by André-Carl van der Merwe, it's the Apartheid-era story of a gay teenage boy who is conscripted into the South African army during the nation's 1981 border clash with Angola. Subjected to daily abuse and humiliation as part of his training, he finds an unexpected bright spot in an attraction he shares with another recruit; but under the oppressive homophobia of their military environment, being seen by your mates as a "moffie" (Afrikaans for weak and effeminate) can be just as deadly as bullets from the enemy. Two dreamily attractive leads (Kai Luke Brummer and Ryan de Villiers) are bound to be a strong draw for many audiences, and they provide some beautifully tender moments amid the tension in this richly photographed, deeply cinematic romance; but be warned – this one is a far cry from the kind of positive, uplifting queer representation currently in vogue with American audiences. Hearkening back to a darker era in LGBTQ cinema, it offers a bleak portrait of a time and place that held little hope of an open and happy gay life, along with a whole slate of other grim observations about the madness of war and the toxic effects of living under a cruel and restrictive authoritarian regime. That might hit too close to home for a lot of viewers, but for those with the stomach for it there's a lot to appreciate in this one, which has already accumulated a number of honors on the festival circuit, including nominations for Venice's Queer Lion Prize and the Best Picture Award at the London Film Festival.
If the last few choices seemed a little heavy, our final highlight will surely be more to taste. Though technically not really a "queer" movie, Disney's upcoming "Cruella" is sure to have an undeniable queer appeal. Disney villains always hold a special place in the community's heart, especially Cruella de Vil – the ruthlessly fur-obsessed fashionista who became so popular terrorizing the title characters in "101 Dalmatians" that she's become more of an icon than any of the puppies she tried to turn into a coat. Already memorably portrayed in the flesh by fan favorite diva Glenn Close (who actually co-produced this one), the new Disney crime comedy puts Oscar-winner Emma Stone in that familiar two-tone fright wig and backs her up with heavy-hitters like Emma Thompson and Mark Strong. Directed by Craig Gillespie, it frankly looks like a lot more fun than any of Disney's other recent attempts to mine its animated catalogue for live-action reboots, and it is scheduled for release on May 28.
In addition to these, there are a few other LGBTQ-relevant titles currently in limbo, recently acquired at festivals like Sundance by distributors but with release dates still TBA. These include the aforementioned "Everybody's Talking About Jamie," as well as Danish filmmaker Jonas Poher Rasmussen's ambitious animated memoir "Flee," the sure-to-be-popular documentary "Mayor Pete," and Marion Hill's bisexual polyamorous romance "Ma Belle, My Beauty." While we shouldn't necessarily expect these in the next few weeks, they could feasibly drop any time. You can be sure the Blade will keep you posted..
Will 'Firebird' focus attention on Eastern European homophobia?
New film reminds us that equality is still an aspiration for many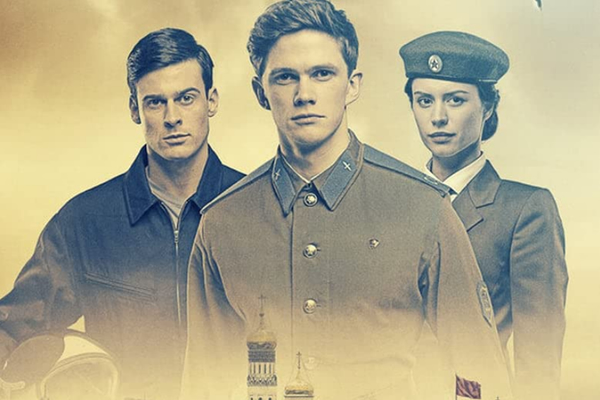 Retrospective queer films, such as "Milk" (2008), or old classics, such as "Torch Song Trilogy" (1988), share one thing in common: They depict a homophobic world in which queer love faced an iron wall of prejudice — that has largely dissipated in the United States and the West more broadly. Gay audiences can watch these films from a safe distance; we're dismayed to see how cruel the world once was toward us but we're relieved that progress has been made and we no longer have to live in secrecy and repression, which amounted to a life half-lived.
That's the comforting thought I could not indulge in watching the new Estonian gay love drama "Firebird," which is currently making the rounds at film festivals and recently had its U.S. premiere in San Francisco. "Firebird" is a beautifully shot film about a young soldier and fighter pilot who fall in love on a Soviet airbase in Estonia. The affair naturally requires discretion (something true for U.S. service members until a decade ago) but even amid the fear that their careers and lives could be upended at any moment if the wrong person stumbled about their liaisons (close calls pop up throughout the film), the two men form a loving bond that stretches over years and long distances. It wouldn't be unfair to call it a Soviet-era "Brokeback Mountain."
No spoilers here but the film does convey the sad fate many gay people suffer when homophobia is inescapable; when gay love and respectability in mainstream society conflict. The film conveys a common tragedy: Individuals compelled to live unfulfilling lives and sacrificing their happiness in order to appease the prejudice of others. A spirit of defiance has always existed alongside this tragedy. Many have opted to preserve their very being rather than conform, no matter the cost of social ostracism. But, if our own history is any guide, most will choose the closest rather than risk being an outcast. In the end, many queers simply lose their essence, and chance at lasting love, living a lie. It's hard to tell this story (already related in many films and novels) without falling into cliches and a worn-out narrative. "Firebird" avoids those pitfalls and manages to keep its storytelling unique to its circumstances, which, in the end, gives the film an emotionally affecting quality.
But "Firebird" is more than a beautiful film. It is politically relevant. This isn't a film about the long-ago unjust reality gay lovers faced but a tale dramatizing the hatred, dilemma, and deep personal anguish that still haunt queer people today in many former Soviet bloc countries. Russia might be the most salient example. The nation's law banning so-called gay propaganda has been infamous and, sadly, a model for other right-wing governments. Hungary recently passed a law prohibiting depictions of gay people for audiences under 18, precisely the young audiences that need positive gay role models. "LGBT-free" zones have popped up all over Poland, localities where homosexuality is ostensibly non-existent and unwelcome.
The backsliding on human rights amongst EU member states and American allies cannot be divorced from former President Donald Trump's devaluation of human rights. Fortunately, President Biden has spoken forcefully on human rights since his inauguration, and the words of the American president matter in those Eastern European countries dependent on American diplomatic and military support, such as Poland and Hungary (both NATO members). But the new administration faces many pressing concerns and gay rights can easily be forgotten. When Russia passed its anti-LGBTQ law in 2013, there was public mobilization in opposition. No similar outcry has greeted Hungary's copycat law. Public attention needs to be refocused on the threat to LGBTQ+ individuals in Eastern Europe.
Films have long played an essential role in raising awareness on issues that often seem too complex or too distant for concern. They can humanize injustice, underline the stakes, and present a vision for a better world. As Eastern European nations enact anti-LGBTQ+ laws, "Firebird" (a foreign film released in English) is a clarion call reminding us that for many gay people around the world, equality is still an aspiration. It would be a shame if we watched this film and walked out thinking that the past is past. The tragic love affair at the heart of the drama is the present, too.
Wahlberg walks for redemption in disappointing 'Joe Bell'
Bleak film's tear-jerking tropes produce clunky results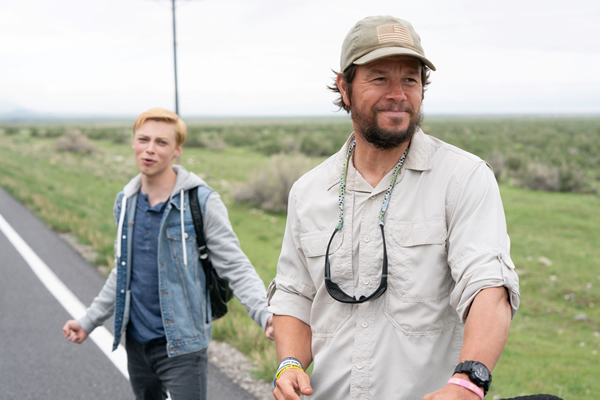 If you've never heard of the real-life "Joe Bell," you might spend the first third of the movie that bears his name thinking that you are watching an uplifting story about a father and son taking a marathon walk across America to raise awareness against bullying.
That's not exactly what is happening, though.
Directed by Reinaldo Marcus Green, "Joe Bell" stars Mark Wahlberg as the title character, a rural Oregon dad who undertook a "Walk for Change" in 2013 after his teenage son Jadin was bullied at school for being gay. Intending to journey on foot from Oregon to New York City, Bell connected with people as he travelled, gaining a following on social media and speaking at schools, youth groups, and other community organizations about the devastating effects of bullying, as well as the need for parents to be unconditional in supporting their bullied children – something he himself had failed to do when Jadin's ordeal was taking place.
Green's movie puts that inner conflict in high focus by telling Joe and Jadin's story in an intertwined narrative of past and present events. The domineering, short-tempered father we meet in flashbacks is contrasted with the humbler, gentler dad who engages in banter and sings Lady Gaga with his son on the road. It's a structure that makes it clear that Joe, once a bit of a bully himself, is walking as much to make amends as to oppose intolerance.
Unfortunately, it's also a cheat, because the real Jadin – spoiler alert – was never on that walk with his father. After being terrorized in the locker room shower by members of his school's football team, Jadin ended his own life by hanging himself in an elementary school playground. Joe, who had never been willing to stand up publicly for his son while he was alive, walked alone.
To be clear, the movie does not try to rewrite the real story. Instead, it sets up an end-of-first-act plot twist where we find out that Joe has been talking to a figment of his imagination all along. We get clues, of course, like the fact that other people never seem to engage with Jadin, but these only become apparent in retrospect, after the big reveal.
It's also after this too that the movie's tone begins to change, rapidly. Gone is any pretense that we are seeing a feel-good story of family bonding and social advocacy, or that the grim tale of small-town bigotry being spun in the flashbacks is going to lead to a triumphant conclusion, and what we now get is a deeper dive into the soul-searching of a man who recognizes, too late, how his own attitudes and behavior may have played a part in his son's decision to end his own life. Joe's walk is a bid for personal redemption, and it's a difficult journey in ways that are much more painful than the blisters on his feet.
Unfortunately, while it may make for an interesting narrative device, this sudden turn in the movie feels a little like a bait-and-switch. It doesn't help that "Joe Bell" works overtime to tug our heartstrings with its swelling, elegiac score or its reliance on tear-jerking tropes, nor that the focus on Joe's inner turmoil effectively upstages Jadin's torment. Indeed, by making the teen into an otherworldly companion, the movie essentially turns him into a gay saint, cheerfully responsible for shepherding his father toward redemption. While it may not be an intentional effect, it can't help but feel a little akin to the "magic Negro" cliché that has turned so many well-meaning movies into unintentionally offensive perpetuations of stereotype – to say nothing of begging the question of why the victims of cultural oppression should feel any responsibility at all for helping their oppressors forgive themselves.
Adding still another layer to the vaguely bad taste "Joe Bell" leaves in one's mouth is the fact that its star once famously revealed in an interview that he had been considered for a role in "Brokeback Mountain" but was glad when he didn't get it because he was "creeped out" when he read the script. Add to this Wahlberg's history as a convicted perpetrator of racial violence when he was growing up in Boston – a record that has haunted him for his entire career and for which he has spent a great deal of time and energy trying to atone – and one can only wonder if the actor might be aiming for a bit of redemption himself.
Not that there's anything wrong with that, and as far as his performance goes, Wahlberg certainly seems sincere. The famously conservative macho action star delves to a level of depth and vulnerability we haven't seen from him since "Boogie Nights," and it's hard to imagine an actor who would be a better fit as the conservative, blue-collar Joe Bell. In charting the character's evolution from toxic alpha masculinity toward a more compassionate world view, he is clearly guided by self-knowledge, and he deserves credit for his bravery in bringing that to the table.
There are other reasons to forgive "Joe Bell" for its clunky and vaguely tone-deaf presentation, most of which come from screenwriters Diana Ossana and Larry McMurtry – who also penned the script for "Brokeback Mountain," ironically enough – and their keen understanding of human nature. They sculpt believable, identifiable characters with a few deft strokes of dialogue, which not only permits us to empathize with them but gives the cast a boost in making them all into fully formed, three-dimensional human beings.
Among the actors who benefit from this are Connie Britton, wearing the patiently weary wisdom of a long-term survivor as Joe's wife and Jadin's mother, and Gary Sinise (another actor known for his conservative offscreen views) as a local sheriff who forms a brief friendship with Joe in an intimate and touching scene that is one of the movie's highlights. Most impressive of all, however, is young up-and-comer Reid Miller, who gives a charismatic and refreshingly unaffected performance as Jadin. It's largely thanks to him, in fact, that the movie doesn't come off as just another "gay issues" movie designed to make straight people feel more enlightened.
Yet even if "Joe Bell" avoids that trap, it doesn't quite rise above the layers of Hollywood sentiment with which it drapes itself. Despite the many small moments of authenticity peppered throughout, there are too many others that are either too precious or too perfunctory, and that makes it hard to care as much about the ones that work. This is especially true in light of its bleakness. Like "Brokeback," it's a movie in which the tragedy is unrelenting, and we are left to find whatever scraps of happiness we can find in the ending – but while "Brokeback" had the beauty of an epic love story to transcend its sadness, "Joe Bell" can only leave us to contemplate a senseless waste of a human life.
Faced with that handicap, even with good writing and performances, it's hard for a movie to be anything but a bummer.
Dazzling dance doc celebrates legacy of AIDS-era masterpiece
Capturing the will to survive of a beleaguered generation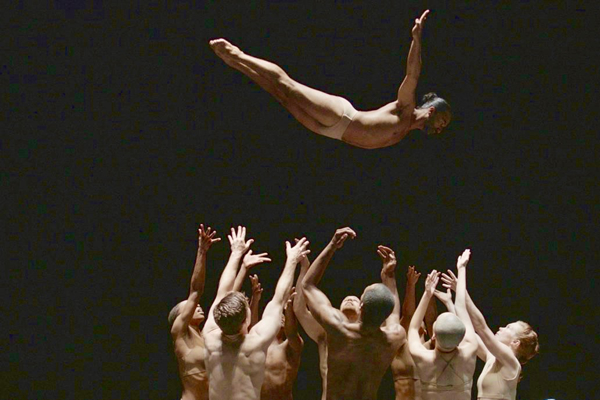 Once upon a time in New York City, Bill and Arnie formed a dance company.
They met each other in 1971, falling in love at first sight across a crowded room at SUNY, and spent the next decade exploring their lives and their art together. Arnie was a photographer, at first, but his fascination with the human body and its movement – stoked by his collaborations with Bill, a dancer who was his muse and favorite photographic subject – soon led him to become a dancer himself. Together they found acclaim as a team, creating their own works as part of the American Dance Asylum during a rise that culminated in the birth of the Bill T. Jones/Arnie Zane Company in 1982. What followed was a brilliant and prolific period in which the two partners were among the most celebrated dance artists in the New York scene.
It was also a period when AIDS was ravaging the dance community, decimating the ranks of companies all over the city and casting its dark shadow over much of the work being produced at the time. Bill and Arnie, charmed as their lives had been, could not escape that shadow, and Arnie Zane died of AIDS-related lymphoma, at the age of 39, in 1988.
That bittersweet true-life love story would make for a profoundly moving documentary on its own strength alone, but the film delivered by co-directors Rosalynde LeBlanc and Tom Hurwitz has its sights on something bigger than that. "Can You Bring It: Bill T. Jones and D-Man in the Waters" is the story of what happened after Zane's untimely passing, and it illuminates the way that art provides a channel for the personal to become universal and give expression to the shared trauma of an entire community.
The new documentary, which debuted at the DOC NYC film festival and opens in select theaters and virtual cinemas nationwide on July 16, is not about Bill and Arnie, nor even about Bill himself – though his name is in the title and he appears extensively onscreen, both in contemporary and archival footage – but about the seminal ballet that came in the wake of Arnie's passing. "D-Man in the Waters" was mounted in 1989 by Jones and the company he and Zane had started, shaped by a creative process through which both he and his dancers found expression for the myriad emotions spawned by their loss. Set to Felix Mendelssohn's soaring Octet for Strings, the piece captures the infectious energy, innocence and will to survive of a beleaguered generation, propelled by the non-stop momentum of dancers hurling across the stage in a whirlwind of leaps, rolls, and slides. Though it gives full weight to the inevitable sorrow at its core, it nevertheless maintains an attitude of defiant celebration, embodying strength and resilience over loss, and is widely acknowledged today as one of the most significant works of art to come out of the AIDS epidemic.
"Can You Bring It" utilizes extensive interviews and archival footage to chronicle the history of the original "D-Man" – the title referring to the nickname for Demian Acquavella, a beloved company member who struggled against the virus during its creation before himself dying in 1990 – while also following a contemporary remount of the production by students at Loyola Marymount University. Those students are led by none other than the film's co-director, Rosalynde LeBlanc (herself a former member of the Jones/Zane Company and a leading figure in maintaining Jones' legacy and pedagogy), and a large portion of the modern footage is centered around LeBlanc and Jones himself working with these young pre-professional dancers – most of them likely not even born when the AIDS crisis was raging – to help them find the personal connection required to unlock the power of the choreography. Through the juxtaposition of the two creative efforts, original and modern, the movie provides a thoughtful – and unexpectedly gripping – exploration of the process by which art can be adapted to the needs of a different era without losing the essence at its core.
From an intellectual or aesthetic perspective, it's a rich and nuanced close-up look at the hard work – as much of it mental and emotional as physical – that is the art of dance. What makes "Can You Bring It" profound enough to be an extension of the very piece it documents, however, is the wider lens that allows us to the piece in the context of both periods at once. In 1989, Jones' tour de force ballet gave physical manifestation to the fear, anger, grief, and hope for salvation that an emerging dance company felt as they were embattled by the AIDS epidemic – but for the group of young dancers tasked with re-interpreting the work three decades later, that experience is something from a history book. To commit to the piece and perform it successfully, they must deepen their understanding of its power – and that means exploring what is at stake in their own personal lives during a troubling time that presents a whole new set of challenges, struggles, and heartbreaks. Needless to say, it's work not cut out for the faint of heart.
Of course, as any fan of dance documentaries can tell you, the real thrill of such films is the opportunity to see the beauty of bodies in motion, captured up-close on camera and overpowering all other concerns through the transcendent urgency of its perfection. "Can You Bring It" does not disappoint on this level, either.
That should be no surprise. Bill T. Jones, after all, has continued throughout the decades, as has the company he founded with Arnie, which still bears both of their names. He's gone on to win Tony Awards (for choreographing "Spring Awakening" and "Fela!"), become a Kennedy Center Honoree, and be awarded a MacArthur Grant, over a long career in which he has choreographed more than 120 works, and the dancing we see onscreen all bears the pedigree of having been shaped, either directly or indirectly, by his influence. Add to that the presence of one co-director (LeBlanc) who has been intertwined with his work through most of her own career, and another (Hurwitz) who is one of the most honored documentary cinematographers working today, and you couldn't ask for a better team to put together a great dance documentary.
Yet what makes a dance documentary truly great is its resonance within a larger world. Dance – and indeed, film, or any other form of art – is at its best when it serves to explore the experience of life itself, through all its levels and nuances. "Can You Bring It" does just that, offering up a lyrical and detailed portrait of artists and their work that is also rich in wisdom, compassion, empathy, diversity, and historical perspective – a testament to the power of art and the triumph of the human spirit.
In a world where the concept of community is often used more to divide us than to unite us, such ideas are a balm for the soul.