March 10, 2021 at 11:38 am EST | by John Paul King
For film fans, slim pickings for spring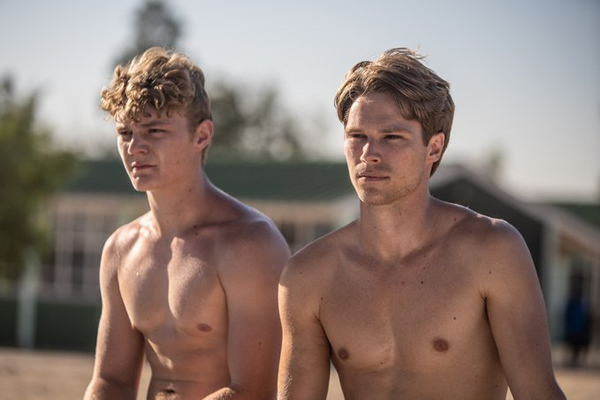 Spring is always a light season for movies. The big awards contenders from the previous year are still in the spotlight and the big blockbusters are being held back until summer, so it's a time when we tend to get the smaller, under-the-radar films that might otherwise get lost in the shadow of higher profile competitors. Even in the best of circumstances, it's typically a mixed bag.
In 2021, of course, things are even grimmer than usual. The easing of the pandemic is tantalizingly within sight, but not close enough to allow for widespread re-opening of movie theaters – and that means many of the films originally scheduled for release over the next few months have been pushed back, some indefinitely.
What that means for LGBTQ film fans is that while we can still look forward to seeing Marvel's first big screen gay superhero kiss in "Eternals," we'll just have to wait until the fall for it; but when it comes to movies like the screen adaptation of the British drag queen musical "Everybody's Talking About Jamie," there's no way of knowing when they might finally come our way.
The good news is that there are still some promising titles in the lineup over the next few months, as we hunker down on our couches for what should be the homestretch of our long sojourn through COVID.
Netflix, as always, has us covered in its films as well as its original series. Debuting March 12 is "Yes Day," an inclusive, good-for-all-ages comedy based on a beloved children's picture book from 2009. Expanding on a simple premise, the Justin Malen-penned screen adaptation centers on a family in which two strict parents (Jennifer Garner and Édgar Ramírez) agree to spend a whole day saying "yes" to everything their kids ask to do. Directed by Miguel Arteta ("Like a Boss"), it's a predictably madcap, free-wheeling romp that promises a lot of laughs and a healthy dose of heart, as well as the presence of out lesbian comedian Fortune Feimster in a featured role.
On what might be close to the opposite end of the spectrum is "Wojnarowicz: Fk You F*ggot Fker," a documentary from director Chris McKim and World of Wonder Productions. Described by the Hollywood Reporter as "a stirring requiem of rage and resistance," it's a portrait of David Wojnarowicz, the iconic New York artist, writer, photographer, and activist who turned his work into a weapon against an indifferent establishment during the AIDS epidemic of the 1980s before passing from the disease himself in 1992. Exploring his extensive body of work to illuminate the activism at its core, it also uses rediscovered voice recordings and personal recollections from friends like Fran Lebowitz, Gracie Mansion, and Peter Hujar to present an emotionally resonant look at a fiercely political and unapologetically queer artist. It's going into limited theatrical release March 19 followed by a VOD drop on Kino Now and home video.
Another documentary of interest is "Yes I Am – The Ric Weiland Story," which chronicles a queer pioneer and philanthropist who achieved wealth and influence working with Microsoft during its early success. Out and proud since the 70's, Weiland was a champion of gay rights who donated millions to the cause, making an impact that is still profound today; GLAAD has a yearly award named in his honor. "Finding Kim" director Aaron Bear's moving film portrait documents the hidden side of this queer hero, revealing a man whose struggles with self-doubt and depression compounded under the weight of the AIDS epidemic, and reminding us that "no matter how much success one finds, everybody needs help… geniuses included." Technically, this one isn't getting an official spring release, but it's screening as part of the AmDocs Festival, which is available to stream nationally March 26-April 4.
From the international front comes "Moffie," a South African war drama from filmmaker Oliver Hermanus, releasing in select theaters and on digital and VOD platforms April 9. Based on an acclaimed memoir by André-Carl van der Merwe, it's the Apartheid-era story of a gay teenage boy who is conscripted into the South African army during the nation's 1981 border clash with Angola. Subjected to daily abuse and humiliation as part of his training, he finds an unexpected bright spot in an attraction he shares with another recruit; but under the oppressive homophobia of their military environment, being seen by your mates as a "moffie" (Afrikaans for weak and effeminate) can be just as deadly as bullets from the enemy. Two dreamily attractive leads (Kai Luke Brummer and Ryan de Villiers) are bound to be a strong draw for many audiences, and they provide some beautifully tender moments amid the tension in this richly photographed, deeply cinematic romance; but be warned – this one is a far cry from the kind of positive, uplifting queer representation currently in vogue with American audiences. Hearkening back to a darker era in LGBTQ cinema, it offers a bleak portrait of a time and place that held little hope of an open and happy gay life, along with a whole slate of other grim observations about the madness of war and the toxic effects of living under a cruel and restrictive authoritarian regime. That might hit too close to home for a lot of viewers, but for those with the stomach for it there's a lot to appreciate in this one, which has already accumulated a number of honors on the festival circuit, including nominations for Venice's Queer Lion Prize and the Best Picture Award at the London Film Festival.
If the last few choices seemed a little heavy, our final highlight will surely be more to taste. Though technically not really a "queer" movie, Disney's upcoming "Cruella" is sure to have an undeniable queer appeal. Disney villains always hold a special place in the community's heart, especially Cruella de Vil – the ruthlessly fur-obsessed fashionista who became so popular terrorizing the title characters in "101 Dalmatians" that she's become more of an icon than any of the puppies she tried to turn into a coat. Already memorably portrayed in the flesh by fan favorite diva Glenn Close (who actually co-produced this one), the new Disney crime comedy puts Oscar-winner Emma Stone in that familiar two-tone fright wig and backs her up with heavy-hitters like Emma Thompson and Mark Strong. Directed by Craig Gillespie, it frankly looks like a lot more fun than any of Disney's other recent attempts to mine its animated catalogue for live-action reboots, and it is scheduled for release on May 28.
In addition to these, there are a few other LGBTQ-relevant titles currently in limbo, recently acquired at festivals like Sundance by distributors but with release dates still TBA. These include the aforementioned "Everybody's Talking About Jamie," as well as Danish filmmaker Jonas Poher Rasmussen's ambitious animated memoir "Flee," the sure-to-be-popular documentary "Mayor Pete," and Marion Hill's bisexual polyamorous romance "Ma Belle, My Beauty." While we shouldn't necessarily expect these in the next few weeks, they could feasibly drop any time. You can be sure the Blade will keep you posted..