Exceptional kids, real change, the GenderCool Champions
Youth articulate, poised, intelligent, talented and ambitious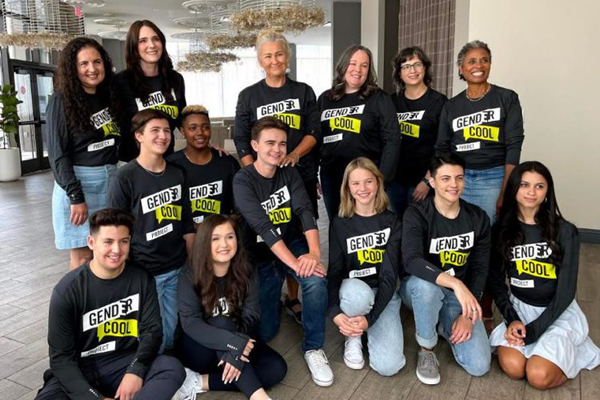 NORTHBROOK, Il. – Imagine being a 'Mom' running a frenetic household of four kids juggling all of the tasks one associates with parenting in the modern age. Then add a twist when the youngest begins to emerge from the chrysalis of what appeared as an early traditional childhood gender path transforming over time into a butterfly of the opposite gender.
That sort of metamorphosis presents a myriad of challenges for parents least of which is the emotional acceptance of a reality apart from that envisioned as their child is born. Then comes the added burdens of fear created by a societal and cultural non-acceptance and oft time discriminatory bullying treatment of trans and non-binary identifying youth and the overwhelming need to protect their child from that level of cruelty.
Jen Grosshandler and her husband John faced these challenges as their youngest child, their daughter Chazzie, unfurled her butterfly's wings for the first time as a proud and out trans youth.
Searching for positive stories and reaching out to their immediate community in suburban Chicago, the Grosshandlers were introduced to Gearah Goldstein. Goldstein is nationally recognized LGBTQ+ Diversity and Inclusion Consultant, a speaker, educator, and trainer on LGBTQ+ issues. But for the Grosshandlers, the key factor was that Goldstein identifies as a fully empowered trans female and best of all- a parent herself.
At about the time the three met and started conversing about offering a path to cast a spotlight on just how amazing transgender and non-binary kids are, the Trump Administration commenced a series of attacks on the Trans community. These attacks included trying to eliminate trans healthcare, the ban on military service by trans Americans, and backing efforts by certain school districts to prevent trans youth from being able to use bathrooms according to their chosen gender.
For the Grosshandlers and Goldstein, greater impetus was placed on the critical need to accentuate the positive of trans and non-binary youth against the backdrop of the attacks by the Trump administration and the unkind attacks by a plethora of rightwing extremist anti-LGBTQ groups. The genesis of what became the GenderCool project was born and the stated goal was to take and redirect the negative into a positive by creating systemic change that will improve the lives of transgender and non-binary young people.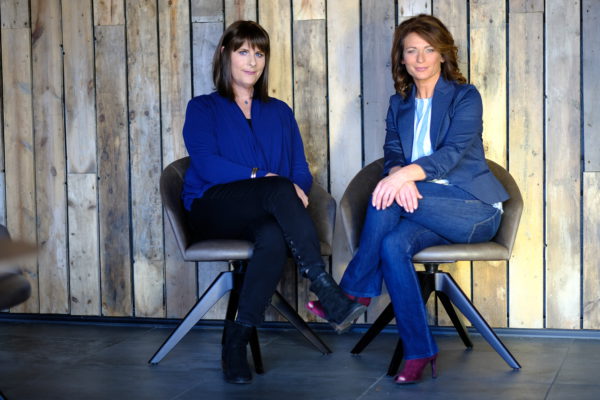 "The strategy we employ is to evolve opinions of decision makers and the general public by showing them that transgender and non-binary young people are remarkable. The GenderCool Champions — youth ages 12-17 — are leaders in their community. They are articulate, poised, intelligent, talented and ambitious young people.
Most importantly, they are thriving, and their ability to connect with the public and key influencers in an exclusively positive way is translating into support and change at every level," a mission statement from GenderCool reads.
In a phone interview this past weekend with the Blade, Jen Grosshandler chuckled, recalling that "We didn't have a business plan- no revenue stream, but we did have the motivation and more importantly we had these amazing kids."
She pointed out that the GenderCool adults felt that there wasn't enough focus or even concentration on Gender Queer spaces. "It just seemed to me that with of all the negative stories and things said about these kids, one thing stood out and that was 70 to 80% of those being negative had never met a non-binary or Trans kid," Grosshandler said. "There was fear, awful opinions, but mostly there was just inaccurate information," she added.
After being handed the phone, Goldstein continued telling the Blade that the fortuitous email exchange between neighbors about kids and transitions, "It was a five page long emailed response to Jen's neighborhood inquiry," Goldstein remembered, had led to a dynamic partnership that was breaking through many barriers, particularly for youth in understanding Gender Identity versus sexual identify and orientation.
"There's a need to not conflate those two and we need to help these young people out by creating awareness of that," she said and added, "Mostly we are focused on telling their stories, letting people see how amazing they are- they are inspiring and are filled with hope and strength."
In three and a half years, a "kitchen-table project" has turned GenderCool into a worldwide movement, the idea evolved into concrete actions utilizing data from the Movement Advancement Project (MAP). According to an internal memorandum shared with the Blade by GenderCool, MAP's data revealed that one of the best ways to build support among the large majority of people in the U.S. for the LGBTQ+ community is to communicate shared values and beliefs. In essence, to show them that transgender and non-binary people and their families are normal and just like theirs.
The best focal point? The positive stories of the amazing youth and their families.
Incorporating a well thought-out and designed website coupled with multi-media and social media campaigns the momentum propelled GenderCool and the Champions into a formidable group with national exposure which included a 23 minute live launch on TODAY with veteran NBC weatherman and anchor Al Roker; NYT, Rolling Stone, ABC News, USA Today, CNN, Forbes, NBC News, Washington Post, MSNBC and other media outlets.
The GenderCool founders managed to create an environment that fostered advocacy and support from corporate America: GenderCool partners include Nike, Dell Technologies, General Mills, NBCUniversal, Intuit, Intel, Indeed, and Bank of America.
All that hard work parlayed into a special invitation from President Joe Biden and First Lady Dr. Jill Biden for the GenderCool Project to attend the first White House celebration of LGBTQ Pride Month since the Obama administration.
Although scaled back due to the coronavirus pandemic, the highlight of the event held in the East Room of the White House was the GenderCool Project's own Champion Ashton Mota, who was asked to speak about his life and work with GenderCool and then personally introduce the President.
Enriching that moment was Mota himself being introduced by the first openly gay member of a presidential cabinet confirmed by the United States Senate, U.S. Secretary of Transportation Pete Buttigieg.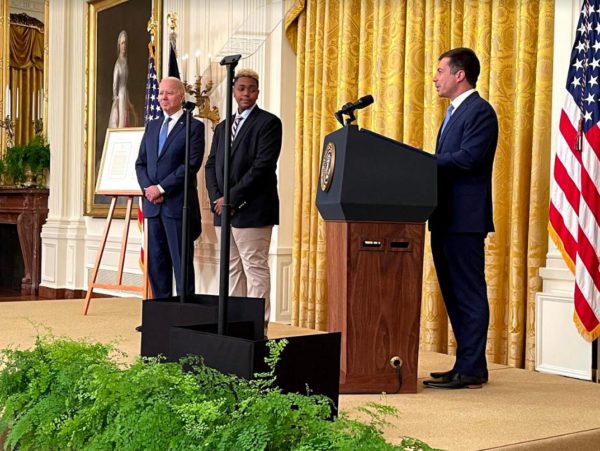 The focus now is embracing the future and expanding the foundations of the Project while placing the organization on a firm financial footing and a strategic plan for expansion and continuing the mission. GenderCool now has a seat at the table, collaborating with the nation's leading advocacy organizations including Out & Equal, HRC, NCTE, PFLAG, GLAAD, Lambda Legal and others associated with advancing LGBTQ Equality rights.
Recently though came a boost that will immeasurably assist the GenderCool Project.
The Denver, Colorado based Gill Foundation, one of the largest funders of efforts to secure full equality for LGBTQ people, which has thus far invested more than $390 million in programs and nonprofits across the country working to advance equal rights for LGBTQ people, has bestowed a $500,000 contribution to the GenderCool Project.
"We're honored to receive this grant from the Gill Foundation. It is a game-changing vote of confidence in our mission to help people understand how talented, driven, and kind transgender and nonbinary youth are, showcasing who they are as remarkable young people," said the Grosshandlers, and Goldstein. "We're thrilled that these resources will help us do just that so GenderCool — led by the incredible young people we call Champions — can continue to make an impact changing hearts and minds."
The stories, the exceptional kids, real change, these are the GenderCool Champions, and now a future for them that looks brighter and more inclusive.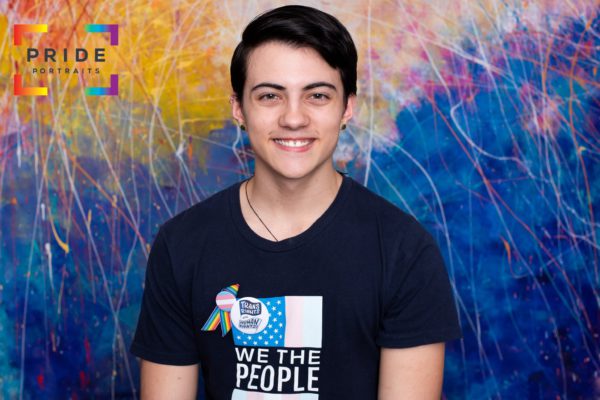 U.S. Supreme Court ruling allows Biden administration to end MPP
Trump-era policy placed LGBTQ asylum seekers at increased risk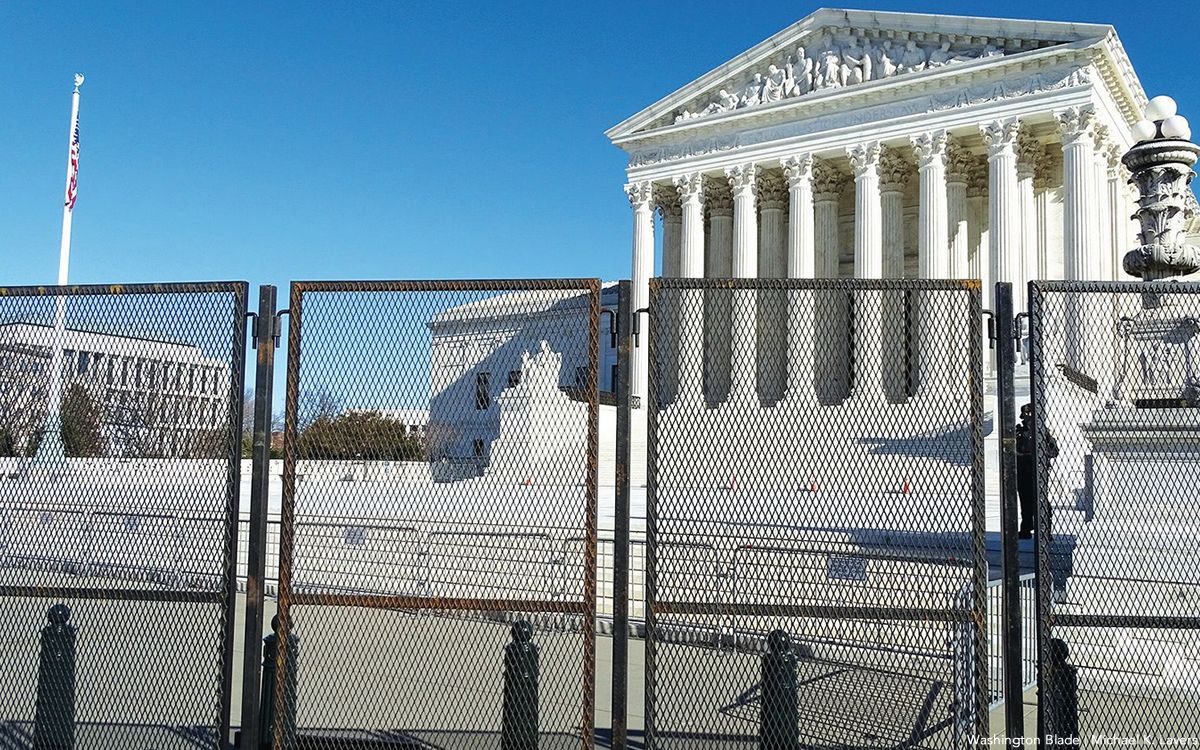 The U.S. Supreme Court on Thursday in a 5-4 ruling said the Biden administration can end a policy that forced asylum seekers to pursue their cases in Mexico.
The previous White House's Migrant Protection Protocols program, which became known as the "Remain in Mexico" policy, took effect in 2019.
The Biden administration suspended MPP enrollment shortly after it took office in January 2021. The program was to have ended six months later, but a federal judge in Texas ordered MPP's reinstatement after the state and Missouri filed suit against the Biden administration.
Thursday's ruling sends the Texas and Missouri case back to lower courts.
"As Secretary Mayorkas concluded in October 2021 after a thorough review, the prior administration's Migrant Protection Protocols (MPP) has endemic flaws, imposes unjustifiable human costs and pulls resources and personnel away from other priority efforts to secure our border," said the Department of Homeland Security in a statement. "We welcome the Supreme Court's decision affirming that the Secretary has the discretionary authority to terminate the program, and we will continue our efforts to terminate the program as soon as legally permissible."
U.S. Sen. Alex Padilla (D-Calif.) also welcomed the ruling.
"Today's Supreme Court decision correctly acknowledges the Biden administration's authority to end the unlawful and cruel 'Remain in Mexico' program," he said in a statement. "For more than three years, this horrifying policy has denied asylum seekers their right to due process and subjected them to crimes like rape, kidnapping and torture in northern Mexican border cities while they await their court hearings."
Advocates sharply criticized MPP, in part, because it made LGBTQ and intersex asylum seekers who were forced to live in Tijuana, Ciudad Juárez, Reynosa, Matamoros and other Mexican border cities even more vulnerable to violence and persecution based on their sexual orientation and gender identity.
[email protected] Coalition President Bamby Salcedo on Thursday told the Washington Blade the Supreme Court ruling "will certainly impact our community in a positive way."
"We know that people who have to remain in Mexico to wait continue to be victims of violence," said Salcedo. "This is definitely a step in the right direction and we're grateful that this happened in this way."
Emilio Vicente, communications and policy director of Familia: TQLM, an organization that advocates on behalf of transgender and gender non-conforming immigrants, echoed Salcedo.
"We're glad to finally have some good news from the Supreme Court after horrible rulings on abortions, climate change, Native American rights," said Vicente. "Ending 'Remain in Mexico' will allow LGBTQ+ asylum seekers who face increased discrimination and abuse during the journey to the U.S., to be able to seek asylum here."
Abdiel Echevarría-Cabán is a South Texas-based immigration attorney and human rights law and policy expert who the LGBTQ+ Bar in 2021 recognized as one of its 40 best LGBTQ lawyers who are under 40.
He told the Blade on Thursday the Supreme Court ruling is "a victory we must celebrate." Echevarría-Cabán also said MPP placed LGBTQ and intersex asylum seekers at increased risk.
"Refugees in general, but especially LGBT refugees, are extremely vulnerable to other type of harms such as kidnappings by cartel members, extortion, physical and psychological abuses from Mexican law enforcement authorities and third parties given the high levels of discrimination for LGBT refugees in Mexico," said Echevarría-Cabán.
The Supreme Court issued its ruling a day after the Justice Department filed charges against four people in connection with the deaths of 53 migrants who were found in the back of a tractor trailer truck in San Antonio.
The Biden administration in April announced its plans to terminate Title 42, a Centers for Disease Control and Prevention rule that closed the Southern border to most asylum seekers and migrants because of the pandemic. Title 42 was to have ended on May 23, but a federal judge ruled against the White House.
"This decision isn't the end of the fight for ensuring that people seeking asylum get asylum but it's an important step in protecting vulnerable people," Vicente told the Blade after Thursday's ruling. "President Biden must follow through on his commitment to end MPP and protect all asylum seekers."
Salcedo noted to the Blade the "system, as it is, particularly when it comes to trans women, needs to be completely changed so that we can be at a better place as a community." Padilla in his statement urged the Biden administration "to do everything in its power to swiftly end 'Remain in Mexico' once and for all."
"Misguided and inhumane Trump-era policies like 'Remain in Mexico' and Title 42 have only decimated an already broken immigration system," he said. "We must keep working to restore the lawful processing of asylum seekers at the border, in keeping with America's most deeply held values as a nation of immigrants."
The Department of Homeland Security in its statement notes Title 42 remains in place.
"The department also continues to enforce our immigration laws at the border and administer consequences for those who enter unlawfully, and will continue the court-mandated enforcement of the Centers for Disease Control and Prevention's Title 42 public health order," it reads.
Kamala Harris hosts Pride month reception
Upwards of 200 people attended Naval Observatory event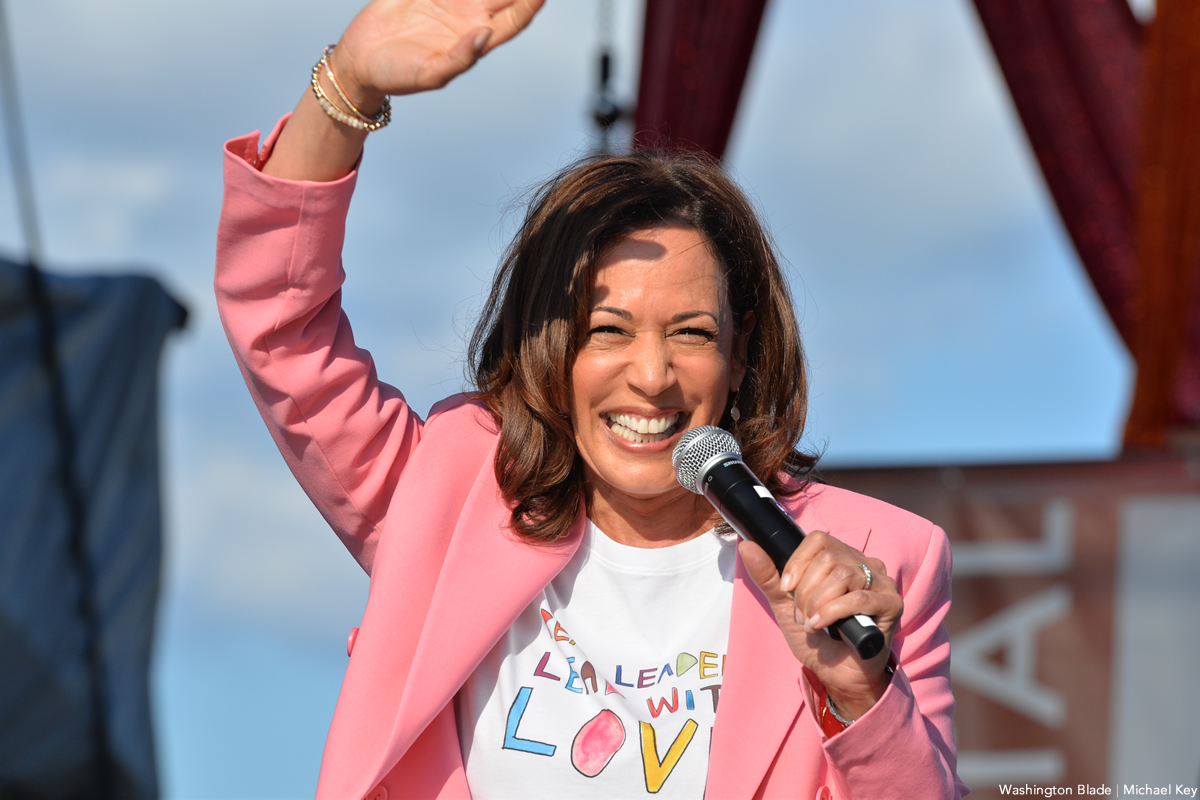 Vice President Kamala Harris helped bring Pride Month to a close Tuesday at her residence with a celebration for high-profile members of the LGBTQ community, recognizing successes achieved but also urging continued movement.
"When we celebrate Pride, it's because we understand not only the strength of what we have accomplished, and the fight for equality, but we [also] understand the fragility of these gains, and so we know what we must do to be vigilant and maintain [those rights]," Harris said.
The Advocate reported in coverage of the event the Pride celebration was the first ever to take place at the vice president's residence, but that's incorrect.
President Biden as vice president hosted a Pride event with LGBTQ leaders in 2014. Harris also said during the event her understanding was it was a first for a sitting vice president.
An estimated 200 attendees were present for the event at the Naval Observatory in D.C., which serves as the vice president's official residence. Guests at the party mingled by the pool and partook of drinks served on a spinning wheel placed just outside.
High-profile officials from the Biden administration who were present included Transportation Secretary Pete Buttigieg and Interior Secretary Deb Haaland. Neither delivered remarks. Also at the event was "RuPaul's Drag Race" star Shangela, who addressed the crowd.
Kris Perry and Sandy Stier, who were among in plaintiffs in the litigation against California's Proposition 8, were also present at the event. Harris married the couple in 2013 as soon as the U.S. Supreme Court issued a ruling restoring marriage equality to the state.
Perry and Stier spoke before the crowd and urged them to continue to stand strong in the aftermath of the Supreme Court's recent decision overturning Roe v. Wade.
Ketanji Brown Jackson sworn in as first Black woman Supreme Court justice
Roe v. Wade struck down last Friday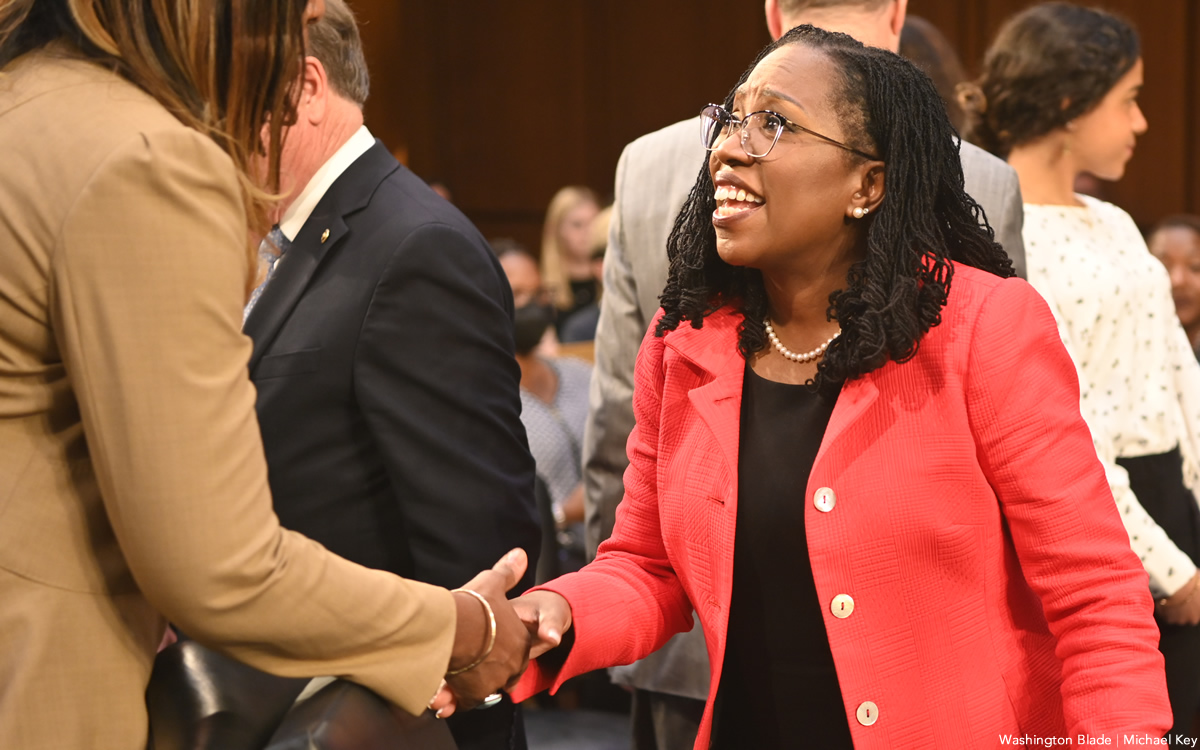 Ketanji Brown Jackson was sworn in Thursday as the newest member of the U.S. Supreme Court, representing a welcome change on the bench for progressives who are still outraged after the decision last week overturning the right to abortion found in Roe v. Wade.
Jackson, who's now the first Black woman to serve on the high court, has replaced Justice Stephen Breyer, a Clinton appointee who is retiring upon the end of the Supreme Court's term. Breyer announced his forthcoming departure months ago as progressives urged him to stop to ensure a replacement appointed a Democratic president and confirmed by a Democratic Senate.
The briefing swearing-in was conducted by Chief Justice John Roberts, who administered the oath of office for Brown before a small gathering of Jackson's family, including her two daughters, according to a report in the New York Times.
GLAAD CEO Sarah Kate Ellis said in a statement the beginning of Jackson's tenure on the Supreme Court "will bring long-needed representation to the Supreme Court at a critical juncture in our nation's history, and after the court's disastrous term dismantling personal liberty."
"It bears repeating the obvious that women, people of color and LGBTQ people are Americans deserving of equal protection under law," Ellis said. "Justice Jackson will be a visible and inspiring presence on a court currently dominated by extremists, reminding all that America should always be moving forward to expand freedom."