LGBTQ community shared nation's grief after 9/11 attacks
Gay passenger may have helped stop hijackers from crashing into White House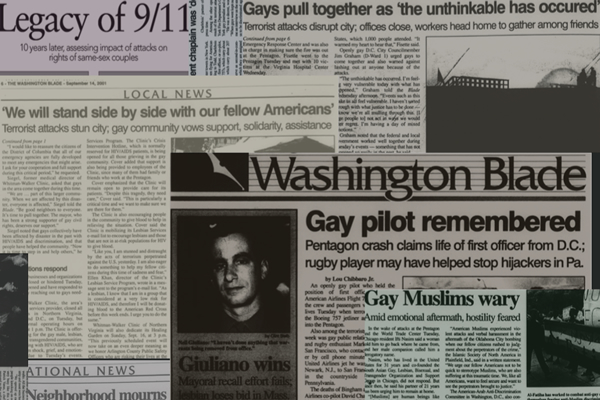 Many in the LGBTQ community throughout the country were expected to join their friends, neighbors, and family members this week in commemorating the 20th anniversary of the Sept. 11, 2001, terrorist attacks on the New York World Trade Center's Twin Towers and on the Pentagon just outside Washington, D.C., as well as a hijacking that ended with a crash in Shanksville, Pa.
Activists involved with local and national LGBTQ advocacy organizations have said they recall a coming together of LGBTQ people and their co-workers, neighbors, and family members to support one another during a time of unimaginable horror and grief.
A total of 2,996 people died in the 9/11 attacks, including 19 terrorists who hijacked four jetliners whose passengers included Americans and citizens of 78 countries, according to history.com.
"The gay, lesbian, bisexual, and transgender communities and those living with HIV/AIDS have worked diligently to overcome other forms of evil, whether it be bigotry or violence," said A. Cornelius Baker, who at the time was executive director of D.C.'s Whitman-Walker Clinic, in a statement during the week of the 9/11 attacks.
"And we will stand side by side with our fellow Americans and our fellow citizens of the world to do everything we can to overcome this new threat to humanity," Baker said
For many LGBTQ residents of New York and the D.C. area, the suffering over the loss of loved ones, including same-sex partners, was heightened a short time later when they learned they were initially ineligible for local and federal programs aimed at providing financial assistance to survivors of the victims of the 9/11 attacks because same-sex partners were not legally recognized.
At the urging of LGBTQ rights organizations, state, and local officials in New York and the D.C. area took steps to address the initial denial of financial support for surviving same-sex partners in programs under their control. Officials with a massive, multi-million-dollar federal aid program for 9/11 survivors, however, said they did not have legal authority to authorize payments to same-sex partners.
The officials, in the administration of President George W. Bush, said the best they could do would be to leave it up to local authorities to determine whether state probate laws would recognize a same-sex partner as a family member for eligibility in the federal aid program for 9/11 survivors, many of whom lived in states outside New York and the D.C. area.
Among those who lost their lives in the 9/11 attacks was American Airlines co-pilot David Charlebois, an out gay man and member of the National Gay Pilots Association, who was on American Airlines Flight 77, which the terrorists crashed into the Pentagon.
Also among the terrorists' victims in the 9/11 attacks was public relations executive and rugby enthusiast Mark Bingham of San Francisco, who contacted his mother by cell phone shortly before the United Airlines jet he was taking from Newark, N.J. to San Francisco crashed into the countryside in western Pennsylvania.
Surviving family members of other passengers on that flight have said they too were called by their loved ones who told them some of the passengers were planning an attempt to somehow regain control of the jet from the terrorists.
Bingham's mother, Alice Hoagland, who at the time was a United Airlines flight attendant, said she believed her son joined other passengers to prevent the terrorists from carrying out what authorities said was their plan to crash the jet into the U.S. Capitol or possibly the White House. She said her son's reputation as a fighter for civic justice, along with a past episode where he fought off muggers, led her to believe he was among those who foiled the terrorists' plans to fly the jet to Washington.
An investigation into the 9/11 attacks by a federal 9/11 commission later found that flight data recordings from the cockpit of United Airlines Flight 93, where Bingham was among 44 people aboard, showed that one of the four hijackers who took control of the jetliner shortly after its takeoff responded to an attempt by passengers to storm the cockpit by deliberately steering the plane into a downward direction at about 500 miles per hour, causing it to crash into an empty field near the town of Shanksville in western Pennsylvania at 10:10 a.m. All 44 people were killed.
"The fact that he was so close to the action, it is likely that he was able to get at these guys," Hoagland told the Associated Press. "It gives me a great deal of comfort to know my son may have been able to avert the killing of many, many innocent people," she said.
Hoagland became an outspoken advocate for LGBTQ rights and for the gay rugby teams that Mark Bingham helped to create in the years after her son's death. She died on Dec. 22, 2020, of natural causes at the age of 71 at her home in Los Gatos, Calif., according to the Associated Press.
Longtime LGBTQ rights advocate Jay Fisette, who at the time of the 9/11 attacks held the elected position of chair of the Arlington County Board, which serves as the county's governing body, was among the Arlington officials that came to the Pentagon's grounds to oversee efforts by Arlington firefighters to rescue Pentagon workers on the day of the attack.
Fisette noted that the Pentagon is in Arlington County, and it was largely the county's firefighters and emergency medical teams that put out the fire caused by the jetliner crash and provided medical assistance to survivors of the crash.
At an Oct. 7, 2001, 9/11 Day of Remembrance and Appreciation ceremony held in Arlington, Fisette expressed the views of many in the community in response to the 9/11 attacks.
"Tonight, our community gathers as a family," he told the gathering. "We gather in sorrow and in disbelief, in remembrance and appreciation," he said. "But we come here, too, with resolve and pride. We come together as Arlingtonians who love our county, as Americans who love our country," he said.
"Our enemies may hurt our bodies and destroy our buildings, but they will never defeat our determination to make this a world of peace and a community in which our children grow up safe and secure," Fisette told participants at the gathering.
Although some of the same-sex partners of those killed in the 9/11 attacks faced obstacles in obtaining financial support through the federal 9/11 relief program, Tom Hay, the surviving partner of 14 years of American Airlines pilot David Charlebois was treated with respect and honor by American Airlines officials and colleagues at Charlebois' funeral mass at D.C.'s St. Matthews Cathedral.
More than a dozen uniformed company pilots and flight attendants attended the mass. In a news release issued in June of this year, American Airlines mentions Charlebois' relationship with Hay and tells how Hay stood with Charlebois when Charlebois pushed for equal rights for LGBTQ people in the airline industry through his involvement with the National Gay Pilots Association.
"David was an early member of the NGPA," the American Airlines statement says. "His contribution helped ensure ongoing progress toward fairness and solidarity," it says.
Activists in New York have said the 9/11 attacks drew attention to the need for legal protections for same-sex couples, including the need for legal recognition of same-sex marriage.
Ros Levi, who in 2001 served as executive director of the New York LGBTQ advocacy group Empire State Pride Agenda, or ESPA, said his group became aware that same-sex partner survivors were being treated differently when New York City and private relief agencies like the Red Cross set up an emergency station on a pier along the Hudson River. The station was intended to help people find a family member missing and as yet unaccounted for in the World Trade Center carnage.
"Literally, [gay] people had to go there, turn around, go back home, and get some paperwork that spouses didn't have to get to prove a relationship existed," Levi told the Washington Blade in 2011 when the Blade reported on the 10-year anniversary events related to the 9/11 attacks.
"You were nervous and scared and sad and then you had to go through that," Levi said. "And worse, other people turned them away, even with the paperwork, saying sorry you're not a family according to our guidelines."
Activists said New York City and New York State officials quickly recognized the inequities faced by same-sex partner survivors and took steps to change policies and laws to correct the situation. Among other things, activists were pleased when New York's then GOP Gov. George Pataki issued an executive order in October 2001 that included surviving partners of gay and lesbian victims of the World Trade Center attacks in receiving full spousal benefits from the state's Crime Victims Board.
The New York State Legislature soon took its own action by approving three separate bills that included same-sex partner survivors in various state benefits to be allocated to 9/11 survivors and their families.
"The grief and loss were the same between heterosexual and same-sex couples, and a perception of this seemed to come through to much of the public," said Jennifer Pizer, the then senior counsel for the LGBTQ litigation group Lambda Legal.
In a separate development, Lambda Legal, ESPA, the Human Rights Campaign and other LGBTQ advocacy groups created the September 11 Gay & Lesbian Family Fund to provide some support to surviving same-sex partners who were ineligible for help from the federal relief fund program.
"The Family Fund was established in December [2001] to help offset the discrimination gay and lesbian partners faced in obtaining benefits automatically afforded to surviving spouses, including Social Security and Workers Compensation survivor benefits and compensation under the Federal 9/11 Victims Compensation Fund," ESPA said in a statement.
Among the other gay people known to have lost their lives in the 9/11 attacks was Father Mychal Judge, 68, a Franciscan priest who served as a Catholic chaplain for the New York City Fire Department. According to the National Catholic Reporter, Judge rushed to the scene of the World Trade Center to assist firefighters shortly before the Twin Towers collapsed. He was fatally struck by debris falling from the south tower while giving last rites to a fallen firefighter, the Catholic publication reported this week.
"He was a decent, wonderful human being," said New York gay journalist Andy Humm, who had interviewed Judge for LGBT related stories prior to the 9/11 attacks. "When gays were kept out of the St. Patrick's Day Parade, he gave me an interview on the street telling me how terrible it was for us to be discriminated against and for the church to be doing it," Humm told the Blade.
"I saw him at many demonstrations for gay and AIDS causes, showing up in his Franciscan monk's cassock," said Humm. "And he was equally beloved by the Fire Department, there at every major fire tragedy in the city, lending moral support to firefighters."
New Ways Ministries, the Maryland based LGBTQ Catholic group that advocates for LGBTQ supportive policies within the church, has announced it is reaching out to other faith-based organizations, asking them to form an association to call on the Catholic Church to officially recognize Fr. Judge as a saint by canonizing him.
Francis DeBernardo, New Ways Ministries' executive director, has written a biography of Judge, which the group says will be published in March 2022 by Liturgical Press, one of the larger Catholic publishers.
A gay couple from California, Daniel Brandhorst and Ronald Gamboa, and their adopted son, David Brandhorst, were among those who died aboard the United Airlines flight that crashed in Pennsylvania. The Los Angeles Times reported that Brandhorst, a lawyer and Gamboa, the manager of a Santa Monica Gap store, had adopted 3-year-old David when he was an infant.
Does a potential overturn of Roe imperil LGBTQ rights?
Some fear that Obergefell marriage decision could fall
The oral arguments before the justices of the United States Supreme Court had barely ended in the case brought by the state of Mississippi defending its law banning abortion after 15 weeks, Dobbs v. Jackson Women's Health Organization, when alarms were set off in legal circles as some argued that Obergefell v. Hodges — the same-sex marriage decision — would be in danger should the high court rule to overturn Roe v. Wade.
Florida State University law professor Mary Ziegler, appearing on NPR's 'Heard on All Things Considered,' told host Mary Louise Kelly that there was a basis for concern over whether the court would actually overrule its precedents in other cases based on the questions and statements raised during the hearing by the conservative members of the court.
Asked by Kelly if she saw a legal door opening Ziegler affirmed that she did. Kelly then asked her, "Them taking up cases to do with that. What about same-sex marriage?"
Ziegler answered, "Yeah, same-sex marriage is definitely a candidate. Justices Alito and Thomas have in passing mentioned in dicta that they think it might be worth revisiting Obergefell v. Hodges – the same-sex marriage decision.
"And I think it's fair to say that in the sort of panoply of culture war issues, that rights for same-sex couples and sexual orientation are still among the most contested, even though certainly same-sex marriage is more subtle than it was and than abortion was.
"I think that certainly the sort of balance between LGBTIQ rights and religious liberty writ large is a very much alive issue, and I think some states may try to test the boundaries with Obergefell, particularly knowing that they have a few justices potentially willing to go there with them."
As almost if to underscore the point raised by Ziegler during the hearing, Associate U.S. Supreme Court Justice Sonia M. Sotomayor pointed out that the high court has taken and "discerned" certain rights in cases from the Constitution.
Along with abortion, the court has "recognized them in terms of the religion parents will teach their children. We've recognized it in their ability to educate at home if they choose," Sotomayor said. "We have recognized that sense of privacy in people's choices about whether to use contraception or not. We've recognized it in their right to choose who they're going to marry."
In following up the cases cited by Justice Sotomayor, Associate U.S. Supreme Court Justice Amy Coney Barrett asked Mississippi Solicitor General Scott Stewart, who was defending the state's abortion law, whether a decision in his favor would affect the legal precedents in those cases cited by Justice Sotomayor.
In his answer to Justice Barrett, the state's Solicitor General said cases involving contraception, same-sex marriage and sodomy wouldn't be called into question because they involve "clear rules that have engendered strong reliance interests and that have not produced negative consequences or all the many other negative stare decisis considerations we pointed out."
However, Lambda Legal Chief Strategy Officer and Legal Director, Sharon McGowan had a different take and interpreted remarks by Associate U.S. Supreme Court Justice Brett Kavanaugh to mean that the decisions in Lawrence v. Texas, which decriminalized private sexual intimacy between same-sex couples, and Obergefell v. Hodges, which struck down remaining bans on the freedom of same-sex couples to marry, would actually justify overturning Roe v. Wade.
In a publicly released media statement McGowan noted: "During today's argument, Justice Kavanaugh suggested that two key Supreme Court decisions protecting LGBTQ civil rights—Lawrence v. Texas and Obergefell v. Hodges—support overruling Roe v. Wade and Planned Parenthood v. Casey.
'To that we say, NOT IN OUR NAME. LGBTQ people need abortions. Just as important, those landmark LGBTQ decisions EXPANDED individual liberty, not the opposite. They reflected the growing societal understanding of our common humanity and equality under law.
"Just as the Supreme Court in Brown v. Board of Education rejected the lie of 'separate but equal,' the Supreme Court's decisions in Lawrence and Obergefell appropriately overruled precedent where it was clear that, as was true with regard to race, our ancestors failed properly to acknowledge that gender and sexual orientation must not be barriers to our ability to live, love, and thrive free of governmental oppression. …
"These landmark LGBTQ cases, which Lambda Legal litigated and won, and on which we rely today to protect our community's civil rights, were built directly on the foundation of Casey and Roe. Our interests in equal dignity, autonomy, and liberty are shared, intertwined, and fundamental."
On Sunday, the Blade spoke with Shannon Minter, legal director for the National Center for Lesbian Rights, a national LGBTQ+ legal organization that represented three same-sex couples from Tennessee, whose case was heard by the U.S. Supreme Court along with Obergefell and two other cases.
Minter is urging caution in how people interpret the court arguments and remarks made by the justices.
"We should be cautious about taking the bait from anti-LGBTQ groups who falsely argue that if the Supreme Court reverses or undermines Roe v. Wade, they are likely to reverse or undermine Obergefell or Lawrence. In fact, that is highly unlikely, as the argument in Dobbs itself showed," he said.
"The only reason Justice Kavanaugh mentioned Obergefell and Lawrence, along with Brown v. Board of Education, was to cite them as examples of cases in which the Supreme Court clearly did the right thing. All of those decisions rely at least as strongly on equal protection as on fundamental rights, and even this extremely conservative Supreme Court has not questioned the foundational role of equal protection in our nation's constitutional law," Minter stressed.
During an interview with Bloomberg magazine, David Cortman, of the Scottsdale, Ariz.-based anti-LGBTQ legal group Alliance Defending Freedom, which has been listed by the Southern Poverty Law Center as an extremist hate group, said "two things in particular distinguish abortion from those other privacy rights: the right to life and the states' interest in protecting a child."
Cortman, whose group urged the justices to allow states to ban same-sex marriages, said those other rights may be just as wrong as the right to an abortion. "But the fundamental interest in life that's at issue in abortion means those other rights are probably not in any real danger of being overturned."
But Cortman is of the opinion that there is little impetus among the court's conservatives to take up challenges to those cases.
However, the fact that the six to three makeup of the high court with a conservative majority has progressives clamoring for the public to pay closer attention and be more proactively engaged.
Kierra Johnson, executive director of the National LGBTQ Task Force, in an emailed statement to the Blade underscored those concerns:
"Reports and analysis coming out of Wednesday's Supreme Court hearing on Dobbs v. Jackson Women's Health Organization are extremely disturbing and represent a threat to our individual constitutional rights to privacy and autonomy. There is no 'middle ground' on what the Constitution guarantees and what was decided decades ago with the Roe v Wade decision.
"This is about liberty, equality, and the rule of law, not the political or partisan views of those sitting on the bench. The unprecedented decision to remove a constitutional right recognized by the Supreme Court 50 years ago would set back civil rights by decades. ….
"Abortion access is essential, and a fundamental right under the U.S. Constitution. Bans on abortion are deeply racist and profoundly sexist – the harshest impacts fall on Black and Brown women and pregnant people and on our families and communities.
"If you think this decision will not affect you, think again: a wrong decision by the Supreme Court means you, too, will lose your bodily autonomy, your ability to own your own personal and community power. This is not just about abortion; it is about controlling bodies based on someone else determining your worthiness. This is a racial justice issue. This is a women's issue. It is an LGBTQ issue. It is a civil rights issue. These are our fundamental rights that are at stake."
Minnesota middle school principal ousted for displaying Pride flag
Critics ramped up attacks on the career educator- some compared her to the Devil after publicly associating with LGBTQ+ people and students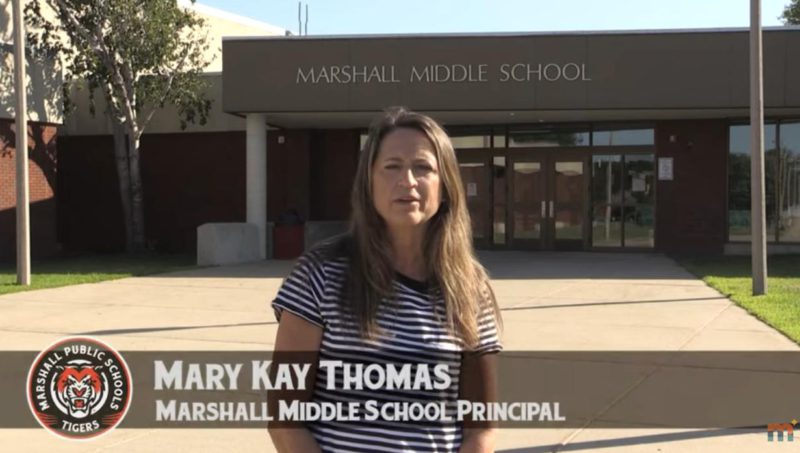 MARSHALL, Mn. — A former middle school principal in Minnesota who lost her job after displaying a Pride flag alleges in a federal lawsuit that the school system retaliated against her for supporting LGBTQ+ students.
Mary Kay Thomas filed the complaint against Marshall Public Schools in the U.S. District Court of Minnesota Tuesday after anti-LGBTQ+ middle school staff, parents, students and local clergy began efforts to remove the Pride flag that she put up in her middle school's cafeteria in 2020 as a part of an inclusiveness effort.
According to the lawsuit, Thomas has been a teacher and principal for more than three decades with a long track record of success. She held the principal position at Marshall Middle School for 15 years, receiving contract renewals, pay raises and praise for her performance.
"But when Thomas decided to display an LGBTQ Pride Flag in the school cafeteria in early 2020, everything changed," reads the complaint.
Thomas refused to take down the Pride flag as critics ramped up attacks on the career educator. The lawsuit alleges that some even compared her to the Devil after publicly associating with LGBTQ+ people and students.
"Sadly, the Marshall School District has sided with these critics," her lawyers wrote.
What followed was an "escalating series of adverse actions" taken by the Marshall School District, said the lawsuit. She claims that the school targeted her by threatening her employment, conducting a "bad-faith" investigation, putting her on indefinite involuntary leave, suspending her without pay and putting a notice of deficiency in her personnel file.
The complaint says that the deficiencies were "false, distorted, and/or related to Thomas's association with members of the LGBTQ community."
Thomas also claims that the District attempted to get her to quit by removing her as principal and assigning her to a "demeaning 'special projects' position."
At one point, Marshall Public Schools Superintendent Jeremy Williams, who is named as a defendant in the case, told Thomas he could "make this all go away" if she stepped down, according to the complaint.
The school removed the Pride flag in August 2021 after settling a lawsuit brought by residents who opposed it.
The Blade reached out to Williams for comment but did not receive a response. However, according to the Marshall Independent, Williams did release a statement on the matter.
"Marshall Public Schools is committed to the education of every child and has strong policies and practices in place against discrimination, against both students and staff members. The school district is committed to creating a respectful, inclusive, and safe learning and working environment for students, staff and our families," Williams said. "While the school cannot comment about the specific allegations made in the complaint, the school district strongly denies any allegation of discriminatory conduct. The school will vigorously defend itself against these allegations."
In addition, Thomas alleges that she resisted unwanted sexual advancements from school board member Bill Swope. She claims she told Williams about the sexual harassment.
As of Thursday, the school has not filed a response, and no hearing has been scheduled yet.
Thomas is seeking a jury trial, damages and reinstatement as principal of Marshall Middle School.
Matthew Shepard honored at National Cathedral
Daylong services held to mark his 45th birthday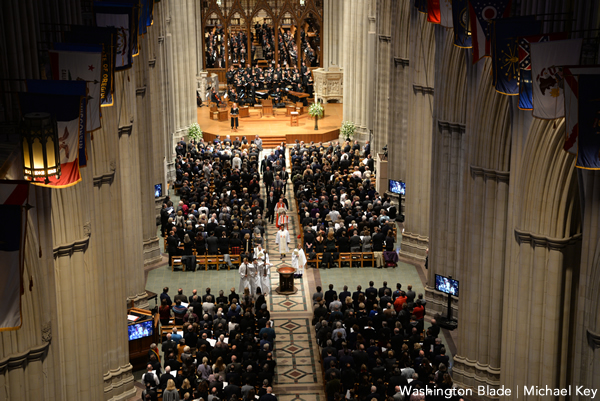 The parents of gay University of Wyoming student Matthew Shepard, who was murdered in a 1998 hate crime that drew international attention to anti-LGBTQ violence, were among those attending a day of religious services commemorating Shepard's 45th birthday on Wednesday at the Washington National Cathedral.
The services, which the Cathedral organized in partnership with the Matthew Shepard Foundation, included tributes to Shepard at the Cathedral's St. Joseph's Chapel, where his remains were interred in a ceremony in 2018.
"Matthew Shepard's death is an enduring tragedy affecting all people and should serve as an ongoing call to the nation to reject anti-LGBTQ bigotry and instead embrace each of our neighbors for who they are," the Very Rev. Randolph Marshall Hollerith, Dean of Washington National Cathedral, said at the time of Shepard's interment.
"In the years since Matthew's death, the Shepard family has shown extraordinary courage and grace in keeping his spirit and memory alive, and the Cathedral is honored and humbled to serve as his final resting place," Hollerith said.
The first of the Cathedral's Dec. 1 services for Shepard began at 7 a.m. with prayers, scripture readings, and music led by the Cathedral's Rev. Canon Rosemarie Logan Duncan. The service was live streamed on YouTube.
An online, all-day service was also held from 8 a.m. to 5 p.m. that Cathedral officials said was intended to "connect people around the world to honor Shepard and the LGBTQ community and pray for a more just world."
The Shepard services concluded with a 5:30 p.m. in-person remembrance of Shepard in the Cathedral's Nave, its main worship space. Among those attending were Shepard's parents, Dennis and Judy Shepard, who have said they created the Matthew Shepard Foundation to continue their son's support for equality for all.
A statement released by the Cathedral says a bronze plaque honoring Matthew Shepard was installed in St. Joseph's Chapel to mark his final resting place at the time Shepard was interred there in 2018.
Following the Cathedral's Dec. 1 services for Shepard, the Adams Morgan gay bar Pitchers hosted a reception for Dennis and Judy Shepard, according to Pitchers' owner David Perruzza.
One of the two men charged with Shepard's murder, Russell Henderson, pleaded guilty to the charge after prosecutors agreed not to seek the death penalty for him. The second of the two men charged, Aaron McKinney, was convicted of the murder following a lengthy jury trial.
Prosecutors said McKinney repeatedly and fatally struck Shepard in the head with the barrel of a handgun after he and Henderson tied Shepard to a wooden fence in a remote field outside Laramie, Wy., on Oct. 6, 1998. Police and prosecutors presented evidence at McKinney's trial that McKinney and Henderson met Shepard at a bar in Laramie on that day and lured him into their car, where they drove him to the field where authorities said McKinney fatally assaulted him.
Shepard died six days later at a hospital in Ft. Collins, Colo., where he was taken after being found unconscious while still tied to the fence.
In a dramatic courtroom scene following the jury's guilty verdict for McKinney, Dennis Shepard urged the judge to spare McKinney's life by not handing down a death sentence. He said that out of compassion and in honor of his son's life, McKinney should be allowed to live. The judge sentenced McKinney to two consecutive terms of life in prison without the possibility of parole, the same sentence given to Henderson.