Equality Forum honors Buttigieges for LGBT History Month
Organization will honor LGBTQ icon each day in October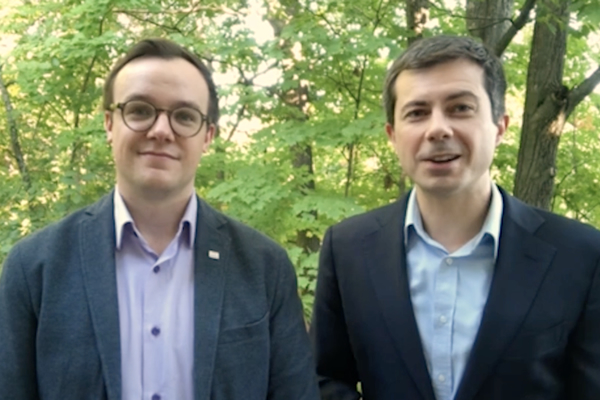 LGBTQ leaders and allies joined the Equality Forum in Philadelphia on Sunday to launch LGBT History Month with an award ceremony honoring Pete and Chasten Buttigieg and New York Times columnist Frank Bruni.
The Equality Forum, a national LGBTQ civil rights organization, granted the Buttigieges the International Role Model Award, which is a long-standing recognition of activists and allies who have advanced LGBTQ civil rights.
Pete Buttigieg, the transportation secretary and first openly LGBTQ person to serve in the Cabinet, previously served as the first openly gay mayor of his hometown of South Bend, Ind. Chasten Buttigieg is a teacher, LGBTQ rights advocate and author of the best-selling memoir "I Have Something to Tell You," which is about growing up gay in the Midwest and his life with his husband.
The pair became parents to two newborns in September.
"When I began my career in public life, I wasn't sure whether it was even possible to be out and to serve openly at the same time," said Pete Buttigieg, who joined the event virtually with Chasten. "But my service as mayor, my candidacy for office and my role in public life has shown that now you can be out and serve your country. There's a long way to go, but the work of groups like the Equality Forum and the history makers who came before I, made this possible."
Previous winners of the award include Chicago Mayor Lori Lightfoot, California Gov. Gavin Newson and activist Judy Shepard.
Bruni received the Frank Kameny Award, which is named after the prominent leader of the LGBTQ rights movement. Kameny led efforts to overturn the Eisenhower administration's Executive Order 10450, which prohibited the employment of LGBTQ people by the federal government.
The first openly gay columnist for the Times, Bruni is a Pulitzer Prize nominee who joined the paper in 1995. He later served as a White House correspondent covering George W. Bush.
Bruni was named an op-ed writer in 2011, and recently left his post in 2021 to work as the endowed chair in journalism at Duke University. Bruni continues to write for the Times and contributes to CNN.
In his virtual acceptance speech, Bruni thanked the late Kameny and other trailblazers for fighting for LGBTQ rights.
"You're all honoring me for the writing I've done that argues for our dignity, that illuminates our humanity—or at least that tries to do those things," Bruni said. "But unlike Frank Kameny, unlike so many of his gay and lesbian contemporaries, unlike so many of you—I didn't have to be courageous. I didn't have to be visionary. Others covered that ground before, and for me."
Equality Forum also joined the African American Museum in Philadelphia on Sunday in establishing the Alain Locke Historic Marker in front of the museum. A gay man from Philadelphia, Locke is remembered as the "Father of the Harlem Renaissance."
"African American, women's and LGBTQ history were invisible. LGBT History Month and the historic markers bring to public attention the LGBTQ community's important national and international contributions," said Equality Forum Executive Director Malcolm Lazin in an emailed statement to the Washington Blade.
This is the 10th government-approved, nationally significant LGBTQ historic marker overseen and underwritten by Equality Forum, Lazin said. Locke was the first African American Rhodes Scholar, earned a Ph.D. in philosophy from Harvard University and became the chair of Howard University's Philosophy Department.
"As the leader of the Harlem Renaissance of the 1920s and 1930s, Alain Locke for the first time brought to national attention the diversity and vibrancy of the music, visual arts and literature of African American culture. Those who he mentored and promoted became legendary," Lazin wrote.
Each day in October, the Equality Forum will honor a different LGBTQ "icon." The 2021 icons include Bruni, members of Congress, entertainers, senior White House staffers, Mary Trump, Chopin and Myanmar's Miss Universe. The Equality Forum will feature a video, biography, downloadable images and other resources for each Icon.
LGBT History Month, an Equality Forum project, has archived 496 icons with resources since it began 16 years ago. It is the largest online educational resource of its type worldwide, Lazin said. In 2019, Lou Chibbaro Jr., the Blade's senior news reporter, was honored as an icon.
"We present the icons alphabetically. Oct. 1 was Susan B. Anthony," Lazin wrote. "Few LGBTQ Americans know that the nation's leading suffragette was a lesbian. Like Susan B. Anthony, LGBT History Month provides visibility for LGBTQ icons that have made monumental contributions."
To learn more about the 2021 icons, visit www.lgbthistorymonth.com.
Activists demand ICE release transgender, HIV-positive detainees
Protest took place outside agency's D.C. headquarters on Wednesday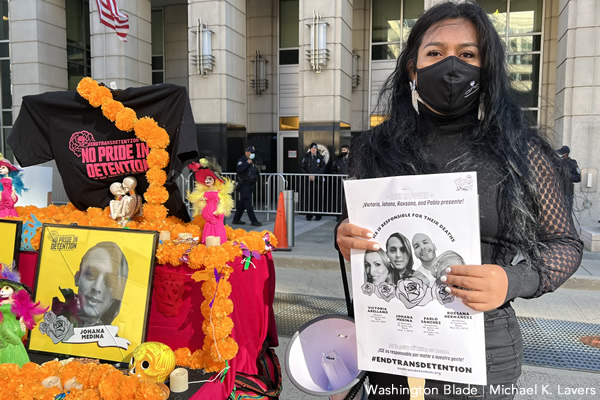 Jessycka Ckatallea Letona is an indigenous transgender woman from Guatemala who fled persecution in her homeland because of her gender identity.
She asked for asylum in the U.S. in 2016 when she entered the country in Eagle Pass, Texas.
Ckatallea on Wednesday told the Washington Blade that U.S. Immigration and Customs Enforcement officials placed her in a pod with 70 men at a privately-run detention center in Florence, Ariz. She also said personnel at another ICE detention center in Santa Ana, Calif., ridiculed her because of her gender identity and forced her to strip naked before she attended hearings in her asylum case.
Ckatallea spent a year and eight months in ICE custody before her release. She won her asylum case and now lives in the San Francisco Bay Area.
"It was a very traumatic experience," said Ckatallea as she spoke with the Blade in front of ICE's headquarters in Southwest D.C. "I came to a country thinking that it would take care of me, that it would protect me because of my gender identity."
Ckatallea is one of the more than a dozen immigrant rights activists who participated in a protest in front of ICE's headquarters that Familia: Trans Queer Liberation Movement, Immigration Equality and the End Trans Detention campaign organized. Ckatallea, Immigration Equality Executive Director Aaron Morris and other protest participants demanded ICE immediately release trans people and people with HIV/AIDS from their custody.
The groups placed on the sidewalk in front of the building a Day of the Dead "ofrenda" to honor three trans women—Victoria Orellano, Roxsana Hernández and Johana "Joa" Medina León—who died in ICE custody or immediately after their release. The "ofrenda" also paid tribute to Pablo Sánchez Gotopo, a Venezuelan man with AIDS who died in ICE custody on Oct. 1.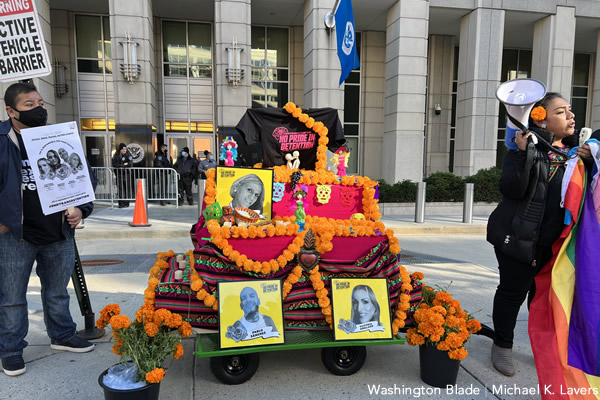 Ckatallea, Morris and the other protesters approached the building's entrance and presented security personnel with a petition that calls upon President Biden and Homeland Security Secretary Alejandro Mayorkas to "immediately release all transgender people, people living with HIV, and people with medical conditions from ICE custody."
ICE has repeatedly defended its treatment of trans people and people with HIV/AIDS who are in their custody.
The Blade in July 2020 interviewed a person with HIV who was in ICE custody at the Adams County Detention Center, the same privately-run facility in which Gotopo was held until his hospitalization. The person with whom the Blade spoke described conditions inside the detention center as "not safe" because personnel were not doing enough to protect them and other detainees from COVID-19.
Congressman Mike Quigley (D-Ill.) is among the dozens of lawmakers who have called for the release of all trans people and people with HIV/AIDS from ICE custody. The Illinois Democrat on Tuesday reiterated this call during a virtual briefing that Familia: Trans Queer Liberation Movement, Immigration Equality and the End Trans Detention Campaign organized.
"ICE's clear inability to do better leads me to seek to end of ICE's detention of all trans migrants," said Quigley. "During both the Trump and Biden administration I led dozens of my colleagues to demand that ICE release transgender detainees and end its practice of holding trans migrants in custody. We had hoped that things would change with the new administration, so far I'm disappointed."
Congresswoman Pramila Jayapal (D-Wash.) also participated in the briefing alongside Immigration Equality Legal Director Bridget Crawford and Sharita Gruberg of the Center for American Progress and others.
Texas GOP Governor Greg Abbott signs anti-Trans youth sports bill
"Despite the powerful testimony of trans kids & adults- the emails to the Governor to veto this harmful piece of legislation it is now law"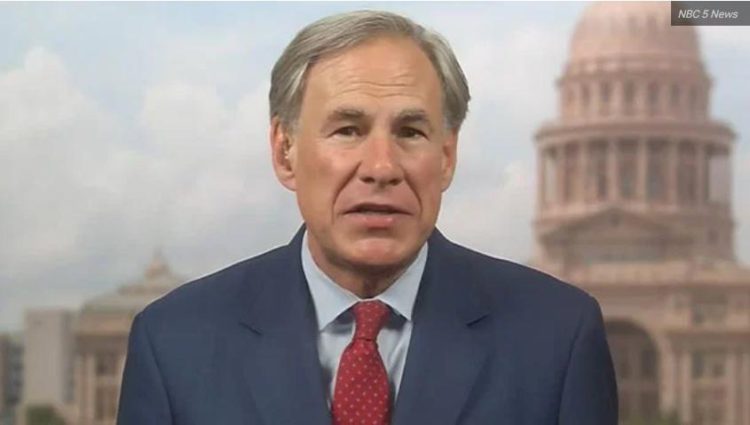 AUSTIN – Texas Republican Gov. Greg Abbott signed into law Monday H.B. 25, an anti-Transgender youth sports bill banning Trans K-12 student-athletes from playing on sports teams consistent with their gender identity.
H.B. 25 is the 9th statewide bill signed into law this year banning transgender youth from participating in school sports and the 10th in the country. This bill also comes during a year when Texas lawmakers have proposed nearly 70 anti-LGBTQ bills, including more than 40 bills that specifically target transgender and nonbinary youth — far more than any other state.
"We are devastated at the passage of this bill. Despite the powerful testimony of trans kids and adults, families and advocates, and the many emails and calls our community placed to the Governor's office to veto this harmful piece of legislation it is now law," Ricardo Martinez, CEO of Equality Texas, said.
"Most immediately, our focus is our community and integrating concepts of healing justice to provide advocates who have already been harmed by this bill with spaces to refill their cup and unpack the acute trauma caused by these legislative sessions. Our organizations will also begin to shift focus to electing pro-equality lawmakers who understand our issues and prioritize representing the vast majority of Texans who firmly believe that discrimination against trans and LGB+ people is wrong," he added.
Earlier this month, the Texas state government was criticized for removing web pages with resources for LGBTQ youth, including information about The Trevor Project's crisis services. The Trevor Project the world's largest suicide prevention and crisis intervention organization for LGBTQ+ young people.
"Transgender and nonbinary youth are already at higher risk for poor mental health and suicide because of bullying, discrimination, and rejection. This misguided legislation will only make matters worse," Amit Paley, CEO and Executive Director of The Trevor Project said in a statement released Monday afternoon.
To every trans Texan who may be feeling hurt and attacked by this legislation and months of ugly political debate — please know that you are valid, and you are deserving of equal opportunity, dignity and respect. The Trevor Project is here for you 24/7 if you ever need support, and we will continue fighting alongside a broad coalition of advocates to challenge this law," Paley said.
Breaking: Transgender students in Texas will be restricted from playing on K-12 school sports teams that align with their gender identity under a bill Gov. Greg Abbott has signed into law. https://t.co/54kMy2fWGu

— Texas Tribune (@TexasTribune) October 25, 2021
********************
Additional resources:
Research consistently demonstrates that transgender and nonbinary youth face unique mental health challenges and an elevated risk for bullying and suicide risk compared to their peers.
If you or someone you know needs help or support, The Trevor Project's trained crisis counselors are available 24/7 at 1-866-488-7386, via chat at TheTrevorProject.org/Help, or by texting START to 678678.
Ohio high school cancels play with Gay character after Pastor complains
The School's fall production of "She Kills Monsters" was scheduled to open in less than one month until the play was canceled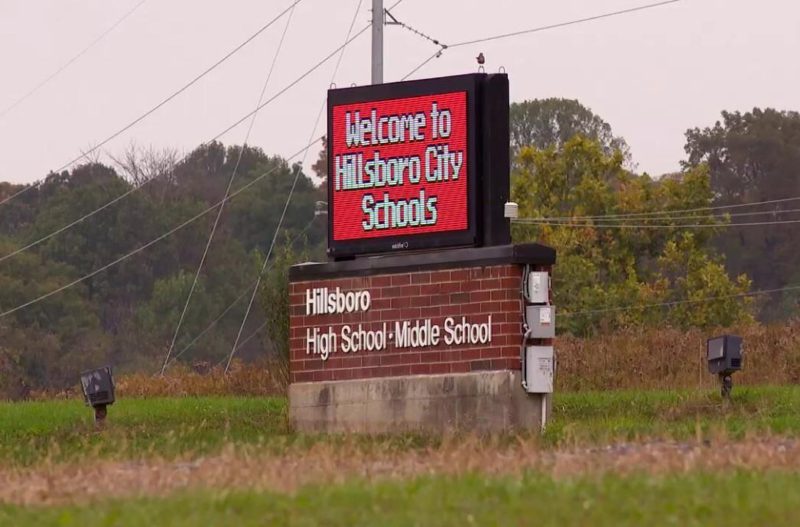 HILLSBORO, Oh. — A Southwest Ohio high school's play was abruptly canceled after Jeff Lyle, a local pastor from Good News Gathering, complained of a gay character.
Hillsboro High School's fall production of "She Kills Monsters" was scheduled to open in less than one month, until students learned the play would be canceled last week, reports Cincinnati's ABC affiliate WCPO.
The story follows a high school senior as she learns about her late sister's life. It is implied throughout the play that her sister is gay, according to the news station.
The play's cancellation comes a week after Lyle, a long-time voice of the anti-LGBTQ+ religious-right in Ohio, and a group of parents confronted the production's directors at a meeting, according to Cincinnati CBS affiliate Local 12. Lyle denies pressuring school officials, but tells WCPO he supports the decision.
"From a Biblical worldview this play is inappropriate for a number of reasons, e.g. sexual innuendo, implied sexual activity between unmarried persons, repeated use of foul language including taking the Lord's name in vain," Lyle said.
Some families say they believe Lyle did influence the school's decision.
"I think that's wrong," Jon Polstra, a father of one of the actors, told WCPO. "All they would have had to do if they objected to something in the play was not go to the play."
In a statement to Local 12, Hillsboro City Schools Superintendent Tim Davis said the play was canceled because it "was not appropriate for our K-12 audience."
The Lexington Herald Leader reports that the school planned to perform a version intended for audiences as young as 11 years old.
Students were "devastated" and "blindsided" by the news, according to WCPO.
"It felt like we had just been told, 'Screw off and your lives don't matter,'" Christopher Cronan, a Hillsboro High student, said. "I am openly bisexual in that school and I have faced a lot of homophobia there, but I never expected them to cancel a play for a fictional character."
Cronan's father, Ryan, also voiced his frustration.
"They want to say the town is just not ready, but how are you not ready? It's 2021," Ryan Cronan said.
Students have started a GoFundMe in hopes of putting on the production at a community theater in 2022.
"If we do raise enough money, I am going to be genuinely happy for a very long time, because that means people do care," Cronan told WCPO.