Venezuelan man with AIDS dies in ICE custody
Pablo Sánchez Gotopo passed away at Miss. hospital on Oct. 1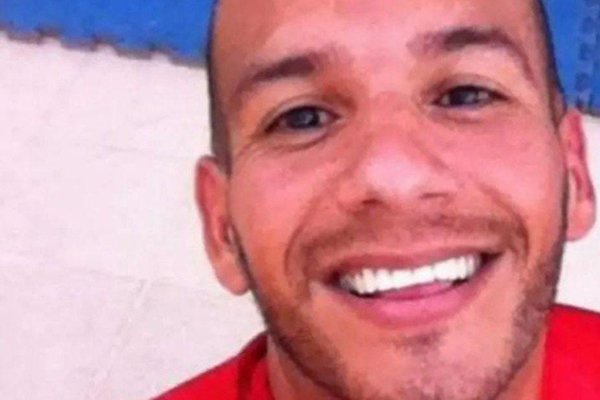 A Venezuelan man with AIDS died in U.S. Immigration and Customs Enforcement custody on Oct. 1.
An ICE press release notes Pablo Sánchez Gotopo, 40, died at Merit Health River Oaks in Flowood, Miss., which is a suburb of Jackson, the state capital. The press release notes the "preliminary cause of death was from complications with acute respiratory failure, Acquired Immune Deficiency Syndrome (AIDS), pneumonia, acute kidney failure, anemia and COVID-19."
ICE said U.S. Border Patrol took Sánchez into custody near Del Rio, Texas, on May 17. He arrived at the Adams County Detention Center in Natchez, Miss., four days later.
"Upon arrival to an ICE facility, all detainees are medically screened and administered a COVID-19 test by ICE Health Service Corps (IHSC) personnel," said ICE in its press release. "Sánchez's test results came back negative."
The press release notes Sánchez on July 28 received another COVID-19 test after he "began showing symptoms of COVID-19." ICE said he tested negative, but Adams County Detention Center personnel transferred him to a Natchez hospital "for additional advanced medical care."
ICE Enforcement and Removal Operations staff in its New Orleans Field Office, according to the press release, "coordinated with hospital staff to arrange family visitation" after Sánchez's "health condition deteriorated." Sánchez was transferred to Merit Health River Oaks on Sept. 25.
"ICE is firmly committed to the health and welfare of all those in its custody and is undertaking a comprehensive agency-wide review of this incident, as it does in all such cases," says the press release.
Venezuela's political and economic crises have prompted more than 10,000 people with HIV to leave the country, according to the New York-based Aid for AIDS International.
Activists and health care service providers in Venezuela with whom the Washington Blade has spoken in recent years have said people with HIV/AIDS in the country have died because of a lack of antiretroviral drugs. Andrés Cardona, director of Fundación Ancla, a group in the Colombian city of Medellín that works with migrants and other vulnerable groups, told the Blade last month that many Venezuelans with HIV would have died if they hadn't come to Colombia.
The Blade has not been able to verify a Venezuelan activist's claim that Sánchez was gay. It is also not known why Sánchez decided to leave Venezuela and travel to the U.S.
ICE detainee with HIV described Miss. detention center as 'not safe'
Activists and members of Congress continue to demand ICE release people with HIV/AIDS in their custody amid reports they don't have adequate access to medications and other necessary medical treatment.
Two trans women with HIV—Victoria Arellano from Mexico and Roxsana Hernández from Honduras—died in ICE custody in 2007 and 2018 respectively. Johana "Joa" Medina Leon, a trans woman with HIV who fled El Salvador, died in 2019, three days after ICE released her from a privately-run detention center.
The Blade in July 2020 interviewed a person with HIV who was in ICE custody at the Adams County Detention Center. The detainee said there was no social distancing at the privately-run facility and personnel were not doing enough to prevent COVID-19 from spreading.
"It's not safe," they told the Blade.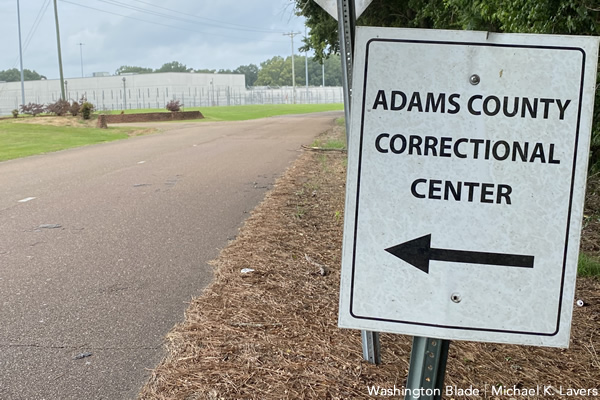 Elisabeth Grant-Gibson, a Natchez resident who supports ICE detainees and their families, on Wednesday told the Blade that she was able to visit the Adams County Detention Center and other ICE facilities in the Miss Lou Region of Mississippi and Louisiana from November 2019 until the suspension of in-person visitation in March 2020 because of the pandemic.
"Medical neglect and refusal of medical care has always been an issue in the detention center at Adams County," said Grant-Gibson. "After the facilities were closed to public visitation, those problems increased."
Grant-Gibson told the Blade she "worked with a number of families and received phone calls from a number of detainees, and I was told again and again that detainees were being refused the opportunity to visit the infirmary."
"When they did visit the infirmary, they were given virtually no treatment for the issues they were presenting with," said Grant-Gibson.
ICE in its press release that announced Sánchez's death said fatalities among its detainees, "statistically, are exceedingly rare and occur at a fraction of the national average for the U.S. detained population." ICE also noted it spends more than $315 million a year "on the spectrum of healthcare services provided to detainees."
"ICE's Health Service Corps (IHSC) ensures the provision of necessary medical care services as required by ICE Performance-Based National Detention Standards and based on the medical needs of the detainee," notes the ICE press release. "Comprehensive medical care is provided from the moment detainees arrive and throughout the entirety of their stay. All ICE detainees receive medical, dental, and mental health intake screening within 12 hours of arriving at each detention facility, a full health assessment within 14 days of entering ICE custody or arrival at a facility, and access to daily sick call and 24-hour emergency care."
An ICE spokesperson on Wednesday pointed the Blade to its Performance-Based Detention Standards from 2011, which includes policies for the treatment of detainees with HIV/AIDS.
A detainee "may request HIV testing at any time during detention" and ICE detention centers "shall develop a written plan to ensure the highest degree of confidentiality regarding HIV status and medical condition." The policy also states that "staff training must emphasize the need for confidentiality, and procedures must be in place to limit access to health records to only authorized individuals and only when necessary."

"The accurate diagnosis and medical management of HIV infection among detainees shall be promoted," reads the policy. "An HIV diagnosis may be made only by a licensed health care provider, based on a medical history, current clinical evaluation of signs and symptoms and laboratory studies."
LGBTQ media 'excited' about Press Forward national media funds
Coalition of donors pledges $500 million for local news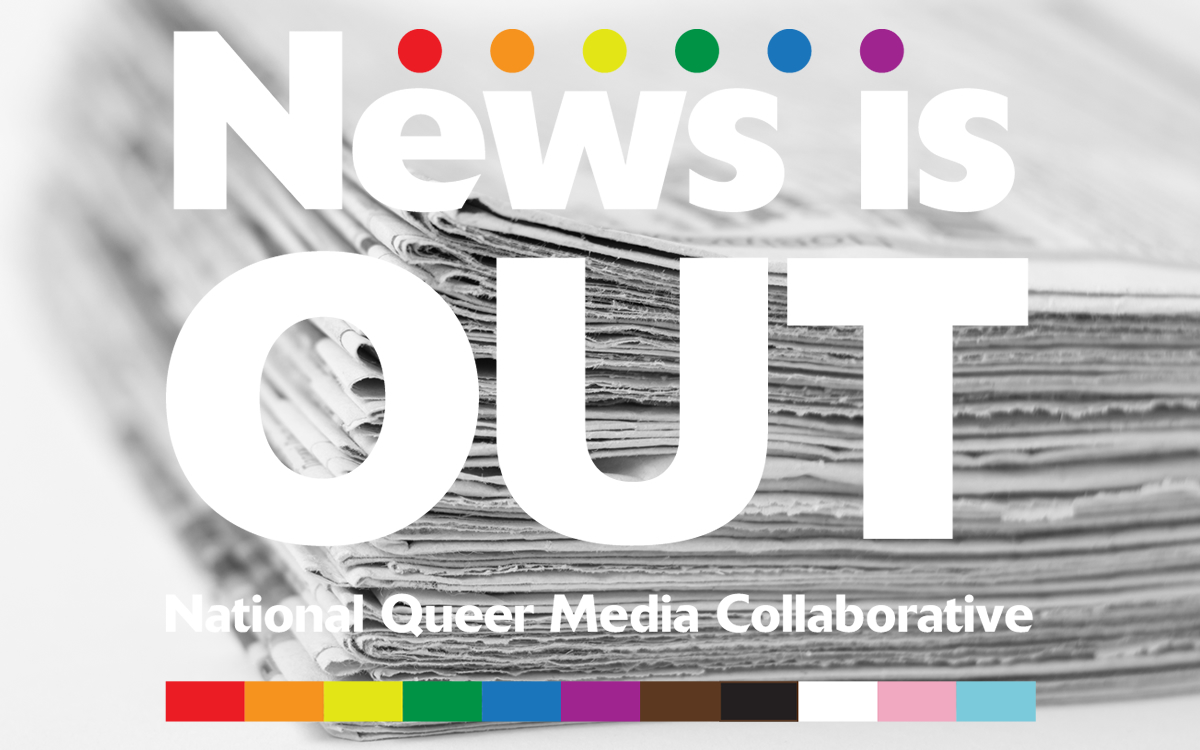 Members of News Is Out, a collaborative of six leading LGBTQ media organizations across the country, have expressed support and excitement about the newly announced national Press Forward effort to support local media in the United States. News Is Out members represent more than 200 years of LGBTQ news and culture coverage, with two member papers starting more than 50 years ago.
"This new effort from foundations, including MacArthur Foundation and Knight Foundation, truly will be a game-changer in the local media space," said Tracy Baim, co-founder of Windy City Times, which is part of a Chicago collaborative that is also advocating for local funding in that city. "Local media are critical to covering issues across the country, from LGBTQ+ and environmental issues to education and criminal justice reform. Philanthropy can provide an important complement to other needed revenues to help local media survive and thrive."
In the U.S., 7.1 percent of adults, or 18 million people, identify as LGBTQ, according to Gallup. About 21 percent of Gen Z identifies as LGBTQ. The media serving this community has been life-saving, resource sharing and an integral part of the movement for LGBTQ equality, News Is Out members said, adding that this media continues to fill a vital information need.
According to the Press Forward announcement, "A coalition of 22 donors announced Press Forward, a national initiative to strengthen communities and democracy by supporting local news and information with an infusion of more than a half-billion dollars over the next five years.
"Press Forward will enhance local journalism at an unprecedented level to re-center local news as a force for community cohesion; support new models and solutions that are ready to scale; and close longstanding inequities in journalism coverage and practice."
The Knight Foundation and the John D. and Catherine T. MacArthur Foundation have been leading the Press Forward effort.
News Is Out is supported in part by a technology grant from the Knight Foundation. The program is called the Queer Media Sustainability Lab
News Is Out is a nearly two-year-old alliance created launched by the Local Media Association, with initial funding from Google News Initiative. The members are Bay Area Reporter, Dallas Voice, Philadelphia Gay News, Washington Blade, Windy City Times and TAGG, a national queer women's magazine.
News Is Out members have collaborated on editorial, business and fundraising opportunities.
"LGBTQ media have always played a critical role in covering and informing our communities," said Lynne Brown, publisher of the Washington Blade. "While we have lost dozens of LGBTQ news media outlets in recent years, those of us who have survived are thriving in 2023. We have done so because we have innovated and sought new forms of revenue. The News Is Out Collaborative has assisted with support that propels us forward."
"LGBTQ+ media is needed now more than ever, as our communities face a backlash across this country," said Leo Cusimano, publisher of the Dallas Voice. "By working together in News Is Out, we have formed a strong alliance to help our members in technology training, editorial collaborations and much more. New funds into this ecosystem will be vital to strengthening the network of local LGBTQ+ media in this country."
Census Bureau asks White House to test questions on sexual orientation, gender identity
Data would be included in annual American Community Survey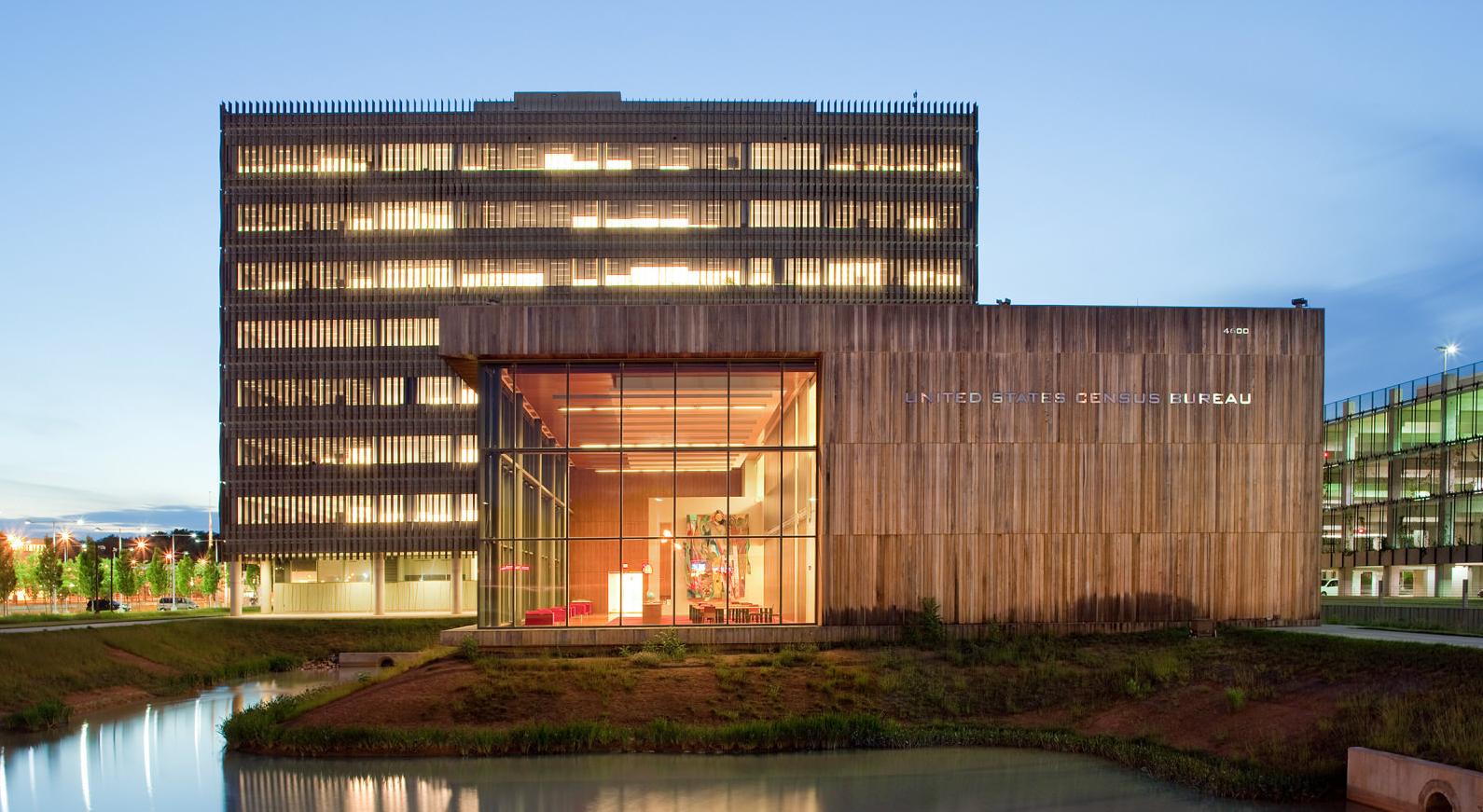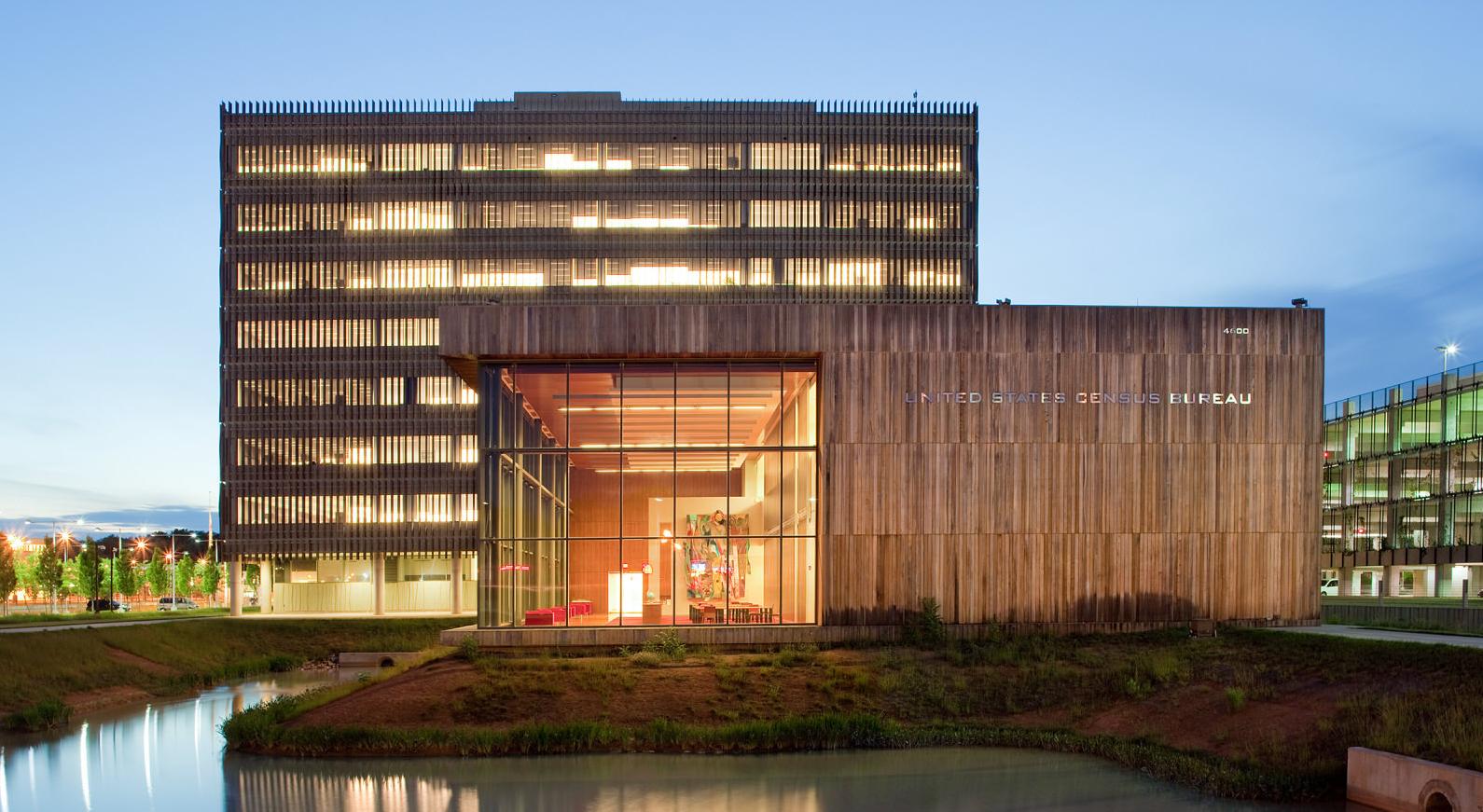 The U.S. Census Bureau on Tuesday asked the Biden administration to sign off on plans to test questions on sexual orientation and gender identity for respondents aged 15 and older on the agency's annual American Community Survey.
Data on these metrics will help inform civil rights and equal employment enforcement, the Census Bureau said in a notice published on the Federal Register.
Testing will help the agency determine wording, response categories and placement of the questions on the survey — its most comprehensive, covering 3.5 million households each year.
A key unknown will be how answers will be provided by proxies such as parents, spouses or others in a household who isn't the person about whom the question is asked.
"Younger LGBT people might not yet be out to their parents or others who are answering these questions as a proxy reporter, so the quality of the data might not be as good for younger people," M. V. Lee Badgett, an economics professor at the University of Massachusetts Amherst, told PBS News.
Currently, the Census Bureau and its annual American Community Survey only ask questions about same-sex couples who are married or cohabitating.
"We anticipate having much more info about the LGBT people than is currently available — including about the demographic and socioeconomic status of LGBT people who aren't in same-sex couple households, including occupational status, industry and wages, and about LGBT people who were born outside the U.S. and LGBT people with disabilities, and their families," Kerith Conron, research director of the Williams Institute at UCLA School of Law, told the Associated Press.
Pentagon to restore honor to veterans kicked out over their sexual orientation
Legislation seeks accountability for DoD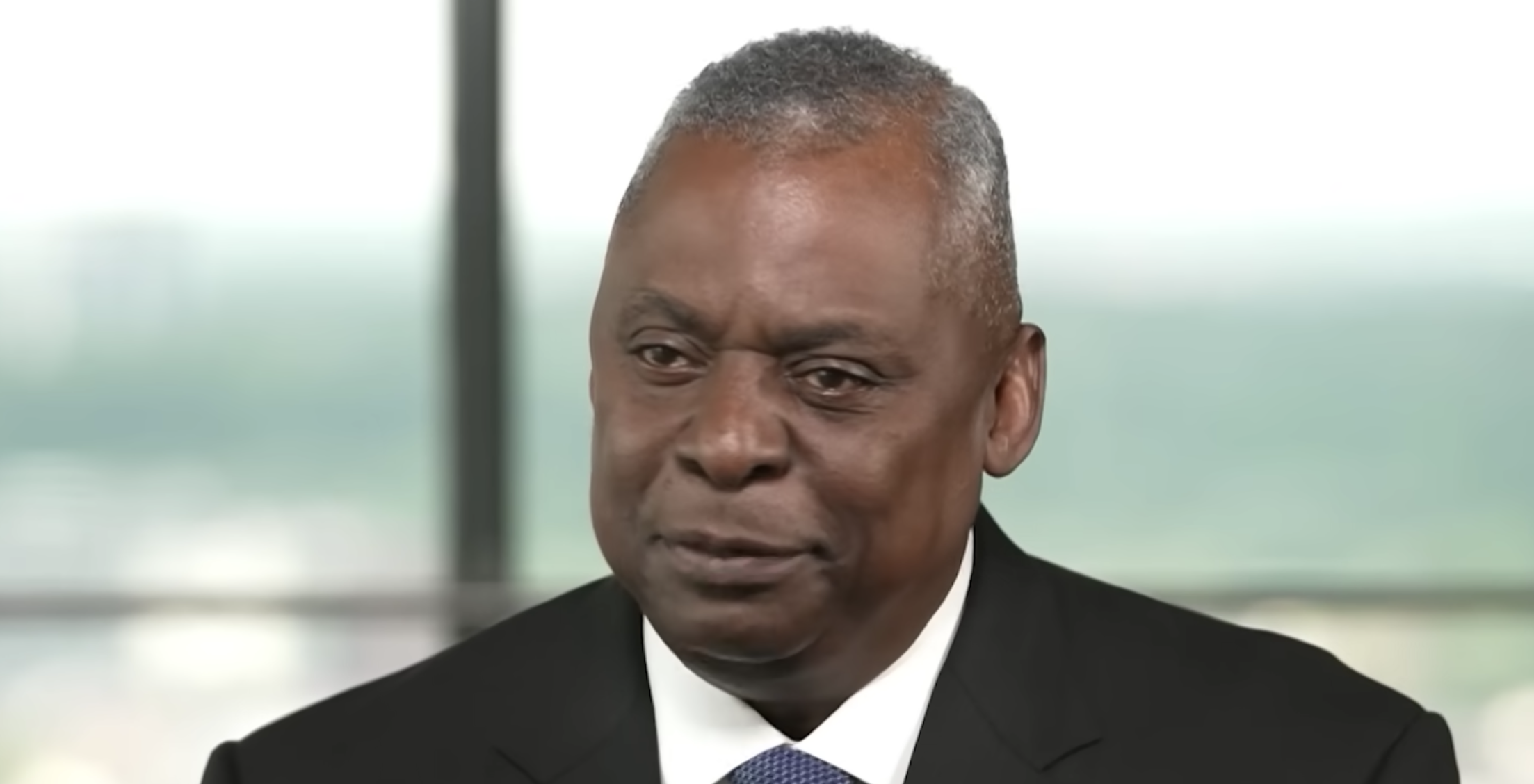 The U.S. Department of Defense announced plans to restore honor to service members who were kicked out of the military over their sexual orientation, the agency announced on Wednesday, the 12th anniversary of the repeal of "Don't Ask, Don't Tell."
"Over the past decade, we've tried to make it easier for service members discharged based on their sexual orientation to obtain corrective relief," U.S. Secretary of Defense Lloyd Austin said in a statement.
"While this process can be difficult to navigate, we are working to make it more accessible and efficient," he said, adding, "in the coming weeks, we will be initiating new outreach campaigns to encourage all service members and veterans who believe they have suffered an error or injustice to seek correction to their military records."
The move follows a class action lawsuit filed last month by LGBTQ veterans against the Pentagon for allegedly failing to remedy "ongoing discrimination," including biased language in the discharge papers of LGBTQ veterans.
CBS News has investigated the Pentagon's handling of service records of veterans who were kicked out of the military because of their sexual orientation, revealing the broad scope of discrimination experienced by these LGBTQ veterans — finding, for instance, that more than 29,000 were denied honorable discharges.
Also on Wednesday, U.S. Reps. Mark Takano (D-Calif.) and Sara Jacobs (D-Calif.), along with U.S. Sen. Richard Blumenthal (D-Conn.) re-introduced a bill that would establish "a commission to investigate the historic and ongoing impacts of discriminatory military policies on LGBTQ service members and veterans."
"This commission would study the impact of these bigoted rules" barring LGBTQ troops from serving "and forge a more welcoming future in the military and at the VA," said Takano, who serves as ranking member of the House Committee on Veterans' Affairs and co-chair of the Congressional Equality Caucus.
"Our country has never made amends for official discriminatory policies like 'Don't Ask, Don't Tell' and the transgender military ban – and that failure still haunts today's service members and veterans," said Jacobs.
"That's why I'm so proud to co-lead this bicameral legislation that will right these historic wrongs, investigate the past and present impact of anti-LGBTQ+ policies, and help us move forward to build and sustain a diverse, inclusive, strong, and welcoming military."
"This commission would be an important step to understand the full scope of the harms caused by policies like Don't Ask, Don't Tell, and to ensure a more equitable future for all who serve our country in uniform," Blumenthal said.