Actor Jussie Smollett sentenced to 150 days for lying about hate crime
As deputies led him from the courtroom, Smollett shouted "I am innocent," raising his first- "I could have said I am guilty a long time ago"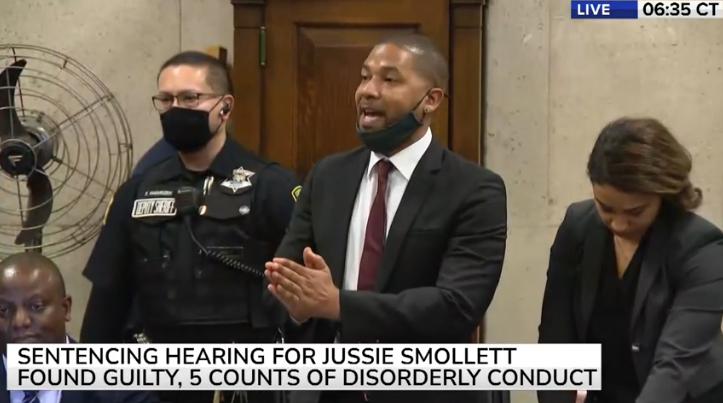 CHICAGO – Cook County Judge James Linn sentenced actor Jussie Smollett to 30 months of probation and 150 days in jail for lying to police about a racist and homophobic attack that he staged. Linn also ordered Smollett to pay $120,106 restitution to the city of Chicago and a $25,000 fine.
The Out actor and former 'Empire' star's request for new trial was denied ahead of sentencing.
Smollett, who had made the afternoon appearance in Linn's courtroom shortly after 1 p.m. when he walked into the Cook County Leighton Criminal Courts building surrounded by family members and his defense team, first sought to have the jury's verdict overturned on legal grounds.
ABC7 Chicago's Diane Pathieu reported that Judge Linn told Smollett and his defenders: "I do believe at the end of the day that Mr. Smollett received a fair trial, that he was proven guilty beyond a reasonable doubt by a jury based on the evidence that was presented." The Judge added "You committed hour upon hour upon hour of perjury."
Linn also took the actor to task telling him, "I'm going to tell you Mr. Smollett, I know that there is nothing that I will do here today that will come close to the damage you've already done to your own life."
During the testimony prior to sentencing, Smollett's 92-year-old grandmother, Molly Smollett, told the court; "I ask you, judge, not to send him to prison- If you do, send me along with him, OK?"
According to ABC7 Chicago, Special prosecutor Dan Webb asked Linn to include "an appropriate amount of prison time" when sentencing the actor for his conviction. Webb said he would not ask for a specific amount of time, leaving that to Linn's discretion.
He also asked that Smollett be ordered to pay $130,000 in restitution to the city of Chicago.
The actor was offered the opportunity to speak, but declined, saying he agreed with his attorney's advice to remain quiet. However as he was taken into custody by court deputies, Smollett insisted that he was not suicidal, suggesting that "if anything happens" in jail, he did not take his own life.
"If I did this, then it means that I stuck my fist in the fears of Black Americans in this country for over 400 years and the fears of the LGBT community," Smollett said, standing up at the defense table as his lawyers and sheriff's deputies surrounded him. "Your Honor, I respect you and I respect the jury but I did not do this. And I am not suicidal. And if anything happens to me when I go in there, I did not do it to myself. And you must all know that."
As deputies led him from the courtroom, Smollett shouted out again.
"I am innocent," he yelled, raising his first. "I could have said I am guilty a long time ago."
WGN Clip from TMZ:
Today's sentencing caps off a three-year-long series of investigations and two trials since the actor told Chicago police he was the victim of a racist and homophobic attack in January of 2019. He was convicted of five of six felony counts of disorderly conduct for lying to police and had faced a maximum sentence of three years in prison for all counts.
Crown Prosecution Service UK charges Kevin Spacey with sexual assault
The CPS told the BBC it could not confirm or deny whether or not Spacey will need to be extradited to the UK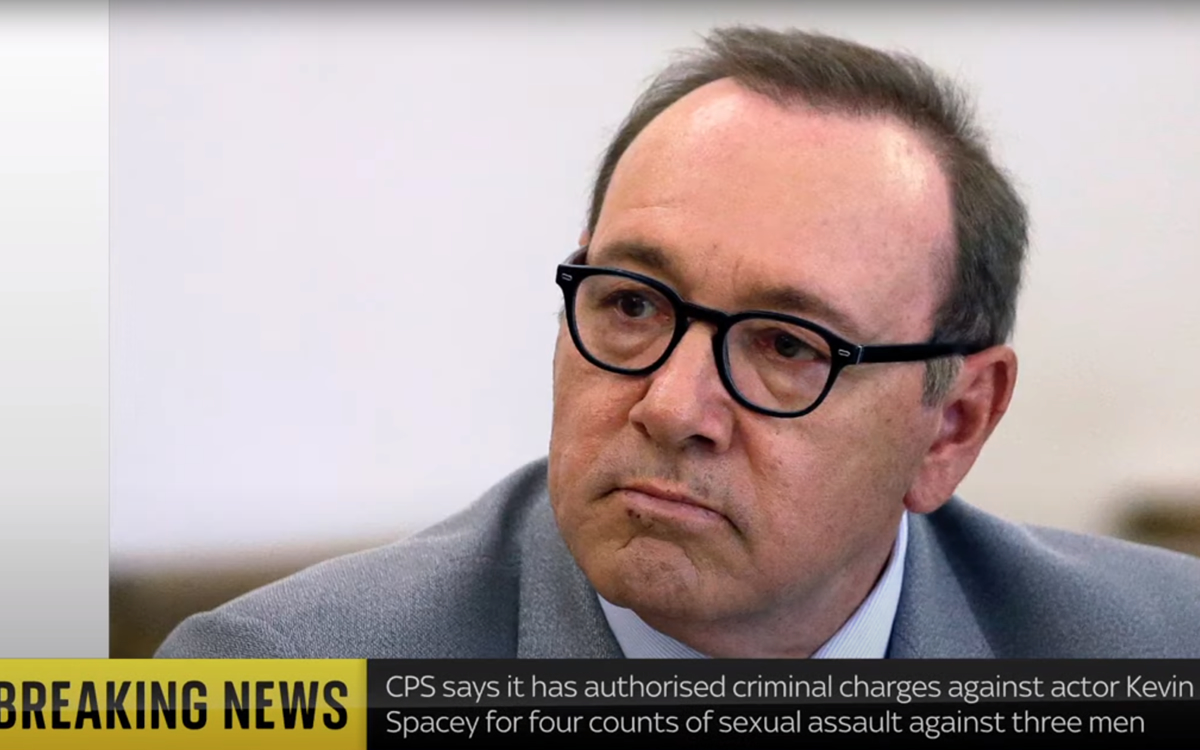 The Crown Prosecution Service announced Thursday that actor Kevin Spacey has been charged with five counts including three complaints relating to sexual abuse, which is alleged to have taken place in London, and one in Gloucestershire during the time period between 2005 and 2013.
Crown prosecutors told media outlets that the decision to move forward was based on a lengthy investigation by the Metropolitan Police Specialist Crime Directorate at Scotland Yard. The Directorate is a national police agency which handles specialist crime investigations such as e-crime, sex crimes (paedophile unit) or kidnappings.
In its reporting Thursday, the BBC outlined the cases against the actor.
The first two charges relate to alleged sexual assaults on a man, now in his 40s, in London in March 2005, while a second alleged victim, a man now in his 30s, is claimed to have been assaulted in London in August 2008.
The serious sexual offence charge – causing a person to engage in penetrative sexual activity without consent – also relates to the second alleged victim.
The third complainant relates to an alleged assault on a man who is now in his 30s in Gloucestershire in April 2013.
Rosemary Ainslie, head of the CPS Special Crime Division, told the BBC that following the Met's review of evidence the CPS had "authorised criminal charges against Kevin Spacey, 62, for four counts of sexual assault against three men".
She added: "The Crown Prosecution Service reminds all concerned that criminal proceedings against Mr Spacey are active and that he has the right to a fair trial."
The CPS told the BBC it could not confirm or deny whether or not Spacey will need to be extradited to the UK.
Spacey's alleged sexual assaults occurred while he was living in London and employed as the renowned Old Vic Theatre's artistic director in London between 2004 and 2015.
Spacey has been embroiled publicly and later in court over sexual assault allegations since October of 2017 when Out actor Anthony Rapp told the world that the Oscar-winning actor had tried to "seduced" him when Rapp was 14 years old.
Rumours about Spacey's behaviour had circulated in film and theatre circles for a considerable length of time previous to Rapp's allegation.
Spacey's response was immediate. He apologized and came out. "I'm beyond horrified to hear his story. I honestly do not remember the encounter, it would have been over 30 years ago. But if I did behave then as he describes, I owe him the sincerest apology for what would have been deeply inappropriate drunken behavior, and I am sorry for the feelings he describes having carried with him all these years," Spacey wrote on Twitter.
"This story has encouraged me to address other things about my life. I know that there are stories out there about me, and that some have been fueled by the fact that I have been so protective of my own privacy," Spacey said, adding "I now chose to live as a gay man."
In July of 2019, Cape and Island District Attorney Michael O'Keefe announced that a charge against Spacey which accused the actor of sexually assaulting an 18-year-old boy in a Nantucket, Mass. bar had been dropped.
In court documents, Cape and Island District Attorney Michael O'Keefe said the charge was dropped "due to an unavailability of the complaining witness."
News anchor Heather Unruh accused Spacey of getting her son, William Little, drunk at the Club Car, a bar in Nantucket, Mass., and groping him in July 2016 when Little was 18 years old.
In October of 2019, the office of then Los Angeles District Attorney Jackie Lacey announced that prosecutors have declined to move forward in a sexual battery case against the actor because the accuser had died.
That case, one of several involving accusations of sexual misconduct and assault by the Oscar winning actor, allegedly occurred after an October 2016 incident. A masseur had claimed that Spacey had inappropriately touched him in a sexual manor at a private home in Malibu as he was giving Spacey a massage.
A statement released by the LADA's office notes that the masseur's allegations against could not be proven without his participation in court proceedings. The alleged victim had also civil suit pending in U.S. District Court in Los Angeles against Spacey for the same incident.
Kevin Spacey charged with sexual assault:
Jamie Lee Curtis condemns anti-Trans bills
"Politicians are proposing that parents providing gender-affirming care for THEIR OWN children are felons-These laws are discriminatory"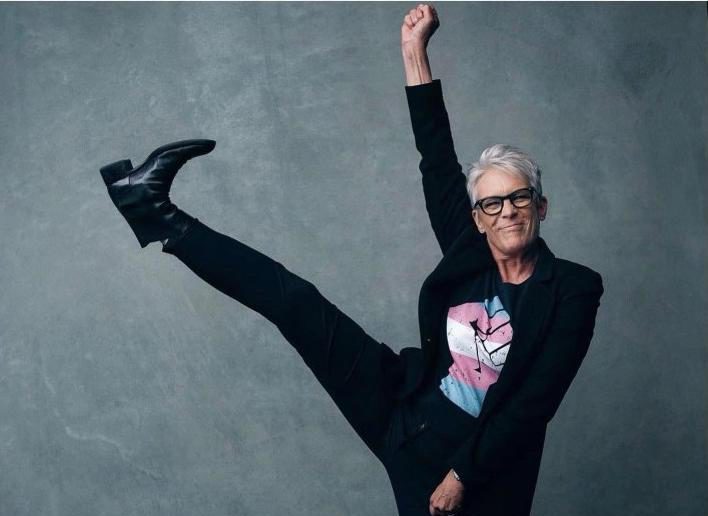 Allyship and motherhood with determined activism has been a phrase used to describe actor Jamie Lee Curtis viewed from the perspective of the LGBTQ+ community, especially the Trans community.
This past weekend she again publicly gave her commitment to full equality and equity for this community that is under literal siege by right-wing extremists while sending a loving parental acknowledgement of her offspring's birthday.
On Instagram and Twitter the actress posted a picture of herself in a T-shirt bearing the trans flag and sending birthday love to her 26-year-old daughter Ruby Guest.
"Happy birthday Ruby. I am proud 2 be your mother & am sending support 2 all trans families across the US targeted by conservative legislatures & I VOW 2 use my freedom of speech 2 SUPPORT my child & ALL trans children trying 2 live FREELY as who they are. #ProtectTransKids," Curtis posted.
Her daughter responded writing; "My mom has supported me all the way ever since i came out as trans. I love her so much. there are allies everywhere for the trans community. you just need to look for them. and we will stand by your side for the long run #PRIDE."
My mom has supported me all the way ever since i came out as trans. I love her so much. there are allies everywhere for the trans community. you just need to look for them. and we will stand by your side for the long run #PRIDE https://t.co/ldmoXTmRlo

— Ruby Greymane 🏳️‍⚧️ 🏳️‍🌈 (@Killerkittens66) March 13, 2022
On her Instagram post, Curtis took aim at Texas Republican Governor Greg Abbott over his aggressive lashing out at the Trans youth in his state by ordering state Child Protective Services investigators to open cases of alleged child abuse against the parents of Trans children. A Texas court last Friday issued an injunction to stop the Governor's order from being carried out further.
"This country was founded on freedom. A profoundly simple idea that everyone living here should be free to dream and achieve what they want freely…" Curtis wrote.
"Now politicians are proposing that parents providing gender-affirming care for THEIR OWN children are felons and deserve prison time. These laws are discriminatory, unjust, and anti-American. Freedom of expression includes gender expression!" she added,
President Biden joins Cher & others to honor Betty White
The NBC special airs at 10:00 PM Eastern January 31 & is available to stream on Peacock staring Tuesday, February 1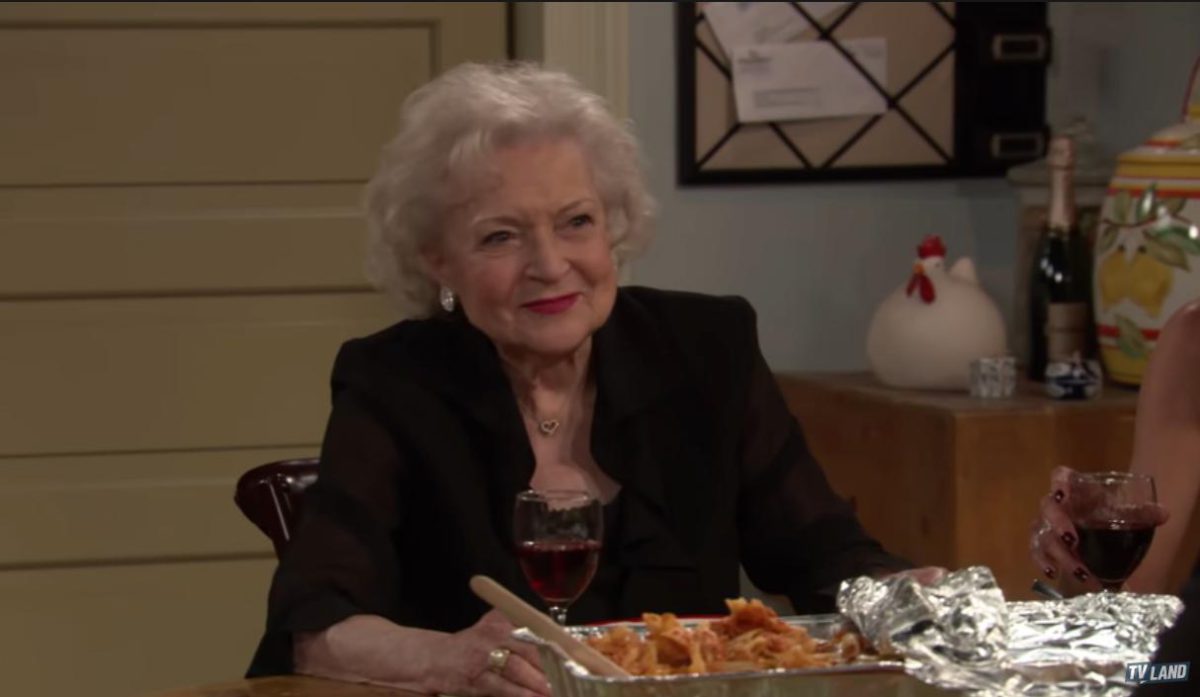 This Monday, January 31, President Joe Biden will join a host of celebrities including Ellen DeGeneres, Jay Leno, Drew Barrymore, Tina Fey, Cher and others in NBC's "Celebrating Betty White: America's Golden Girl."
The special which airs at 10:00 PM Eastern and is available to stream on Peacock starting Tuesday, February 1, pays homage to White who the president in a tweet upon learning of the Hollywood icon's death noted, "Betty White brought a smile to the lips of generations of Americans. She's a cultural icon who will be sorely missed."
In a special musical tribute recorded on the sound stage in Hollywood where White alongside Bea Arthur, Rue McClanahan and Estelle Getty filmed the iconic NBC sitcom The Golden Girls, which ran from September 14, 1985 to May 9, 1992, Cher sings the theme song of the show, 'Thank You For Being a Friend.'
In a tweet Friday afternoon, the Grammy, Emmy, Academy and Golden Globe award winning actress and singer-songwriter shared a clip of her performance:
Every Friend is Golden 🌟

Tune In @nbc
Mon 1/31 10pm ET 9pm CT#CelebratingBettyWhite pic.twitter.com/V0ZyvMRzZY

— Cher (@cher) January 28, 2022
White, who passed away on December 31, weeks before what would have been her 100th birthday on January 17, was known for her beloved characters on sitcom shows like The Mary Tyler Moore Show, The Golden Girls and most recently Hot In Cleveland, and was deeply devoted to animal rights.
Forbes reported that to honor the actress on January 17, which would have been her 100th birthday, fans participated in the #BettyWhiteChallenge, an initiative to donate to animal charities, a cause that was deeply important to White.
Facebook and Instagram said $12.7 million was raised for charities using the hashtag on their platforms. The day after the celebration, the Los Angeles Zoo Association, which White was a patron of, said they raised over $70,000 through the fundraising effort.
********************
The Golden Girls – The Best of Rose:
Best Betty White Bloopers of ALL Time | Hot In Cleveland: