Check out final season of 'Grace and Frankie' — it ends well 
Groundbreaking show highlights queer, straight elders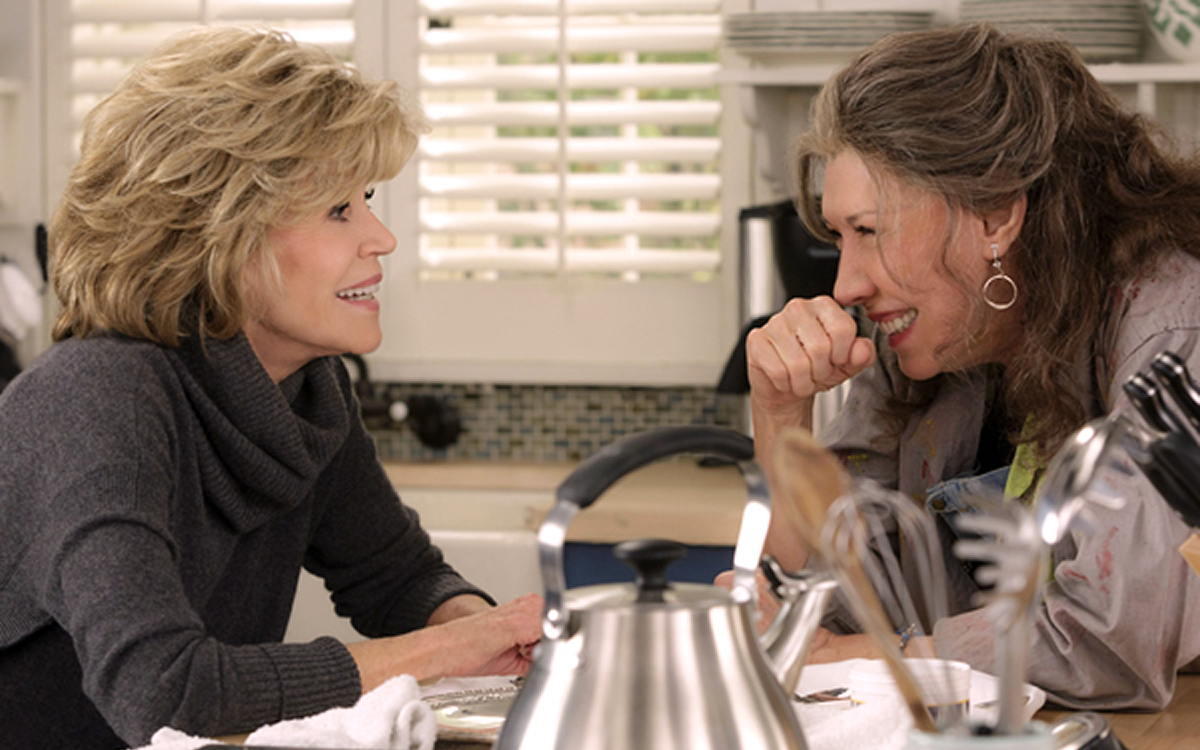 They make up a fake Jewish holiday (M'Challah) to avoid seeing their friends, lie to their kids about killing their bunny, obsess over playing John Adams in a (very gay) community theater production of the musical "1776" and create vibrators that glow in the dark. Their children sell their house out from under them and make them wear panic alerts.
These people might well creep you out in real life.
But, thankfully, they're the funny and engaging characters on "Grace and Frankie," the series, whose seventh and final season has recently dropped on Netflix.
The show, starring Lily Tomlin, 82, (Frankie) and Jane Fonda, 84, (Grace) as two hetero elders whose husbands (Martin Sheen, 81 as Robert and Sam Waterston, 81, as Sol) leave them to marry each other, is, deservedly, Netflix's longest-running series.
In 2019, there were 54.1 million people in the United States over 65, according to a Administration for Community Living of the U.S. Department of Human Services report. Elders, the study says, are expected to make up 2l.6 percent of this country's population by 2040.
There are nearly three million (2.7 million) LGBTQ people over aged 50 in the U.S. and 1.1 million queer elders 65 and older in this country, according to a 2017 Movement Advancement Project and SAGE report.
Yet aside from "Transparent," few TV series (broadcast, cable or streaming) have featured, let alone, been centered around, older queers.
"Grace and Frankie" is the rare series that's focused on the lives of elders (hetero and queer). Unlike some shows that showcase older people, it's been mostly entertaining, even thought provoking, rather than dull or didactic throughout its run.
Set in San Diego, "Grace and Frankie" throughout its seasons has told the story of how Frankie and Grace have created a life of their own as Robert and Sol have entered a new chapter of their lives as a same-sex couple.
Frankie, Grace, Robert and Sol, who are in their 70s, are affluent. Robert and Sol are successful divorce lawyers. Grace has run a flourishing cosmetics company. Frankie is a new-agey artist who teaches art to ex-convicts.
When Robert and Sol say that they're leaving them to wed each other because same-sex marriage has become legal in California, Frankie says she's done a fundraiser for that.
The beach house where Grace and Frankie live is breathtakingly gorgeous. Yet these characters encounter the indignities and dilemmas of aging from learning about social media to coming out in late life to memory loss to end-of-life decisions.
Grace and Frankie run up against the condescension that older women often face. Yet though these are serious concerns, "Grace and Frankie" hasn't been a downer.
In one episode, as I've written before in the Blade, Grace and Frankie, though they're practically jumping in front of his face, can't get a store's sales clerk to notice them. Because he's paying so much attention to a young woman. Frankie gives up and steals a pack of cigarettes. If "you can't see me," Frankie says, "you can't stop me."
In season two, their friend Babe (Estelle Parsons), who is terminally ill, tells Frankie and Grace that she wants them to help her end her life. Though it's difficult emotionally for them, the women give their friend Babe a good-bye party that's joyous without being maudlin.
Robert and Sol deal with Robert being in the early stages of dementia. This narrative is touching, but not sappy. Though you should have a tissue in hand for Robert and Sol's elevator moment in the show's finale.
Like many old people, the characters have their ups and downs in relating to their adult children. These off-spring from Brianna (June Diane Raphael), a 21st century Cruella de Vil, to Bud (Baron Vaughn), the often wrong-headed "good son," would try any elder's soul.
The main pleasure of "Grace and Frankie" is watching Tomlin and Fonda. The two forces of nature, friends since their "9 to 5″ days, make you laugh and cry with the BFFs Grace and Frankie.
TV series, like everything, have to end. Check out "Grace and Frankie." It ends well.
A new and queerer 'Queer as Folk'
It may be trash TV, but it's OUR trash TV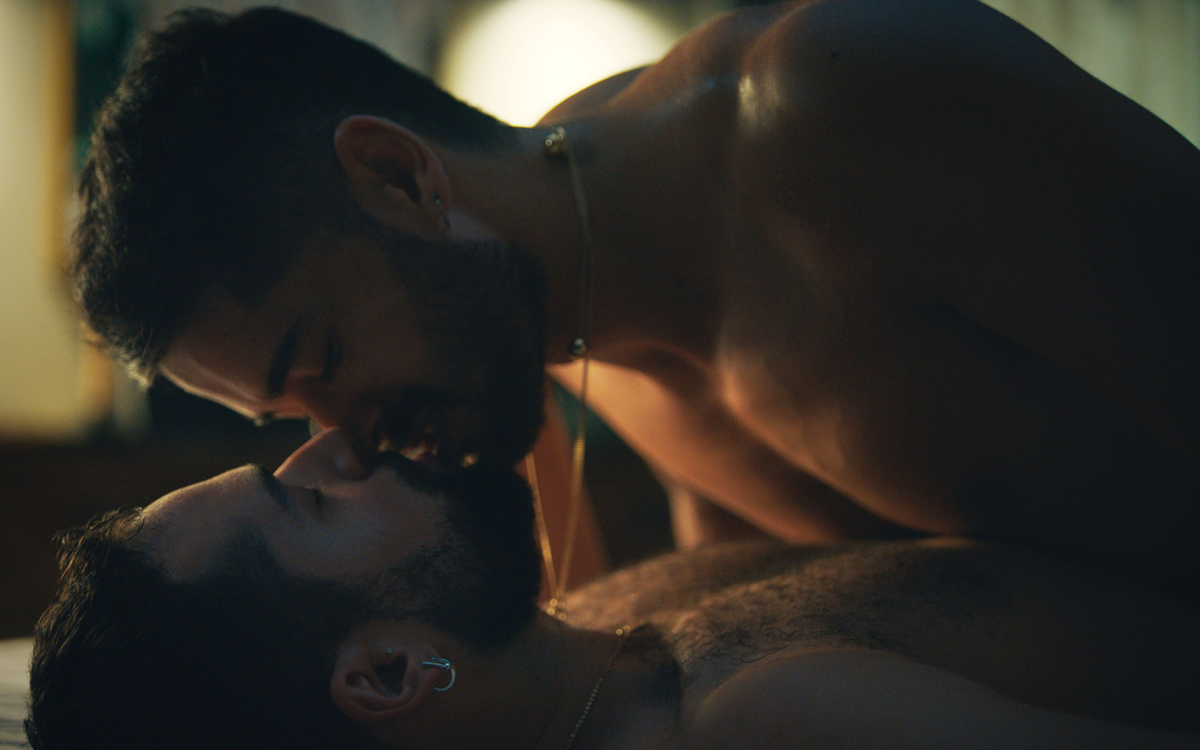 The first thing you need to know about watching the new "Queer as Folk" is that seeing the old "Queer as Folk" first – either one of them – is unnecessary.
Peacock's reboot of the groundbreaking LGBTQ series features none of the original's characters; it takes place in a different city and a contemporary era that feels far further removed from the previous setting than the mere two decades that have actually passed. Despite the participation of original writer/creator Russell T. Davies, who joined forces with new writer/creator Stephen Dunn, among others, to make it happen, to watch it is essentially to watch a new and entirely unrelated series.
That doesn't mean it doesn't carry all the hallmarks of the much-beloved franchise, from its messy and infuriating cast of characters to its sensationalistic emphasis on sex. It just means that anyone new to the party can rest assured they won't need a recap to know what's going on.
The new narrative centers on Brodie (Devin Way), a free-spirited college dropout who has just returned to New Orleans, and the tight circle of friends and chosen family that surround him. There's his best friend Ruthie (Jesse James Keitel), a trans high school teacher who is starting a family with her non-binary partner Shar (CG); there's also Noah (Johnny Sibilly), a former longtime lover with whom he is still close, and Daddius (Chris Renfro), another former flame who is entangled with them both. For his first night out back in his hometown, Brodie – with his newly out gay brother Julian (Ryan O'Connell) in tow – heads off to meet them all at Babylon, a queer neighborhood club, where local legend Bussey Horewood (Armand Fields) runs a drag show that has also drawn underage aspiring queen Mingus (Fin Argus) to try their hand at performing for the first time. With each of these principal players gathered under one roof, the stage is set for a horrific act of violence that will devastate the entire community and serve as a catalyst for each of them to confront the traumas in their personal lives and relationships as they struggle to heal in its aftermath.
We like to avoid spoilers, so we'll just say that what happens at Babylon during the first episode's climactic scene has a cultural resonance to it that is only deepened by recent headlines in America, and the timing of the show's premiere evokes an eerie synchronicity that is hard to ignore. Nevertheless, QAF remains rooted in the queer lives of its queer protagonists, and what it sets out to accomplish is only amplified by the added social significance bestowed by coincidence – and that's a good thing, because this QAF, just like the other QAFs, is all about queer visibility.
This time around, that visibility extends to more than just white cisgender gay men. In QAF 2022, people of color are decidedly in the majority, and there are other underrepresented identities in the mix, too – queer people who have disabilities, who live with HIV, who are sex workers, who are adoptees, who come out late in life. We get versions of family that go against the cultural grain, supportive mothers of queer kids, and queer parents forming new family constructs for which there are still no blueprints. We get an enthusiastically sexy depiction of queer bodies, often naked (or nearly so) even when they're not actively coupling with each other – which they do frequently. All in all, it's kind of glorious: a portrait of a queer generation forging a sex-positive path through uncharted territory where acceptance is given, not earned, and there's room for every nuance of identity.
This positive cultural modeling might seem at odds with the dysfunctional image it presents of most of its protagonists, who tend toward the self-centered, self-destructive, and judgmental. They avoid their problems with hedonistic sex, or drugs, or both; their behavior is often ill advised and reckless, and their relationships play out like slow motion train wrecks. These are hardly role models – but none of us are perfect, and part of the reason QAF has garnered such a loyal legion of fans is that it gives us characters who reflect our flaws back at us. We identify with them, even if we sometimes don't like them very much.
Similarly, QAF 2022 follows the original's playbook by featuring an abundance of queer sex, weaving tantalizingly explicit scenes of intimacy throughout the series like an erotic thread. Some viewers will inevitably find this unfettered sexuality lurid, or even exploitative, but it goes without saying that heteronormative sexual shenanigans have been regularly delivered to our screens for years; it's only fitting that ours should be afforded the same treatment.
In any case, QAF has always had a "Trash TV" flavor that has endeared it to its fans. Unlikable characters and gratuitous sex have never stopped the franchise from finding an audience, and they're unlikely to do so now. Ironically, a bigger obstacle to this installment's success could well be its aspirational vision of a united queer community, which might feel authentic to inhabitants of a large urban hub like New Orleans, but for the millions of LGBTQ people not lucky enough to live in such a place might seem a little too good to be true.
There will inevitably be viewers who see the world of QAF 2022 as a "woke" progressive fantasy; for someone still struggling with "they/them" pronouns, a show in which most of the characters lay claim to multi-hyphenate identities is likely to stretch the boundaries of believability, and older audiences with all-too-vivid memories of a queer community plagued by its own lack of tolerance around issues of race and gender may be tempted to write the whole thing off as just another Hollywood attempt to brush aside cultural inequity by framing the world through a rose-colored lens; finally, even for many who laud the effort at providing the much-needed inclusion for which so many corners of our community have long been thirsty, the show's determination to pull off the impossible task of representing everybody might just feel like trying too hard.
That's not to say, however, that the new QAF doesn't capture the same irresistible charm that made it a touchstone for a whole generation of LGBTQ audiences – even if the old fans may have some trouble adapting themselves to the change of cultural climate. It features an attractive cast, with standout performances from Sibilly, Keitel, O'Connell, and Argus (not to mention showy turns from queer fan favorites Kim Cattrell and Juliette Lewis), and it succeeds in immersing us so deeply into their world we feel like a part of it. Most important, perhaps, it emphasizes the importance of coming together in our queer diversity to stand against the hate directed against us from outside – something that stands even today as the biggest existential threat we face as a community.
For all those reasons, it's essential viewing – and even if you end up with too many qualms to connect as wholeheartedly with it as you may wish, that's OK.
It may be trash TV, but it's OUR trash TV, and that makes all the difference.
A month of Pride on the screen
'Queer as Folk' reboot could be triumph — or colossal mistake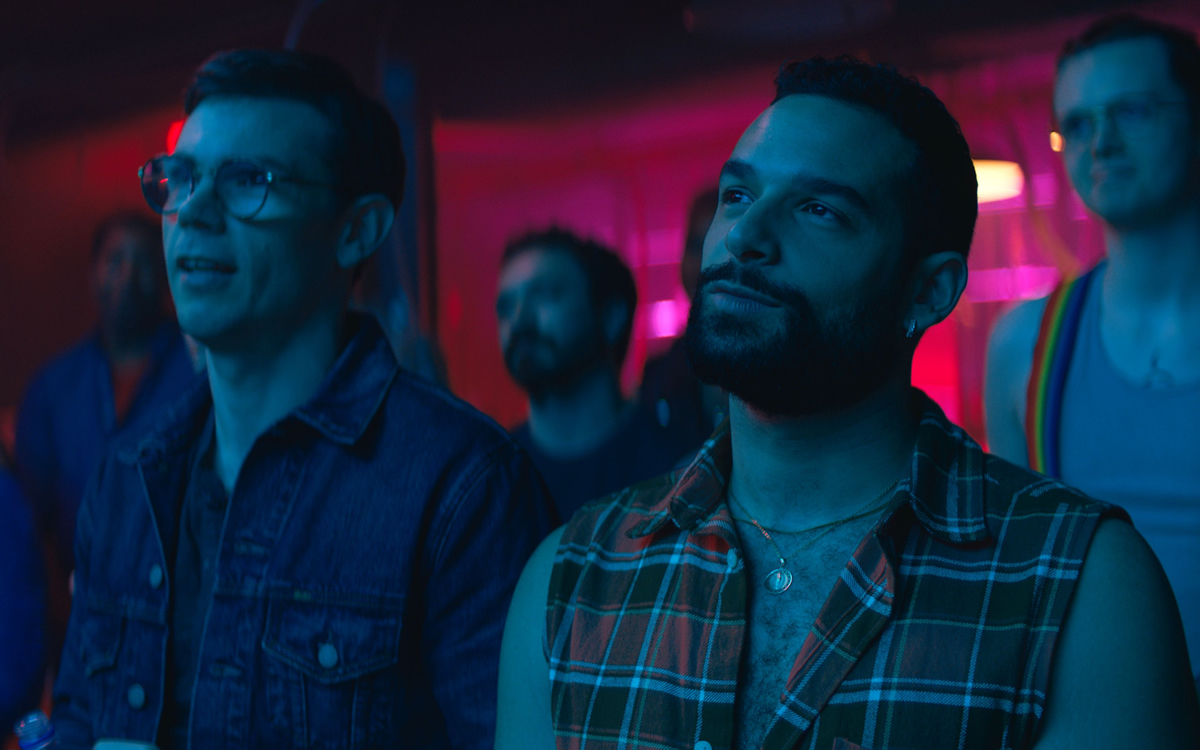 If you're a regular Blade reader, you already know that "Fire Island" is set to kick off your Pride Month viewing schedule when it drops on Hulu on June 3. But while the Andrew Ahn-directed gay rom-com written by Joel Kim Booster (who co-stars with Bowen Yang and Conrad Ricamora) delivers enough smart, funny, and gloriously queer entertainment to keep us going all month long, there's also a whole queer plethora of movies and shows headed to our screens in June – which means film and TV fans have even more to celebrate during the first full-scale Pride in what feels like decades.
Even more exciting, it's a truly diverse crop, featuring stories about characters representing every color of the LGBTQIA+ rainbow and covering all the bases from romance to drama to comedy – a welcome change from the slim pickings we've been accustomed to for so long. There are so many, it might even be a bewildering task to put together your watchlist. Don't worry: as always, the Blade is here to help. Here's our list of the notable titles that have caught our eye:
BENEDICTION – June 3, in theaters. Siegfried Sassoon was a queer English wordsmith-turned-soldier who became one of the leading poets of the World War I era with works that captured the horrors of the battlefield and satirized the false patriotism behind the conflict. Now, this British indie, written and helmed by master director Terence Davies, follows the young poet (Jack Lowden) through this period of his life, covering his controversial criticism of the war, his "marriage-of-convenience" to a woman (Kate Phillips), and his on-again-off-again affair with renowned composer, actor, and matinee idol Ivor Novello (Jeremy Irvine). Heavy-hitters Simon Russell Beale, Peter Capaldi, and Gemma Jones also star – but be warned, it's not a happy story.
BALONEY – June 7, VOD. From director Joshua Guerci comes this no-holds-barred, "clothing optional" documentary that chronicles 18 months in the life of Baloney – a mostly male, mostly naked, very erotic San Francisco burlesque troupe that was the brainchild of queer artist Michael Phillis after he realized that "his worst day as an artist was still better than his best day as a tech manager." Already a fan favorite at film festivals like LA's Outfest, this cheeky celebration of LGBTQ sexuality and life experience was also featured at this year's DragCon, where it was nominated for Best Documentary.
QUEER AS FOLK – June 9, Peacock. Depending on who you ask, the highly anticipated reimagining of Russell T. Davies' groundbreaking series could well be the biggest LGBTQ television event – or the biggest mistake – of the year. Both the British and American versions of the original series have their own legion of fans, and while many of them may have expressed their qualms (to put it mildly) over the entire idea of a new reboot, the return of the franchise looks poised to make some welcome improvements as it reinvents the beloved series for a new era, stepping up its representation game with a more diverse assortment of characters than the group of predominantly white gay men featured by its predecessors. The storyline follows a group of LGBTQ friends in New Orleans – all played by queer-in-real-life performers – as their lives are transformed in the aftermath of a tragedy. The impressive cast includes Ryan O'Connell, Johnny Sibilly, Devin Way, Jesse James Keitel, Fin Argus, Candace Grave, Benito Skinner, Juliette Lewis, and Kim Cattrall. Shade from old-school fans aside, this one will be essential viewing.
FIRST KILL – June 10, Netflix. We know we can count on Netflix to deliver when it comes to "genre" shows with LGBTQ representation, and this sexy new lesbian-leaning vampire saga looks to be a sure-fire hit with queer horror fans. Based on the first volume of "The Slayer Chronicles" book series by Heather Brewer, the story follows Juliette, a teenage vampire preparing to take her place among her powerful vampire family; for her first kill, she sets her sights on Calliope, a new girl in town, only to find out her intended victim comes from a celebrated family of vampire hunters. According to the show's description, each of these antagonists quickly learns that their opponent is not too easy to defeat, but way too easy to fall for. We're definitely in, and we're pretty sure you will be, too. Imani Lewis, Sarah Catherine Hook, Elizabeth Mitchell, Will Swenson, Aubion Wise, Jason Robert Moore, Gracie Dzienny, Dylan McNamara, Dominic Goodman, Phillip Mullings Jr., MK xyz, Jonas Dylan Allen, and Roberto Mendez star.
LOVE, VICTOR – June 15, Hulu and Disney+. The popular series, inspired by and set in the same universe as Greg Berlanti's 2018 teen coming-out comedy "Love, Simon," returns for its third and final season to follow its young protagonist – whom we last saw torn between first boyfriend Benji and new love interest Rahim – as he goes on a journey of self-discovery to decide not only who he wants to be with, but more broadly, who he wants to be. It's not an easy process, especially with post-high-school plans looming and a whole new set of problems that Victor and his friends must work through in order to make the best choices for their futures. Michael Cimino, Rachel Hilson, Anthony Turpel, Bebe Wood, Mason Gooding, George Sear, Isabella Ferreira, Mateo Fernandez, Anthony Keyvan, Ava Capri, James Martinez and Ana Ortiz all return for the show's 8-episode victory lap.
DEAD END: PARANORMAL PARK – June 16, Netflix. For younger LGBTQ viewers, Pride month brings this extra-special animated treat, a series based on the graphic novels from award-winning creator Hamish Steele's horror-comedy graphic novels "Deadendia." It follows the adventures of Barney, a transgender teen (voiced by trans actor Zach Barack ) who works a summer job in a haunted theme park alongside his friend Norma – and a magical talking dog named Pugsley – while battling the totally real supernatural forces that dwell within it. A sardonic thousand-year-old demon named Courtney is their guide as they face zombie mascots, demonic game show hosts, sleep-sucking witches and the scariest thing of all – their first crushes! Groundbreaking queer representation? For sure. Fun for the whole family? Absolutely. Sounds like an all-around win to us.
WILDHOOD – June 24, Hulu. Another film festival favorite, this entry from two-spirit filmmaker Bretten Hannam is a Canadian import that breathes exhilarating new life into the familiar "queer coming-of-age" genre by putting the focus on the vastly underrepresented indigenous community. It's the story of a half-Mi'kmaq teen who runs away from his abusive father, taking his younger half-brother with him as he embarks on a quest to reconnect with his long-presumed-dead mother and his First Nation heritage. Along the way, they meet a two-spirit pow wow dancer who becomes their guide as they travel across Nova Scotia – and whose obvious attraction to the elder runaway begins to draw him toward a different kind self-discovery. Garnering acclaim and awards at festivals like TIFF, AFI Fest, and the Outfest Fusion QTBIPOC Film Festival, this off-the-beaten path look at queer experience looks like a must-see for any fan of diverse, authentic LGBTQ+ cinema, and stars Phillip Lewitski, Avery Winters-Anthony, Joshua Odjick, Joel Thomas Hynes, and Michael Greyeyes.
Netflix scores queer triumph with 'Heartstopper'
Series adapted from popular YA webcomic about teen boys who fall in love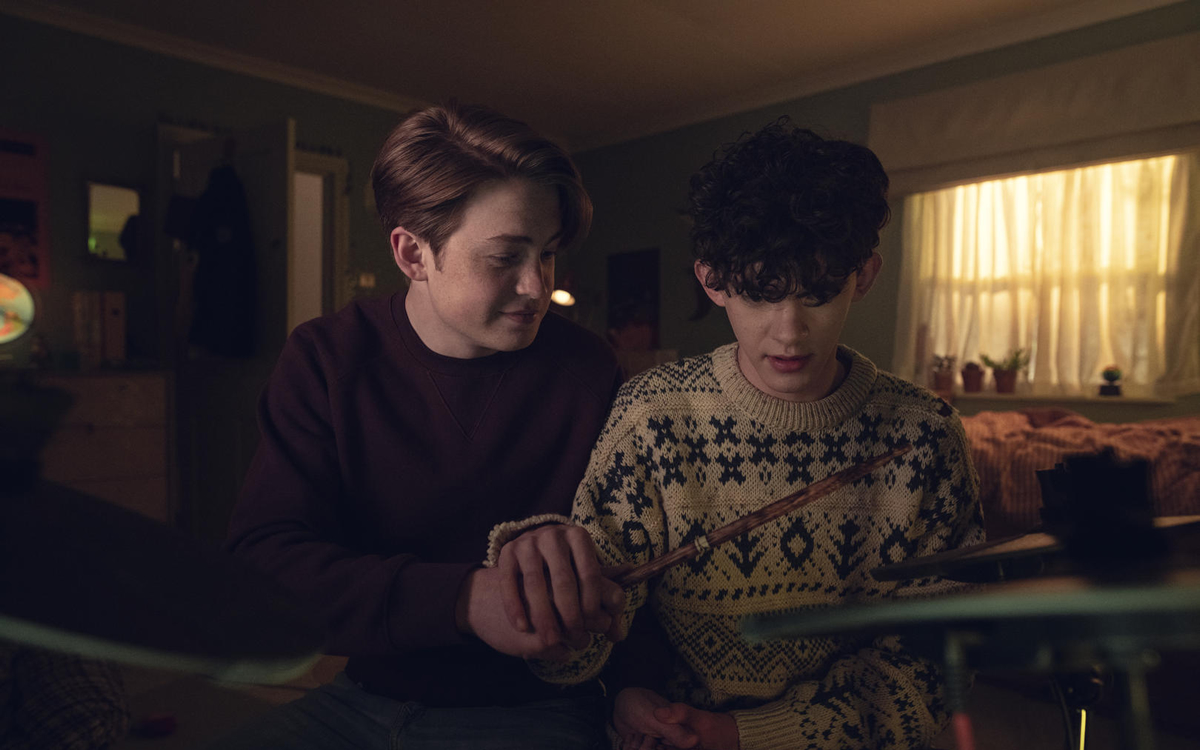 If we were only able to choose one word to describe "Heartstopper," the new Netflix series adapted from Alice Oseman's wildly popular 2017 YA webcomic about two teenage boys who fall in love, that word would have to be "adorable" — and it would be more than enough justification for an enthusiastic recommendation to start streaming it right now.
Fortunately, we don't have to choose, and just in case there are some curmudgeons among our readers who avoid "adorable" content as a matter of principle, we can add quite a few more words just to make it clear that this is a show to win the heart of even the most cynical viewer and have them ready to binge it straight to the end after watching only the first five minutes.
For readers of Oseman's original comic, no explanation is needed to convey the infectious blend of emotions that makes its simple love story so irresistible; with more than 52 million views to date and the bestselling print publication of four volumes so far, its quick and widespread popularity is proof enough of the story's universal – and multi-intersectional – appeal. "Heartstoppers" is the story of Charlie and Nick, a pair of students at an English boys' school with widely differing places in the school's pecking order; Charlie, gentle and shy, has been bullied after being inadvertently outed as gay the previous year, and spends most of his time with a handful of other social misfits, while Nick, athletic and popular, is a rugby player who hangs out with his equally athletic and popular teammates. Yet when they end up sitting together in a class they share, the two become friends – much to the surprise of Charlie, who finds himself crushing on Nick despite assuming, along with everyone else, that he is straight. It's not hard to see where things are going to go from there, even without spoilers, but that predictability does nothing to dampen the delight of following these two young and tender hearts as they negotiate the pangs and pressures of first love while navigating their school's deeply ingrained social hierarchy.
With Oseman herself writing the adaptation, the series had an advantage right out of the gate when it came to translating that into a live-action format, and her fans have been eagerly awaiting it ever since Netflix announced it was happening in January of 2021. The resulting series – an all-too-brief season of eight half-hour episodes directed by BAFTA-winning "Doctor Who" and "Sherlock" veteran Euros Lyn – will almost certainly lead millions of others to join their ranks.
The most important factor in bringing the story's appeal to the screen is undoubtedly the casting of its two leading characters, and with newcomer Joe Locke as Charlie joining Kit Connor ("Rocketman," "His Dark Materials") as Nick, it's hard to imagine how the show's creators could have done better. Locke, with his soulful eyes and curly mop of hair, perfectly captures the look of the character as drawn, as does the cherubic, handsome Connor – but they bring much more than an apt appearance to their roles.
In a story that requires them to delicately tread through a potentially fraught emotional landscape, facing scenarios with consequences ranging from the socially awkward to the deeply traumatic, they not only fulfill that duty effortlessly, but do so while meeting every moment with enough intelligence, sensitivity, and authenticity to make the already-relatable nuances of their young relationship resonate even more tangibly. Most essential of all, the tender chemistry they share is strong enough – and believable enough – to ensure that the almost unbearable sweetness of their blossoming romance never once feels sappy or insincere. It's a fragile and difficult balance to maintain, but these two young actors pull it off with such unforced buoyancy that we are too busy floating on their cloud with them to even notice.
As right-on-target as the show's portrayal of Nick and Charlie's journey together may be, they are not the only LGBTQ+ characters in the mix. There's Elle (Yasmin Finney), a member of Charlie's circle until being transferred to the neighboring girls' school after coming out as transgender, who is nervous about being accepted in her new environment. Also at the girls' school is Tara (Corinna Brown), who once shared a kiss with Nick but is now on the verge of coming out and going public about her relationship with girlfriend Darcy (Kizzy Edgell). Finally, there's Tao (William Gao), a protective friend and ally to them all (though his protective nature leads him to mistrust Nick's intentions), who is beginning to recognize the stirrings of more than friendship with Elle.
Simply reading that roster might lead one to presume the show is trying to up the ante on inclusion by including as many colors in the rainbow as possible – and it's worth mentioning that the cast of characters is made up of a diverse blend of ethnicities, too. Neither of these elements feel forced; those of us who know about life from more than just television surely recognize that seeing so many LGBTQ+ people and people of color mixed into one blended community together is not a stretch – it's an accurate reflection of the real world. Even if that were not the case, the show asserts its sincerity by treating each of these characters and their stories with the same amount of kindness it affords Nick and Charlie; it even leaves room for us to pity characters like Ben (Sebastian Croft), a closeted boy who carries on a secret relationship with Charlie while refusing to acknowledge him in the halls, or Harry (Cormac Hyde-Corrin) a teammate of Nick's who delights in tormenting anyone who doesn't fit in, who are on hand to remind us that – increased acceptance notwithstanding – homophobia still exerts a toxic enough effect to make coming out a difficult path to undertake alone.
In answer to that, the show takes ample opportunity to explore the theme of chosen family; the way these friends help each other along the way, even as they themselves are trying not to stumble, serves as both an inspiration and a reminder to the countless viewers, whether LGBTQ or not, who know first-hand the bonds that grow from such experience. As for "real" families, they're not left out of the picture, either: both Nick and Charlie have supportive (if not always helpful) parents in their lives, and Charlie's older sister Tori (Jenny Walser) emerges every so often from her room like a denizen of the underworld rising to taunt him – lovingly, of course – with a truth or two.
By now, it feels like we're gushing. After all, haven't the last few years have seen any number of LGBTQ teen love stories coming to our screens? And hasn't each of them been hailed as a milestone of representation? Haven't queer elders remarked, each time, what a difference it would have made if they had seen such a film when they were growing up?
The thing is, though, that it's been true each time — and sometimes, as it does with "Heartstopper" — it feels a little more true than usual.