'Fire Island' delivers pride, prejudice, and a whole lot more
Ambitious opus a cut above usual efforts of mainstream queer cinema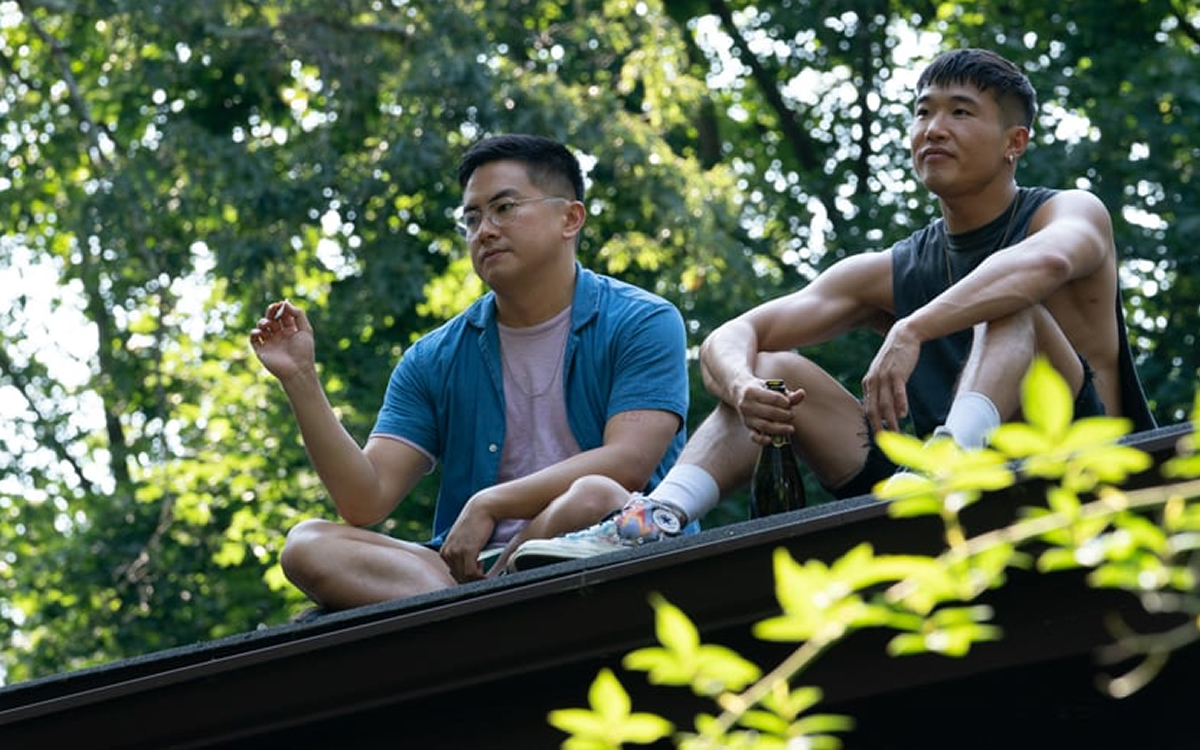 There's a reason why the work of Jane Austen strikes such a chord with members of the queer community.
The 19th-century author – a woman in an age when literature was overwhelmingly the province of men – is still renowned for her sharp observations about the manners, mores, and social hierarchies of her age, and the double-edged style that blended her satirical commentary with full-hearted romanticism. These qualities have an inherent relevance for anyone who lives in a society that relies on codified assumptions about the "natural order" of things to keep them forever on the outside, and it's hard to imagine a description that sounds more like the experience of being queer than that.
That's why "Fire Island" – the highly anticipated film from screenwriter/star Joel Kim Booster and director Andrew Ahn, which begins streaming on Hulu June 3 – is so much more than just another rom-com. Loosely adapted from Austen's "Pride and Prejudice," it finally gives the millions of queer fans who adore Austen's shrewd, bemusing, and ultimately breathlessly romantic saga what they may not have even realized they've always wanted – an unabashedly, unapologetically gay version of the story that's as inclusive and heartfelt as we deserve.
In Booster's updated vision of the novel, the rural countryside of Regency England is exchanged for the titular modern gay mecca, and the Bennet sisters become a band of queer friends vacationing there at a house owned by their lesbian "mama" Erin (Margaret Cho). At the center is Noah (Booster), whose plans to enjoy a week of promiscuous sex in The Pines are put on hold when he vows to use his savvy for gay social and sexual politics to help his bestie Howie (Bowen Yang) get laid first. At first, that mission seems all but accomplished when Howie attracts the attention of sweet and handsome Charlie (James Scully), who is on the island with his own group of friends; but thanks to the intricate interplay of classism and social etiquette that dictates the "rules of engagement" by which they must play, complications soon get in the way. Not least among these obstacles is the interference of Charlie's aloof buddy Will (Conrad Ricamora), whose dour attitude and presumed snobbishness spark an intense feeling of disdain from Noah – though it's not long before another kind of intense feeling is developing between them faster than you can say "Mr. Darcy."
Conceptually, there are a lot of reasons why this book-to-movie translation works. The importance of family to the plot easily extends to families that are "chosen," and it's probably unnecessary to say that the author's take on the social pretensions of her own time and community fits like a glove into a story about contemporary gay culture. The fortunes of the characters here are no less governed by class distinctions and economic privilege, and the oft-inadvertent hypocrisy that inevitably reveals itself as they try to make the "right" connections with each other is just as blatant; given the fact that four of the principal players are Asian, and numerous others are people of color, ethnic identity takes its place alongside financial status and comparative "hotness" as one of the many shallow and discriminatory factors that drive wedges between members of what might otherwise be a united community – all themes that should strike a chord for modern LGBTQ viewers.
"Fire Island" goes beyond simply being a good adaptation, however. Booster's inventive and erudite script – and for that matter the film itself, thanks to Ahn's fluid and versatile direction, which flows confidently and effortlessly between the observational and immersive as needed to deliver an elevated aesthetic of pure cinema – is an impressive and wholly original work of art in itself.
While it hits the main points of the original, it's not slavish to Austen's plot, and instead creatively conflates, reinterprets, and re-imagines situations and characters to bring its observations to a modern audience – particularly in the way it transposes the financial disparities of Austen's world into the modern day by weaving the language and behavior of varying class and privilege into almost everything that happens. It also cannily picks up the pace; while the novel takes place across several seasons, events in "Fire Island" are compressed to a matter of days – something perfectly feasible in the faster-paced world of 2022, and especially in a geographic setting where, as multiple characters point out, "time seems to work differently."
While it gives plenty of nods to its 19th-century literary origins along the way, it keeps itself firmly rooted in the "new, now, next" present with a barrage of pop references, a parade of right-on-target queer fashion, and a dizzying array of infectiously familiar contemporary music. Best of all, perhaps, it's genuinely funny, and peppers its dialogue with cheekily self-referential comedy – Yang's character even has some jokes about "Saturday Night Live" – in a way that subtly invites us to feel like a member of this fun-loving group ourselves. None of these things feel like compromises, nor do they pander to the age of the short attention span; instead, they are expressions of modern queer identity that feel as much like celebration as they do satire.
Much of this arises from the way it treats its characters. The movie never judges them – even when they are judging each other – and presents them with the kind of humanistic compassion that can sometimes only be recognized by reading between the lines. For this, the talented cast deserves endless kudos.
Booster and Yang, close friends in real life as well as on the screen, give star-making individual turns while also presenting an onscreen "buddy" chemistry that gives the movie a giant heart and keeps it from ever becoming cynical. As their romantic counterparts, Ricamora (who already proved his chops on "How to Get Away With Murder"), enters full leading man bloom with his thoughtful, less-is-more performance, while Scully makes his too-good-to-be-true rich white boy character utterly believable from start to finish. Cho gives us the ultimate "earth mother" every gay boy wishes they had, while representing the grounding presence of a whole generation of queer elders who gained wisdom living messy lives even before there was such a thing as Grindr; and Nick Adams deserves mention for being so quintessentially hateful as the kind of "mean girl" gay snob we all know and sometimes wish we didn't.
All these qualities and more make Booster and Ahn's ambitious opus a cut above the usual efforts of mainstream cinema to communicate with queer audiences – an auspicious distinction for the first gay romance from a major Hollywood studio. How straight viewers respond to it is yet to be seen – but for at least one queer reviewer, watching it conjured tears of joy, not because it resonates so deeply with authentic lived experience (though it certainly does) but simply because it exists. Here, at last, is the "gay rom-com" we've been waiting for, one that is so comfortable and genuine in its own skin that it's free to rise above both parts of that label to become simply a great movie.
We'd like to think Jane Austen would be proud.
Dorian Awards cast a queer eye on television
Netflix favorite 'Heartstopper' nabs three nominations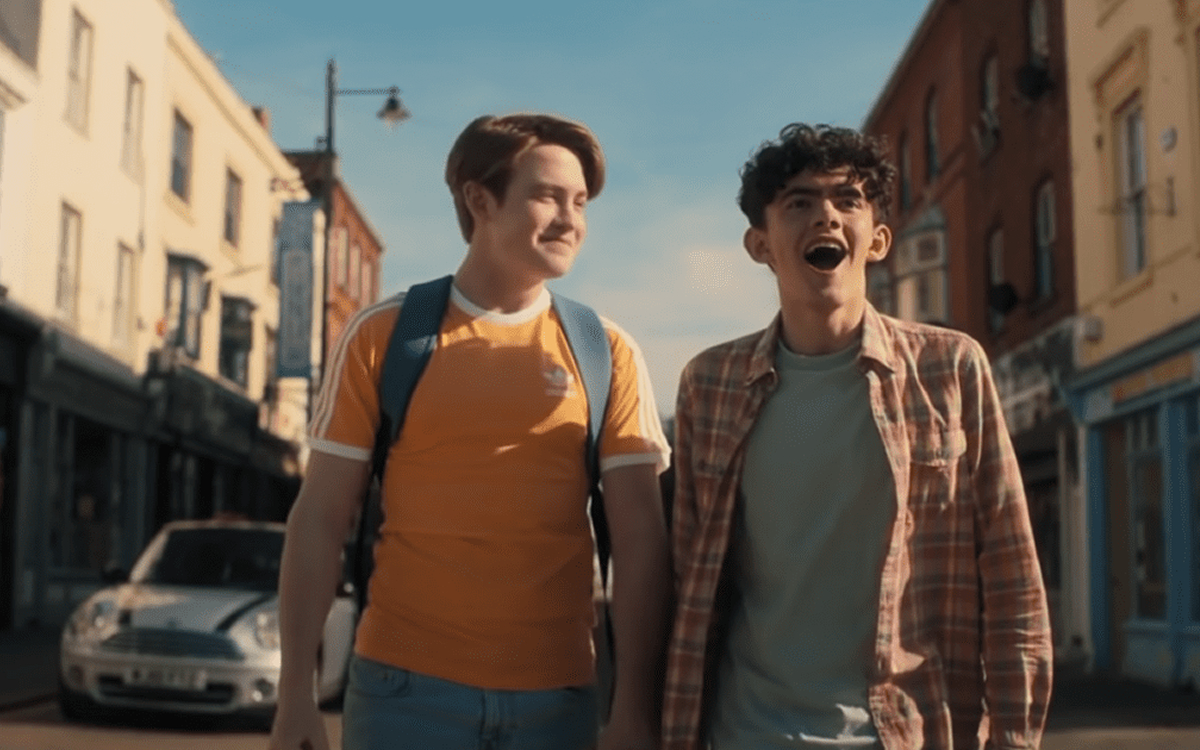 As Hollywood gears up for the year's second "Awards Season" ahead of July 12's scheduled announcement of the 2022 Emmy nominations, it seems only fitting for us to bring some attention to another awards organization that has already dropped its picks for the year's best in TV content. We're referring, of course, to the Dorian Awards, which have been bestowed by the Society of LGBTQ Entertainment Critics since 2009.
If you've never heard of the Dorians, that's not surprising. In keeping with the entertainment industry's frustratingly persistent skittishness when it comes to All Things Queer, the Dorians haven't gotten much attention in the mainstream press – though with a 385-member voting body and a scandal-free history, they are arguably more reputable than the Golden Globes. Named in honor of iconic queer writer Oscar Wilde (as a reference to his novel "The Picture of Dorian Gray"), they are admittedly low profile when it comes to glitz and glamour, handing out their prizes at an annual "Winner's Toast" day party instead of a formal evening affair. Nevertheless, they've gained traction as Hollywood's attitudes toward LGBTQ inclusion and representation have shifted, and each of their two annual ceremonies – one for TV, one for film, held about six months apart – draw an increasing number of A-listers to participate, both as nominees and presenters; and while the Dorians may not hold the level of prestige enjoyed by some of the industry's other awards, at least we can be sure their voting membership won't overlook queer shows and talent as often as their counterparts at the Motion Picture and Television Academies.
That doesn't mean the Dorians are exclusively focused on LGBTQ content. The Society of LGBTQ Entertainment Critics – formerly known as the Gay and Lesbian Entertainment Critics Association, or GALECA – explicitly states that its awards are to honor "the best in film and TV, mainstream to queer+", while calling attention to the importance of queer contribution and sensibility within the wider culture and reminding "bullies, bigots, and our own at-risk youth that the world loves the sly Q eye on entertainment." With some state governments and the SCOTUS itself dedicating themselves an all-out assault on the LGBTQ community and its hard-won rights, that last point seems particularly resonant; with so much homo- and transphobic hate pouring its efforts into erasing us, our visibility is more crucial than ever.
Fortunately, as the slate of Dorian nominees announced by GALECA on June 22 reveals, the queer presence on television is strong. No longer segregated to a "niche" genre, the LGBTQ community has finally begun to appear on our screens as it does in life – blended, alongside everyone else, into a world that has room for us all. That's what ideal inclusion looks like, and it's heartening – especially now – to see that it has become the norm in so much of the industry's best offerings.
This year, HBO leads the pack in terms of nods. Two of its heavily queer-inclusive shows, "Hacks" and "Somebody Somewhere," received five nominations each, while "Euphoria" and "The White Lotus" snagged 4 and 3, respectively. In total, the cable-and-streaming giant got 24, with an additional 13 for programming exclusively on HBO Max, bringing the total to 37.
Coming in second with less than half that number is Netflix. Among its 15 nominations are three nods for "Heartstopper," the runaway queer fan favorite based on a sweet UK webcomic about two schoolboys in love, and two each for Natasha Lyonne's brain-twisting time travel dramedy "Russian Doll" and the already-award-winning Korean thriller "Squid Game."
New series scored high among Dorian voters this year. Besides "Heartstopper" and "Somebody Somewhere," ABC's "Abbott Elementary," Showtime's "Yellow Jackets," and Apple TV+'s "Severance" each received multiple nominations, with many other freshman titles picking up individual nods.
As for the awards themselves, the Dorians feature fewer overall categories – instead of being split into "gendered" divisions, actors of all genders compete for a single award in each category – and set themselves apart by striking a mildly tongue-in-cheek pose in the presentation of its "special" accolades. In presenting awards like Campiest TV Show or the brand new "You Deserve an Award" award, the Dorians give a tip of the lavender hat to the tradition of Wildean wit at their back – but they also assert the importance of queer perspective when it comes to taste-making and the aesthetic arts.
Nominees for the 14th Annual Dorian TV Awards (honoring shows which debuted June 1, 2021-May 31, 2022) are listed below. Winners will be revealed on Wednesday, Aug. 12.
BEST TV DRAMA: "Better Call Saul"; "Heartstopper"; "Yellowjackets"; "Severance"; "Succession"
BEST TV COMEDY: "Abbott Elementary"; "Barry"; "Hacks"; "The Other Two"; "Our Flag Means Death"
BEST LGBTQ SHOW: "Hacks"; "Heartstopper"; "The Other Two"; "Our Flag Means Death"; "Somebody Somewhere"; "RuPaul's Drag Race"
BEST TV MOVIE OR MINISERIES: "Dopesick"; "The Dropout"; "Midnight Mass"; "Station Eleven"; "The White Lotus"
BEST NON-ENGLISH LANGUAGE TV SHOW: "Elite"; "Lupin"; "My Brilliant Friend"; "Pachinko"; "Squid Game"
BEST UNSUNG SHOW: "Better Things"; "The Other Two"; "Our Flag Means Death"; "Russian Doll"; "Somebody Somewhere"; "We Are Lady Parts"
BEST TV PERFORMANCE: Quinta Brunson ("Abbott Elementary"); Kit Connor ("Heartstopper"); Bridget Everett ("Somebody Somewhere"); Bill Hader ("Barry"); Lily James ("Pam & Tommy"); Natasha Lyonne ("Russian Doll"); Melanie Lynskey ("Yellowjackets"); Amanda Seyfried ("The Dropout"); Jean Smart ("Hacks"); Zendaya ("Euphoria")
BEST SUPPORTING TV PERFORMANCE: Murray Bartlett ("The White Lotus"); Anthony Carrigan ("Barry"); Jennifer Coolidge ("The White Lotus"); Hannah Einbinder ("Hacks"); Jeff Hiller ("Somebody Somewhere"); Janelle James ("Abbott Elementary"); Matthew Macfadyen ("Succession"); Christina Ricci ("Yellowjackets"); Rhea Seehorn ("Better Call Saul"); Sydney Sweeney ("Euphoria")
BEST TV MUSICAL PERFORMANCE: Beyonce, "HYPERLINK "https://www.youtube.com/watch?v=4aeDlZOD-B0″Be Alive" (94th Academy Awards); Kristin Chenoweth and cast, "HYPERLINK "https://www.youtube.com/watch?v=_PmS5JIfSkk"Tribulation" ("Schmigadoon!"); Bridget Everett and Jeff Hiller, "HYPERLINK "https://www.youtube.com/watch?v=As-a_bzFrl0″Don't Give Up" ("Somebody Somewhere"); Jean Smart, "You Make Me Feel Like a Natural Woman" ("Hacks"); Cecily Strong and cast, "HYPERLINK "https://www.youtube.com/watch?v=Dj5mJGyoYIM"Corn Puddin'" ("Schmigadoon!"); Hannah Waddingham and cast, "HYPERLINK "https://www.youtube.com/watch?v=4B0HktX4xqQ"Never Gonna Give You Up" ("Ted Lasso")
BEST TV DOCUMENTARY OR DOCUMENTARY SERIES: "The Andy Warhol Diaries"; "The Beatles: Get Back"; "How to with John Wilson"; "Spring Awakening: Those You've Known"; "We Need to Talk About Cosby"
BEST CURRENT AFFAIRS PROGRAM: "The Amber Ruffin Show"; "The Daily Show with Trevor Noah"; "Full Frontal with Samantha Bee"; "Last Week Tonight with John Oliver"; "The Late Show with Stephen Colbert"; "The Rachel Maddow Show"; "ZIWE" (Showtime)
BEST ANIMATED SHOW: "Arcane"; "Big Mouth"; "Bob's Burgers"; "Q Force"; "Tuca & Bertie"; "What If…?"
BEST REALITY SHOW: "Legendary"; "The Real World Homecoming: New Orleans"; "RuPaul's Drag Race"; "Survivor"; "Top Chef: Houston"; "We're Here"
MOST VISUALLY STRIKING SHOW: "Euphoria"; "The Gilded Age"; "Loki"; "Severance": "Squid Game"
CAMPIEST TV SHOW: "Diana: The Musical"; "Euphoria"; "Girls5Eva"; "Nine Perfect Strangers"; "Schmigadoon!"
WILDE WIT AWARD (to a performer, writer or commentator whose observations both challenge and amuse): Joel Kim Booster; Quinta Brunson; Jerrod Carmichael; Jennifer Coolidge; Bowen Yang
THE "YOU DESERVE AN AWARD!" AWARD (to a uniquely talented TV icon we adore): Gillian Anderson; Christine Baranski; Lynda Carter; Kim Cattrall; Cassandra Peterson
GALECA LGBTQIA+ TV TRAILBLAZER (for creating art that inspires empathy, truth and equity): Jerrod Carmichael; Margaret Cho; Russell T. Davies; Kate McKinnon; Bowen Yang
'Wildhood' explores queer Indigenous experience
An example of personal filmmaking at its most sublime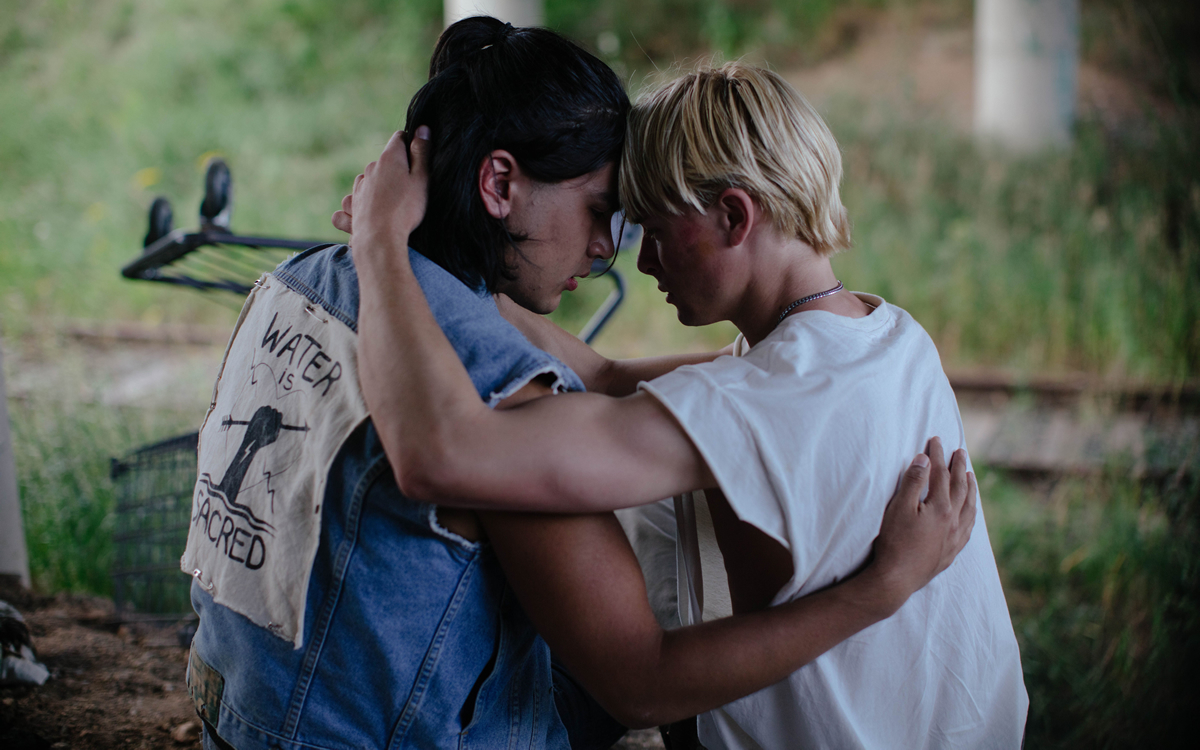 It's hardly news to say that the movies have a less-than-ideal track record when it comes to authentic representation – or, really, any representation at all – of Indigenous people. For most of its history, Hollywood's "dream machine" dutifully perpetuated the narrative that, with very few exceptions, "the only good Indian is a dead Indian," and even after the cultural tide began to turn, filmmakers who attempted to propagate a more compassionate viewpoint usually muted their efforts with stereotyped portrayals of Native Americans that presented them either as comic relief or tragic victims of oppression – when they weren't being idealized as magical fonts of ancient wisdom, that is – and did little to convey the reality that they were really just human beings like the rest of us.
It goes without saying that the LGBTQ community can relate. But though things have gotten somewhat better for us in recent years, we are still hard pressed to think of many examples of films in which Indigenous people have not been essentially marginalized – and when we try to think of movies with Indigenous people who are also queer, the best most of us can do is "Little Big Man," the 1970 Arthur Penn western in which Dustin Hoffman is raised by a Sioux Nation tribe and grows up with a Two Spirit character named Little Horse (played by Native actor Robert Little Star) as his friend. For the record, it's a sympathetic portrayal, if not quite fully drawn. It was also nearly 60 years ago, and we're still waiting for another mainstream movie to show us a more authentic vision of queer Native experience.
While Hollywood continues to drag its feet on correcting that gap, however, Canadian/L'nu Two Spirit/nonbinary filmmaker Bretten Hannam has been hard at work to bring their own perspective to the screen – and their debut feature film, "Wildhood," which launches on Hulu June 24, is as much a breath of trope-free air as one could wish.
Disregarding expectations about Indigenous identity right out of the gate, it centers on Link (Phillip Lewitski), a half-Mi'kmaq teenager who lives with his younger half-brother Travis (Avery Winters-Anthony) in a rural trailer park on the coast of Nova Scotia. Their home life is toxic, with an abusive father (Joel Thomas Hynes) more interested in training them for a life of crime than in taking care of their basic needs; when Link learns that his Mi'kmaw mother may still be alive – despite what he had been told since early childhood – he abruptly decides to steal away with Travis and make a run for it, hoping to locate her and find a better life in the process.
Ill-prepared for a cross-country journey, an early encounter brings them quickly under the wing of Pasmay (Joshua Odjick), a Two Spirit Mi'kaq pow wow dancer traveling from gig to gig. Though Link is hesitant to trust this interloper and the two are frequently at odds, he gradually warms to Pasmay, and an emotional bond begins to grow between them as the three young travelers make their way across the Canadian wilderness together.
It's not hard to gather where things go between Link and Pasmay, and together with the quest to reconnect Link to his estranged mother and the Native heritage she represents, it should be obvious enough that this is a coming-of-age tale whose protagonist yearns to embrace more than one neglected facet of his identity. Yet though it might be easy to classify "Wildhood" as a teen "coming-out" movie, it would also be misleadingly dismissive.
Like its central character, it's a movie with many questions to be asked and answered, and sexuality is only one of the many elements woven together in Hannam's briskly paced yet intricately layered screenplay. No one in the movie needs to "come out," exactly; it's easily gleaned that Link knows from the start that he is gay, or at least someplace on the queer spectrum, even if he doesn't know that getting comfortable with that fact might be tied up in the journey ahead of him. As for Pasmay, they're fully comfortable with their Two Spirit nature, yet the past trauma of family rejection is something they have yet to fully overcome. As these two walk together – accompanied by the one-eyed but clear-sighted Travis, who is working through family issues of his own – their growing closeness requires them to grapple with these lingering fears, providing a framework through which Hannam can subtly illuminate the differences between the world views held by white and Indigenous cultures.
With an Indigenous queer filmmaker behind the camera, the takeaway from that contrast inevitably emphasizes the opposition between two different cultural conceptions of queerness itself, and rightly so. As for their direction, Hannam's remarkably self-assured visual storytelling effortlessly complements the nuances of their screenplay to mesmerizing effect, making all these intellectual-sounding themes arise like thoughts in a meditation, to be noted as they pass and remembered later. No doubt it helped that "Wildhood" was expanded by Hannam from an award-winning 2019 short; in any case, the result is a film with an easy, natural flow that neither shies from emotion nor dwells in it, and culminates exactly where we hoped while taking us places we never expected to go.
As for the acting – a crucial element in making any film rise to its highest aspirations – Hannam's cast not only serves them well, but are so perfectly attuned to their movie's delicate spirit that they seem not to be performing at all. The nonbinary Odjick, charismatic without being showy, exudes a confident compassion that makes a perfect complement to Lewitski's awkward and angry teen rebel, and the easy chemistry between them helps to make the latter's lowering of defenses all the more believable. Winters-Anthony gives a stunningly genuine performance as Travis, helping to bring full weight to the all-important theme of chosen family; and Michael Greyeyes (the film's most recognizable face, thanks to TV roles in "True Detective" and "Fear the Walking Dead," among other titles) gives a memorable turn as a helpful stranger who facilitates Link's eventual reunion with his mother – in exchange for a favor, of course.
"Wildhood" comes to Hulu after becoming a hit on the Festival Circuit in 2021, where it was an official selection at both TIFF and AFI Fest and won awards at both the Canadian Screen Awards (for Odjick's performance) and the Palm Springs International Film Festival. That provenance is a testament to the importance of such festivals in amplifying the voices of marginalized artists and allowing them to tell their stories – but it's not the reason for putting the movie at the top of your must-stream list, nor is the fact that it's an embarrassingly rare example of Indigenous queer inclusion on the screen. Ultimately, the reason for watching "Wildhood" is that it is an example of personal filmmaking at its most sublime, existing at the intersection of personal experience, public enlightenment, and popular entertainment.
That's a big burden to bear, but "Wildhood" never feels weighed down. On the contrary, it leaves us with a sense of freedom and acceptance that is lighter than air.
Summer of 2022: a queer screen roundup
Kevin Bacon stars in queer horror flick 'They/Them'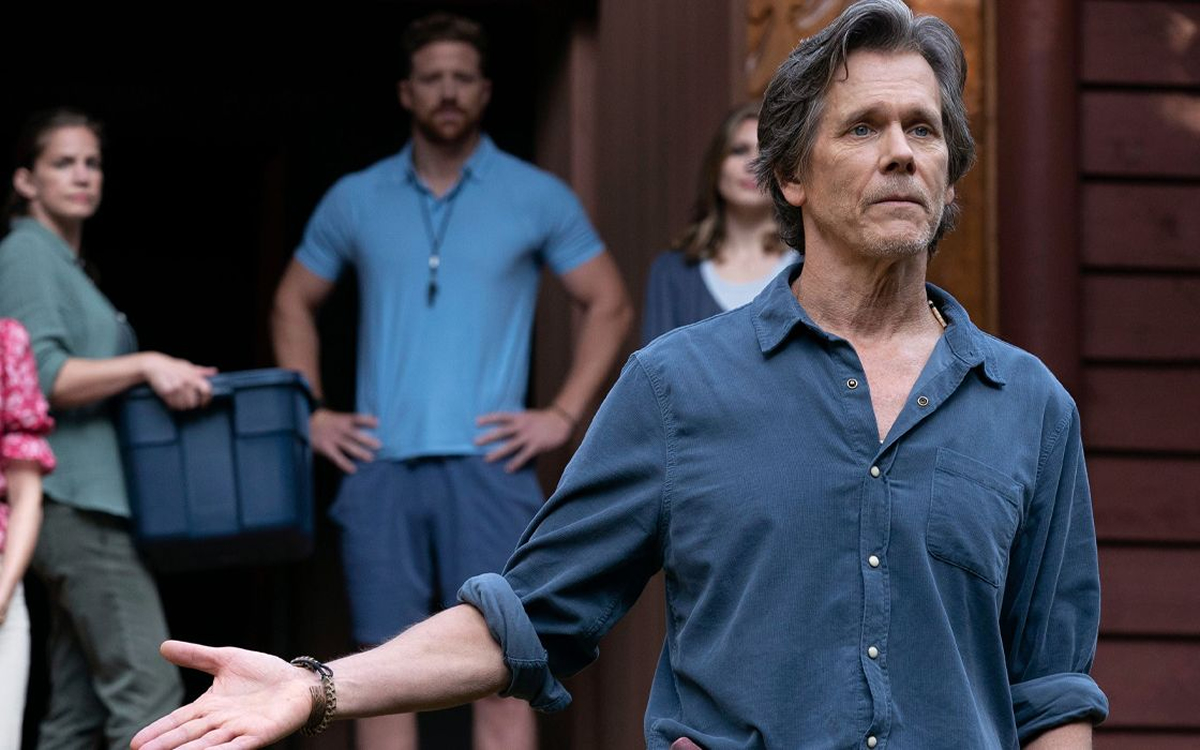 Since the summer season starts with Pride month, we can always count on June bringing plenty of great LGBTQ entertainment options to our screens. This year has been particularly bountiful – we've already highlighted several standout titles for our readers, like the smart, sophisticated, and stingingly funny rom-com "Fire Island" (now streaming on Hulu) and the dazzlingly diverse re-imagination of the iconic series "Queer as Folk" (available to watch on Peacock), as well as the return of "Love, Victor," Hulu/Disney's popular coming out/coming of age series (beginning its third and final season on June 15) – so it's understandable if viewers are still making their way through these and some of the other movies and shows on our must-see list.
If you're one of those who are still catching up, however, you'd be well advised to do it quickly. June is not quite done rolling out its offerings, and that's just the beginning. The rest of summer has more in store for queer viewers – and once again, the Blade is here to offer some suggested titles that we think are worth looking out for in the weeks to come.
Being BeBe (Now streaming, Apple TV/Prime Video/broadcast premiere June 21 on Fuse)
Director Emily Branham brings us this intimate documentary charting 15 years in the life of drag performer Marshall Ngwa (aka BeBe Zahara Benet), who immigrated to America from the homophobic environment of his native Cameroon before becoming the first champion on "RuPaul's Drag Race" and launching a career as one the leading artists celebrating Black Queer Excellence today. It's an up-close look at a performer whose emotional journey raises timely concerns at the intersection of LGBTQ, BIPOC, and immigrant lives today.
The Umbrella Academy, Season 3 (June 22, Netflix)
The popular comic-book-inspired fantasy drama series comes back for a much-anticipated third installment after leaving its titular collection of superhero siblings stranded in a strange timeline at the end of the last one. Hip and irreverent, this violent, decidedly adult superhero saga had a huge cult following even before Netflix brought it to the screen, and show creator Steve Blackman's slick, stylish adaptation of it has spawned a whole new army of fans – many of them queer, thanks to the material's inclusion of two queer characters among the leads and an "outsider" vibe that gives it a generally queer sensibility. This season will surely be essential viewing for LGBTQ viewers, since it marks the return of Elliot Page to the character he originated before transitioning, in a storyline carefully crafted by Blackman (who consulted with GLAAD and brought in writer Thomas Page McBee to consult, alongside Page himself) in which the character (formerly Vanya) transitions to become Viktor and begins using he/him pronouns – a historic moment in television, whether you're a fan of superhero shows or not. Besides Page, the series stars Tom Hopper, David Castañeda, Emmy Raver-Lampman, Robert Sheehan, Aidan Gallagher, Justin H. Min, Colm Feore, Ritu Arya, and Justin Cornwell.
Where the Crawdads Sing (July 15, in theaters)
Though Delia Owens' best-selling novel does not tell a specifically queer story, it has drawn many queer fans. That's probably because its lead character Kya, an abandoned girl who raised herself to adulthood in the dangerous marshlands of North Carolina, is relegated to the status of "other" when she is drawn into the nearby town community by two young men – and it doesn't help matters when one of them turns up dead. Starring Daisy Edgar-Jones, Taylor John Smith, Harris Dickinson, Michael Hyatt, Sterling Macer, Jr., and David Strathairn, this screen adaptation was written by "Beasts of the Southern Wild" scribe Lucy Alibar and directed by Olivia Newman.
Anything's Possible (July 22, Prime Video)
We may have thought we had seen all multi-hyphenate performer Billy Porter's many talents, but we were wrong. The Tony- and Emmy-winning Porter makes his debut as a feature film director with this "delightfully modern" Gen Z coming-of-age story about a confident trans high school girl named Kelsa who is busily navigating her way through senior year when she discovers that a shy classmate has developed a crush on her. Written by Ximena García Lecuona, the story is described as "a romance that showcases the joy, tenderness, and pain of young love," and it stars Eva Reign, Abubakr Ali, and Renée Elise Goldsberry. And in case you're wondering, Porter does not appear, himself – though he is credited as Executive Music Producer alongside Justin Tranter, which is yet another reason to look forward to this one.
Uncoupled (July 29, Netflix)
Neil Patrick Harris returns to the sitcom milieu that has brought him fame in a sitcom so perfect for him it's shocking nobody ever thought to make it before – but perhaps we had to wait for him to be the right age to play Michael, a 40-something gay man who thinks he has a picture perfect life until his husband blindsides him by walking out the door and away from their marriage after 17 years together. He's now confronted with the nightmare scenario of being middle-aged, queer, and single in New York City – but when he starts to recognize the possibilities of living a single life, he decides to make the most of it. From "Emily in Paris" creator Darren Star and longtime "Modern Family" producer Jeffrey Richman, it looks to be a prime opportunity to enjoy Harris at his comedic best in a sharp, sexy, and very queer eight episodes of television.
They/Them (August 5, Peacock)
From horror cinema heavy-hitters Blumhouse Productions comes this queer fright flick (pronounced "they-slash-them") described as a "queer empowerment story set at a gay conversion camp" and starring Kevin Bacon as a counselor hoping to help his "guests" find "a new sense of freedom" by shedding their queerness. Unfortunately, a mysterious killer starts claiming victims, and the campers must work together to protect themselves from more than just heteronormative programming. Oscar-nominated screenwriter John Logan (also responsible for the beloved horror series "Penny Dreadful") created, wrote, and directs, bringing his vision as an out gay man to a classic genre with surprisingly few queer entries. Kevin Bacon, Anna Chlumsky, Theo Germaine, Carrie Preston, Quei Tann, Austin Crute, Monique Kim, Anna Lore, Cooper Koch, and Darwin del Fabro star.
Besides all these, don't forget we also have new seasons of queer-inclusive sitcoms "Rutherford Falls" (June 16, Peacock) and "What We Do in the Shadows" (July 12, FX), so there will be more than enough strong LGBTQ content to hold us over until the release of Billy Eichner's hotly anticipated gay rom-com "Bros" in September – but you'll have to wait until our Fall Preview issue to find out more about that.