'Star Trek' actress Nichelle Nichols dies at 89
George Takei tweets 'we lived long and prospered together'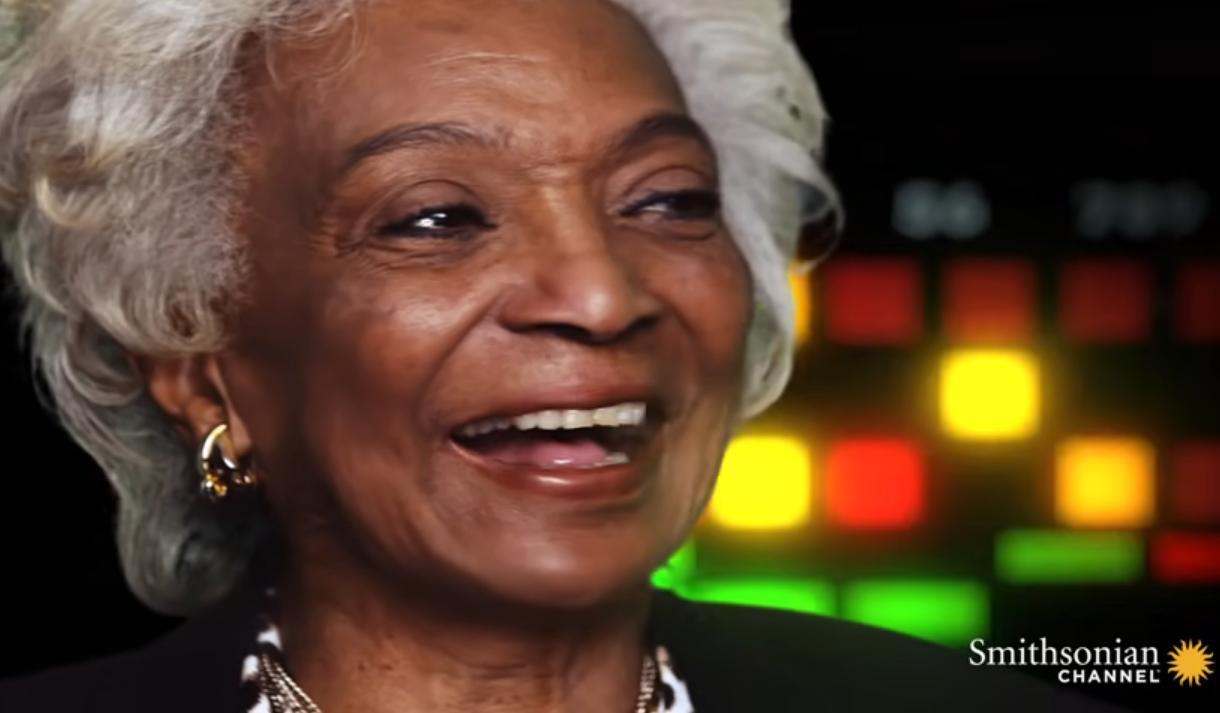 She was a groundbreaking cultural icon who broke barriers in a time of societal upheaval and battling for the civil rights of Black Americans. An actress, a mother and thoroughly devoted to the legions of fans of "Star Trek," Nichelle Nichols, Star Trek's Lt. Nyota Uhura, has died at 89.
The announcement on her Facebook page by her son read:
Sunday, July 31, 2022
Friends, Fans, Colleagues, World
I regret to inform you that a great light in the firmament no longer shines for us as it has for so many years.
Last night, my mother, Nichelle Nichols, succumbed to natural causes and passed away. Her light however, like the ancient galaxies now being seen for the first time, will remain for us and future generations to enjoy, learn from, and draw inspiration.
Hers was a life well lived and as such a model for us all.
I, and the rest of our family, would appreciate your patience and forbearance as we grieve her loss until we can recover sufficiently to speak further. Her services will be for family members and the closest of her friends and we request that her and our privacy be respected.
Live Long and Prosper,
Kyle Johnson
Nichols was born in Robbins, Ill., in 1932, according to her IMDb page. Legendary composer Duke Ellington "discovered" Nichols and helped her become a singer and dancer. She later turned to acting, and joined Gene Roddenberry's "Star Trek," where she played Uhura from 1966 to 1969.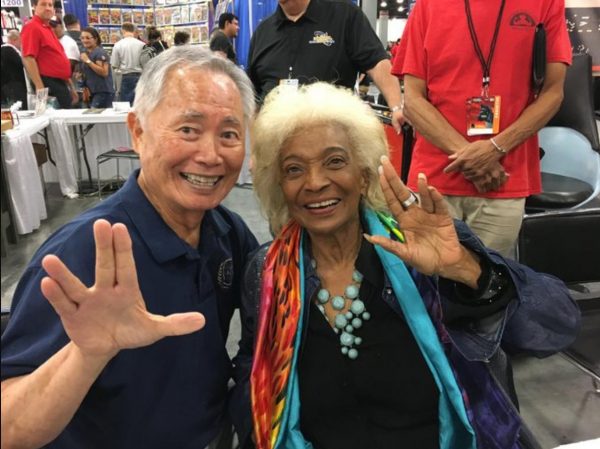 It was in that role of Uhura that Nichols not only broke barriers between races, most famously her onscreen kiss, the first between a Black person and a white person, with castmate William Shatner, who played Capt. James T. Kirk, but she also became a role model for young Black women and men inspiring them to seek out their own places in science, technology, and other human endeavors.
In numerous interviews over the years Nichols often recalled how the Rev. Martin Luther King, Jr., was a fan of the show and praised her role and personally encouraged her to stay with the series.
When the first series ended Nichols went on to become a spokesperson for NASA, where she "helped recruit and inspire a new generation of fearless astronauts." She later reprised her role in several successful "Star Trek" films and continued to advocate for the advancement of Black Americans especially in the areas of science and technology.
We celebrate the life of Nichelle Nichols, Star Trek actor, trailblazer, and role model, who symbolized to so many what was possible. She partnered with us to recruit some of the first women and minority astronauts, and inspired generations to reach for the stars. pic.twitter.com/pmQaKDb5zw

— NASA (@NASA) July 31, 2022
Formerly a NASA deputy administrator, Frederick Gregory, now 81, told the Associated Press he once saw an advertisement in which Nichols said "I want you to apply for the NASA program."
"She was talking to me," he recounted. The U.S. Air Force pilot would apply and later become the first African American shuttle pilot.
President Joe Biden weighed in Sunday afternoon on her passing in a statement issued by the White House:
"In Nichelle Nichols, our nation has lost a trailblazer of stage and screen who redefined what is possible for Black Americans and women.

A daughter of a working-class family from Illinois, she first honed her craft as an actor and singer in Chicago before touring the country and the world performing with the likes of Duke Ellington and giving life to the words of James Baldwin.

During the height of the Civil Rights Movement, she shattered stereotypes to become the first Black woman to act in a major role on a primetime television show with her groundbreaking portrayal of Lt. Uhura in the original Star Trek. With a defining dignity and authority, she helped tell a central story that reimagined scientific pursuits and discoveries. And she continued this legacy by going on to work with NASA to empower generations of Americans from every background to reach for the stars and beyond.

Our nation is forever indebted to inspiring artists like Nichelle Nichols, who show us a future where unity, dignity, and respect are cornerstones of every society."
Nichols son said that services will be private for family members and her closest friends.
In 2008 the actress at a news conference, coordinated by the filmmakers of the motion picture "TRU LOVED," in honor of the more than 900 students at Los Angeles' Miguel Contreras Learning Complex's School of Social Justice who participated in the GLSEN Day of Silence.
Nichelle Nichols speaks on LGBTQ rights:
Her fellow castmate and life long friend, openly Out actor George Takei shared his sadness on hearing of Nichols' passing on Twitter:
We lived long and prospered together. pic.twitter.com/MgLjOeZ98X

— George Takei (@GeorgeTakei) July 31, 2022
From the September 2016 edition of the Smithsonian Channel: "Star Trek's decision to cast Nichelle Nichols, an African American woman, as major character on the show was an almost unheard-of move in 1966. But for black women all over the country, it redefined the notions of what was possible."
Star Trek's Nichelle Nichols on Uhura's Radical Impact:
Tom Daley receives OBE at Windsor Castle
Olympic gold medalist honored for diving, LGBTQ rights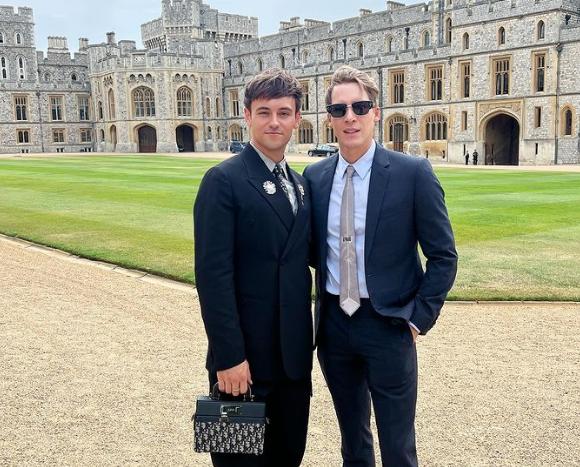 British Olympic gold medalist Tom Daley was honored at Windsor Castle Tuesday, as Prince Charles, standing in for Queen Elizabeth, bestowed an Officer of the Order of the British Empire (OBE) on the 28 year-old champion diver.
In the citation Daley was lauded for his services to British diving, as well as in recognition of his charity work and his global advocacy of LGBTQ rights.
Daley was accompanied to the ceremony by his 48-year-old American husband, Academy Award-winning screenwriter Dustin Lance Black.
As an Olympian diver Daley first represented Britain at the 2008 Summer Olympics in Beijing as a young teenager of 14. A participant and a long time presence on the British diving team, Daley won his first gold medal at the 2021 Summer Olympics in Tokyo in the men's synchronized 10m platform event.
In his speech accepting the 2021 Attitude Magazine Foundation's Virgin Atlantic Attitude Sport Award, Daley took aim at 10 countries that have death penalties for people who are LGBTQ.
Daley told the audience at the Roundhouse Theatre in London that the Olympic Games should ban those nations.
"These past Olympic Games there were more out LGBT athletes than at any of the previous Olympics combined, which is a great step forward," Daley said. "Yet there are still 10 countries that punish being gay with death that were still allowed to compete at the Olympic Games."
The Olympian champion diver went on to tell those in the audience at the Jaguar Motorcars co-sponsored event he was going to make it his mission to effect change.
"I want to make it my mission before the Paris Olympics in 2024 to make it so that the countries that criminalize and make it punishable by death for LGBT people are not allowed to compete at the Olympic Games," Daley said.
He then pointed out that those same countries shouldn't be able to host Olympic games either- then he called out the homophobic atmosphere in Qatar;
"The World Cup in Qatar had extreme rules against LGBT people and women and I think it should not be allowed for a sporting event to host in a country that criminalizes against basic human rights," he said.
He and his husband are parents to son Robbie, who they welcomed via a surrogate in 2018 and the couple resides in London.
Congratulations to everyone who received Honors today at Windsor Castle! 👏 🥇🌈 Another medal for Daley! Gold medal-winning and four-time Olympian diver @TomDaley1994 was presented with an OBE for services to Diving and support for LGBTQ+ rights. pic.twitter.com/uN3eIPfLC7

— The Prince of Wales and The Duchess of Cornwall (@ClarenceHouse) July 12, 2022
 

 

 

View this post on Instagram

 

 
Crown Prosecution Service UK charges Kevin Spacey with sexual assault
The CPS told the BBC it could not confirm or deny whether or not Spacey will need to be extradited to the UK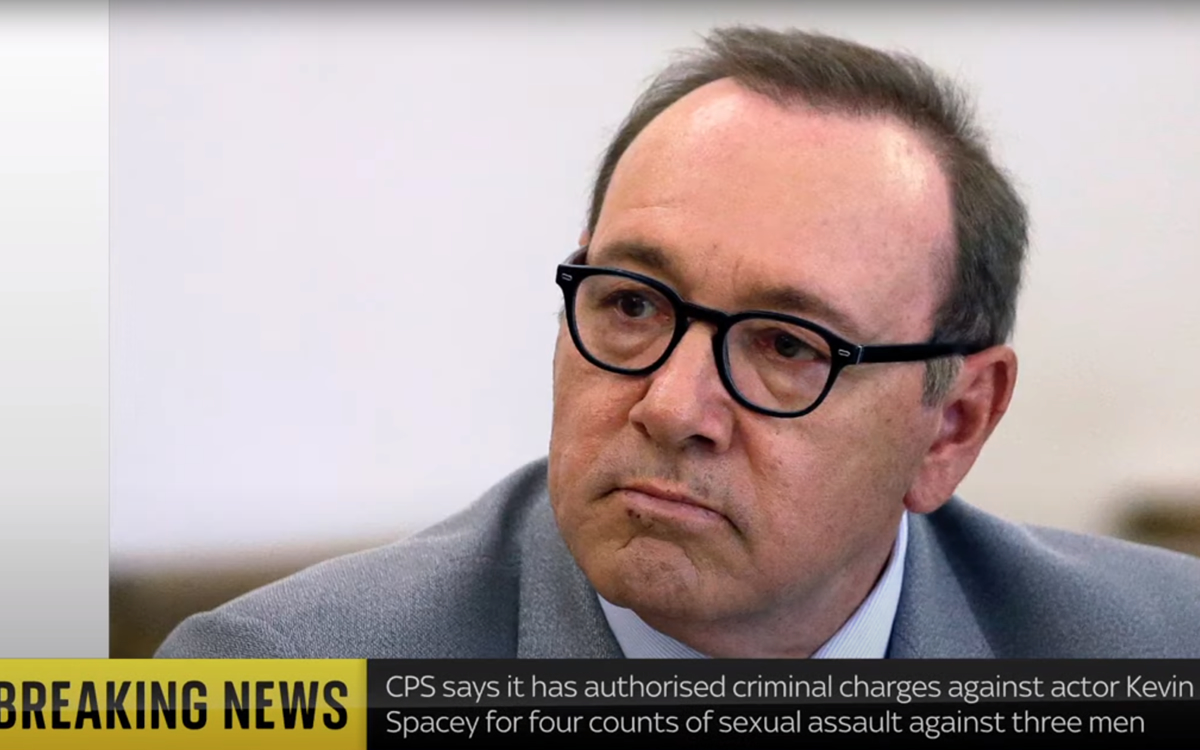 The Crown Prosecution Service announced Thursday that actor Kevin Spacey has been charged with five counts including three complaints relating to sexual abuse, which is alleged to have taken place in London, and one in Gloucestershire during the time period between 2005 and 2013.
Crown prosecutors told media outlets that the decision to move forward was based on a lengthy investigation by the Metropolitan Police Specialist Crime Directorate at Scotland Yard. The Directorate is a national police agency which handles specialist crime investigations such as e-crime, sex crimes (paedophile unit) or kidnappings.
In its reporting Thursday, the BBC outlined the cases against the actor.
The first two charges relate to alleged sexual assaults on a man, now in his 40s, in London in March 2005, while a second alleged victim, a man now in his 30s, is claimed to have been assaulted in London in August 2008.
The serious sexual offence charge – causing a person to engage in penetrative sexual activity without consent – also relates to the second alleged victim.
The third complainant relates to an alleged assault on a man who is now in his 30s in Gloucestershire in April 2013.
Rosemary Ainslie, head of the CPS Special Crime Division, told the BBC that following the Met's review of evidence the CPS had "authorised criminal charges against Kevin Spacey, 62, for four counts of sexual assault against three men".
She added: "The Crown Prosecution Service reminds all concerned that criminal proceedings against Mr Spacey are active and that he has the right to a fair trial."
The CPS told the BBC it could not confirm or deny whether or not Spacey will need to be extradited to the UK.
Spacey's alleged sexual assaults occurred while he was living in London and employed as the renowned Old Vic Theatre's artistic director in London between 2004 and 2015.
Spacey has been embroiled publicly and later in court over sexual assault allegations since October of 2017 when Out actor Anthony Rapp told the world that the Oscar-winning actor had tried to "seduced" him when Rapp was 14 years old.
Rumours about Spacey's behaviour had circulated in film and theatre circles for a considerable length of time previous to Rapp's allegation.
Spacey's response was immediate. He apologized and came out. "I'm beyond horrified to hear his story. I honestly do not remember the encounter, it would have been over 30 years ago. But if I did behave then as he describes, I owe him the sincerest apology for what would have been deeply inappropriate drunken behavior, and I am sorry for the feelings he describes having carried with him all these years," Spacey wrote on Twitter.
"This story has encouraged me to address other things about my life. I know that there are stories out there about me, and that some have been fueled by the fact that I have been so protective of my own privacy," Spacey said, adding "I now chose to live as a gay man."
In July of 2019, Cape and Island District Attorney Michael O'Keefe announced that a charge against Spacey which accused the actor of sexually assaulting an 18-year-old boy in a Nantucket, Mass. bar had been dropped.
In court documents, Cape and Island District Attorney Michael O'Keefe said the charge was dropped "due to an unavailability of the complaining witness."
News anchor Heather Unruh accused Spacey of getting her son, William Little, drunk at the Club Car, a bar in Nantucket, Mass., and groping him in July 2016 when Little was 18 years old.
In October of 2019, the office of then Los Angeles District Attorney Jackie Lacey announced that prosecutors have declined to move forward in a sexual battery case against the actor because the accuser had died.
That case, one of several involving accusations of sexual misconduct and assault by the Oscar winning actor, allegedly occurred after an October 2016 incident. A masseur had claimed that Spacey had inappropriately touched him in a sexual manor at a private home in Malibu as he was giving Spacey a massage.
A statement released by the LADA's office notes that the masseur's allegations against could not be proven without his participation in court proceedings. The alleged victim had also civil suit pending in U.S. District Court in Los Angeles against Spacey for the same incident.
Kevin Spacey charged with sexual assault:
Jamie Lee Curtis condemns anti-Trans bills
"Politicians are proposing that parents providing gender-affirming care for THEIR OWN children are felons-These laws are discriminatory"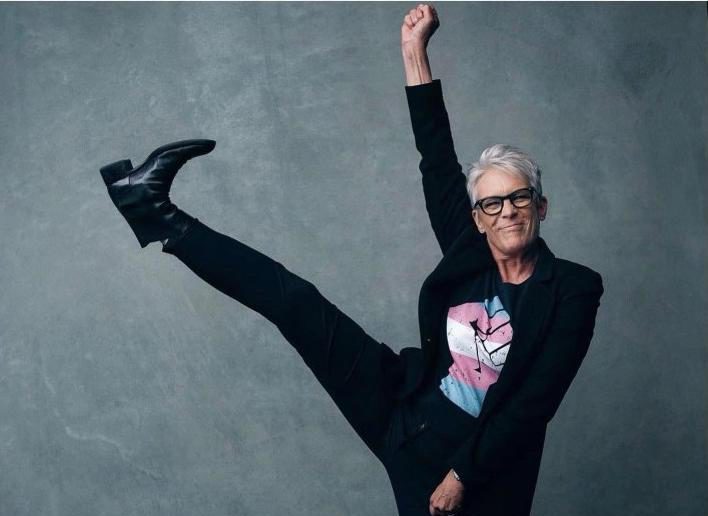 Allyship and motherhood with determined activism has been a phrase used to describe actor Jamie Lee Curtis viewed from the perspective of the LGBTQ+ community, especially the Trans community.
This past weekend she again publicly gave her commitment to full equality and equity for this community that is under literal siege by right-wing extremists while sending a loving parental acknowledgement of her offspring's birthday.
On Instagram and Twitter the actress posted a picture of herself in a T-shirt bearing the trans flag and sending birthday love to her 26-year-old daughter Ruby Guest.
"Happy birthday Ruby. I am proud 2 be your mother & am sending support 2 all trans families across the US targeted by conservative legislatures & I VOW 2 use my freedom of speech 2 SUPPORT my child & ALL trans children trying 2 live FREELY as who they are. #ProtectTransKids," Curtis posted.
Her daughter responded writing; "My mom has supported me all the way ever since i came out as trans. I love her so much. there are allies everywhere for the trans community. you just need to look for them. and we will stand by your side for the long run #PRIDE."
My mom has supported me all the way ever since i came out as trans. I love her so much. there are allies everywhere for the trans community. you just need to look for them. and we will stand by your side for the long run #PRIDE https://t.co/ldmoXTmRlo

— Ruby Greymane 🏳️‍⚧️ 🏳️‍🌈 (@Killerkittens66) March 13, 2022
On her Instagram post, Curtis took aim at Texas Republican Governor Greg Abbott over his aggressive lashing out at the Trans youth in his state by ordering state Child Protective Services investigators to open cases of alleged child abuse against the parents of Trans children. A Texas court last Friday issued an injunction to stop the Governor's order from being carried out further.
"This country was founded on freedom. A profoundly simple idea that everyone living here should be free to dream and achieve what they want freely…" Curtis wrote.
"Now politicians are proposing that parents providing gender-affirming care for THEIR OWN children are felons and deserve prison time. These laws are discriminatory, unjust, and anti-American. Freedom of expression includes gender expression!" she added,