Fla. sued over exclusion of transgender healthcare from Medicaid
Lambda Legal among groups that filed suit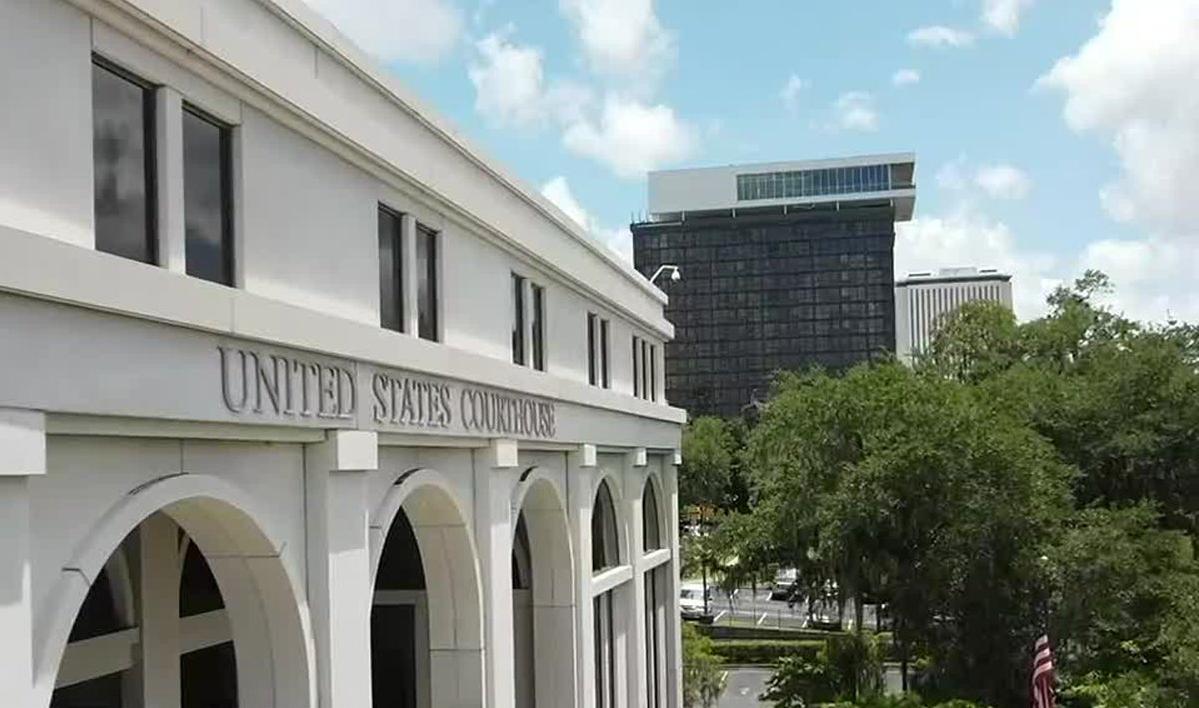 An international law firm and a coalition of LGBTQ and healthcare advocacy groups filed a complaint Wednesday challenging a Florida rule that excludes transgender-related medical care from Medicaid reimbursements.
The lawsuit was filed with the U.S. District Court for the Northern District of Florida against the state's Agency for Health Care Administration by Lambda Legal, the National Health Law Program, Florida Health Justice Project, Southern Legal Council and the law firm Pillsbury Winthrop Shaw Pittman on behalf of a group of trans minors and their families.
After Florida's rule went into effect on Aug. 21, Medicaid coverage exemptions were carved out for gender affirming healthcare that is deemed essential for the treatment of gender dysphoria by all medical societies and organizations with relevant clinical experience.
As the parents of one plaintiff wrote, in a statement: "We believe providing our daughter with the medical care that she needs and is recommended by her doctors for her gender dysphoria is imperative to ensure her health and well-being. The state's decision to stop covering medically necessary gender-affirming medical care through Medicaid is tragic. It is cruel and dehumanizing."
Shortly after Florida's rule was finalized on Aug. 1, the Los Angeles Blade reported the objections of federal health officials at the U.S. Centers for Medicare and Medicaid Services and the U.S. Department of Health and Human Services' Office of Civil Rights.
🚨 Breaking News: #LGBTQ+ and Health Advocacy Groups are suing to block #Florida's Anti-Trans #Medicaid Health Care Rule

🔗 Read @SouthernLegal's Press Release: https://t.co/fqPE0zqu3l

🔗 Meet the plaintiffs: https://t.co/UoSSE3EITg pic.twitter.com/cx6yrpl1WF

— TransinclusiveGroup (@TransinclusiveG) September 7, 2022
Both agencies committed to doing "everything within our authority to protect Medicaid beneficiaries' access to care and prevent discriminatory policies from taking effect." Also at that time, Lambda Legal told the Blade the group was considering "all possible avenues for challenging this discriminatory rulemaking."
CMS did not immediately return a request for comment Wednesday on whether legal action against the rule is being considered at this time.
The nonprofit Movement Advancement Project think tank tracks the status of Medicaid coverage for trans related healthcare across all U.S. states, jurisdictions and territories, noting that trans patients often face obstacles to receiving care in states whose Medicaid programs neither explicitly affirm nor explicitly exclude coverage.
DeSantis reelected in Fla.
Republican incumbent signed state's 'Don't Say Gay' law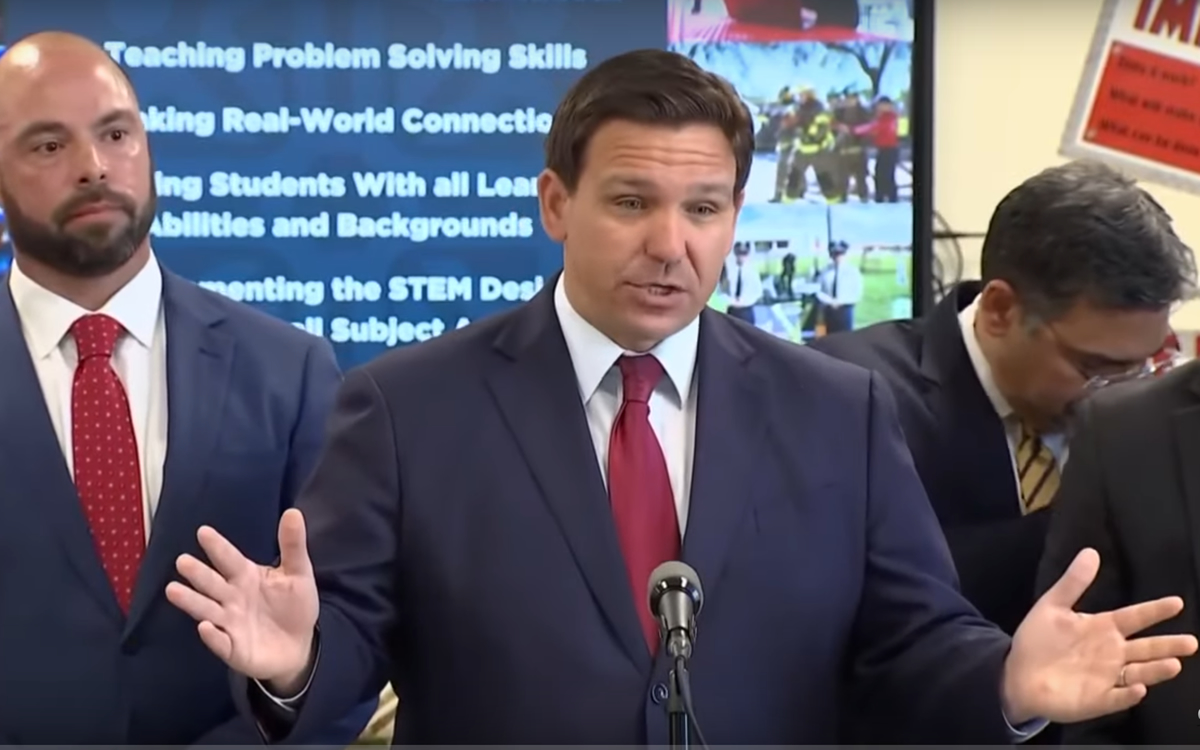 Republican Florida Gov. Ron DeSantis on Tuesday defeated Democrat Charlie Crist in the state's gubernatorial election.
DeSantis as of 8:12 p.m. ET was ahead of Crist by a 57.5-41.9 percent margin with 74 percent of the total number of votes counted.
DeSantis, who signed Florida's "Don't Say Gay" law earlier this year, narrowly defeated Democrat Andrew Gilliam in 2018. DeSantis, who is a former congressman, is expected to run for president in 2024.
Fla. rule would effectively ban gender-affirming care for minors
State surgeon general asked for regulation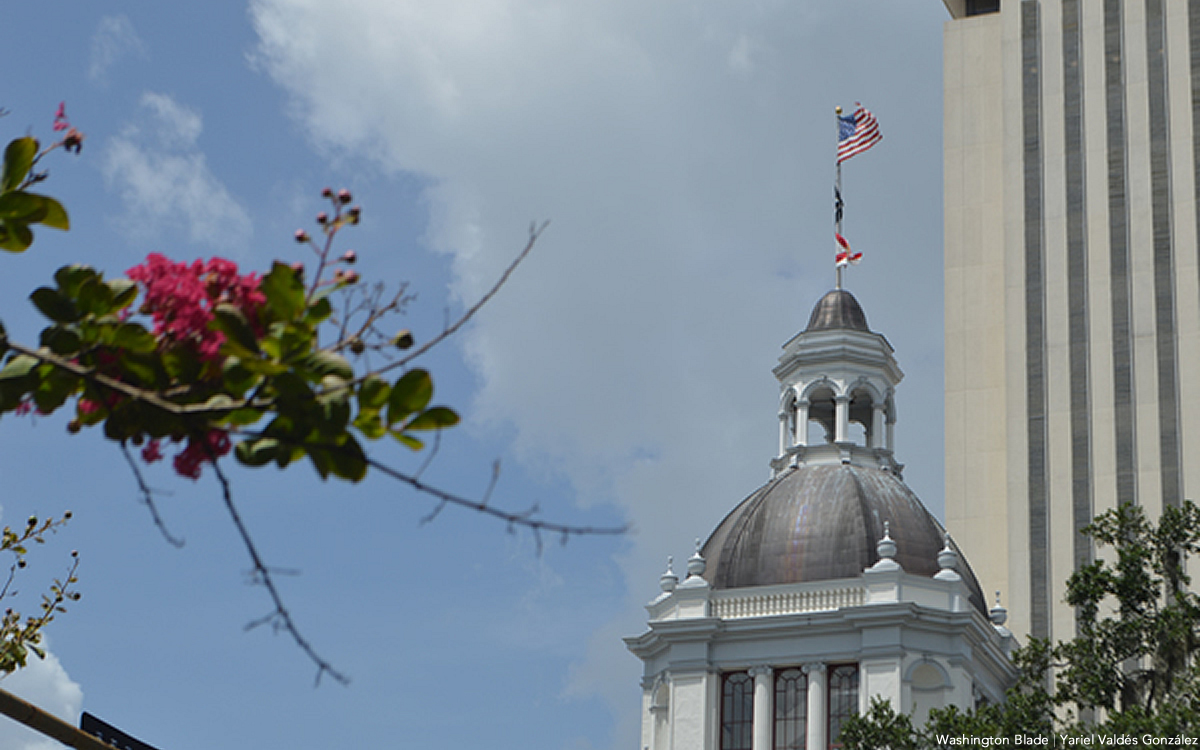 The Florida Board of Medicine and Board of Osteopathic Medicine Joint Rules/Legislative Committee Friday advanced a rule that would effectively ban gender-affirming care for minors in the state. 
The policy, which would likely block a minor's access to puberty blockers, hormone therapies and surgeries — a rare intervention for transgender youth — will now head to the full the Board of Medicine and Board of Osteopathy for finalization and a vote. 
It came after the Florida Surgeon General Joseph Ladapo in June asked the board to establish a standard for "complex and irreversible" gender-affirming care treatments. Ladapo recommended against certain pharmaceutical, non-pharmaceutical and surgical treatments for gender dysphoria. Puberty blockers, a form of gender-affirming care, are reversible.
Major medical organizations, such as the American Academy of Pediatrics, recommend gender-affirming care for trans and nonbinary youth. The group, in a statement, said it "strongly oppose[s] any legislation or regulation that would discriminate against gender-diverse individuals, including children and adolescents, or limit access to comprehensive evidence-based care which includes the provision of gender-affirming care."
Still, Ladapo called the scientific evidence supporting gender-affirming care "extraordinarily weak."
Republican Gov. Ron DeSantis, who is likely to run for president in 2024, holds tremendous power over the board. Equality Florida, a statewide LGBTQ advocacy group, said the board was stacked with "right-wing extremists" and "subverted into weapons against LGBTQ Floridians."
During the meeting, the committee heard from scheduled presenters meant to act as experts on gender-affirming care and members of the public. Before the meeting, one of the experts, Dr. James Cantor, was quietly removed from the agenda after it was revealed that he advocated for pedophiles to be included under the LGBTQ umbrella, according to Media Matters.
Oxford University sociology professor Michael Biggs, who did speak to the board, has posted transphobic tweets in the past, according to the Oxford Student, the college's student newspaper.
LGBTQ activists and state representatives called into question the fairness of the speakers. According to Florida Planned Parenthood Action, two state representatives, Democrats Anna Eskamani and Carlos Smith, "begged" the board to let public comment continue.
"It is totally unacceptable for a public Board to permit only speakers who agree with the board members' position to testify, and then refuse to permit others from the public with a different perspective to speak," tweeted Florida state Rep. Ben Diamond, a Democrat. 
After the board cut off public comment, the crowd began to chant: "Let them speak."
Smith called the meeting a "sham," adding: "They put all the speakers from out of state and out of the country who agreed with them first. When they ran out of people on their side, they cut off public comment from Floridians OPPOSED to the politicization of gender affirming care."
"Just disgusting," tweeted Jack Petocz, a political strategist for Gen-Z for Change.
Just disgusting. https://t.co/oeKQx6y2cP

— Jack Petocz (@Jack_Petocz) October 28, 2022
The board also heard from several so-called "detransitioners" who spoke in favor of the rule.
However, those who receive gender-affirming care rarely decide not to continue with treatment. A recent study published in "The Lancet" found that 98 percent of people who had started gender-affirming medical treatment in adolescence continued to use gender-affirming hormones at follow-up.
"It needs to be repeated without end: gender-affirming care is lifesaving care," said Equality Florida Transgender Equality Director Nikole Parker.
Fla. Department of Education approves new anti-LGBTQ rules
Governor earlier this year signed state's 'Don't Say Gay' law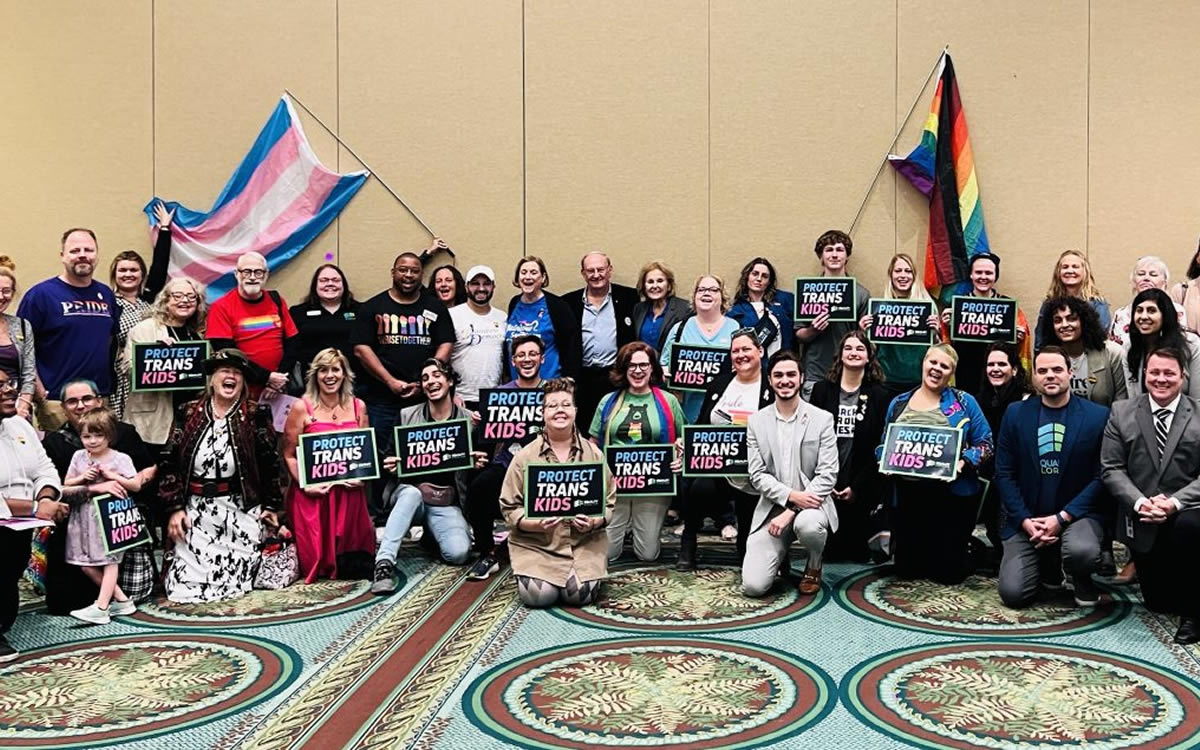 As school districts across the state and particularly in Southwest Florida struggle to reopen after the massive damage inflicted by Hurricane Ian, the deadliest hurricane to strike the state of Florida since the 1935 Labor Day storm, the Florida Department of Education voted unanimously Wednesday on new rules designed to intimidate school districts and teachers that affirm LGBTQ students.
Equality Florida, the state's largest LGBTQ advocacy organization, noted that the Florida Department of Education with these new rules has expanded the enforcement of House Bill 1557, the "Don't Say LGBTQ" law. One rule passed Wednesday threatens teachers with termination of both their job and education certificate if they are found to have engaged in "classroom instruction on sexual orientation or gender identity."
"The Board of Education's move to target individual teachers' jobs and licenses is another cruel attack from an administration that has spent months punching down at Florida's LGBTQ youth and families," said Equality Florida Senior Political Director Joe Saunders. "Qualified, effective teachers are fleeing the profession in Florida thanks to the constant politicization of their roles and discrediting of their characters by the DeSantis administration. Rather than help to clarify the 'Don't Say LGBTQ' law's scope, the Board of Education has taken this bigoted law to yet another extreme, threatening teachers if they dare to acknowledge LGBTQ families in the classroom. This escalation in deference to the far right agenda of the governor makes our schools less inclusive — and less safe."
Nearly 100 LGBTQ advocates attended the Board of Education meeting today in Orlando, and more than 1,000 people sent messages to board members in support of teachers, families and LGBTQ students.
Another rule passed Wednesday targets school districts with policies that allow transgender students safe access to bathrooms and locker rooms. While not denying those facilities to transgender and nonbinary students, the new rule requires school districts notify parents in the district if they have a policy allowing bathrooms or locker rooms to be separated on a basis "other than biological sex at birth."
"The Board of Education's facilities separation rule does not and cannot prevent transgender students from accessing facilities aligned with their gender identity — we know Federal law and the constitution protect these rights. Florida school districts have been following federal law for more than a decade, establishing policies we know will continue to work long after this politically-motivated proposed rule. What it does do is attempt to bully and intimidate districts that are providing these accommodations. Ron DeSantis' war on transgender Floridians must end. All students deserve access to school facilities that are inclusive and safe," added Saunders.
Education Commissioner Manny Diaz, a former state senator who sponsored the "Don't Say Gay/LGBTQ" law, has been leading the efforts against Florida's LGBTQ students.
In July he issued a memo instructing school districts to ignore Title IX nondiscrimination protections for trans students, threatening costly penalties even though federal law and case law require accommodations for trans youth.
LGBTQ-inclusive school district policies are still supported by federal protections that exist to provide safe, welcoming spaces for all students. The Biden administration has issued guidance instructing schools to comply with Title IX protections against discrimination on the basis of sex, which is inclusive of sexual orientation and gender identity.
School districts must continue supporting LGBTQ students, creating safe, inclusive environments, and implementing the bigoted "Don't Say LGBTQ" law as narrowly as possible to mitigate the harms it is inflicting on students and families.