NYC LGBTQ historic sites project receives 'excellence' award
Virtual ceremony took place on Friday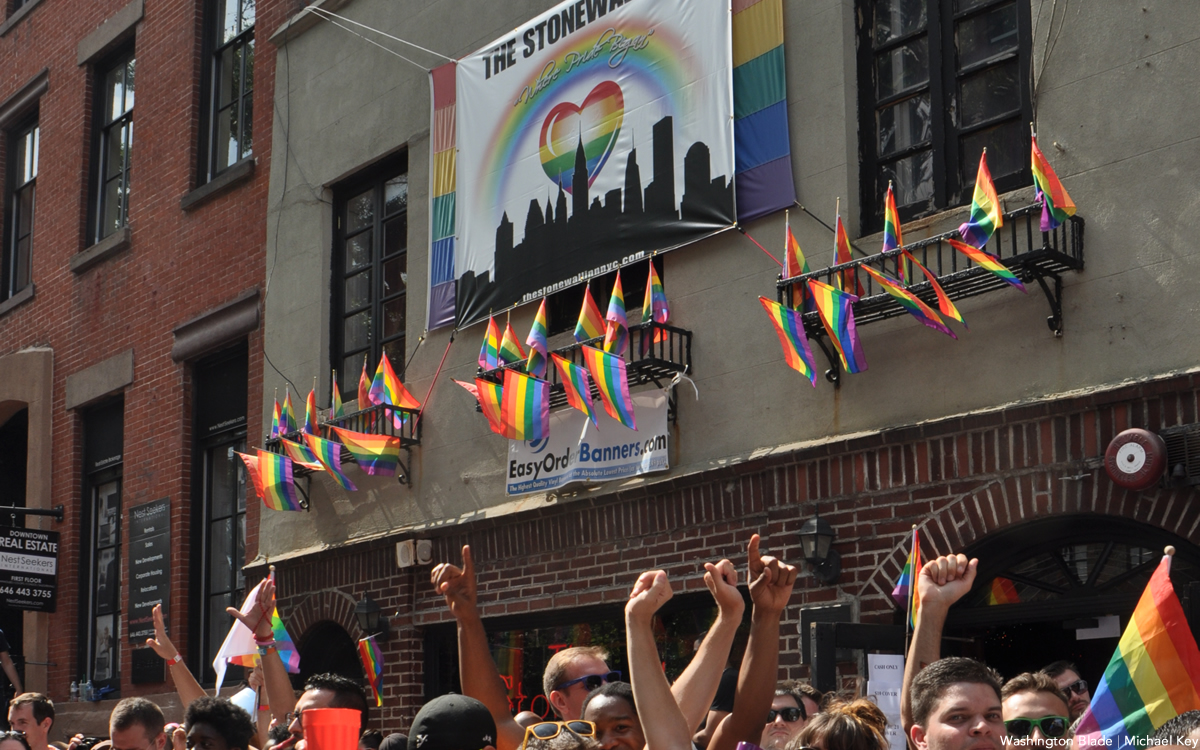 The National Trust for Historic Development has chosen the New York City LGBT Historic Sites Project as the recipient of its Trustees Award for Organization Excellence.
The LGBT Historic Sites Project is one of nine historic preservation-related organizations that were recognized with awards at a Nov. 4 virtual ceremony that was available to the public.
"The NYC LGBT Historic Sites Project is a nationally recognized and influential cultural heritage initiative and educational resource that identifies and documents diverse extant LGBT sites from the 17th century to 2000," the announcement says.
"The only permanent organization of its kind in the U.S., the project staff have created an interactive website, National Register nominations, publicans and programs and school educational materials, among other resources," the announcement continues.
'Sitting at the intersection of historic preservation and social justice, the organization has been particularly eager to document LGBT sites associated with women and Black, Asian, Latinx, trans and gender-variant communities," according to the announcement. "In the near future, they hope to prioritize local sites of LGBT history associated with Indigenous and Two-Spirit peoples," it says.
In its announcement, the National Trust for Historic Preservation says its National Preservation Awards ceremony is held each year during its annual PastForward Conference, which was held virtually on Nov. 4.
"Each year at the PastForward Conference we come together to recognize those making a real difference in historic preservation," said Paul Edmondson, president and CEO of the National Trust for Historic Preservation. "This year's recipients embody not just the preservation of American History, but also demonstrate how preserving historic places can play a key role in addressing critical issues of today, including climate change, equality and housing," Edmondson said.
Protests, revelry mark NYC Pride
Tens of thousands protested Roe ruling on Friday night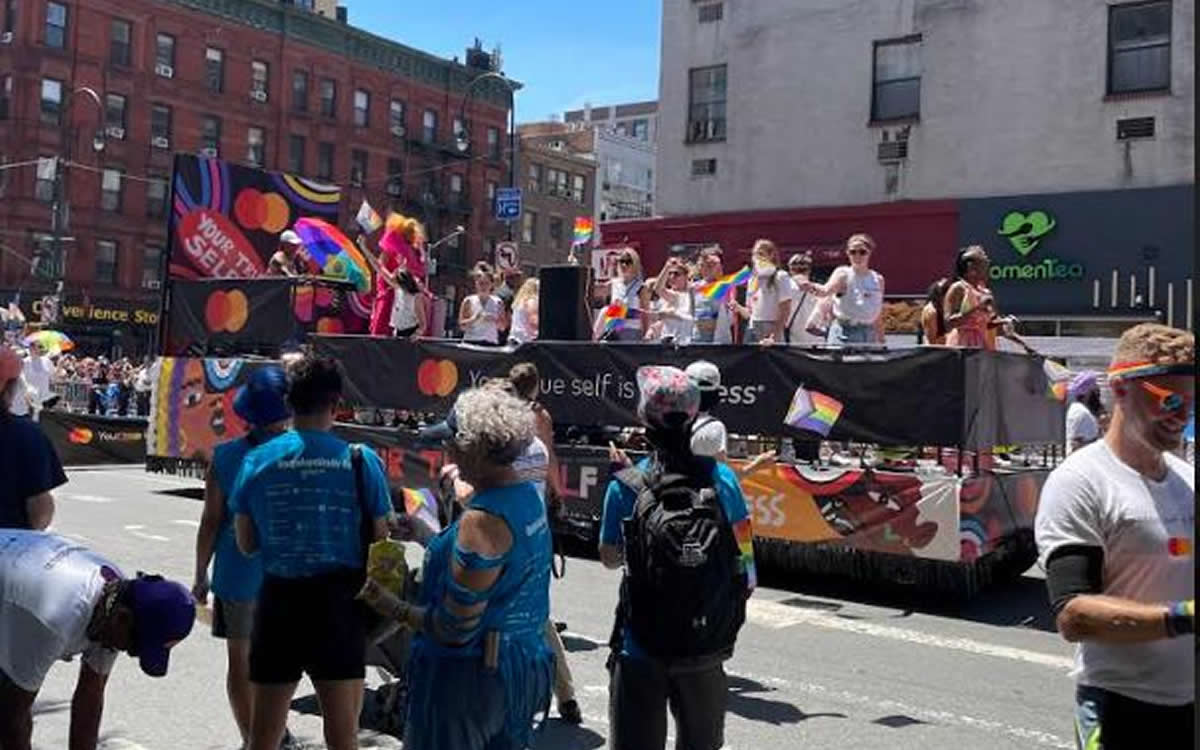 New York City Pride, one of the largest Pride celebrations in the world, rang in the weekend with equal parts celebration and protest.
Although the annual Pride march was on Sunday, the entire weekend was filled with an outpouring of public anger in the wake of the U.S. Supreme Court's decision to overturn Roe v. Wade. 
Protesters took to the streets of Manhattan on Friday with an estimated 17,000 people gathering to protest the ruling, which made abortion imminently illegal in roughly half of states. At least 25 people were arrested at the Friday night protests, which spread from Washington Square Park through Midtown to Bryant Park. 
In light of the Supreme Court's landmark decision — which advocates say will harm members of the LGBTQ community — NYC Pride announced that Planned Parenthood would kick off Sunday's Pride march as the first group to walk. In their statement, NYC Pride said that "[The Supreme Court's] dangerous decision puts millions in harm's way, gives government control over our individual freedom to choose, and sets a disturbing precedent that puts many other constitutional rights and freedoms in jeopardy." 
"As millions gather for LGBTQIA+ Pride this weekend in New York City and cities across the country, our voices will be heard — for the LGBTQ people impacted and the millions with whom we stand in solidarity," read the statement. "Pride was born of protest and will always be a space to fight injustice and discrimination. Join us as we advocate for bodily autonomy at this year's NYC Pride March."
In addition to the march; NYC Pride had a full slate of Pride programming during the week leading up to it, including Pride Island at Governor's Island, Youth Pride and a human rights conference. Queer clubs and bars throughout the city hosted various Pride-themed events throughout the weekend.
NYC Pride was not the only organization mobilizing this weekend.
Reclaim Pride NYC hosted a "Queer Liberation March for Trans and BIPOC Freedom, Reproductive Justice, and Bodily Autonomy," in partnership with pro-choice groups and community organizations.
"The [Queer Liberation March] is the annual people's protest march without corporate funding; corporate floats; politicians' grandstanding; or police control or involvement," said the Reclaim Pride Coalition.
Although Pride originated from a moment of violent tension between police and LGBTQ people at the Stonewall Inn, officers on Sunday carefully patrolled the entire NYC Pride march route. When the apparent sound of gunshots nearly sparked a stampede in Washington Square Park during the parade, the New York Police Department said there were "no shots fired," later confirming that the sounds were due to fireworks being set off at the park. 
The Washington Post noted fears of violence against the queer community circulated at Pride celebrations across the country.
Police also responded to reports of a shooting at San Francisco Pride, although no suspects or witnesses were found. In light of the epidemic of gun violence — from last month's elementary school shooting in Uvalde, Texas, to the massacre at the Pulse nightclub in Orlando, Fla., in 2016 that left 49 people dead — a fear of active shooters and widespread public anger at the prospect of less rights characterized Pride's usually jubilant atmosphere.
LGBTQ groups protest DeSantis appearance in NYC
GLAAD will no longer hold events at Chelsea Piers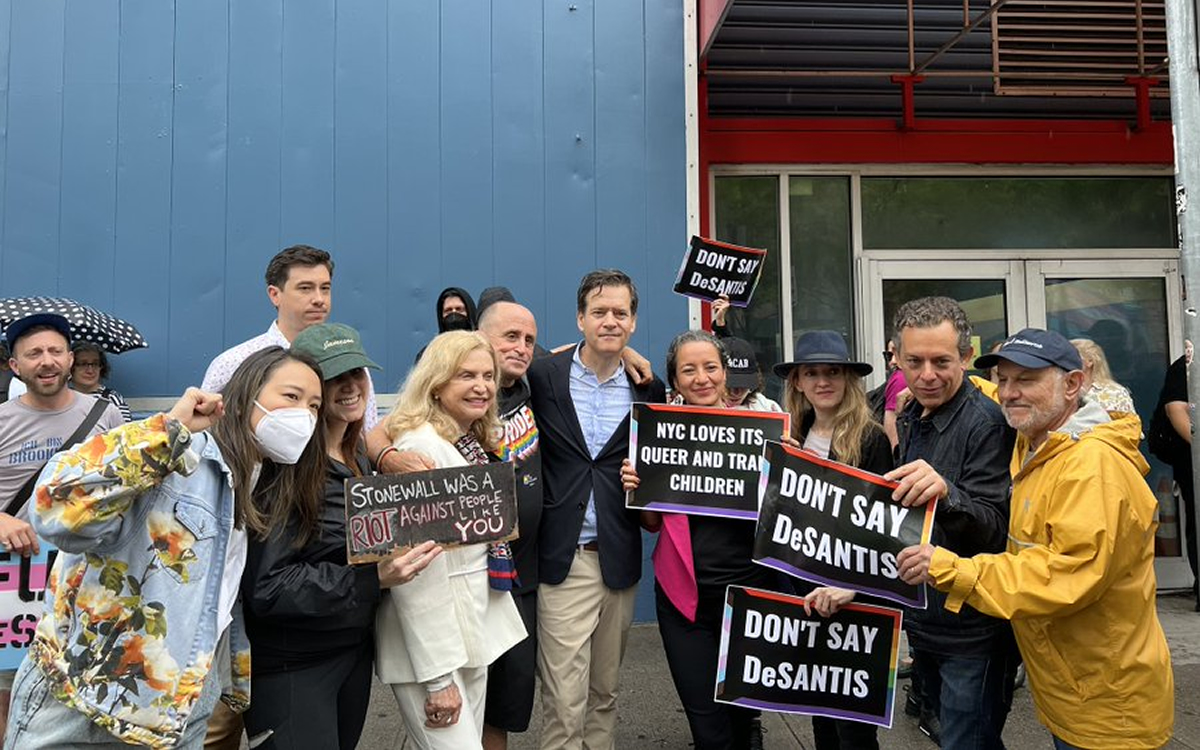 An appearance by anti-LGBTQ+ Florida Republican Gov. Ron DeSantis speaking to the Jewish Leadership Conference at Chelsea Piers sparked protests Sunday by LGBTQ advocacy groups and several elected officials including U.S. Rep. Carolyn Maloney (D-N.Y.).
The appearance by the Florida governor, who signed the state's infamous 'Don't Say Gay Law' and during a press conference last week where he also suggested he might urge the state's child protective services to investigate parents who take their children to drag shows, was decried as insensitive and offensive during Pride Month held every June to commemorate the 1969 LGBTQ uprising at the Stonewall Inn which is located about 2 miles away.
State Sen. Brad Hoylman who represents Chelsea has joined other Democratic politicians and New York City leaders and urged Chelsea Piers to say no to hate and demagoguery.
"The bottom line is Chelsea Piers is providing a venue to propagate hate toward the LGBTQ community and that is unacceptable on many levels, including that it is Pride and that it is in Chelsea, the heart of the community," Hoylman said.
Maloney tweeted her disgust at both the Florida governor and Chelsea Piers:
Chelsea Piers decision to host Ron DeSantis – a homophobe – is outright disgraceful.

But NYers are tough as hell and we're standing up for what is right: Not letting Ron DeSantis speak at Chelsea Piers #SayGay pic.twitter.com/IbYHo90Dnn

— Carolyn B. Maloney (@CarolynBMaloney) June 12, 2022
In a tweet of his own DeSantis fired back at his critics:
Just wrapped speaking at the Jewish Leadership Conference discussing the Florida Blueprint.

They tried to cancel me. But here I stand.

Great to see so many future residents of Florida! pic.twitter.com/hwK1ACqEfR

— Ron DeSantis (@RonDeSantisFL) June 12, 2022
The venue told the New York Times that it would be donating money to groups that support LGBTQ rights to mitigate the fallout. The Times reported the decision by Chelsea Piers to donate money has not mollified critics.
Other groups are canceling upcoming events at Chelsea Piers. Rich Ferraro, a spokesman for GLAAD, said his organization would "refrain from future events" at the complex, "given the platform that Chelsea Piers is giving to one of the most anti-LGBTQ and dangerous politicians today."
The Ali Forney Center, a group that works with homeless LGBTQ youth in New York, said on Friday that it would no longer be holding a program there next month.
"People are saying this issue is about freedom of speech, but it is not. It is in response to DeSantis silencing freedom of speech in schools," the group's president, Alex Roque, wrote in a statement.
Gay man shot to death on NYC subway train
Police say shooting was random and unprovoked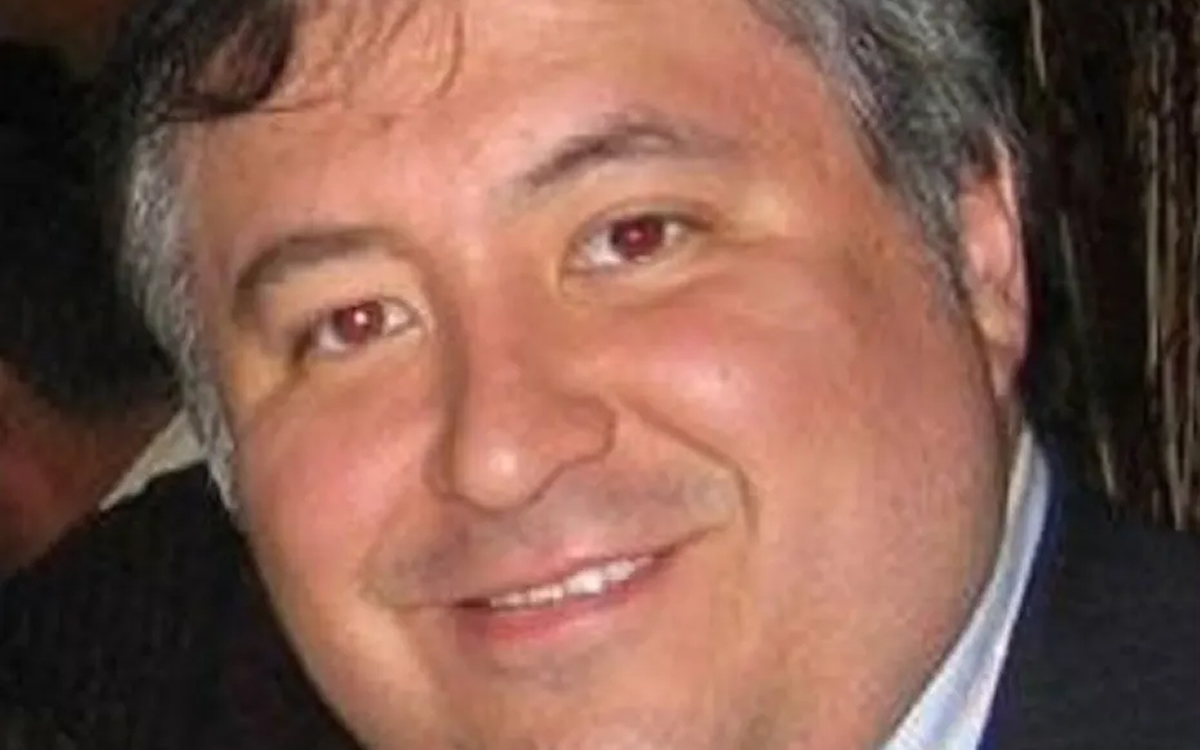 A gay man became the latest victim of a New York City subway shooting on Sunday when police say a male suspect shot Daniel Enriquez, 48, in the chest in an unprovoked random act inside a subway car traveling from Brooklyn to Manhattan.
Police on Tuesday arrested Andrew Abdullah, 25, who they identified as the sole suspect in the shooting, after attorneys representing him from the Legal Aid Society attempted to arrange for his surrender, according to a report by NBC 4 News in New York.
Police said the shooting occurred around 11:42 a.m. while the train was traveling over the Manhattan Bridge. The then unidentified suspect walked off the train and disappeared into a crowd of people when the train stopped at the Canal Street station minutes after Enriquez lay dying on the floor on the train car, police said.
Possibly based on the viewing of images from video surveillance cameras, police sources told the New York Times that investigators identified the suspect as Abdullah whose last known residence was in Manhattan, as a suspect in the fatal shooting. NYPD officials released two photos of Abdullah and appealed to the public for help in finding him.
Adam Pollack, Enriquez's partner of 18 years, told both the Times and the New York Post that Enriquez took the subway to meet his brother for brunch. According to Pollack, Enriquez previously had taken Ubers into Manhattan, where he worked and socialized, from the couple's home in the Park Slope section of Brooklyn. But in recent weeks the cost of taking an Uber rose dramatically to more than $80 for the round-trip fare, prompting Enriquez to begin taking the subway, Pollack told the Times and Post.
"I don't love the subway," the Post quoted Pollack as saying. "I know how dangerous New York is. It took me two years to get back on the subway. I don't feel safe on the subway," he said.
The fatal shooting of Enriquez took place six weeks after another gunman identified as Frank R. James began shooting inside a crowded rush-hour subway car in Brooklyn, injuring at least 23 people.
Pollack told the Times his partner was a native New Yorker who worked as a researcher for the Goldman Sachs investment bank in Manhattan. Enriquez was the eldest of five children and a beloved uncle known for taking his nieces and nephews for ice cream in local parks and out to amusement parks when he visited them, Pollack told the Times.
When asked by the Washington Blade if any evidence has surfaced to indicate suspect Abdullah targeted Enriquez because he thought Enriquez was gay, a police public information officer said the investigation into the incident was continuing.
"There's nothing on that now," the officer said. "Everything, the motive, and all of that stuff, is part of the investigation and that is still ongoing. So, there's no comment on that yet."
The Times reports that court records show Abdullah, who is now in police custody, was charged along with others in 2017 in an 83-count indictment for alleged gang related activity. The following year he pleaded guilty to criminal possession of weapons and other charges in 2018 and was sentenced the following year to a prison term and released on parole several months later.
According to the Times, he faced new gun charges in 2020, was charged in 2021 with assault and endangering a child, and in April of this year was charged with possession of stolen property and unauthorized use of a vehicle.
"We are devastated by this senseless tragedy and our deepest sympathies are with Dan's family at this difficult time," Goldman Sachs CEO David Solomon said in a statement.