U.S. Supreme Court orders Title 42 to remain in place
Justices to hear oral arguments in case in February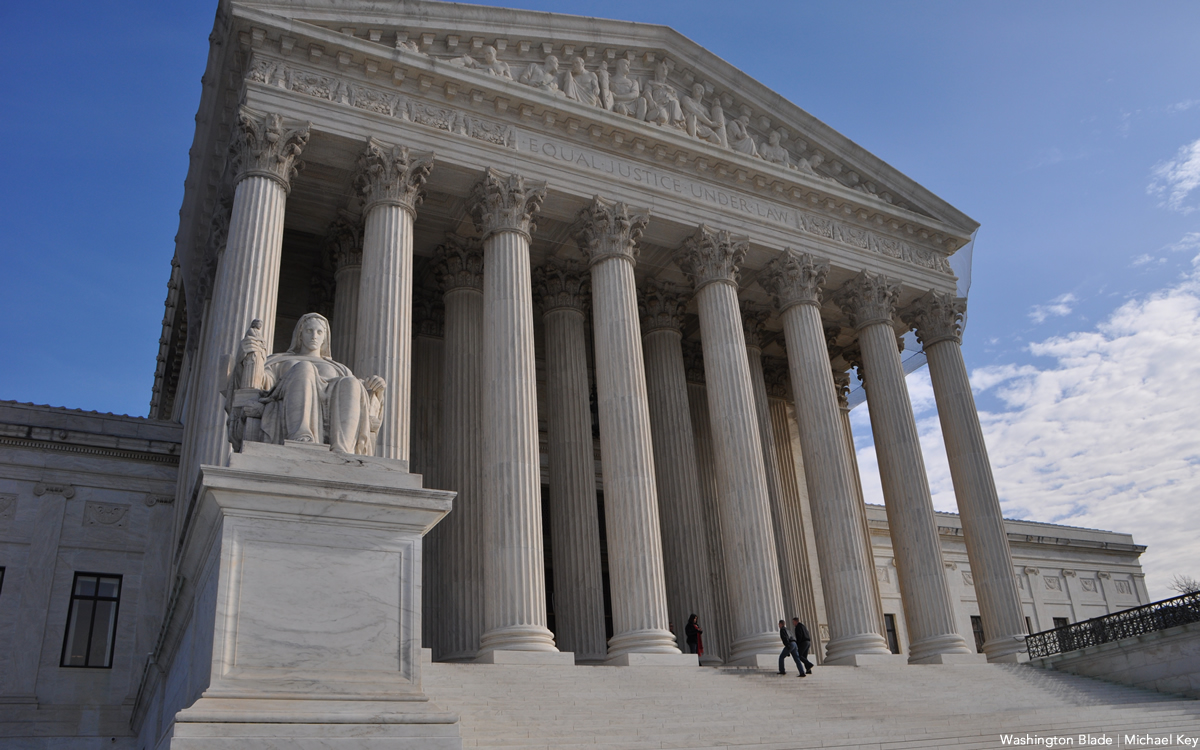 The U.S. Supreme Court on Tuesday in a 5-4 ruling granted the request by 19 states led by Arizona and postponed lifting of Title 42 of the Public Health Services Act.
Title 42 was a coronavirus pandemic measure implemented by the Trump administration to suspend the entry of migrants as a public health threat at all U.S. borders.
The policy allowed U.S. Border Patrol and Immigration and Customs Enforcement agents to turn back migrants quickly, without giving them an opportunity to seek asylum in the U.S.
Arizona and 18 other Republican-led states argued that lifting the measure would create a humanitarian crisis which would imperil the safety and resources of the states particularly the states which border Mexico.
The high court has set oral arguments for the matter in February [2023.] Conservative Justice Neil Gorsuch joined the court's three liberals in dissent.
The "current border crisis is not a COVID crisis," he wrote in his dissent. "And courts should not be in the business of perpetuating administrative edicts designed for one emergency only because elected officials have failed to address a different emergency. We are a court of law, not policymakers of last resort."
Reacting to the ruling by the Supreme Court, White House Press Secretary Karine Jean-Pierre issued the following statement:
"The Supreme Court's order today keeps the current Title 42 policy in place while the court reviews the matter in 2023.  We will, of course, comply with the order and prepare for the court's review.
At the same time, we are advancing our preparations to manage the border in a secure, orderly and humane way when Title 42 eventually lifts and will continue expanding legal pathways for immigration. Title 42 is a public health measure, not an immigration enforcement measure, and it should not be extended indefinitely. To truly fix our broken immigration system, we need Congress to pass comprehensive immigration reform measures like the ones President Biden proposed on his first day in office.
Today's order gives Republicans in Congress plenty of time to move past political finger-pointing and join their Democratic colleagues in solving the challenge at our border by passing the comprehensive reform measures and delivering the additional funds for border security that President Biden has requested."
The Biden administration extended the Trump administration's orders in August 2021, but in April of this year the government announced that it would end the policy, saying it was no longer necessary to protect public health.
But shortly before the policy was set to end in May, a federal judge in Louisiana ordered the Biden administration to continue the restrictions. U.S. District Judge Robert Summerhays concluded that the Biden administration had not provided proper notice of its decision to end the policy and an opportunity for the public to comment, as required by the federal law governing administrative agencies. The Biden administration appealed that decision to the U.S. Court of Appeals for the 5th Circuit.
The dispute now before the Supreme Court, known as Arizona v. Mayorkas, is a separate case. It began as a challenge to the policy in federal court in D.C., by six families who crossed the U.S.-Mexico border without authorization and now seek asylum — on their own behalf but also as a class action on behalf of other families in the same position. In November, U.S. District Judge Emmet Sullivan ruled for the families and ordered the government to end the policy by Dec. 21.
The states asked to intervene in the D.C. case to defend the policy. If Sullivan's ruling remains in effect, they argued, it will effectively nullify Summerhays' ruling. But on Friday the U.S. Court of Appeals for the District of Columbia Circuit rejected the states' request to join the case on appeal.
The court explained that the states' request came too late. The states should have known "long before now," the court reasoned, that they did not have the same interest in continuing the policy as the Biden administration, especially when the Biden administration announced several months ago that it intended to end the policy.
Facing the termination of the policy prior to Christmas under Sullivan's order, the states asked the justices to step in on an emergency basis and block that order from taking effect.
Additional reporting by Amy Howe, SCOTUSBlog
LGBTQ groups commemorate 50th anniversary of Roe v. Wade
Equality Florida staffers attended vice president's speech in Fla.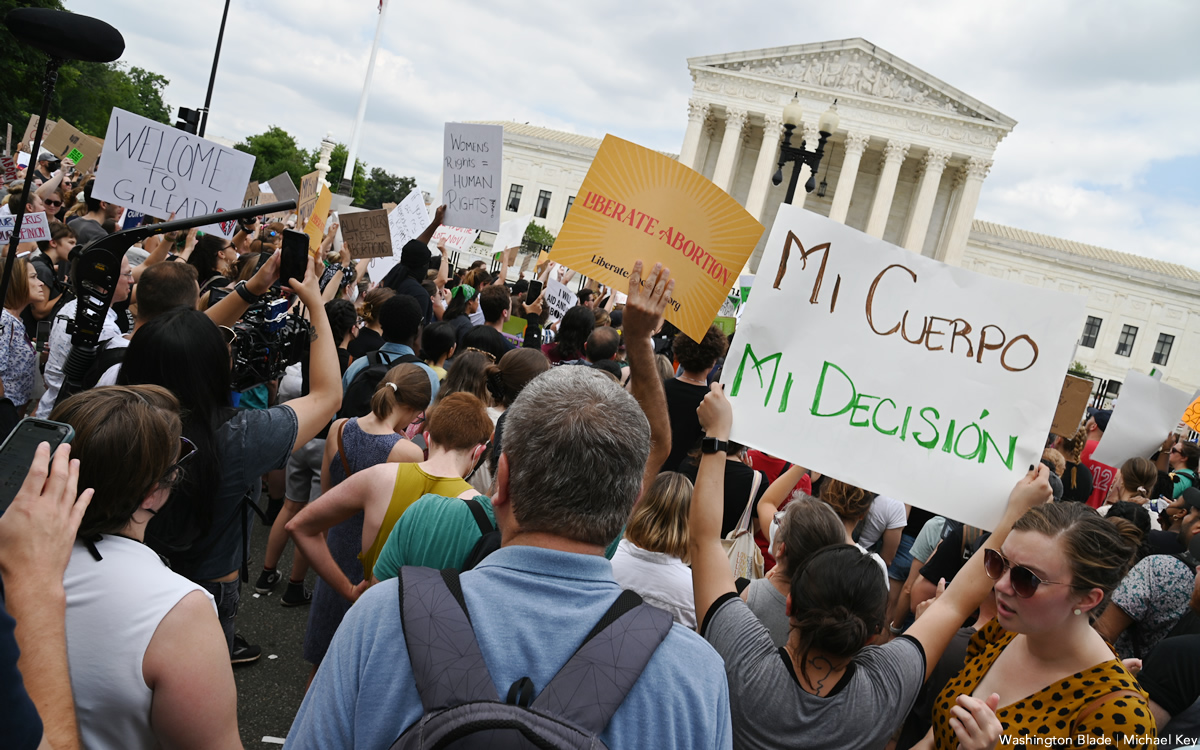 The U.S. Supreme Court on Jan. 22, 1973, issued its Roe v. Wade ruling that ensured the constitutional right to an abortion for all American citizens. The Supreme Court last June overruled this landmark decision.
Fifty years later, LGBTQ activists are among those who have commemorated Roe, despite the fact the Supreme Court has overturned it. The decision, which has since caused tension between liberal and conservative groups, prompted federal and state lawmakers to act upon the sudden revocation of what many consider to be a fundamental right.
Roe's legal premise relied heavily upon the right to privacy that the 14th Amendment provided; however, legal experts argued that it was a vague interpretation of the amendment.
Vice President Kamala Harris on Sunday delivered remarks on Roe's anniversary in Tallahassee, Fla., saying how most "Americans relied on the rights that Roe protected."
"The consequences of the Supreme Court's ruling are not only limited to those who need reproductive care," said Harris. "Other basic healthcare is at risk."
The overruling of Roe put into question the security of other long-held precedents, such as Obergefell v. Hodges, the 2015 case that legalized same-sex marriages, and Loving v. Virginia, the 1967 decision that legalized interracial marriages, because they rely on the same right to privacy that upheld Roe.
In that same speech, Harris announced President Joe Biden would issue a presidential memorandum to direct all government departments to ensure access to abortion pills at pharmacies.
"Members of our Cabinet and our administration are now directed, as of the president's order, to identify barriers to access to prescription medication and to recommend actions to make sure that doctors can legally prescribe, that pharmacies can dispense, and that women can secure safe and effective medication," Harris affirmed.
LGBTQ organizations and other human rights groups continue to work to protect reproductive rights.
Human Rights Campaign President Kelley Robinson said she found it intolerable that "an extremist set of judges" had taken away an important right not only for women, but also nonbinary people, trans men, and the entire LGBTQ+ community.
"Because we know that reproductive rights are LGBTQ+ rights, and that so many in our community rely on access to abortion care and other reproductive health services," said Robinson in regards to Roe's 50th anniversary. "The ripple effects of this decision will impact the most marginalized among us the most, and we cannot stand for that."
"Overturning Roe v. Wade was the first time in history that the Supreme Court has taken away rights, and we know that they will not stop there," added Robinson. "This is a dangerous turning point for our country, and we have to affirmatively defend against this assault."
Robinson said HRC is working with coalition partners to fight the roll-back of abortion rights at the state and federal level.
Christian Fuscarino, executive director of Garden State Equality, a statewide LGBTQ rights group in New Jersey, said his organization is "laser-focused on ensuring that people with trans and nonbinary experiences are experiencing lived equality, which includes bodily autonomy."
Equality Florida showed its support of Roe by standing alongside Harris during her Tallahassee speech with several other lawmakers and activists. They also denounced Republican Gov. Ron DeSantis' antiabortion policies, as well as the Florida legislature. 
Supreme Court hears oral arguments in 303 Creative case
Dangerous implications for LGBTQ consumers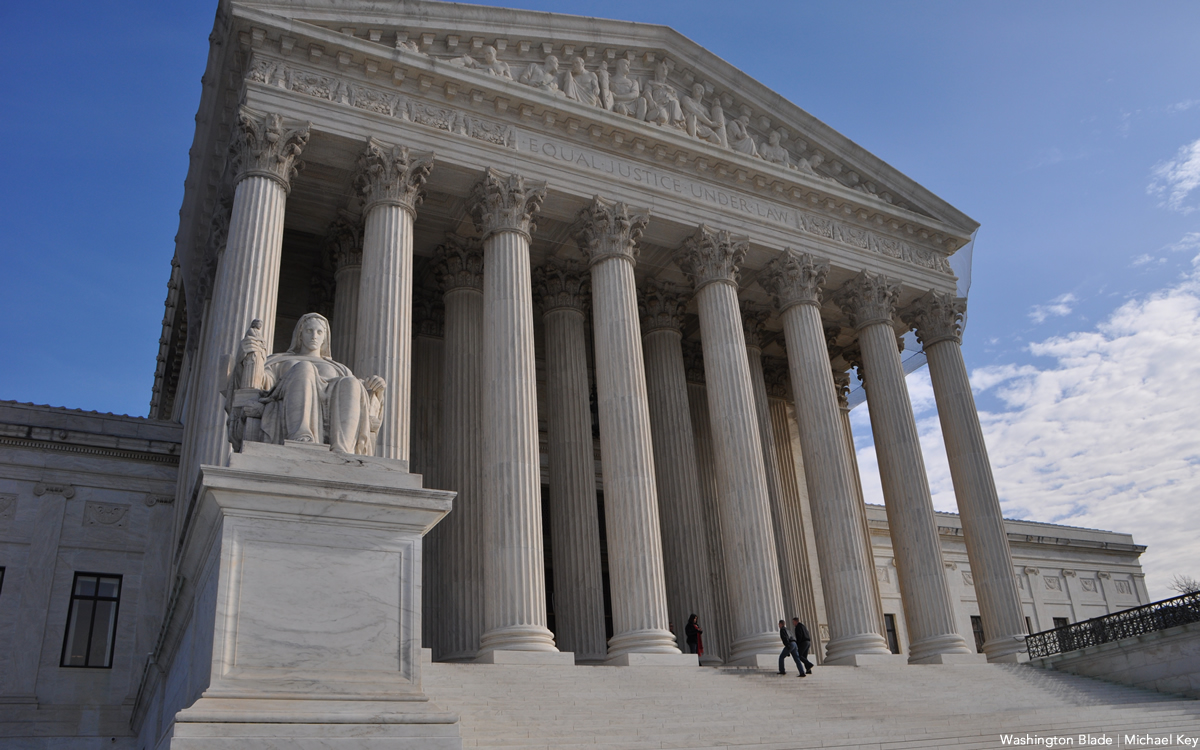 The U.S. Supreme Court on Monday heard oral arguments in 303 Creative v. Elenis, a case that could carry broad implications for whether and in which circumstances states may enforce certain nondiscrimination rules against purveyors of goods and services.
The case was brought by website designer Lorie Smith, who sought to include a disclaimer that her company 303 Creative would not develop wedding announcement websites for LGBTQ couples, but discovered that such a notice would violate Colorado's anti-discrimination laws, which include sexual orientation as a protected class.
Her lawsuit against the state of Colorado, argued by counsel from the anti-LGBTQ group Alliance Defending Freedom (ADF), reaches the Supreme Court following the ruling against Smith from the 10th Circuit Court of Appeals, which created a circuit split with decisions from the 8th Circuit and Arizona Supreme Court. A ruling is expected to come in June.
The fact pattern in 303 Creative closely mirrors the 2018 case Masterpiece Cakeshop v. Colorado Civil Rights Commission, where the Supreme Court declined to rule on the broader legal questions because it found the Commission exhibited hostility toward the religious views of the bakery that refused to design a custom wedding cake for a same-sex couple.
The high court has since moved substantially to the right, with a 6-3 conservative supermajority. Colorado is one of 20 states that enforces laws prohibiting businesses from discrimination based on sexual orientation, and a ruling that would allow for broadly construed exemptions to be carved out for firms based on their First Amendment protections would carry implications well beyond the context of same-sex marriage.
Monday's oral arguments focused on preexisting and hypothetical cases that were presented by counsel from both parties as well as by the justices, examples whose scope and fact patterns reinforced the breadth of the legal issues at play in 303 Creative.
Colorado Solicitor General Eric Olson and U.S. Principal Deputy Solicitor General Brian Fletcher pointed to the Supreme Court's ruling in Rumsfeld v. Forum for Academic and Institutional Rights, 2006, which found that the federal government may withhold funding from universities that, based on their objections to "Don't Ask, Don't Tell," refuse to grant military recruiters access to their resources.
ADF CEO, President and General Counsel Kristen Waggoner cited the Supreme Court's decision in Hurley v. Irish American Gay, Lesbian, and Bisexual Group of Boston, 1995, which upheld the right of private organizations to exclude participation by certain groups without interference by the state, even if that intervention by the government was for the purpose of preventing discrimination.
Much of the discussion during Monday's oral arguments centered on what kinds of goods and services may be considered public accommodations and which constitute artistic speech or expression by the business provider. Also at issue were questions such as whether their refusal to accommodate certain events – i.e., same-sex weddings – are tantamount to refusing goods and services to members of a protected class of people under the state's non-discrimination laws.
LGBTQ rights groups fear the implications of a ruling in favor of 303 Creative
ADF is designated an anti-LGBTQ extremist group by the Southern Poverty Law Center. An amicus brief was filed in support of the government by the corporate law firm White & Case along with a coalition of LGBTQ rights groups and legal advocacy groups: the National LGBTQ Task Force, GLAD, the National Center for Lesbian Rights, Lambda Legal, and the Human Rights Campaign.
"Just two weeks after a shooter killed 5 people, injured 18, and traumatized so many others at Club Q in Colorado Springs, the United States Supreme Court prepares to hear oral arguments in an anti-LGBTQ public accommodations discrimination case from Colorado," wrote the National LGBTQ Task Force in a statement addressing Monday's oral arguments.
Liz Seaton, the group's policy director, highlighted the importance of public accommodations laws and condemned efforts by the opposition to legalize discrimination and segregation in the marketplace. "The brief's most important argument lifts up the powerful amicus briefs of the NAACP Legal Defense and Educational Fund and of the Lawyers' Committee for Civil Rights Under Law," Seaton said. "Those two briefs by venerable civil rights organizations provide a detailed history of public accommodations discrimination against Black and Brown people in this country."
HRC's statement on Monday touched on similar themes:
"Granting the unprecedented 'free speech exemption' sought by petitioners in 303 Creative v. Elenis would be a dangerous change to long standing constitutional and civil rights law. It would inevitably lead to increased discrimination not only related to LGBTQ+ people or weddings, but also for other vulnerable populations including women, people with disabilities, and people of minority faiths. It's crucial that justices of the Supreme Court reject discrimination and affirm the equal dignity of every American."
Likewise, the Congressional LGBTQ+ Equality Caucus released a statement exploring the broad implications that could result from the Court's ruling on 303 Creative:
"…the Supreme Court could issue a broad ruling that not only implicates nondiscrimination laws' applications to graphic designers but to a wide range of businesses providing goods and services that have an artistic component. A broad ruling for the graphic designer could not only provide a constitutional basis for discriminating against same-sex couples, but also for discriminating against all marginalized people currently protected by public accommodations nondiscrimination laws."
Supreme Court to hear case of anti-LGBTQ web designer
Oral arguments to take place Dec. 5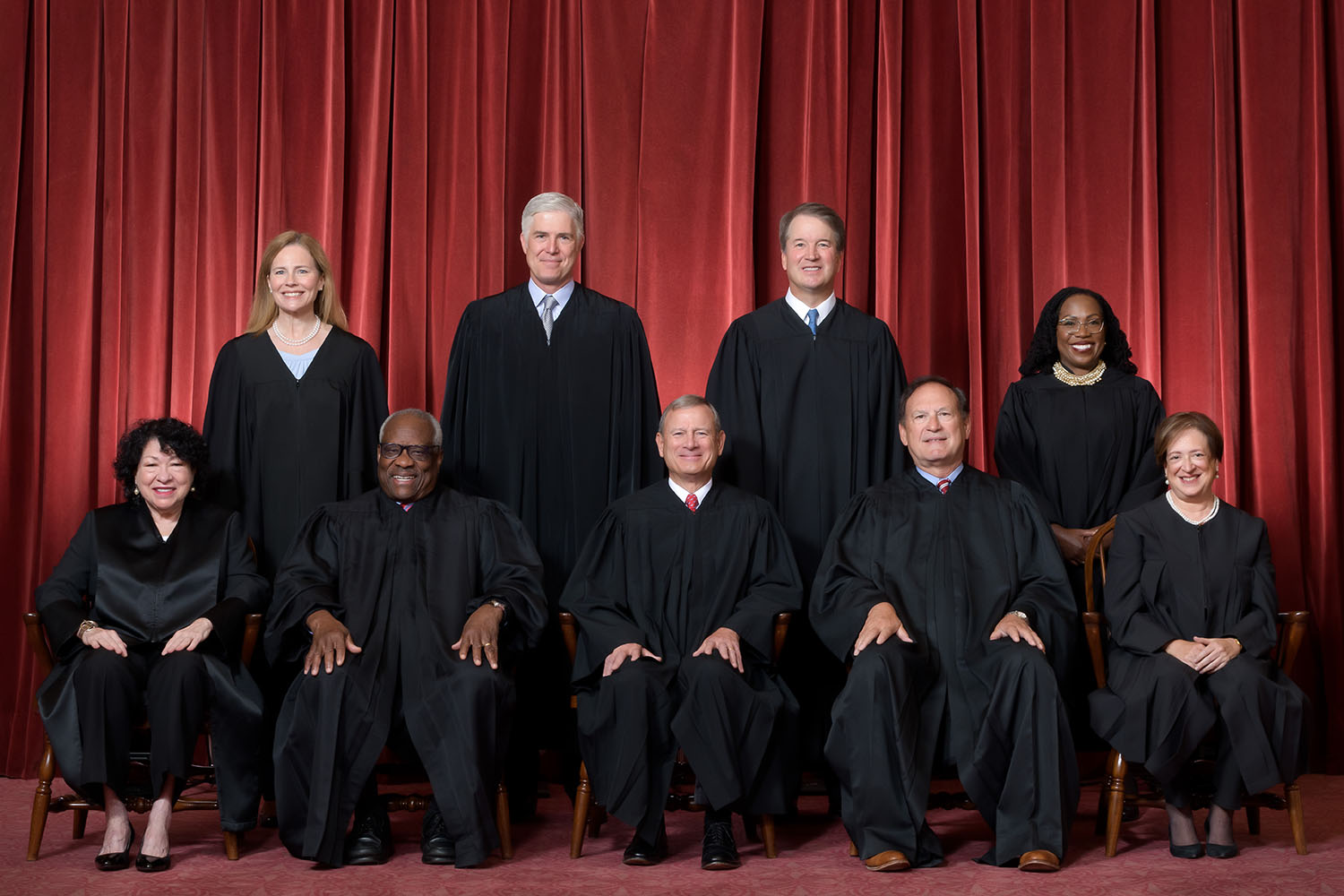 The U.S. Supreme Court on Tuesday announced that it will hear oral arguments on Dec. 5 in the case of a Colorado-based web designer, 303 Creative LLC v. Elenis, who sued to challenge state's anti-discrimination law as she was refusing to work on websites for same-sex couples'.
Last fall, the Southern Poverty Law Center-listed hate legal group representing Lorie Smith, the Alliance Defending Freedom, had asked the high court on an appeal from the U.S. Court of Appeals for the 10th Circuit to review the case.
Smith claimed in court filings that the Colorado law violated Smith's freedom of speech and freedom of religious expression, citing that it would force her to design wedding websites for same-sex couples which violated her "Christian" beliefs.
In its 2-1 ruling, the 10th Circuit panel said Colorado had a compelling interest in protecting the "dignity interests" of members of marginalized groups through its law.
The justices in January had declined to take up the case, but for the fall term they decided to revisit the earlier decision and agreed to take the case up.
In 303 Creative v. Elenis, the court will return to the issue of whether or not providers of custom-made goods can refuse service to LGBTQ customers on First Amendment grounds.
Jennifer Pizer, acting chief legal officer of Lambda Legal, said in an interview with the Washington Blade, "it's not too much to say an immeasurably huge amount is at stake" for LGBTQ people depending on the outcome of the case.
"This contrived idea that making custom goods, or offering a custom service, somehow tacitly conveys an endorsement of the person — if that were to be accepted, that would be a profound change in the law," Pizer said. "And the stakes are very high because there are no practical, obvious, principled ways to limit that kind of an exception, and if the law isn't clear in this regard, then the people who are at risk of experiencing discrimination have no security, no effective protection by having a nondiscrimination laws, because at any moment, as one makes their way through the commercial marketplace, you don't know whether a particular business person is going to refuse to serve you."
With a 6-3 conservative majority on the court that has recently scrapped the super-precedent that guaranteed the right to abortion, supporters of LGBTQ rights may think the outcome of the case is all but lost, especially amid widespread fears same-sex marriage would be next on the chopping block.
Pizer, acknowledging the call to action issued by LGBTQ groups in the aftermath of the Dobbs decision, conceded the current Supreme Court issuing the ruling in this case is "a terrifying prospect," but cautioned the issue isn't so much the makeup of the court but whether or not justices will continue down the path of abolishing case law.
"I think the question that we're facing with respect to all of the cases or at least many of the cases that are in front of the court right now, is whether this court is going to continue on this radical sort of wrecking ball to the edifice of settled law and seemingly a goal of setting up whole new structures of what our basic legal principles are going to be. Are we going to have another term of that?" Pizer said. "And if so, that's terrifying."