Arlington LGBTQ organization plans transition to Equality NoVa
Longstanding group to officially expand coverage to Alexandria, Fairfax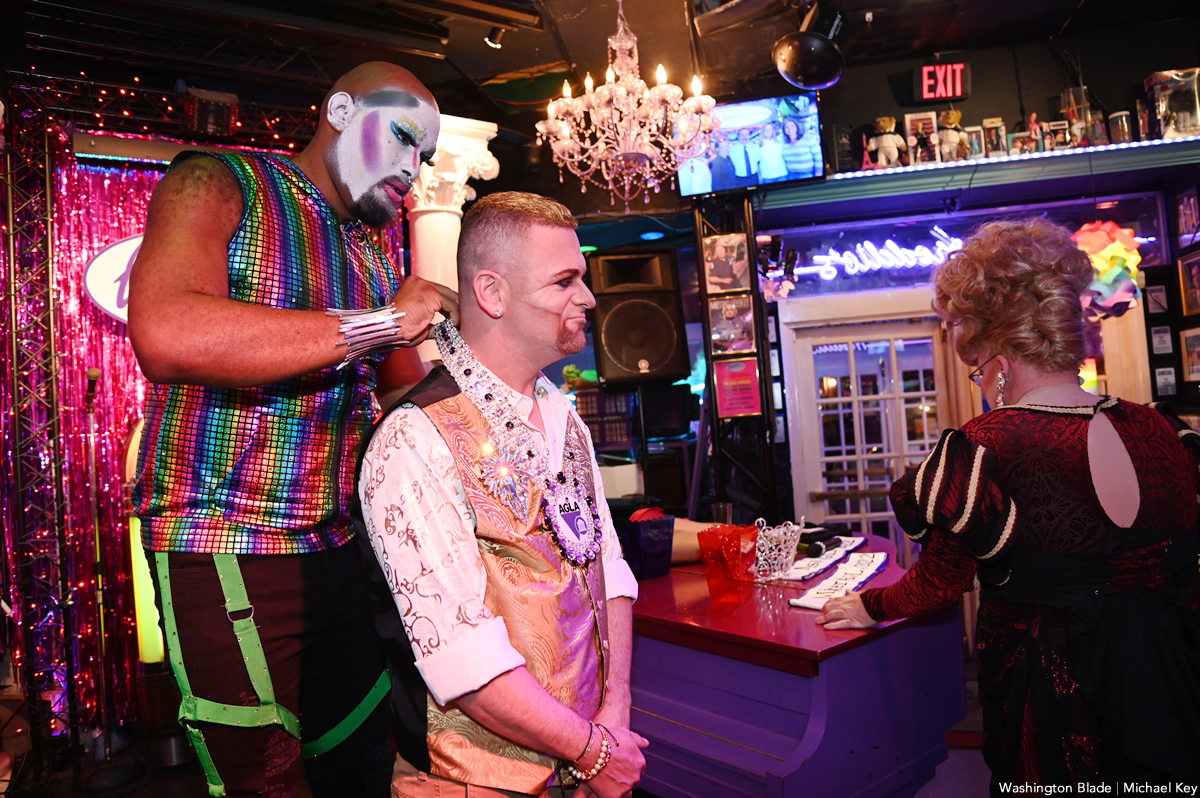 The Arlington Gay and Lesbian Alliance, which was founded in 1981 and is the oldest continuously operating LGBTQ organization in Virginia, is officially expanding its mission and activities to the neighboring city of Alexandria and Fairfax County and is changing its name to Equality NoVa.
A statement released last week by AGLA President Daniel L. Hays says the organization's board of directors voted unanimously to begin operating as "AGLA now known as Equality NoVa," with plans to transition in about five months to operating as "Equality NoVa formerly known as AGLA."
Hays told the Washington Blade that in about a year, following community engagement events, including a town hall meeting, the sole name of Equality NoVa will likely be adopted. At that time, Hays said, the group will change its longstanding registration with the IRS and the state of Virginia as a 501(c)(3) nonprofit organization to reflect the new name.
"This decision was not made in haste, but rather in recognition of where LGBTQ+ organizations stand in Northern Virginia," according to Hays' statement released on March 25. "Since the organization's founding in 1981 it has helped to form similar groups in Alexandria and Fairfax County among others," the statement continues.
"The organizations in Alexandria (the Alexandria Gay & Lesbian Community Association) and Fairfax County (Equality Fairfax) over the past decade have ceased to operate due to a number of factors, including the inability to sustain active boards," Hays' statement says. "We have been going as the Arlington-Alexandria Gay and Lesbian Alliance for roughly 7 years to ensure Alexandria has had representation," it says.
"The 2023 board of directors wanted to make sure we are operating as we need to ensure coverage for Fairfax County, too," Hays' statement says. "Additionally, the 2023 board of directors recognized that the name we operate under needed updating to reflect the entirety of the LGBTQ+ community, not just only gays and lesbians. This was the basis for us now operating as Equality NoVa."
Hays told the Blade that the board's plans include retaining the organization's status as a 501(c)(3) tax-exempt organization that continues its longstanding three-part mission: "safe social activities; community service; and non-partisan political awareness."
He points out that under its current status, the group cannot endorse candidates running for public office and must remain as a nonpartisan group. Hays said that although IRS rules for 501(c)(3) organizations allow a limited degree of legislative lobbying, the group long ago decided not to engage in direct lobbying.
"So, our approach has been to have town halls when issues come up to disseminate information to all of those individuals, including members who are on our mailing list, about the issues that are happening in Richmond or in D.C. on Capitol Hill," he told the Blade. "And to not do explicit lobbying or policy advocacy, but to go the political awareness route," he said, to enable people to "make their own decision as to whether they're going to contact their representative or other decision-makers."
Hays' statement says AGLA's immediate past president, TJ Flavell, will continue to be involved through a newly formed Advisory Committee "focused on organizational sustainability and producing a planning blueprint for long-term success."
Danica Roem condemns Zooey Zephyr censure
Transgender Mont. lawmaker filed lawsuit on Monday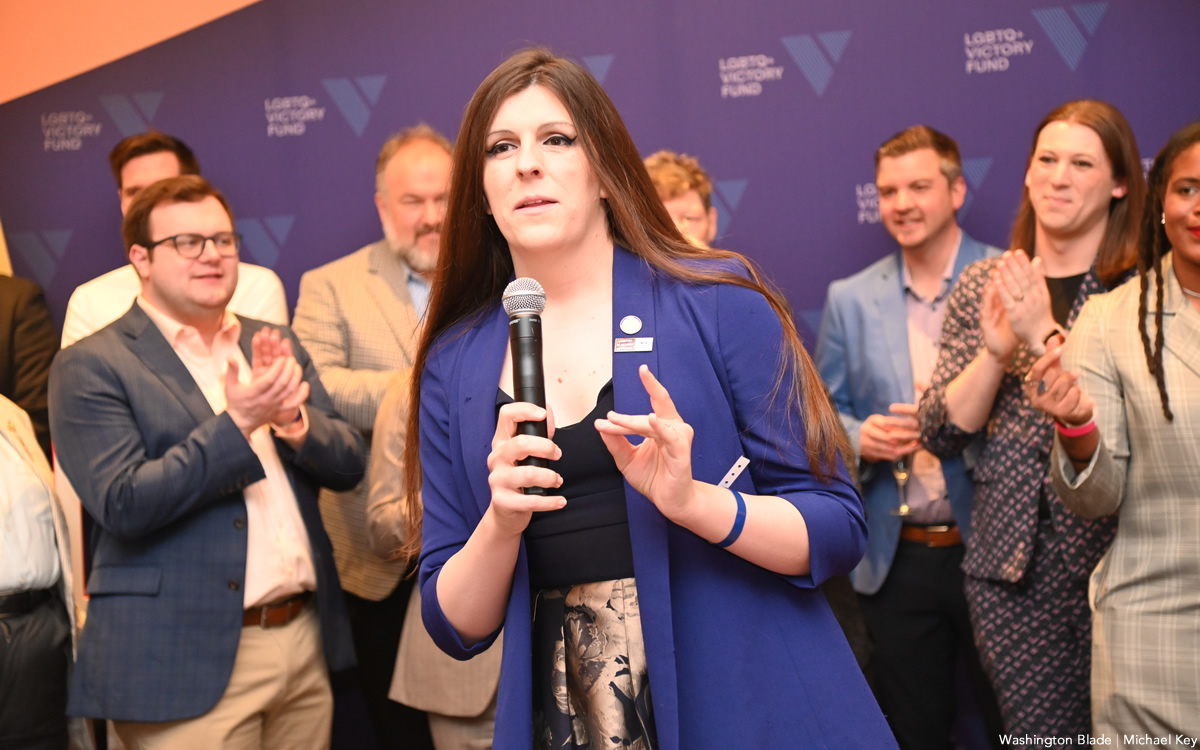 Virginia state Del. Danica Roem (D-Manassas) on Monday condemned the censure of Montana state Rep. Zooey Zephyr after she criticized her fellow lawmakers over their support of an anti-transgender bill.
"Censuring Rep. Zephyr is by all evidence an arbitrary and capricious abuse of power by a Republican supermajority whose 'Freedom Caucus' members on April 18 — without condemnation or censure for breaking decorum — also insisted on disrespecting her by 'deliberately' (as noted by the AP on April 19) misgendering her because they refuse to acknowledge the identities of their trans constituents, let alone their colleague," Roem told the Washington Blade in a statement.
Roem in 2018 became the first openly transgender person seated in a state legislature in the U.S. Roem the following year became the first out trans state legislator to win re-election in the country.
Montana Republicans last week banned Zephyr, a trans woman who represents House District in the Montana House of Representatives, from the chamber floor after she criticized them over their support of a bill that bans gender-affirming health care for children.
Republican Montana Gov. Greg Gianforte on April 28 signed the measure, even though his nonbinary child had urged him to veto it. Zephyr on Monday filed a lawsuit that challenges her censure.
"Given the precedent established and repeatedly re-established, there is no justification for depriving the people of District 100 their equal representation in the state House," Roem told the Blade. "Their representative's full rights and privileges of the floor should be reinstated immediately."
Manassas Democrat running for state Senate
Roem last May announced she is running to represent Senate District 30, which includes western Prince William County and the cities of Manassas and Manassas Park.
Robert Ruffolo, one of the Republicans who hopes to challenge Roem, has made a series of anti-trans comments on his Twitter account. These include asking a Twitter user who said "trans women are natural women" and "trans women are biological women" whether they are saying "God made a mistake by creating you as a male?"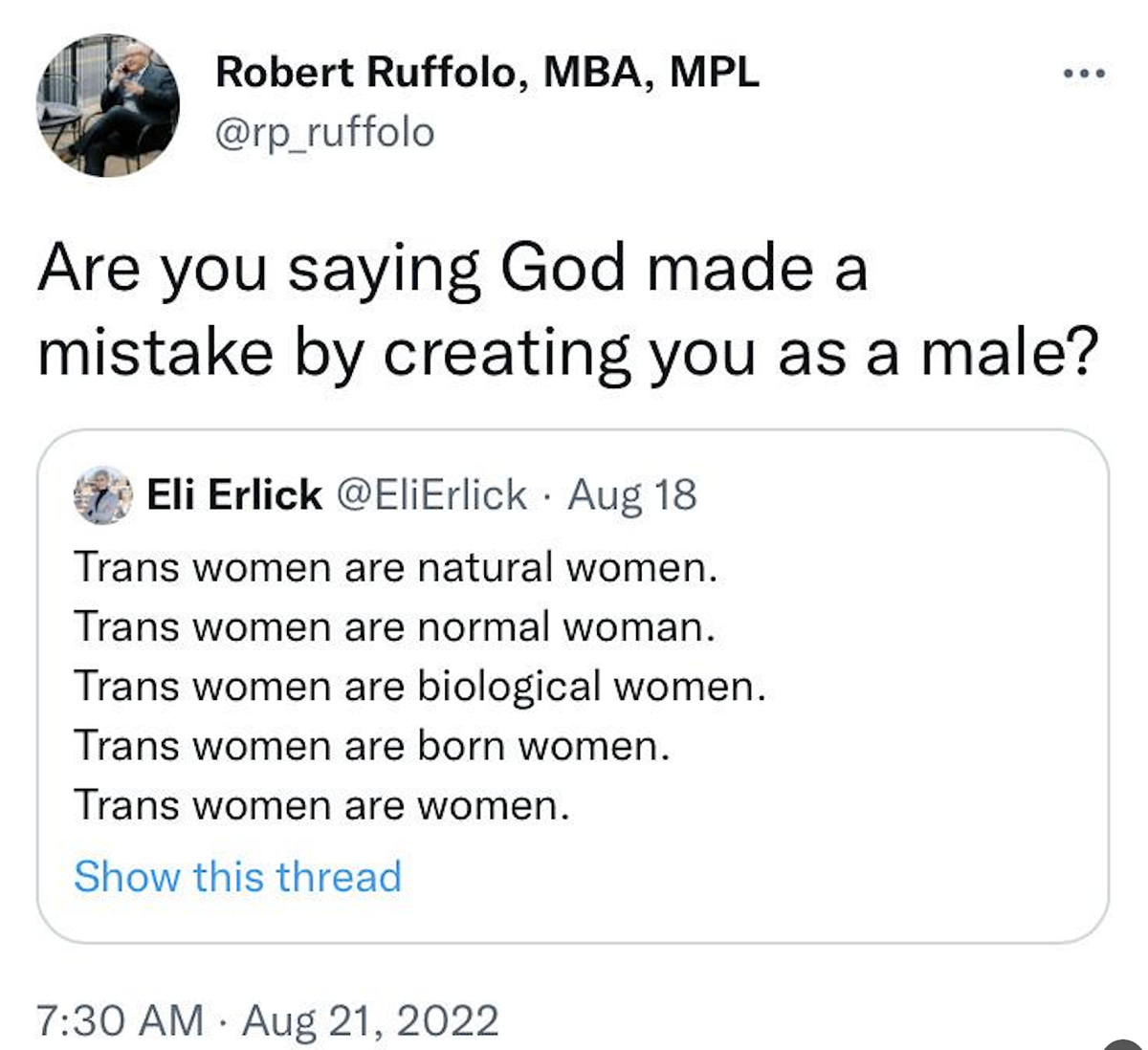 "We know what we're up against in this race," Roem told the Blade on April 23 during an interview before the LGBTQ+ Victory Fund's National Champagne Brunch that took place at the JW Marriott Hotel in D.C. "We know it is absolutely going to get personal, as well as its going to get on policy. We know that there's going to be a lot at stake."
Democrats currently have a 22-18 majority in the Virginia Senate, and they blocked the 12 anti-LGBTQ bills introduced during the 2023 legislative session.
"That is the only thing keeping Virginia from being in the same league as West Virginia, as Kentucky, as you're about to see in North Carolina now that they got their supermajority, as you're seeing in South Carolina, Georgia, Florida, Mississippi, Alabama, Louisiana, Texas, Oklahoma," said Roem. "It gets worse, right? Arkansas, another one. Missouri, geez their attorney general is now trying to block trans care for adults."
"The only thing that's keeping us from that is that four seat majority," she added.
Lieutenant Gov. Winsome Earle-Sears, who presides over the state Senate, and Gov. Glenn Youngkin are both Republicans. Roem told the Blade the governor this cycle is going to try and flip the "state legislature of a Democratic-voting state."
The Senate Health Subcommittee earlier this year killed state Sen. Amanda Chase (R-Colonial Heights)'s bill that would have banned transition-related health care for trans youth.
Roem in 2020 introduced a bill that bans Virginia health care providers from discriminating against their patients based on their gender identity. Then-Gov. Ralph Northam, a Democrat, signed the measure into law. Roem noted to the Blade that Chase's measure would have repealed the statute.
"I'm not saying that we were in imminent danger of that bill," said Roem, referring to Chase's bill. "If they (Republicans) have majorities in both chambers and they have this governor, that bill passes. That bill might be introduced by a different member, but that bill passes."
D.C. schools work to boost LGBTQ support, while Va. students face new challenges
Youngkin policy proposals spark fear among trans, nonbinary youth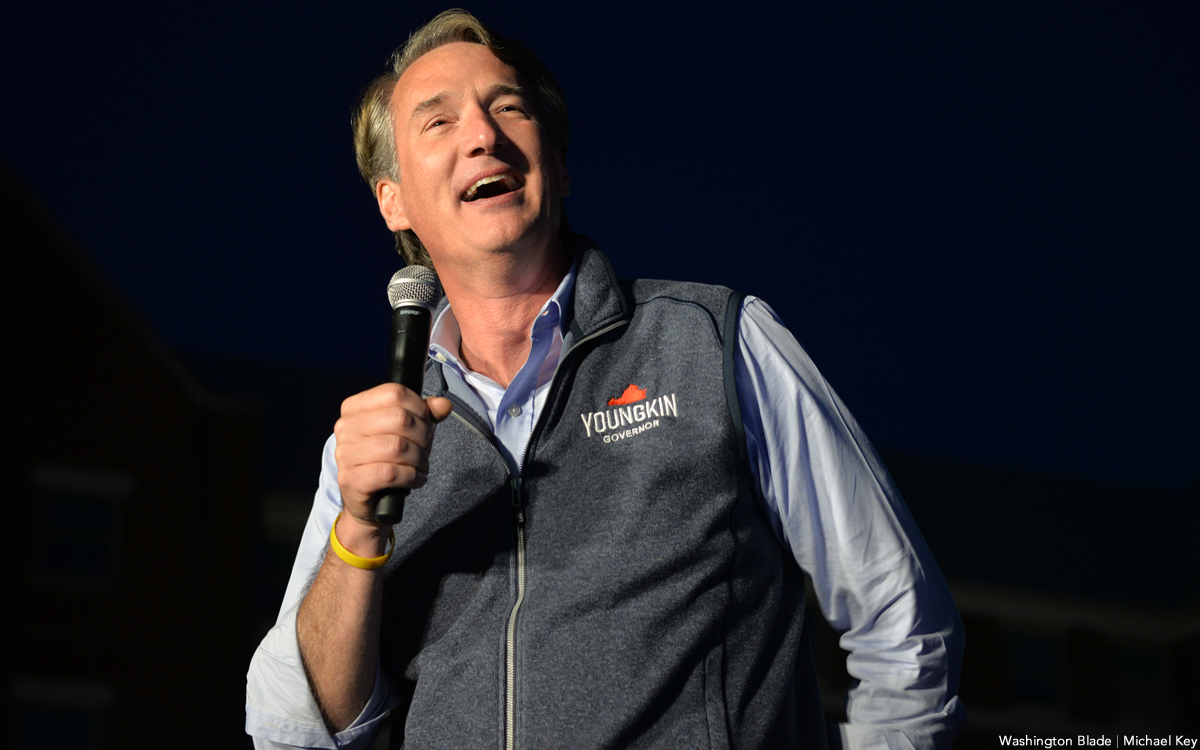 After Virginia Gov. Glenn Youngkin's administration proposed changes to transgender students' rights in September 2022, 72,000 public comments flooded in. But with no indication of when policies that restrict bathroom use and pronoun preference could be implemented, some students in Virginia public schools are afraid of losing their safe spaces at school.
"Many students have reported increased anxiety and fears related to the model policies' ramifications," said Abram Clear, the school programs coordinator for Side by Side, an organization working with schools across Virginia to support LGBTQ youth. "In particular, trans and nonbinary students who have found safe, affirming spaces at school have expressed concerns about being forcibly outed to their guardians."
While some guardians openly support their student's sexuality, other discussions about gender identity can be dismissed or misunderstood at home. If the new policies on transgender students are passed and educators are required to out students to their guardians, LGBTQ students can run a higher risk of negative mental health, as well as possible physical danger at home.
Transgender and nonbinary students also worry that these policies embolden educators who are already dismissive of their identities. Supportive educators express similar concerns as they worry they will be contractually obligated to out students or enforce measures that harm their students.
"Morally, they feel it's imperative to continue affirming their trans and nonbinary students by using their requested names and pronouns, regardless of documentation," said Clear. "But this would be at odds with the 2022 [Virginia Department of Education] protocols."
Virginia's proposed policies would require more than one million students to only use bathrooms and locker rooms associated with the sex assigned to them at birth. Students would also only be allowed to participate in sports or extracurricular activities in accordance with the same rule.
The legal name and sex of a student would also have to align with their sex at birth unless official legal documents or court orders are provided, regardless of whether a parent gives permission. This would require teachers and other school officials to only refer to a student by the pronouns associated with their sex at birth.
In one month alone, nearly one-third of LGBTQ students missed at least one day of school because they felt unsafe, according to the Gay, Lesbian, and Straight Education Network's 2021 report. Just over 75% of LGBTQ youth also experienced in-person verbal harassment at school in the past year due to their sexual orientation, gender expression, and gender identity.
But as students in Virginia try to unpack the potential ramifications of changes to the 2022 Virginia Department of Education's Model Policies, D.C. Public Schools (DCPS) continues to push for visible allyship in middle and high schools.
Each year, DCPS distributes a survey to middle and high school students to ask about gender identity and sexuality. Asking students to best describe their identity, DCPS uses the survey to learn about student perceptions of themselves to improve school climate and social-emotional learning.
DCPS policies on transgender and non-confirming students also advise school-based staff to be aware of student identification preferences and always use their preferred reference when speaking to or about the student.
Staff in DCPS can even become trained LGBTQ Liaisons, wherein they offer visible allyship and resources to students and families. Also tasked with developing and running a Gender and Sexuality Alliance (GSA) in their school, liaisons work to raise awareness of LGBTQ issues in their school community.
A strong GSA presence in schools offers a consistent space for LGBTQ students to discuss their experiences with peers and trusted advisers. The Duke Ellington School of the Arts, for instance, gathers weekly during lunch or advisory periods to discuss current issues and plan community-building initiatives.
With more than 60% of queer youth living in non-affirming homes, the presence of GSAs has shown to increase the academic performance of LGBTQ-identified youth, decrease bullying, and create a more inclusive school culture.
"Holding a consistent, brave space for LGBTQ+ students to gather can be transformative for a school's environment," Clear said. "GSA meetings may be one of the only safe spaces LGBTQ+ students have to fully express themselves and build community, which is especially crucial if they lack familial support."
Side by Side is concentrating efforts in the greater Richmond, Va., area to connect more than 25 GSAs at middle and high schools. But GSAs aren't run in every middle and high school in the state, so the challenge to offer affirming in-school club spaces remains a priority as the state faces potential changes to students' rights.
"In particularly homophobic and transphobic school environments, LGBTQ+ students may not have any trusted adults to advise and sponsor the club," Clear added. "Unfortunately, this creates a barrier in schools where student access to a GSA may be most crucial."
GSAs in public schools are protected under the Federal Equal Access Act. However, for transgender and non-binary youth, assurance that school is a safe and affirming place for them may change.
Orange County, Va., Board revokes funding for arts center over drag design class
Equality Virginia calls action shameful retaliation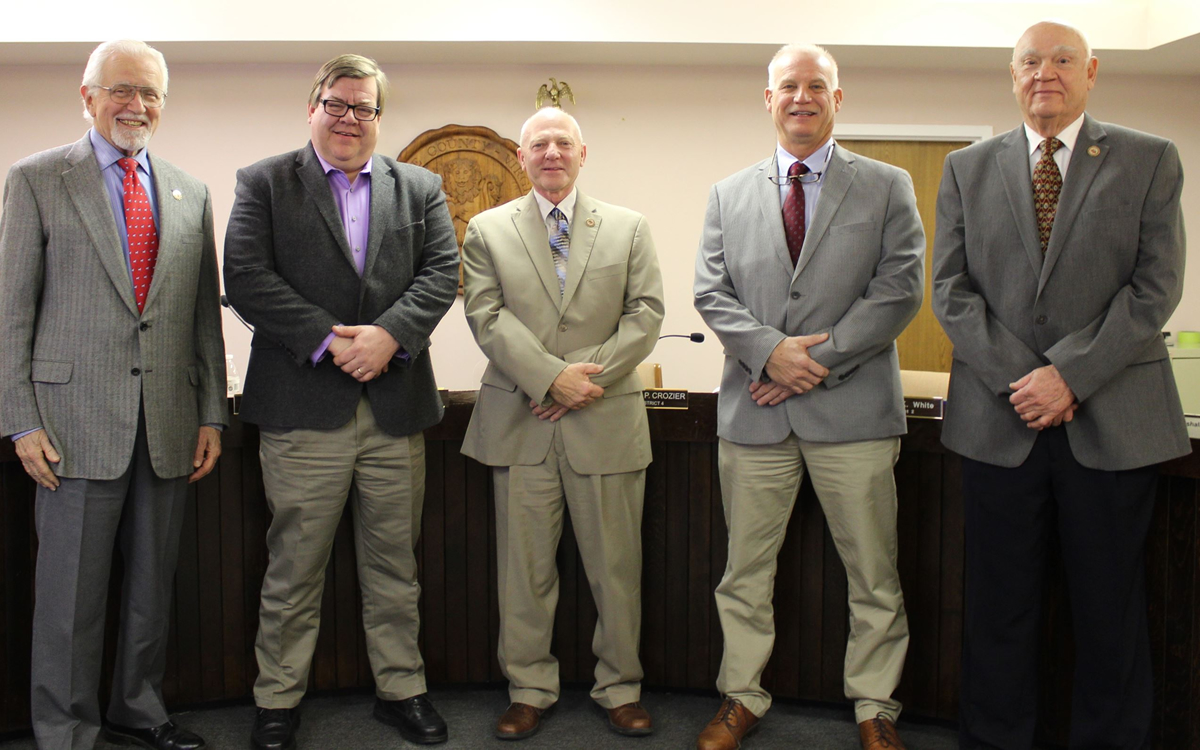 The Orange County, Va., Board of Supervisors last week released its proposed fiscal year 2024 budget that removes $9,000 in funding it approved last year for the nonprofit Arts Center In Orange in response to plans by the center to host a design class taught by a local drag performer.
According to Equality Virginia, the statewide LGBTQ rights organization, members of the Board of Supervisors "have specifically tied the revocation of funding to this planned event," an action that Equality Virginia calls "harmful and insidious" and that follows attacks on drag shows and drag performers surfacing in many other states.
"Earlier this year, the same Board also voted to revoke a $4,500 matching grant from the Arts Center, which was allocated and approved in the prior year's budget," Equality Virginia says in an April 5 statement. "Both of these actions happened after the Arts Center planned an event with a local drag performer who was scheduled to teach a class on makeup, costuming and hairstyling," the statement says.
News media outlets in the Orange County area have reported that the Arts Center in Orange "indefinitely" postponed the class by the drag performer after opposition by county board members and others first surfaced in January. A spokesperson for Equality Virginia, said the Board of Supervisors continued efforts to defund the Arts Center even though the "drag" class has never taken place.  
In an April 4 story, the Orange County Review reports that it obtained an email dated Jan. 18 in which Orange County Board of Supervisors Chairman Mark Johnson expressed agreement with a constituent who requested that the county revoke its funding of the Arts Center because the planned class was to be taught by the drag performer.
The newspaper quoted the individual who wrote to Johnson asking that the funds be revoked as telling Johnson the revocation was needed to "protect children from adults who prey on them with sexually explicit agendas." The newspaper reported, "Johnson said that he agreed with the individual's comments and outlined the board's plans to defund the center through the county's budget process."
The Orange County Review also reports that the Orange County Board of Supervisors is scheduled to hold a public hearing on the proposed budget at its April 18 meeting and a vote on the proposed budget was scheduled to take place one week later on April 25.
"As politicians across the country attack drag performers and drag shows, purposely spreading disinformation about what drag actually is, the Orange County Board of Supervisors is hopping on the political bandwagon," said Equality Virginia Executive Director Narissa Rahaman in the group's statement.
"It's disappointing and sad," Rahaman said. "Drag is not inherently harmful. Drag is not inherently insidious. But yanking funding and suppressing programming because it doesn't align with their narrow worldview is both harmful and insidious," she said. "The Board should be ashamed of itself."
When asked about the board's decision to revoke funding for the Arts Center in Orange, Board of Supervisors Chair Johnson told the Orange County Review that the board has never attempted to tell any of the groups it funds how they should spend the funds they receive from the county.
But Johnson added, "as with any discretionary spending, the Board can choose to increase, decrease, or eliminate funding to any specific entity."
Rahaman, the Equality Virginia director, said in a statement that the organization will be encouraging supporters of the Arts Center to speak at the upcoming public hearing.
"Ahead of the April 18 meeting, Equality Virginia will be working to support community members and advocates who wish to give public comment in front of the Board of Supervisors," Rahaman said. "Orange County residents deserve the opportunity to share their hopes and vision of the community they call home, and that includes supporting a culture in which art is accessible and inclusive for all," she said.
Orange County is located about 30 miles west of Fredericksburg, Va. and about 15 miles south of Culpeper.