December 2, 2010 at 3:31 pm EDT | by Terry-Ann Gardemal
Holiday spending amid financial uncertainty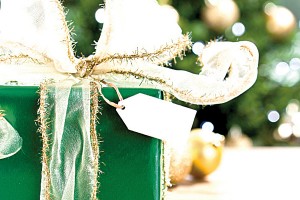 Here we are again, the time of the year when everything we read and see reminds us that we have to buy holiday gifts – and lots of them.
Budget-wise, this has certainly been an interesting year for households. While we all started off the year hopeful that the financial constraints holding us up the last few years would ease up, unfortunately it did not turn out that way for many. However, optimism is on the rise and people may be feeling generous again. This is the time to stop and think instead of forging ahead on an all-out spending spree. What is there to think about? Think about how we should responsibly budget and spend during this holiday season.
Starting early will minimize the chance of making last-minute decisions, which often tend to throw logic out the window. Make a plan. As with any financial planning scenario, look at your master financial plan and determine how much you should set aside on holiday spending. Your master plan will typically allow some flexibility for gift giving, so it is up to you to gauge if you have spent within your limits so far this year, to consider whether you will meet your savings goals and to make sure that all non-discretionary spending can be met. Examples of non-discretionary or necessary end of year obligations include possible fourth quarter tax payments, life and disability insurance premiums, and catch up retirement savings contributions.
Once you have reviewed your master plan and determined your allowable spending this holiday season, make a mini plan to help you through it. You have already established your goal, which is how much you want, or can, spend in total. Remember, if you charge it all to your credit card and don't plan on paying it off right away, you are just spending money you don't have; so keep this goal in mind at all times. Then decide how much you want to spend per group (family, extended family, friends, colleagues, etc).  As with any well-thought-out plan, do your research so you can choose amongst the best alternatives. Who really wants what and even if they want it, will they use it? Once you have figured out the actual gifts, do your homework and comparison shop until you find that great deal.
Consider alternative gifts, too. The latest gadget or great vacation getaway seems like a good idea and may get the appropriate response, but other gift giving can have lasting effects. Do you have children, nieces, nephews or other young people in your life? A contribution to a college savings account or payment toward summer camp will be very helpful and fulfilling.
But what good is a plan if you don't implement it? Make a list of your categories and spending allowances and refer to it often. This will help you succeed by sticking to your plan. When you categorize your spending allowances, don't only include gifts.  Think about all the other "extras" that come about this time of the year. Catering for those Christmas get-togethers or Hanukkah dinners can really add up. Then remember the holiday cards, wrapping paper, shipping costs, new outfits and many more.
This is the time of the year when we so easily throw caution to the wind. Are you thinking about taking a great vacation instead of traveling to celebrate with your family?   Are you thinking about buying that one item you've been watching for a while? Do we really need such an extravagant reward for all our hard work? Well, maybe, because this is the time of the year when we don't always think rationally. Once again, keep your budget in mind.
This material is for informational purposes only and is not intended to act as specific advice. Please talk to a financial professional prior to investing and a tax adviser for tax advice.
Terry-Ann Gardemal is a Certified Financial Planner and financial adviser with Potomac Financial Management. Reach her at 301-840-0770, ext. 110 or tagardemal@potomacfm.com.